Cobra Paw Game Review: An Awesome New Game
The Cobra Paw game is a really fast and funny game for the whole family.
The recommended age is 6+ but I am sure younger children will also love it. It is a new Bananagrams game, so you know it is going to be good!
It is all about speed and ninja-style moves!
In the box, there are 21 clawfuku stones, 2 catnippon dice, and instructions.
The stones and the dice are all really tactile and really great quality.
Carry on reading to see how to play the Cobra Paw game and what our thoughts are.
**There may be affiliate links in this post. You can read my full disclosure at the bottom of the page.**
How to Play the Cobra Paw Game
Cobra Paw is such an easy game to play and set up.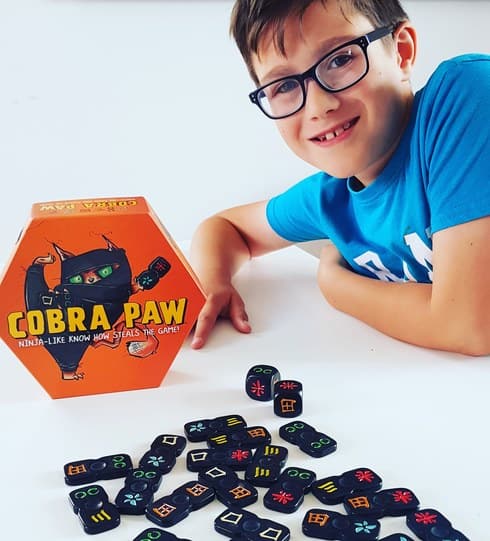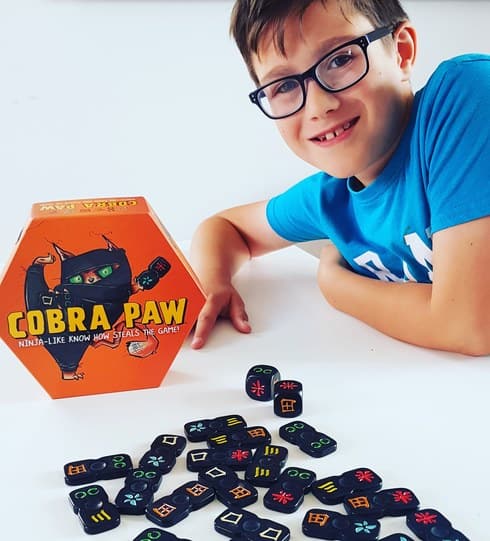 You must lay all of the stones on the table face up.
The youngest player goes first (well always does in my house anyway!!) and rolls the two die. As soon as the dice have been rolled you need to find the stone with the same pattern as the two dies and take it.
There is only one stone per pattern.
So once you have started collecting the stones there might not be a stone to pick up, as someone might have already taken it. All you need to do is just roll the dice again.
The winner is the first person to grab (like a ninja!) 7 stones. Get your Cobra Paw game here, you will have loads of fun.
Cobra Paw Review
Ages 6+
Time to Play 5-15 minutes
Players 2-6 Ninjas
We absolutely loved this simple and fun game and we would highly recommend it.
It comes in a small box so perfect for traveling with. As it is a new Bananagrams game, you know it is going to be of excellent quality.
Get your copy of this fun game today.
If you enjoy playing board games for 8 year olds check out our favorites.
Have you played the Cobra Paw game before? Let me know in the comments what you think of this fun game.
If you are looking for other fun games we also love these:
Last Updated on 23 January 2023 by homeschoolof1