Bang On Game A Great Competitive Board Game for all the Family
As you may already know we absolutely love educational board games to play as a family and Bang On game from Drumond Park is right down our street!
We are all very competitive in nature and love nothing more than winning!
Bang On game is unlike anything we have come across.
We absolutely loved the idea of hitting the hammer onto the banger to get extra time for your team.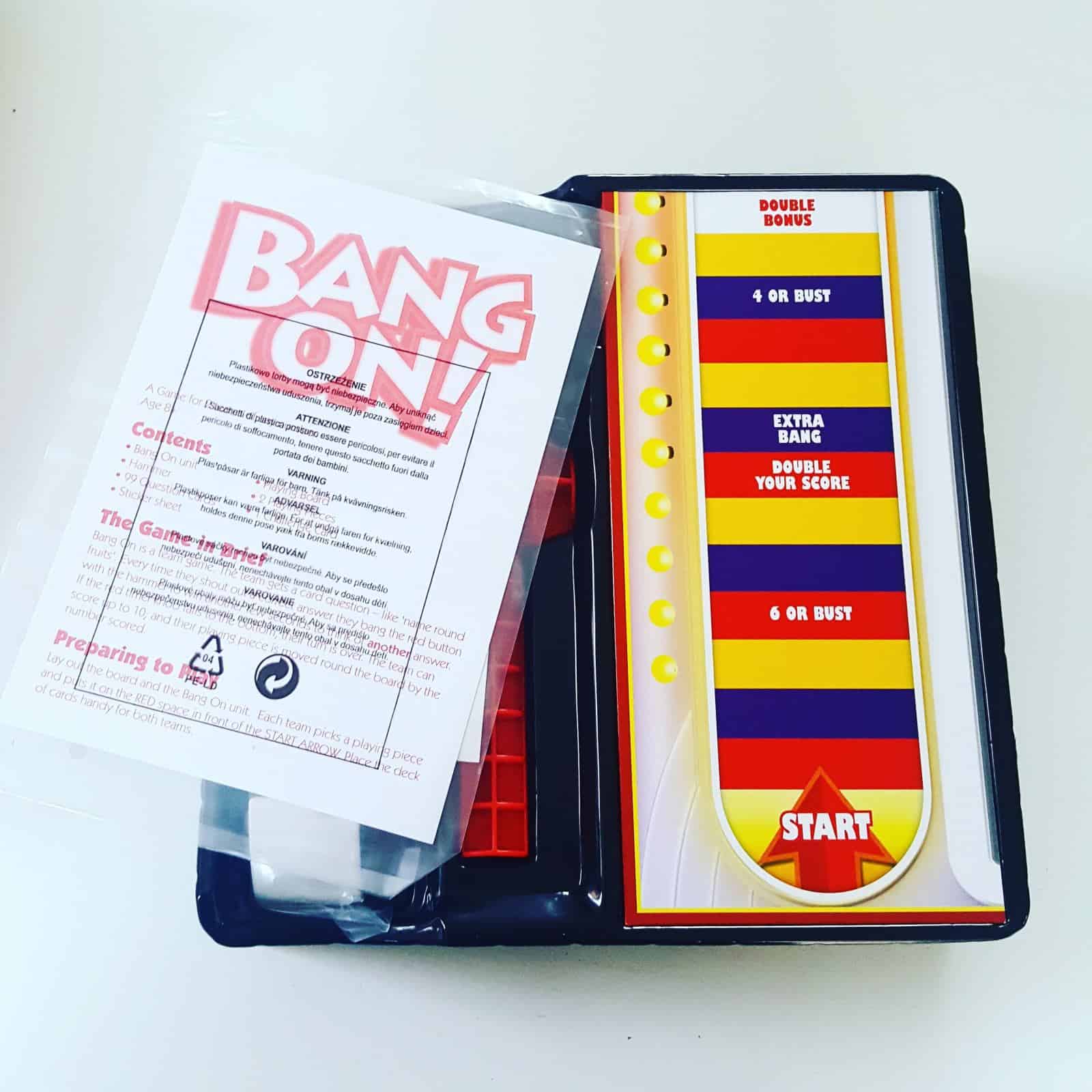 **There may be affiliate links in this post. You can read my full disclosure at the bottom of the page.**
The outside of Bang On! is very appealing and is very bright and colourful which is always a great start to any fun game. It is certainly something I would be drawn to in a shop.
The inside is no disappointment either the board is very bright and appealing. Luckily as we are always playing new games we always have spare batteries. This game needs 2 AAA batteries which are not included.
Inside the Box!
There are 99 question cards, 1 challenge card, 2 playing pieces, bang on unit and a hammer inside the box.
Along with the instructions and a sticker sheet for the bang-on unit. This is a team game really but can be played with just 2 people as myself and Freddie did.
It is aimed at everyone over the age of 8. But younger children could definitely join in as a lot of the questions are very simple. Check out our other board games for 8 year olds.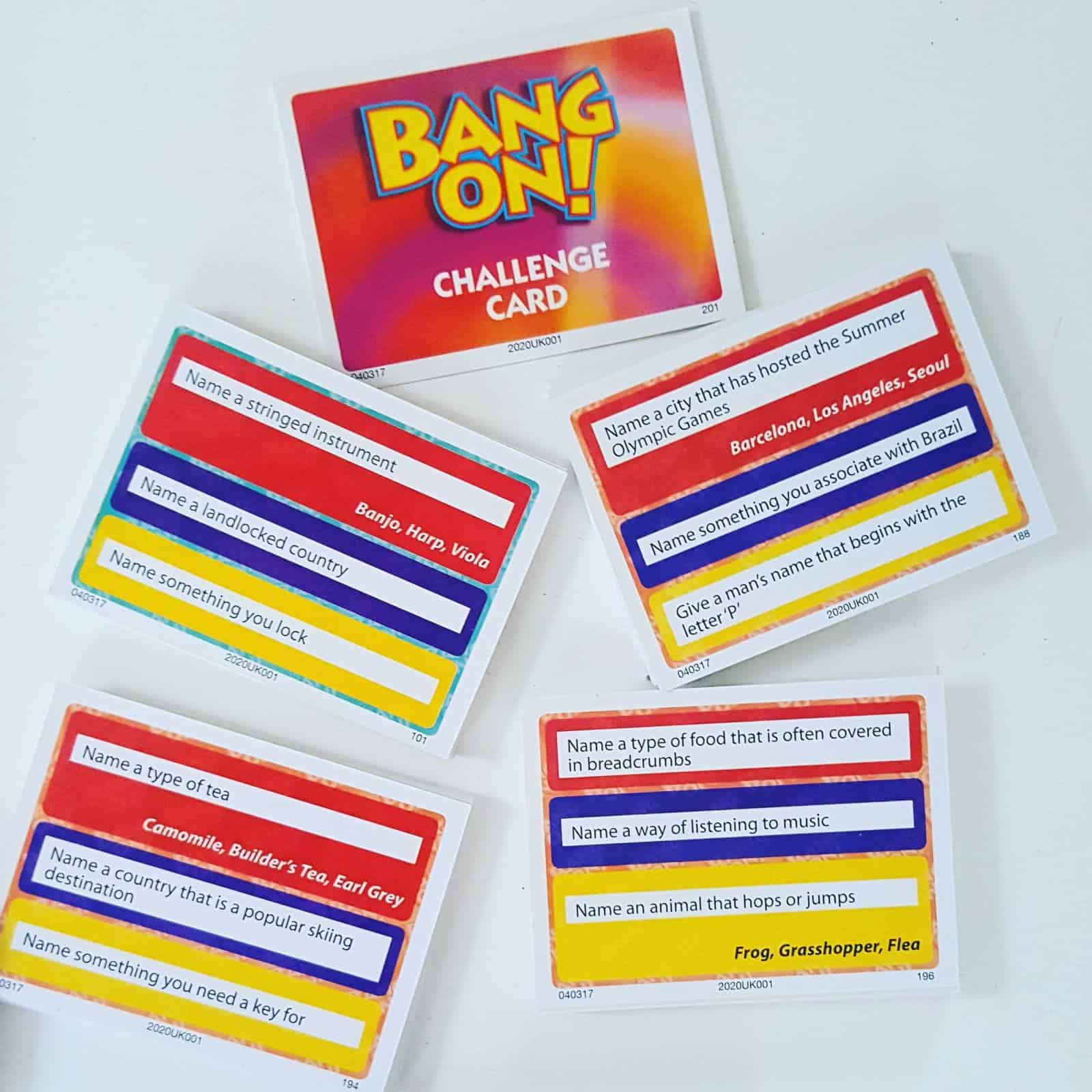 These are some examples of the questions and as you can see they are all really simple. Other than you are against the timer! Every time you get a question correct you bang the unit with the hammer to get your team more time.
On each side of the question card there are bonus answers.
If you say one of these answers you get an extra point.
For example: "name a stringed instrument" if you name, guitar, violin, banjo and harp you get 4 points for correct answers plus 2 bonus points for naming the items listed on the card.
You stop guessing either when your team has shouted out 10 correct answers. Or the timer knob falls to the bottom.
Playing Bang On Game
As there was only myself and Freddie playing this game we didn't need to use the Challenge Card. But I can imagine this being super fun.
Especially as I especially like to cheat at games!!! (I'll do anything to win!!) So my hubby will definitely be challenging a number of my answers I am sure!
Not only all of this if you land on certain spaces around the board the game gets much more fun. There is:
Extra Bang – if you land on this you get an extra bang on the hammer. So your team gets more time to think of more answers
Bust Spaces – This is a hard one. There are 4, 5, or 6 or bust spaces. This means you have to think of at least 4,5 or 6 answers before you actually can move your space. For example, if you land on the 5 or bust space and only think of 4 answers you have to stay put!
Gag a Player – This only works when playing in teams. But the asking team can ask a question and choose one party in the playing team to not answer.
Double Your Score – self-explanatory
Double Bonus – if you answer any bonus answers you get 2 points each as opposed to the normal 1.
The winning team is the first team to get to the finished space.
Overall Review of Bang On Game
We had such fun playing Bang On! I of course won as there was more skill involved than I had first appreciated.
This is aimed at playing in teams. So if Freddie at nearly 8 was with either older children or adults. He would certainly be able to contribute to the game. That being said he still absolutely loved Bang On!.
I know at Christmas or weekends when we have friends and family visiting. This will be one of the first games he would ask to play, get your copy of Bang On today.
If you are looking for other fun games we also love these:
Last Updated on 6 July 2023 by homeschoolof1