First School Residential Trip
As some of you may know I only have one baby, Freddie. Who is the absolute love of my life. My hubby, Stuart, comes a very close second of course! He is 7 years old (8 at the end of the year) going on 15. But he is my baby. He is a very independent and confident little boy. When the school wrote to me about 6 months ago my heart sank. His class, year 3, were going on a 3 day, 2 night school residential trip. What should I do? My heart was telling me he was too young, he was telling me that he was ready. I knew all of the other parents were letting their children go. So of course I didn't want to hold Freddie back and I agreed for him to go.
Freddie is a very what should we say, hmmmm, a social child. And very lively, loud and thinks he knows best! Although he is a well behaved child, like all, he has his moments! He has always been a runner! So as soon as he could walk he would be wandering off in any direction. He was and still is fearless. Now he is 7 he is a little more aware of things. But still wouldn't think twice to escaping or planning his escape. Now I know I am over thinking and of course that wouldn't happen (he's never done it before). But all of this is going through my head!
The Night Before
The dreaded day is finally upon us and I have to pack his suitcase. I put in all of his old clothes (so I can bin them when he returns covered in mud) and again I have this pang that he is just not old enough for this.
Anyway I talk to Freddie all about what is being packed and pack each days clothes in different bags. I wanted to put a photo of us in but he just laughed at me and told me not to be so stupid. So I thought I better not. But I did write a little letter and put it in each bag. I told him I had done it and again he looked at me like I was absolutely nuts but he went along with it. Of course I didn't write anything upsetting. Just that we loved him and was hoping he was having a great time with all of his friends.
The morning arrived
He was super excited. He came into my bed with his little teddy that he wanted to take. Saying "see mummy I told you I wouldn't forget it!". He got dressed without any fuss (very unusual). And we went downstairs for breakfast. I think he was feeling a little apprehensive. As he asked to take a phone so he could phone home. But as that was banned, and of course he is only 7. So obviously doesn't have a phone that was not a problem.
I was trying my absolute best to hold it together. I insisted on giving him loads of kisses and cuddles for the days ahead. Which unusually he didn't mind too much. This however was of course at home so not in front of his friends!! As we were just about to go to school I took his photo (like you do!) and off we went.
We got to school a little earlier than normal. As we were with his suitcase and his sleeping bag and there were loads of kids also ready early. Freddie just went in without batting an eyelid. He didn't care that he had never stayed away from home for more than a night before. But some of his friends were clearly struggling a bit more.
I along with a number of the parents waited outside the school for the kids to get on the bus to take them. I certainly wasn't the only nervous parent there. In fact some were worse than me. At least Freddie had the Beavers trip earlier this year for one night so I was a little more prepared.
On their way to the residential camp
So eventually they all come out in their line and all carry their own luggage. They all looked so grown up. Freddie knew I was there and is far too cool for school. So refused to look at me as he thinks he is funny.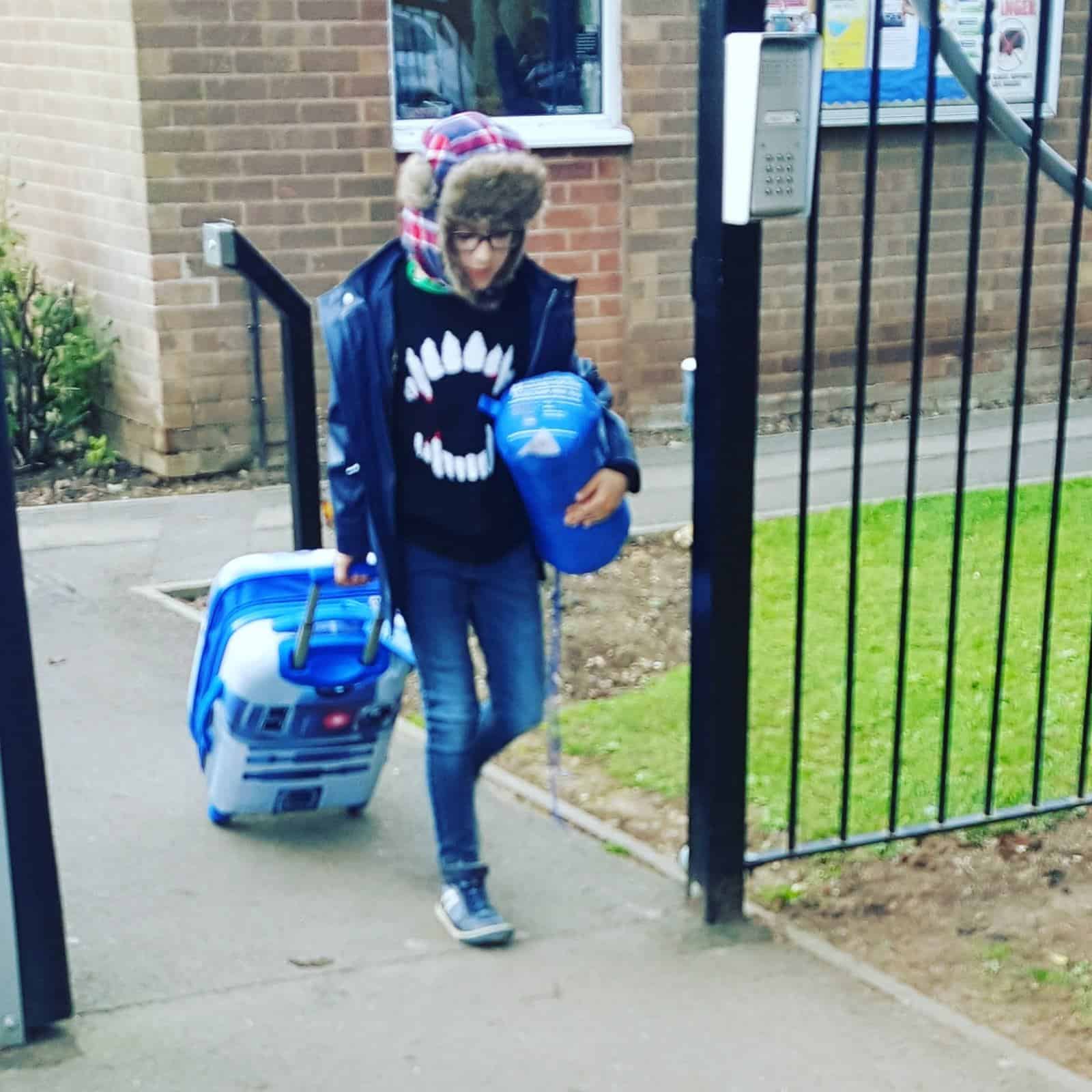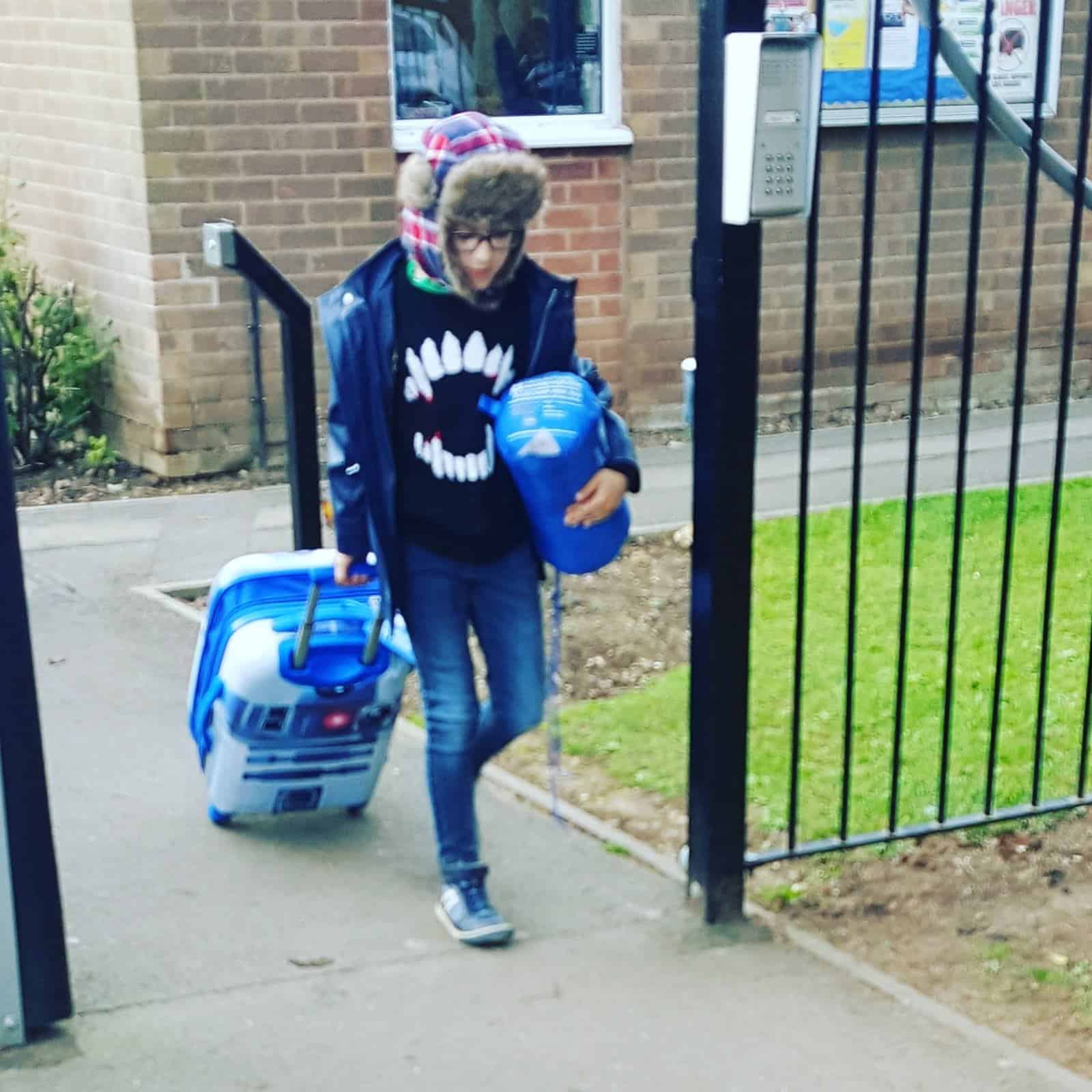 So they were all standing in line and I am calling Freddie Freddie. The boy behind him said he probably can't hear you as his hat is covering his ears. But I knew different!
So I ran up to him and gave him loads of kisses and cuddles in front of his friends!! Haha, I knew that's what he really wanted but was too grown up to say! It is a small village school he goes to so I know all of the children very well. So they all laughed at me!!
They were all so excited when they got on the bus, and they all sat next to one of their best friends which was nice.
I am in a Residential Whats App group with some of the other mums and we have been messaging every 5 minutes. To see if someone has heard something or not! But we finally got a text message telling us they all got there safely.
Of course we could have gone out as a couple both nights. But we have decided to stay in and just chill out at home. The amount of people who say it must be amazing to have a few days off is sending me mad! I absolutely hate it! When I went to bed last night of course I would go and check on Fred and kiss him good night. So I just went into his bedroom and stood in there for a minute wishing he was in bed.
Day 2
The hardest part for me actually was this morning, day 2. Normally Freddie will get into bed with me about 6.30 and we watch some kiddies programme before we get up. Now don't get me wrong getting Freddie up for school is a mission every single day. With the, "I have a tummy ache!" or "I'm too tired!" and I end up telling him half a dozen times to get his clothes on. But this morning, it was just me! I hate the school run normally. With "get your shoes on" "turn the TV off" "NOW" kind of comments. Over and over again, but this morning I would have done anything to have been doing it.
Then 3 o clock came and I normally will be going to pick him up from school, but not today. I feel lost. I have been busy today as normal with working, blogging, going to the Opticians. Having my eyebrows waxed, I had 2 friends pop in separately, oh and my mum and dad popped in. So I have not stopped all day. But the silly things have got me today.
I made sure Stu was working in the UK (he works away at least every other week) so I was not on my own completely. And my God I was vile. I was depressed, and I don't say that lightly. I didn't want to do anything and whatever Stu said to me was wrong. Just wanted my baby back as I couldn't actually function without him.
The Day He Came Home
The morning finally came when I was going to pick Freddie up from school. I made sure the house was immaculate and I actually bothered to do my make up and look half decent. I had butterflies in my stomach and I was so excited to see him. We both went to school early to pick him up, and there he was. He looked so tired and grubby and came running up to me and I picked him up (which was no mean feat!!). I was so happy and immediately the "depression" lifted, well not quite actually but I was a whole lot happier.
Freddie normally has a swimming lesson and rugby training on a Friday night. But as he was so tired we decided to keep him at home. He had an absolutely lovely time and didn't stop talking for at least an hour. About all the great stuff they had done, canoeing, climbing, playing hide and seek in the cellar, building dens.
How have you managed to cope when your children have stayed away from home?
Last Updated on 4 November 2021 by homeschoolof1