The Best Fun Holidays To Have With The Kids
We absolutely love to have holiday fun in our homeschool, and we have broken the main holidays into separate sections on the menu at the top. But these fun holidays are just extra days that we also celebrate in our homeschool.
These holidays are just as important to us, especially as we homeschool (it breaks up the core curriculum!).
The days we have covered here are (in date order):
Martin Luther King Jr Day
Black History Month
Presidents Day
St David's Day
World Book Day
PI Day
Earth Day
St George's Day
Arbor Day
Star Wars Day
Cinco de Mayo
Mothers Day
Memorial Day
Independence Day / Summer
Roald Dahl Day
Talk Like a Pirate Day
Bonfire Night
Veterans Day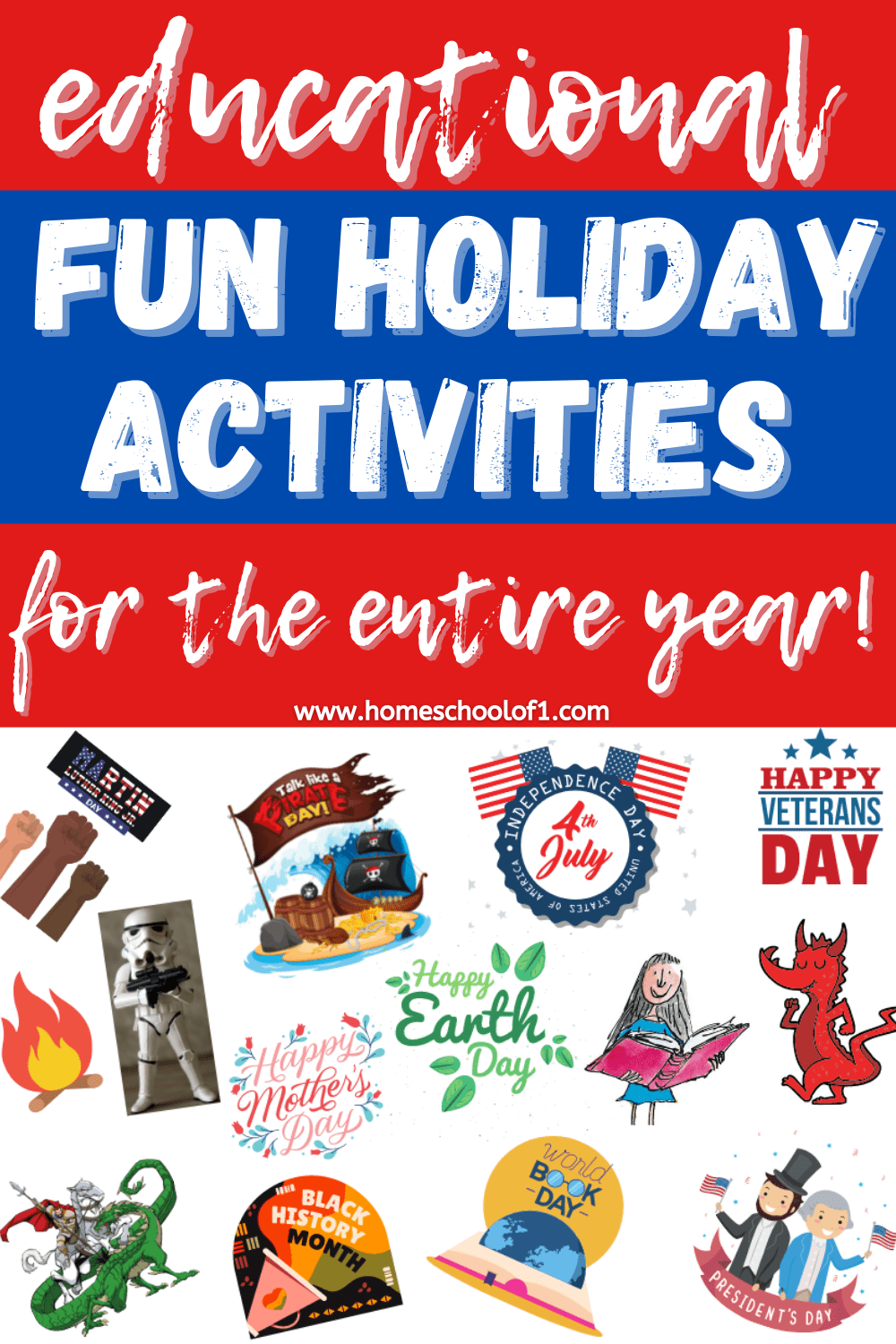 **There may be affiliate links in this post. If you make a purchase (after clicking one of my affiliate links) I'll earn some coffee money, which I promise to drink while supporting your journey. You do not pay a higher price. You can read my full disclosure at the bottom of the page.**
Martin Luther King Jr Day
On the third Monday of January, the world celebrates the great Dr. Martin Luther King, Jr. I have put together over 30 different fun and homeschool resources that we will use to study.
Black History Month
Black history month is celebrated by the US and Canada in February, but Europe celebrates it in October. Check out over 35 resources that we will be using in our homeschool. Including 11 free Black history month posters.
Presidents Day
Presidents' Day, or Washington's Birthday, is a holiday in the United States celebrated on the third Monday of February to honor all persons who served in the office. We have put together the following fun resources for you to do.
St David's Day
St David's Day falls on the 1st of March each year, the day on which St David is believed to have died. He is the Patron Saint of Wales. Check out the resources we will be using to honor the occasion. Plus 10 free coloring pages.
PI Day
Have fun on PI Day and Albert Einstein's birthday on March 14th with our FREE 7 page PI Day activity pack.
World Book Day
Celebrated around the world but on different dates, 23rd April but in the UK it always runs on the first Thursday in March. Read all of our kids books posts here, you will definitely find something for kids aged between 2 and 15.
Earth Day
Earth Day is celebrated on April 22nd check out the fun we will be having:
St George's Day
Arbor Day
Star Wars Day
May the 4th is not an official holiday! However, it is in my house! Freddie is totally obsessed with all things Star Wars. Check out these educational Star Wars activities and have fun with the force!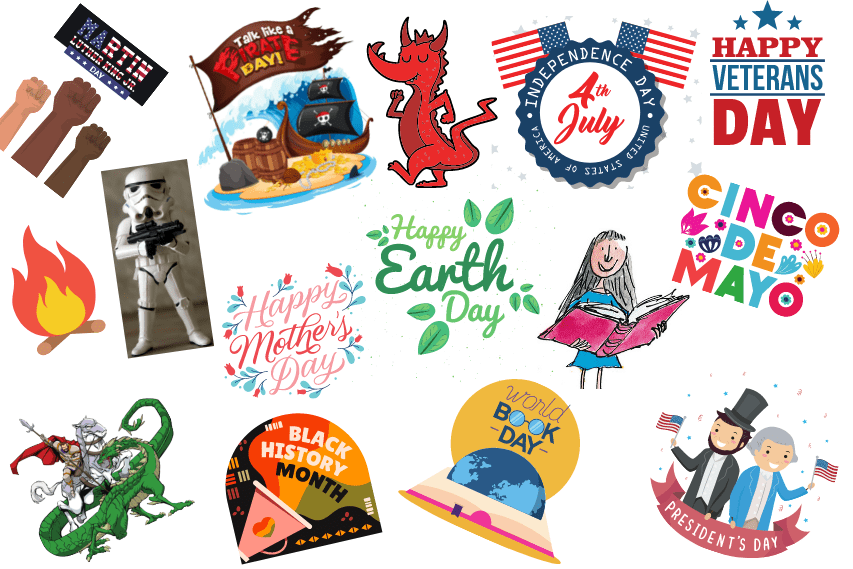 Cinco de Mayo
Mothers Day
Memorial Day
Fathers Day
Independence Day / Summer
Have fun with these July 4th word searches perfect for both younger and older children.
Download and print out our free 4th of July scavenger hunt and see who can find all 15 first.
Print out our free 4th of July word scramble and see if you can unscramble all 13 words. But don't worry there is an answer sheet to help if needed.
Are you having a party this Independence Day? If so check out our favorite 4th of July games the whole family will love.
If you are having a long car journey this summer, print out our free Road trip bingo printable and never hear "are we nearly there yet?" again!
If you have older kids why not check out our free summer bucket list for teenagers, it will keep them entertained for the whole summer!
Roald Dahl Day
Have fun on September 13th and celebrate the life of one of the best kids authors of all time. These Roald Dahl Day activities are perfect for elementary-aged kids.
Talk Like a Pirate Day
This is a super silly day, but we have fun with it anyway! September 19th is Talk Like a Pirate Day and we have put together over 35 really fun activities for you to do with the kids. Check out over 36 of our favorite pirate books for kids.
Bonfire Night
Bonfire Night is a UK holiday, held on November 5th. This is to remember when Guy Fawkes tried to blow up the Houses of Parliament. Learn all about the history and how and why we continue to celebrate November 5th.
Veterans Day
Or Remembrance Day is held on November 11th around the world to celebrate the ending of World War I, and to honor the soldiers, who fought in the battle and continue to protect our country.
Last Updated on 14 May 2022 by homeschoolof1