18 Best Gifts For Busy Moms in 2022 (That Mom Needs)
Struggling to know what to buy mom this year? Whether it is for a birthday, Christmas or even Mother's Day finding the perfect present can be hard. Keep reading for the best gifts for busy moms in 2022.
To be honest most moms will just settle for a bit of peace and a full night's sleep! However, I certainly do not recommend not getting a gift as well!
Does mom work from home? Is mom a stay-at-home mom? Does mom travel to work? All of these things should be considered when finding the best gift for mom. I have added lots of different suggestions that all busy moms will love.
I think you will also love our favorite mother and daughter matching outfits.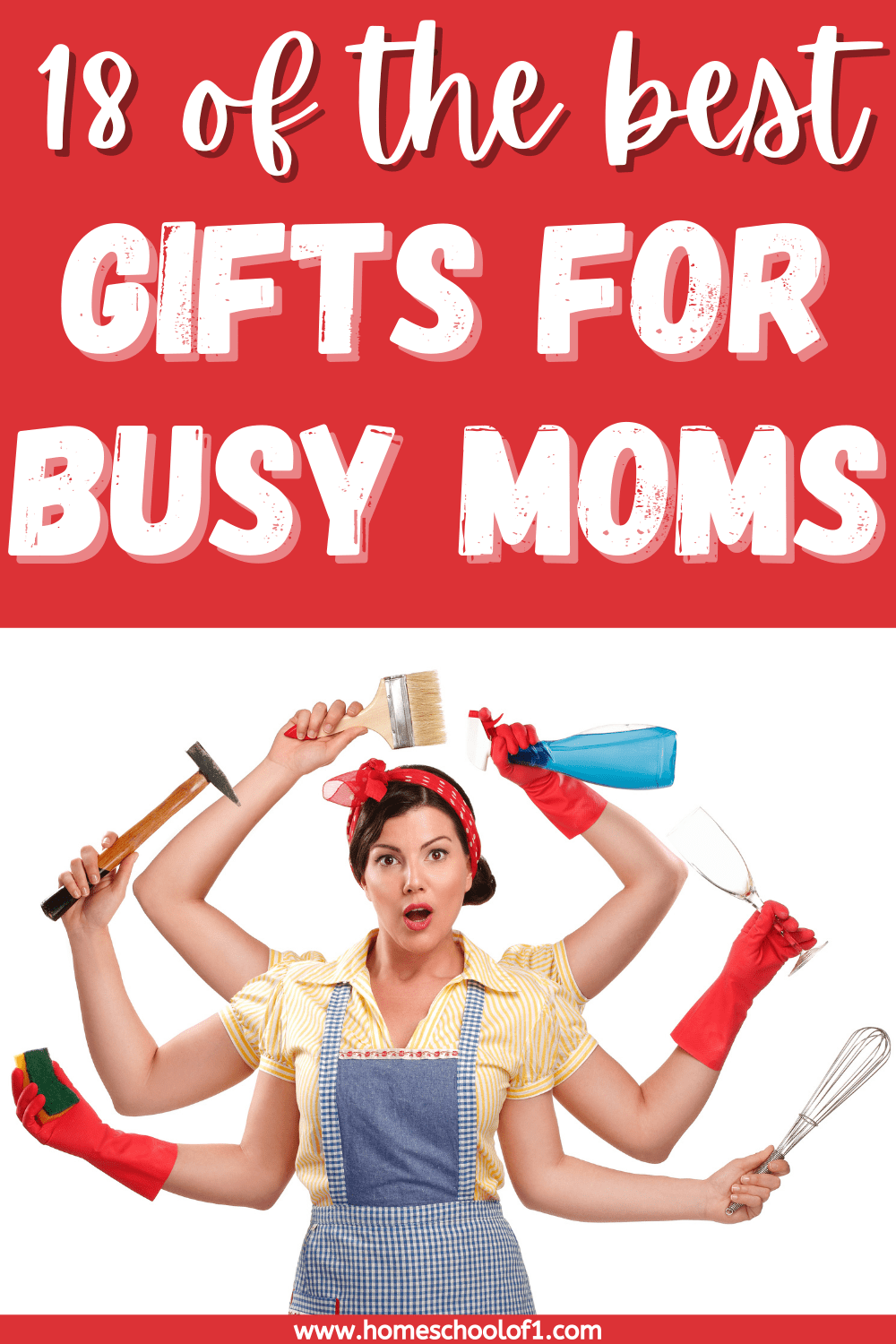 **There may be affiliate links in this post. If you make a purchase (after clicking one of my affiliate links) I'll earn some coffee money, which I promise to drink while supporting your journey. You do not pay a higher price. You can read my full disclosure at the bottom of the page.**
Gifts for Busy Moms
Neck Massager is a great idea for a busy mom. Treat her to this really reasonably priced neck massager for her to enjoy while watching the tv.
Scented Candle is another perfect gift to help mom relax after her busy day working, or running around after the kids.
Check out our favorite homeschool mom gifts for even more inspiration.
IWatch Band why not treat mom to one of these beautiful compatible Apple IWatch bands? They are really reasonably priced and they make the watch look so much more feminine.
Mommy's Time Out Wine Glass is my absolute favorite glass and I have had it for about 3 years (in fact I have broken it once and I loved it so much I got another one!)
Check out some other gifts for mom who doesn't want anything for even more ideas.
Light Therapy Lamp living in South Florida I don't need this, however, if I lived pretty much anywhere else I highly recommend it. The reviews are excellent, and I know how much happier I feel when the sun is shining.
Breathe, Mama Breathe is the perfect gift for busy moms. With easy-to-follow 5 minute mindfulness exercises to help mom refocus.
Best Gifts for Working Moms
Personalized Deskpad if mom works at a computer all day, why not treat her to a personalized extra large notepad.
Yeti Coffee Tumbler is an absolute must-gift for a busy mom. If she doesn't have one, do not delay and get one now! There are about 30 different colors to choose from, and they are an absolute lifesaver!
Foot Massager is perfect for busy moms who are on their feet all day.
REVLON One-Step Volumizer, Hair Dryer, and Hot Air Brush is a perfect gift for a mom who doesn't have much time to do her hair. Since owning this brush it has honestly cut my hair drying time in half (I do have very long hair though.)
Apple Air Pods are absolutely awesome, and if mom doesn't already have them I highly recommend them. They are perfect to wear when working out, on the journey to work, or even if you are trying to get a bit of peace and quiet at home!
IRobot Roomba normally I would not recommend buying household goods for mom. However, this is an exception to that rule. It has honestly made such a difference to me. I schedule it to come on when I am not home, and when I get back it is done. No more vacuuming for me!
Keurig Coffee Maker would make a great treat for mom. What mom doesn't like coffee? (Well actually I don't, but I know this coffee maker is awesome as I got it for my husband as a Father's Day gift last year!).
Personalized Family Recipe Book this wooden recipe journal is absolutely fantastic for moms who enjoy cooking.
Last Updated on 21 October 2022 by homeschoolof1