Kidtropolis (2018) NEC Review
Kidtropolis was held at the NEC this year (2018) and as we only live about half an hour away we thought we check it out.
We took one of Freddie's best mates with us to Kidtropolis and we made sure we got there super early. Now what I hadn't considered when booking the tickets was the fact that we had to pay £12 to park!
After queuing to get in we went into this big hall full of bouncy castles and assault courses. We instantly lost the kids, I might add they are 8 and so it wasn't an issue.
What was at Kidtropolis?
There was certainly plenty to do for all children, however, it was certainly geared towards toddlers – 7 year old's. We took 2 8 year old's and although they enjoyed it they were one of the oldest kids there.
**Disclosure – This post may contain affiliate links. Which means we may receive a small commission, at no cost to you, if you make a purchase through a link.
The first thing the boys went on (when we actually found them!) was the Cliff Hanger! This was great fun, and it really was a long way down.
The bumper cars were fantastic. We have of course been on bumper cars before, but these were the best I have seen. They had flashing lights and what I was not expecting was they splashed water too!!!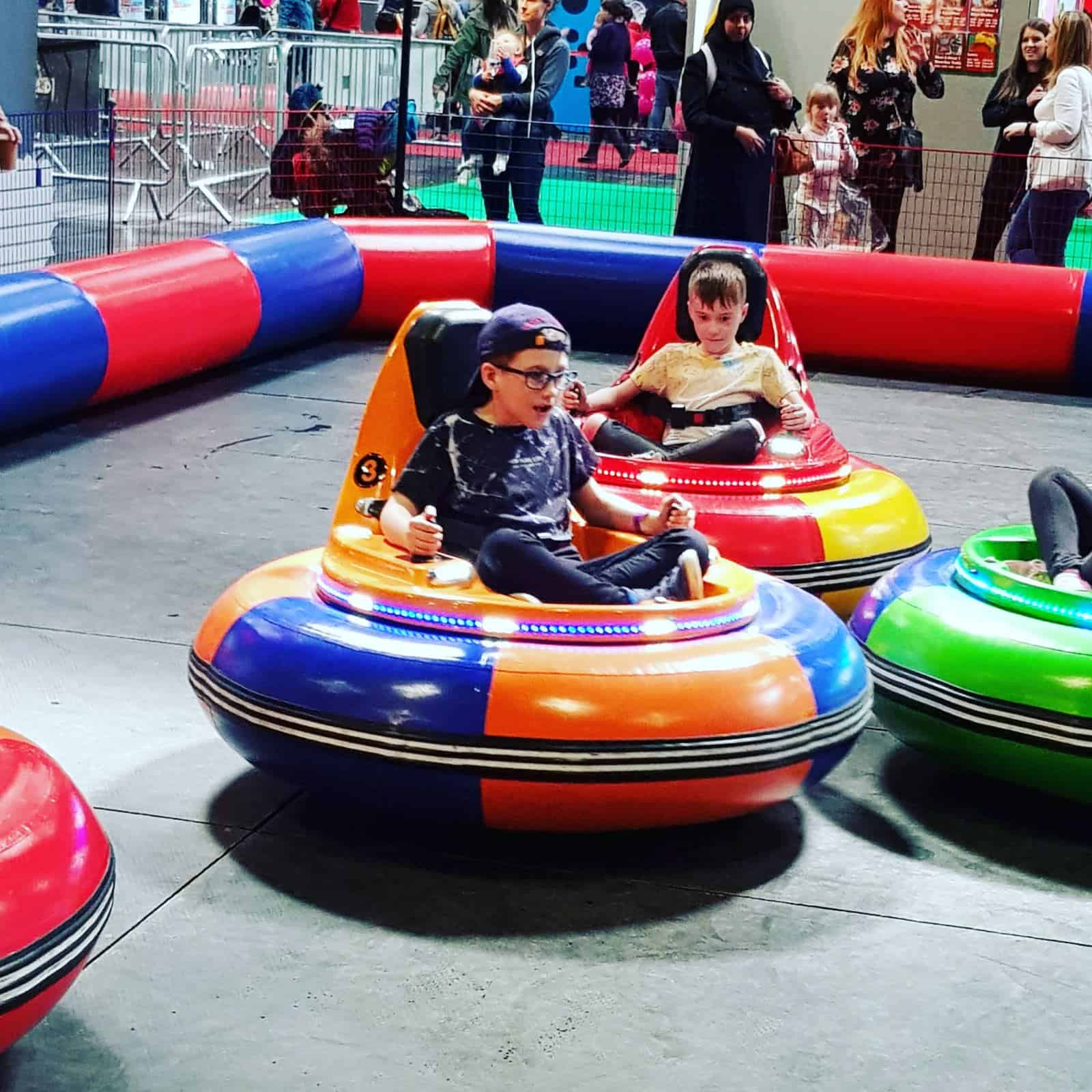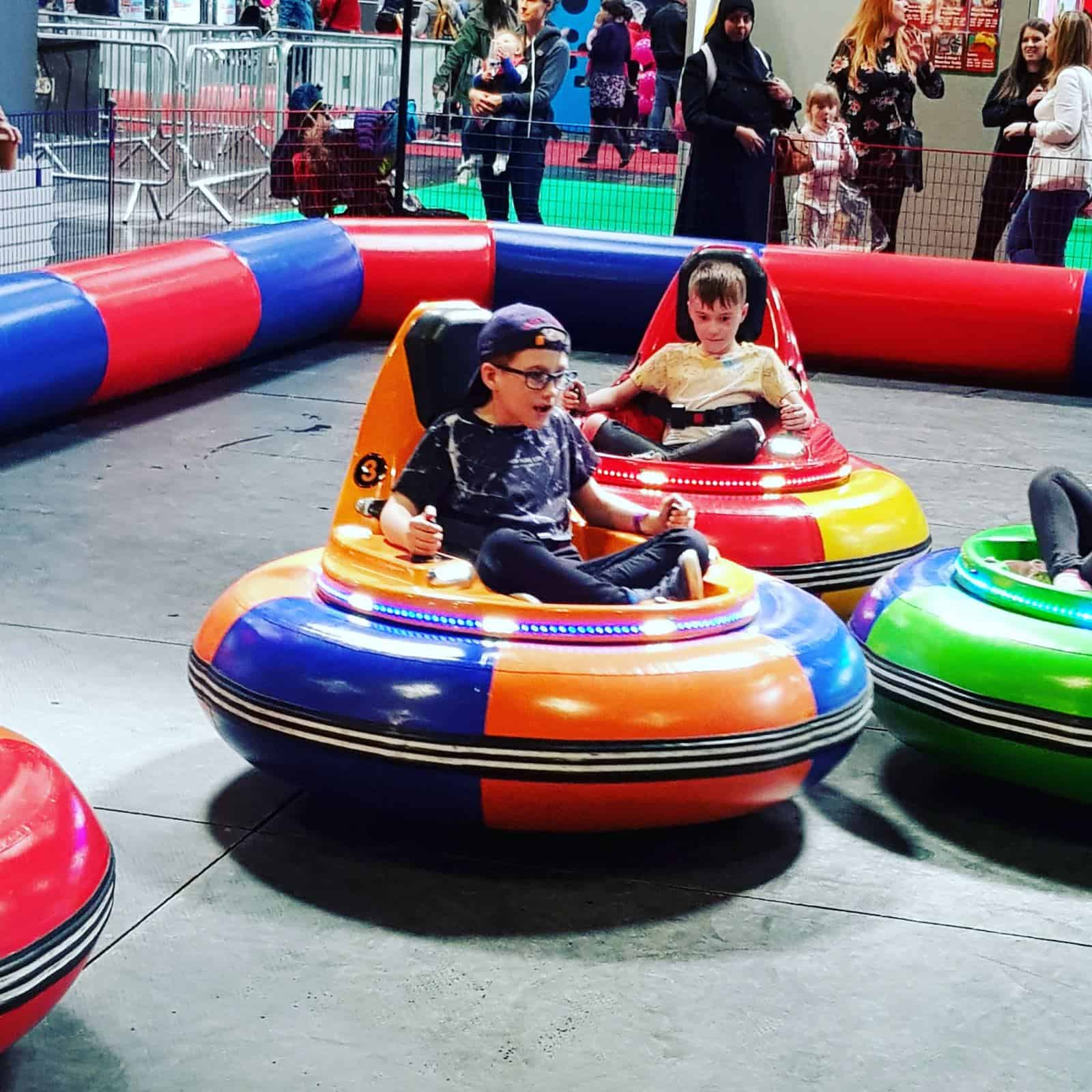 The massive assault course, this was great. It was gigantic and would have been perfect for us adults!! The kids spent about an hour jumping about in here and they loved it.
There were plenty of characters you could meet and have your photo taken with. Now as the kids were 8 they weren't interested, as these were definitely aimed at younger children. But I couldn't resist getting a photo of Twilight Sparkle, one of the My Little Pony characters.
The Pirate Ship yet another smaller size assault course was also a big hit. The queues for this were much quicker and so the kids went on it a lot.
Ferris Bounce was the longest queue by a mile and to be honest Freddie's least favourite activity. The age on the program clearly states 5+ but there were children as young as 2 going on this, and as such they didn't let many people on at once. The queue for this was an hour. I thought kids were bad for pushing in, but, my God some of the parents were just as bad.
There were 2 areas were the kids could play computer games, both at the Nintendo Switch area. Our kids played Splatoon 2 which apparently is much better than Splatoon 1, so it is probably going to end up on Freddie's Christmas Wish List!! There was also an area for the kids to play Roblox Minecraft. They didn't have time to even go into this area, probably due to the long queues and all the other activities.
What was wrong with Kidtropolis:
Some of the bouncy castles / assault courses were aimed at older children and yet toddlers were allowed to go in. Now don't get me wrong the kids weren't in any danger, the problem was they had to go in one at a time as an adult needed to help them get over the hurdles. There was one specific obstacle course that Freddie was queuing an hour to get into.
What was great about Kidtropolis:
The kids loved it. So for me that is always enough.
Did you go to Kidtropolis? What did you think, let me know in the comments below?
If you enjoy this check out our review on Kidzania London.
Last Updated on 27 August 2021 by homeschoolof1