Mary Berry Christmas Cake: Is It Really Better Than Buying One?
I absolutely LOVE Mary Berry and we have been making her Classic Victorian Christmas Cake from her Christmas Collection book for a couple of years now. Keep reading for our detailed review of the Mary Berry Christmas Cake recipe.
It is so super fruity and moist, it is our all-time favourite traditional Christmas Cake.
We start making this cake towards the end of October or at the very latest the first week of November. It needs at least six weeks to mature and for you to "feed it". If you cook it at the last minute you will find that the cake is really crumbly and it won't taste as good.
**There may be affiliate links in this post. You can read my full disclosure at the bottom of the page.**
Mary Berry Christmas Book
The Mary Berry Christmas Collection cookbook is absolutely amazing and definitely should be in your shopping basket!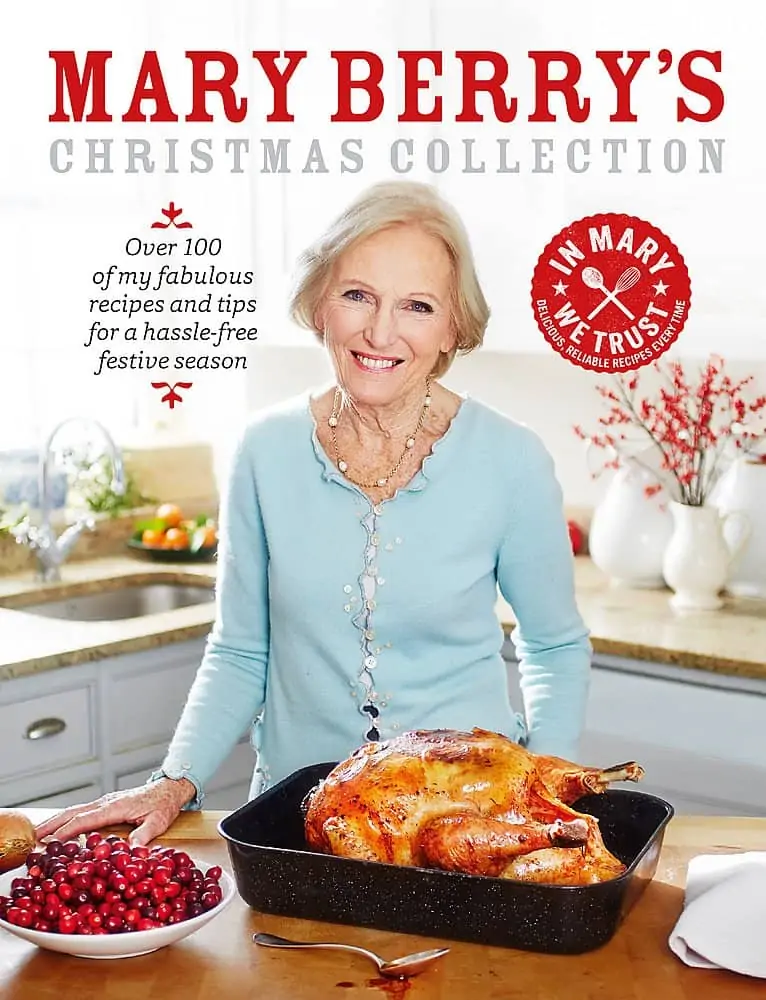 First things first, make sure you soak the fruit
So first things first, you need to soak all of the fruit. Now I had remembered this from last year, however, I completely forgot Mary wants you to soak them for 3 days.
As she is the boss I thought I would follow this recipe to the letter.
I opted for Asda's (Walmart if you are in America) own produce as I was trying to keep the cost down.
Check out further down the post how much this actually costs to make. You will be amazed!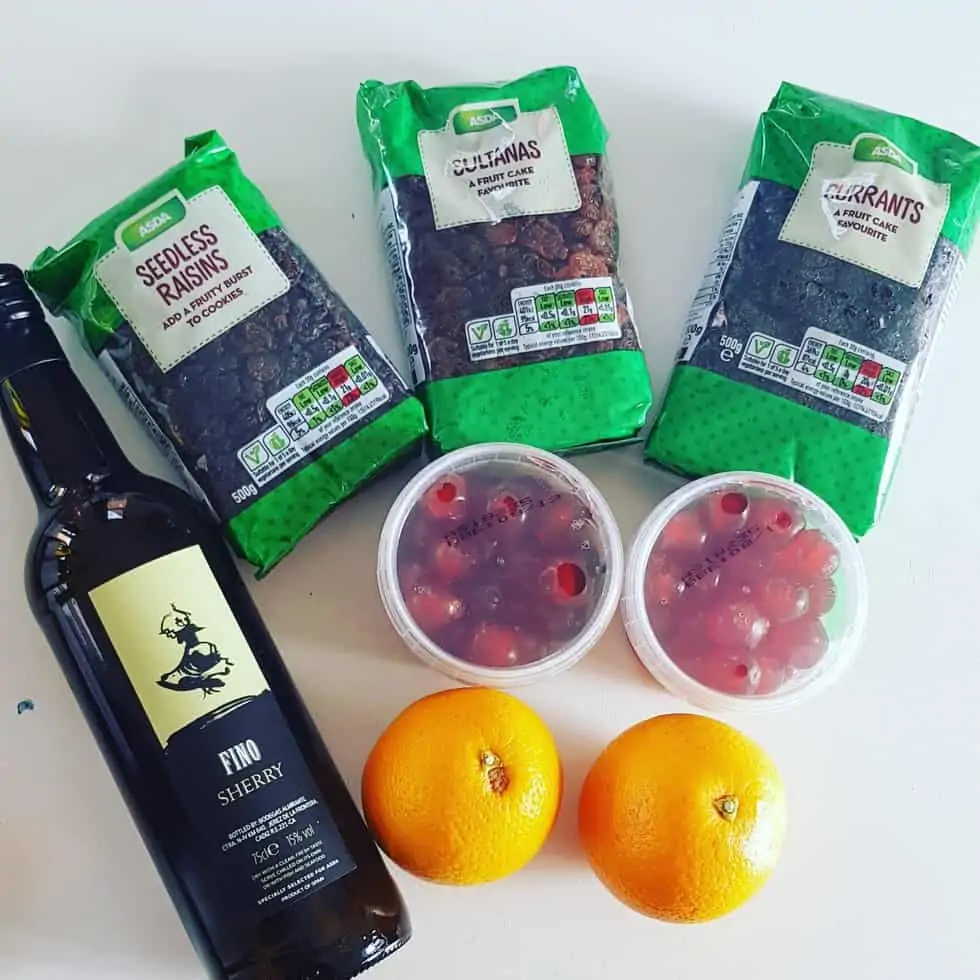 I got my son to make this Christmas cake as part of one of his homeschool activities, so we had to quarter the cherries. After we had washed them thoroughly. He got a bit bored (there are loads!) so I obviously stepped in.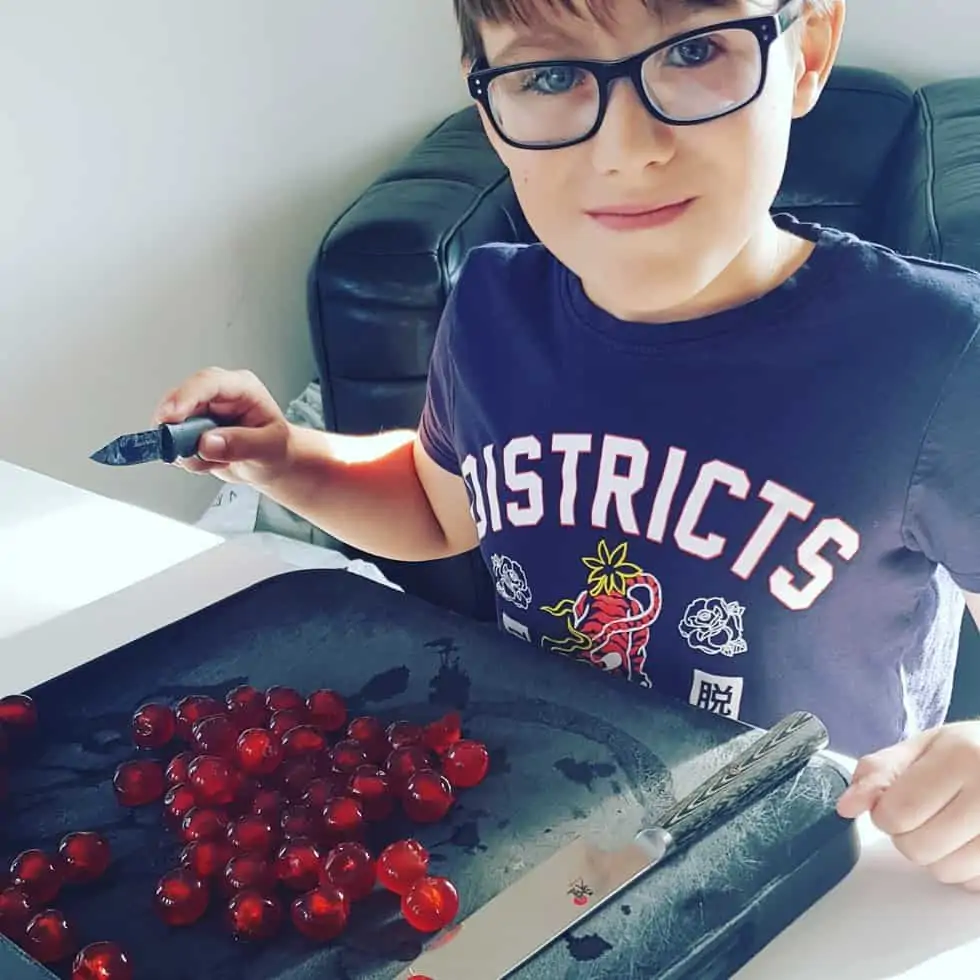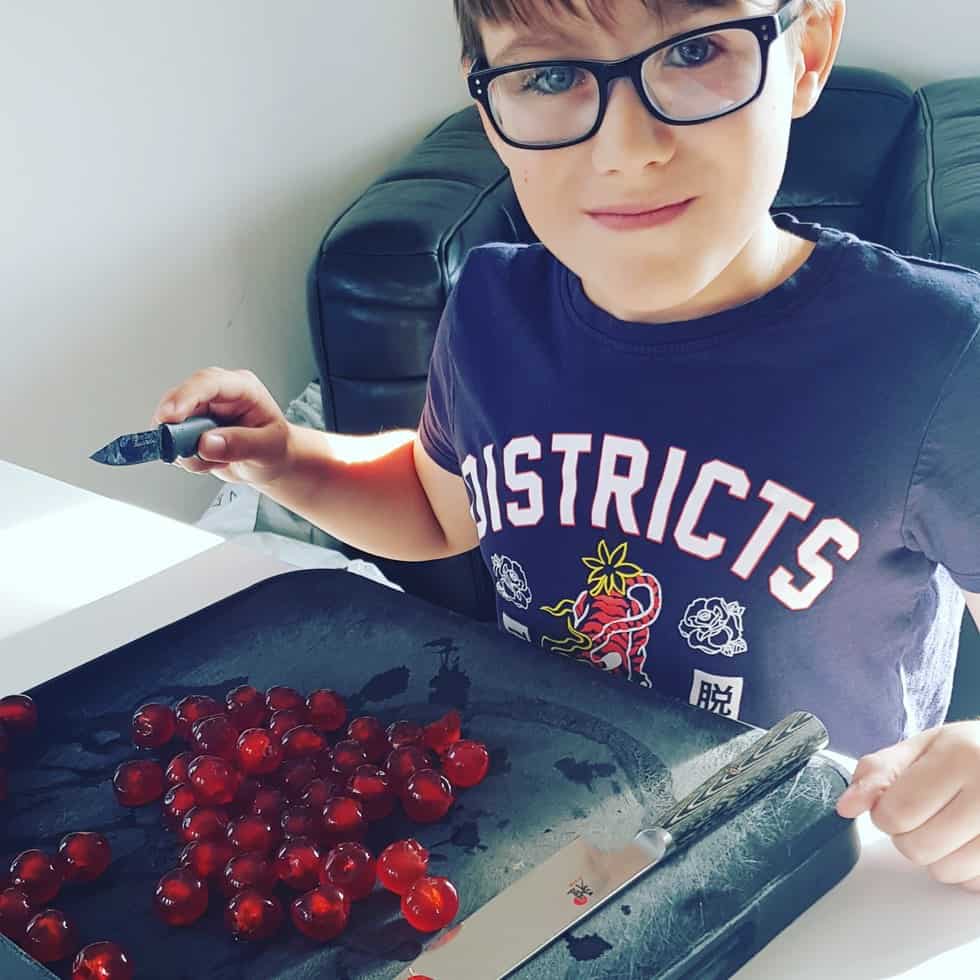 Wow, look at all of this fruit. I think this is the main reason we love this cake so much. There is so much fruit in it and hardly any cake!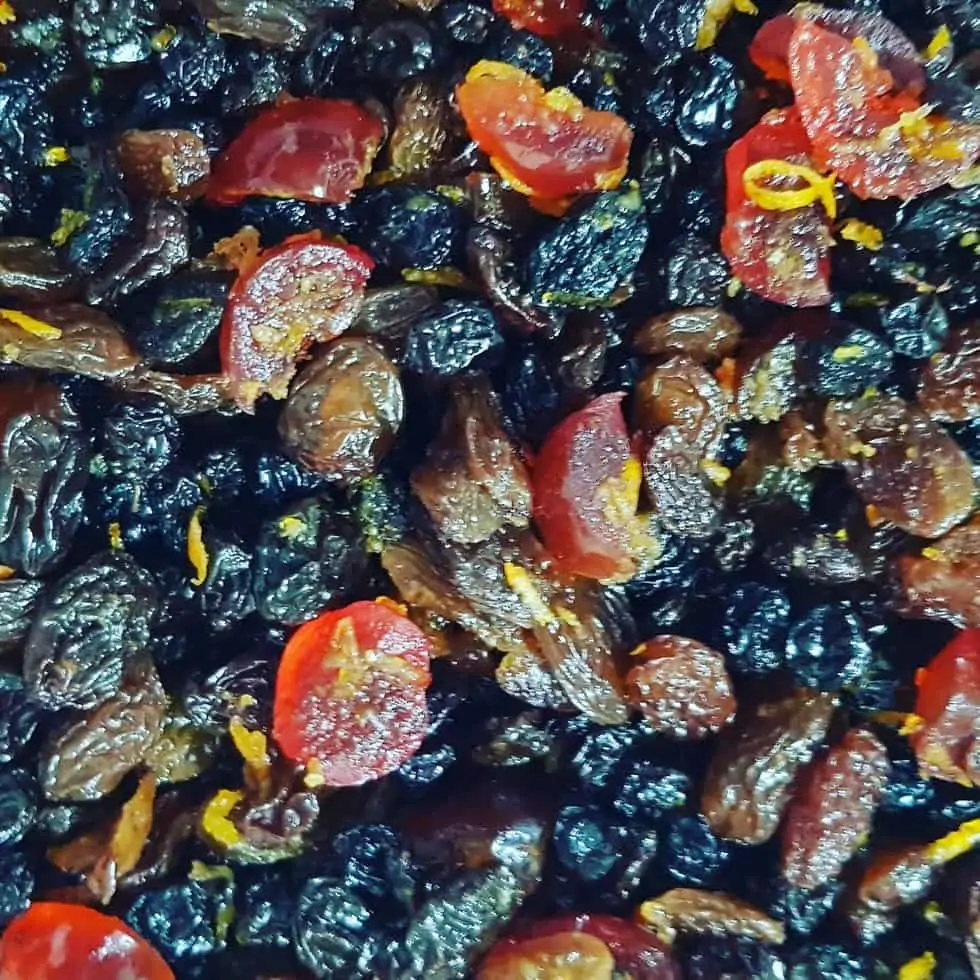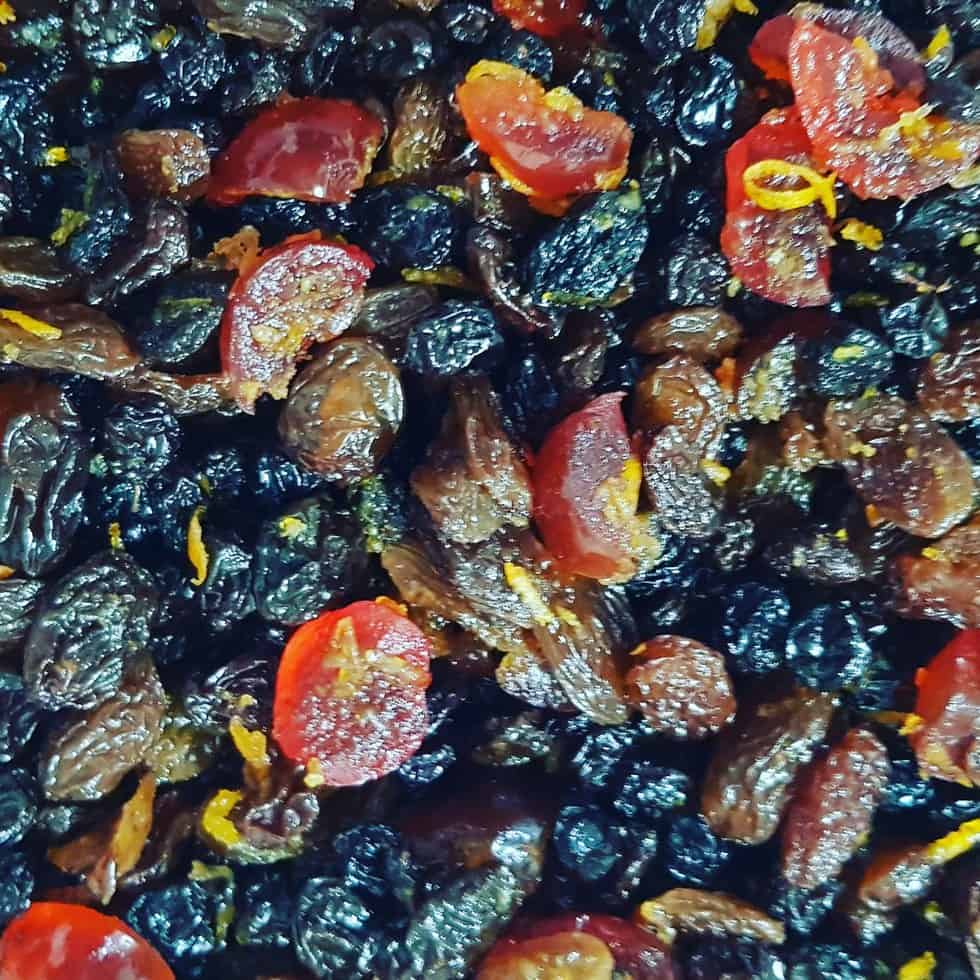 So fast forward three days.
Making the Mary Berry Victorian Christmas Cake
So we got all of the ingredients ready, and my best friend the kitchen aid mixer. To be honest, after you have soaked the fruit for 3 days, it is actually super easy to make the cake.
You pretty much just throw everything in.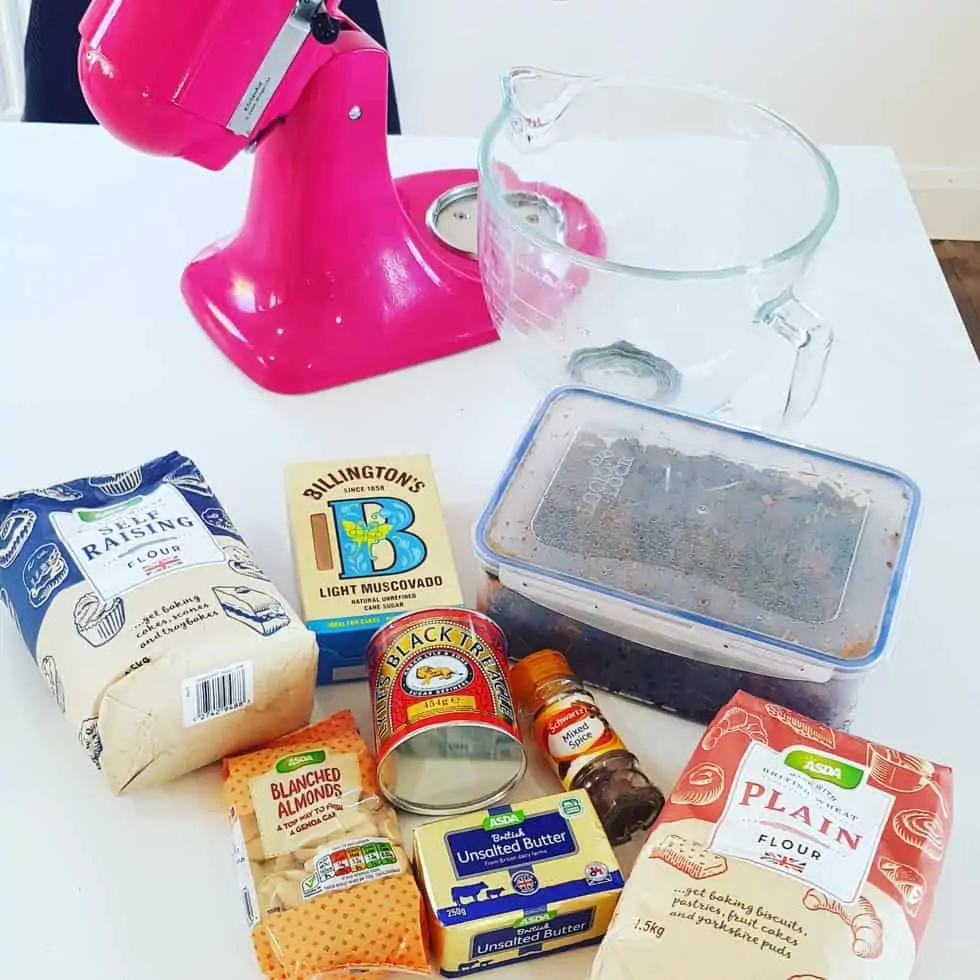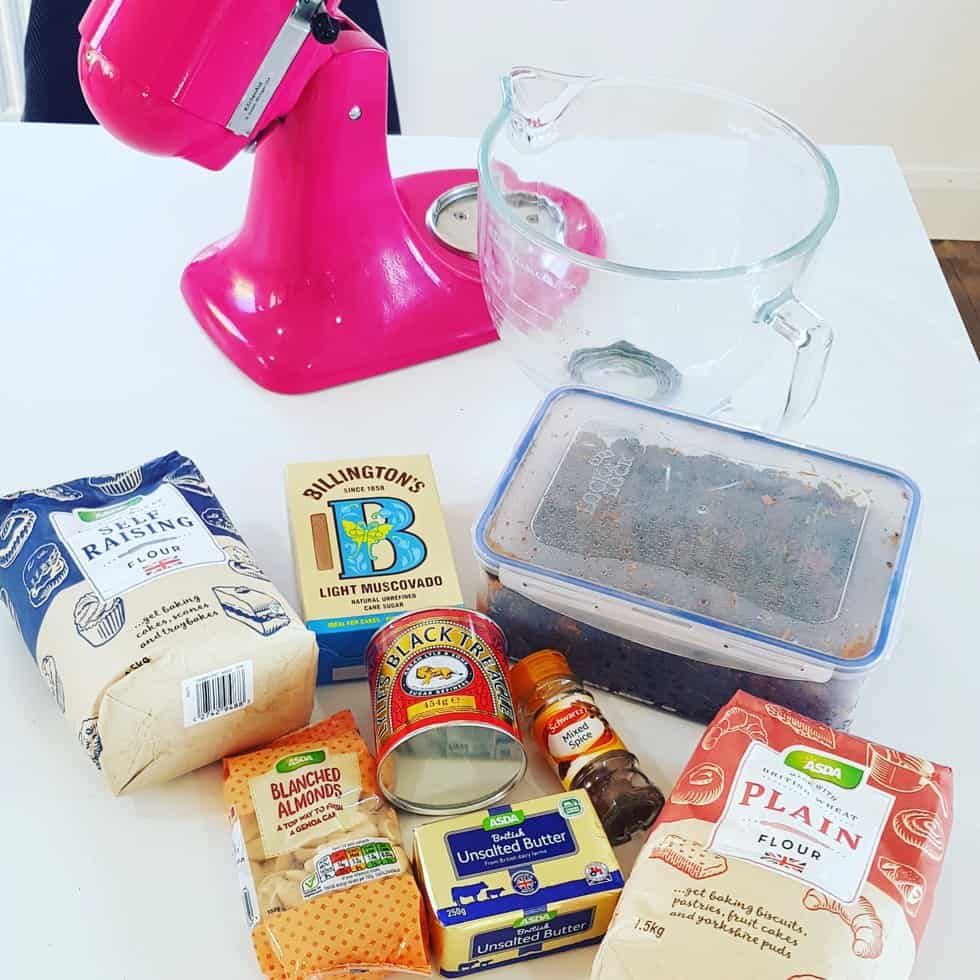 Actually apart from softening the butter, and chopping the blanched almonds. It really is that EASY.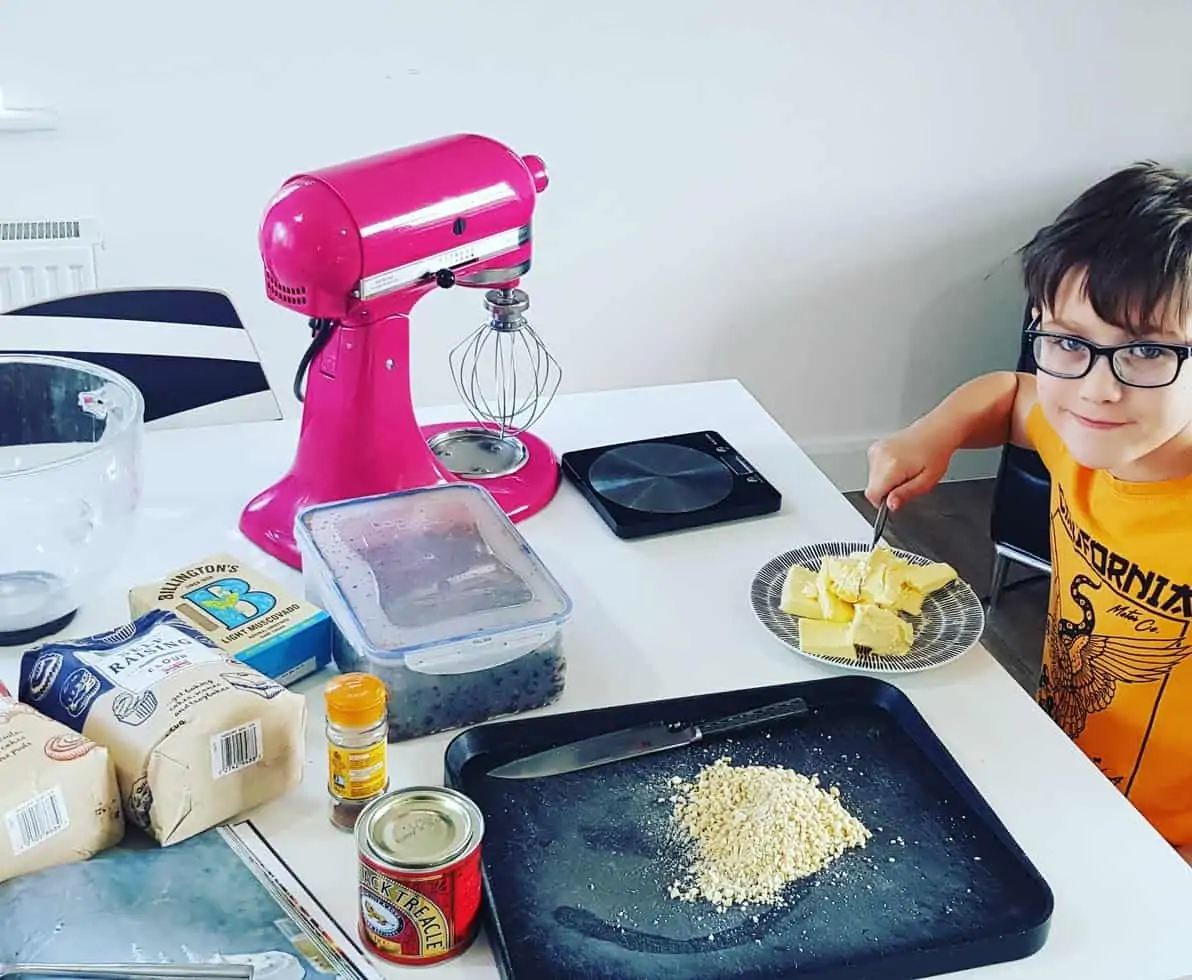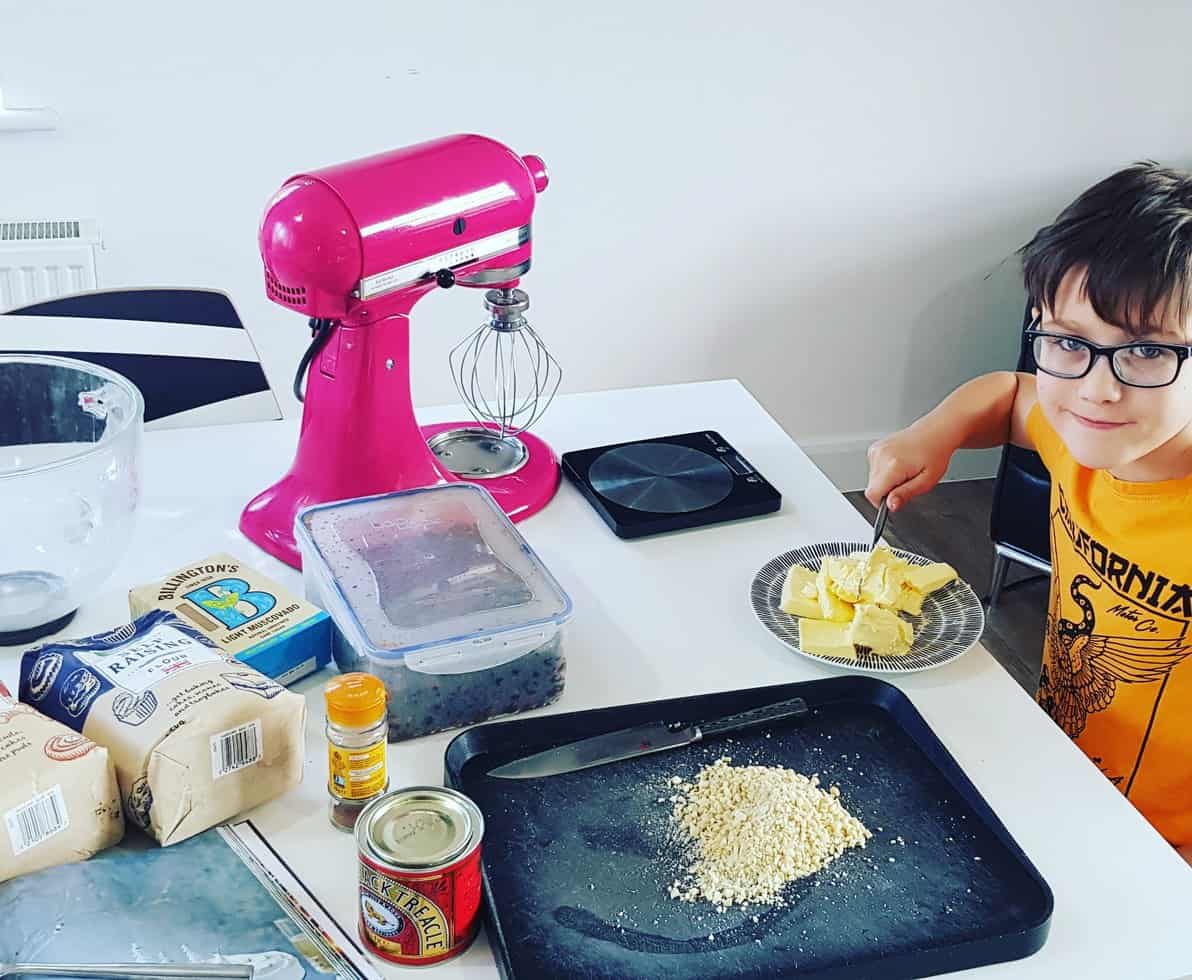 So time for the Kitchen Aid to take over and do its thing. Or a large mixing bowl will work.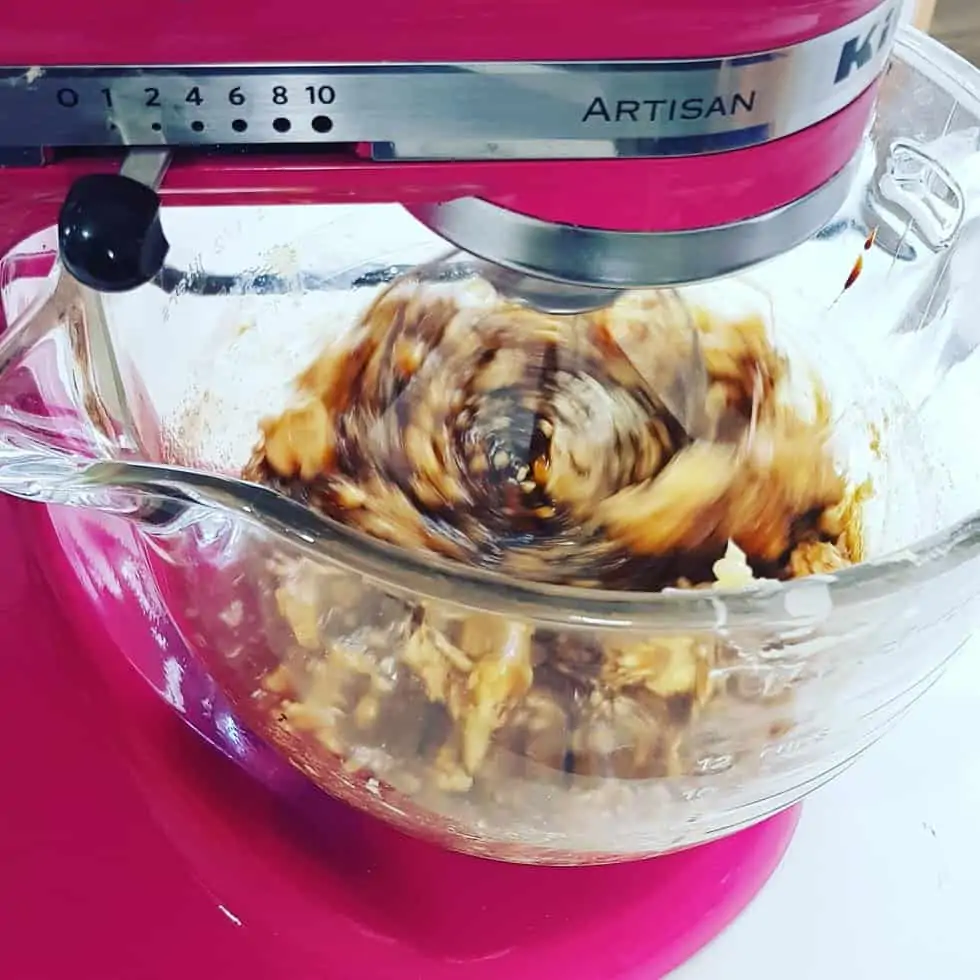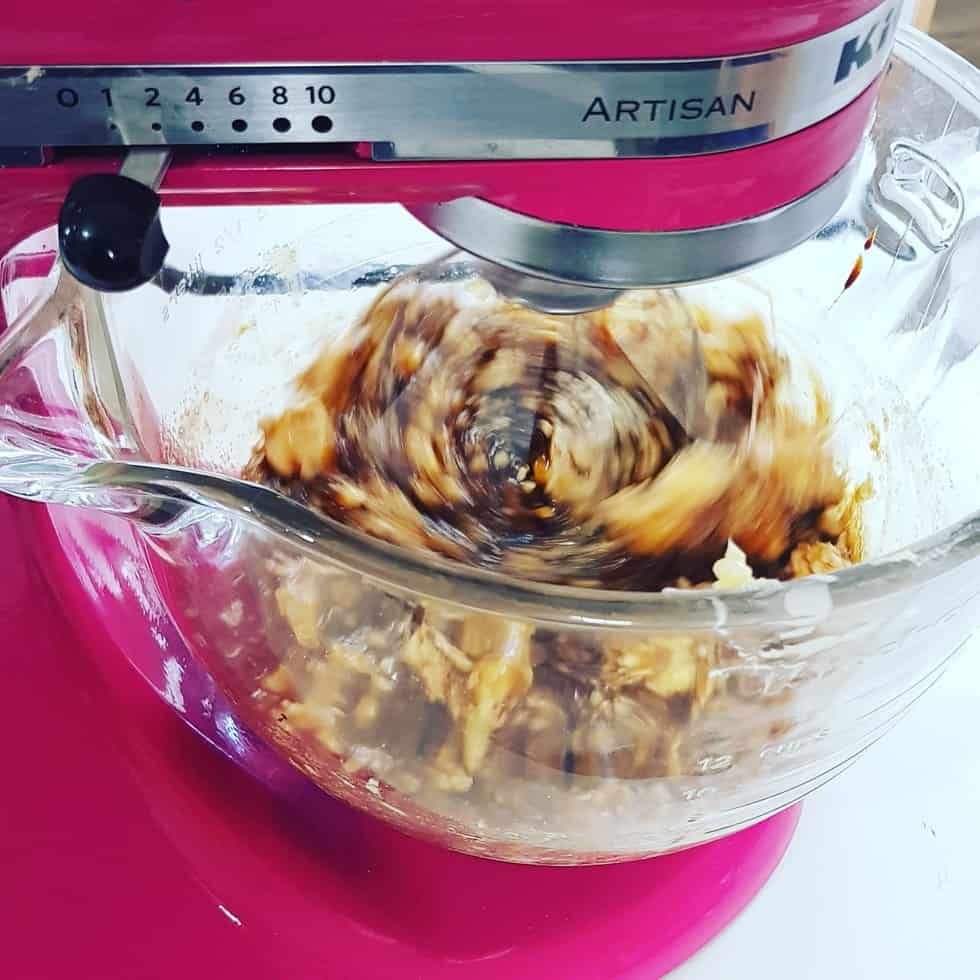 As soon as the ingredients (except for the fruit) have been mixed together you need to add the fruit.
Now I was going to ask my son to do this. But as you can see, there is SO much fruit it is quite tricky to mix it all in.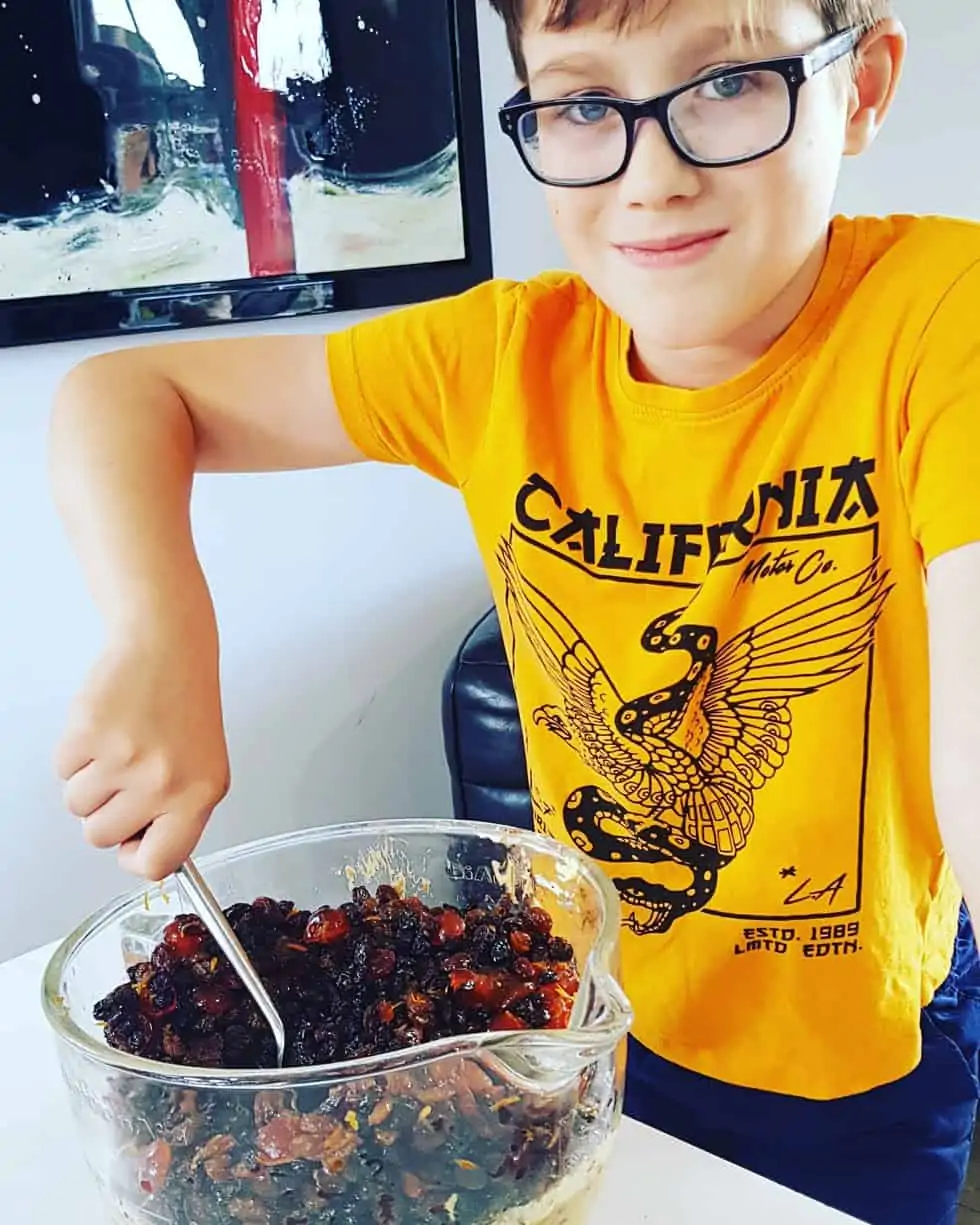 All done. It's ready to go in the oven.
Add the ingredients into your cake tin but make sure to use greaseproof paper.
As I had made this before I know that this fruit cake doesn't rise. Normally I would be worried about a cake going so high up in the baking tray, but not for this classic Christmas cake.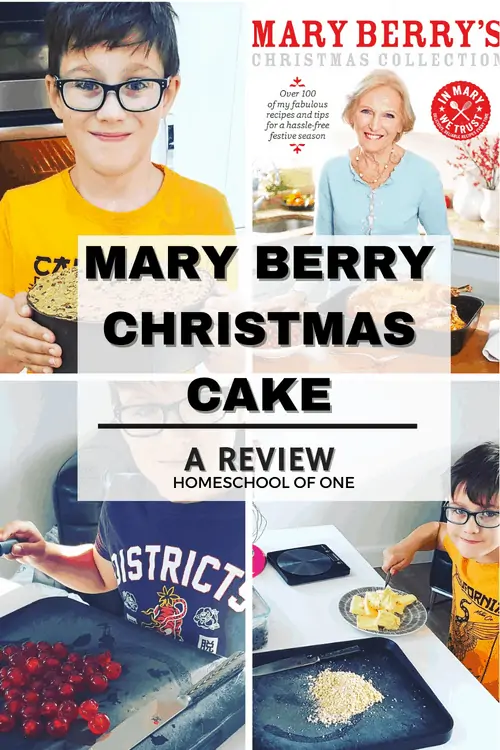 Now it takes about 4 and a half hours until it is ready, but it makes the kitchen smell divine!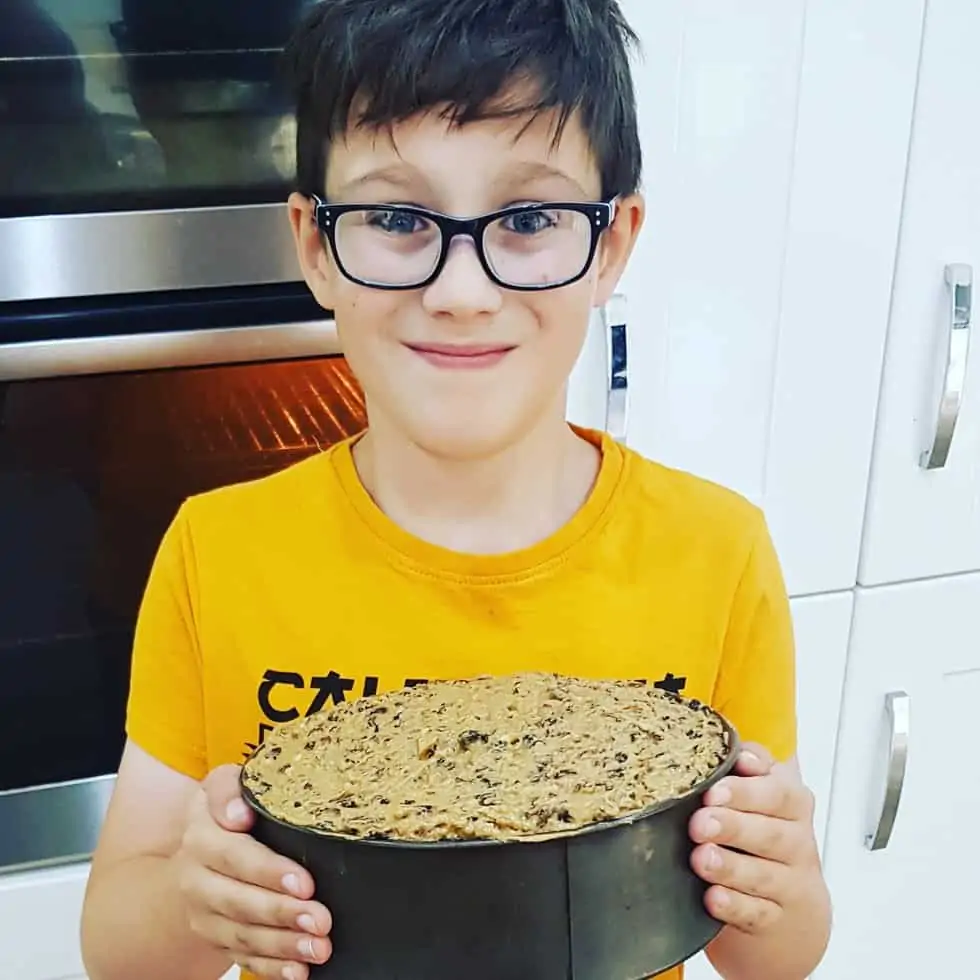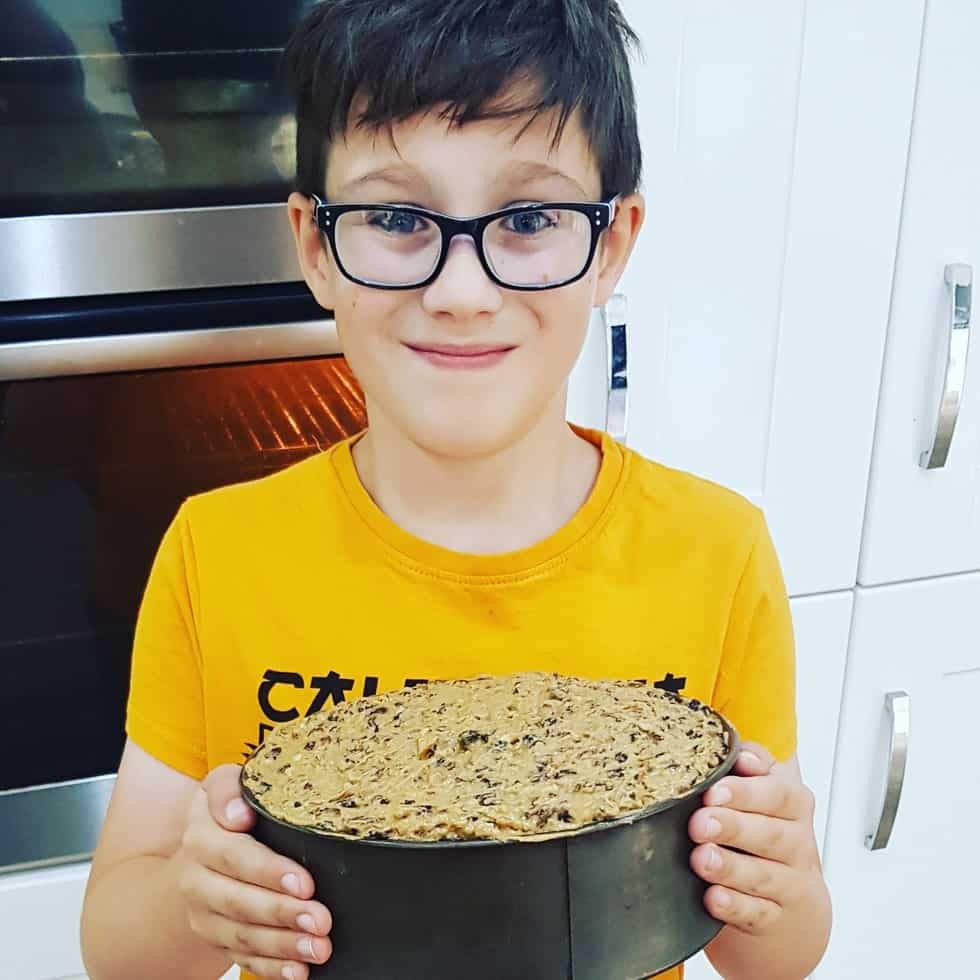 It's ready!
Taking it out of the oven
So after 4 and a half hours, your Mary Berry Christmas Cake is ready! Make sure to check that the cake feels firm and it is a rich golden brown.
You need to leave it in the cake tin until you have a completely cold cake. I'm not sure why, but I am sure there is a very good reason.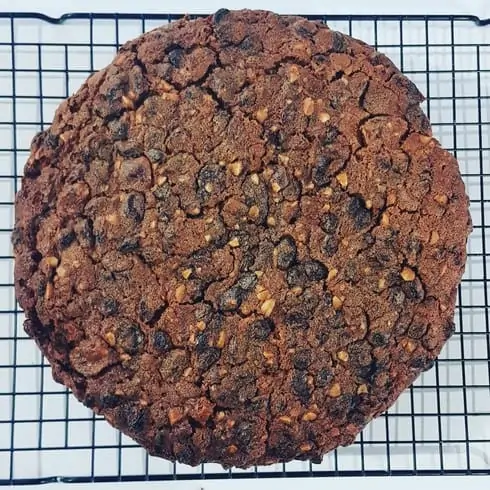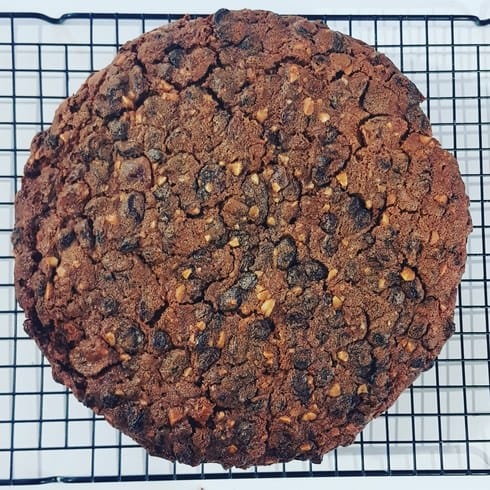 Feeding the Christmas Cake
As it is only October, we always make our Christmas cake at the end of October.
We will continue to feed the cake until the week before Christmas Day.
At this point, I will attempt to ice it with almond paste and royal icing!
Now I would love for mine to be as amazing looking as Mary Berry's, but it won't!!!
But I know it tastes amazing.
How much does it cost to make a Christmas cake?
Now, this won't stop me from making this in the future, however, I was absolutely stunned at the cost of making this cake!
£30 for the ingredients! ($35 for my American friends)
Now I know there will be some leftover flour and sugar, BUT the other leftover ingredients will not really be used for anything else!
Especially the sherry, apparently once opened it is meant to be binned after 4 days!!! I, of course, will be using this all the way up to Christmas as I will need to feed the cake.
With the most expensive Christmas Cake from Waitrose at only £16, I am blown away at how expensive this cake is to make. As I now live in Florida, I know that I can't even find a similar Christmas cake here, I have checked Walmart, Publix, and Whole Foods. So I have to make it.
I don't know how much the one from Aldi would be but I imagine only about £10 for the most luxurious Christmas cake!
Self Raising Flour 1.5kg £0.54
Plain Flour 1.5kg £0.54
Light Muscovado Sugar £1.50
2 x loose oranges £0.60
Glacé cherries 400g £2.08
Black Treacle 454g £1.15
Eggs 6 pack £1.00
Seedless Raisins 500g £1.39
Sultanas 500g £1.14
Blanched Almonds 150g £1.55
Currants 500g £1.59
Unsalted butter 250g £1.49
Sherry 75cl £4.60
Mixed Spice 33g £0.79
Apricot Jam 454g £0.69
Icing Sugar 1kg £2.50
Glycerine 38ml £1.00
Lemon Juice 55ml £0.60
Ground Almonds 300g £3.36
Caster Sugar 500g £1.10
Almond Essence 38ml £0.79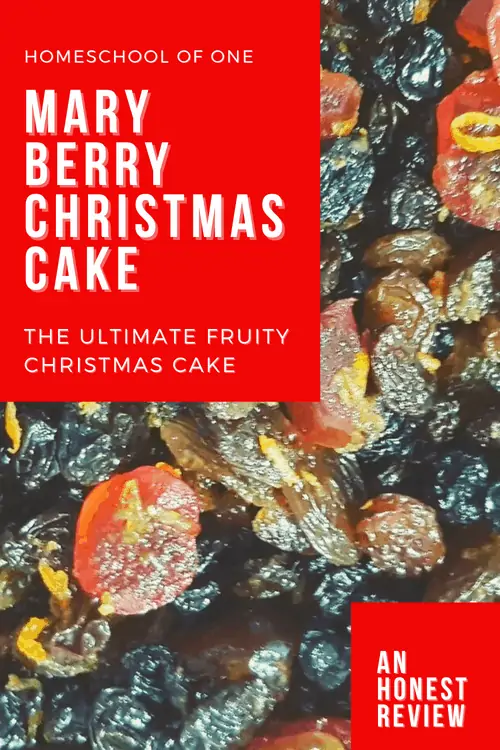 Total Cost of Christmas Cake £30.00 ($35 for my American friends)
Despite the cost of making it, is it worth it?
As this is the sixth time we have made this cake, we clearly love it. I have always made it with Freddie so it is a nice family tradition of ours now.
However, I am truly shocked at the cost, so whether we will continue this tradition I am not sure. Freddie doesn't eat it anyway!
The Mary Berry Christmas Collection book is our staple at Christmas time and ALL of our Christmas cooking and baking comes out of this amazing book.
Last Updated on 2 June 2023 by homeschoolof1