Ritz Carlton Naples Review| The Best Hotel in the World
The five star Ritz Carlton Naples Florida is absolutely breath taking. Read our Ritz Carlton Naples review from a family point of view. According to Conde Naste Traveller it is the 5th best hotel in Florida. Out of 293 luxury hotels in Florida this is a great achievement.
Easter at Ritz Carlton Naples Hotel
We were very lucky to stay there as a family over Easter in 2016. We stayed there for 3 nights after a stop over visit to New York.
As we drove into the very grand entrance we were, of course, met by a valet who kindly took our keys and luggage and led us to the incredibly grand reception. As it was Easter the reception area was decorated in an Easter theme.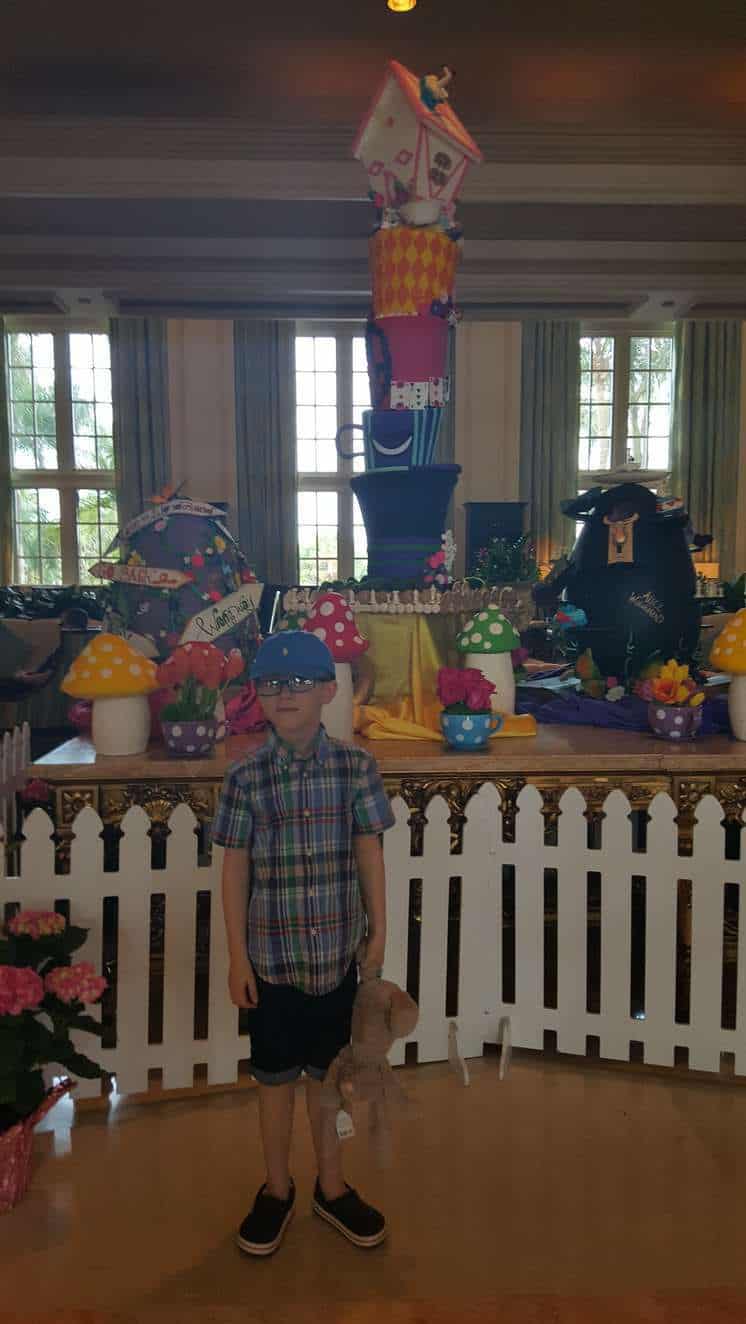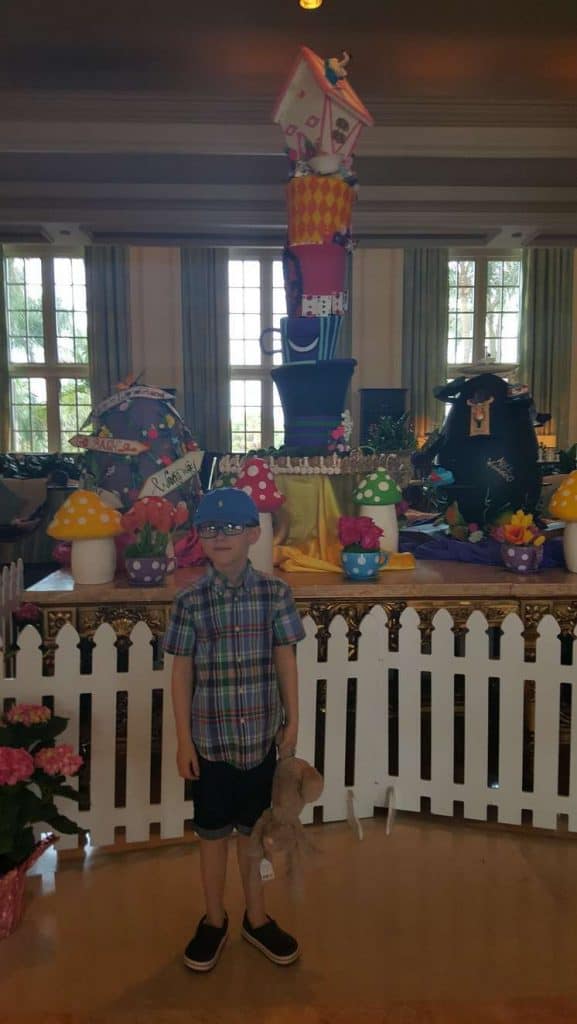 The staff were super friendly, in fact, we felt a little out of our depth! When we holiday we always stay in 5-star hotels, but nothing prepared us for how grand this hotel was. We have never stayed in anything as luxurious as this before.
Breakfast at Ritz Carlton Naples Hotel
As soon as we got to our room, Freddie, of course, couldn't wait to put on the dressing gown! We were very tired as we didn't arrive until 8 pm after our flight from New York and then 2-hour drive from Miami.
Stuart had a business meeting on the following day so Freddie and I ordered a gorgeous breakfast to our bedroom. Again, this was nothing like the room service I had had before. Freddie has always been a healthy eater, and so ordered a yoghurt, a banana, Orangina juice and some toast for his luxurious breakfast.
The Beach in Naples
We spent the rest of the day on the beach. The Ritz Carlton Naples boasts two heated outdoor pools including a free-form family pool. An adults' only Junior Olympic relaxation pool, a whirlpool and an interactive children's splash pool. But as we live in the middle of the UK Freddie opted for the beach.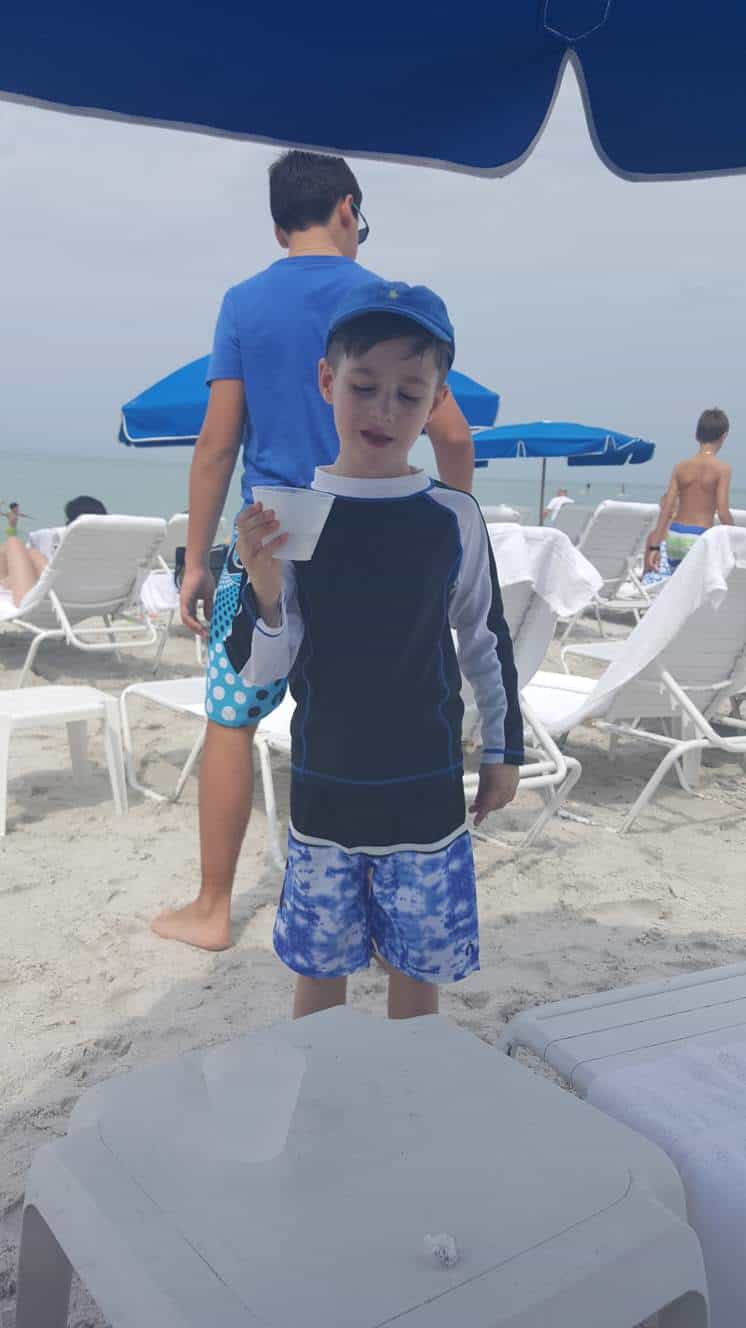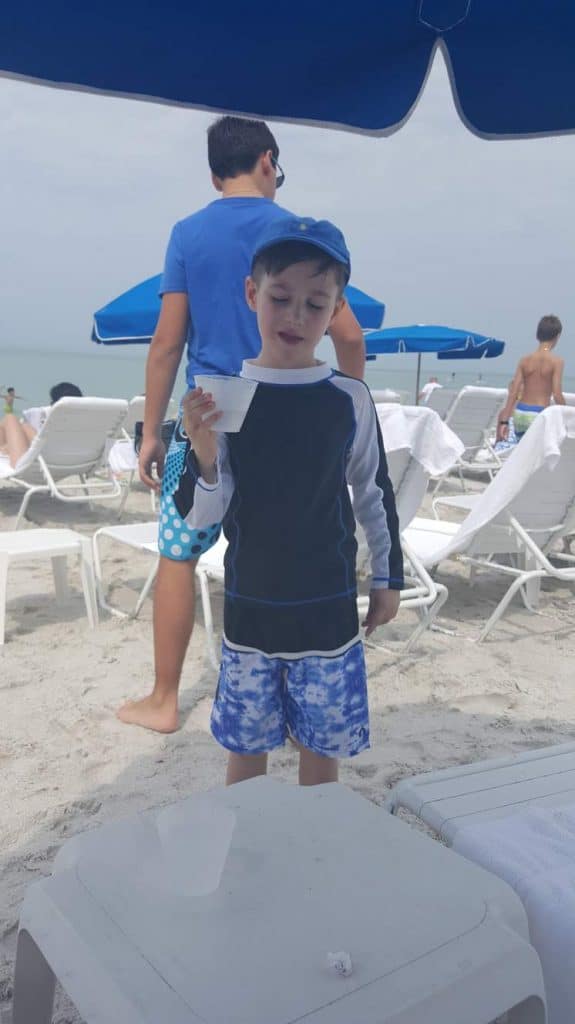 The weather was absolutely boiling so we spent a lot of time in the sea. We opted for a nice lunch at Gumbo Limbo, which is the beach bar and restaurant at Ritz Carlton Naples.
Formal Dining at Ritz Carlton
That evening Stuart and I had a formal evening to prepare for, so I made full use of the Spa Facility on site. This is an exclusive world-class spa featuring more than 30 treatment rooms. I opted for a full body massage followed by having my hair done for the evening entertainment.
As the evening do was just for adults we booked a professional nanny to look after Freddie for us. I was quite apprehensive as I never leave Freddie alone. But I insisted on meeting her beforehand and I have to say she was lovely. We were staying on site at the hotel and she came highly recommended.
We had a fantastic evening and the food was out of this world.
The following day Stuart played golf at the Ritz Carlton Naples Golf Resort. Renowned by golf enthusiasts throughout South Florida, the golf courses of The Ritz Carlton Naples Golf Resort, host two PGA and LPGA golf tournaments annually. Its innovative design and challenging terrain have set the standard for golf courses in South Florida and around the world.
That evening we had a family dinner, which was a rather extravagant buffet.
Freddie found some friends to play with. Which was great and as you can see he enjoyed dressing up and fighting with sword balloons!
The room was decorated in a carnival theme and was truly impressive.
Outside the room there were some family games so as it was so hot we spent quite a lot of time playing this with Freddie.
The following day was
Easter Sunday at the Ritz
So we woke up early to have our Easter Egg Hunt and breakfast outside. The Easter bunny also made an appearance!
Now we have had many Easter Egg Hunts before, but nothing as grand as this. It was fantastic. All the children were given Easter baskets and they had to hunt in the gardens for as many Easter Eggs as they could find. One of them had a $50 note in. Unfortunately, Freddie didn't find it, but he had such an amazing time.
Shortly after this we drove to Orlando to continue our trip and spent 3 days at Universal Studios followed by 5 days at Walt Disney Land.
Ritz Carlton Naples Review
I can not recommend the Ritz Carlton Naples hotel highly enough, the customer service was the best I have ever experienced. The quality of the rooms, the food, the kid's services were just out of this world. Now, this is not a cheap hotel, as we went over Easter the rooms were over $1,000 a night which was room only. However, it was an experience we will never forget, and we will definitely stay in a Ritz Carlton Naples hotel again.
Have you stayed at this hotel or another Ritz Carlton? I would love to hear where you recommend.
Last Updated on 27 August 2021 by homeschoolof1