Simba Mattress Review: The Good and The Bad
An honest, warts and all Simba mattress review and why I purchased a Simba mattress……
Why we Needed a New Mattress?
For the last couple of months, both myself and my husband have been complaining of backache and hip problems.
Now we are both overweight and getting older (I am 40 at the end of the year and my hubby will be 50, 9 days before me). But for us both to be getting pain at the same time.
We have put it down to our mattress (of course nothing to do with our weight problems, it just can't be!!).
We worked it out that our current mattress was 8 years old and to be honest we probably only moved it around a handful of times.
I know you should move your mattress around but ours is a super king and it is so bloody heavy.
It is definitely a 2 man job and as hubby works away a lot it just wasn't practical.
**There may be affiliate links in this post. You can read my full disclosure at the bottom of the page.**
Researching a New Mattress
OK so we have had our mattress for 8 years, and we are getting back pains. Time to find a new mattress.
We did a lot of research into this as it is a lot of money and we don't want to get it wrong.
We came across this article in the Independent.
I instantly liked the fact that Simba Mattress is a UK company as it is always nice to support local companies.
What really caught my eye was it had a 100-day sleep trial.
Our current mattress is a more traditional pocket sprung mattress and the fact that we could try it before we buy was very appealing.
We searched for super king mattresses and had a look at what came up.
The price of a mattress varies from £450 to £18,000. It was only cashmere, not gold with diamonds encrusted buttons!
Check out the Simba site now and try it for yourself.
Be aware that not all mattresses are made equal. A cheaper brand may have added fiberglass to the mattress. Yes I know, I was shocked too, but there are ways to avoid it.
Casper Sleep Element Mattress, Queen, Grey
Sleep Innovations Marley 10 Inch Cooling Gel Memory
Sweetnight 12" Hybrid Mattress with Gel Memory Foam
King Size Mattress Topper King – 8-23 Inches
Dream Cloud 14
3 Inch Gel Memory Foam Mattress Topper King
Simba Mattress Reviews Online
Simba Mattress Review – the good
Instantly the Simba mattress caught our eye as it had 146 reviews (far more than any other mattress) and had a 4.6 out of 5 star rating. So we headed to the reviews first, the first one that caught my eye was:
This Simba mattress is incredible. It arrived in a smallish (given it was superking size) packet that was delivered directly to the bedroom. Upon opening it 'pings' to size. We thought we might have to wait until the next day for it to be fully open/inflated but it was ready that night within a couple of hours.

Traditionally my husband and I have always favoured different mattress firmness but this one suits us both perfectly. It has really helped my bad back and neck. It also helps us both sleep better as there is no movement when the other person rolls over. Yes, it is pricey but it is worth every penny and I would not hesitate to recommend the mattress and the service from John Lewis.
Simba Mattress Review – the bad
There were loads of similar reviews and with a rating of 4.6 most other people agreed. Of course, I would have been naive to not look at the negative reviews and came across this one:
I bought this mattress after reading all the positive reviews.
The purchase and delivery were what you would expect from John Lewis – faultless.
However I really regret buying the product.
The mattress is very soft and not at all supportive – I do not feel like I've had a good night's sleep.
The Simba mattress also smells and even with a mattress protector there is a smell although this is reducing. I definitely would not recommend this product.
Where to buy a Simba mattress?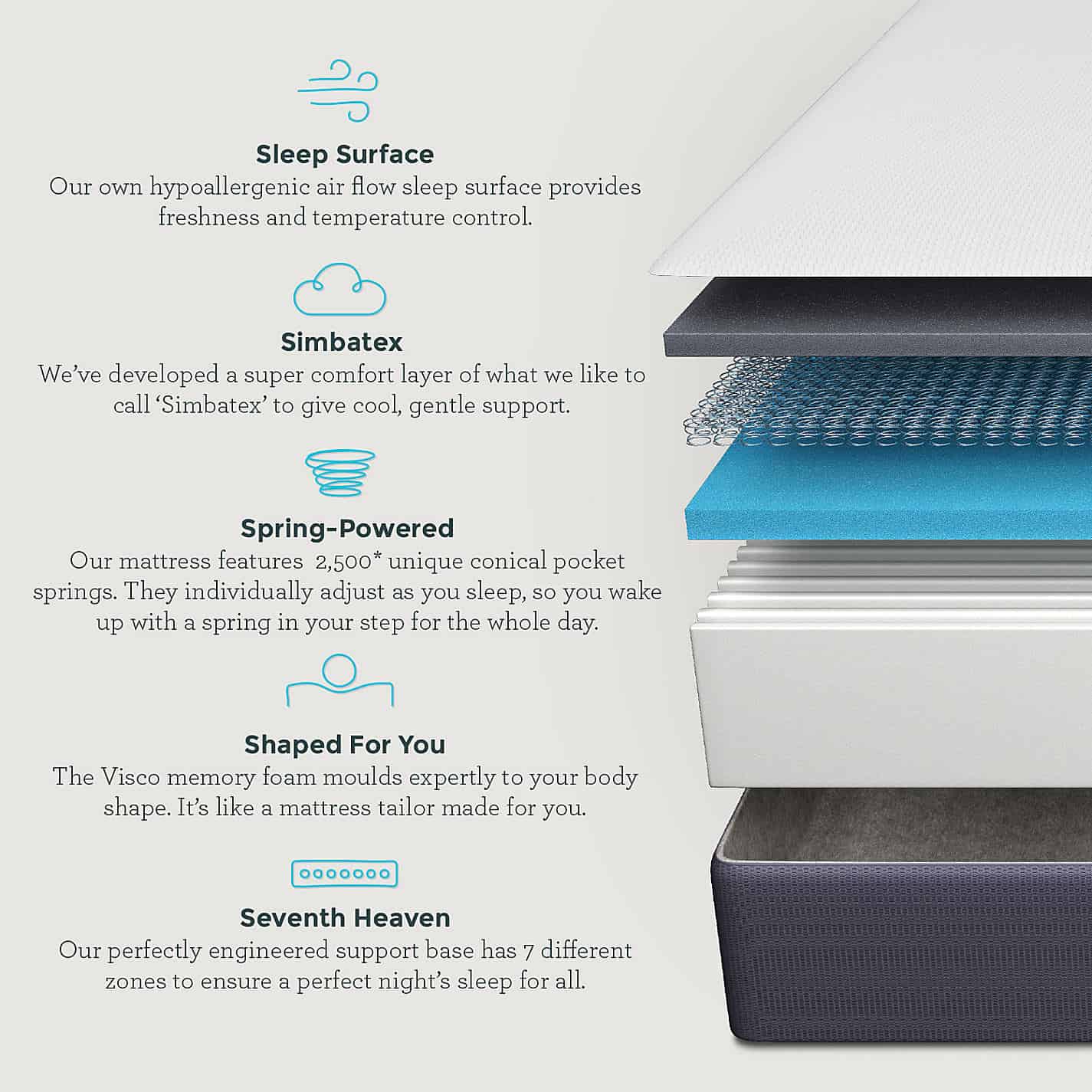 Hmm, so what should we do?? Where should we buy it from?
I headed over to the Simba website directly to see if they could convince me further. The first thing I see is Gareth Bale laying down on one of their mattresses, unfortunately, he doesn't come with the mattress though.
The second thing I see is that they claim this to be "the most advanced mattress in the world". Their website had recommendations from the likes of Vogue, Good Housekeeping The Telegraph, plus many many more. So I trusted the brand.
I decided not to buy it directly as the customer service was not as good as I was hoping for. So I headed over to my trusted friend Amazon.
Our Simba Mattress Review
The day has finally arrived for the delivery of our mattress! I have to say when the 2 delivery men took the mattress out of their van I was most concerned.
They assured me it was a super king so I stopped panicking for a minute.
They took it up to the bedroom and then worried me further by asking if my bed was bigger than a super king as it looked huge.
Oh God have I got it wrong, is mine a bigger mattress? They took the old mattress (they were very polite and helpful men by the way) and left me to open my new mattress!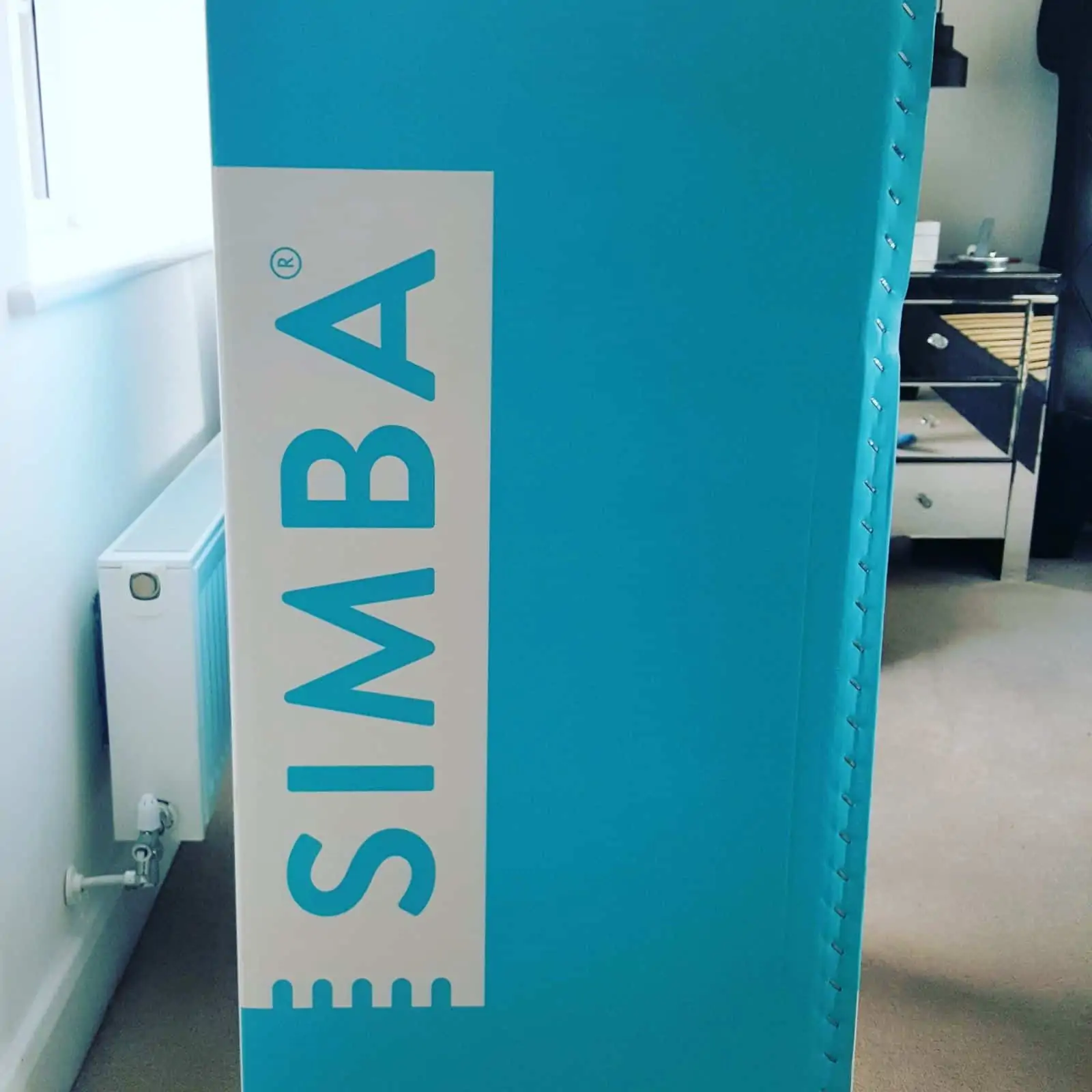 I got the scissors and opened the box, now I really was worried.
The mattress was only about 10cm deep and it looked tiny. I put it on the bed and that's it I had got it wrong. It didn't fit the bed.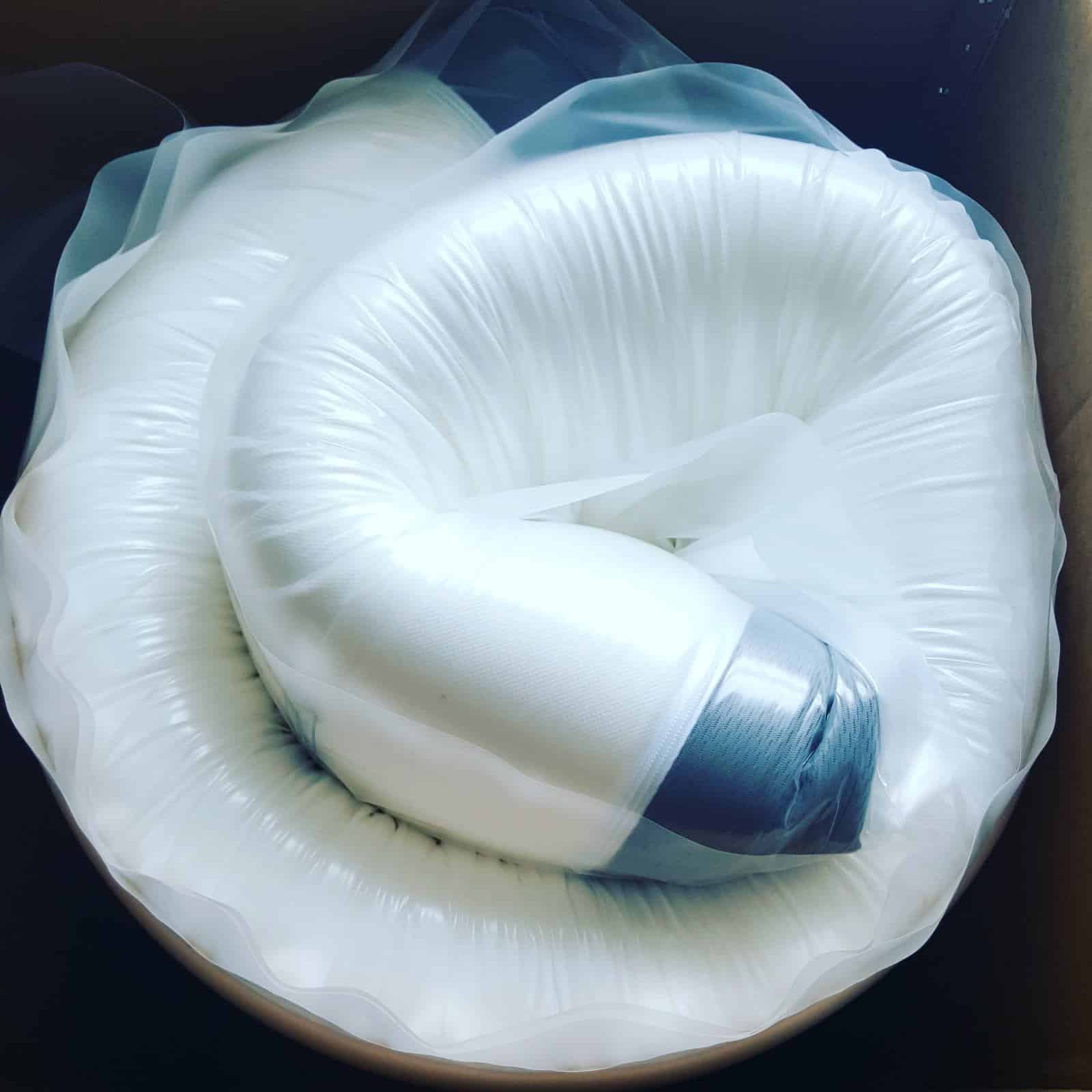 Now I am known to be impatient and within about a minute the mattress had grown! It was as deep as the old mattress and actually fit the bed. What a relief!
Simba Mattress Smell
I had read a few reviews about the smell of the Simba mattress, and as I have ordered a vacuum-packed mattress before for my son so I was fully expecting it.
Yesterday was the hottest day of the year so far so all the windows in the room were already open. But I didn't think the smell was that bad. I still left it for about 7 hours before making the bed and going to sleep.
Although there was a slight smell last night (only if I smelt the mattress) it certainly wasn't a strong smell.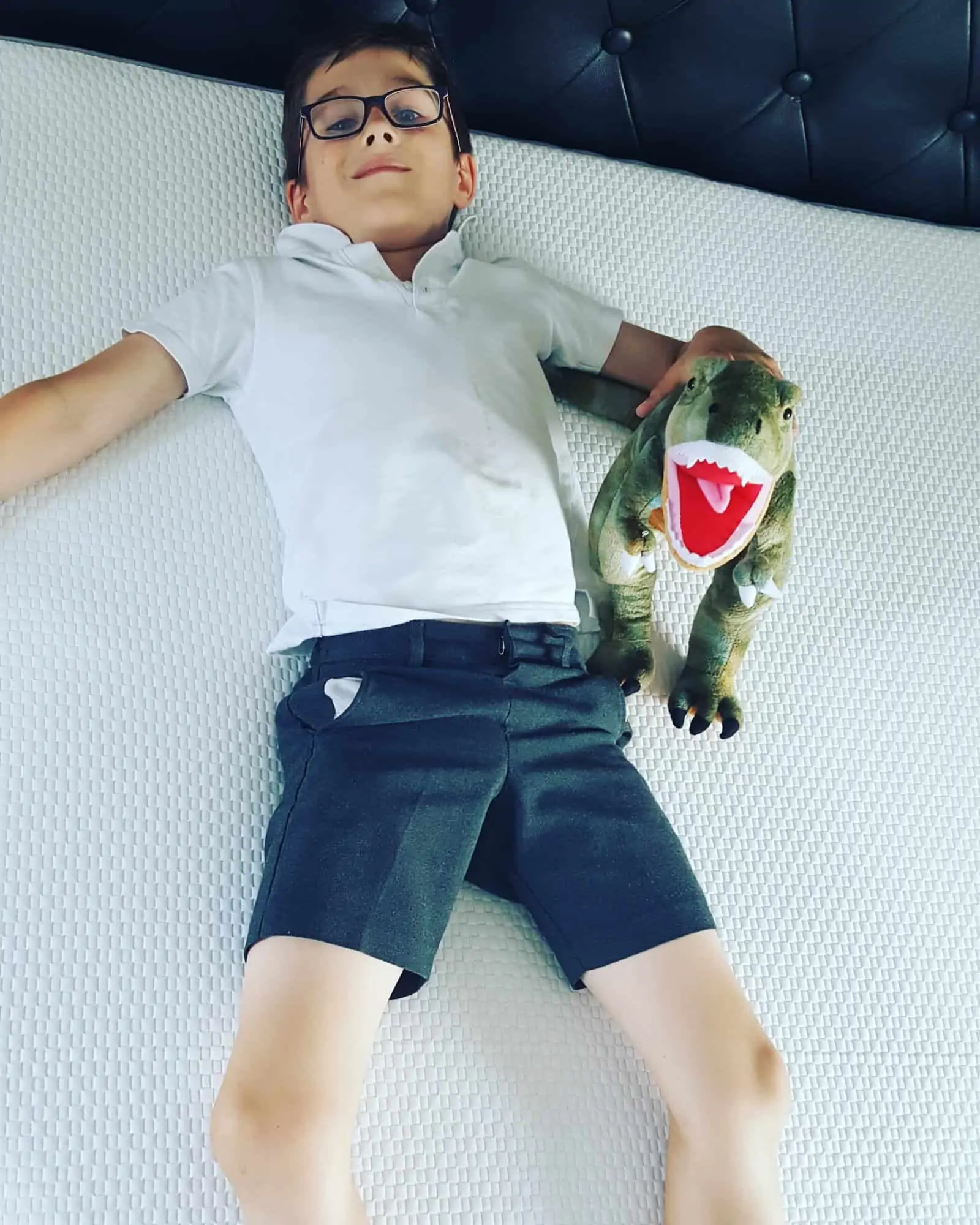 The last couple of months both myself and my husband had been waking up with aches and pains. It could be the placebo effect of course as it was only one night. But I definitely felt better this morning.
It was certainly very comfortable. I prefer a hard mattress and hubby prefers a softer feel but this was perfect for both of us.
Now of course to get a perfect night's sleep it is important to check your pillows. As this will help with shoulder tensions.
If you are looking for new bedsheets for your new mattress I highly recommend Casaluna bedding.
Simba Mattress Review – Would I recommend it?
Absolutely, I think, although expensive it was well worth it.
It is great that you can return it after 100 days.
I love the fact the delivery drivers were polite (I get so many who aren't).
I loved going to bed last night. A very happy customer. Check out Simba for yourself today.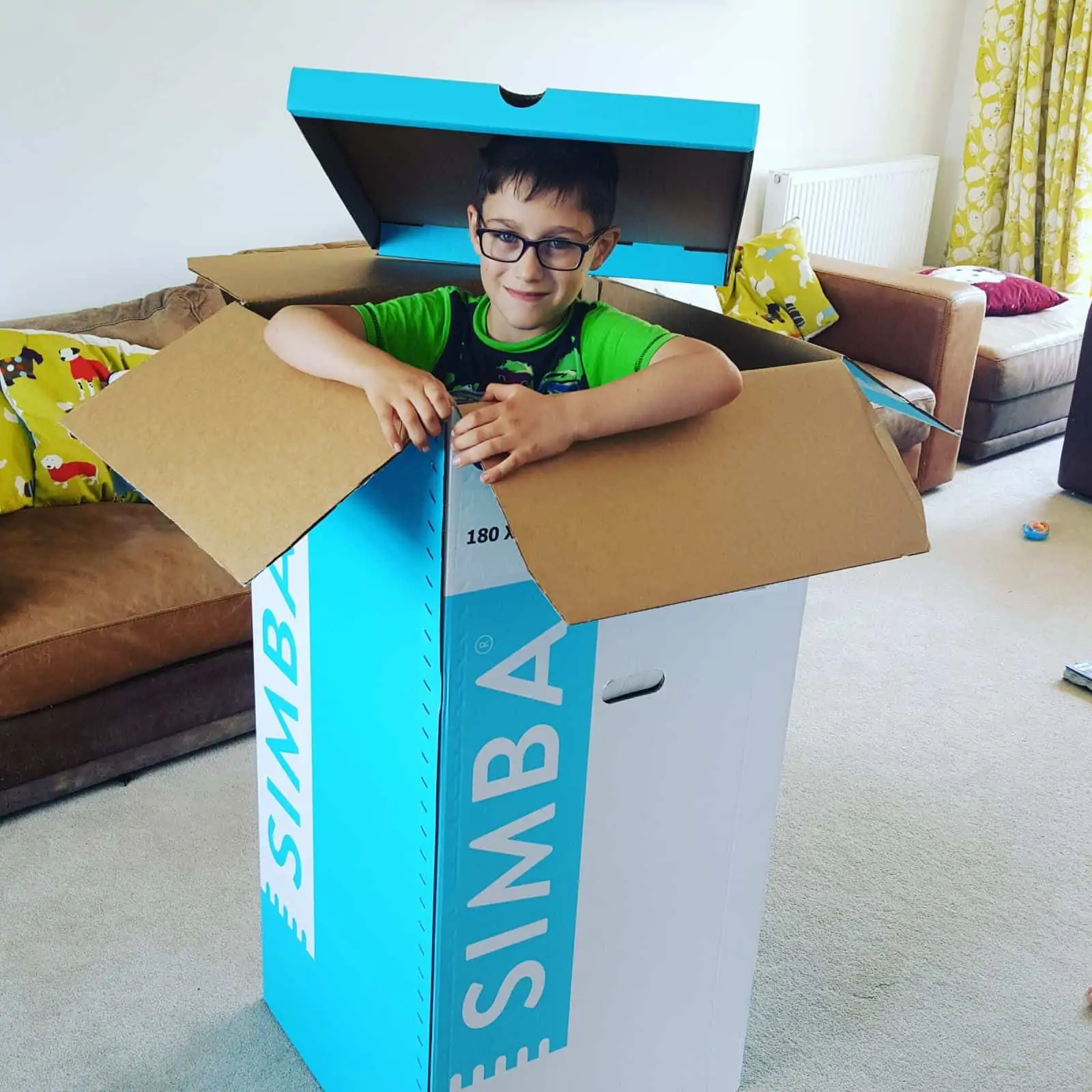 Order your Simba Mattress now.
Have you already got a Simba mattress? I would love to hear your thoughts on it in the comments below.
Does Simba offer a 100 days sleep guarantee?
Yes. You can return it for whatever reason within 100 days from delivery.
Does the Simba Mattress Smell?
I didn't think the smell was that bad. I still left it for about 7 hours before making the bed and going to sleep. Although there was a slight smell the first night it certainly wasn't a strong smell.
I think you will also like:
Last Updated on 2 July 2023 by homeschoolof1