How to have a healthy Slimming World BBQ
As the summer will be upon us in no time a diet is definitely in order! Here is how to have a healthy Slimming World BBQ.
Summer is just around the corner, and you know what that means… BBQ season! But if you're following the Slimming World program, you might be worried about how to enjoy all those yummy BBQ foods while still sticking to your weight loss goals.
Trust me, I've been there. I tried the Cambridge Diet and Weight Watchers before, but they just didn't do it for me. I always felt like I was missing out on all the fun at social events like BBQs. But don't worry, because with the right approach, you can have a Slimming World-friendly BBQ that's both healthy and delicious.
In this guide, we're gonna spill the beans on how to throw an awesome Slimming World BBQ, share some mouthwatering recipes that even your non-dieting friends will love, and give you some tips for staying on track with your Slimming World goals during BBQ season. So grab a cold one and let's get this party started!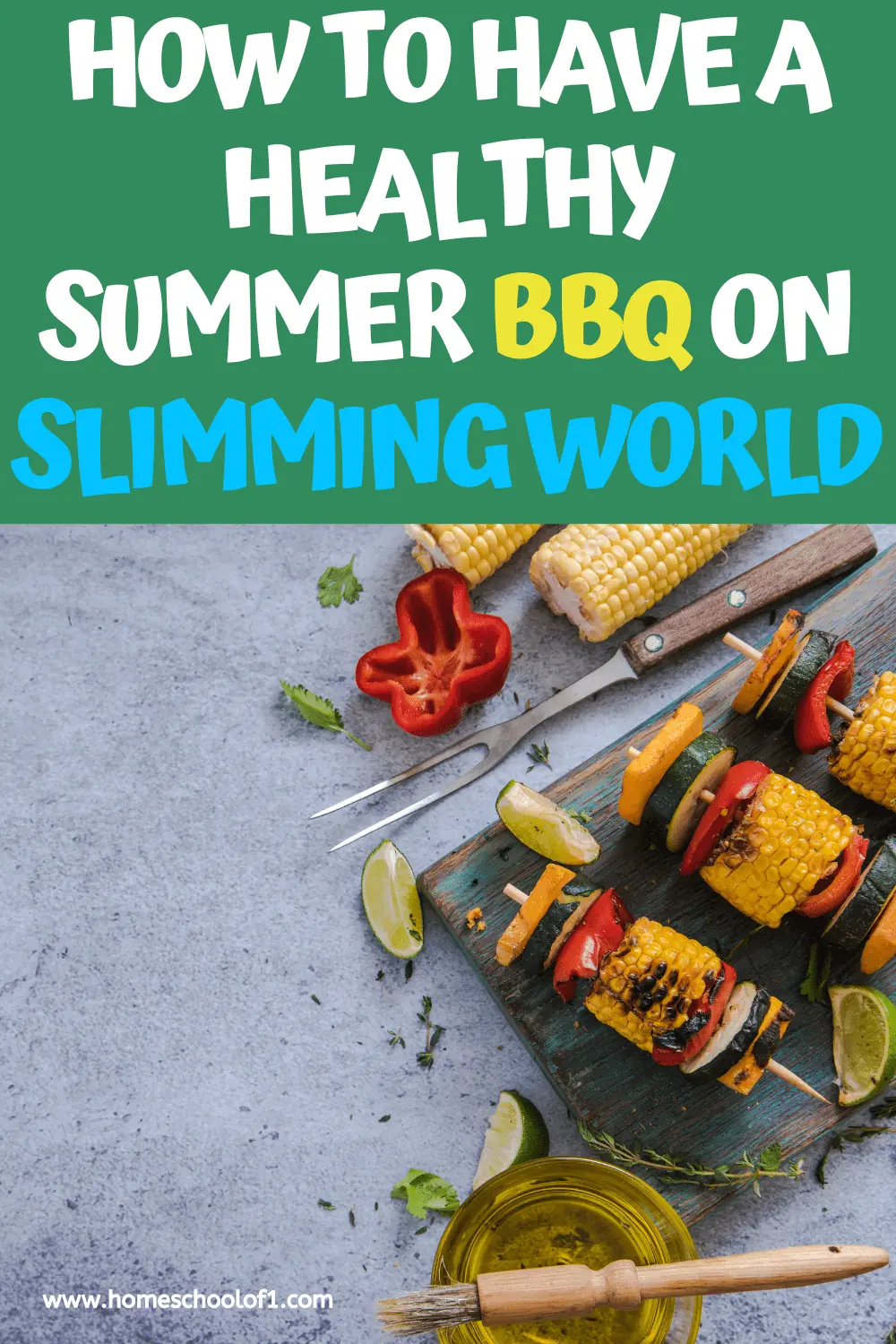 **There may be affiliate links in this post. You can read my full disclosure at the bottom of the page.**
How my diet has changed with Slimming World
I've been following Slimming World for just over two weeks now, and I'm thrilled to say I've already lost 5.5lbs (I've got 3 1/2 stone to go).
If you're looking to track your progress, I recommend investing in a smart BMI scale like the one I use. It's really helped me stay motivated towards reaching my goal.
Since starting the program, my diet has undergone a massive transformation. I used to be a white wine-drinking, white bread-loving cheese fiend, and I'd often finish off my son's leftovers. But those days are long gone!
These days, I stick to one slice of wholemeal bread a day and load up on endless amounts of fruits and veggies.
The best part is that there's so much free food available, I'm never left feeling hungry.
Admittedly, I did experience some stomach aches during my first week as my body adjusted to all the new food, but it went away by week 2.
Overall, I feel much better for making the switch to Slimming World.
Meal Planner Slimming World Diet: A 52 Week
My Food Diary: 6 Month Food Diary Compatible
Slimming World Four Seasons Cookbook
Slimming World's 30-Minute Meals: 120 Fast, Delicious and
Compatible Slimming World CookBooks
Pinch of Nom: 100 Slimming, Home-style Recipes. is a cookbook by Kate Allinson and Kay Featherstone, featuring 100 delicious and healthy recipes labeled with their Slimming World Syn value. It provides helpful tips for adapting recipes to individual dietary needs and preferences, making it an excellent resource for anyone looking to make delicious and nutritious meals at home while following the Slimming World program.
Free Foods: Guilt-free Food for Healthy Appetites is a cookbook by Slimming World. Featuring over 120 delicious and healthy recipes that are free of calorie counting and portion control. It's a great resource for anyone following the Slimming World program or looking for healthy meal ideas. The recipes are clearly labeled with Syn values and provide tips for adapting to individual dietary needs.
Slimming World's Four Seasons Cookbook is another Slimming World cookbook. Featuring over 120 delicious and healthy recipes organized by season. Each recipe is labeled with Syn values and includes tips for adapting to individual dietary needs.
SLIMMING WORLD food planner, is a weight loss diary and journal tracker that includes meal planning organizers, as well as sections for tracking weight loss progress and measurements.
Whole 30 is a helpful guide for resetting eating habits and improving overall health. While not specifically designed for Slimming World, the Whole30's emphasis on whole, nutrient-dense foods aligns well with the program. Elements of the Whole30 can be incorporated into a Slimming World diet plan for improved health and weight loss success, check out my whole30 book review.
How to have a Slimming World BBQ
As it is BBQ season, I thought I would try and find a way of eating healthily without missing out.
How to have a healthy BBQ….. well actually it is quite easy.
I have put together my shopping list and will share all the food and drink I plan to eat.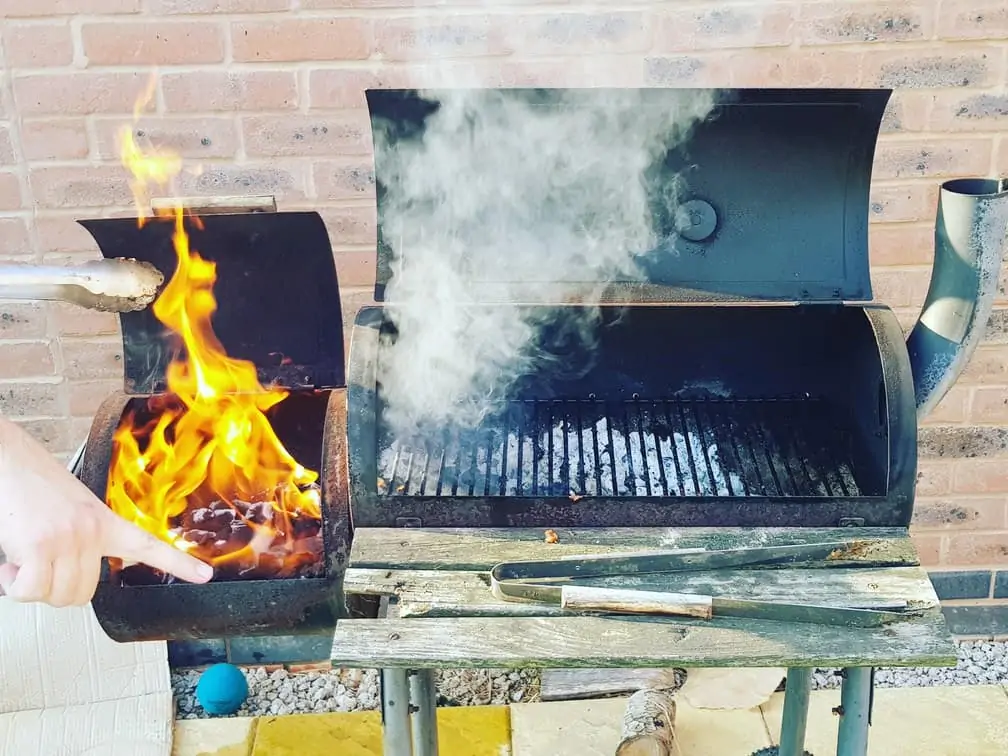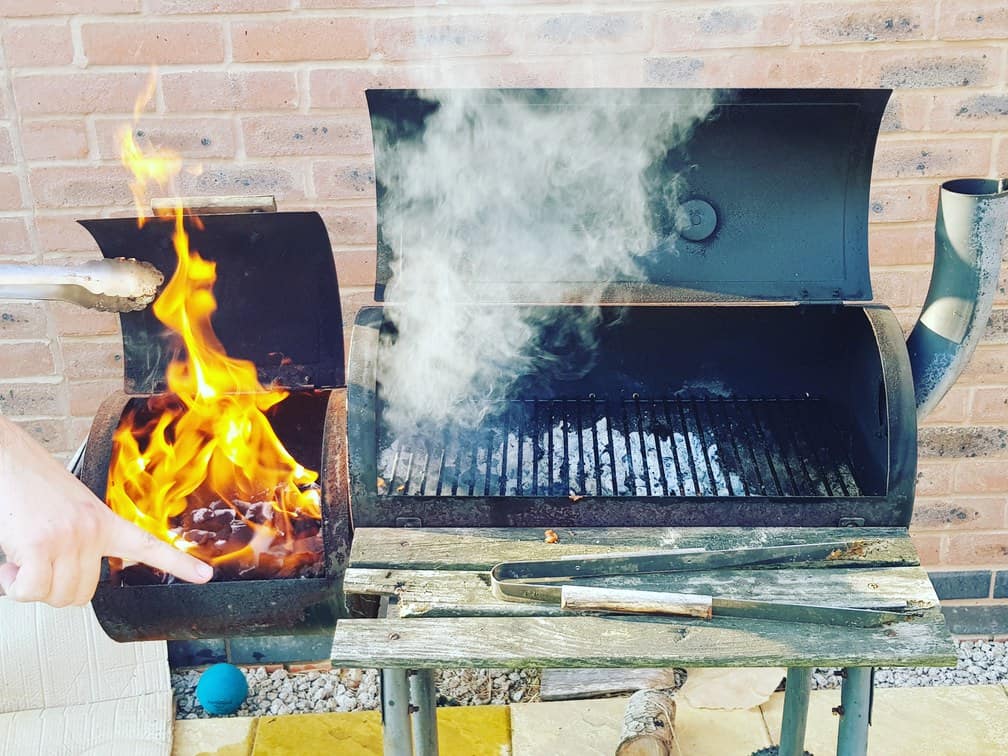 Shopping List for Slimming World BBQ
Here's a shopping list for the best, yet healthy Slimming World approved BBQ.
For the BBQ
Skinless and boneless chicken breasts
Pasta
Salad (Rocket, tomatoes, cucumber, parsley)
Peppers
Courgettes
Red Onions
Dried BBQ seasoning
Frylite
Fat free vinaigrette
Lean meat
Prawns
Mushrooms
Red wine vinegar
Garlic
Corn on the cob
Dry rice
Dried chilli flakes
For the drink
Slimline tonic
Strawberries
Blueberries
Raspberries
Ice (obviously you don't need to buy this if you are more organised than me!)
Slimming World BBQ Ideas
If you're looking for some healthy and tasty options for your next BBQ, Slimming World has got you covered.
From colourful vegetable skewers to garlic and chilli prawn skewers, there are plenty of options for everyone.
You can also try making a delicious vegetable risotto or a refreshing pasta salad with mixed beans.
Don't forget to include some lean beef or chicken with BBQ rub to satisfy your meat cravings.
And for a super easy option, just pop some corn on the cob on the grill. Get ready for a guilt-free BBQ feast!
Vegetable Skewers
Vegetable skewers are a perfect addition to any Slimming World BBQ.
Not only are they easy to prepare, but they are also packed with nutrients and flavor. Oh, and they are syn free!
You can mix and match your favorite vegetables like bell peppers, onions, mushrooms, courgette, cherry tomatoes, and aubergine, and thread them onto skewers.
You can marinate them with a little bit of olive oil, lemon juice, and herbs, or simply season with salt and pepper before grilling.
The best thing about vegetable skewers is that they look so colorful and appetizing, and they can be enjoyed by everyone, including vegetarians and vegans.
So, fire up the BBQ and start grilling these healthy and delicious skewers!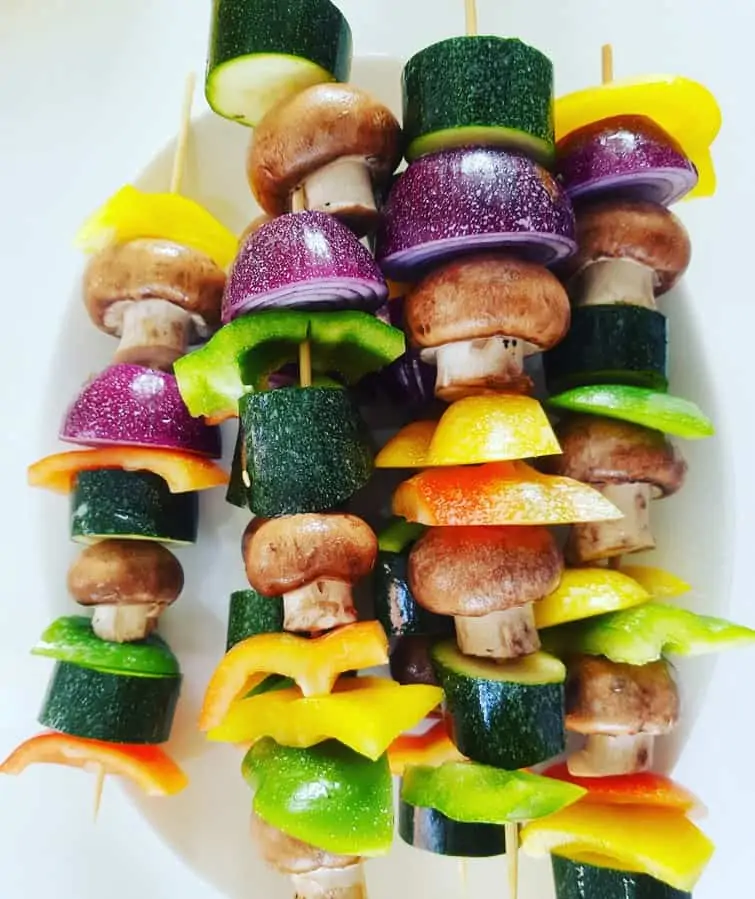 Slimming World BBQ Recipes – Pasta salad
This pasta salad recipe is a perfect addition to any summer BBQ, as it's easy to make, healthy, and delicious.
To start, cook 300g of pasta according to the packet instructions, then let it cool down.
While the pasta is cooling, prepare the vinaigrette by mixing 4 tablespoons of fat-free vinaigrette, 1 small garlic clove (crushed), 2 tablespoons of red wine vinegar, and 1/2 teaspoon of dried red chili flakes.
For the salad, mix together the rocket, cucumber, cherry tomatoes, and red onion.
Add in 400g of mixed beans and the cooled pasta.
Then, pour the vinaigrette over the top of the salad and toss everything together to combine.
Lastly, sprinkle some fresh parsley over the top for an extra burst of flavor.
This salad is packed with nutritious vegetables, fiber-rich beans, and a tasty vinaigrette that adds just the right amount of tangy and spicy flavors to the dish.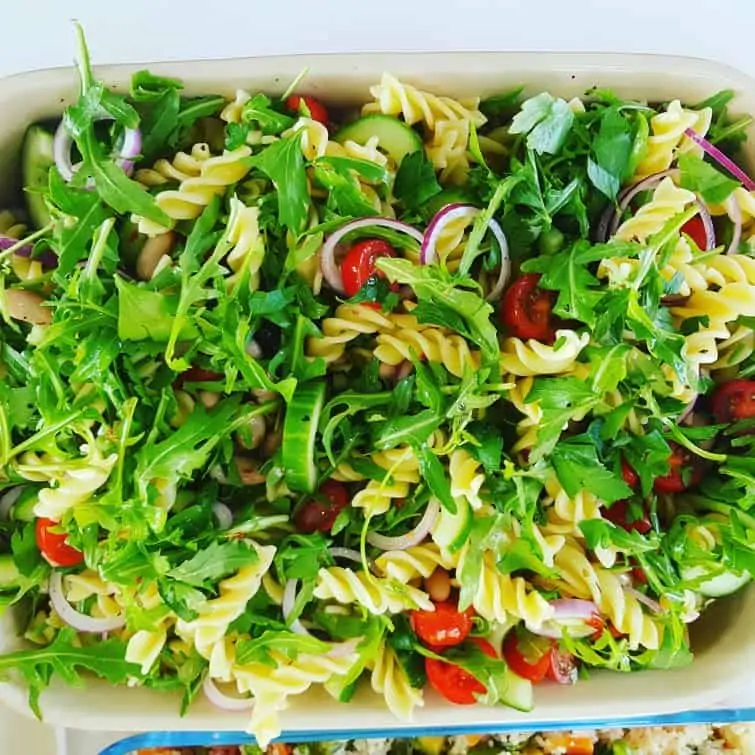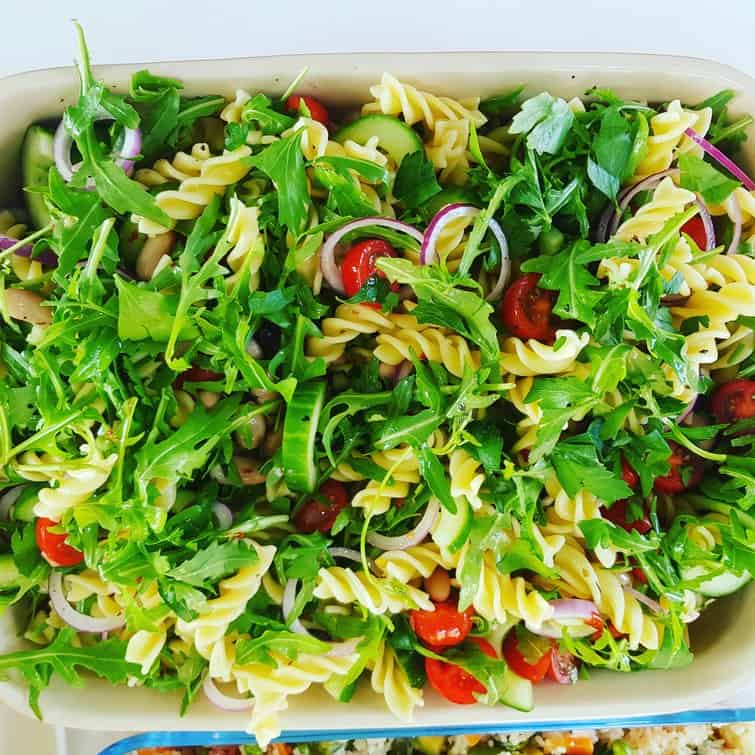 Vegetable Risotto
Vegetable risotto is a healthy and delicious dish that can be prepared on the BBQ.
This recipe from Slimming World is packed with veggies and flavour, making it a perfect choice for anyone trying to eat healthily.
The dish is made with arborio rice, which is cooked in a mixture of vegetable stock, white wine, and chopped onions.
Then, various veggies such as courgette, carrot, and green beans are added to the rice mixture and cooked until tender.
It's a great vegetarian option for a BBQ and is sure to be a crowd-pleaser.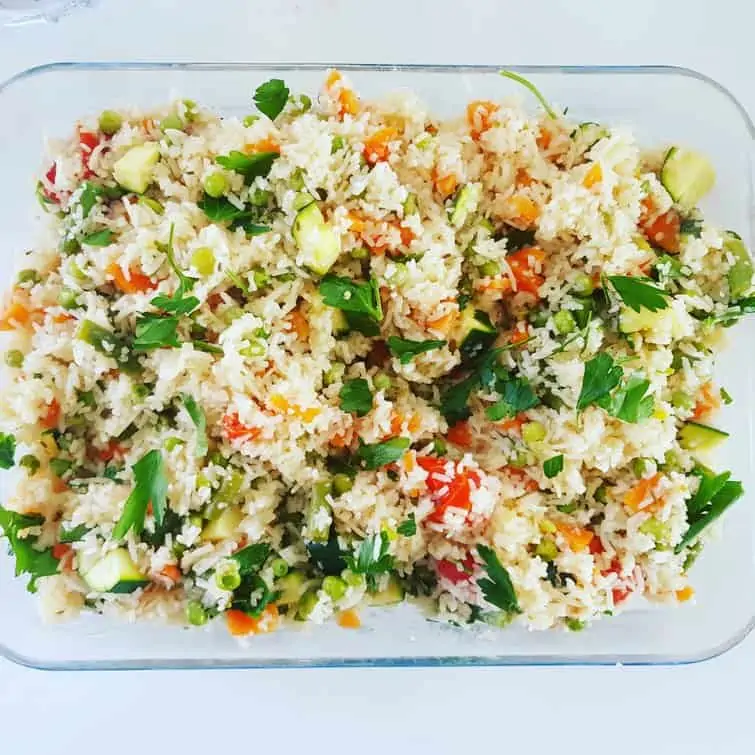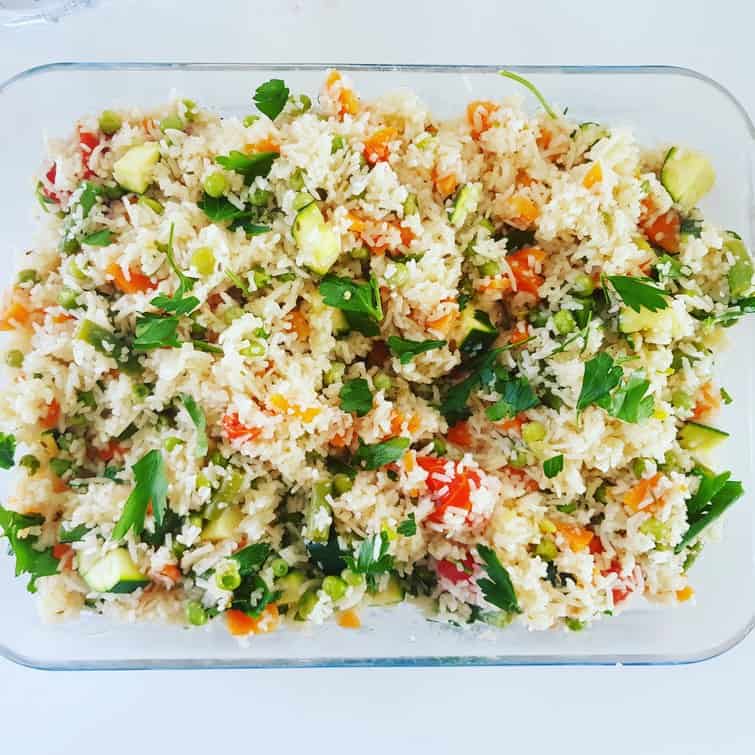 Slimming World BBQ Food – Corn on the Cob
Corn on the cob is a classic BBQ side dish and is also perfect for those following the Slimming World plan.
Simply remove the outer layers of the corn husk and soak the cobs in cold water for about 15 minutes before grilling.
Once the husks are damp, place them on the BBQ and cook for about 15-20 minutes, turning occasionally, until the kernels are tender and slightly charred.
You can also add some seasoning such as salt, pepper, and paprika for extra flavor. Corn on the cob is a great source of fiber and essential vitamins, making it a healthy addition to your BBQ spread.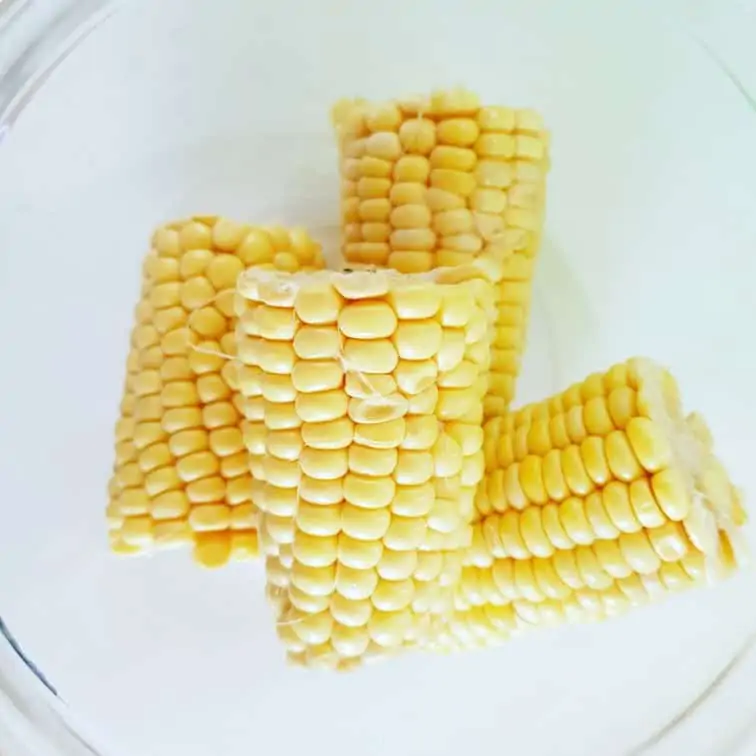 Garlic and Chilli Prawn Skewers
Garlic and chilli prawn skewers are a tasty and healthy option for your BBQ.
To prepare them, you will need some large raw prawns, garlic, and chilli flakes.
In a small bowl, mix crushed garlic and chilli flakes with a little bit of olive oil.
Next, skewer the prawns, brush them with the garlic and chilli mixture, and place them on the BBQ.
Cook for 2-3 minutes on each side, or until the prawns are pink and cooked through.
These prawn skewers are great as a starter or served as part of a BBQ feast with some other grilled veggies and meats.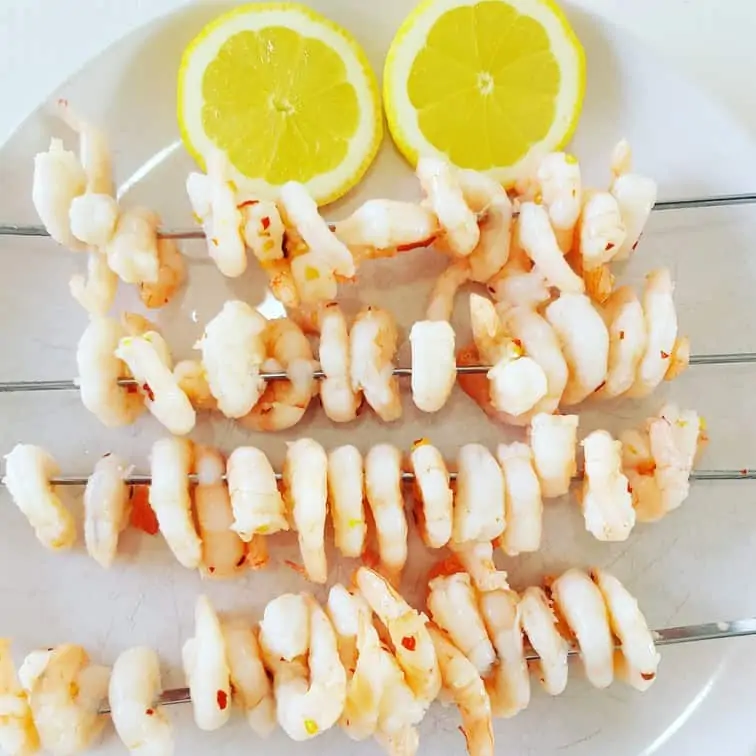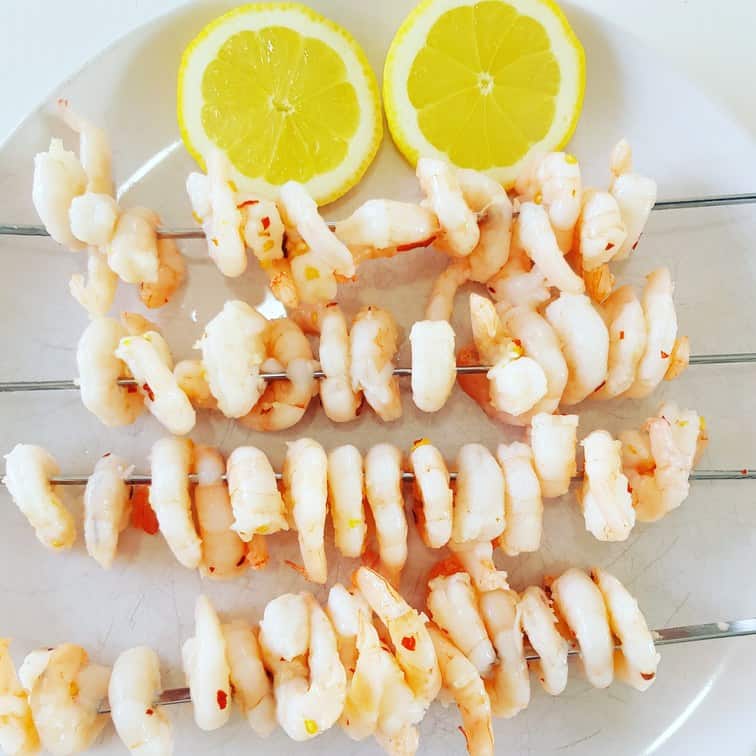 Lean Beef
This is nice and easy, as you can see from the photo there is a lot of fat still left on some of these wagyu steaks. However, if you make sure you only eat the beef it is fine. My God, it was delicious.
Smoking meats is another healthy alternative to grilling and will leave your lean beef incredibly tasty. You could do very lean pork or lamb as well.
If you love meat why not consider going on the carnivore diet check this list to learn more about it.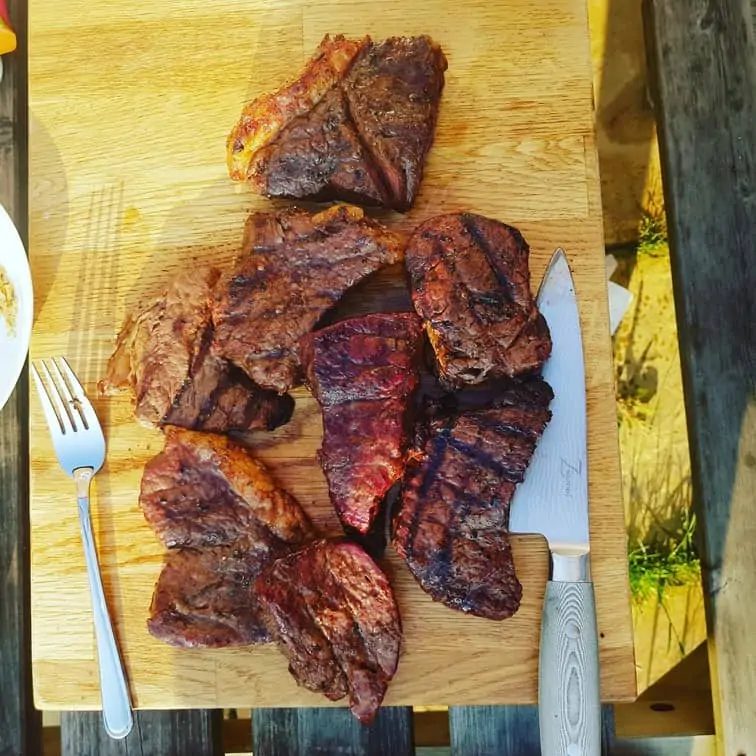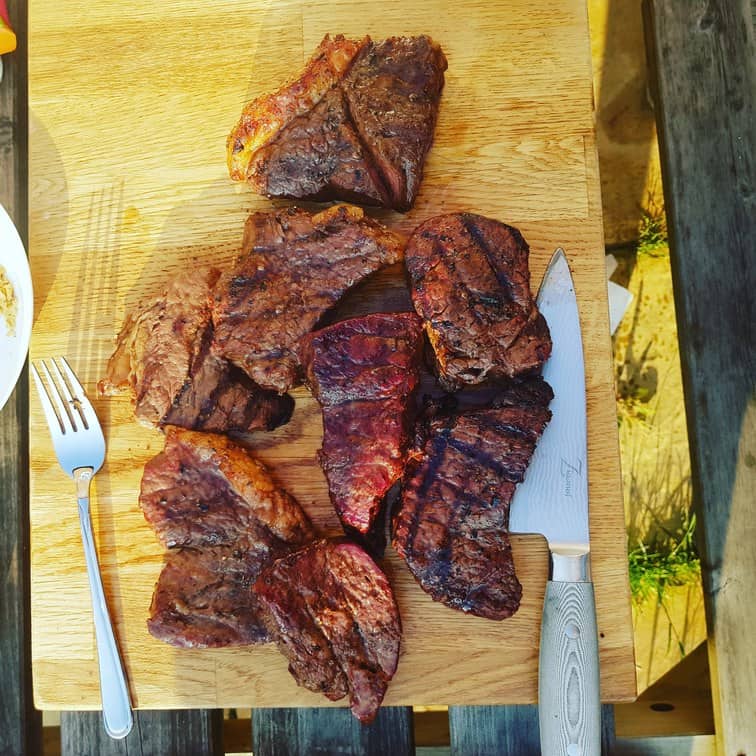 Chicken Breast with BBQ Rub
To make this tasty and healthy chicken breast with BBQ rub, start by coating chicken breasts with a low-calorie cooking spray like Fry Lite.
Then, generously rub a mixture of BBQ seasoning, garlic powder, onion powder, smoked paprika, salt, and black pepper onto the chicken breasts.
Place the chicken breasts on the BBQ and cook until they are fully cooked through.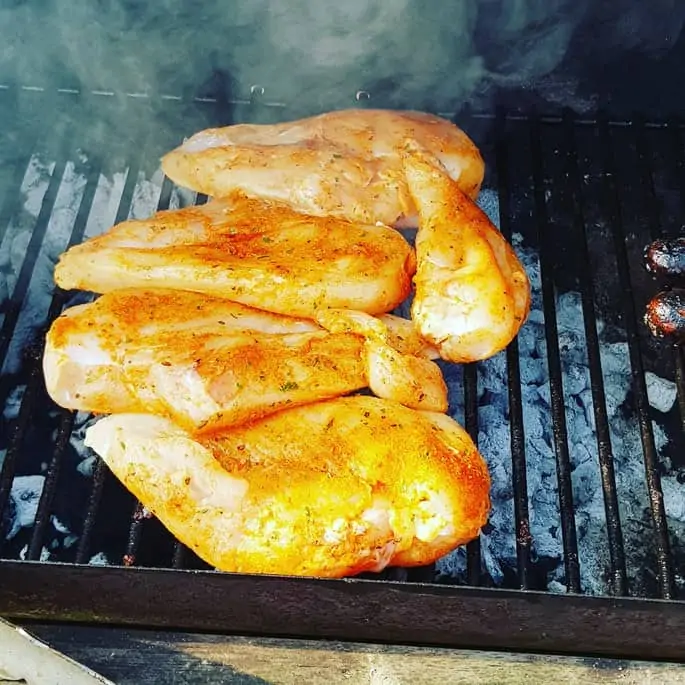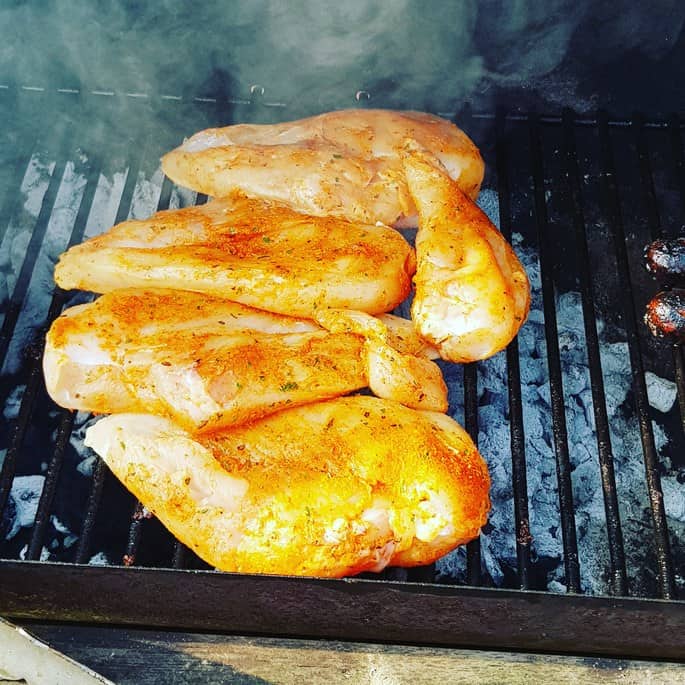 Low Syn Alcoholic Drinks
Slimming World encourages its members to make healthier choices, even when it comes to alcoholic drinks.
While it's important to stay within the recommended daily limits, there are ways to enjoy a refreshing drink without sabotaging your weight loss efforts.
One way to do this is by choosing low syn alcoholic drinks.
One popular choice is Gordon's Premium Pink Gin with slimline tonic, which is only 3 syns on Slimming World.
You can also add some frozen strawberries, blueberries, and raspberries to give it a fruity and refreshing twist. It's important to measure the gin, though, to make sure you're sticking to the recommended syns.
Other low syn alcoholic drinks include light beers and wines, as well as spirits mixed with diet soda or tonic water.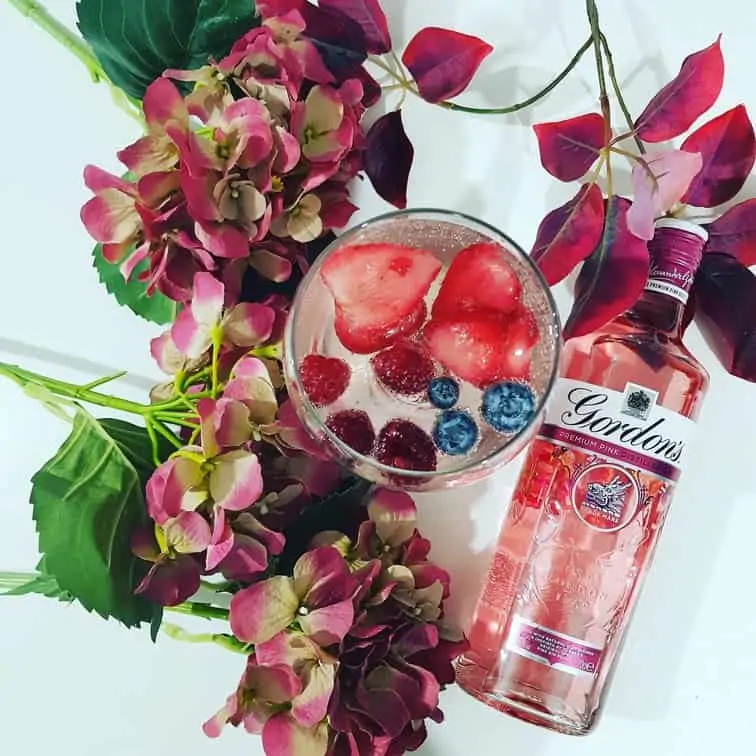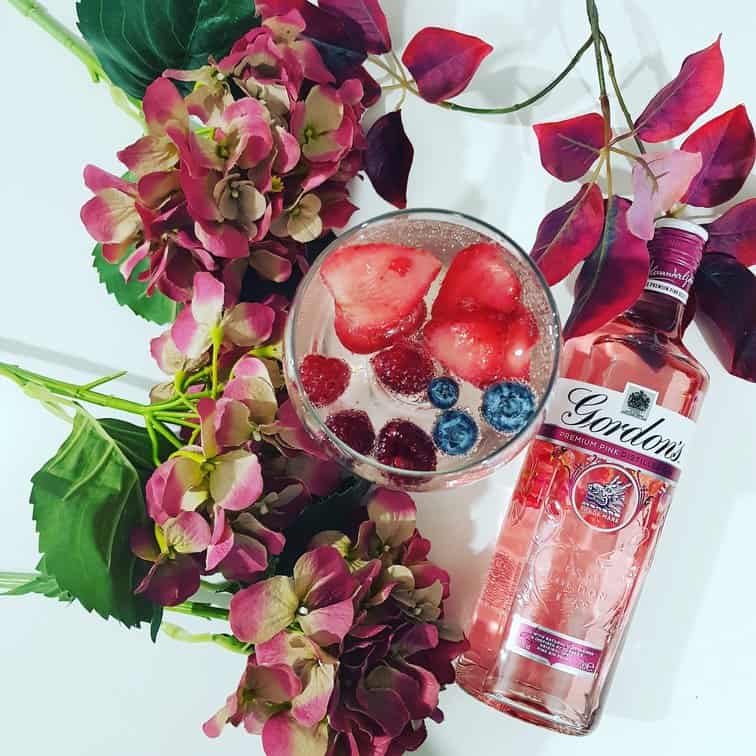 It's weigh-in day tomorrow, so I am hoping to reach the 1/2 stone target on week 3. Keep your fingers crossed for me!
Do you have any other how to have a healthy BBQ? If so please let me know below.
If you are looking for other healthy summer buffet ideas check out Just Average Jens post.
Do you want an easy autumn healthy recipe too? If so check out this chicken and butternut squash traybake recipe, it is super easy.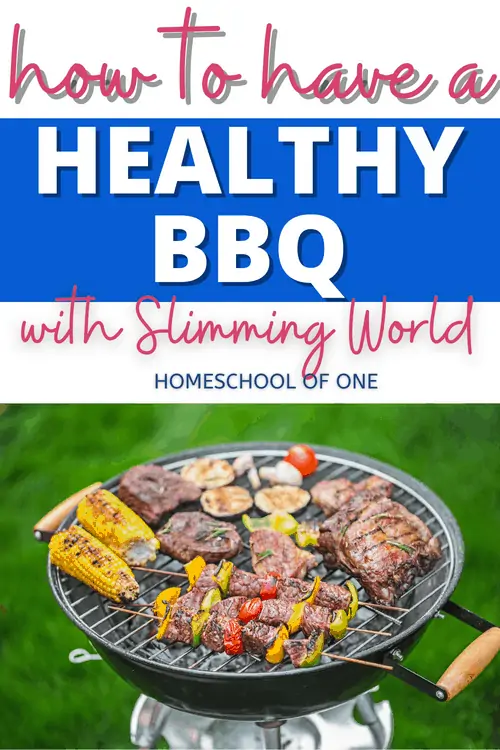 Last Updated on 2 July 2023 by homeschoolof1