Family Holidays to Jamaica – The Best Things to do with kids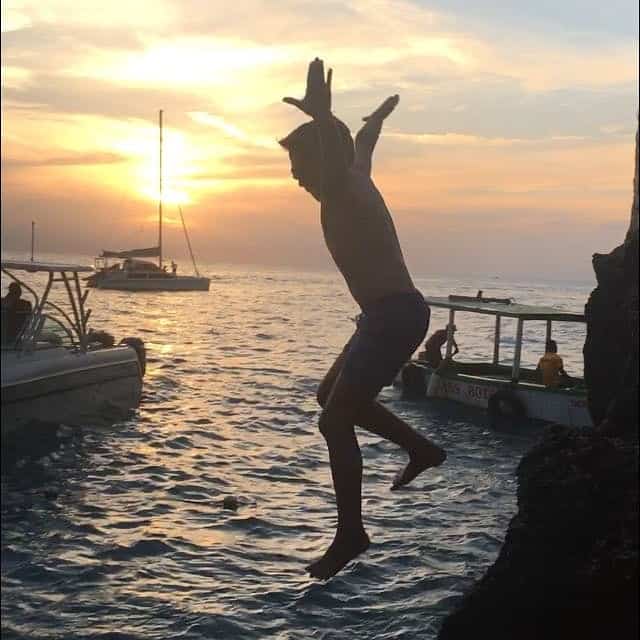 As Stu was turning 50 and I was turning 40 within 9 days of each other last year we decided to treat ourselves with our very own family holidays to Jamaica. It was late November and early December and we knew we wanted somewhere hot.
We searched high and low and read lots of different reviews but we were taken by the Hilton Rose Hall Hotel, Montego Bay. Freddie is an only child (well his brother and sister are 23 and 19 so didn't come with us) and he is constantly wanting to make friends. So we had to be very careful with picking a family friendly resort. This one had a water park and a great kids club.
All of my preparation for the trip had not turned out so well. I was hoping to have lost at least 2 stone, but anyway we were not going to let that ruin our fun.
Family Holidays to Jamaica -The Flight
The flight was a morning flight from Manchester so we decided to stay in the Hilton at the airport the night before. Freddie wasn't overly impressed when he saw the hotel from the outside. And I have to agree it looked like a small cheap hotel.
Although he did make me laugh as soon as we walked in, when he said, wow this looks so different from the inside mum! The service at dinner in the restaurant needed lots of improvement. All courses were brought out at the same time, the starter and the mains, and they looked horrified when we asked them to serve it properly. Other than that though it was a very nice stay and made us nice and refreshed for our long flight.
We decided to upgrade our seats so we had extra space. I have to say it was definitely worth the money. It was a 9 and a half hour flight to get there and we were very looked after. We booked a package holiday so it was a Thomson flight and the flight attendants were very good. This is always a nice start to any holiday.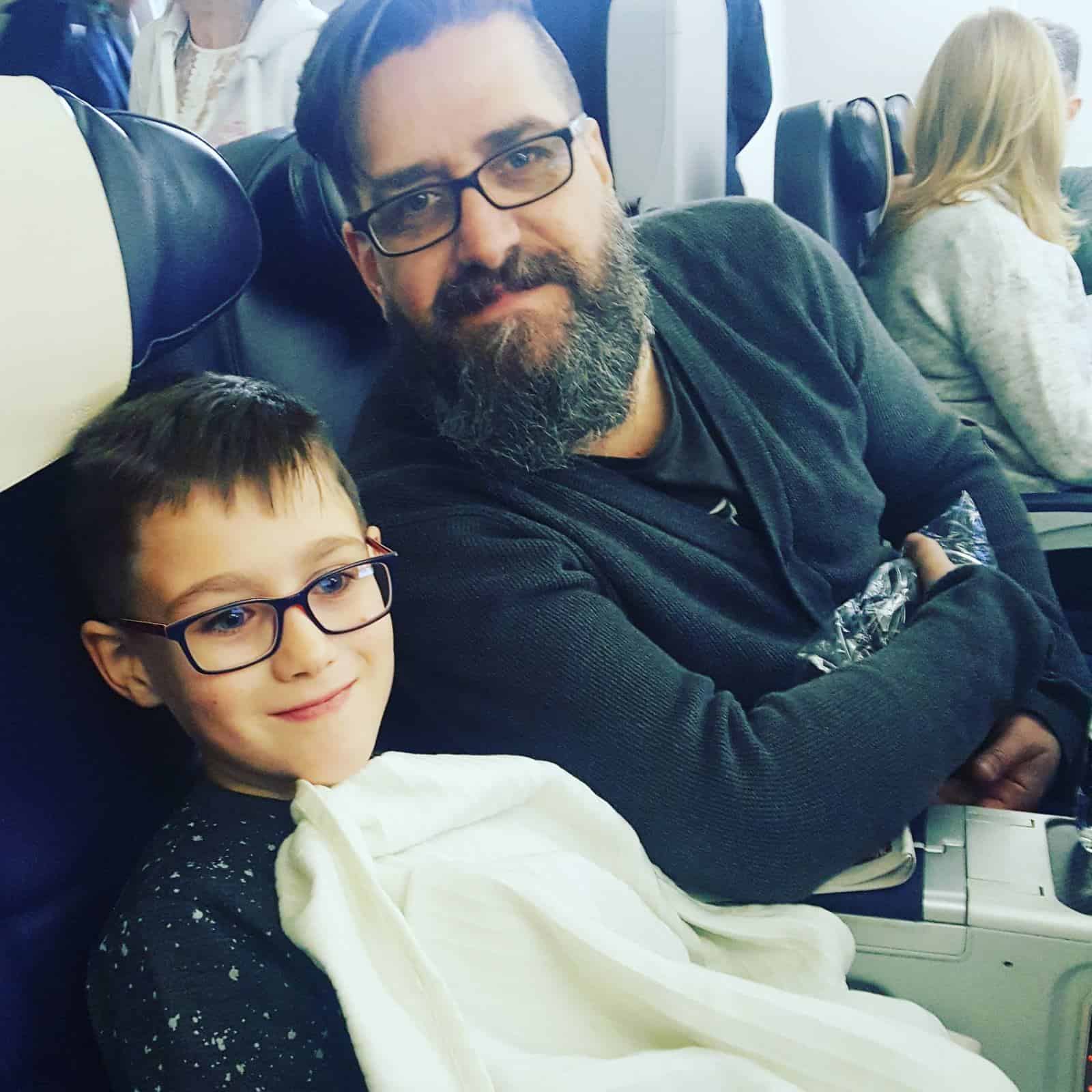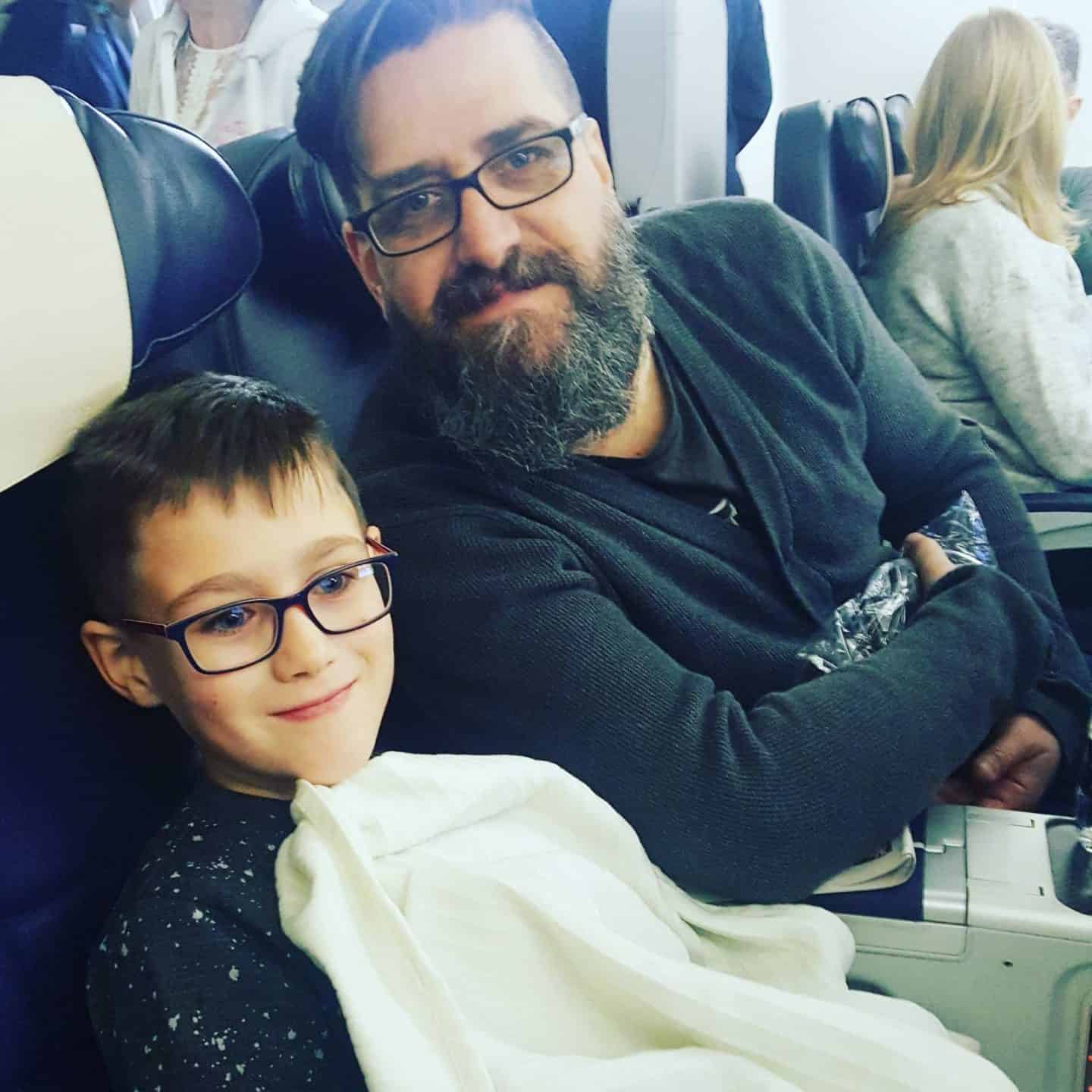 There is a 5 hour time difference so when we landed it was still lunch time. The first thing that hit us was the greenery. I don't know why as we had done a lot of research, but we were not expecting this. Even Freddie commented on it. I think England is a green country but nothing like Jamaica. We already knew that the transfer would be quick as we were staying in Montego Bay but the drive was beautiful.
Hilton Rose Hall Jamaica – Family Holidays to Jamaica
The entrance to the hotel was very grand with lots of trees, we were in heaven. We upgraded to a sea view room. To be honest was probably not worth it as we were overlooking the back of one of the restaurants. So we had a constant noise of the air conditioning unit. But I am being particularly picky as it didn't spoil our holiday one little bit.
The plan for the 2 week holiday was to just chill out and enjoy the hotel, but we did venture out a bit too.
Fun Things to do in Jamaica with kids:
Bob Marley's Mausoleum at Nine Mile.
From the Hilton Rose Hall hotel we took a bus up through the mountains to get to Nine Mile, I have never been so scared! The tour guide had already warned us that the roads were hmmm a bit tight and if we saw a car coming on the other side of the road close our eyes and count to ten and it would be ok! She was right of course. But it didn't stop me scream out at one point, much to the drivers amusement! But when my eyes were open the countryside was absolutely beautiful, it was so green and hilly, not at all what I was expecting.
Nine Mile is one of the only places you are free to smoke marijuana in Jamaica. It didn't stop it in most places to be honest, but it was easily on tap if you were interested in buying it. Of course we didn't partake, but a number of the people in our group did.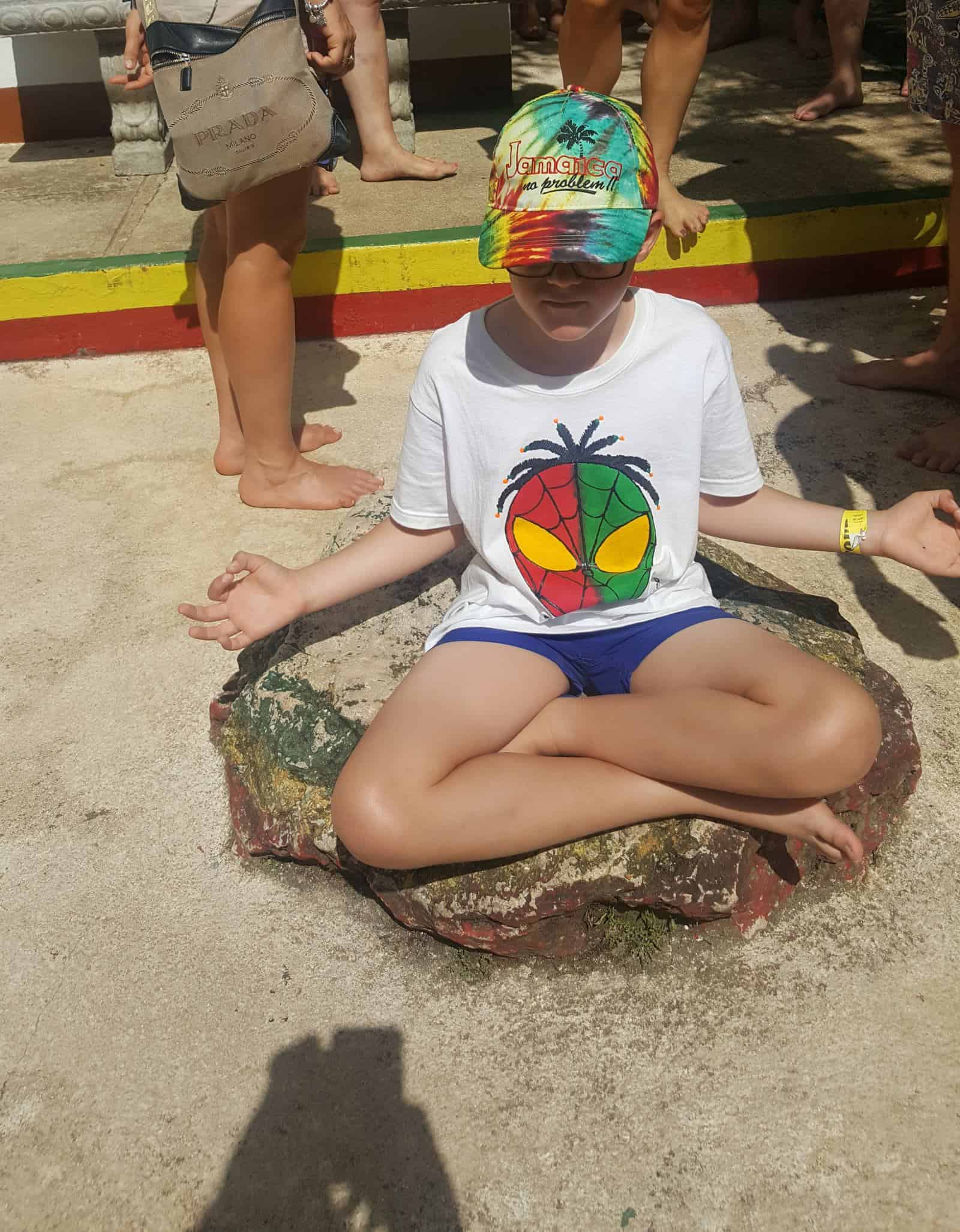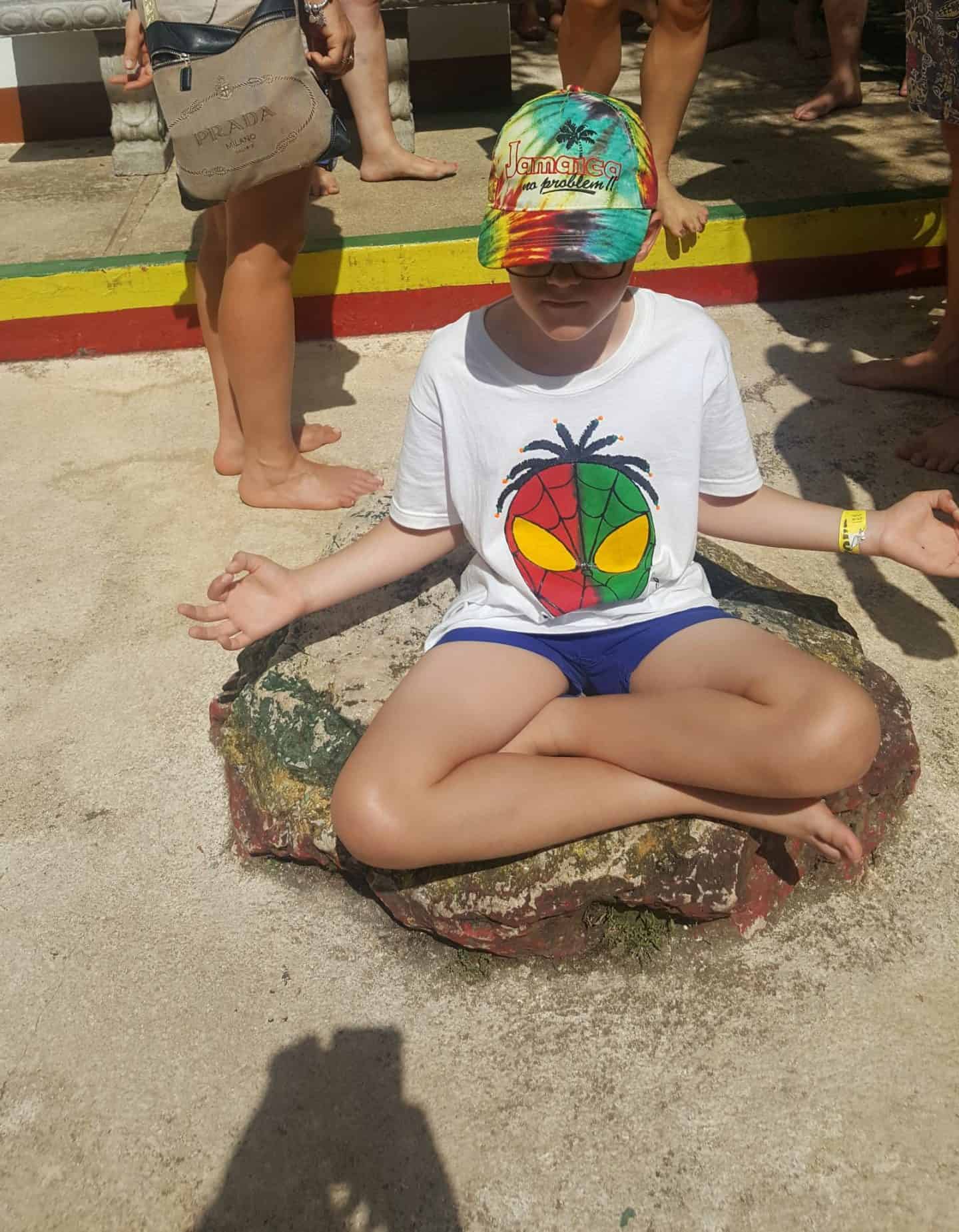 Dunns River Falls
Dunns River Falls in Ocho Rios is one of Jamaica's national treasures. It is an astounding flowing falls that extends across more than 600 feet, and flows directly into the Caribbean sea. It is really fast flowing so we went in a big group where we all had to hold hands in a big chain. I am not a very tactile person so this was a bit uncomfortable for me, however as soon as we were going up I was gripping onto the persons hand in front (luckily for me the tour guide). As it was really rocky and correct foot placement was a must! This was absolutely stunning and we all loved it, however, you would have to be able bodied to do it.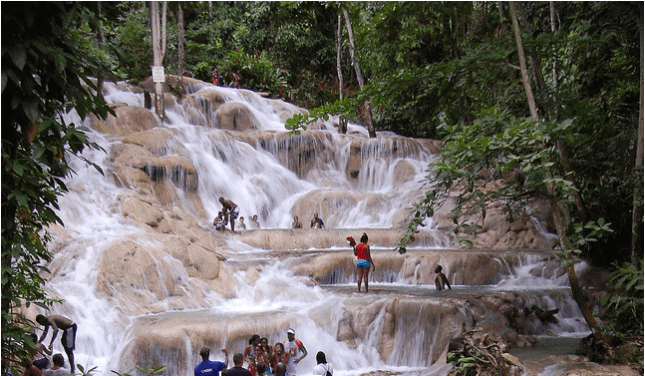 Ricks Cafe – Negril
You can not holiday in Jamaica and not visit Ricks Cafe this is where the adrenaline junkies go and dive off the cliffs into the Caribbean sea! Not only that, as I am a long way from an adrenaline anything the views are amazing. The sunset from there is the best sun set I have ever seen. There is a bar, live music, when we were there the lady singing was absolutely brilliant.
There are 3 different levels you can dive from, 10, 25 and 35 feet up. I didn't think Freddie would even attempt it but he did the 10 feet dive with absolutely no problems!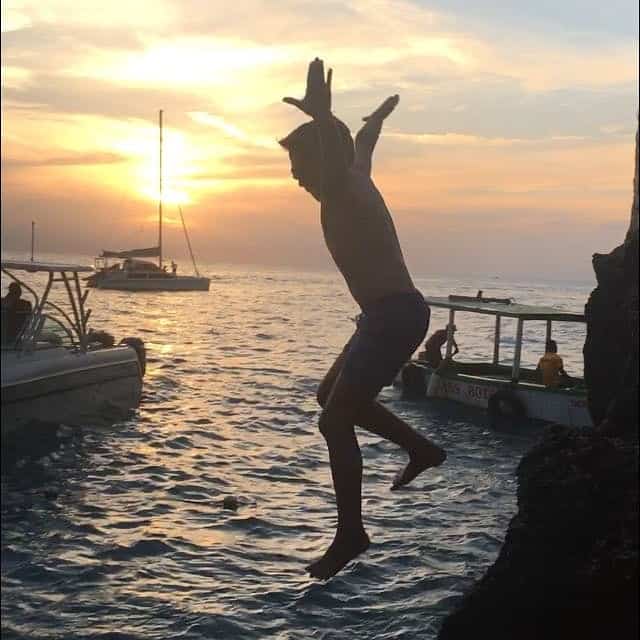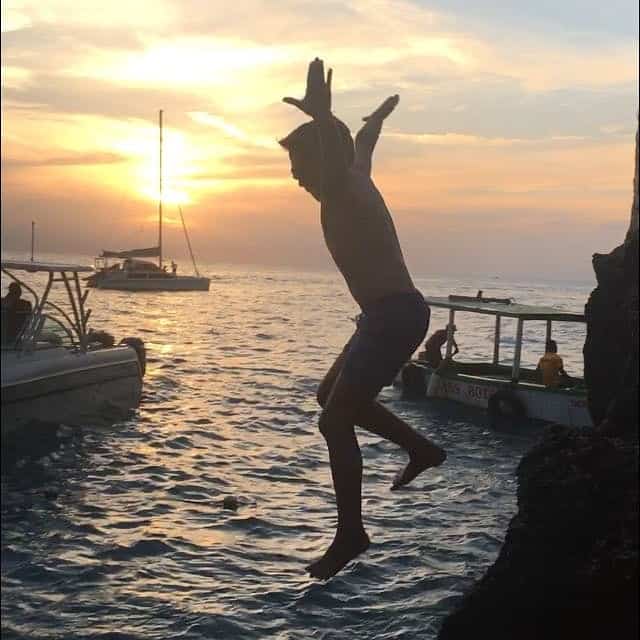 Stuart, however, insisted of course on doing all 3 dives. Although massively regretted his landing on the highest one as he landed in a seated position. For about 3 weeks afterwards thought he had actually broken his bottom!!! He of course got zero sympathy from me!!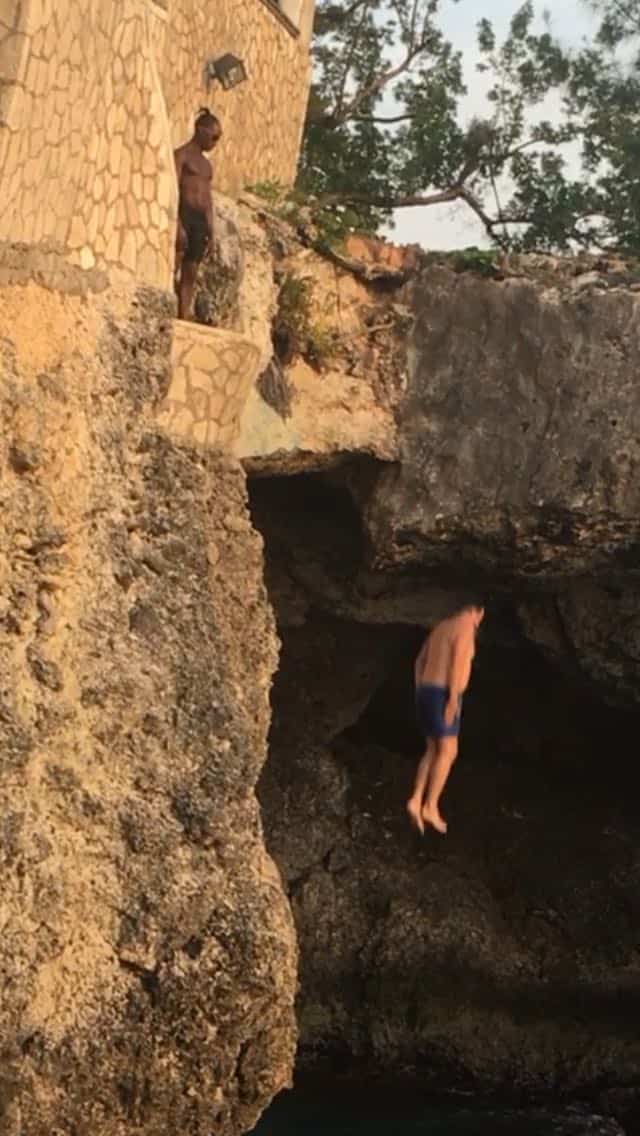 The other amazing part of this visit was there are professional divers jumping off an even higher level and climbing up the rocks like spiderman it was spectacular to watch. Also the staff were outstanding, on Freddie's dive his goggles fell off his head on touching the water and without a second though the life guard had jumped in to collect them. Much to our relief, as Freddie wears prescription goggles and the thought of not having them for the rest of the holiday was unimaginable!!
Golf Lesson at the amazing Cinnamon Hill Golf Resort
This was certainly one of Stuarts highlights, as he loves playing golf but has never previously had a lesson. The golf resort was attached to the hotel so no need to leave the resort. The instructor was really patient which was made much harder by the fact this was probably the hottest day of our trip and Fred got a little grumpy! But it was an hour lesson which they both thoroughly enjoyed and the golf pro was fantastic for both skill levels.
Hilton Rose Hall Jamaica Review
Most of our time was spent at the Hilton Rose Hall hotel. It was a biggish resort, but not massive so you were't walking for hours to get to the pool or the water park. But there was lots to do, there were 2 jacuzzis, a swimming pool, a lazy river, 2 slides, a swim up bar (my favourite) plus lots of restaurants.
These are some photos of us frequenting the swim up bar, which opened at 10am and served cocktails and soft drinks. On the first day I was amazed that people appeared to be queuing up for the cocktail bar to open, however, by day 2 we were there too!!
The lazy river was Freddie's favourite bit and there were nearly always enough rubber rings to go around everyone. Very unlike a European holiday where everyone claims them as their own for the entire day!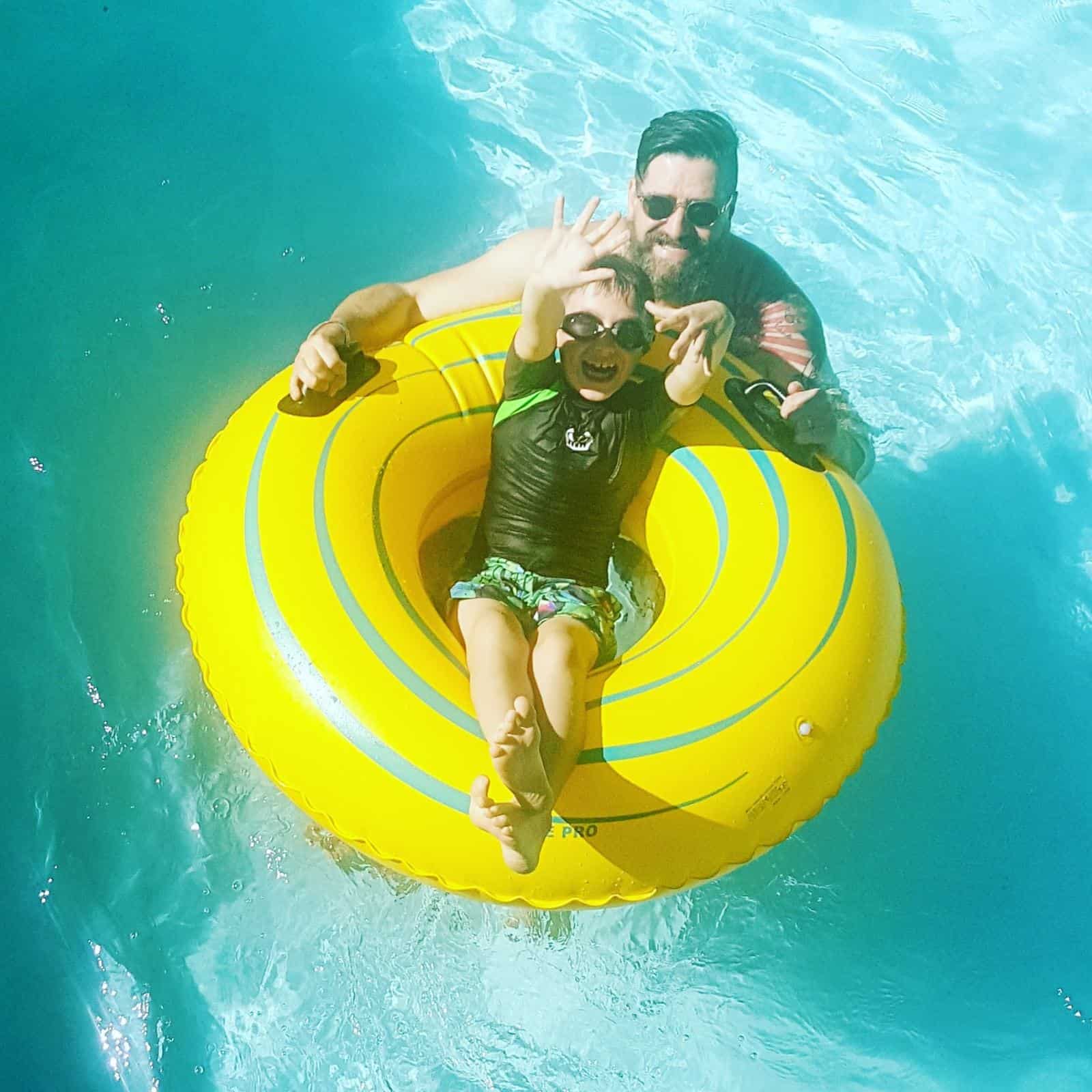 The setting was beautiful and if we weren't already married this would have been a perfect resort to get wed. There were at least three places we saw that hold ceremonies, one being actually on the sea front.
As there was a separate swimming pool we tried to encourage Freddie to learn to swim. But he spent most of his time playing underwater! He has been having swimming lessons for about 3 years now. But as he is doesn't enjoy swimming he has not managed to master it yet. When we told him we would buy him a computer game if he could swim two lengths… Guess what, he could do it then!!
As we went out of season there were plenty of deck chairs and other places to chill and relax. I am not sure what it would be like when children are off school. We were told the hotel was at capacity so maybe they have just got it right. We never struggled to get a seat or a deck chair around either pool with a nice deck.
Christmas at the Hilton Rose Hall Jamaica
As we were there in early December they were busy putting their Christmas decorations up. There were Christmas trees in pretty much every room. They were all decorated in a different theme, it was beautiful. Now I am a long way from stupid, however, every now and then I do say something that makes this a difficult argument to have. We were looking at the Christmas decorations outside of the main restaurant. I said to Freddie "ah look at those lovely Jamaican dogs sitting by the tree"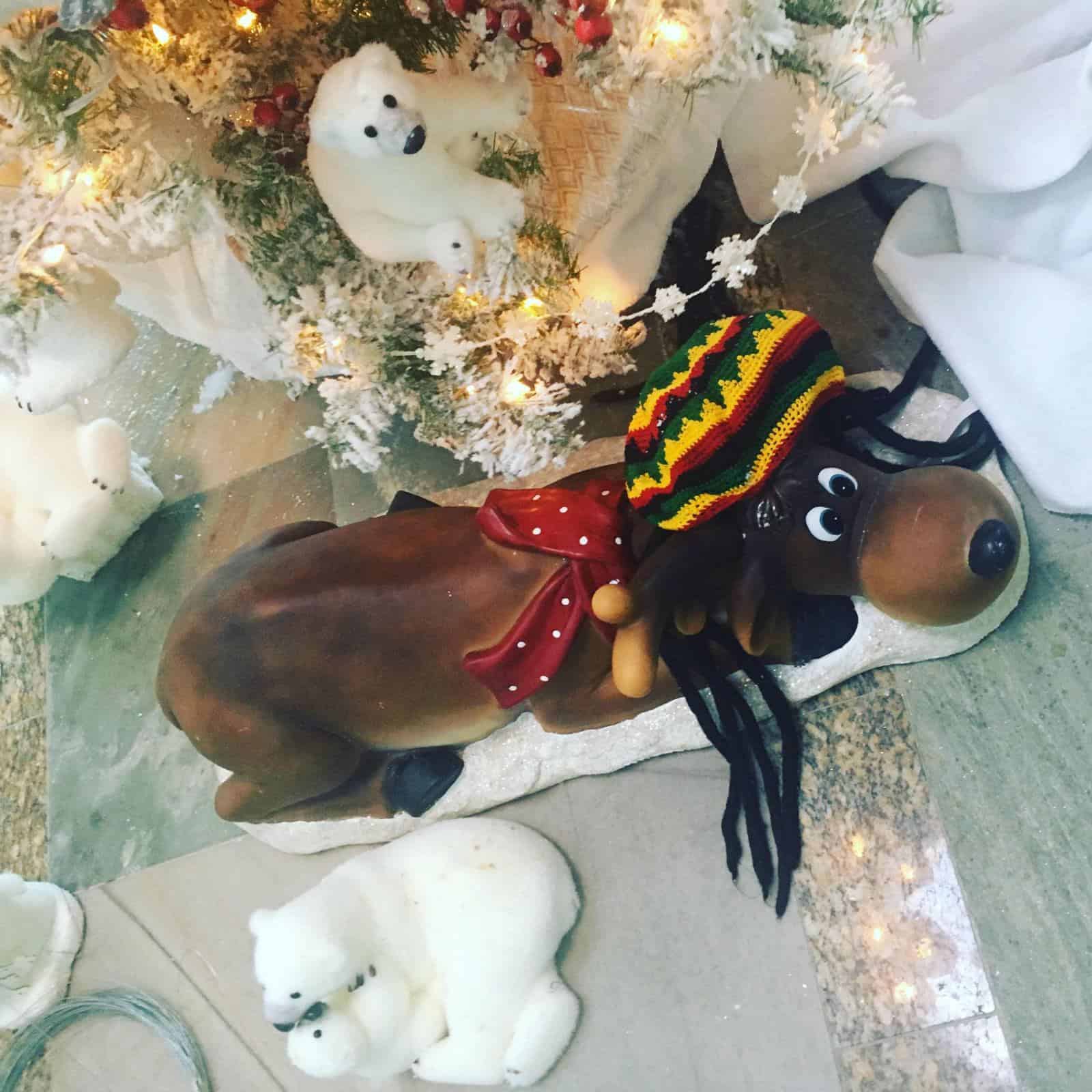 And no I didn't notice it had hooves!!! Well anyway this caused endless fun at my expense every time we went for breakfast and dinner!
As we were planning this holiday, Christmas took a bit of a back burner, as we usually go a bit Christmas crazy at home. But luckily Hilton Rose Hall had it covered and Freddie managed to write his letter to Santa.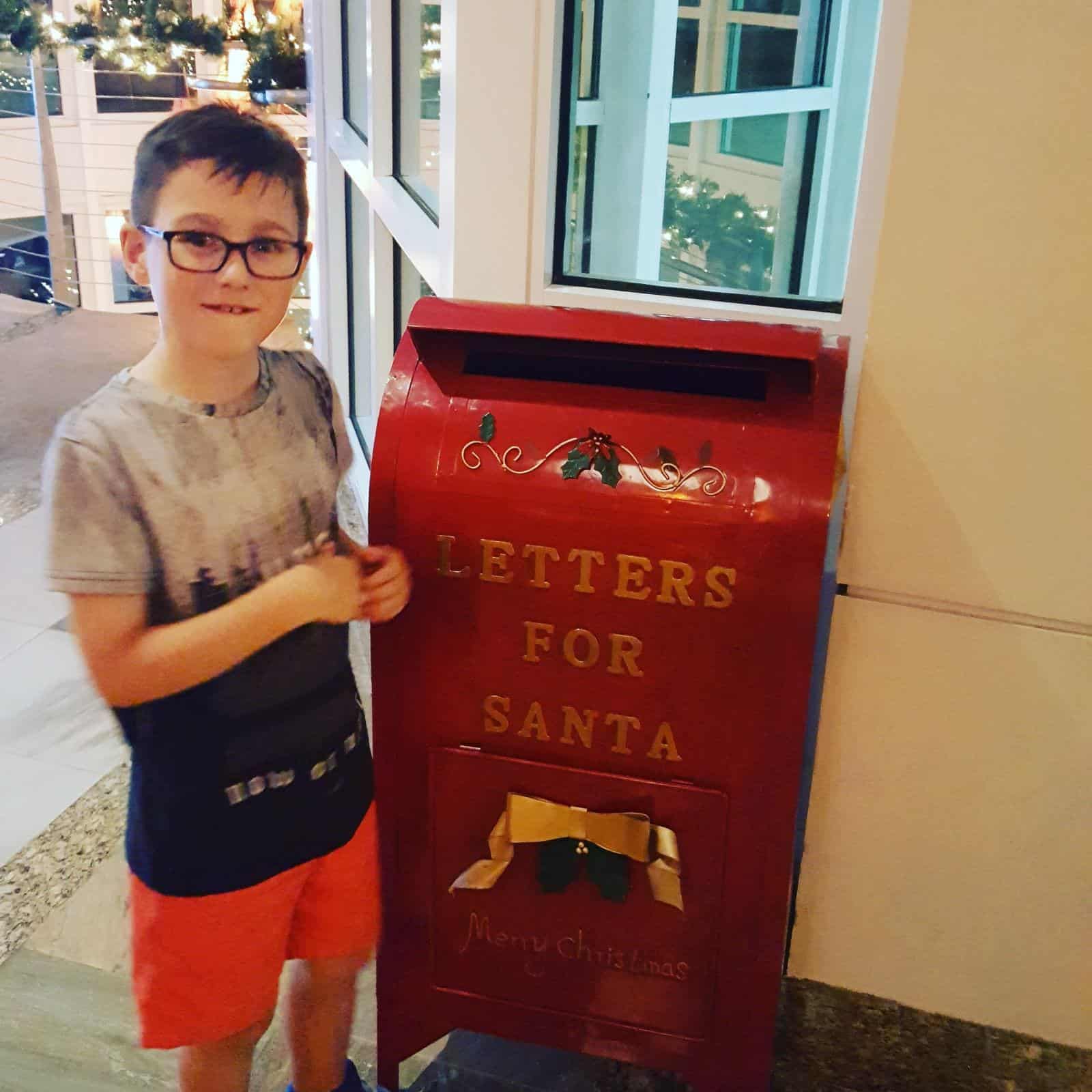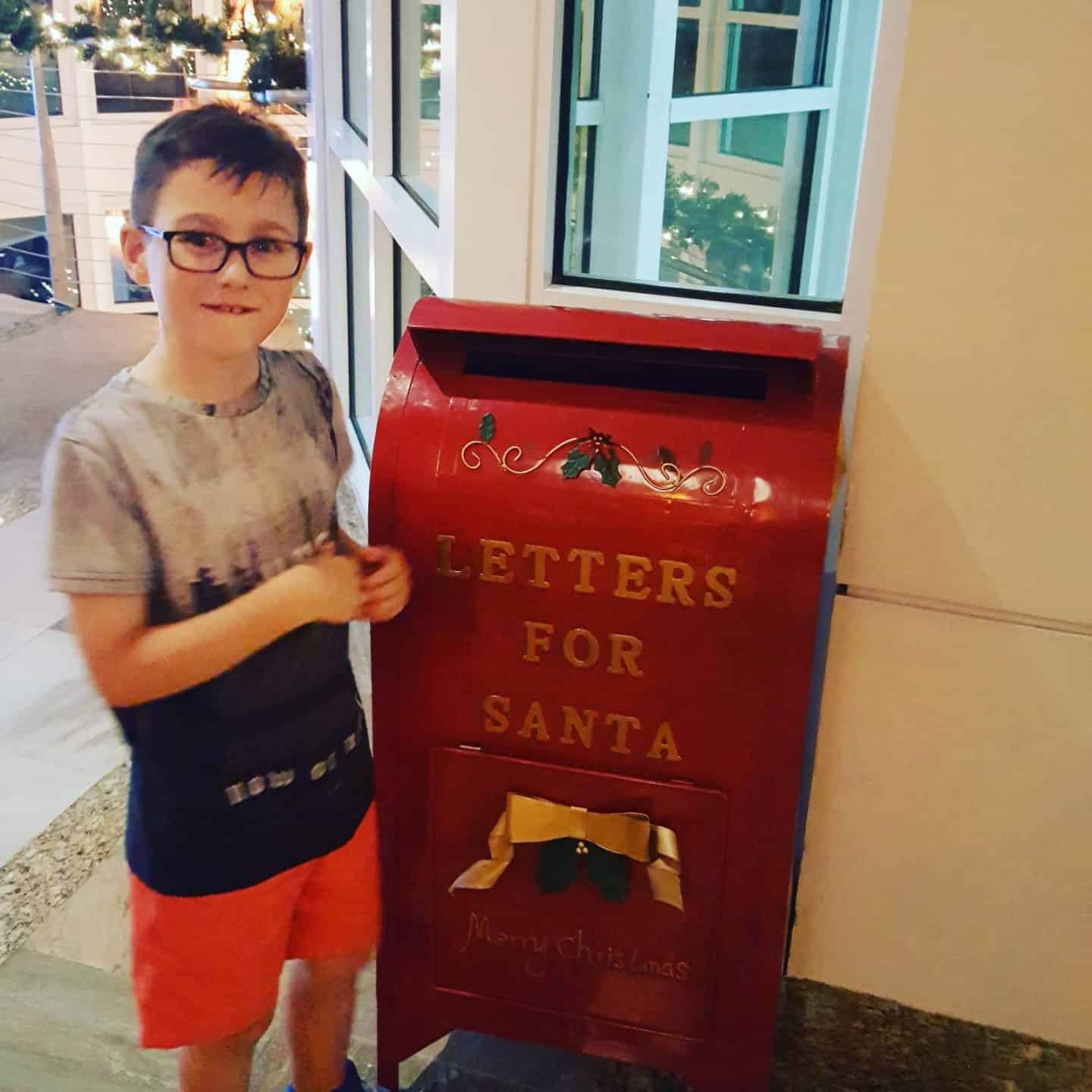 In conclusion we absolutely loved our family holidays to Jamaica. Hilton Rose Hall and everything else we encountered. The staff were all friendly, the tour reps were all really helpful. And my God the landscape and the sea was just out of this world. We will definitely be returning to Jamaica, and I would not hesitate to recommend the Hilton Rose Hall either.
If you are looking for even more ideas check out top 10 places to visit in Jamaica.

Last Updated on 27 August 2021 by homeschoolof1