Free Printable Dinosaur Invitations + Party Ideas
A dinosaur party is sure to be a hit with little boys. I wanted to share with you our dinosaur themed birthday party ideas that you are going to love plus our free printable dinosaur invitations.
Be sure to have a dinosaur cake, dinosaur goodie bags, and dinosaur-related activities for the kids to play with.
Little boys love dinosaurs, so it's not surprising that so many mothers get requests for dinosaur-themed birthday parties.
Luckily, it is actually quite simple and fun to organize a dinosaur birthday party for your little boy and his buddies. Here are some must-haves for your pre-historic celebration.
I think you are also going to love our kids space party ideas for an out-of-this-world treat.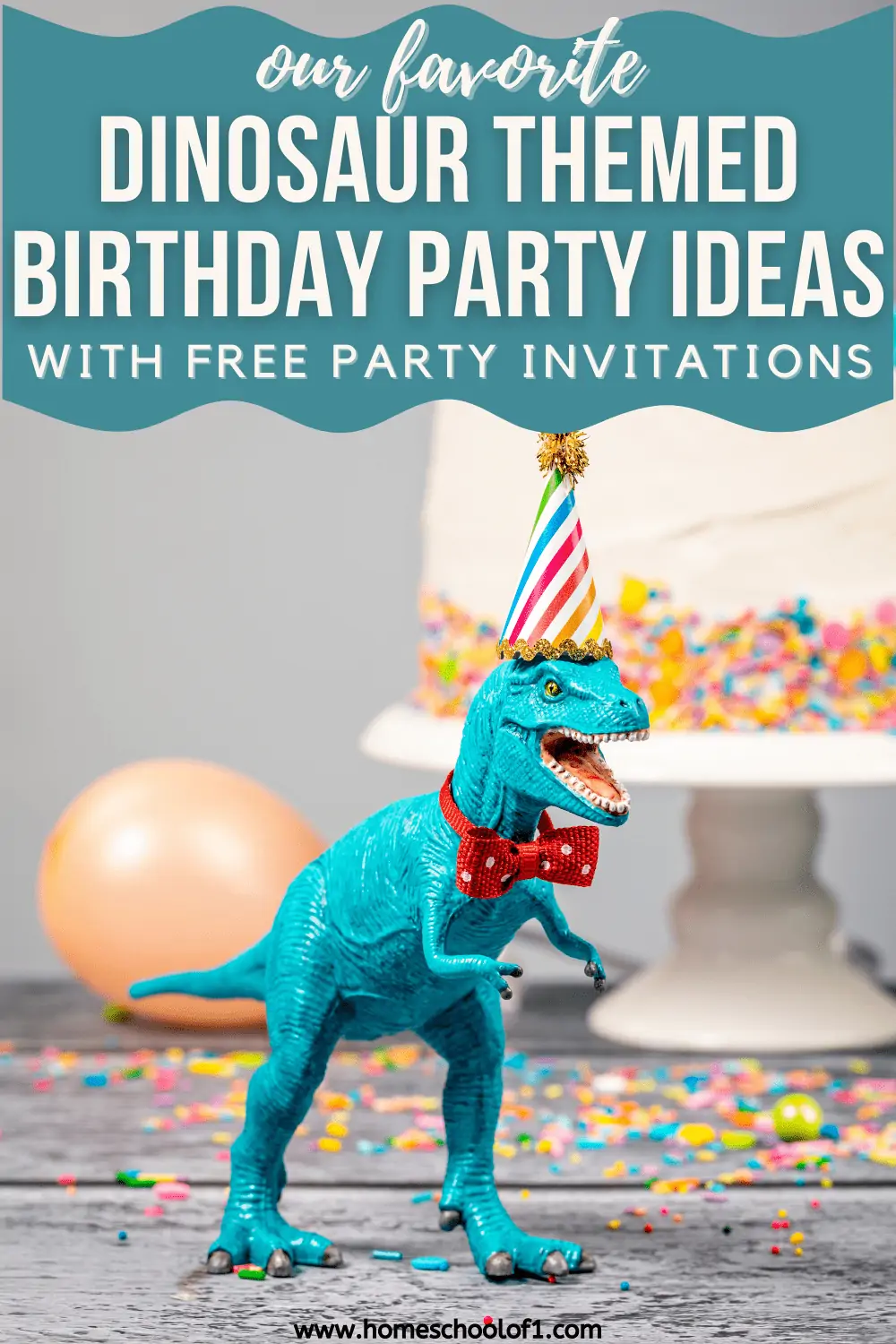 **There may be affiliate links in this post. You can read my full disclosure at the bottom of the page.**
Dinosaur Invitations Free Printables
One simple invitation is to cut a bone shape out of a piece of white card stock or poster board. Write the party invitation on the bone.
If you want to get a little more complex, get some white plastic Easter eggs. Put a miniature plastic dinosaur inside of it, with a folded-up note containing all of the party information.
Or for an even easier option download our free printable dinosaur party invitations at the end of this post.
Why not treat the kids to a fun and free birthday scavenger hunt too?
Dinosaur-Themed Birthday Party Ideas
Dinosaur Decorations DIY
Turn your living room or yard into a prehistoric swamp.
Make big palm trees by cutting long sheets of butcher or brown paper (or paper bags in the grocery stores) into long, tapered tree barks. Tape them to the wall. Make long, green, slightly curving leaves out of construction or poster board paper, and tape them to the top of the tree trunk. Hang green crepe paper for vines.
If you know someone who is artistic enough to trace a dinosaur on a large piece of poster board paper, make some cutouts and hang them around the room as well. Cut some great big dinosaur feet out of felt and put them around the area on the floor.
Or do what I would do and cheat! This dinosaur decoration kit is perfect!
Dinosaur Party Favors, 134Pcs Dinosaur Birthday Party Supplies
10Pcs Dinosaur Balloons, Dinosaur Birthday Dark Green Number
Dinosaur Birthday Party Supplies Kit For Boys, Dinosaur
JOYIN 30
Dinosaur Party Food Ideas
Put signs on the table. On one side, the food for "herbivores," and on the other side the food for "carnivores."
On the herbivore side, place some vegetable sticks on a platter decorated with leafy greens, coleslaw, and pretzel sticks (twigs).
The carnivore side, put some roasted turkey (dino) drumsticks, (brontosaurus) burgers, and chicken (pterodactyl) wings.
Make some lava punch by putting some raspberry sherbet into ginger ale.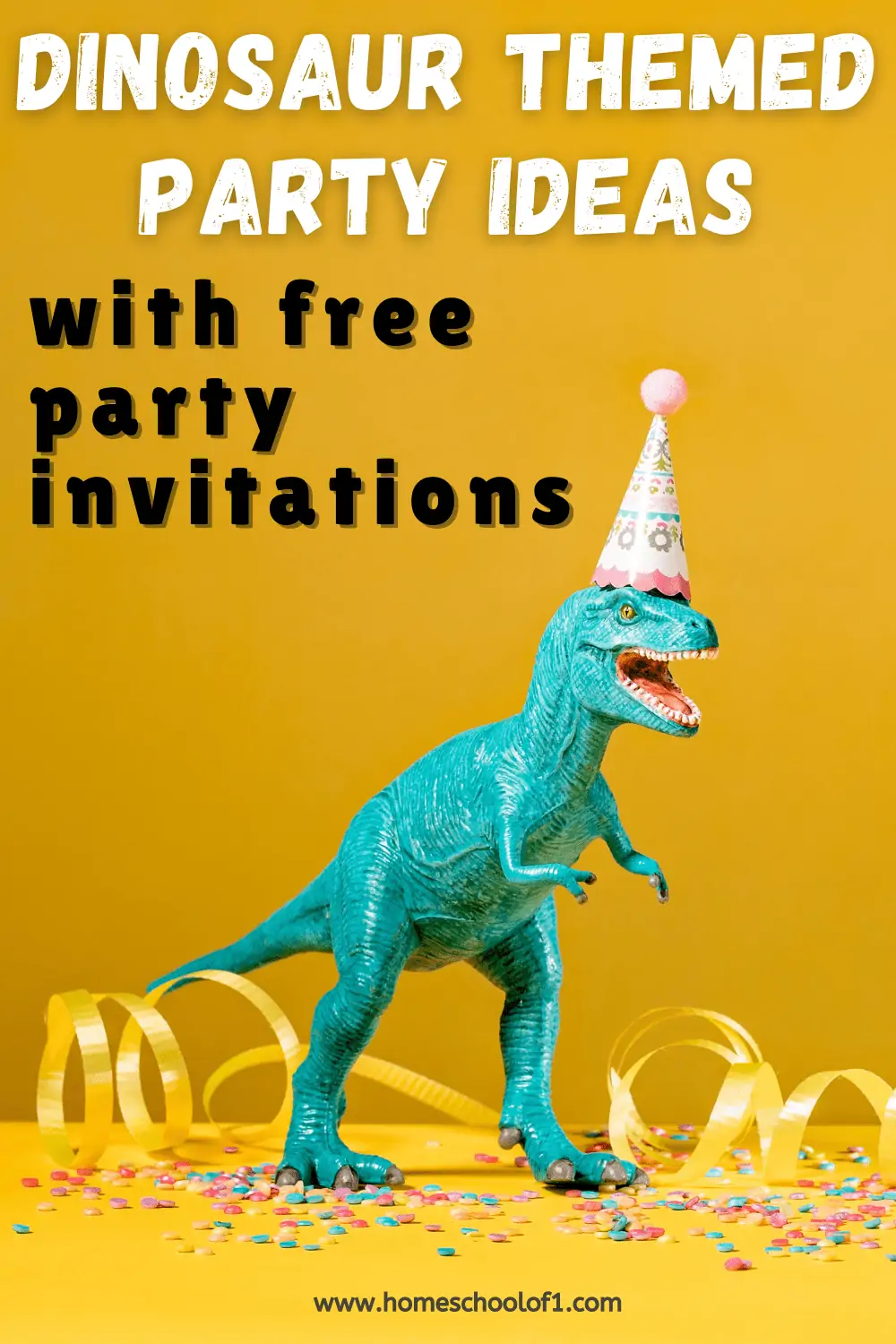 Dinosaur Themed Birthday Party Games
Have a dinosaur egg hunt. Get some plastic Easter eggs and fill them all with little candy and treats, except for one. Save a plastic dinosaur and put it inside. Hide the eggs around the area and let the kids go looking for the eggs. The one who finds the dinosaur egg wins a prize.
Get some safari-shaped party hats at the party store, and let the kids decorate them with stickers. Get a few sets of alphabet stickers so that they can put their names on the hats, as well as different prehistoric plants, trees, and, of course, dinosaurs.
Why not get the kids to make dinosaur handprints? All you need to do is grab our free templates, grab some paint and the kids will have a wonderful keepsake to take home.
Let the kids make "dinosaur feet". You'll need two shoe boxes per child. Let them cut a hole in the top of the shoe box just big enough to fit their foot into. Tape the box top to the bottom. Wrap it in paper of green, brown, or gray, leaving the hole open. Glue some smaller paper scraps on the front for nails or claws. When they are done, let the kids have a race in their dinosaur feet.
Dinosaur Party Bag Ideas
There are tons of dinosaur stuff for kids that you can find at discount stores or party stores; coloring books, little plastic dinosaurs, skeleton models, key chains, and games.
Pick a variety and put it into a bag for them, with more "dinosaur eggs" full of treats.
Dinosaur birthday party favors are perfect for small girls and boys who love reptiles and dinosaurs. Creating fun and unique dinosaur birthday party favors can be a fun craft for the kids to help with!
Here is a look at 3 dinosaur themed birthday party ideas party favors:
Dinosaur Paint By Number Kits
Paint-by-number kits are a fun party favor perfect for kids of all ages. You can find paint by numbers with dinosaur themes at almost any child's toy store, craft store, and even online. Be sure to buy one that suits the age of your child. Young children who are old enough to color in coloring books can enjoy a simple paint by number kit if it is simple enough!
Kids could also make their own paint-by-number kits using coloring book pages. They can cut out the dinosaurs and trace them onto their canvases. This is a fun craft to do at a birthday party. They can take them home to paint them.
Dinosaur Puzzles
Dinosaur puzzles are also another fun and affordable party favor perfect for boys and girls of all ages. I often come across great puzzles for a dollar at the local Dollar Store, craft store, and sometimes the grocery store in the dollar bin.
A dinosaur puzzle is an awesome party favor that other parents will thank you for. You are giving their child something constructive to do that does not involve candy, calories, or sugar highs! Look for dinosaur puzzles that are age suitable for your group of kids. They often have the age range labeled on the box. You can also have your child help pick them out to make sure they are cool enough for his or her friends!
Kids Rawr I'm 3 3rd Birthday T Rex
TrDLam 30pcs Dinosaur Eggs, 1.77 Inch Dino Smashers
Partywind 350 Styles Glow Dinosaur Party Favors for
Dinosaur Favor Bags – 24-Count Colorful Cute Dinosaur
Dinosaur Water Bottles
The last time I was at the local Target I came across fun animal-shaped water bottles, dinosaurs were one of them! They came with cute scrunchy straws that were perfect for kids of all ages. These animal water bottles are a great way to get kids of all ages to drink water, cut down on pollution from plastic one-time-use water bottles, and create a healthy lifestyle. They have them in pink, green, and blue, so these would be perfect for girls or boys as a birthday party favor!
Dinosaur Cake
A dinosaur party isn't complete without a delicious dinosaur cake. Dinosaur cakes are actually pretty simple to make.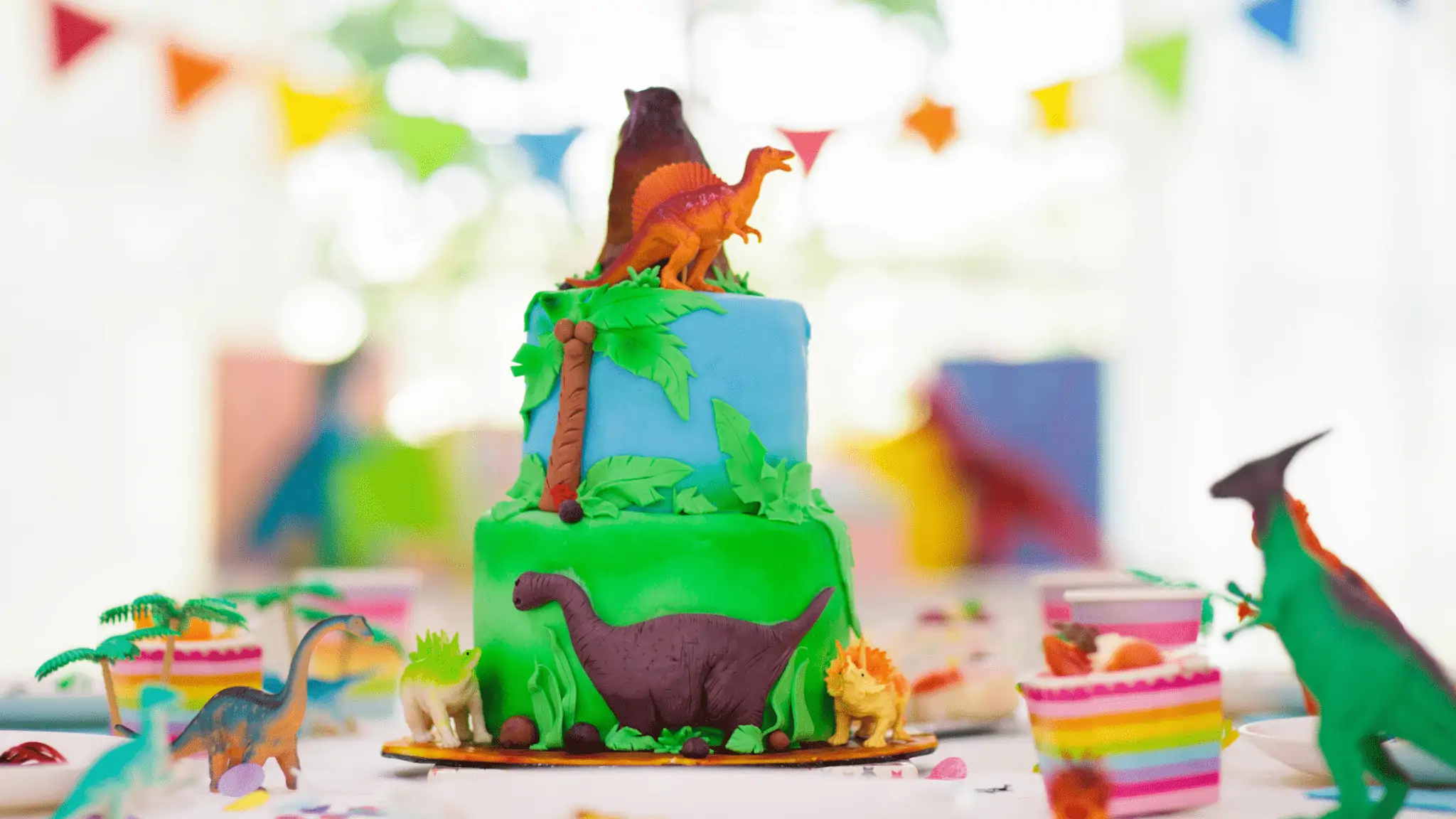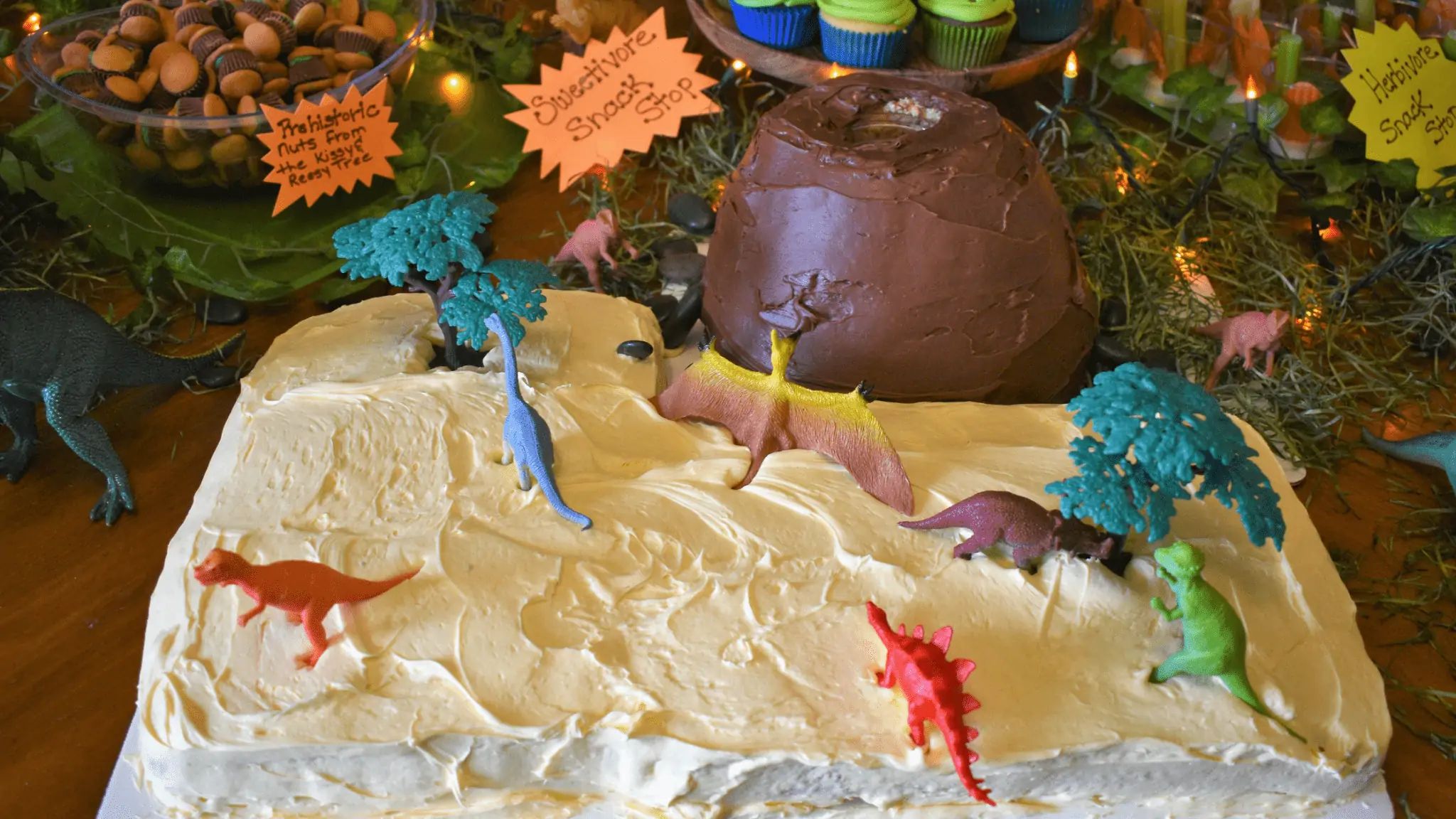 Simply make a sheet cake in the flavor of your liking (the size of the sheet cake you make depends on how many guests you will be feeding). If you make a white cake or vanilla cake, you should add green or blue food coloring to the batter before baking the cake – little boys love that kind of stuff!
Once your cake has been baked and cooled, carefully cut out a dinosaur shape with a sharp knife. Set the scraps aside (you will use them in a minute). Next, make a white frosting, adding food coloring in the color of your choice. Break up the scraps of cake into crumbs, then add the crumbs to your frosting and stir well.
The result will be a textured look to your frosting, adding to the dinosaur-like quality of your cake. Frost the cake, and then use store-bought writing icing to draw on the facial features and any other markings you would like to add. If you don't have the time (or desire) to make a dinosaur cake on your own, just order one from a bakery or get a dinosaur ice cream cake.
Free Printable Dinosaur Party Invitations
These free printable dinosaur party invitations will print 2 per page.
Make sure you choose the correct paper size and click on the shrink to fit button. All of our free printables for kids work better when printed on cardstock (this is the one we use and love.)
I think you will also enjoy:
Last Updated on 2 July 2023 by homeschoolof1