Diwali Coloring Pages and the Legend of Lord Rama (free)
Diwali is a religious festival that originated in India. It is a 5-day celebration marking the start of the Hindu New Year. Enjoy our free Diwali coloring pages while learning about the most important holiday in India.
This year it is celebrated on November 12th, 2023, however, it changes every year based on the Hindu lunar calendar. Typically it happens sometime between the end of October to the end of November.
As we always like to learn about fun holidays in our homeschool (any excuse to pause the core curriculum!) I have shared with you some fun Diwali activities we will be doing.
Prior to moving to America over 4 years ago, we went to a number of Diwali events in Leicester, UK, where we are from.
Leicester holds the largest Diwali celebrations outside of India, and it was full of laughter, dancing, and lights. In fact, we looked forward to it every year.
We love creating free kids coloring pages, and we either use them as a supplement for a lesson we are studying or to calm the mood! Coloring is a great way for them to refocus and relax, and great for improving fine motor skills.
Carry on reading to download our free Diwali coloring pages and learn about the story of good versus evil.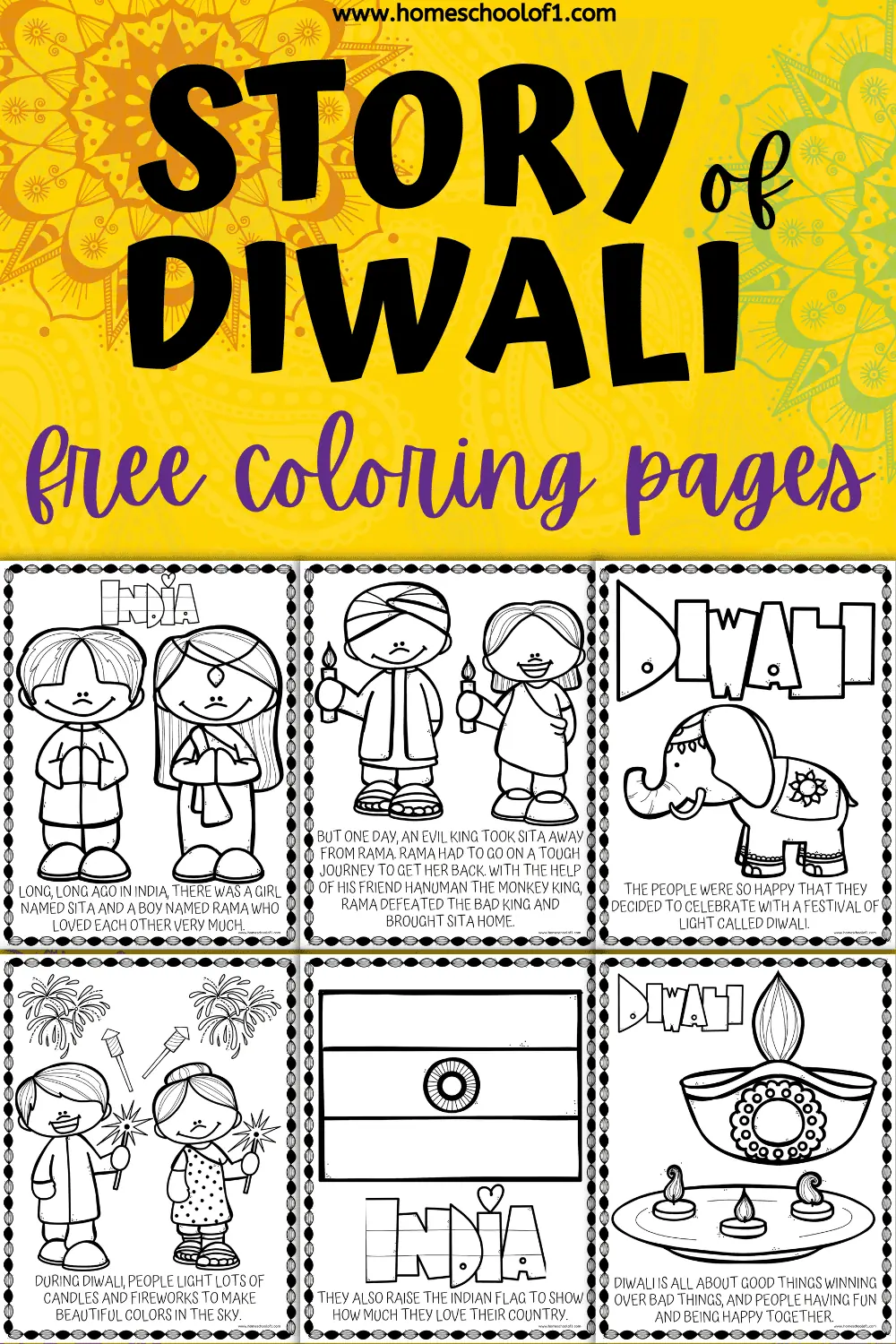 **There may be affiliate links in this post. You can read my full disclosure at the bottom of the page.**
Story of Diwali Coloring Sheets
The kids are going to enjoy coloring in our free story of Diwali coloring pages.
Print out the coloring pages below, it will print out on six full pages. Make sure to check the printer settings.
These free Diwali coloring pages are free to print but are for personal use or classroom use only. Scroll to the end of the post to get the pdf file.
Diwali, also known as the Festival of Lights, is a major festival in India and is celebrated by millions of people around the world.
It has a rich history dating back thousands of years, and there are many stories and legends associated with it.
Carry on reading to see our story of Diwali.
Diwali: The Triumph of Good Over Evil
Our Diwali story is based on one of the most popular stories.
it is about a god named Lord Rama.
He was a really important god in the Hindu religion.
The story goes that Lord Rama, along with his wife Sita was sent to live in a forest for 14 years after he was exiled from his kingdom.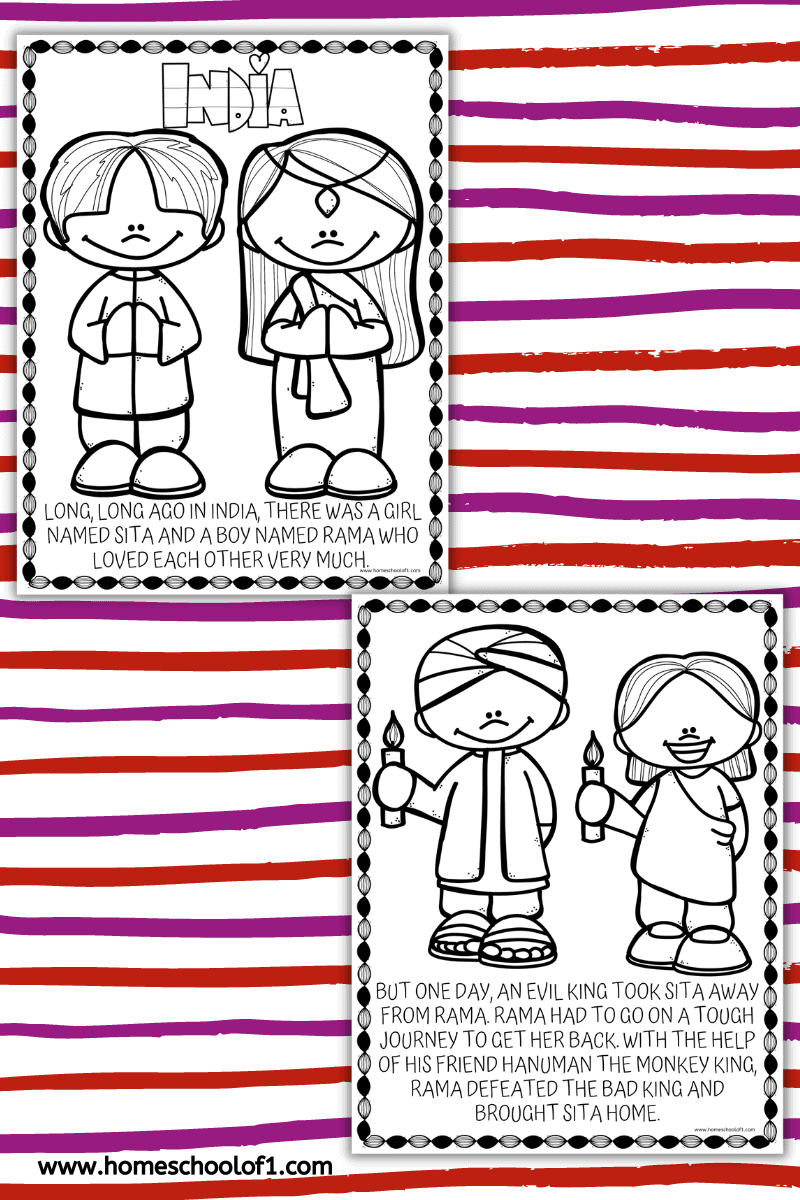 While they were in the forest, a bad king named Ravana kidnapped Sita.
Lord Rama was really brave and with the help of an army of monkeys, he fought a really hard battle to get Sita back and defeat Ravana.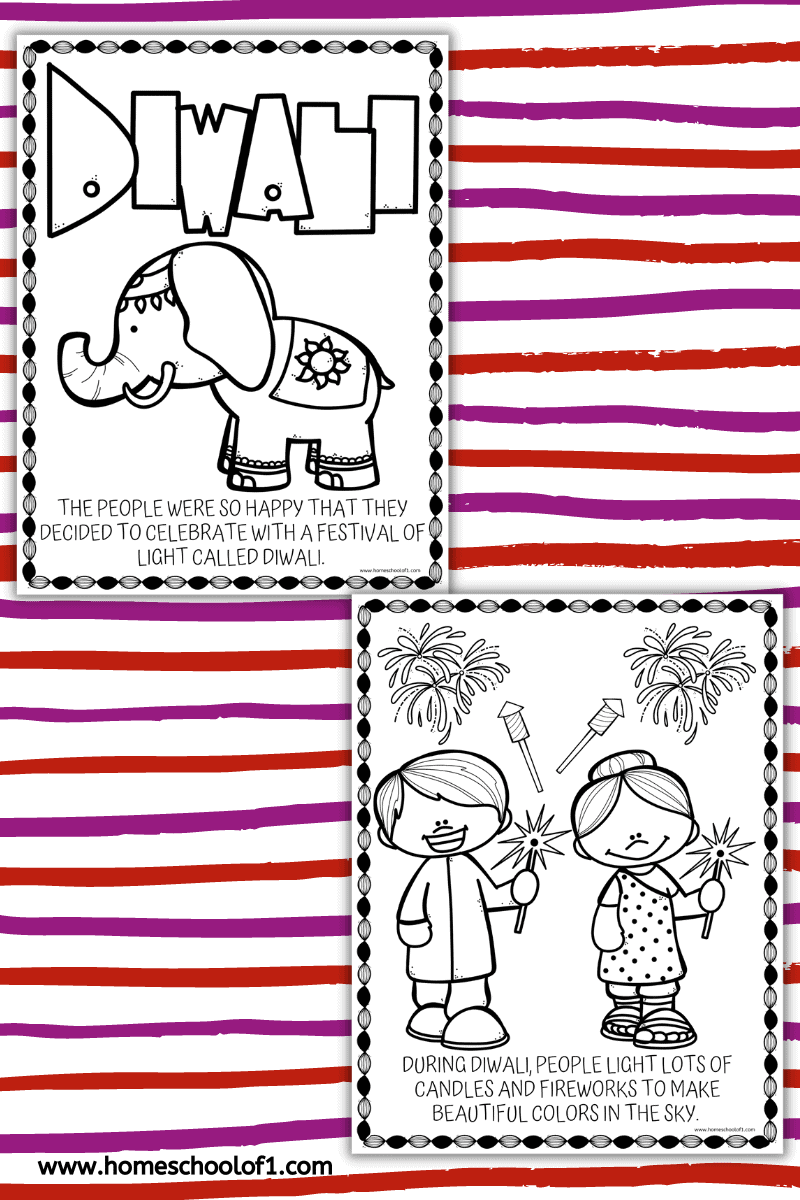 When they finally returned home, the people were super happy and celebrated with lights and fireworks to show their joy. And that's how the Diwali festival began.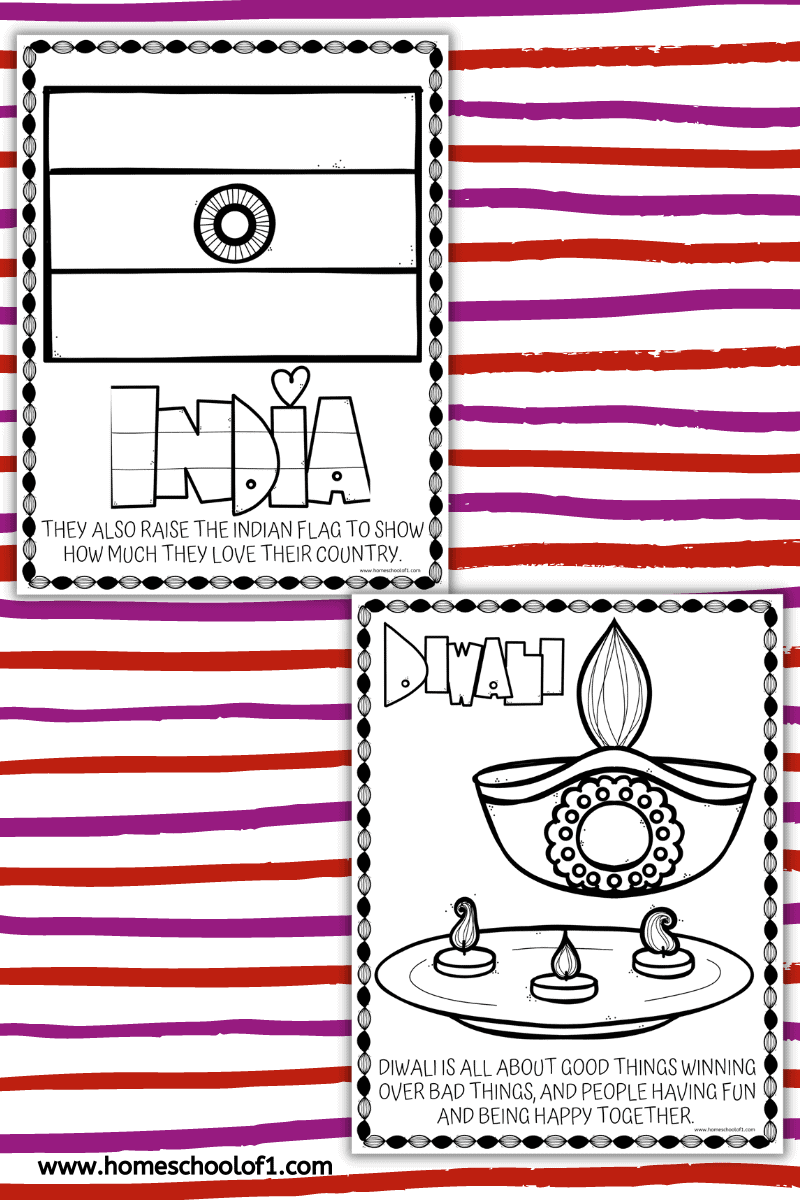 Diwali is now celebrated in India and around the world and is also called the Festival of Lights.
Diwali Activities for Kids
When the kids have had fun with our coloring pages, why not spend a bit more time having fun with Diwali and Indian culture?
I have added a mixture of games, books, and worksheets that the kids are going to love.
Photo Credit: outschool.com
Aimed at 6-10 year olds this online class aims to give a glimpse of the festival of lights called Diwali.
Its cultural significance, traditions, food, and colorful celebrations.
Photo Credit: www.etsy.com
Including coloring bookmarks, word searches, crosswords, and scattergories.
Photo Credit: www.etsy.com
Let's make cards. This card set is super colorful and the kids will love sending these cards to their families.
Photo Credit: www.etsy.com
This is an absolutely beautiful set and the kids (and even us adults) will love this.
Photo Credit: www.etsy.com
Let's play. This is a great game for kids of all ages, and perfect for school and homeschool (especially if you have multiple children.)
Photo Credit: www.littleladoo.com
One of the most popular Diwali traditions is the making of Diyas, or earthen lamps.
This year, why not try making your own Paper Diyas and decorate the house? The free Diya template makes the craft perfect for kids
Photo Credit: nurturestore.co.uk
Rangoli designs, made with bright colors and repeating patterns, are a traditional decoration for Diwali.
Try making your own using this easy technique for making home-made colored salt.
Photo Credit: www.littleladoo.com
Rangoli is a traditional Art made at the entrance of the house to welcome Goddess Lakshmi.
Here is a Rangoli-inspired Cardboard maze that you can make for your toddler this Diwali.
Photo Credit: littlebinsforlittlehands.com
Grab this free printable and make your own paper lamp or diya to celebrate Diwali, The Festival of Lights!
Photo Credit: www.redtedart.com
The kids are going to love creating this rangoli suncatcher this Diwali.
Photo Credit: www.redtedart.com
As Diwali is the festival of light you and the kids are going to love creating this lotus light.
Learn more about Indian culture and traditions.
This Classic Tales from India will make a great read aloud.
Decorate these colorful Rangoli designs with glass / deco paint pens (not included) then pop them in a sunny location for a stained-glass effect.
Children love creative tasks and these K-2 Diwali activities are a great way for your younger children to learn practically about some of the fun traditions associated with the Diwali celebration.
These Diwali activities include dominoes, a gift card template, coloring activities, a count and graph worksheet plus lots more to help you easily plan a lesson around the subject.
Photo Credit: kids.nationalgeographic.com
To learn even more about Diwali and the Festival of Lights check out this article from Kids National Geographic.
Download the free Diwali coloring pages printable
Make sure you choose the correct paper size and click on the shrink to fit button. All of our free printables work better when printed on cardstock (this is the one we use and love.)
Last Updated on 9 April 2023 by homeschoolof1