Free History of St Patrick's Day Printables for Kids
These free history of St Patrick's Day printables are perfect for kids in grades K-5.
We love learning about all of the holidays and these St Patrick's Day activities are a great addition to your history lessons this March.
St Patrick's Day is celebrated on March 17th in many countries around the world. March 17th was celebrated in the 9th or 10th century in Ireland, but records show that a St. Patrick's Day parade was held on March 17, 1601, in St. Augustine, Florida.
More than a century later, Irish soldiers marched into New York City on March 17, 1772, to honor the Irish patron saint.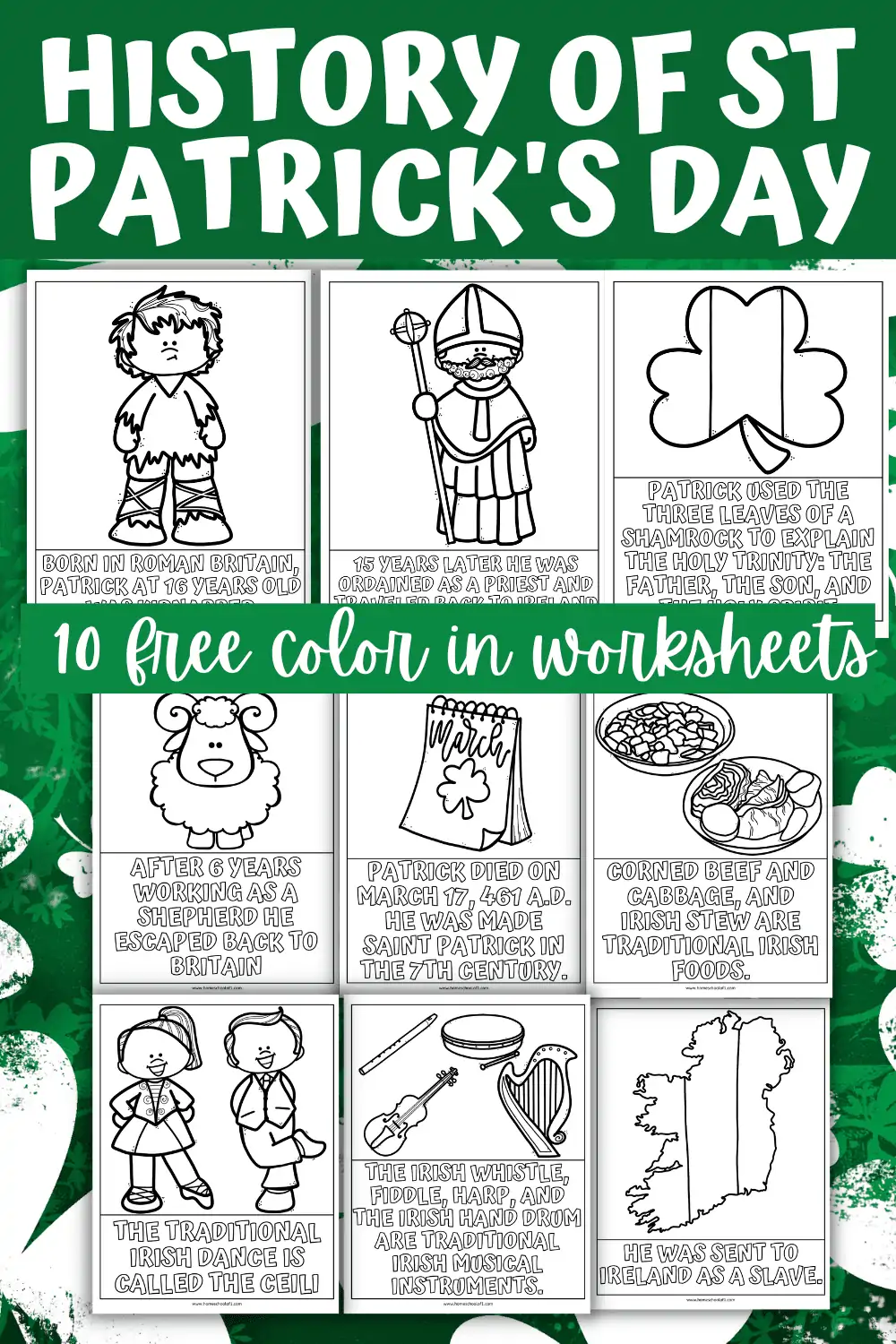 **There may be affiliate links in this post. You can read my full disclosure at the bottom of the page.**
We absolutely love creating free kids coloring pages, and we either use them as a supplement for a lesson we are studying or just to calm the mood! Coloring is a great way for them to refocus and relax.
What is the story behind St Patrick's Day for kids?
These 10 free coloring pages are a great way for kids to learn about the history of St Patrick's Day.
These free St Patrick's Day worksheets are free to print but are for personal use and classroom use only. Scroll to the bottom of the post to get the pdf file.
Born in Roman Britain, Patrick at 16 years old was kidnapped.
He was sent to Ireland as a slave.
Luck of the Mad Libs: World's Greatest Word
Ten Lucky Leprechauns
How to Catch a Leprechaun
The Luckiest St. Patrick's Day Ever
After 6 years of working as a shepherd, he escaped back to Britain.
15 years later he was ordained a priest and traveled back to Ireland.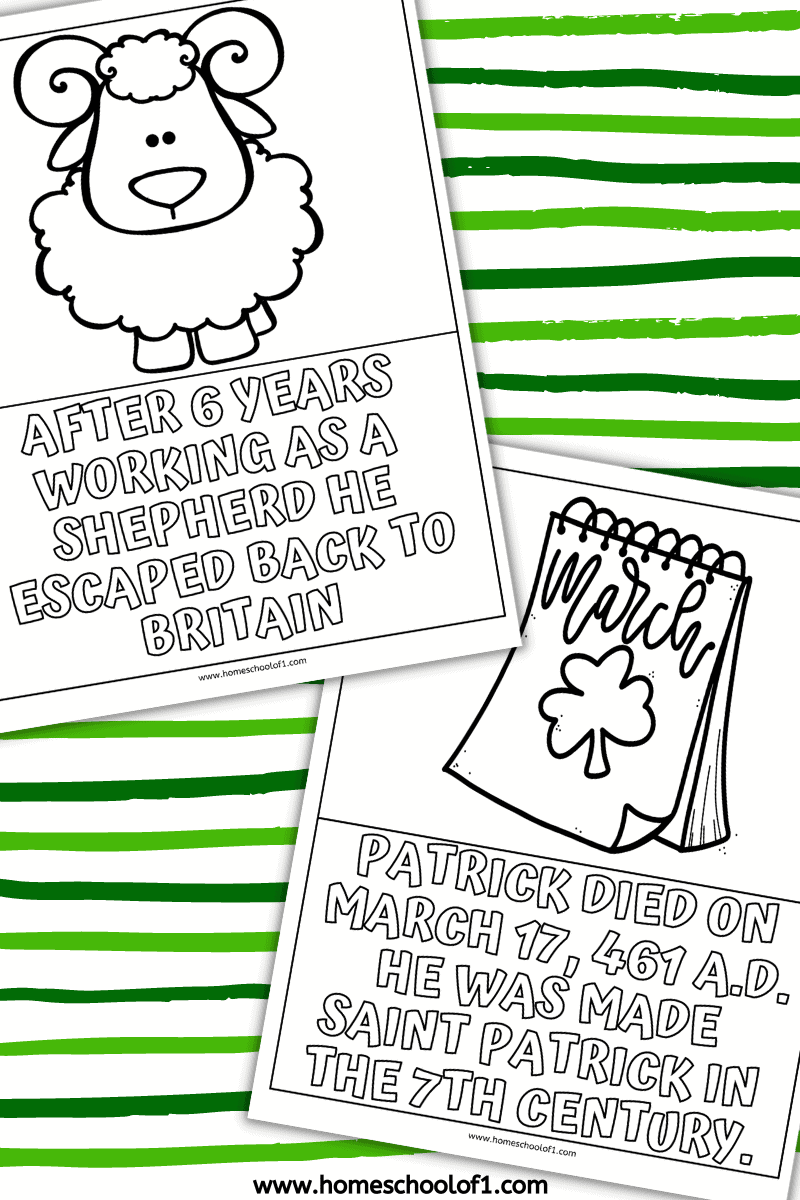 Patrick used the three leaves of a shamrock to explain the holy trinity: The Father, the Son, and the Holy Spirit.
Patrick died on March 17th, 461 A.D. He was made Saint Patrick in the 7th century.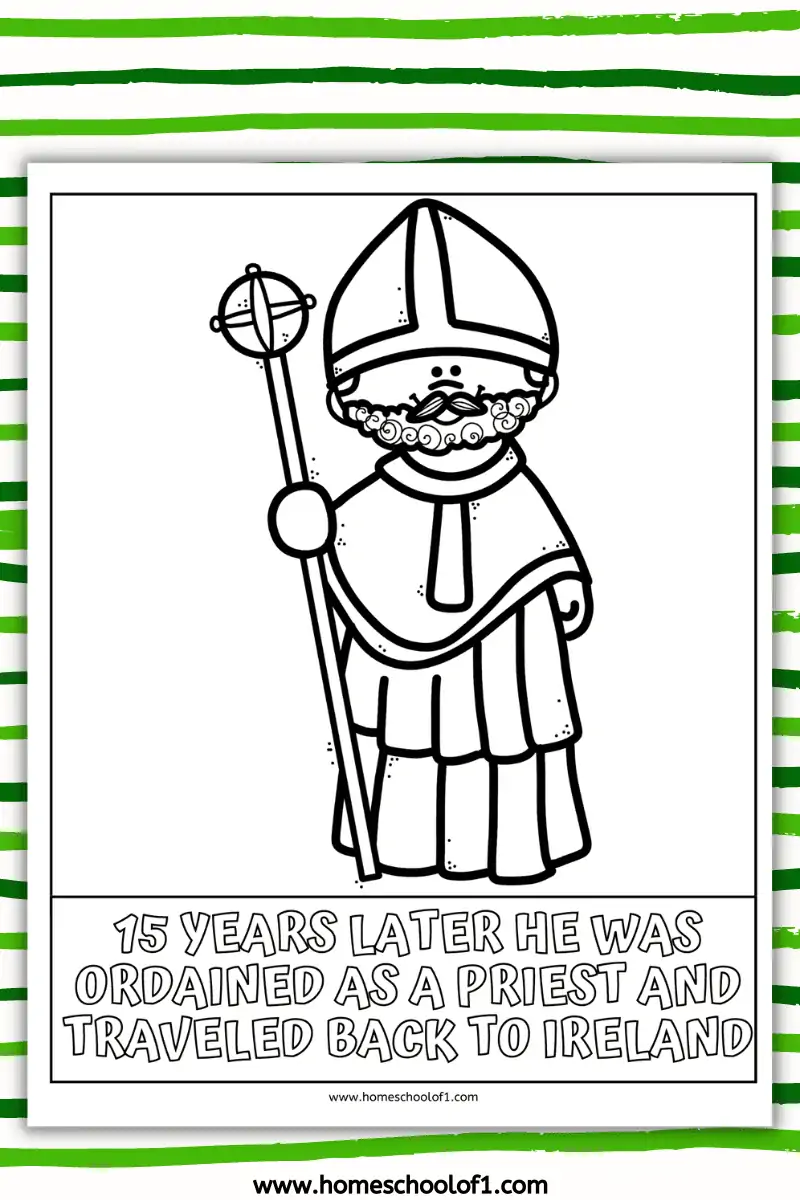 St Patrick's Day has been celebrated on March 17th as a celebration of his life.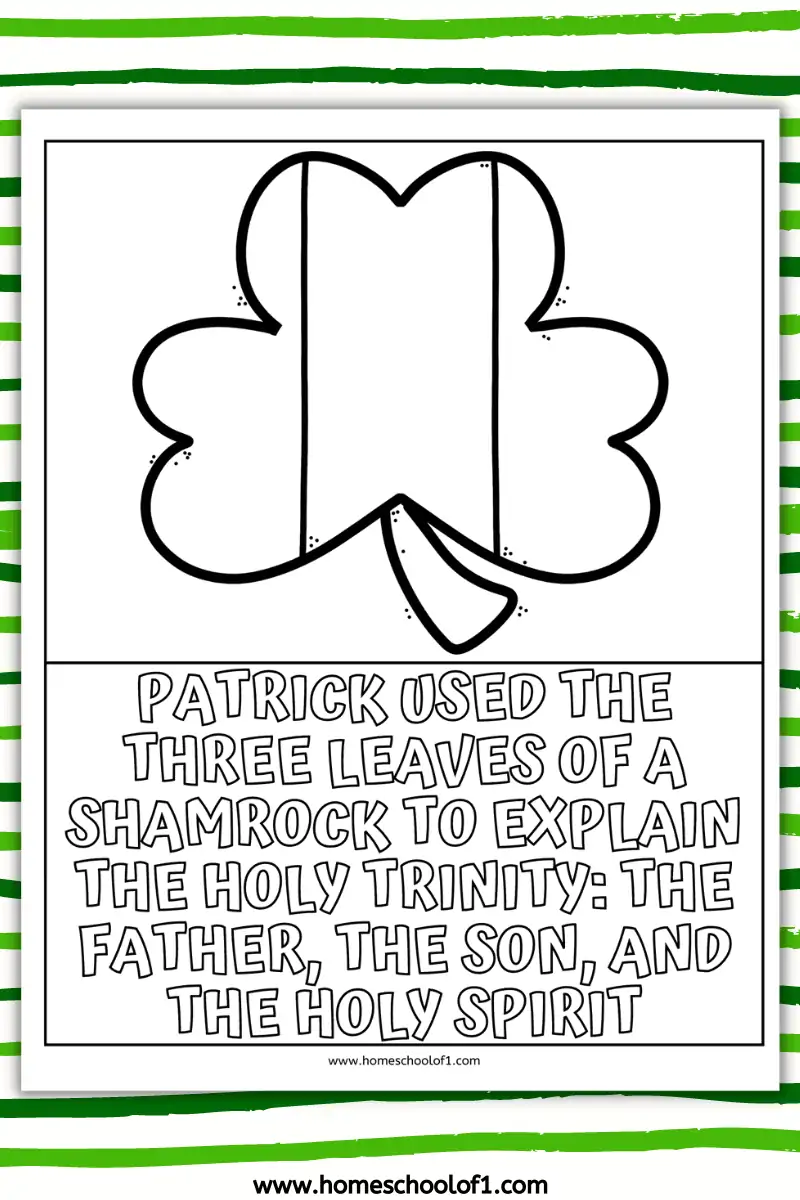 St. Patrick's Day has evolved into a day of celebrating Irish culture with parades, music, dancing, Irish foods, and of course, a lot of green.
The Irish whistle, fiddle, harp, and the Irish hand drum are traditional Irish musical instruments.
The traditional Irish dance is called the ceili.
Corned beef and cabbage, and Irish stew are traditional Irish foods.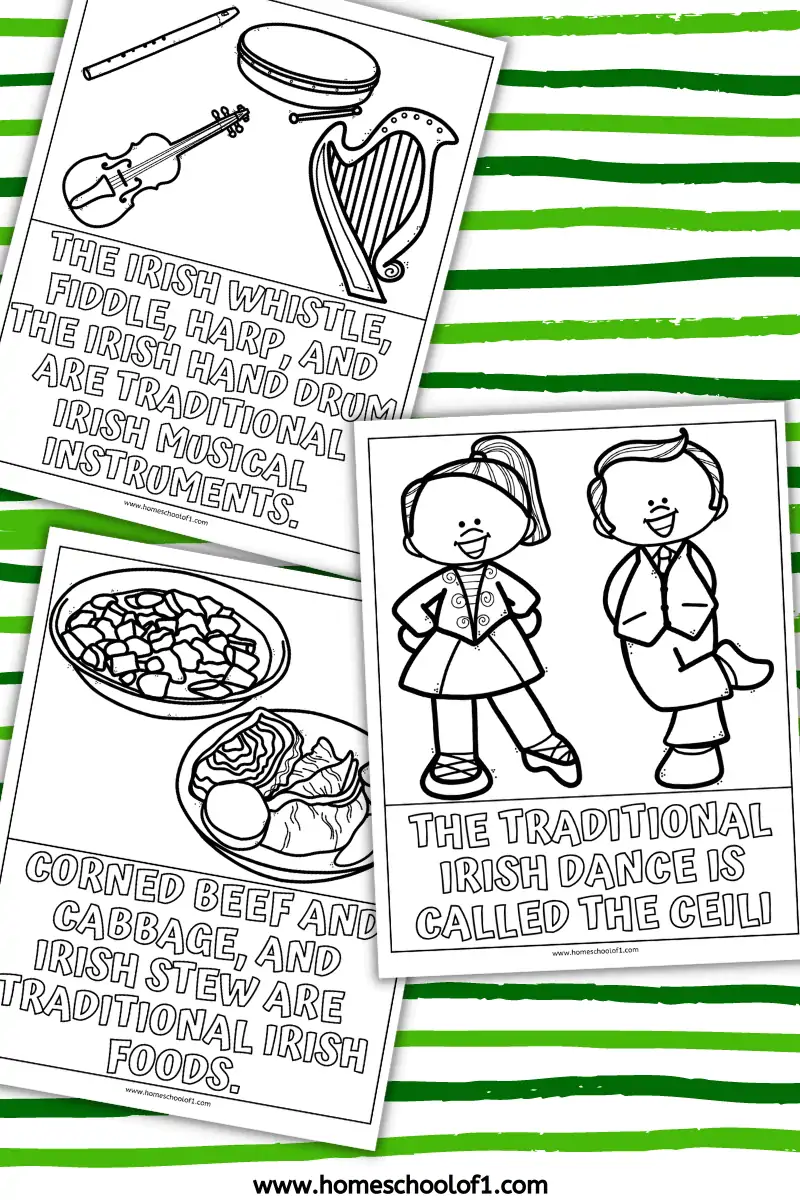 Scroll to the end of the page to download the free St Patrick's Day printables.
6 Fun Facts about St Patrick's Day
The kids are going to love these 6 fun facts about St Patrick's Day:
Patrick was not born in Ireland, he was actually born in Britain, probably Scotland or Wales.
St Patrick wore blue, and not green. The green color became associated with St. Patrick's Day after it was linked to the Irish independence movement in the late 18th century.
Patrick was actually named "Maewyn Succat" but changed his name to "Patricius" after becoming a priest.
Saint Patrick is thought to have driven snakes out of Ireland. However, according to the fossil record, Ireland has never been home to snakes, it was just too cold to have reptiles during this time.
The meal that became a St. Patrick's Day tradition across the world, corned beef and cabbage, was actually an American innovation.
The Chicago River in Chicago, Illinois is dyed green every year on St. Patrick's Day. This tradition started in 1962, and now attracts thousands of spectators.
Other St Patrick's Day printables for kids
As we always like to have fun holiday activities for kids check out some of our other St Patrick's Day activities I think you will enjoy:
Download the free St Patrick's Day history coloring pages
Make sure you choose the correct paper size and click on the shrink to fit button. All of our free printables for kids work better when printed on cardstock (this is the one we use and love.)
Last Updated on 3 September 2023 by homeschoolof1