Free Christmas In Germany Worksheets
Discover the captivating charm of Christmas in Germany with our captivating Christmas in Germany worksheets designed for kids!
These Christmas activities for kids offer an ideal opportunity to explore Germany's festive customs and cultural traditions during the holiday season.
It features 7 festive pages. From learning how to say "Merry Christmas" in German to exploring delicious German Christmas treats and meeting the beloved figure of St. Nicholas (Sankt Nikolaus). Your kids will embark on an exciting adventure through Germany's distinctive and joyful Christmas festivities.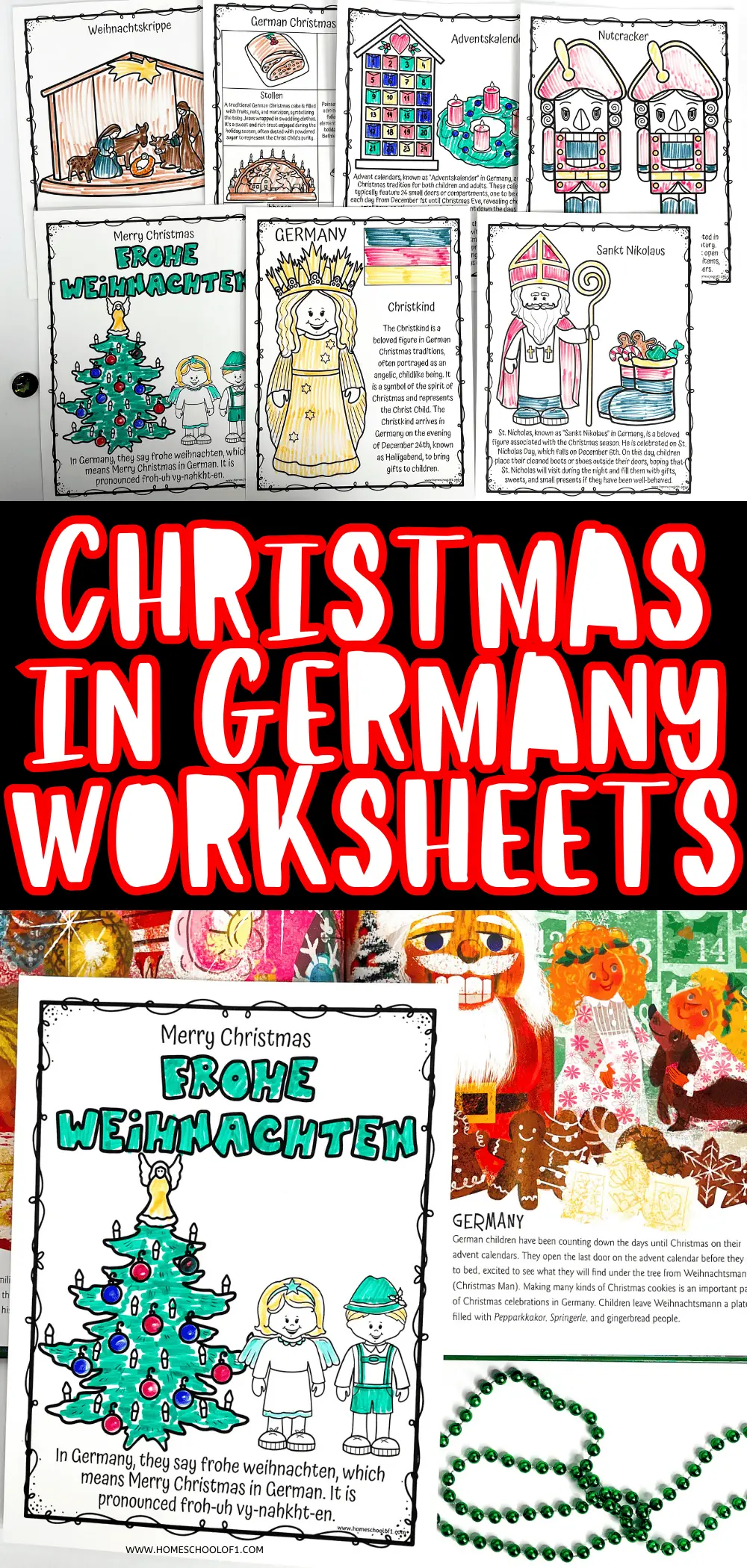 **There may be affiliate links in this post. You can read my full disclosure at the bottom of the page.**
Christmas in Germany coloring pages
There are 7 pages included in these holiday worksheets. All about the Christmas traditions in Germany.
Christkind coloring page
Christkind is a cherished Christmas tradition in Germany, often referred to as the Christ Child.
It represents the gift-bringer in some regions of the country. Particularly in southern Germany, where it is an alternative to Santa Claus.
Dressed in angelic attire, the Christkind is believed to deliver presents to children on Christmas Eve. Adding a touch of enchantment to the holiday season.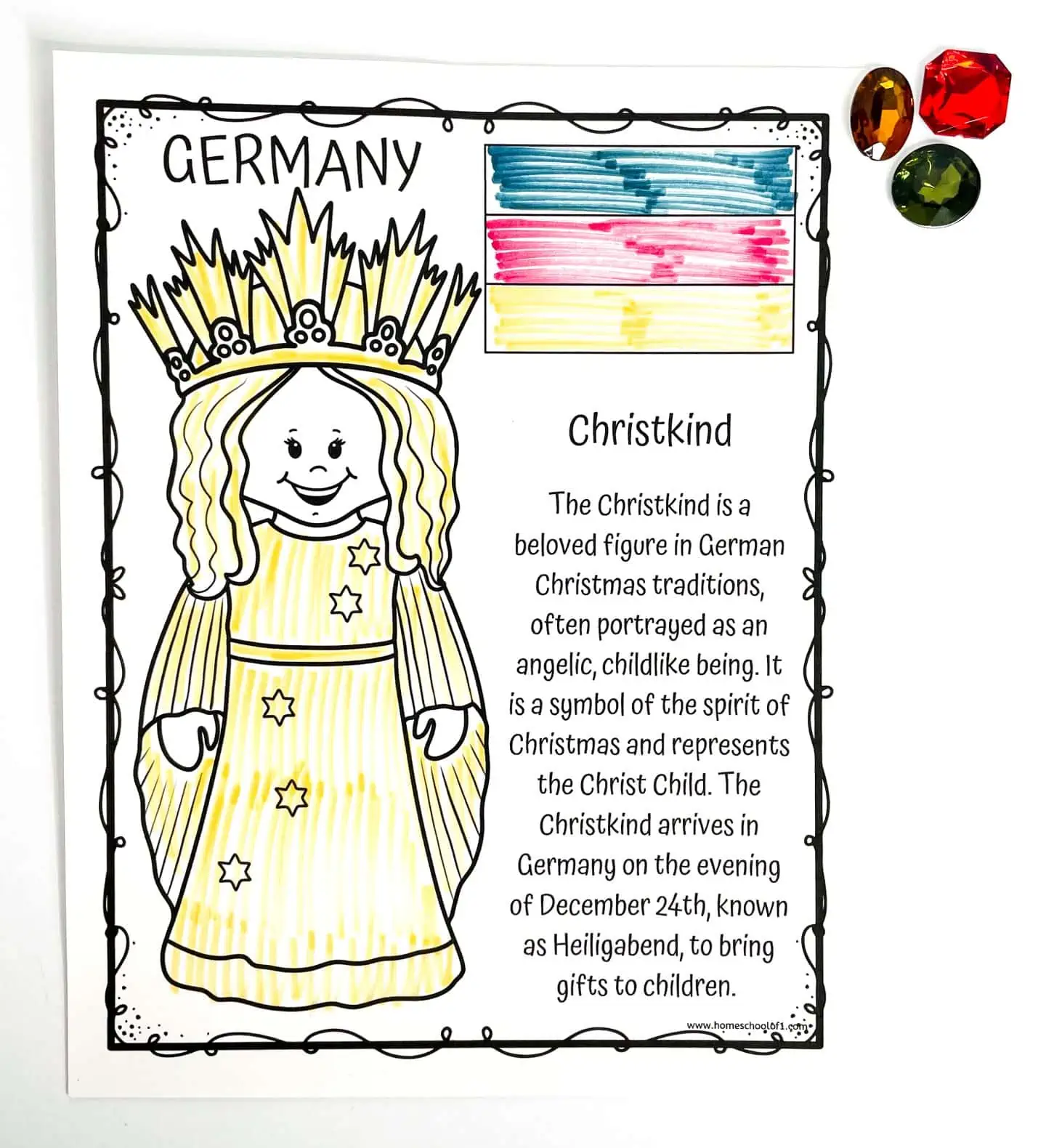 Saint Nicholas coloring page
Sankt Nikolaus is a significant figure in German Christmas traditions.
Celebrated on December 6th, St. Nicholas Day involves children cleaning their shoes and leaving them outside their doors in anticipation of St. Nicholas' visit.
He is depicted as a kindly bishop who rewards well-behaved children with small gifts and sweets. While misbehaving children might receive a bundle of twigs known as "Rute."
This tradition reflects the fusion of religious and secular elements in German Christmas customs. Creating a delightful prelude to the holiday season.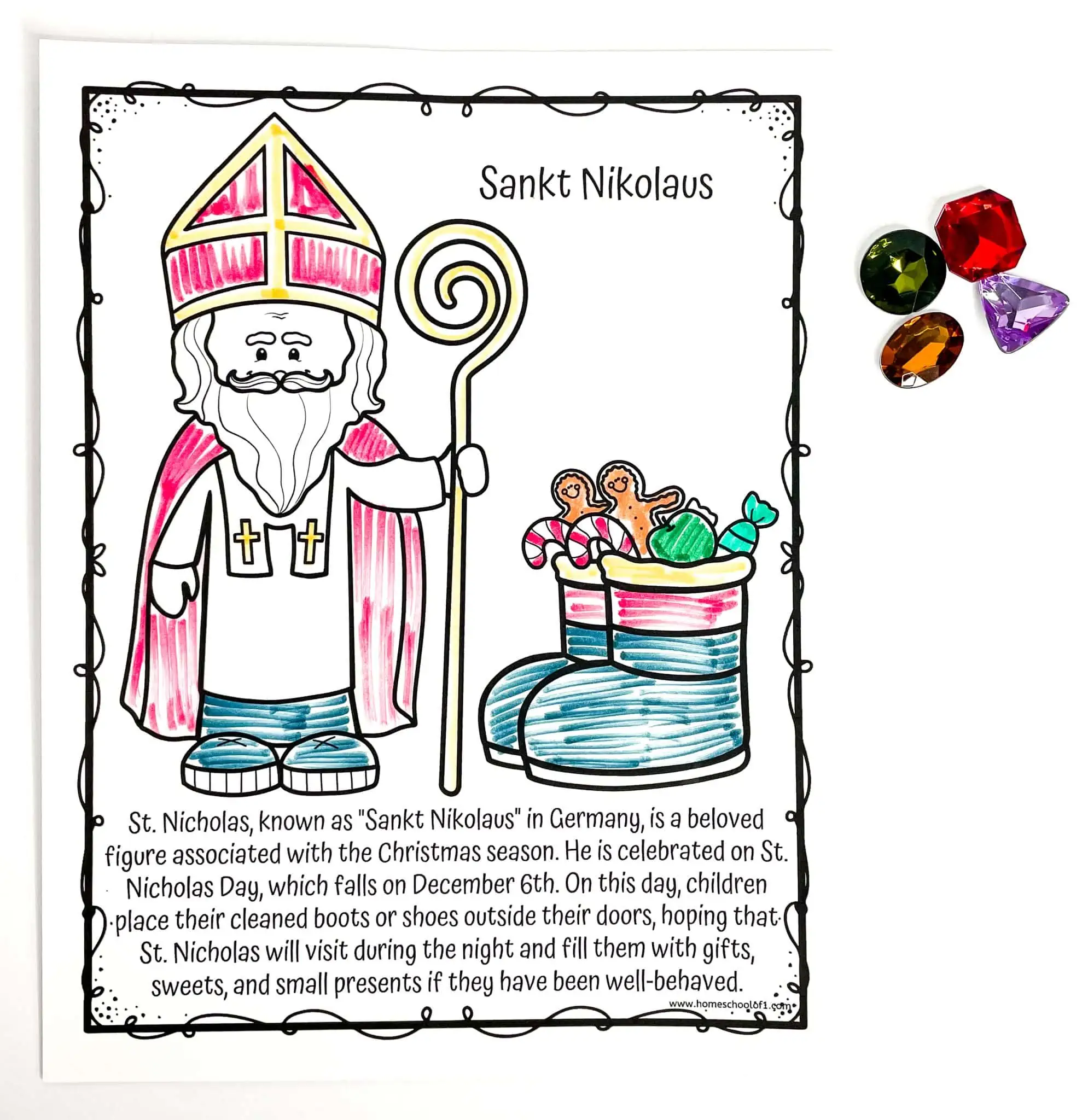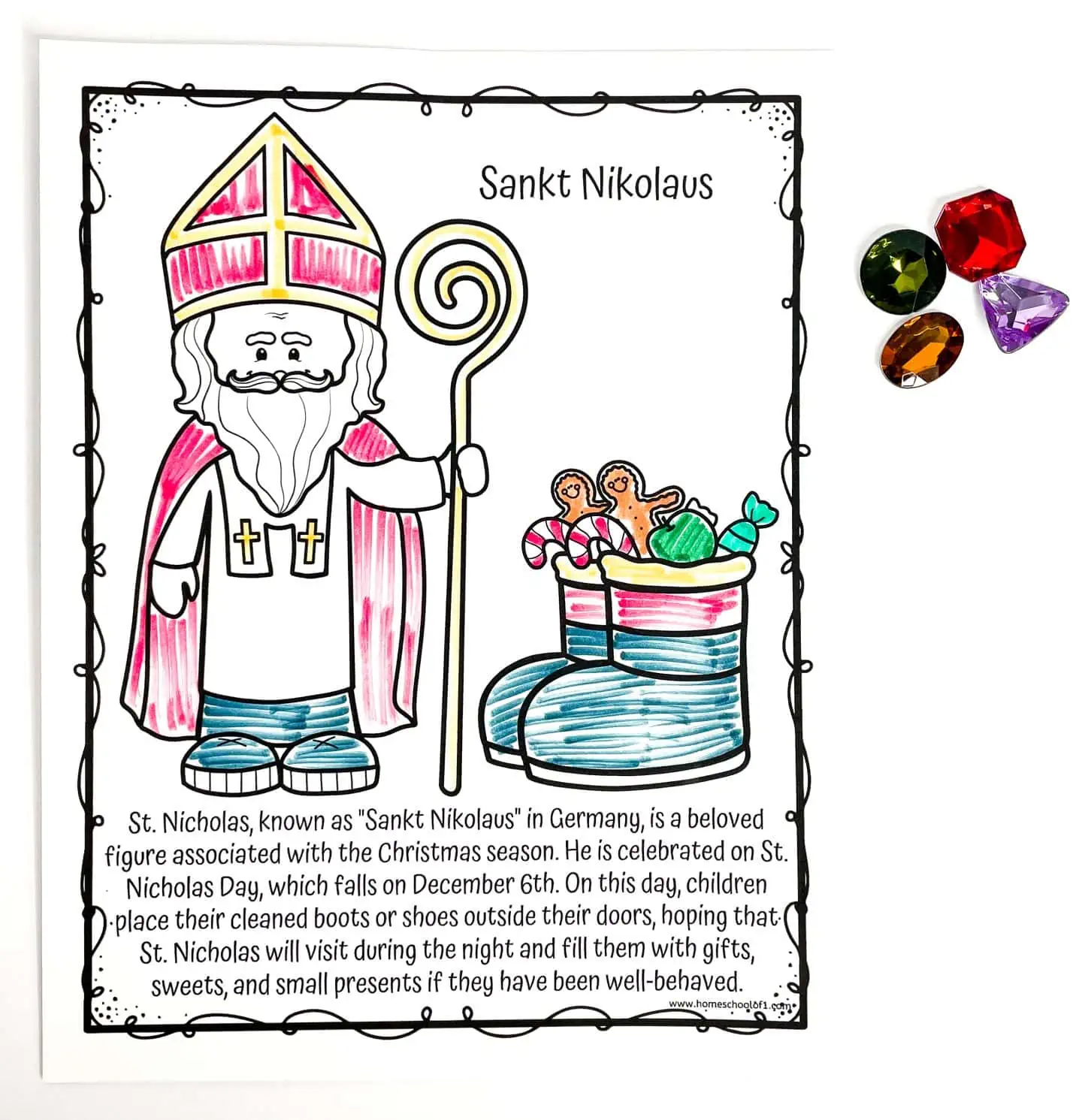 Nativity scene coloring page
The German nativity scene, called a Weihnachtskrippe is an essential part of Christmas traditions in Germany.
These nativity scenes beautifully depict the birth of Jesus in Bethlehem. They typically feature a variety of intricately crafted figurines. Including the Holy Family, shepherds, angels, and the Three Wise Men.
Germans often set up these nativity scenes in their homes or in public places. They can range from simple family heirlooms to large, elaborate displays. Bringing the story of the birth of Jesus to life during the holiday season.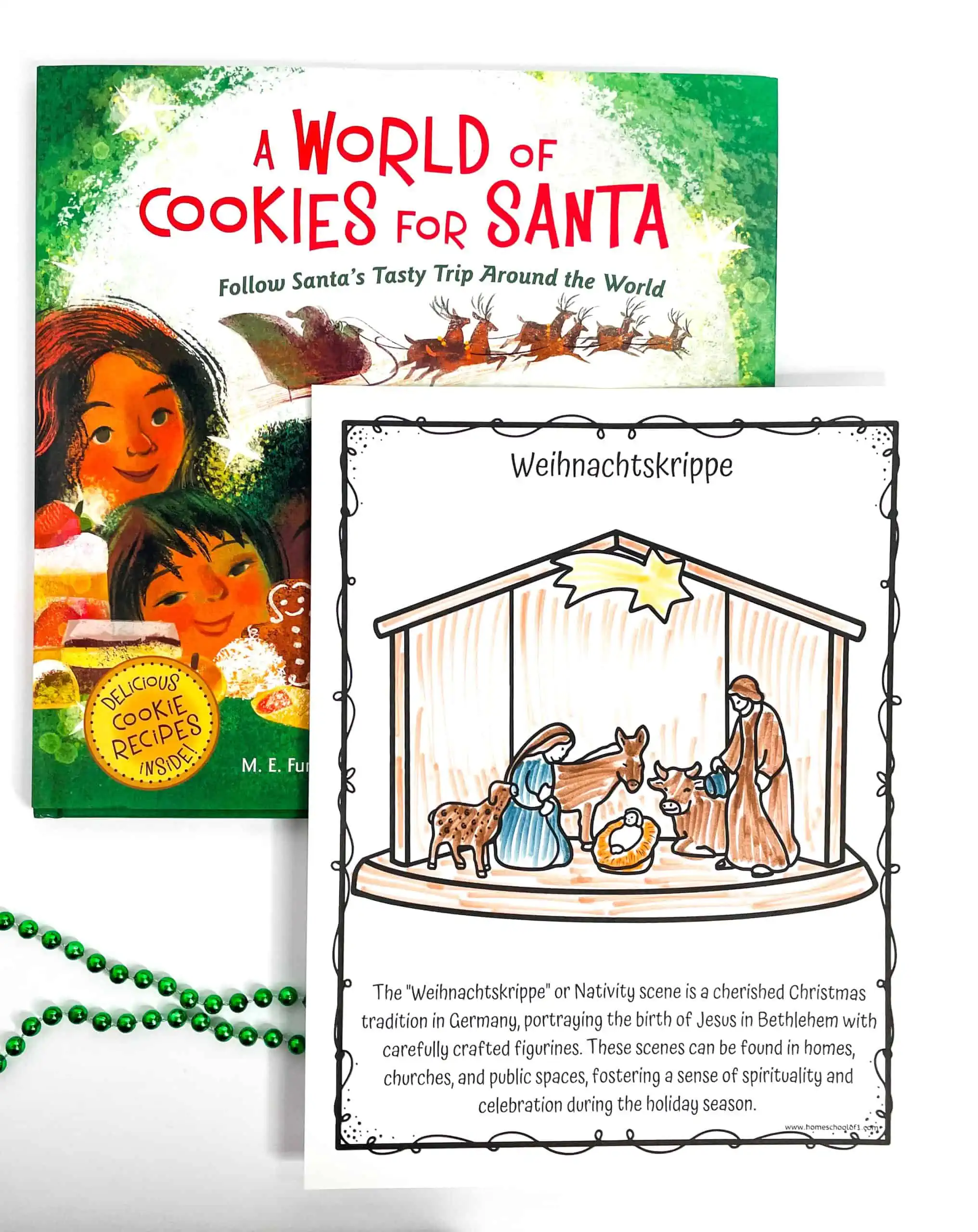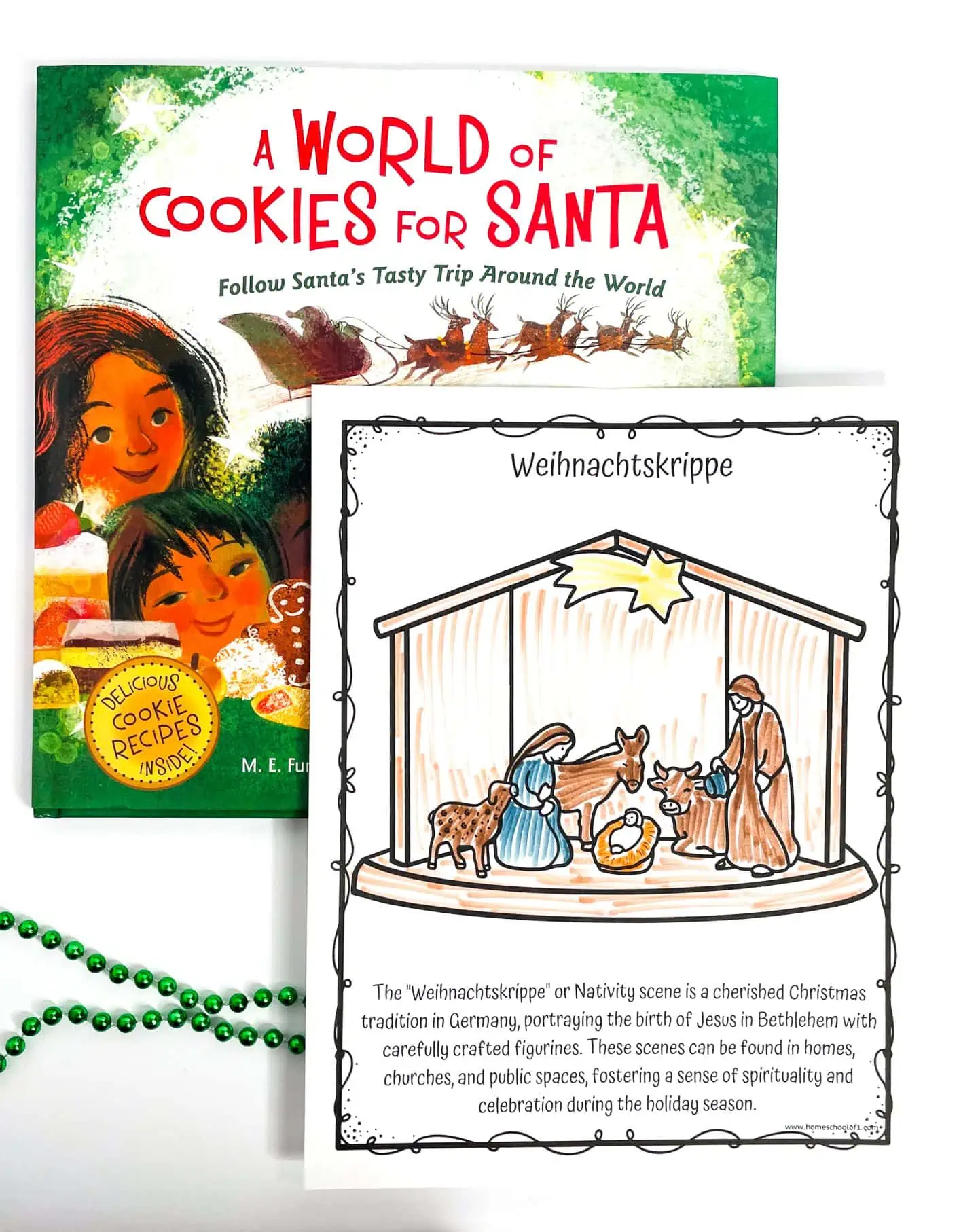 Grab the World of Cookies for Santa book
German Christmas traditions
Stollen is a traditional German Christmas fruitcake that is rich and dense, often filled with candied fruits, nuts, and spices. It's typically dusted with powdered sugar and enjoyed during the holiday season, especially in the regions of Dresden and Saxony.
A Gingerbread House, known as "Lebkuchenhaus" in German. Is a beloved Christmas tradition where gingerbread cookies are used to construct miniature houses. Often decorated with colorful icing, candies, and other edible embellishments, creating delightful and festive edible decorations.
Schwibbogen is a decorative German Christmas arch or candle holder. Often featuring intricate cut-out designs depicting scenes of German culture or Christmas themes. These candle holders are typically placed in windows and illuminated with candles. To create a warm and inviting atmosphere during the holiday season.
Weihnachtsstern translates to "Christmas star" in German, and it refers to the Christmas star or poinsettia plant. These vibrant red and green plants are a symbol of Christmas. And are commonly used for festive decorations in homes and churches during the holiday season in Germany.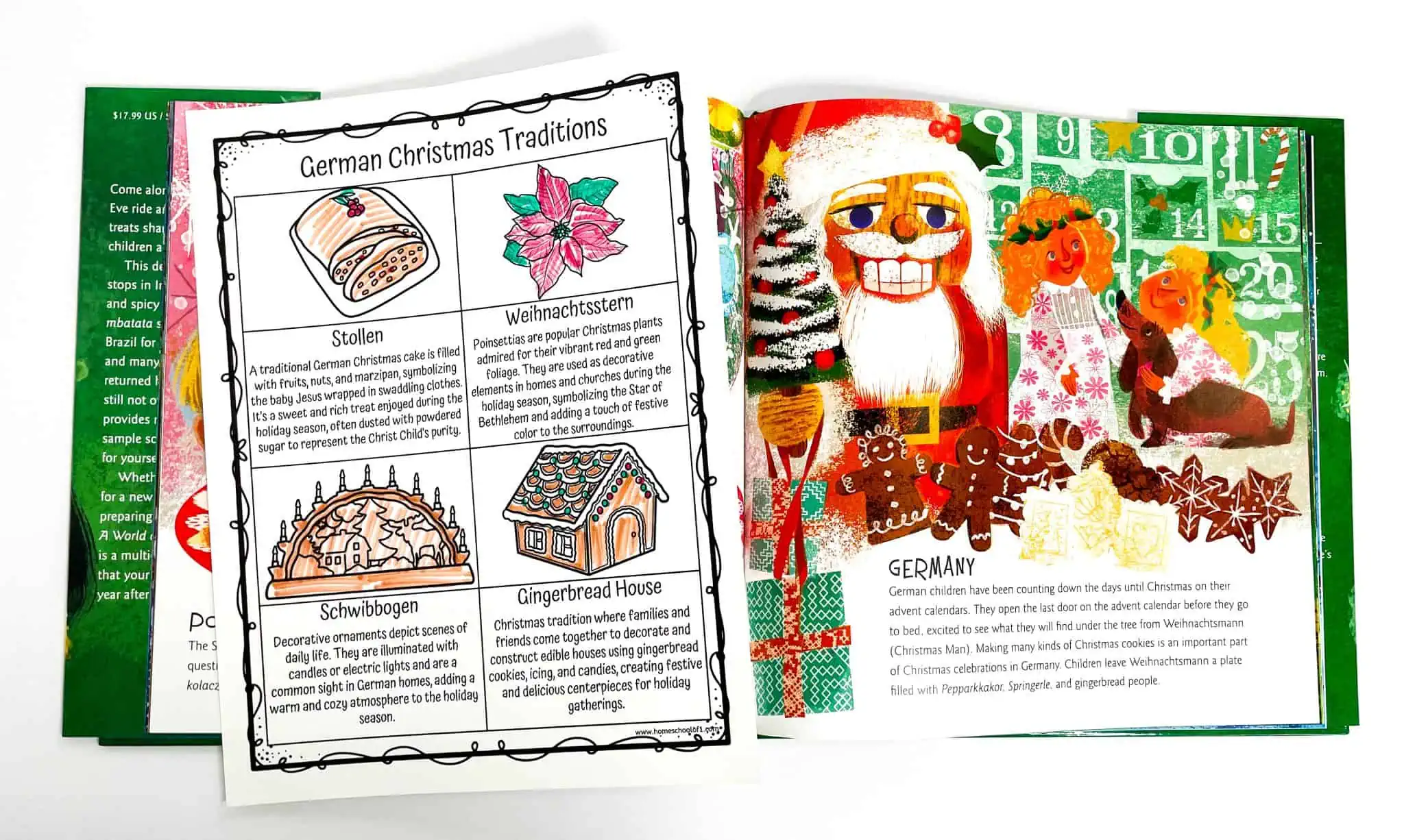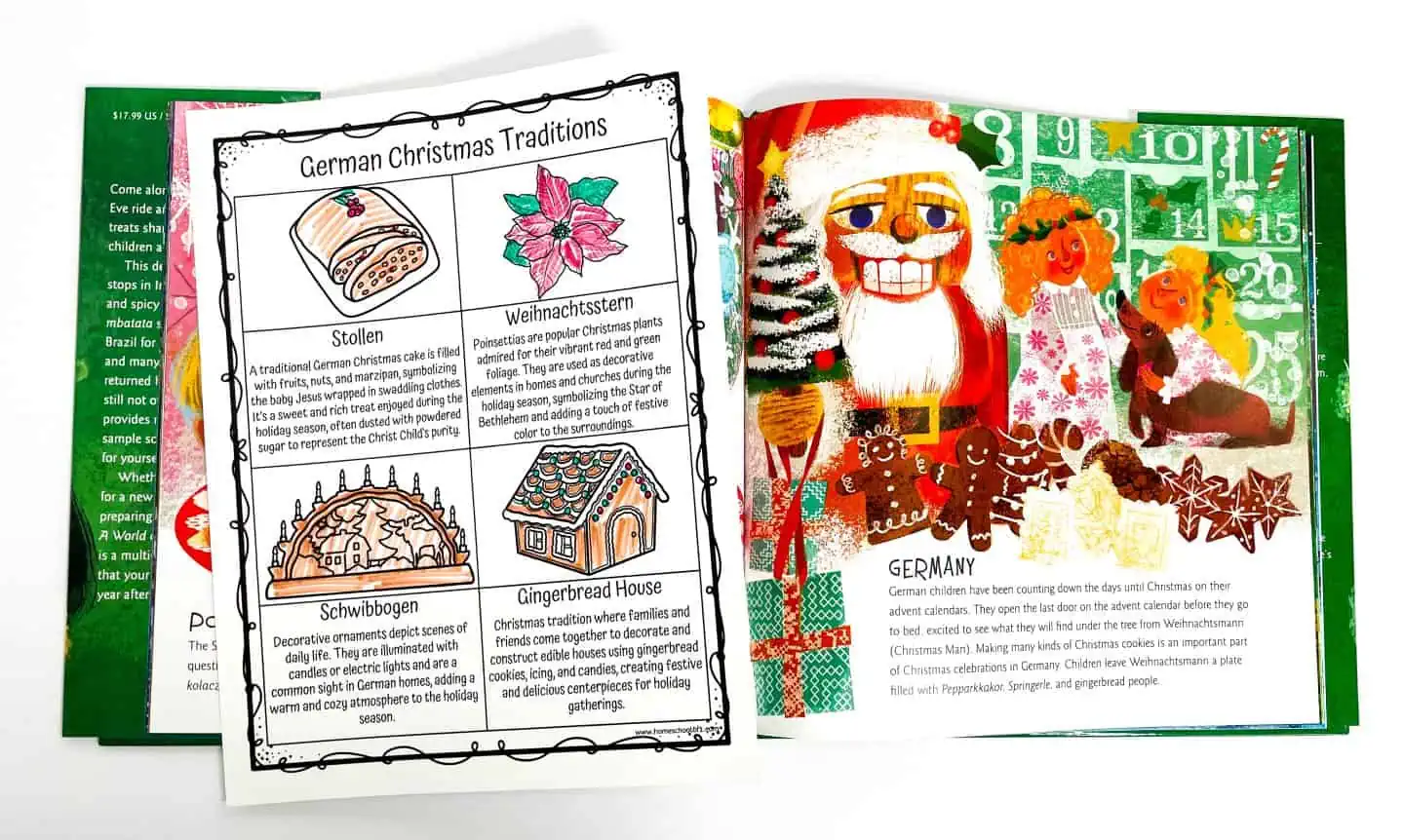 Advent Calendars
Advent calendars hold a special place in German Christmas traditions. These calendars, often made of paper or fabric. Feature 24 small, numbered doors or pockets, each concealing a tiny treat or surprise.
Starting on December 1st, children eagerly open one door each day. Counting down to Christmas Eve, creating a delightful daily ritual filled with anticipation. Advent calendars are a cherished tradition that adds excitement and a sense of togetherness as families prepare for the festive holiday season in Germany.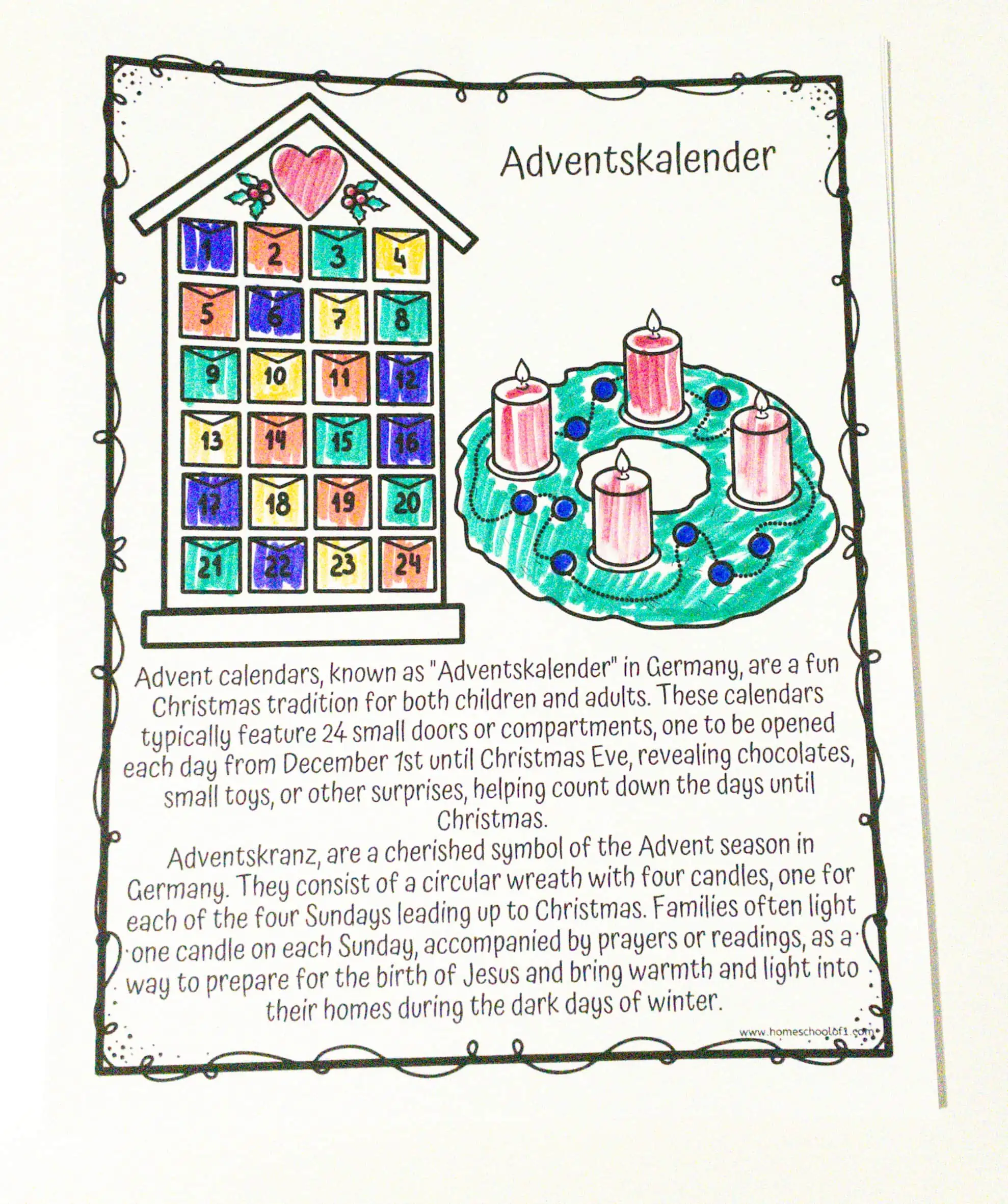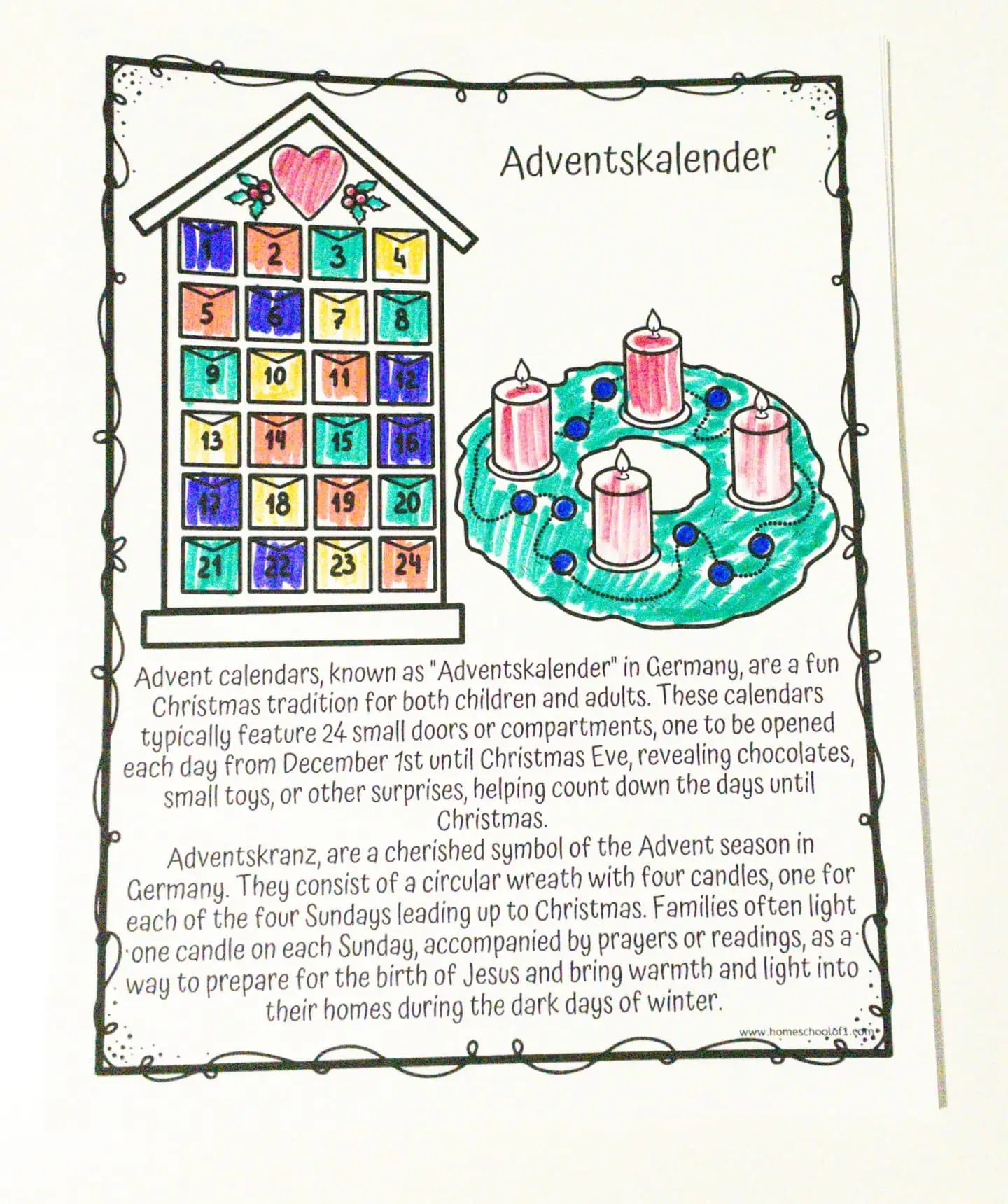 Nutcracker coloring page
Nutcrackers are iconic symbols of German craftsmanship and Christmas traditions. These elaborately carved wooden figurines often take the form of soldiers, kings, or other characters. And their hinged mouths can crack open nuts.
Originating in the Erzgebirge region of Germany. Nutcrackers have become collector's items and charming decorations, adorning homes during the holiday season while also serving a practical purpose. These charming wooden figures not only add a touch of nostalgia to Christmas décor but also reflect the rich history of German craftsmanship.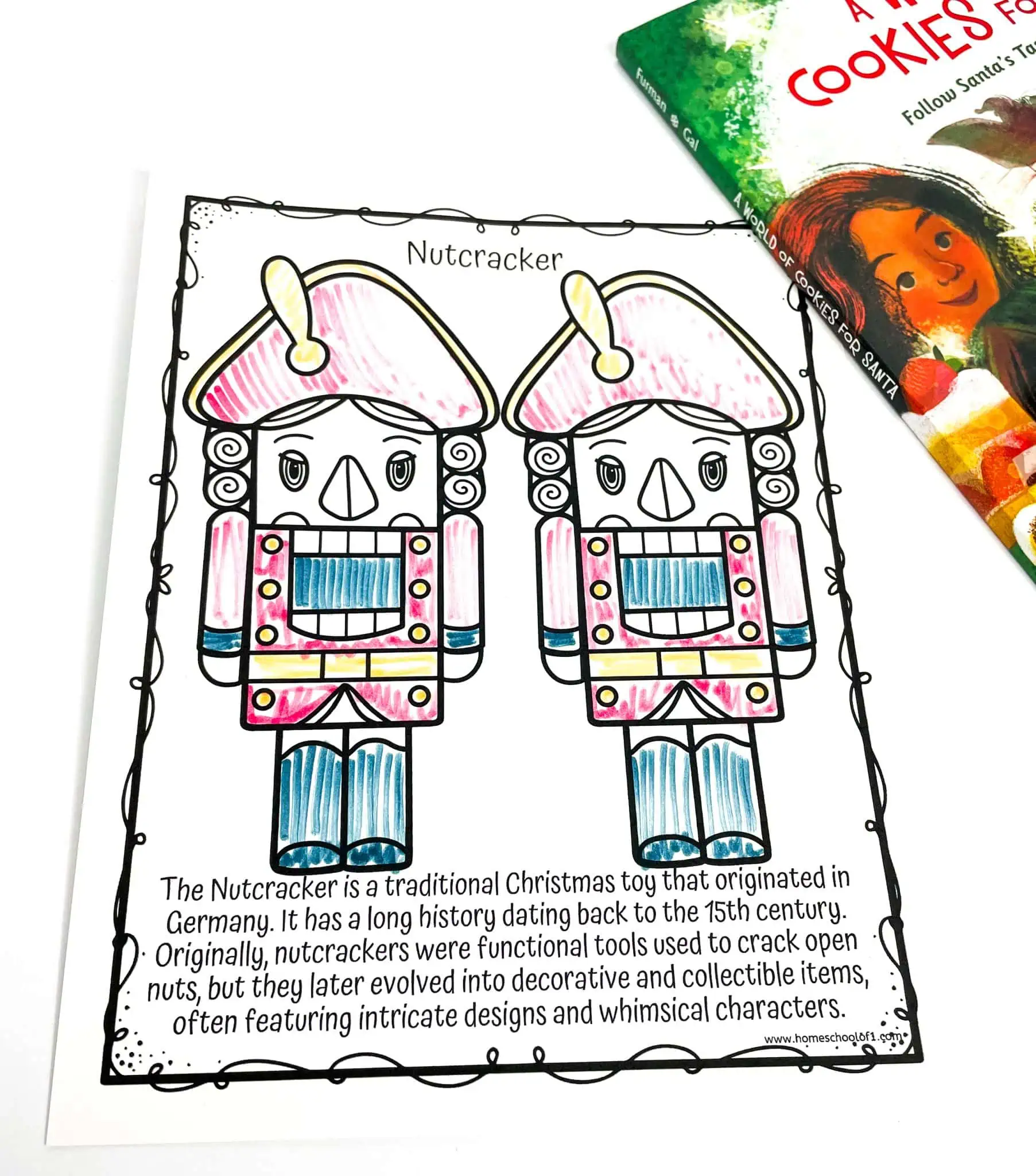 Learn to say Merry Christmas in German
Finally, learn how to say Merry Christmas in German.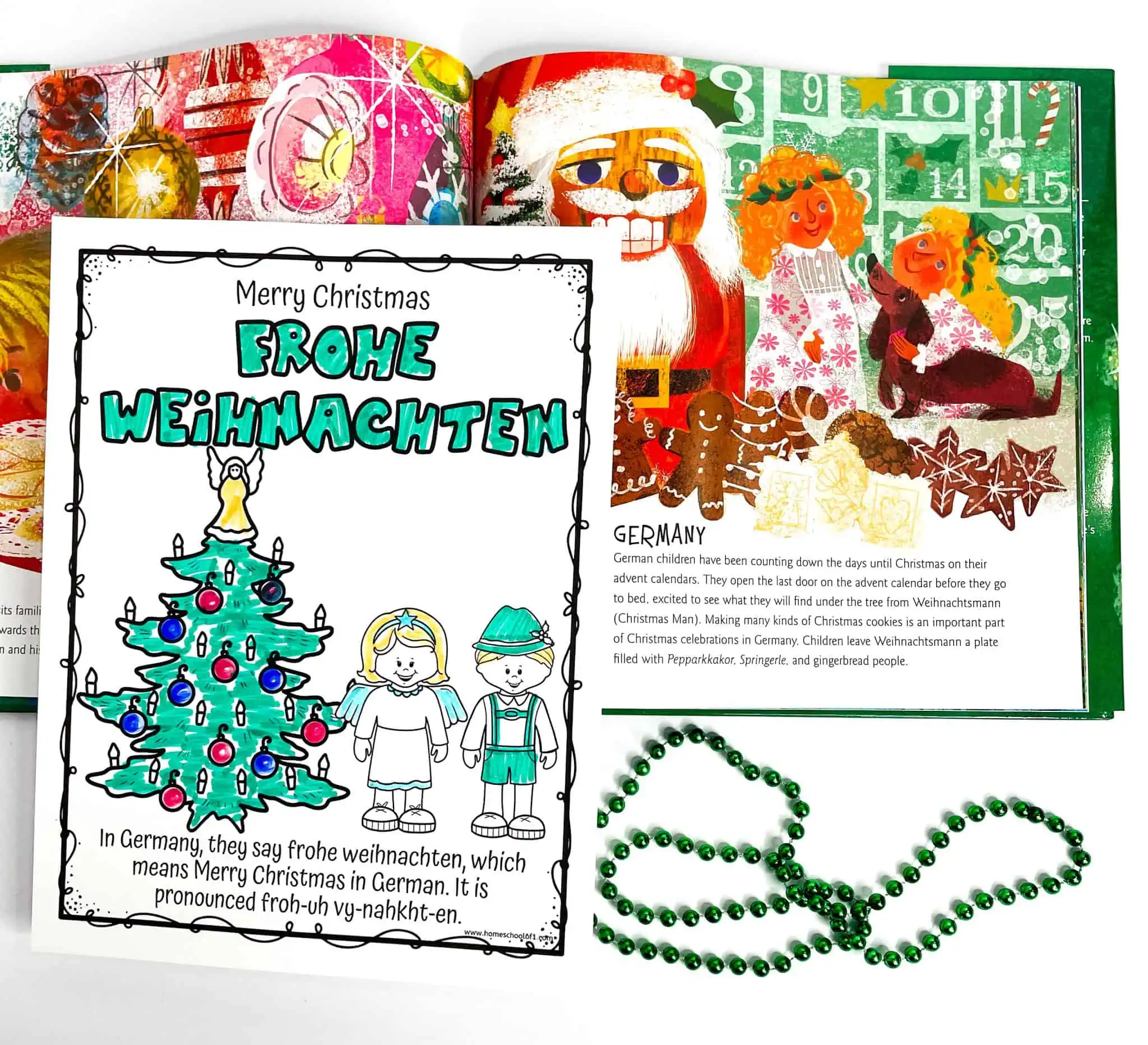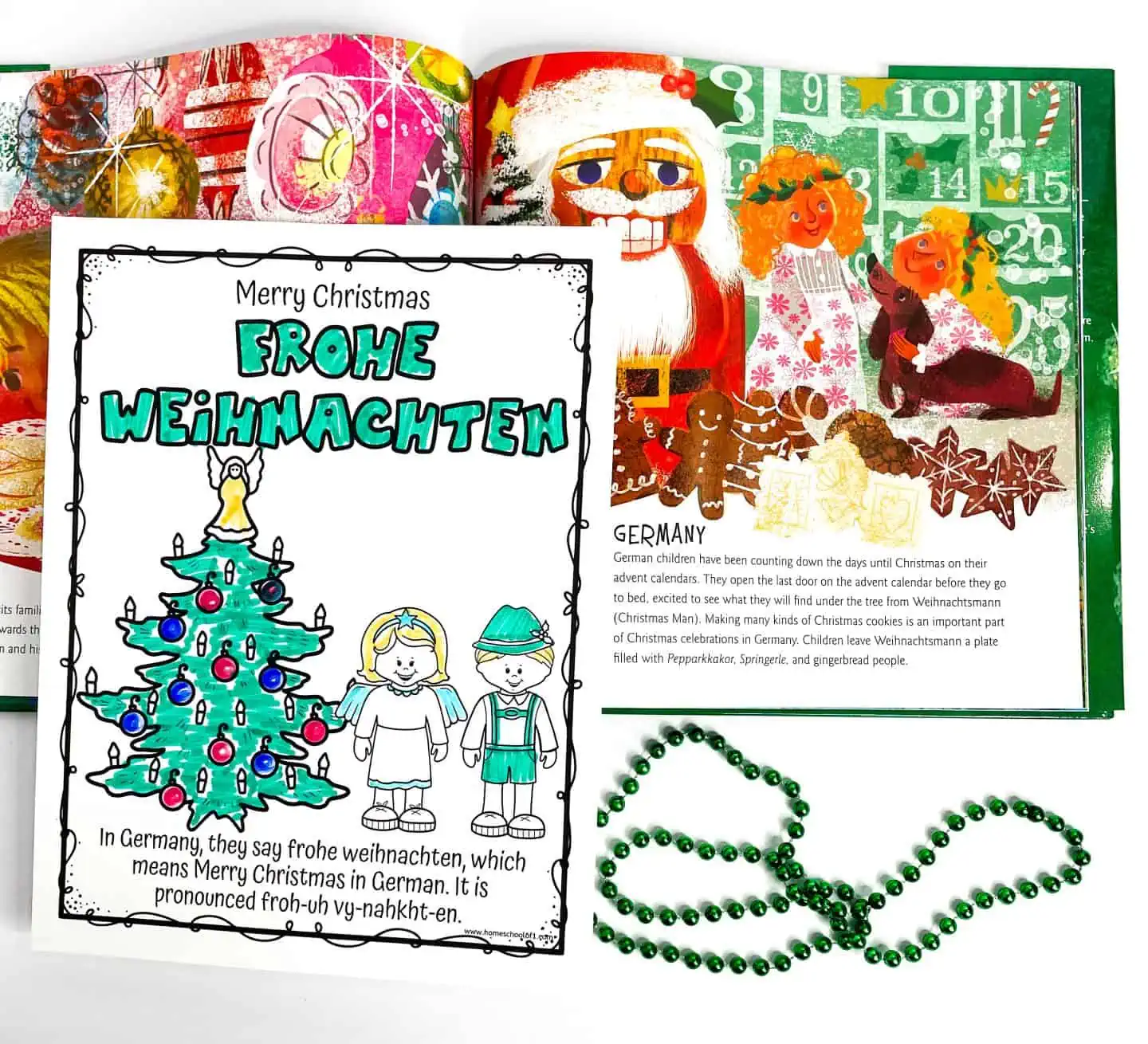 Christmas books with a German theme
For elementary-grade kids interested in Christmas books with a German theme or setting, you might want to consider these options:
The Nutcracker by E.T.A. Hoffmann. This classic tale is the basis for Tchaikovsky's famous ballet and follows the story of Clara and her magical journey through the Land of Sweets with the Nutcracker Prince.
The Legend of the Christmas Stocking: An Inspirational Story of a Wish Come True by Rick Osborne. In this heartwarming story, a young boy named Peter learns the history of the Christmas stocking and discovers the true spirit of giving.
A Very German Christmas by Johann Wolfgang von Goethe is a collection of holiday stories from Austria, Switzerland, and Germany.
Additional resources
You will also enjoy these:
Tips for downloading the free files
Below you will see a large sign-up box where you need to add your name and email address, and press I NEED THIS NOW!
Within minutes you will be sent the free PDF directly to your email address, so you can print it out and start using it immediately.
Sometimes emails get a little wonky, so if you can't see it, please check your spam folder where I am sure it is hiding.
Download the free German Christmas worksheets
These worksheets are free to print but are for personal or classroom use only.
Make sure you choose the correct paper size and click on the shrink to fit button. All of our free printables for kids work better when printed on cardstock (this is the one we use and love.)
Last Updated on 25 November 2023 by homeschoolof1