8 Christmas in Germany Coloring Pages & Magical Story (free)
Have fun learning about Christmas around the world this December with our free Christmas in Germany coloring pages.
This is a wonderful addition to the lineup of Christmas activities for kids.
As we homeschool we take the month of December off our core curriculum and concentrate on learning about new Christmas traditions.
Learning about Christmas in Germany was especially important to us as my husband spent over a year working there a few years ago.
Carry on reading to download our eight free Christmas in Germany coloring pages with our fun story.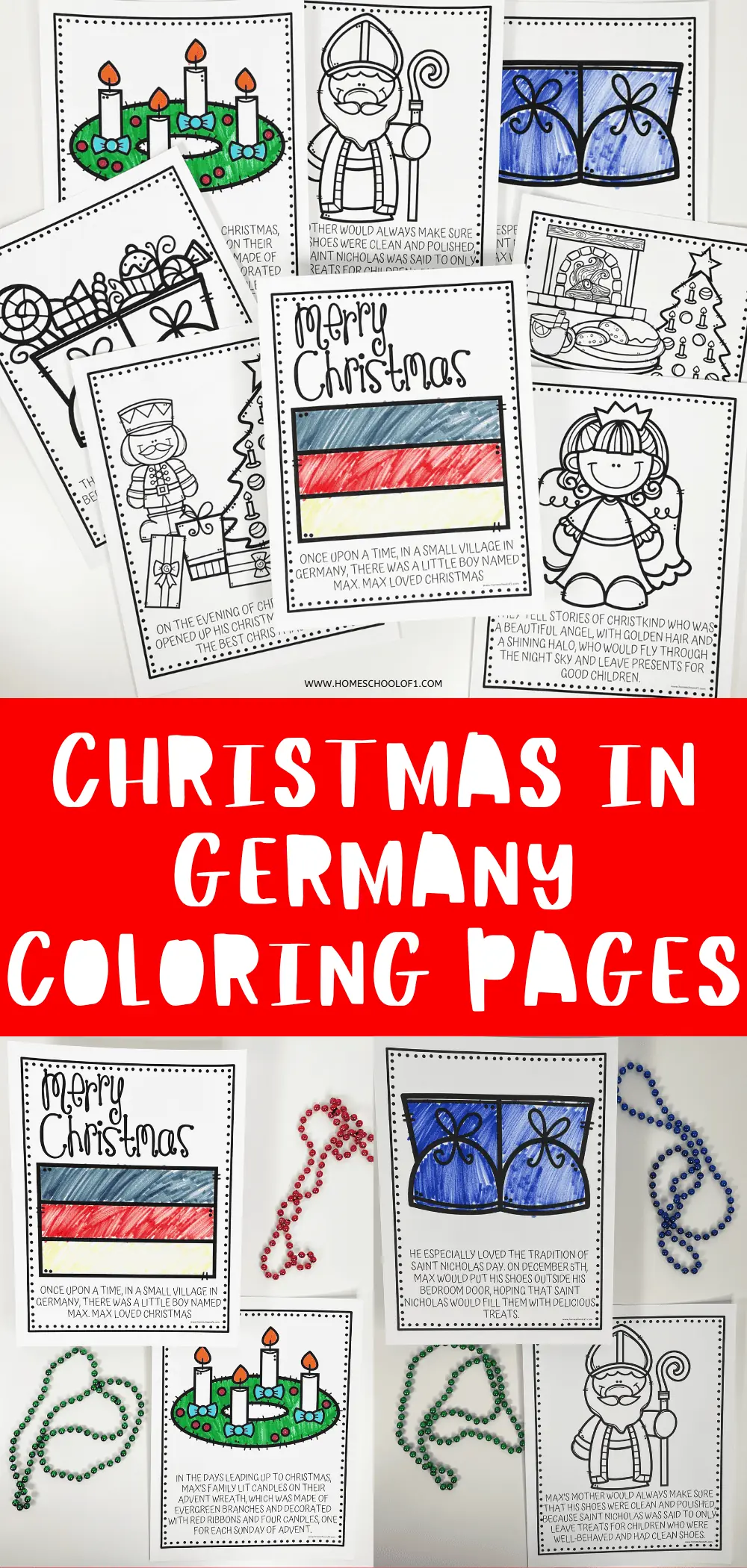 We love creating free kids coloring pages, and we either use them as a supplement for a lesson we are studying or to calm the mood! Coloring is a great way for them to refocus and relax, and great for improving fine motor skills.
**There may be affiliate links in this post. You can read my full disclosure at the bottom of the page.**
Christmas in Germany Coloring Sheets
The kids are going to enjoy coloring in these Christmas in Germany coloring images.
Print out the coloring pages below, it will print out on 8 full pages. Make sure to check the printer settings.
These free coloring pages are free to print but are for personal use or classroom use only. Scroll to the end of the post to get the pdf file.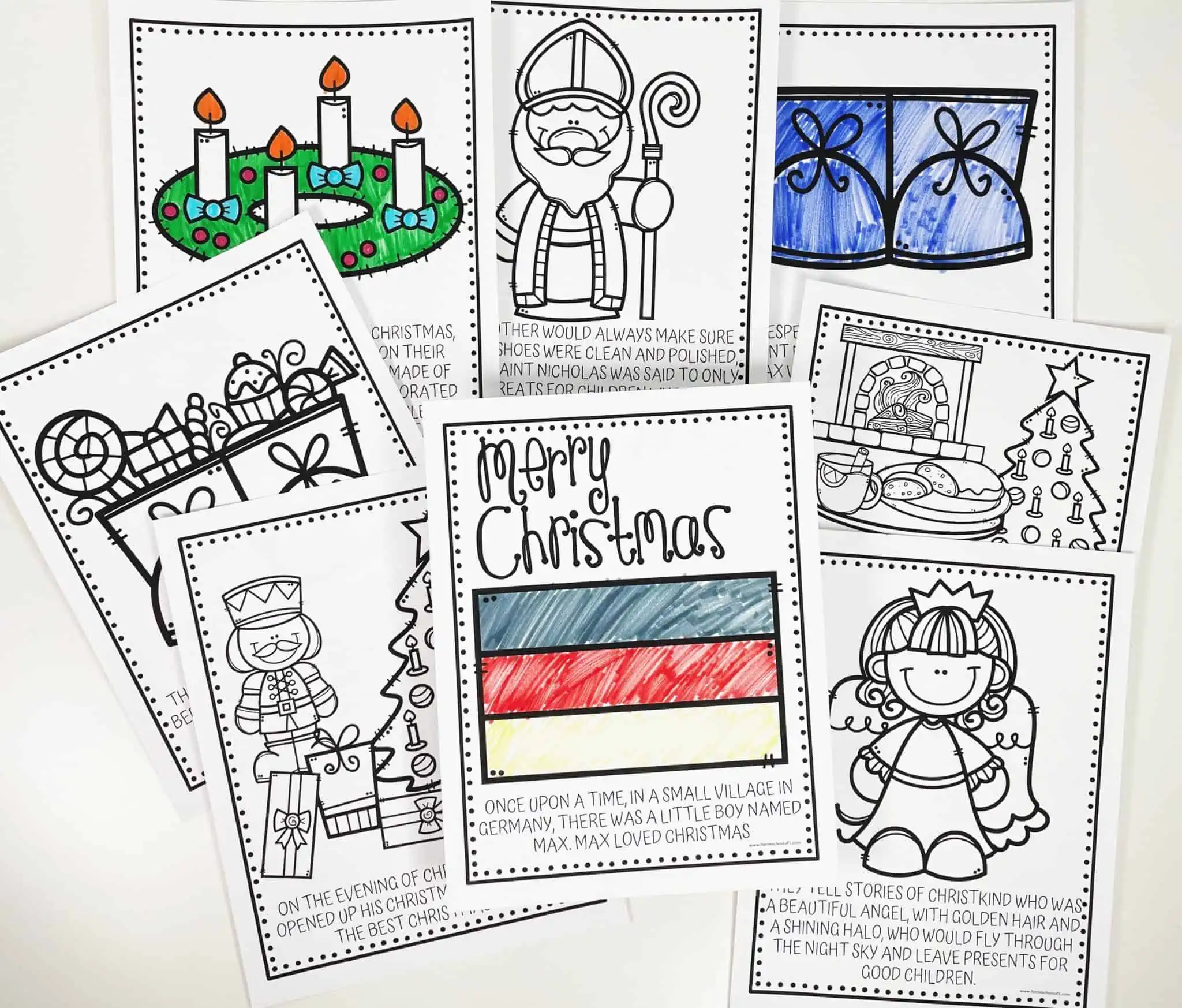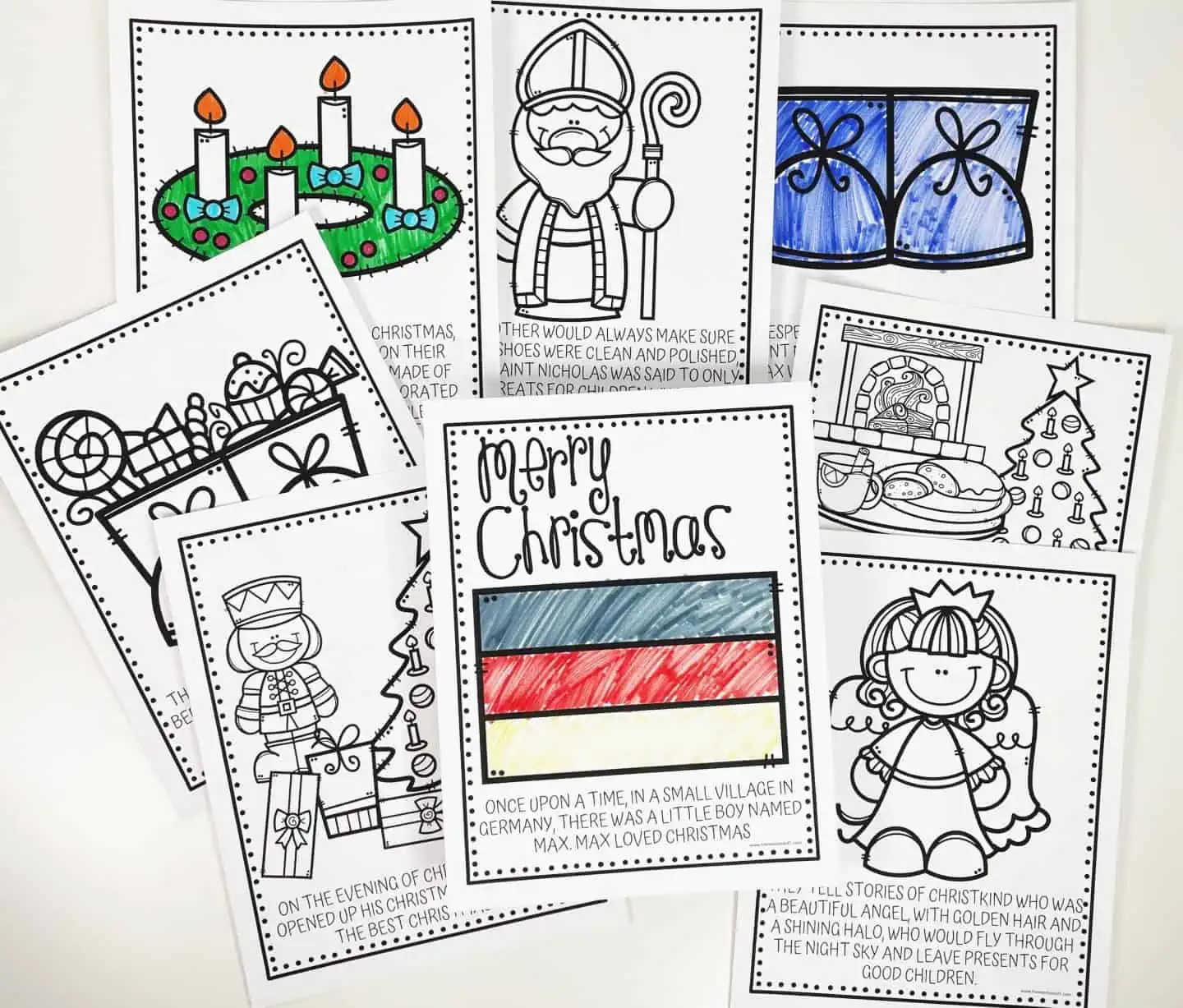 Christmas in Germany: Magical Christmas in a German Village
In our fun Christmas in Germany story, we meet Max. A little boy who loves Christmas.
As Christmas approaches, Max's family lights candles on their advent wreath and prepares traditional German foods like stollen.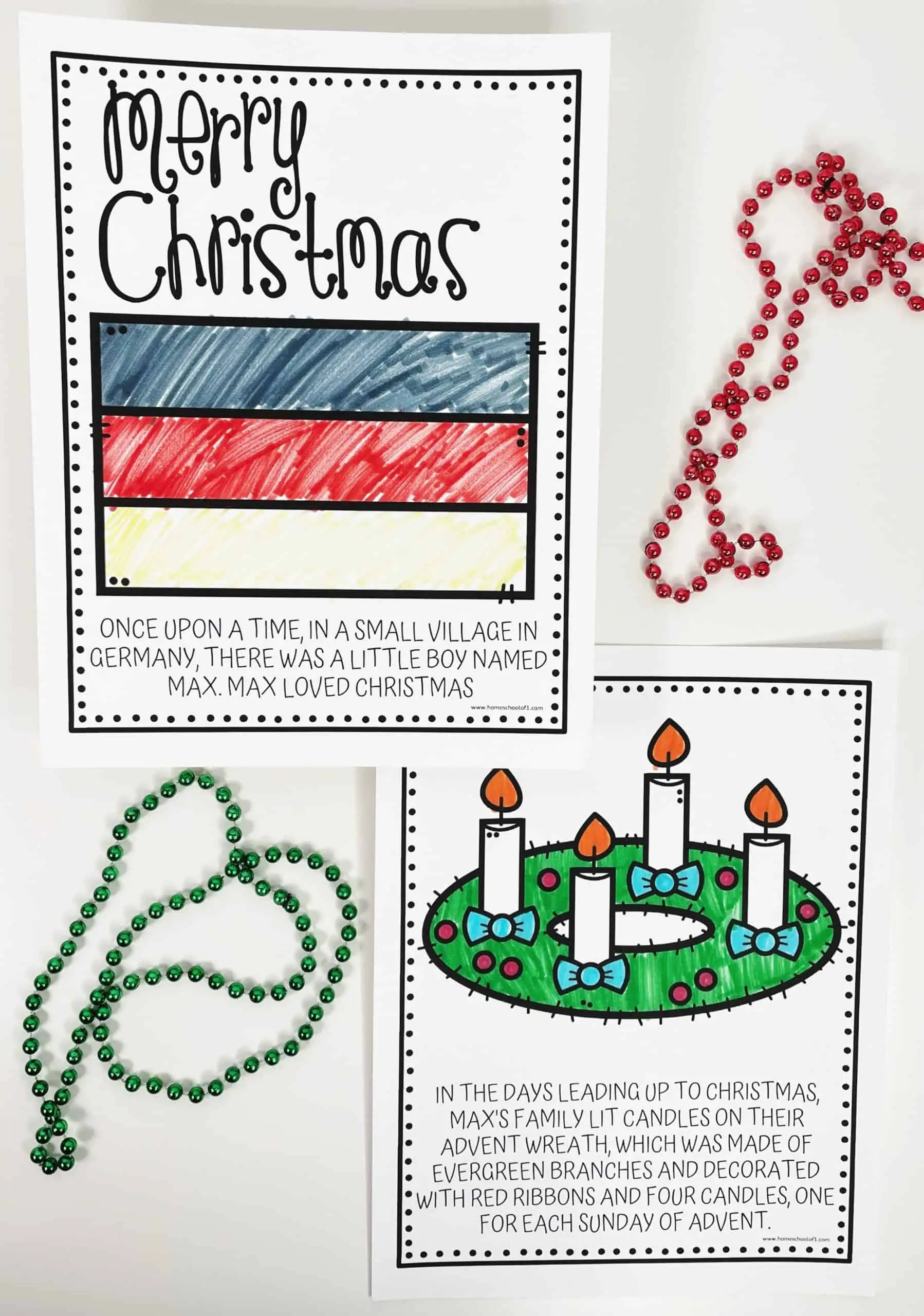 He looks forward to Saint Nicholas Day when he puts his shoes outside his bedroom door to receive treats.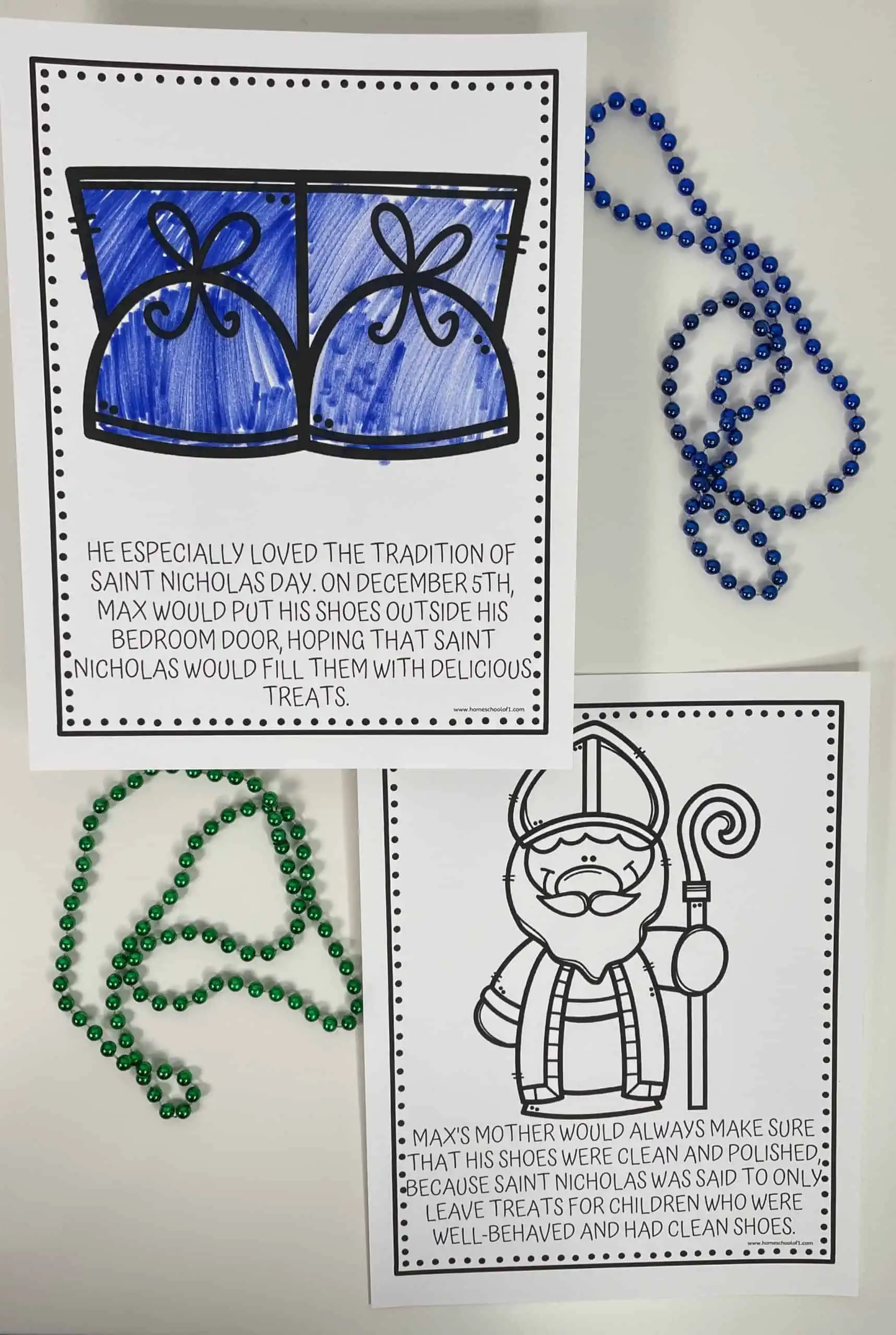 St Nicholas Day is celebrated on December 6th, children leave clean shoes the night before and St Nicholas leaves small gifts in them.
The Legend of Saint Nicholas is a wonderful picture book that will make a lovely read-aloud.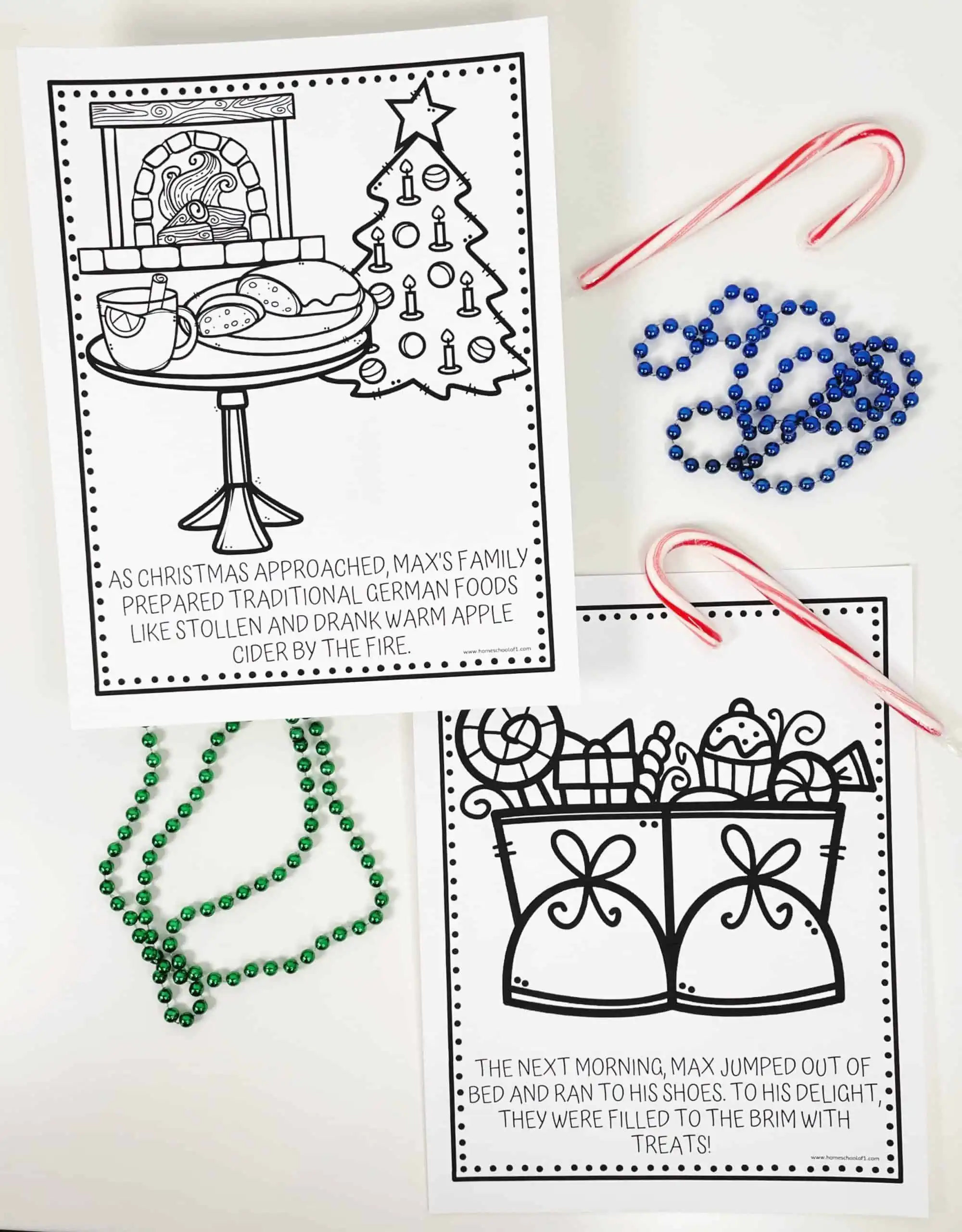 They also talk about Christkind, a beautiful angel who brings gifts to good children on Christmas Eve.
On Christmas Eve, Max opens his presents and has the best Christmas ever with his family, singing carols and feeling content.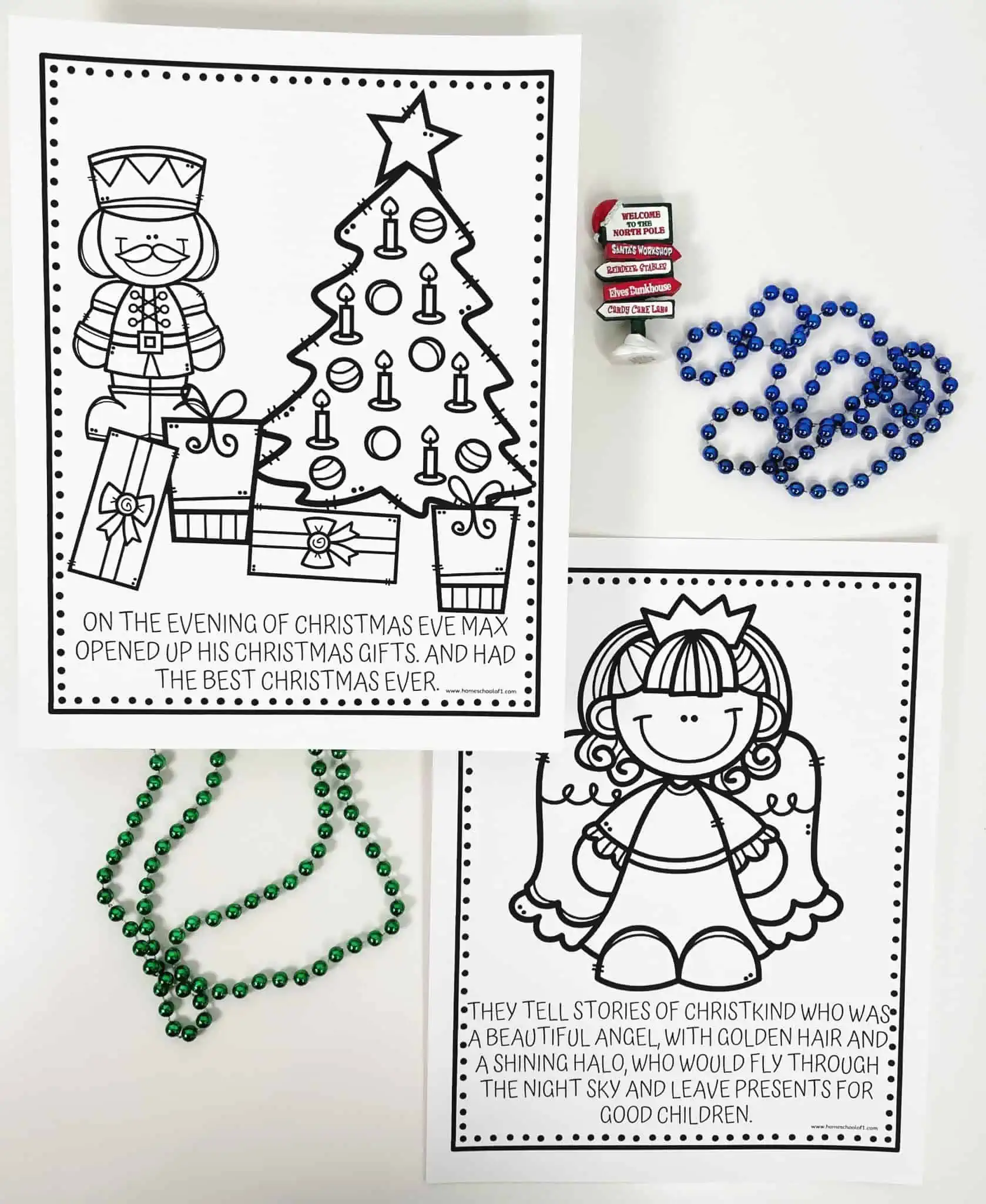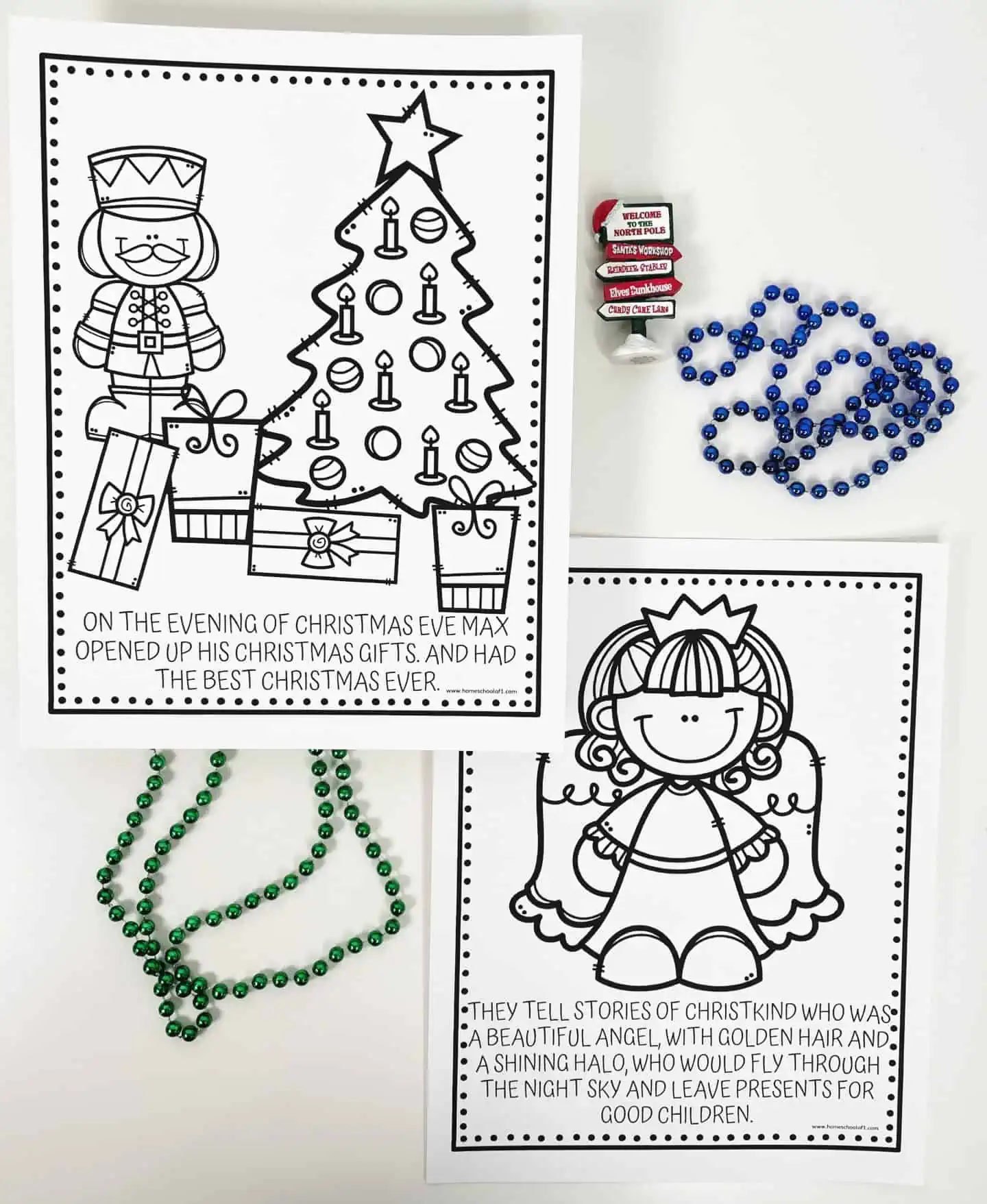 The story celebrates the magic of the holiday season and the importance of spending time with loved ones.
Christmas Around the World Activities
Frohe Weihnachten is how we say Merry Christmas. Why not learn to speak German with the kids this Christmas?
This German for beginners book from Usborne is a great starter.
Photo Credit: homeschoolplanet.com
Learn about the Christmas customs, traditions, and eats from 24 different countries, including Germany, as you study this joyous holiday as a family.
Print the packet, color the badges, explore the links, and expand your understanding of Christmas around the planet!
Photo Credit: unitstudy.com
Pack up and get ready to travel to Germany.
This one-week unit study has been developed to provide your student with a virtual tour of Germany, covering the geography of this nation, as well as some of its history, art & literature, landmarks, and interesting people.
Photo Credit: techiehomeschoolmom.com
Learn about 10 countries and their Christmas traditions including Germany.
Photo Credit: homeschoolplanet.com
Bring Christmas alive in your homeschool. These plans contain the entire curriculum, including links and printables, to help you create crafts, recipes, gifts, decorations, games, and more.
This is the perfect book for read-alouds this December, Explore Christmas traditions from around the world.
Photo Credit: www.etsy.com
Students will learn how to do internet research to find out more about their assigned holiday. They will answer the questions in their Winter Holidays Research Journal to learn all about it.
Then, they will do a final report about their holiday and art project (creating a decoration for their holiday).
An editable invitation for an optional "Holidays Around The World Fair" is included for students to show off their hard work to their parents, other classes, etc.
Photo Credit: www.etsy.com
Can you figure out which language each Merry Christmas is in?
Photo Credit: www.etsy.com
This printable contains 24 fun facts and trivia questions about holiday customs in countries such as Iceland, Australia, Ethiopia, Italy, and more.
Each day also contains a simple activity for your family to do together that is representative of the country of the day.
Other Christmas activities
Have even more fun with the kids this December with these fun ideas:
Tips for downloading the free files
Below you will see a large sign-up box where you need to add your name and email address, and press I NEED THIS NOW!
Within minutes you will be sent the free PDF directly to your email address, so you can print it out and start using it immediately.
Sometimes emails get a little wonky, so if you can't see it, please check your spam folder where I am sure it is hiding.
Download the free German Christmas coloring pages
Make sure you choose the correct paper size and click on the shrink to fit button. All of our free printables for kids work better when printed on cardstock (this is the one we use and love.)
Last Updated on 25 November 2023 by homeschoolof1