5 Christmas Spot The Difference Printables The Kids Can Color
Get into the Christmas spirit with these 5 Christmas spot the difference printables.
Engage young minds with a delightful Christmas spot the difference activity, a captivating addition to your collection of Christmas activities for kids.
What I especially love about these is that they are not too easy, or too hard. They are just perfect for older elementary kids (in fact we have enjoyed them in middle school too!).
You can also color in these Christmas spot the difference printables for double the fun!
Print off as many copies as you want and have lots of fun searching.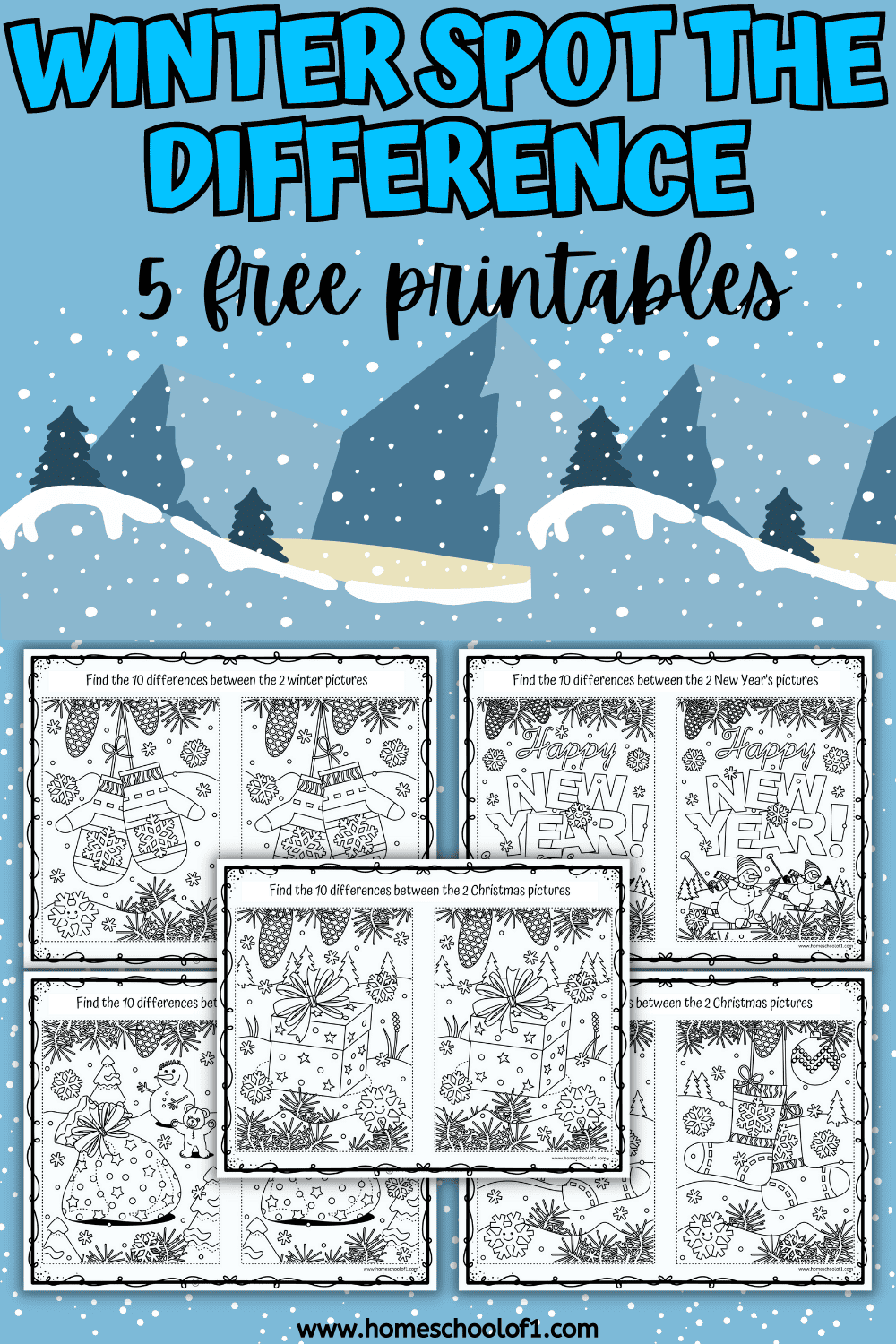 **There may be affiliate links in this post. You can read my full disclosure at the bottom of the page.**
How to play the winter spot the difference
Are you looking for a fun and educational activity to engage younger children during the winter season? Spot the Difference is a fantastic game that promotes observation skills and attention to detail in a playful way.
We have prepared five adorable winter-themed printables, each featuring 10 differences for your little ones to discover. Plus, they can enjoy coloring in the pictures after finding all the distinctions. Best of all, these printables are absolutely free!
Download and print the Winter Spot the Difference printables (make sure you have enough copies for each child). Gather some crayons or coloring pencils for coloring in the pictures.
Find a quiet and well-lit area where the children can focus without distractions. Explain the rules of the game, they have to spot the differences between two almost identical pictures.
Hand out one printable to each child. Encourage them to examine the two pictures side by side and identify the differences. They can circle or mark the differences with the crayons as they find them. Remember, there are ten differences in each picture, so they should keep searching until they find them all!
For younger children, consider playing along with them to provide guidance if needed. Offer praise and positive reinforcement when they spot a difference correctly to keep them motivated.
The Berenstain Bears and the Joy of Giving:
Mr. Willowby's Christmas Tree
The Littlest Reindeer (Littlest Series)
The Littlest Christmas Tree
After successfully finding all the differences, let the children color in the pictures. This allows them to express their creativity and make the images even more beautiful.
Take the opportunity to discuss the differences they found. This can include shapes, objects, or anything that caught their attention. Talk about winter-related themes in the pictures, such as snowflakes, snowmen, animals, and winter clothes.
Most importantly, enjoy the time spent playing and learning with your little ones.
Remember, spot the difference is not just a game, it's an opportunity for parents and teachers to bond with children and help them develop crucial observation skills.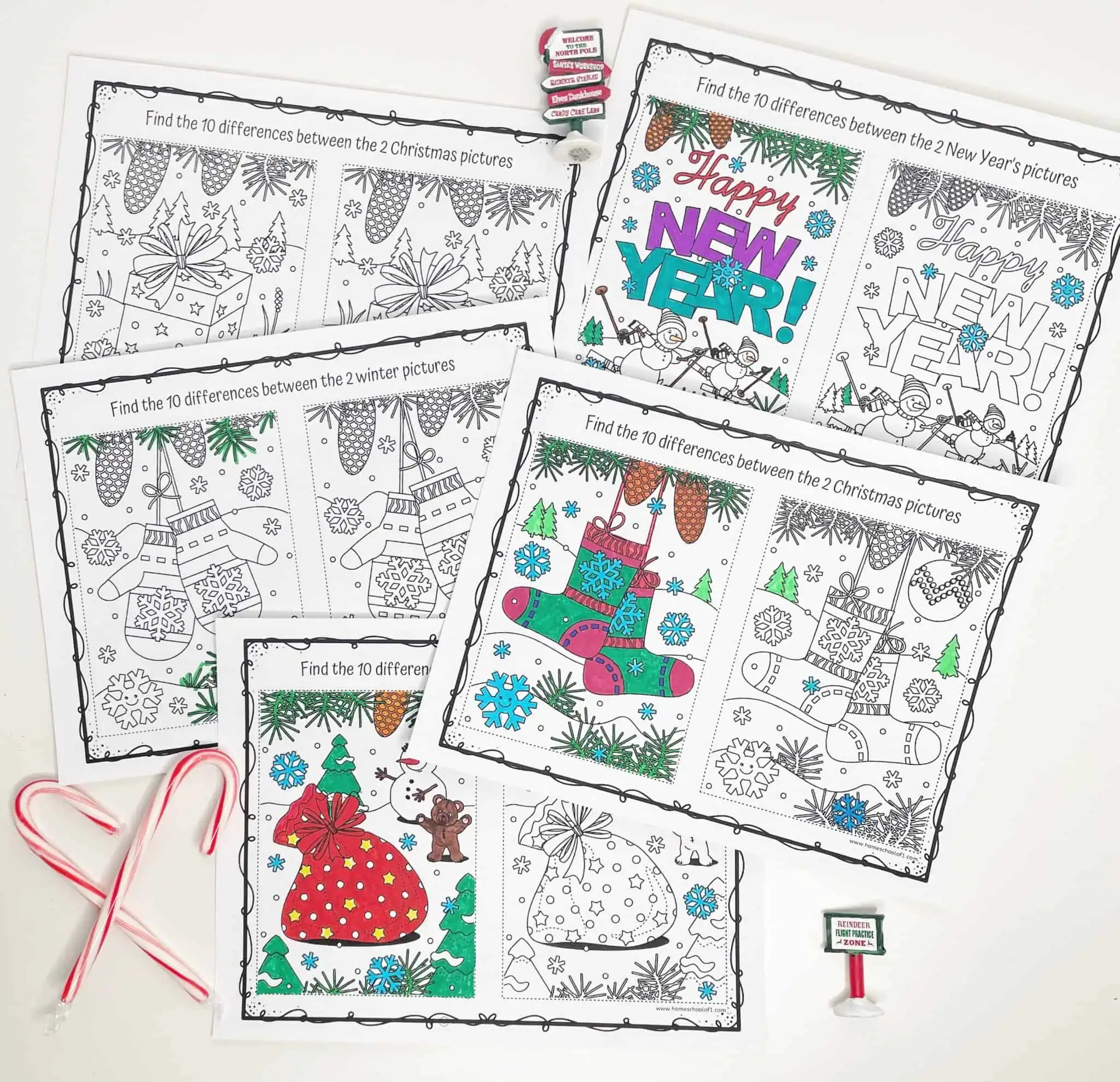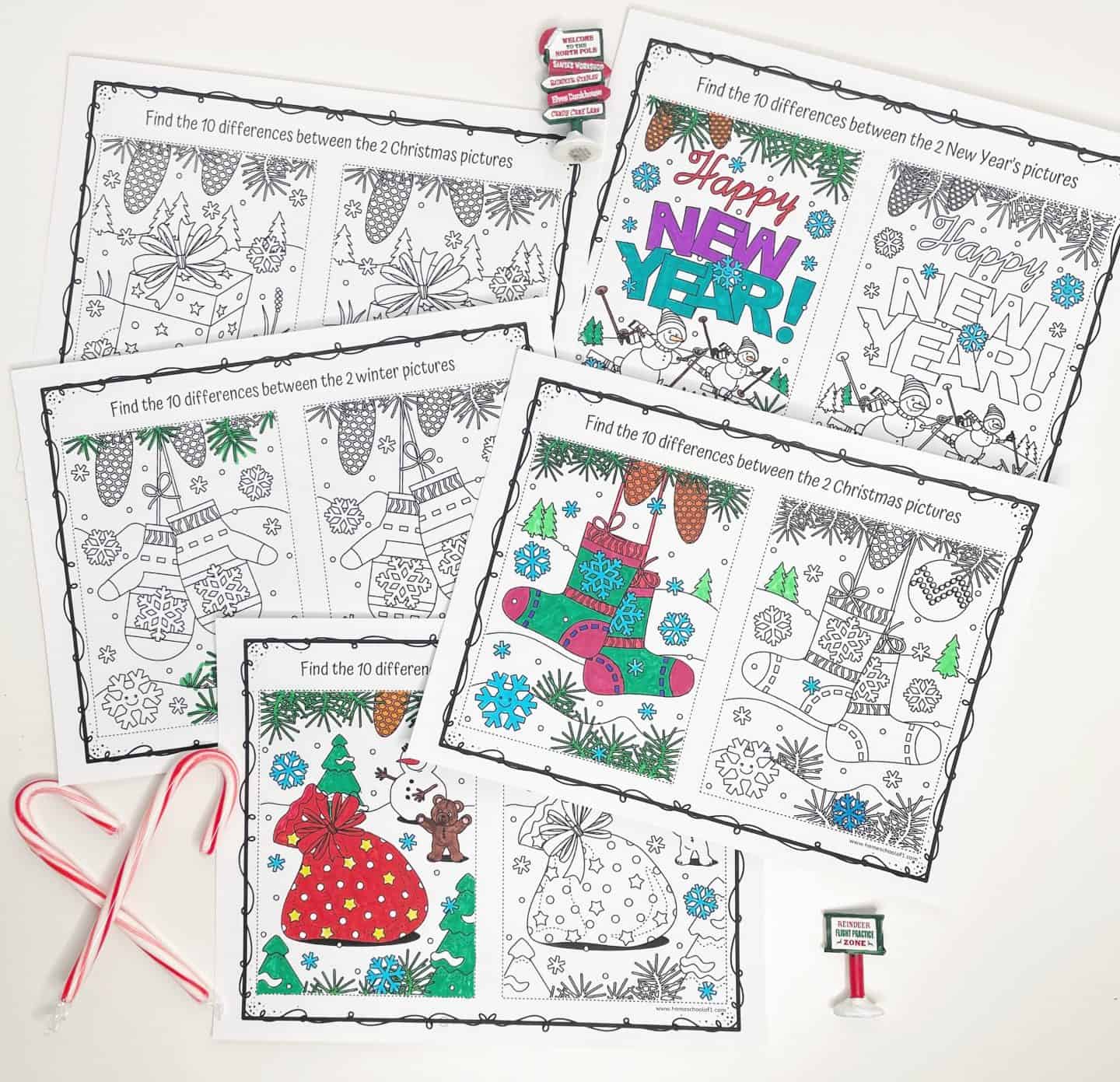 Spot The Difference to Play at Christmas
Download our Christmas spot the difference printables below. There are 5 Christmas pictures and 10 differences to find in every picture. What I also love about these Christmas spot the difference printables is that the kids can color them in too.
We love to color these in first with coloring pens (or crayons) and then we compare the two images to spot the ten differences. But if you are running short on time just get the kids to spot the differences.
These five Christmas spot the difference printables include:
Christmas present
Christmas mittens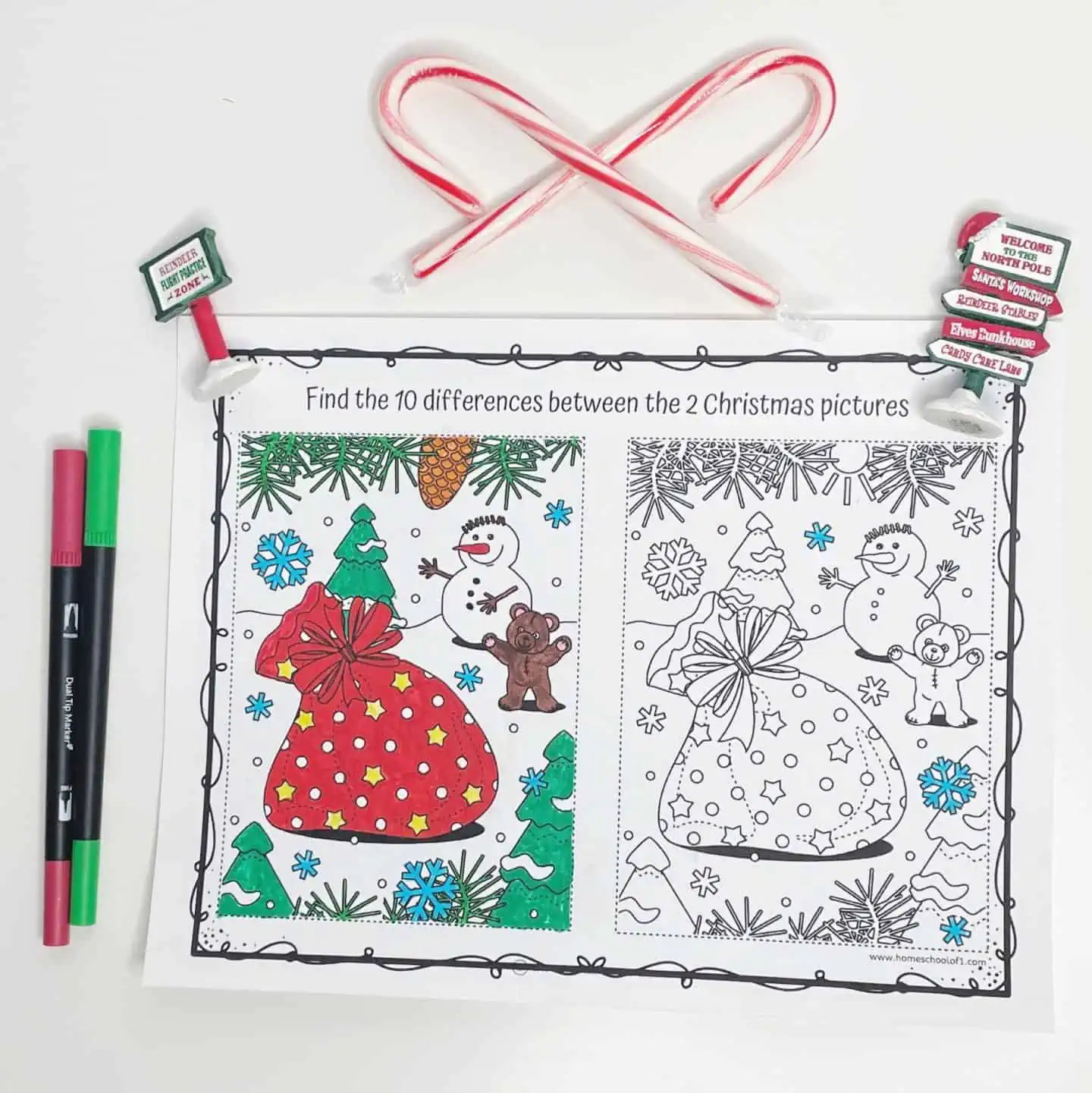 Santa's sack
Christmas stocking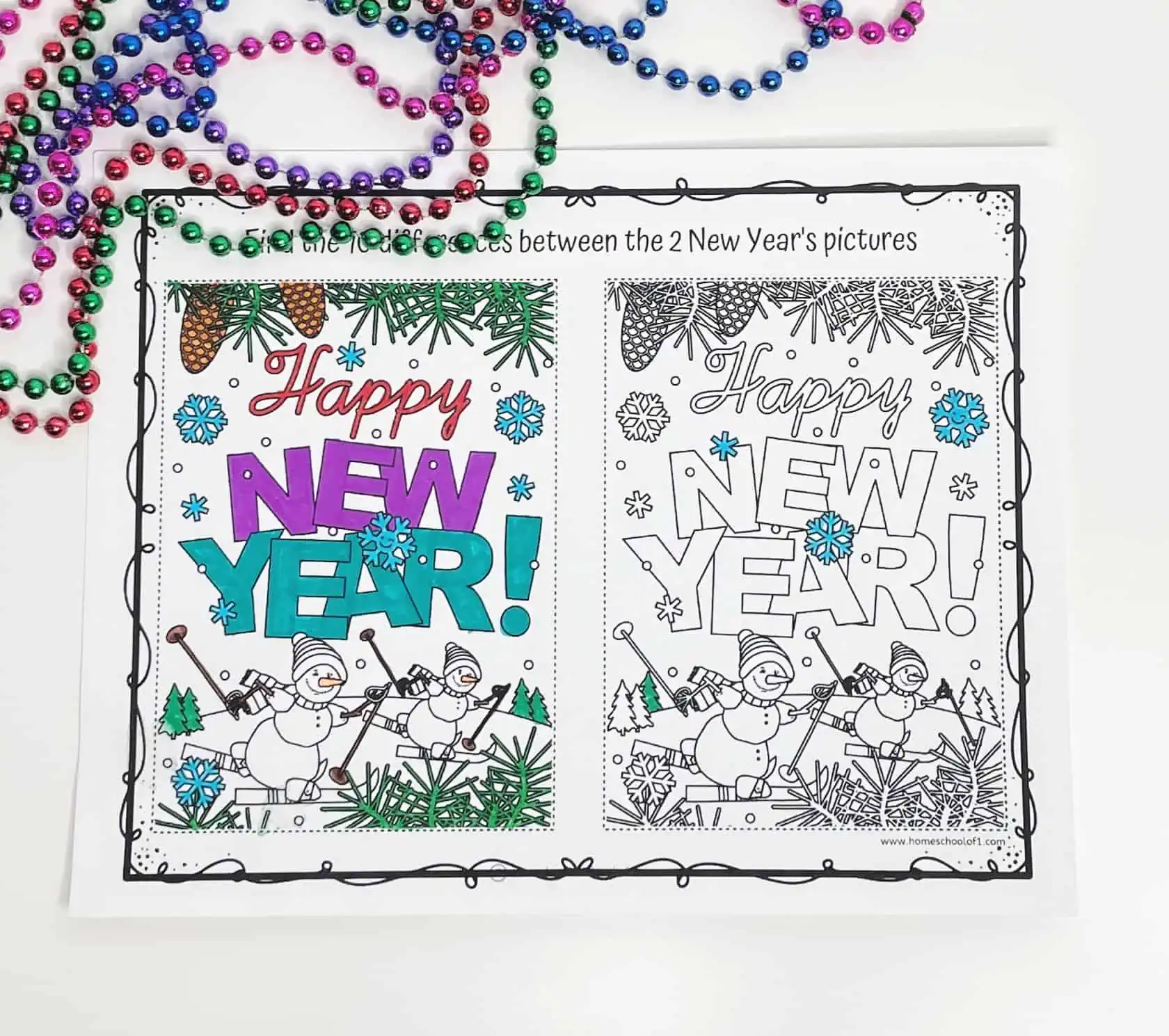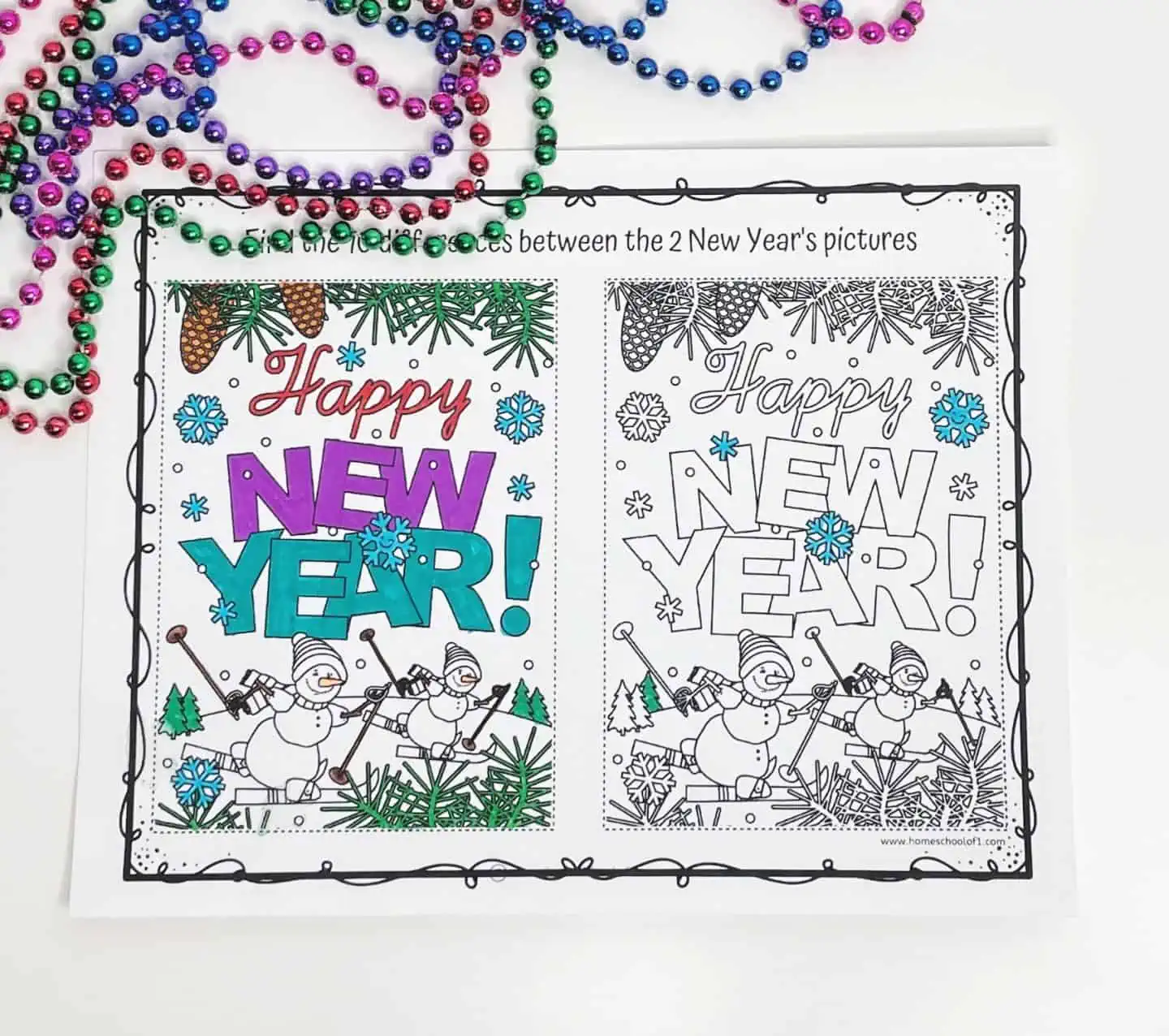 Check out these other Christmas-themed spot the difference activities that we also love.
What are the benefits of spot the difference worksheets?
Spot the Difference worksheets offer several benefits for children's cognitive, perceptual, and emotional development. Here are some of the key advantages: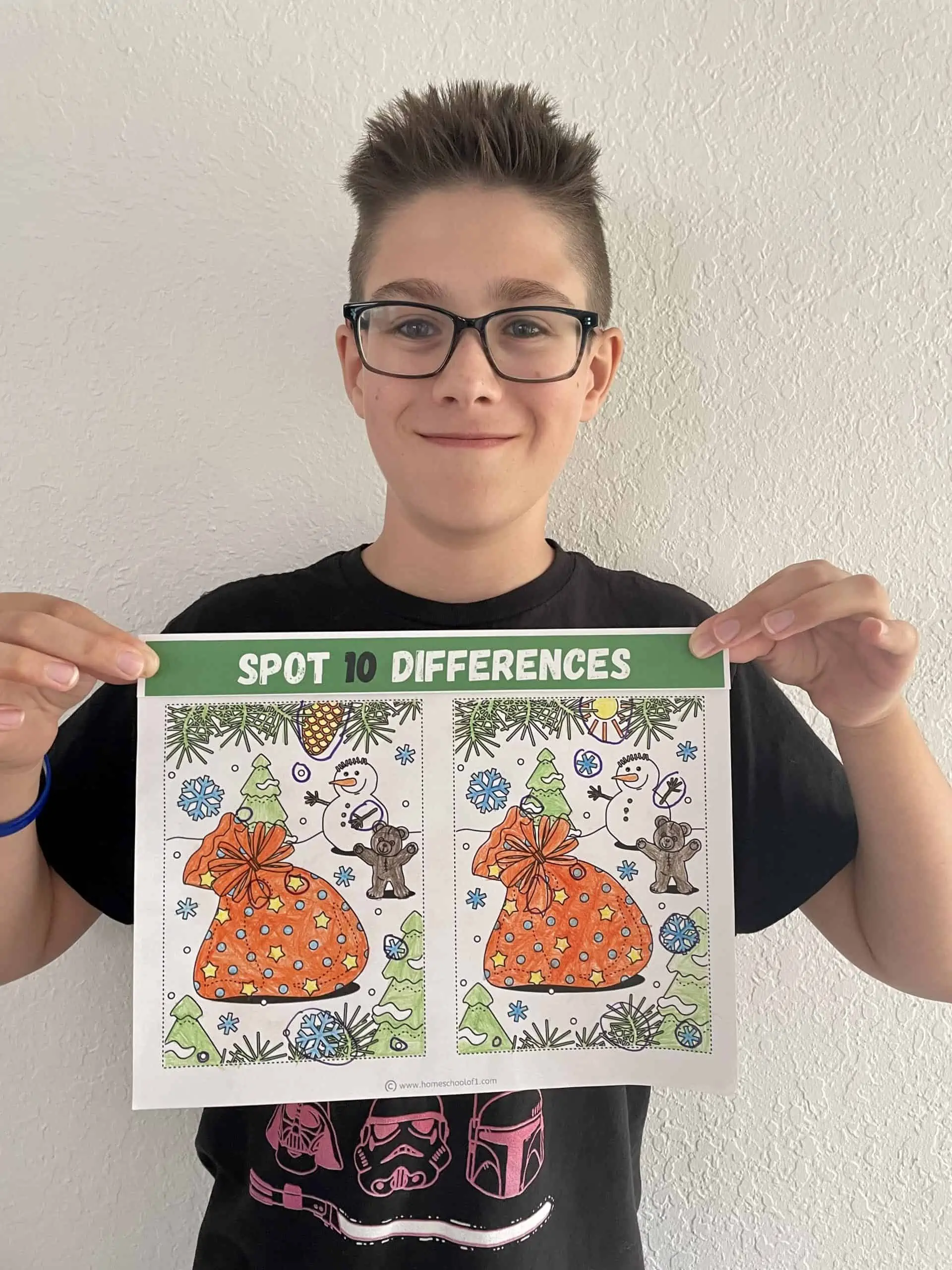 Spotting the differences between two images requires children to closely observe details and recognize slight variations. This enhances their visual discrimination skills, helping them distinguish between similar shapes, colors, and patterns.
The activity demands focused attention, as children need to carefully compare the pictures to identify dissimilarities. It trains them to pay attention to small details, which can be beneficial in various academic subjects and daily life.
Identifying differences is a form of problem-solving. Children learn to analyze, compare, and find solutions independently, honing their critical thinking abilities.
As children play this game repeatedly, they may remember previously identified differences, which reinforces their memory retention.
The activity helps develop visual memory, as children need to retain details of one picture in their mind while comparing it to another.
Spotting the differences can be challenging, especially for younger children. Engaging with the activity encourages them to be patient, persistent, and not give up easily.
When children mark the differences with a pencil or crayon, it improves their hand-eye coordination as they precisely point to the identified spots.
Playing spot the difference requires sustained focus and concentration. Practicing this skill can enhance children's ability to concentrate on tasks for extended periods.
Additional Christmas Activities
Have even more fun this holiday season with these activities:
Download Free Christmas Spot The Difference Printables
Make sure you choose the correct paper size and click on the shrink to fit button. All of our free printables for kids work better when printed on cardstock (this is the one we use and love.)
(The printables will print on full-size letterhead paper.)
Last Updated on 5 September 2023 by homeschoolof1