Free Christmas Coloring Pages A Personalized Holiday Story
If you are looking for a free personalized holiday story you are going to love these free printable Christmas coloring pages.
These are a fantastic addition to your lineup of Christmas activities for kids. Let them unleash their creativity and add a splash of color to festive scenes and characters.
There are 10 cute Christmas coloring pages for you to download for free. There are 5 for a girl and 5 for a boy. These will keep the kids busy for hours.
Print off as many copies as you want and have lots of fun creating. We love to use coloring pens to color ours, but crayons work great too.
We love creating free kids coloring pages, and we either use them as a supplement for a lesson we are studying or to calm the mood! Coloring is a great way for them to refocus and relax, and great for improving fine motor skills.
**There may be affiliate links in this post. You can read my full disclosure at the bottom of the page.**
Free Christmas Coloring Pages to Print
This Christmas coloring book is free to print but is for personal and classroom use only. Scroll to the bottom of the post and add your email address to get the pdf file.
There are 10 coloring pages included, 5 for boys, and 5 for girls.
We use these dual-tipped coloring pens in our Christmas coloring. We absolutely love them and they last for months (we use them most days!)
The children will color the following festive images:
Christmas trees
Child's bedroom
A girl or boy wearing their pajamas
Letter to Santa
Fireplace with Christmas stockings
Santa Claus with his sack of presents
Winter house with a chimney
Reindeer pulling a sleigh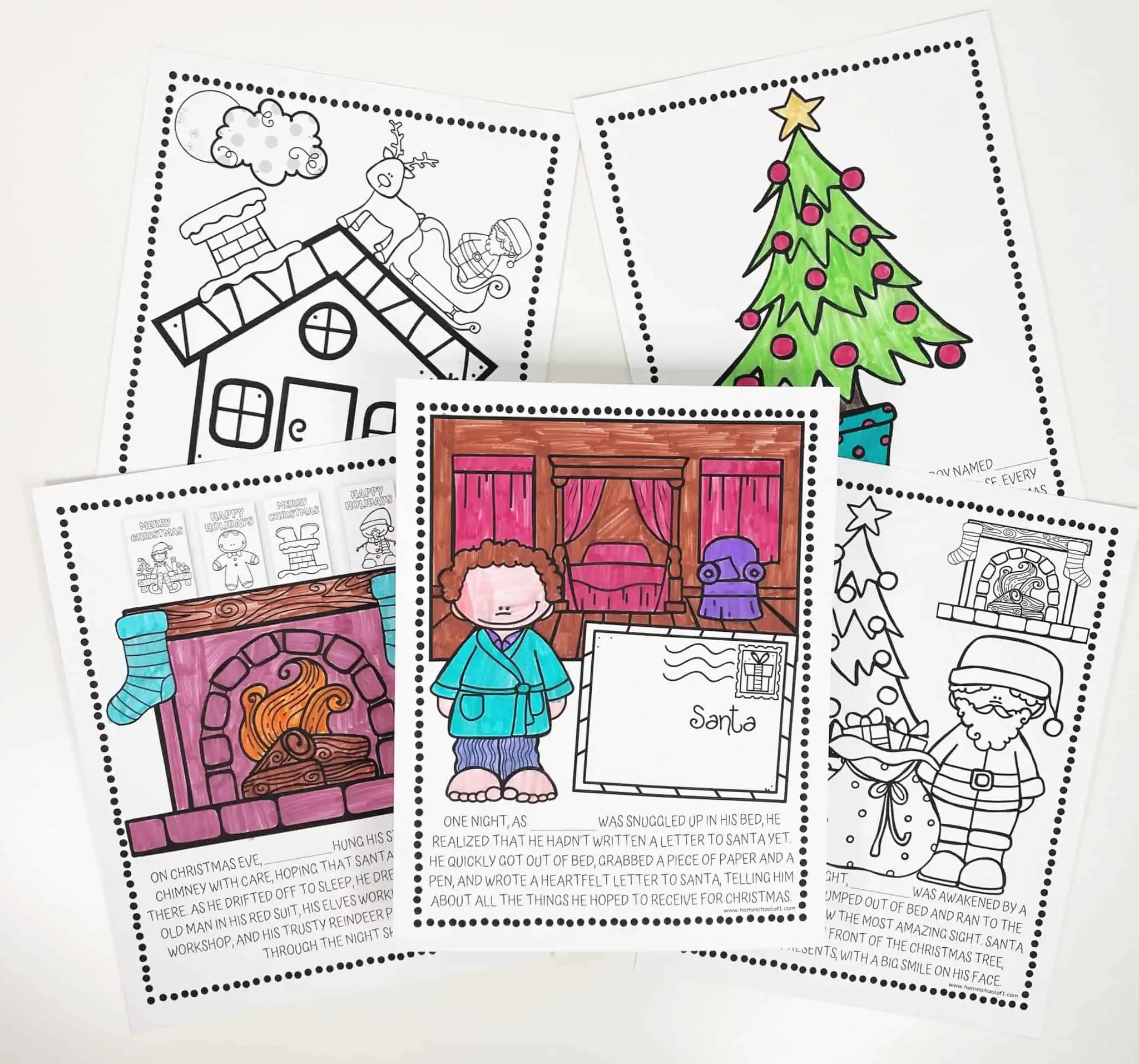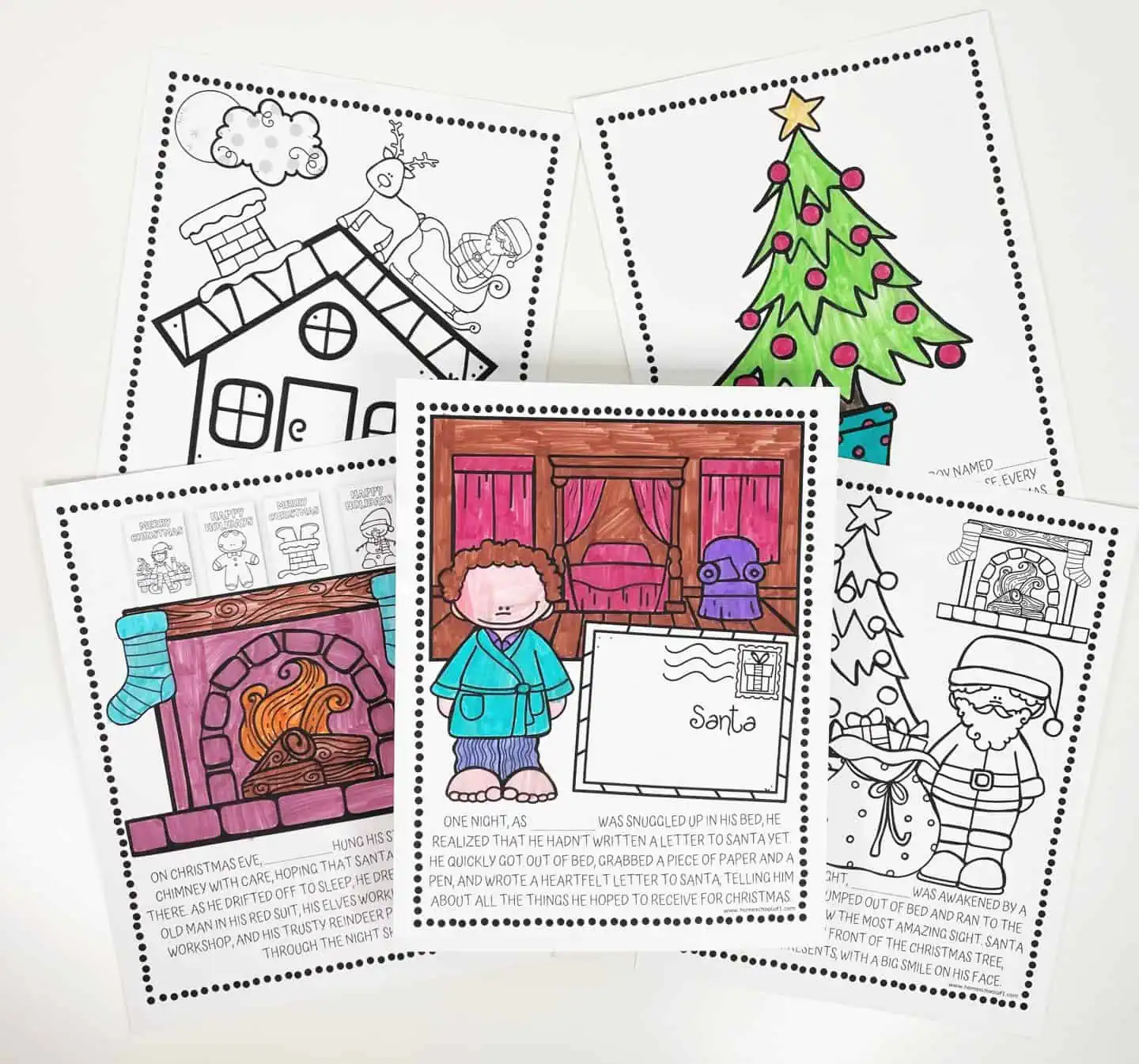 Creativity for Kids Easy Sparkle Window Art Craft
ORIENTAL CHERRY Christmas Crafts for Kids – Decorate
Craftorama Sewing Kit for Kids, Fun and Educational
GuassLee Christmas Ornament Crafts for Kids – Make
Personalized Coloring Story Book for Boys
There is a blank space on each page for you to write your son's name, or of course, the kids can write their name too.
This heartwarming personalized story will definitely put everyone in the holiday spirit.
On the first page, the children will color in a Christmas tree with Christmas ornaments and a star on the top. They will also need to add their name to the holiday story.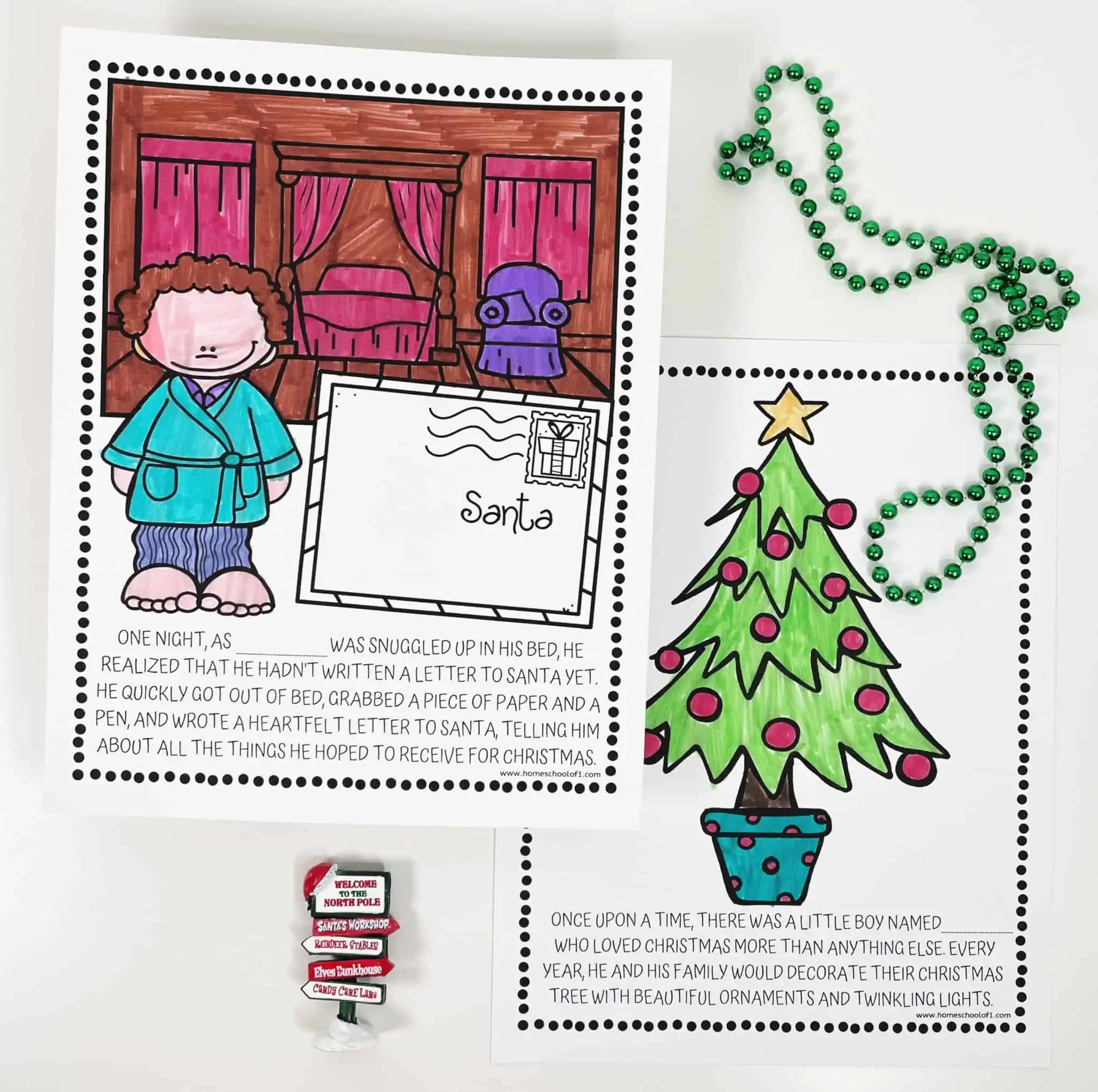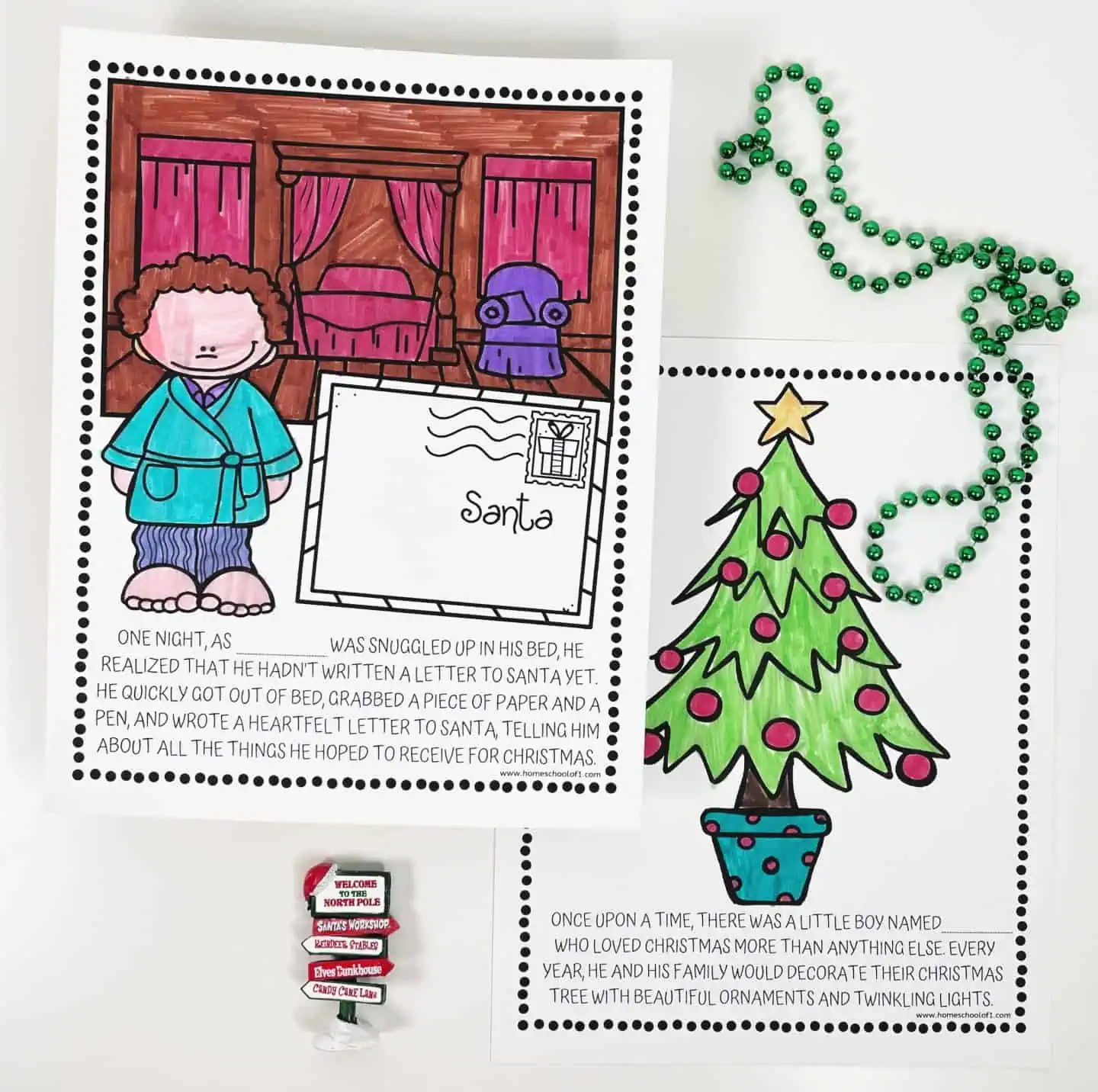 The second page has a picture of a boy in his pajamas in his bedroom wanting to write a letter to Santa.
This is a great opportunity to get the kids writing, download our free Santa wish lists, and teach the kids how to write their very own letters to Father Christmas.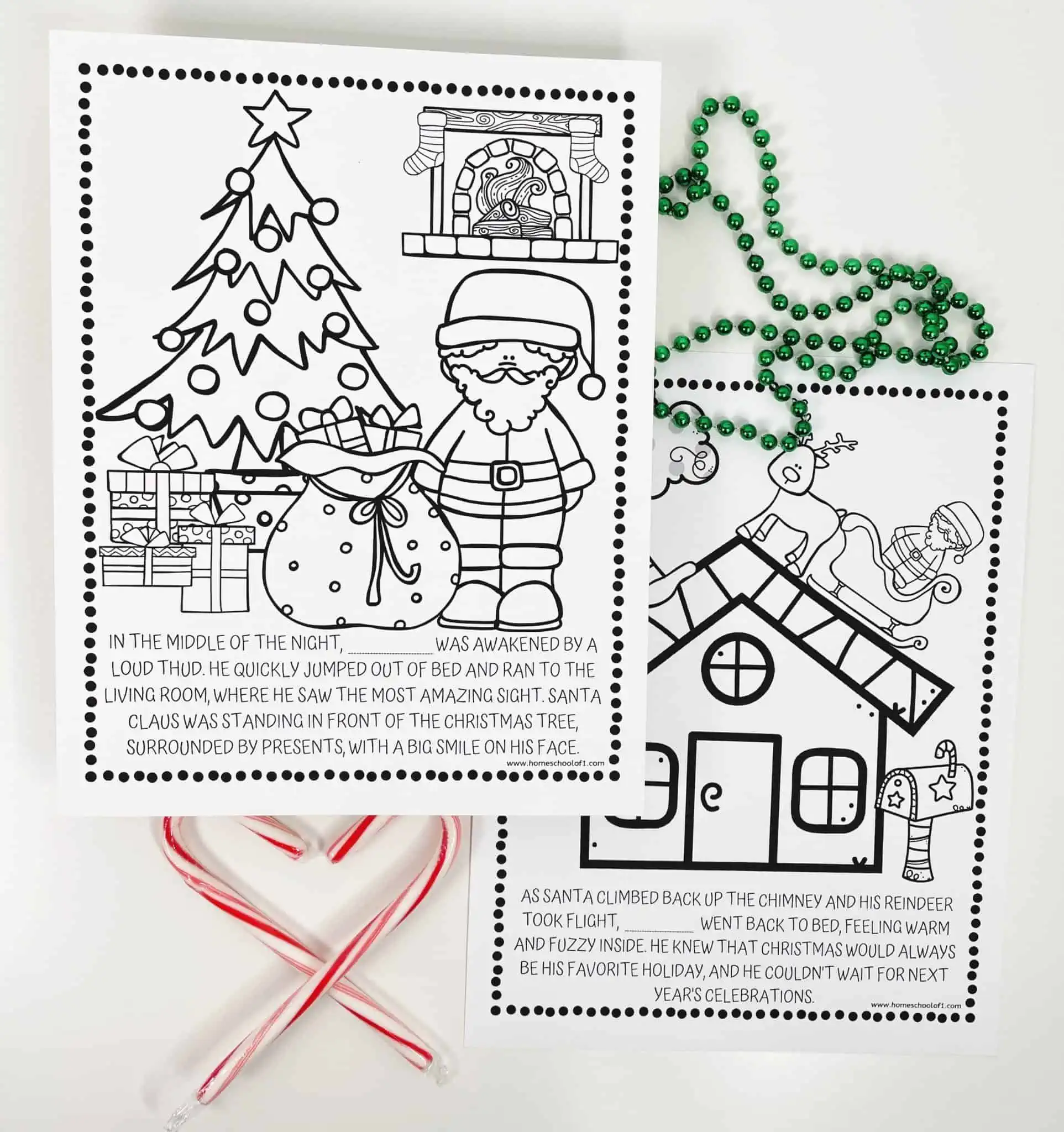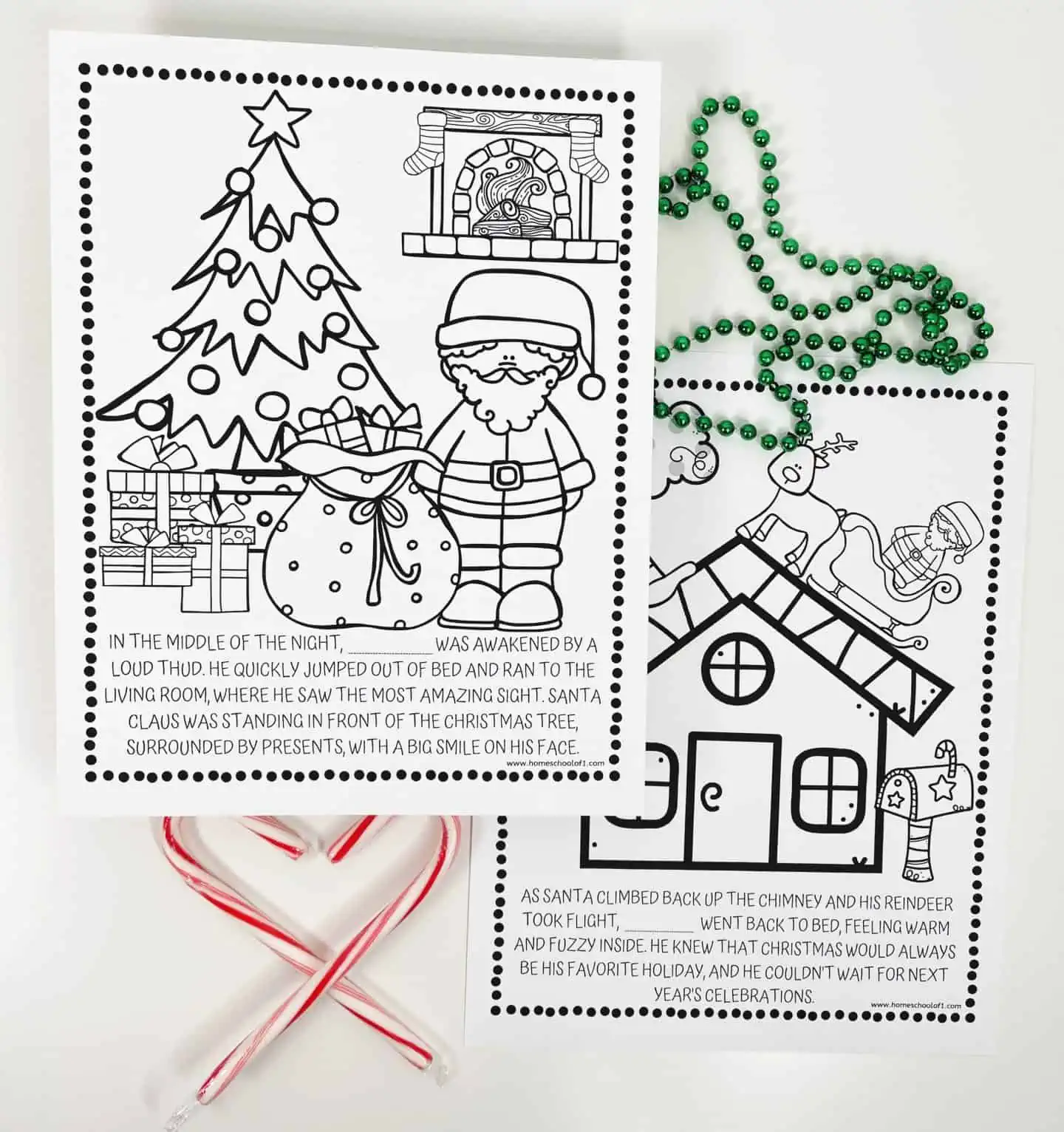 The third page will have the kids coloring in a magical fire with 2 stockings hanging from the mantelpiece.
Plus the 4 Christmas cards sitting on top of the mantel that they can color in. Featuring an elf on the shelf, a gingerbread man, Santa stuck in the chimney, and a snowman.
The Christmas cards for kids to color hanging on the fireplace can also be downloaded for free.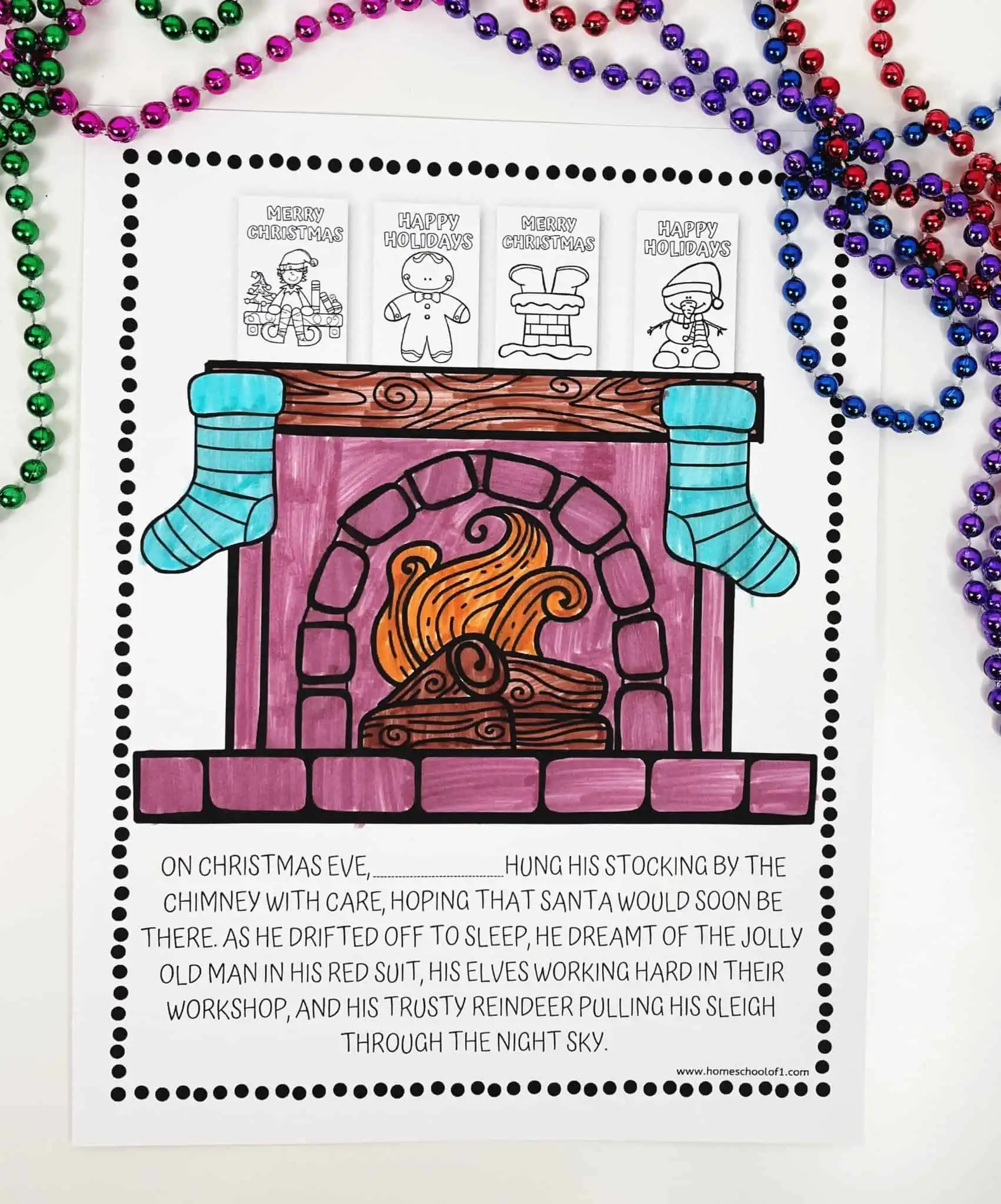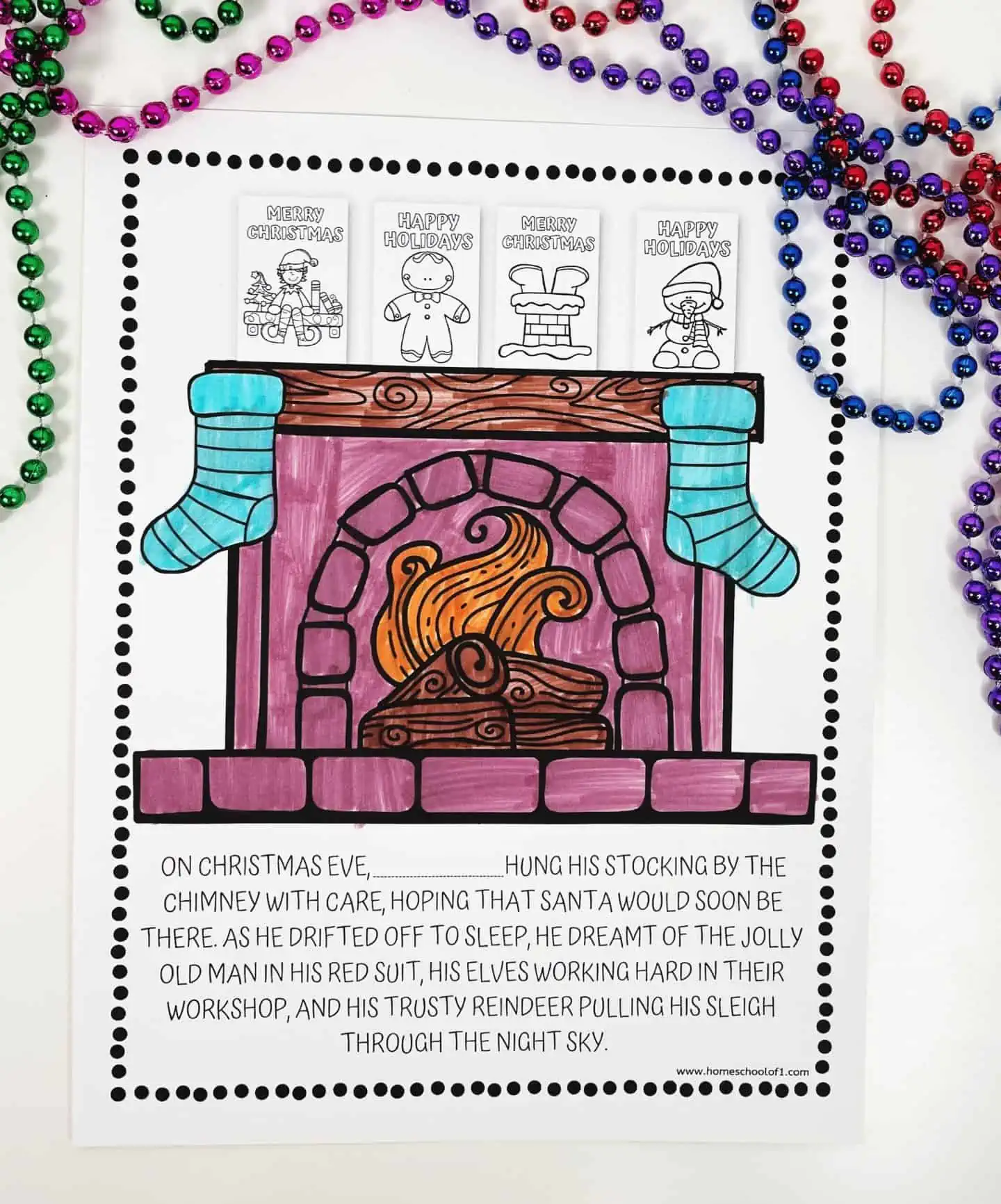 The fourth page again includes the Christmas tree with gifts under it, and the fire place, but also features Santa and his big sack of gifts.
The last page of the Christmas book is a family house with a chimney and a mailbox, with Santa in his sleigh being pulled by his reindeer into the moonlit sky.
You are also going to love our free Elf coloring pages too.
Personalized Christmas Pages for Girls
The final five pages are for your daughters or the girls in the classroom.
They have the same images as the boys coloring pages above, except there is a picture of a little girl wearing pajamas instead of a boy.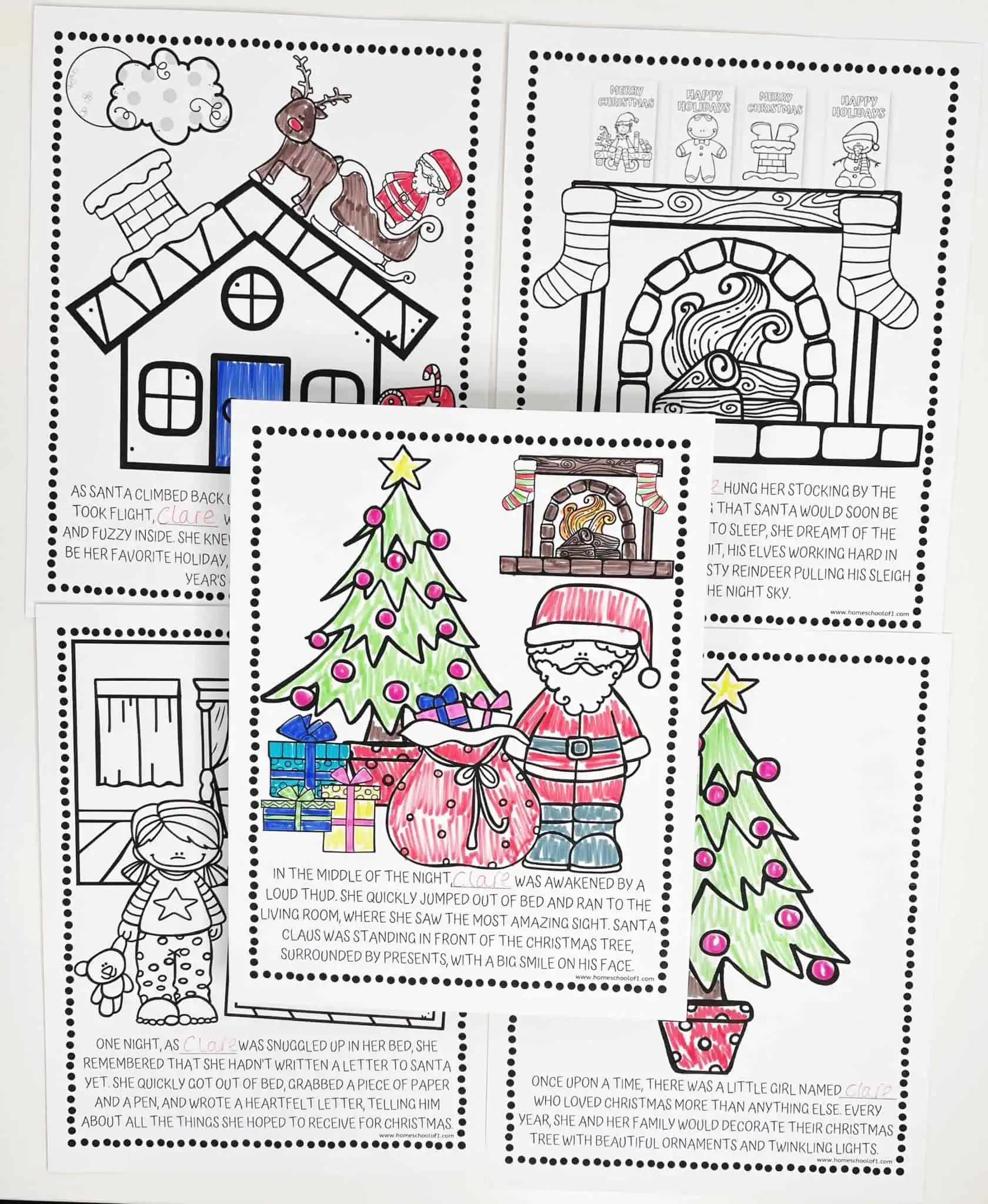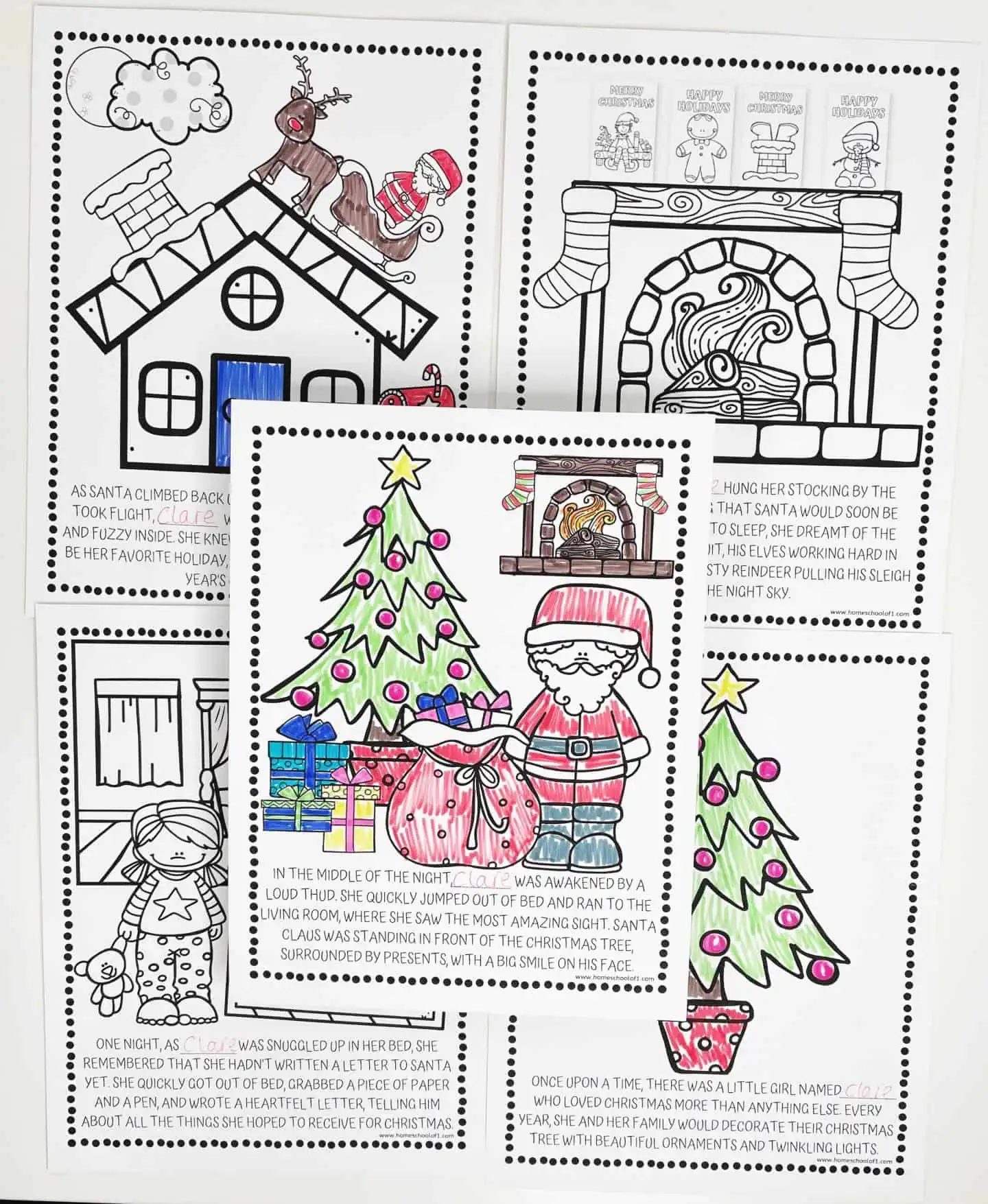 In this charming tale, a Christmas-loving girl named [Girl's Name] adorns her family's tree with joy each year. One night, she realizes she hasn't written a letter to Santa and quickly pens her wishes.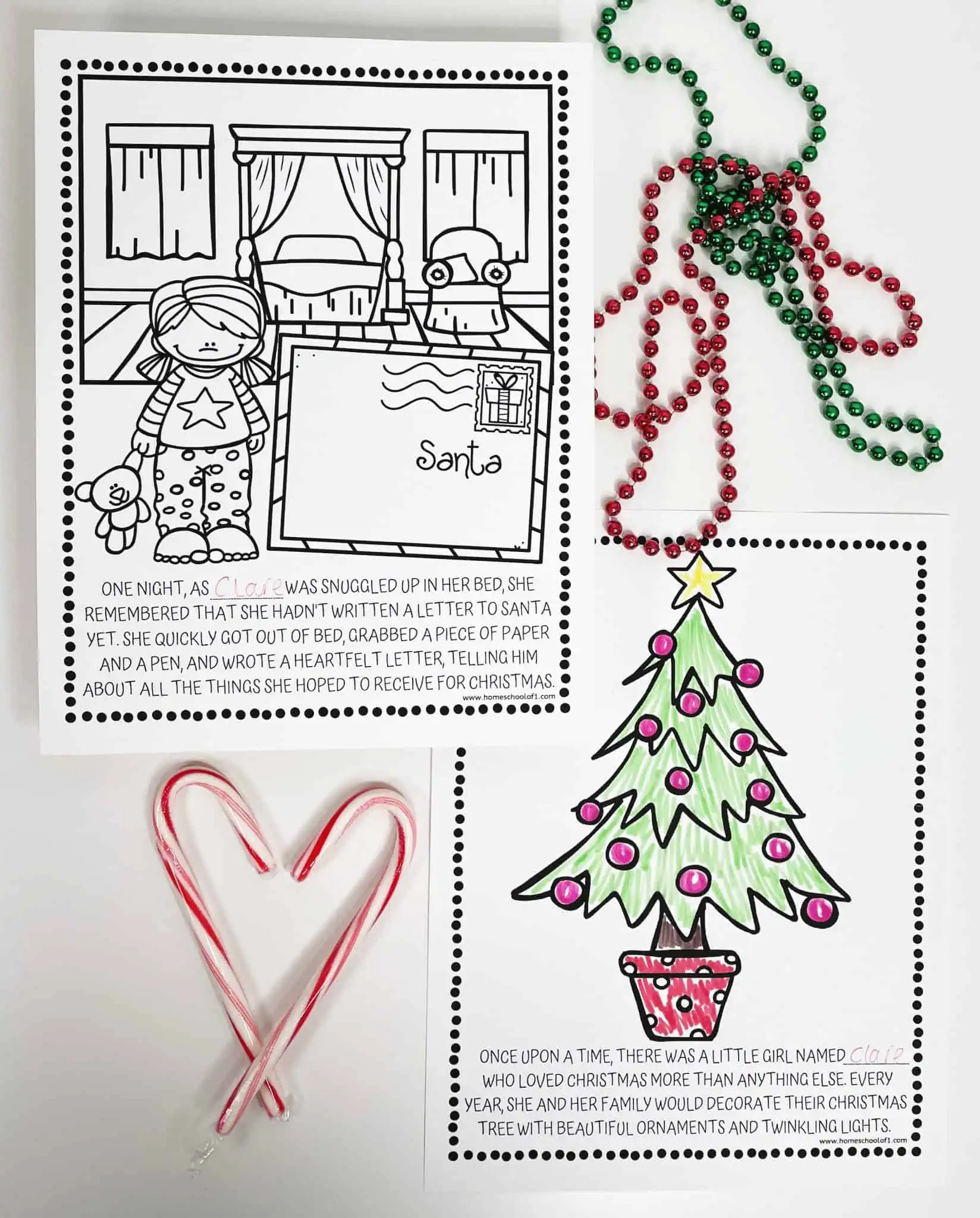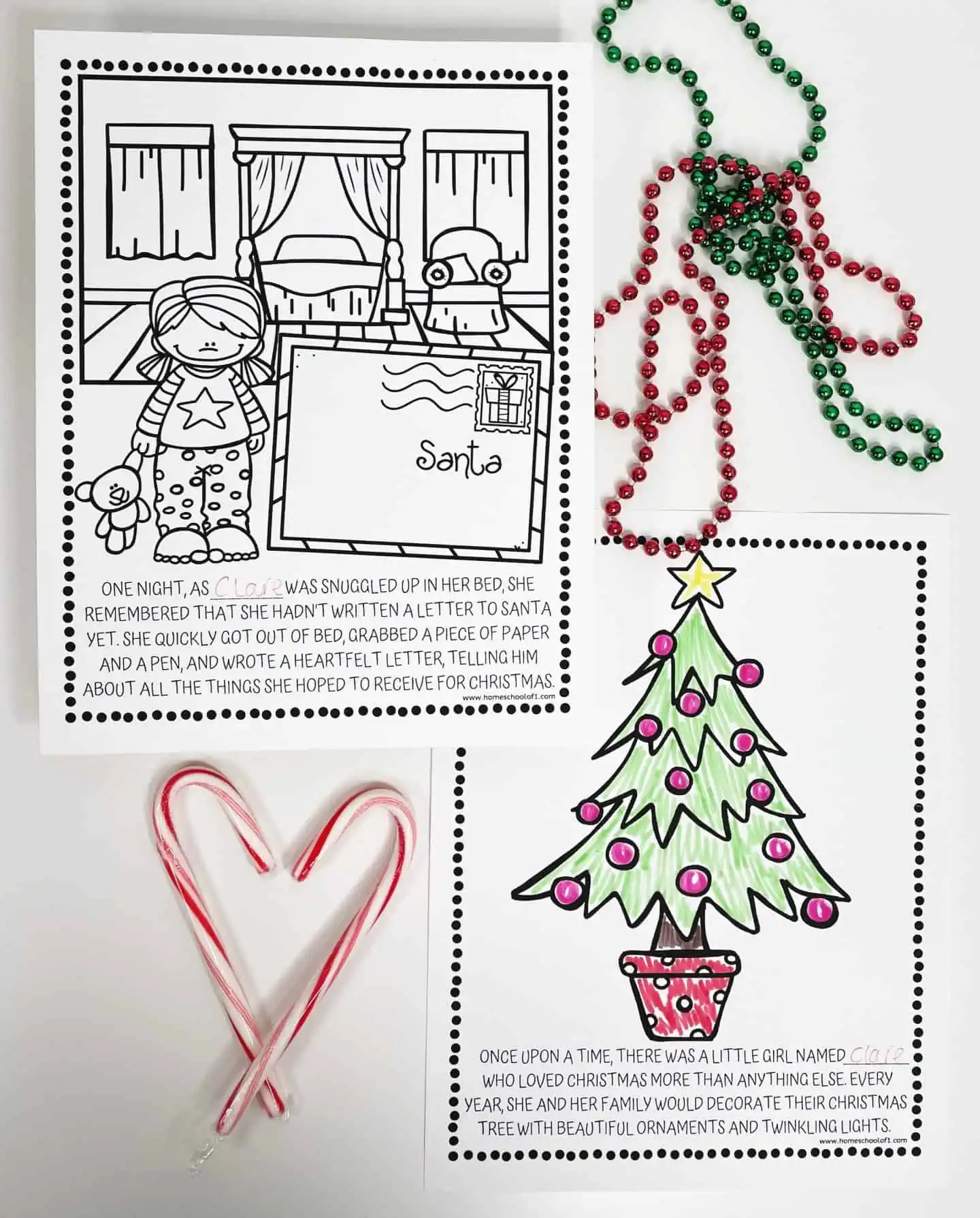 On Christmas Eve, she hangs her stocking, dreaming of Santa and his reindeer.
Startled awake by a noise, she finds Santa with presents by the tree.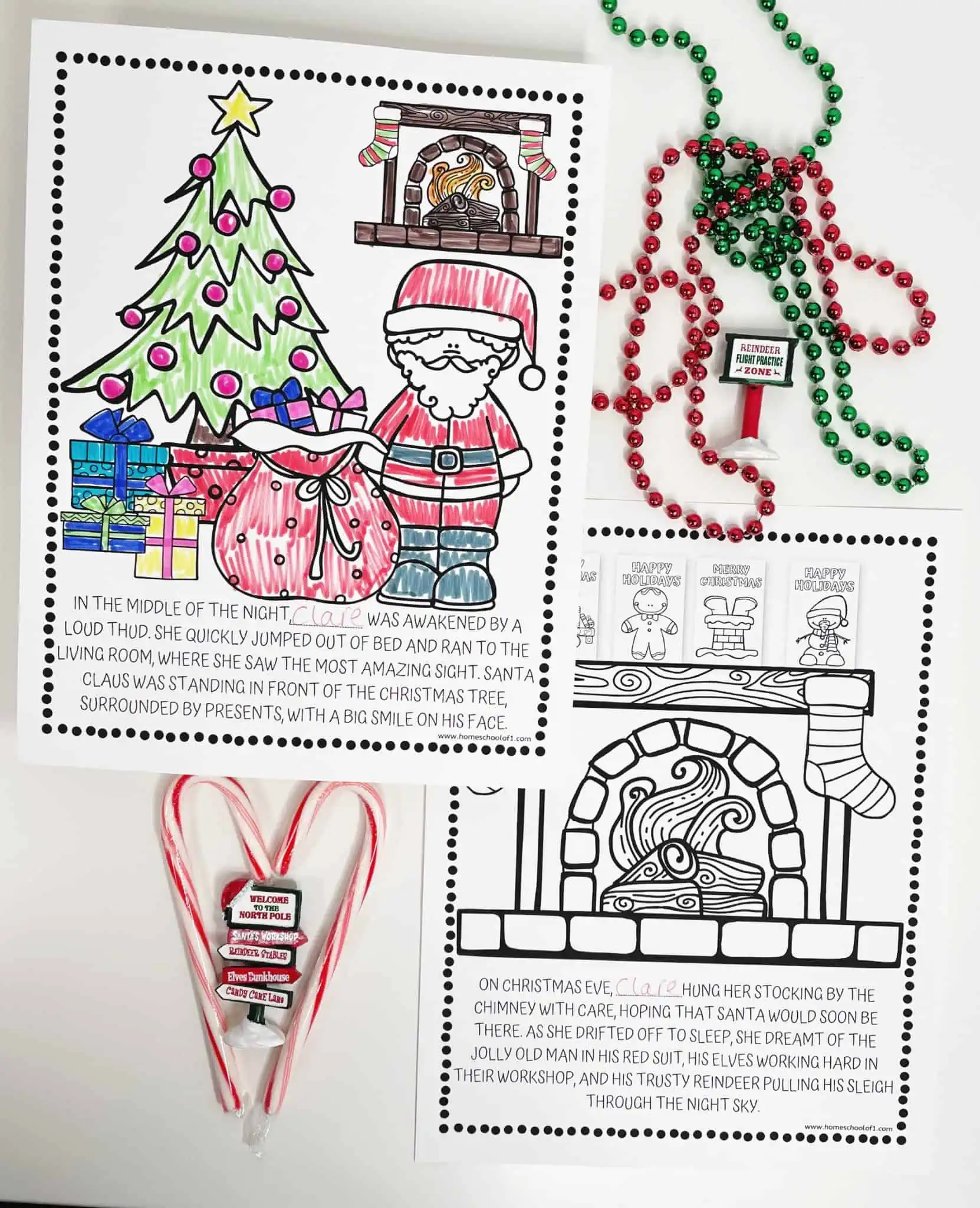 As Santa departs, she drifts back to sleep, excited for next Christmas.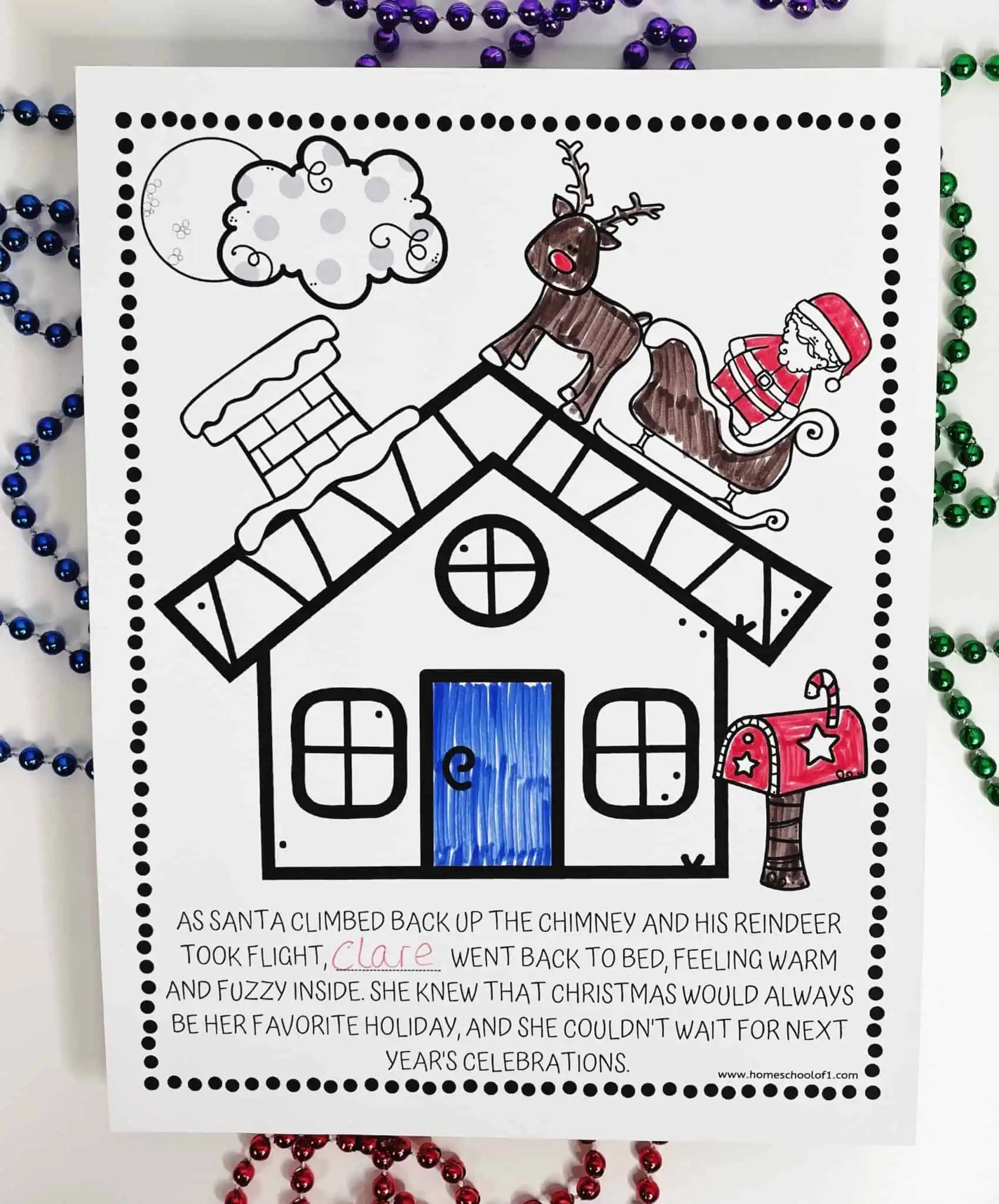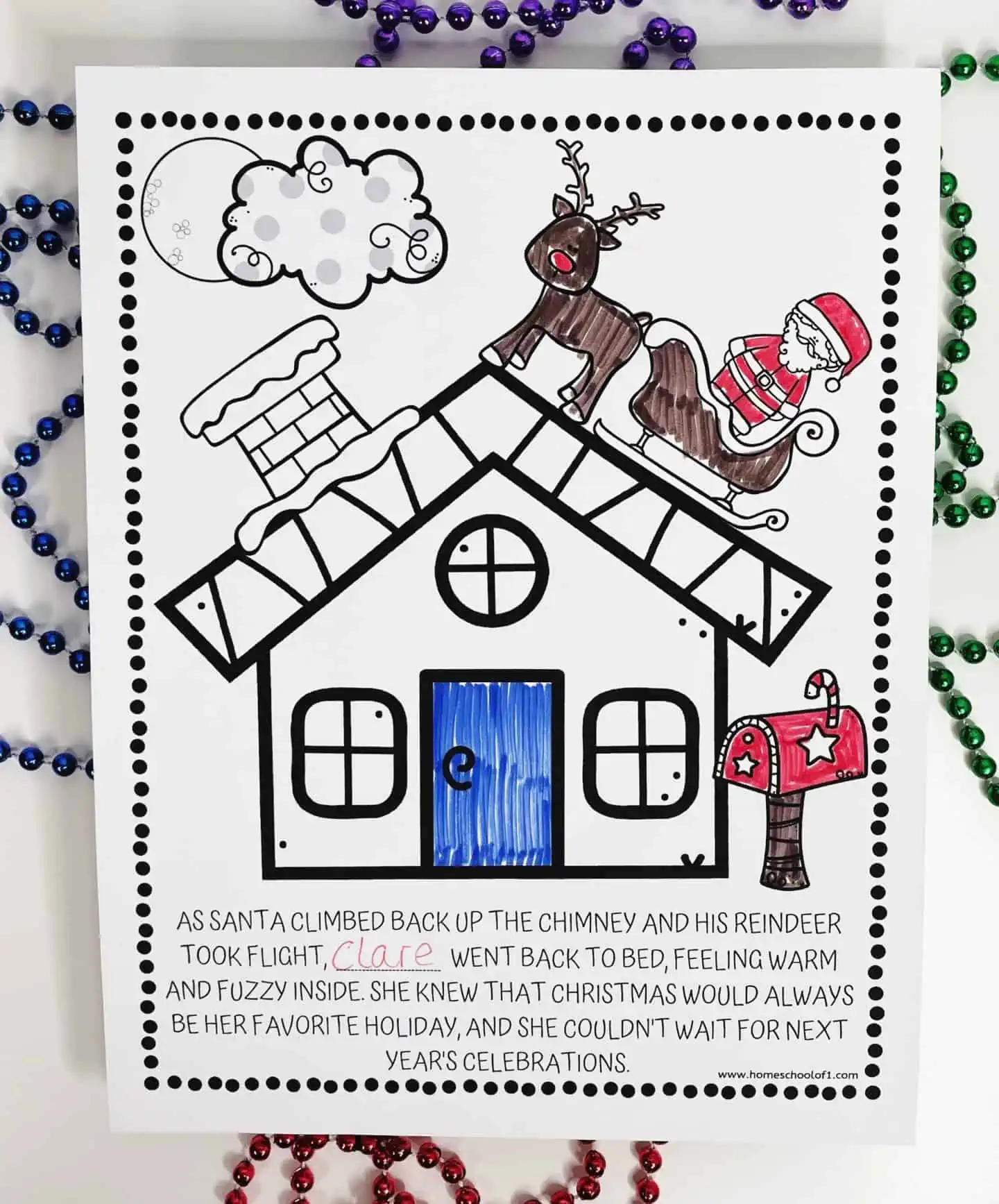 How to assemble the Christmas coloring pages into a book
Once you have printed out the pages and the children have added their names and colored in all of the pictures it is time to turn it into a book.
There are 5 coloring pages to include and there are a number of ways you can assemble them:
You can use a stapler and simply attach them together
You can use a hole punch in the top left-hand corner and tie them together with some Christmas ribbon.
Add the pages to a protector sheet and add them to their school work.
Other free Christmas coloring activities:
For even more free Christmas coloring printables you are going to love these:
Download the free printable Christmas coloring book
Make sure you choose the correct paper size and click on the shrink to fit button. All of our free printables for kids work better when printed on cardstock (this is the one we use and love.)
Last Updated on 5 September 2023 by homeschoolof1