Best Christmas Treasure Hunt Clues For Kids (Free Printable)
These printable Christmas treasure hunt clues are the perfect way to start the festivities this year.
Let the excitement build as the kids search high and low for hidden clues and spread the joy of Christmas activities for kids.
Simply print out the Christmas scavenger hunt clues, and hide them throughout your house.
Then let your loved ones follow the clues to a gift or surprise at the end! Scavenger hunts should not just be for the Easter Bunny, why not enjoy this at Christmas time too.
I mean who wouldn't love a Christmas present scavenger hunt from Santa or the Elf on the Shelf?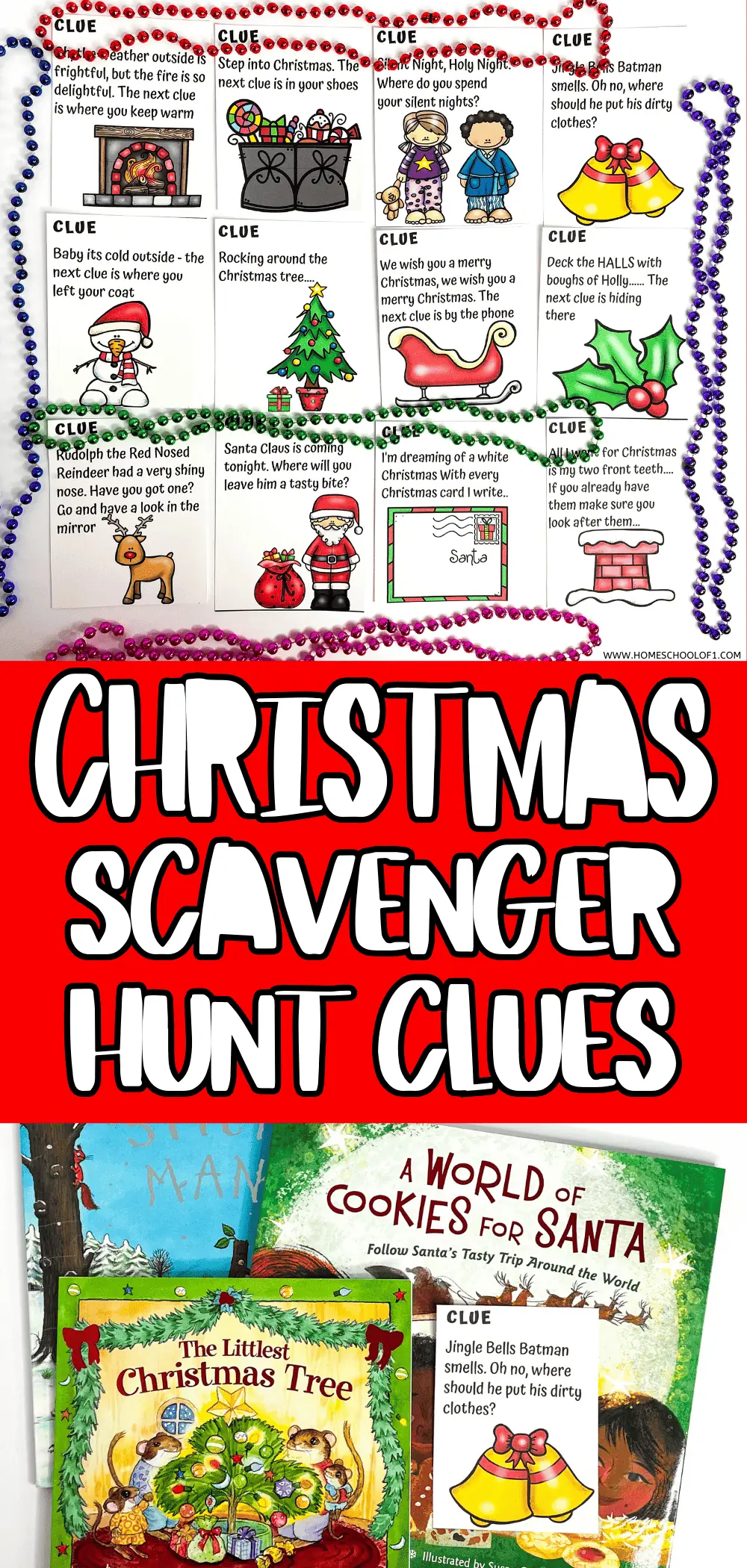 **There may be affiliate links in this post. You can read my full disclosure at the bottom of the page.**
Christmas Holiday Scavenger Hunt
These free Christmas scavenger hunt riddles are free to print but are for personal use only. Scroll to the bottom of the page to get the pdf file.
These 12 scavenger hunt clues are all inspired by the most popular Christmas songs. So as you or your kids are reading them out I hope you have a little sing-song too!!
If you prefer to buy a scavenger hunt though these two are the best Christmas ones we have seen:
Outset Media Christmas Scavenger Hunt Game (Amazon Exclusive) – Contains 220 Cards – Christmas Themed Party Game for 2 or More Players Ages 6 and up
EASY-TO-PLAY: Pick your partner or team, deal out ten cards to each team and get hunting. This holiday themed scavenger hunt game features cards with objects that can be found around the house at Christmas time. It's that simple.
FAMILY FAVORITE: Christmas Scavenger Hunt is a great game for kids and adults. It puts everyone in the Christmas spirit the minute the box is opened. Make this game a family tradition every holiday season!
INSIDE OR OUTSIDE: Our game includes an INDOOR deck for scavenger hunts inside the house and an OUTDOOR deck for a scavenger hunt through the yard or the entire neighborhood.
HOLIDAY FUN: Be the first to spot a Santa, find a glitter-covered object, or touch an angel. Simple fun, Christmas Scavenger Hunt will fill your holiday with action and laughter!
INCLUDES: 220 cards and instructions
Sale
Outset Media Christmas Scavenger Hunt Game – Includes 220 Cards with Holiday Themed Objects Found Both Inside and Outside The Home (Ages 6+)
PLAY INDOOR OR OUTDOOR: Game includes an indoor deck and an outdoor deck of hunting cards.
EASY TO PLAY: Game includes 220 cards featuring items that players actively seek. Simply deal out some cards to each player and get hunting. It's that simple!
TEAM OR INDIVIDUAL PLAYERS: Play individually or you can divide up into teams for more a collaborative atmosphere.
GREAT FAMILY FUN: Fill your holiday celebrations with action and laughter! For 2 or more players ages 6 and up.
DEVELOPS GROSS MOTOR SKILLS: Kids will run around the entire house or neighborhood searching for festive objects.
You will also enjoy the free Elf on the Shelf scavenger hunt clues
Christmas Scavenger Hunt Clues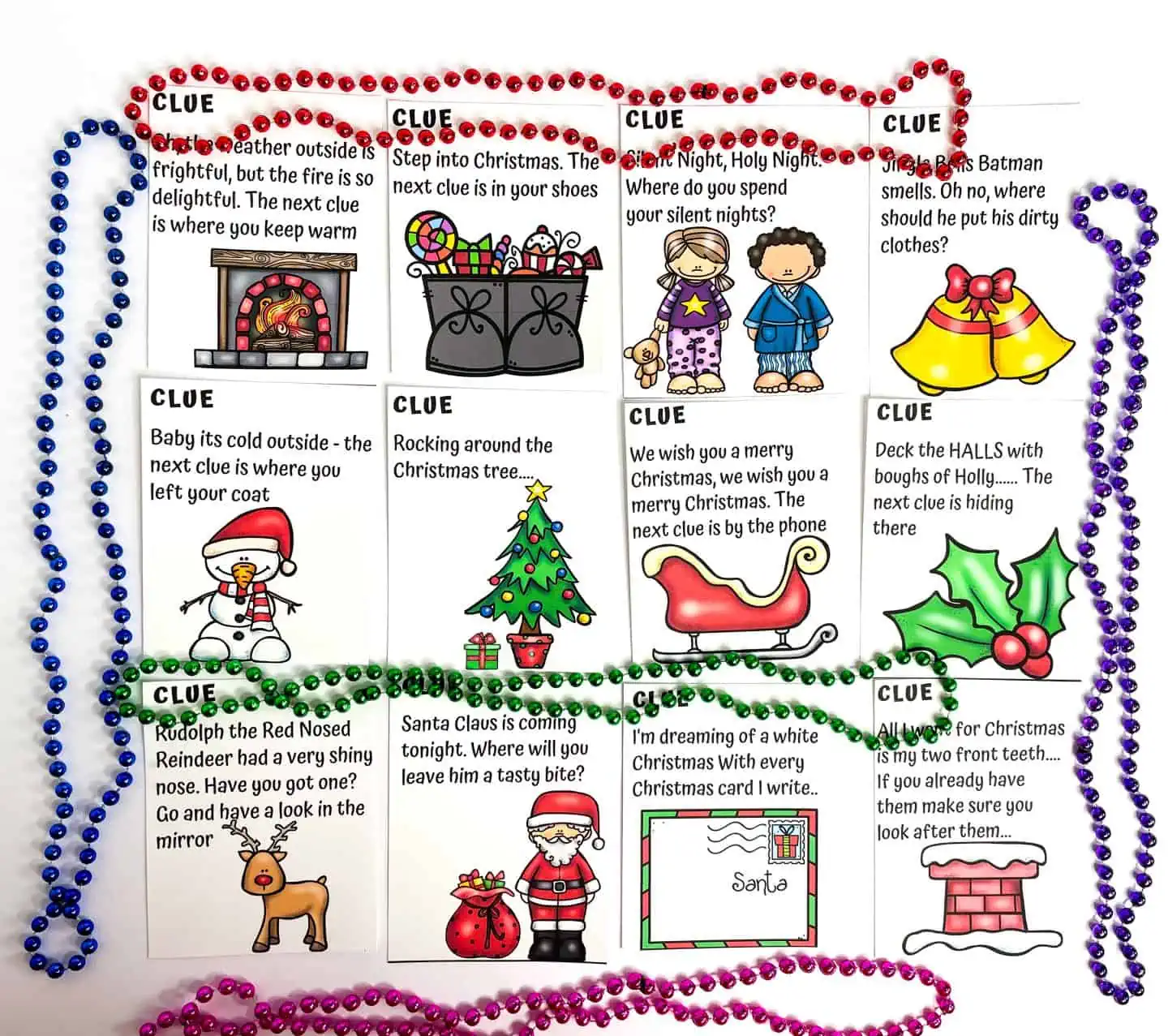 All 12 of these riddles are indoor, and they will work in any home.
Santa Claus is coming tonight. Where will you leave him a tasty bite? (leave your clue where you will leave Santa's treat)
All I want for Christmas is my two front teeth….. If you already have them make sure you look after them… (where the children brush their teeth)
I'm dreaming of a white Christmas, with every Christmas card I write (where the children do their school work, or where they have seen you write cards)
Oh, the weather outside is frightful, but the fire is so delightful. The next clue is where you keep warm (either by a fire if you have one, or a heater)
Jingle Bells, Batman smells. Oh no, where should he put his dirty clothes? (in a hamper, or washing machine)
Silent Night, Holy Night. Where do you spend your silent nights? (Child's bed)
Baby, it's cold outside – your next clue is where you left your coat (in their coat pocket)
Step into Christmas, the next clue is in your shoes (in their shoes)
Deck the halls with boughs of holly, the next clue is hiding there (either under the rug in the hall, or anywhere near there)
Rocking around the Christmas tree…. (hiding in the Christmas tree)
Rudolph the Rednose Reindeer had a very shiny nose. Have you got one? Go and have a look in a mirror (any bathroom mirror)
We wish you a merry Christmas, we wish you a merry Christmas, the next clue is by the phone (next to mommy's cell phone, or home phone if you still have one!)
Have fun with our Santa scavenger hunt printable too!
How to set up the Christmas scavenger hunt?
Setting up the gift scavenger hunt is easy. Just follow the instructions below for a quick setup!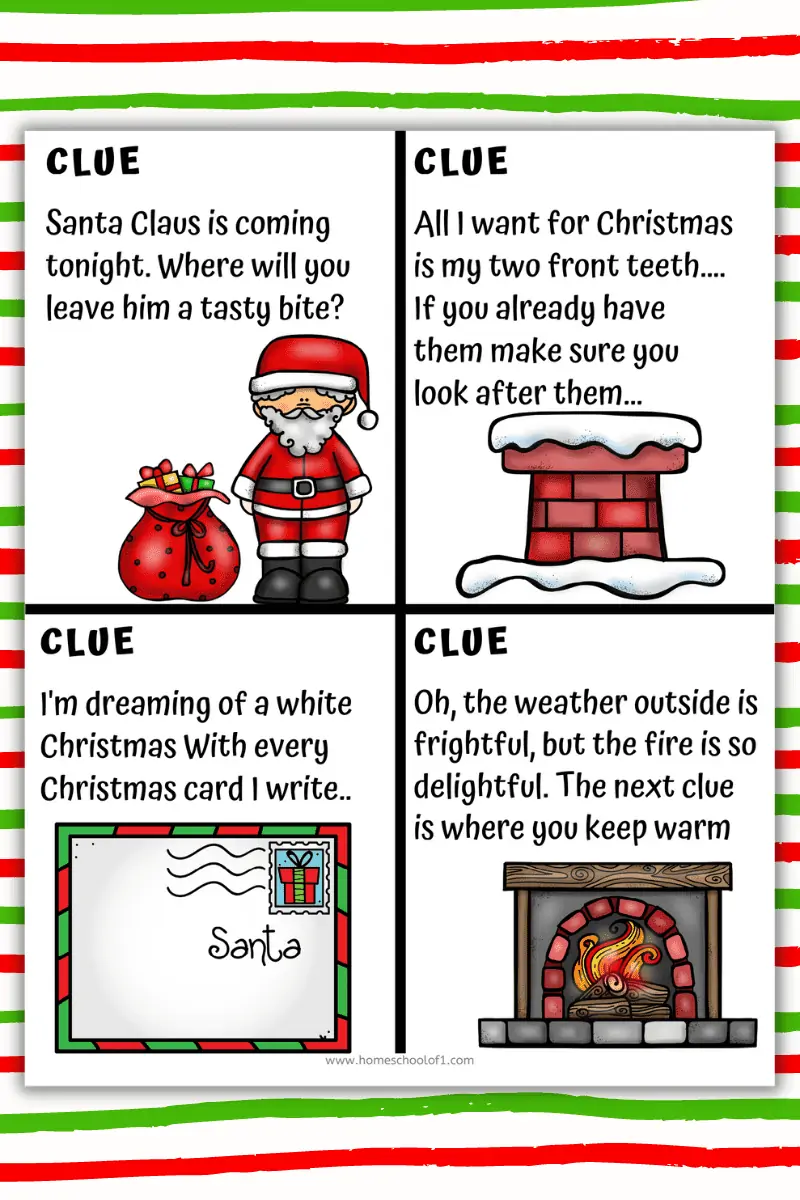 Print out the scavenger hunt clues (get the free printables below), I recommend printing on cardstock (this is the card stock we use) to make the cards a bit more durable, and then you can keep them for years to come. Although they work just as well on paper.
Cut out the clues. I purposely didn't number them so you can do what is best for your house.
Get a sheet of paper and answer the clues from the 12 scavenger hunt clues. Then organize it so that the clues are all in different rooms. Write the number on the back of each clue so you don't get confused when you are hiding the clues.
Hide all of the clues, and remember to put a gift or a treat after the last clue.
Older kids will enjoy the free Christmas photo scavenger hunt.
How the Kids Christmas Treasure Hunt Works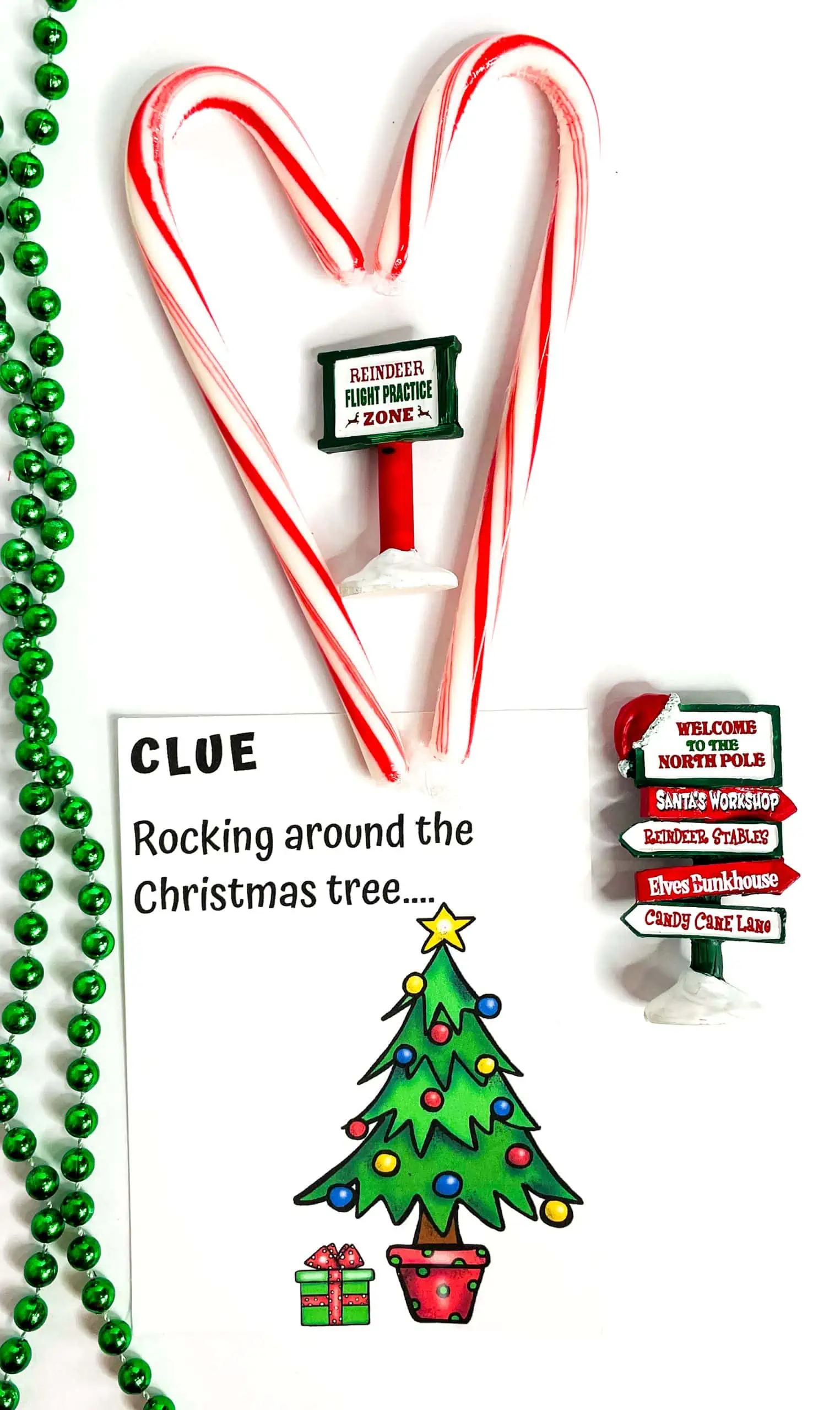 Now that the scavenger hunt clues have been set up, completing the scavenger hunt is even easier!
Simply give the first treasure hunt clue card to the children and let them follow the clues to the end.
If you are doing this with multiple children, there are two fun ways you can do it:
Split them into teams, and the first team goes but makes sure once the clues have been read they put them back where they found them. (It is always best to check afterward though) And you time to see which team completed it first.
All the kids go around together and they take it in turns to work out where the next clue is.
Tips for downloading the free files
Below you will see a large sign-up box where you need to add your name and email address, and press I NEED THIS NOW!
Within minutes you will be sent the free PDF directly to your email address, so you can print it out and start using it immediately.
Sometimes emails get a little wonky, so if you can't see it, please check your spam folder where I am sure it is hiding.
Download the free Christmas scavenger hunt printable
If you are treasure hunt mad, why not download some of these other Christmas treasure hunt clues? These are also to print out, so no need to wait for delivery.
Make sure you choose the correct paper size and click on the shrink to fit button. All of our free printables for kids work better when printed on cardstock (this is the one we use and love.)
Other scavenger hunt ideas:
These are some of the other free scavenger hunt printables we have created:
If you have older children what about these escape room puzzle ideas!
Last Updated on 25 November 2023 by homeschoolof1