FREE Christmas Word Search Printable for Older Kids
Kids and adults are going to love our free Christmas word search printable.
Get ready for some festive fun with a Christmas word search puzzle. A fantastic addition to the collection of Christmas activities for kids. Let them sharpen their vocabulary skills while immersing themselves in the holiday spirit.
These Christmas word search puzzle printables are so much fun. We found lots of younger kids' activities for Christmas, but not so many for older kids.
There are 16 fun festive vocabulary words to find relating to Christmas. This is a great way to practice spelling and strengthen vocabulary.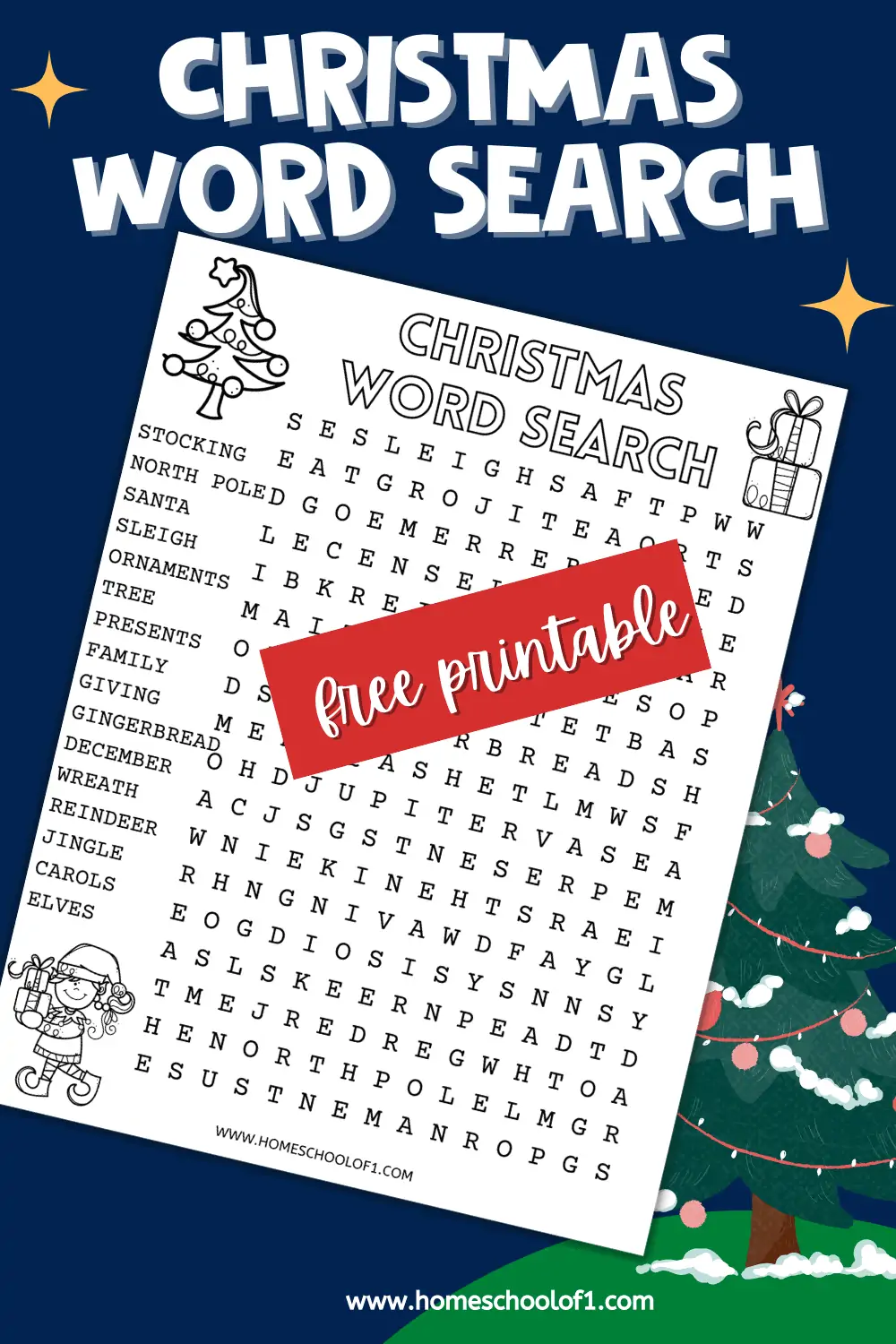 **There may be affiliate links in this post. You can read my full disclosure at the bottom of the page.**
Word Search Puzzle for Christmas
Word search printables are an excellent activity for when the kids just need a break. They are educational, but more importantly, they are fun.
This Christmas word search is free to print but is for personal and classroom use only. Scroll to the bottom of the post and add your email address to get the pdf file.
As we are competitive, we print out a copy of the Christmas word search for each of us and see who can get all of them done first.
As it's Christmas, the winner will receive a small present. I mean nothing big, but maybe a chocolate coin!
We like to put the Christmas tree lights on, play some Christmas tunes and grab the word search.
Depending on where you are in the world, Christmas time is often cold, wet, and snowy. So put your pj's on and sit around the fire, with this free Christmas word search, it will certainly put you in the Christmassy mood!
Have fun with our free Christmas word scramble printable too!
Printable Christmas Word Search Answers
The Christmas words are horizontal, diagonal, vertical, frontwards, and even backward to make it even harder!
Tip: I recommend either using a highlighter pen or circling around the letters. Do not cross the letters out if you have found a word, as it may be used in another word!
There are 16 hidden words to find:
The answer sheet is included in the download.
If you are doing this with younger kids they will love our handprint Christmas tree template.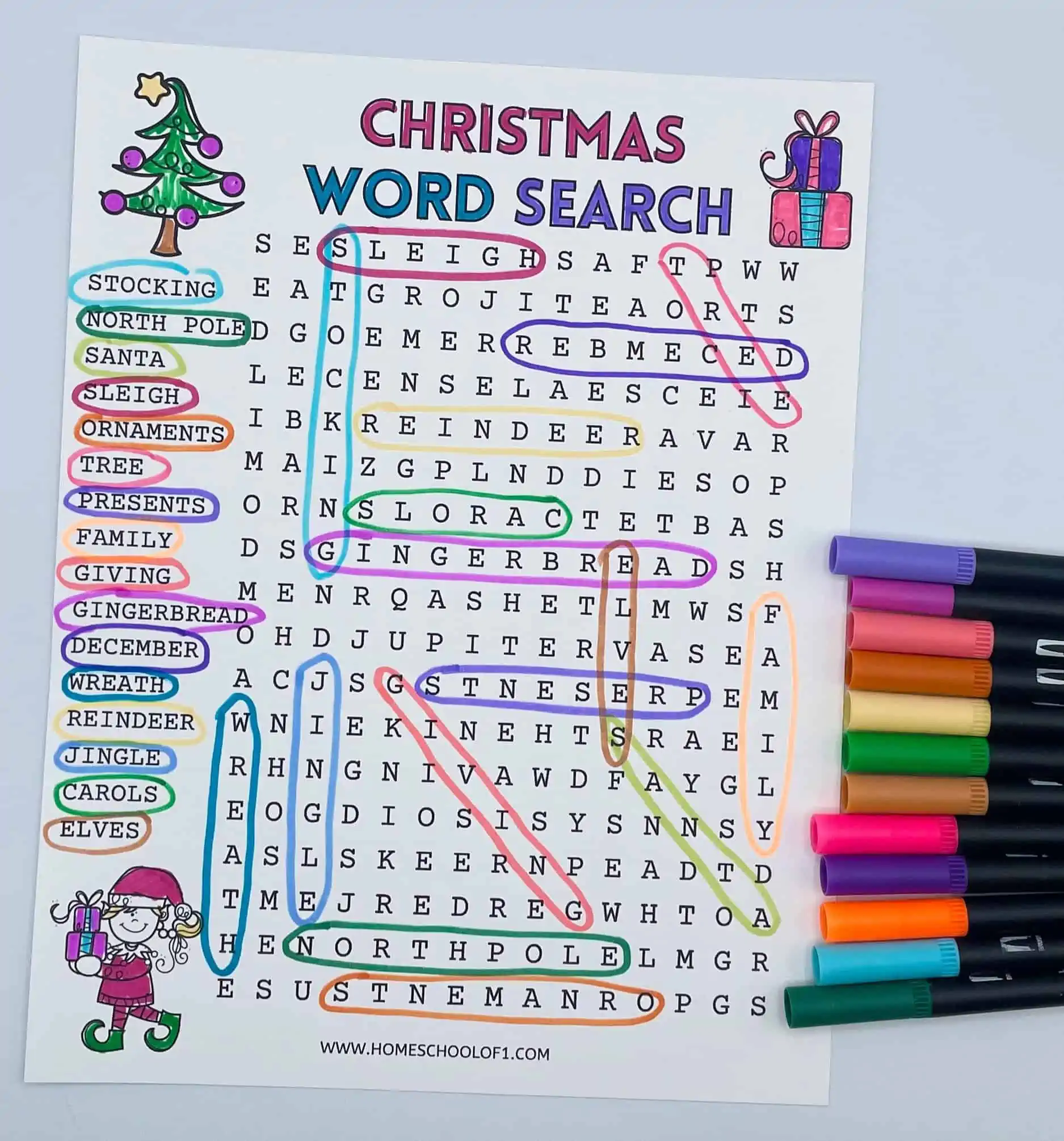 Christmas word search books
Discover the joy of solving Christmas word searches with our engaging printable. And extend the holiday fun with a wide array of captivating word search books. Perfect for stocking stuffers!
Our favorites include the Christmas Word Search Puzzle Book brimming with festive-themed puzzles and Brain Games Christmas Word Search offering challenging variations, there's something for everyone to enjoy.
Delve into the nostalgic world of holiday movies with All Time Favorite Christmas Movies Word Search. It's a delightful blend of entertainment and brain-teasing puzzles, featuring beloved film titles and characters. Making it an ideal choice for movie enthusiasts and puzzle aficionados alike.
These word search books are not just entertaining; they also promote mental agility, vocabulary enhancement, and relaxation. They provide an excellent opportunity for quiet moments during the bustling holiday season, allowing individuals to unwind and immerse themselves in the festive spirit.
Check out all of our free printable Christmas word games.
Christmas activities for kids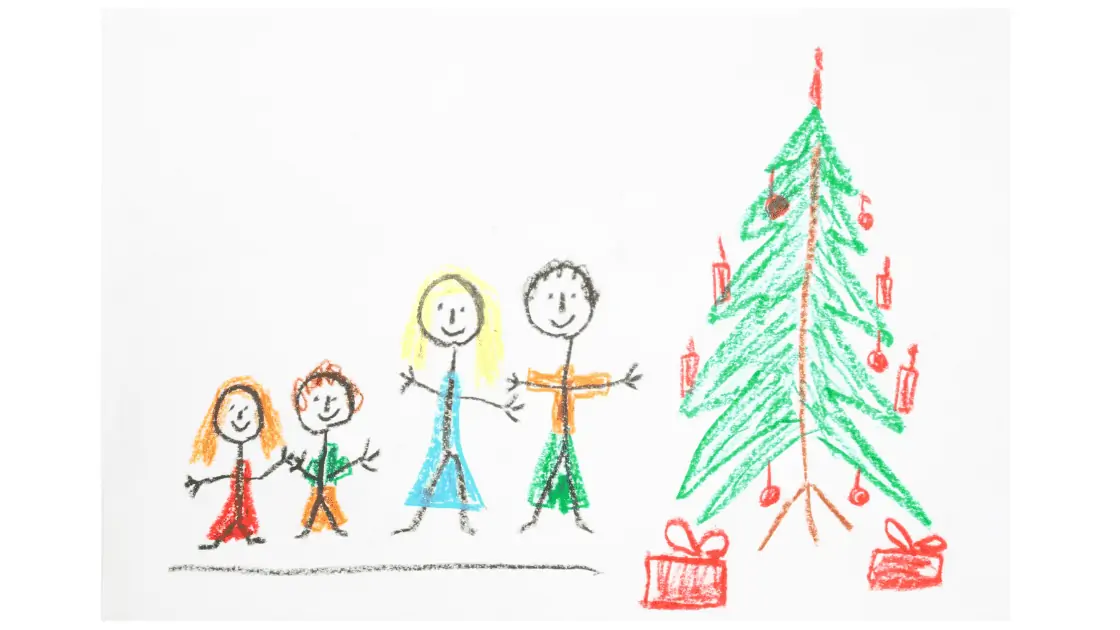 Enrich the holiday learning experience with our educational Christmas activities, tailored for classroom lessons or homeschooling sessions. These engaging activities blend the joy of the season with valuable educational elements, ensuring an entertaining and enriching experience for children.
Add excitement to the season with a thrilling Christmas treasure hunt featuring clever rhyming clues. Transform your indoor space into an adventurous scavenger hunt zone, promising loads of fun for participants of all ages.
Encourage creative expression and writing skills with our downloadable Christmas writing prompts. Made specifically for elementary and middle school-aged students. These prompts inspire imaginative storytelling and reflective essays centered around the holiday season.
Elevate the magic of the Elf on the Shelf tradition with our free printable Elf on the Shelf scavenger hunt clues. Hide these clues strategically around your home, providing a fun and memorable experience for children during this festive time.
Tips for downloading the free files
Below you will see a large sign-up box where you need to add your name and email address, and press I NEED THIS NOW!
Within minutes you will be sent the free PDF directly to your email address, so you can print it out and start using it immediately.
Sometimes emails get a little wonky, so if you can't see it, please check your spam folder where I am sure it is hiding.
Download the free holiday word search printable
Make sure you choose the correct paper size and click on the shrink to fit button. All of our free printables for kids work better when printed on cardstock (this is the one we use and love.)
Other free word searches
Last Updated on 25 November 2023 by homeschoolof1