Free Unicorn Memory Game Printable
Are you looking for fun, yet free games? If so, you are going to love our free unicorn memory game printable.
Printable memory games are great for preschoolers and younger kids, but I must admit I love them too. They are such a simple game, and the first ever game my son won. Really won, not when I let him!
Kids' memories are generally better than ours and the excitement they get when they beat you is adorable.
There are 12 different unicorn-themed images to print out, and you can design the back however you want.
There are unicorns in Easter baskets, unicorns holding umbrellas, unicorns gardening, rainbows, hearts, and so much more.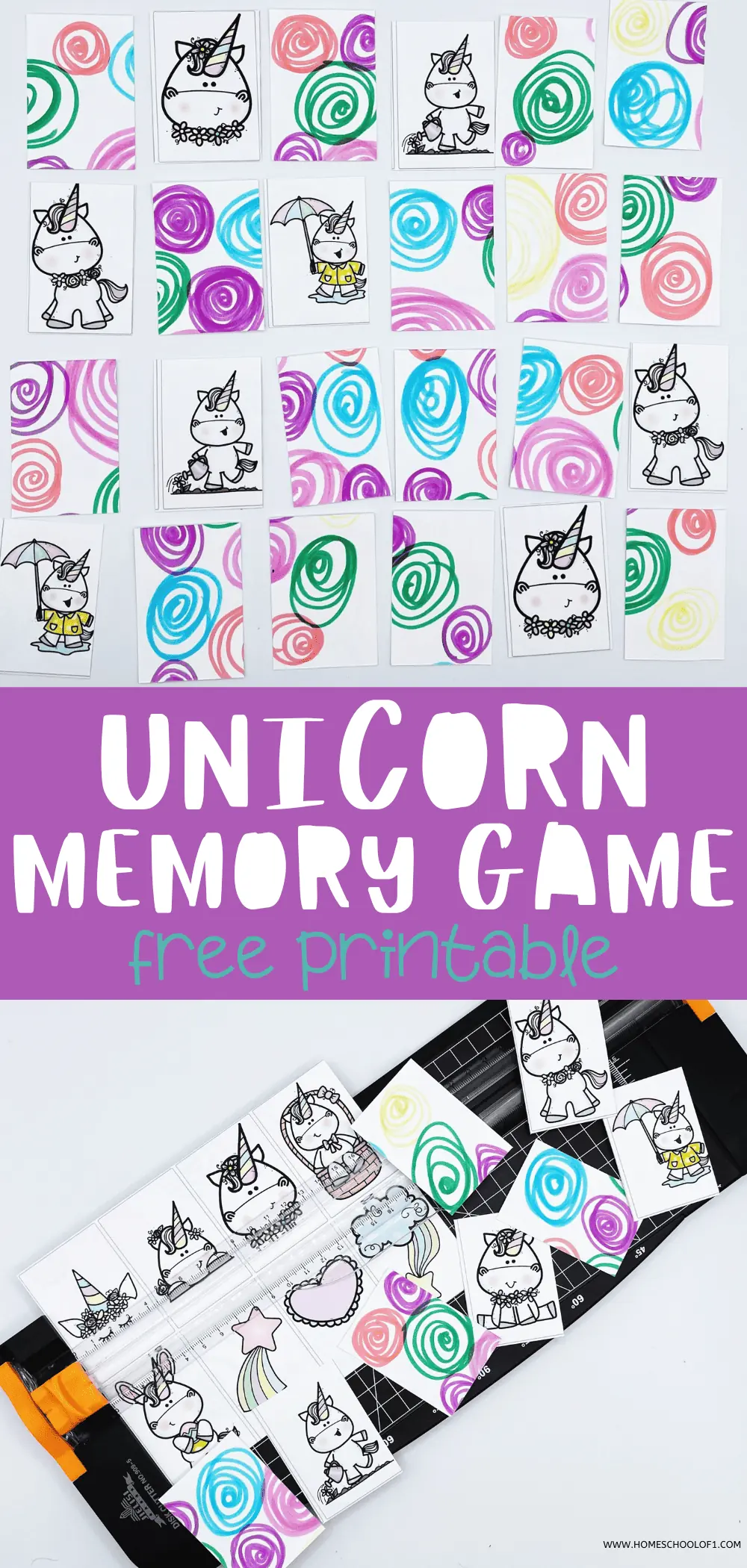 **There may be affiliate links in this post. You can read my full disclosure at the bottom of the page.**
How to make the unicorn memory game
This free printable unicorn-inspired matching game is super easy to play. It also makes a great addition to any party!
Supplies needed to play the unicorn matching game
Hasbro Gaming Hungry Hippos Unicorn Edition Board/Pre-School Game for Kids Ages 4 and Up; for 2 to 4 Players
MONOPOLY Junior: Unicorn Edition Board Game for 2-4 Players, Magical-Themed Indoor Game for Kids Ages 5 and Up (Amazon Exclusive)
ORCHARD TOYS Moose Games Rainbow Unicorns Game. Race Your Unicorns Over The Rainbow to a Pot of Gold in This Magical, Fun Color-Matching Game! Ages 3+ for 2-4 Players
Unstable Unicorns Unstable Games for Kids Edition Base Game – A Strategic Card Game for Kids!
Hasbro Gaming Pretty Princess Unicorn Edition Board Game, Includes 20 Pieces (Amazon Exclusive)
Skillmatics Educational Toy – I Can Write Unicorn Edition, Perfect Preschool & Kindergarten Learning Activity for Kids, Toddlers, Supplies for School/Classroom, Gifts for Girls & Boys Ages 3, 4, 5, 6
How to set up the unicorn printable?
Download the unicorn memory game below. There is 1 page included with 12 different images on and it will print out in portrait. Make sure to check the printer settings.
This free printable unicorn game is free to print but is for personal or classroom use only. Scroll to the bottom of the page to get the pdf file.
You will need to print the page twice, so you can match the images.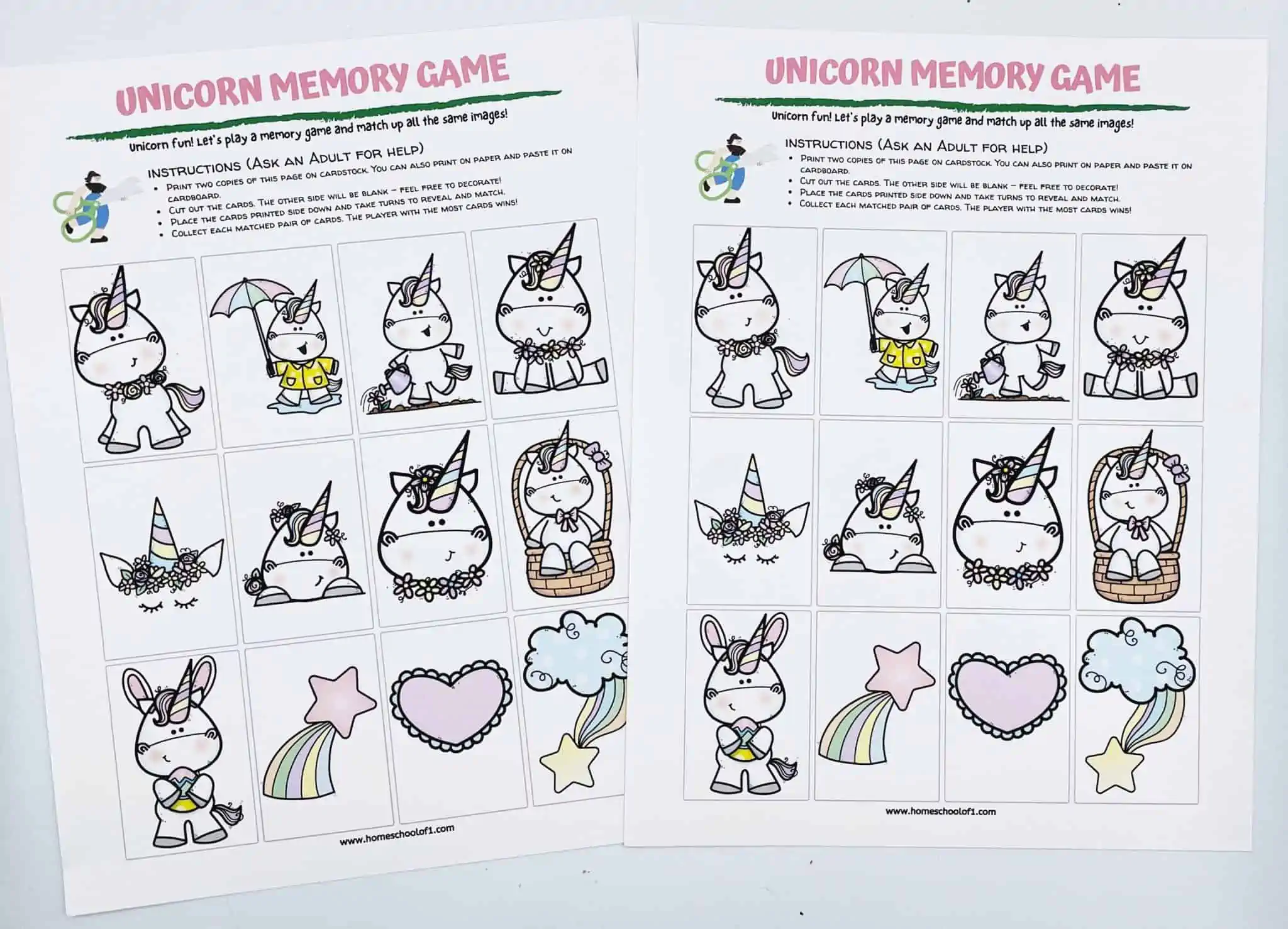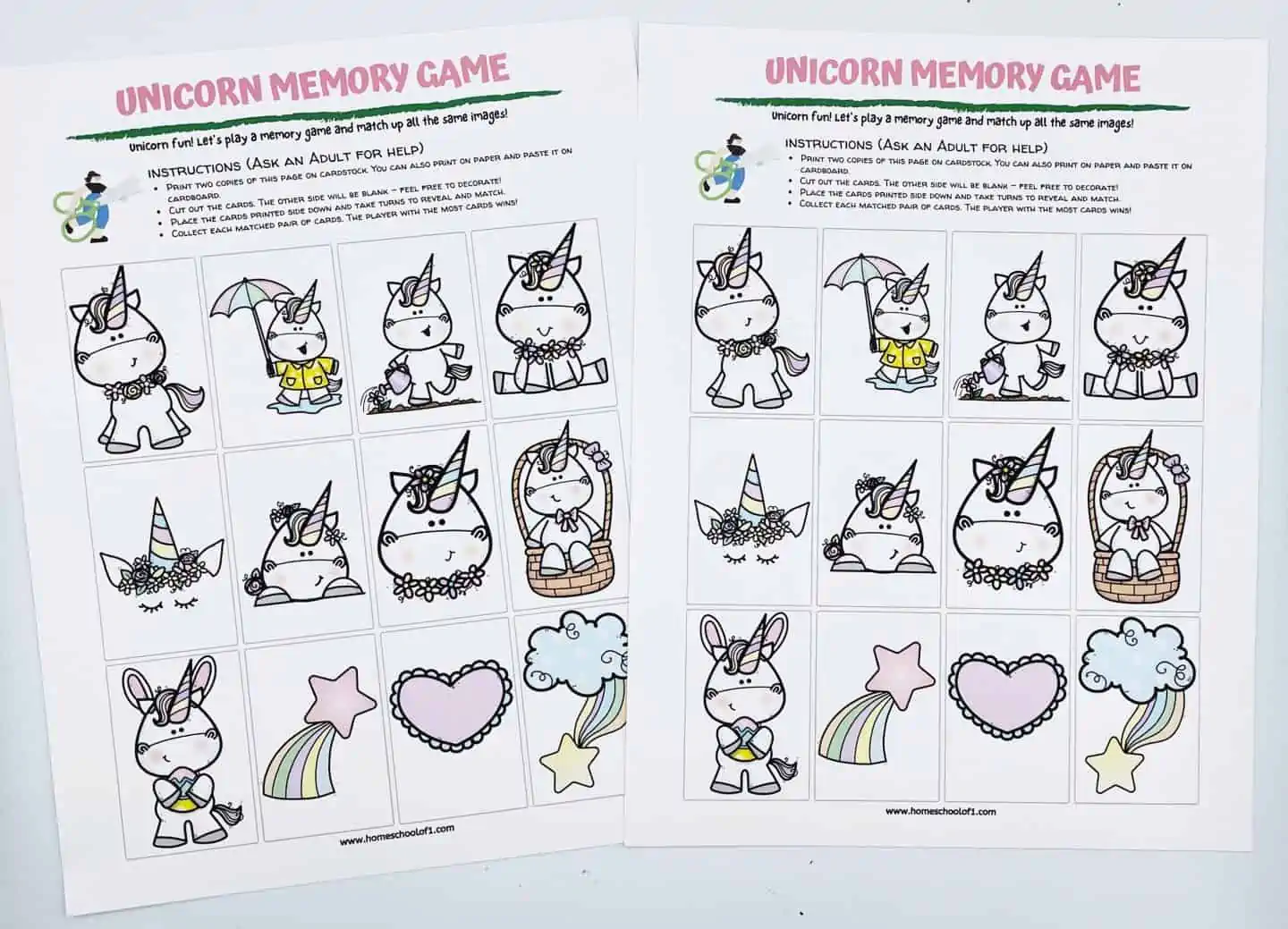 We like to decorate the back of the images.
Cut around the border at the edge so you are just left with the 12 images. Then grab your coloring pens (these are the ones we love and use all the time) and have fun.
If you are using copy paper I recommend using pencils or crayons or the pens will bleed through to the front.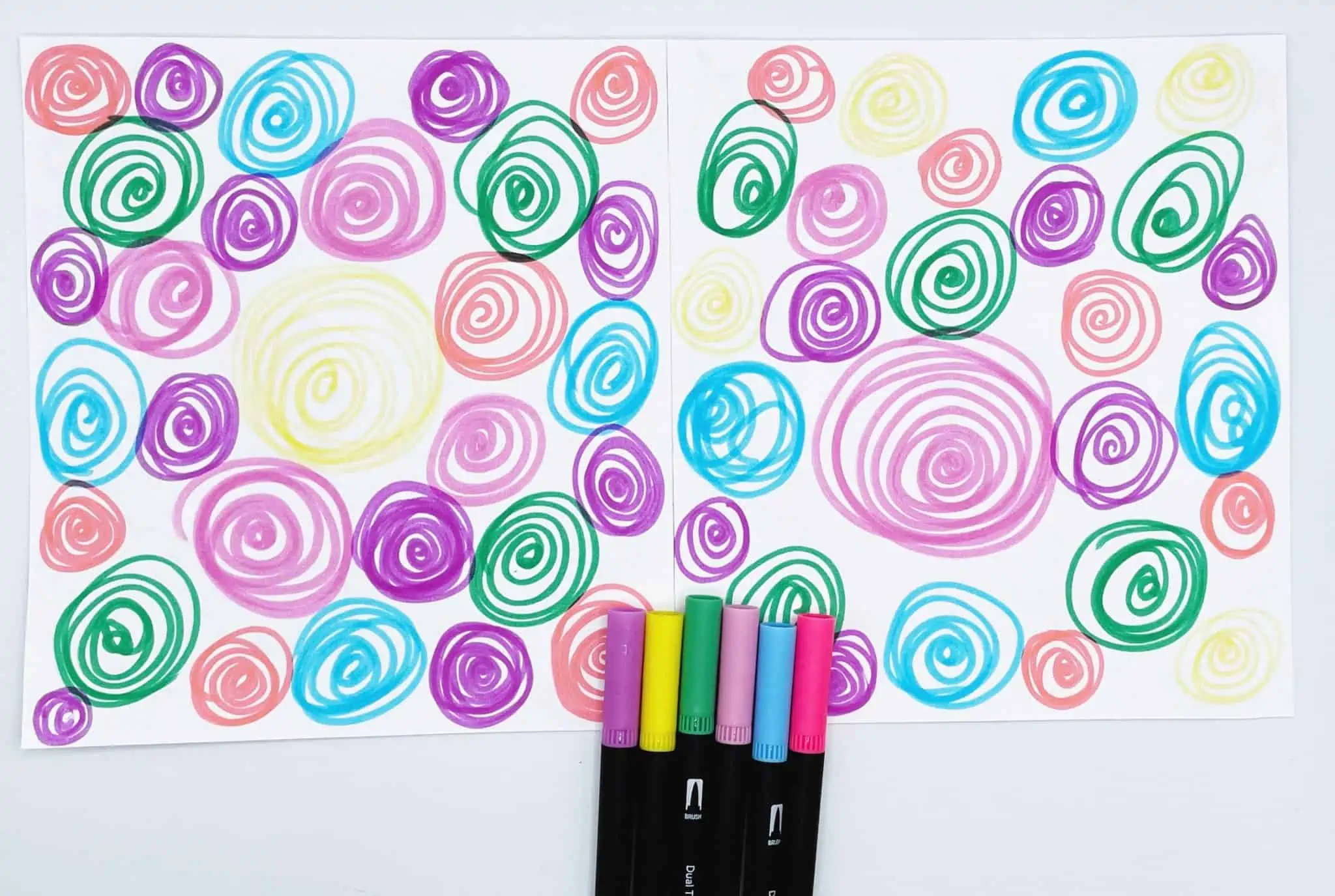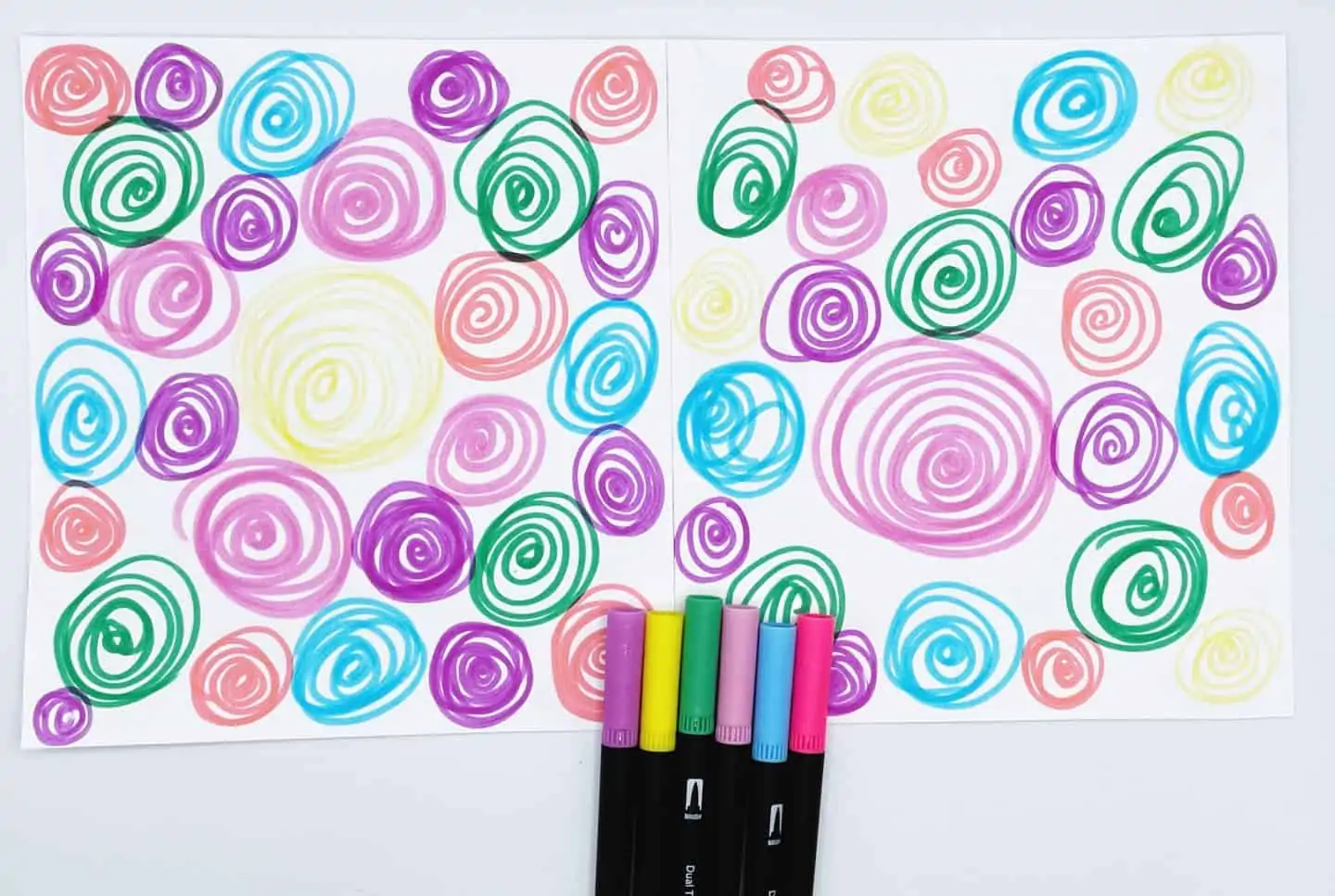 If you want to play this game regularly or you want to play with multiple children now is the time to grab your laminator. It will help keep the cards stronger and more durable, perfect for rainy days.
When you have printed the 2 pages you will need to cut out all of the different images.
I prefer to use a paper cutter as it's easier, quicker, and more accurate, but scissors will work too.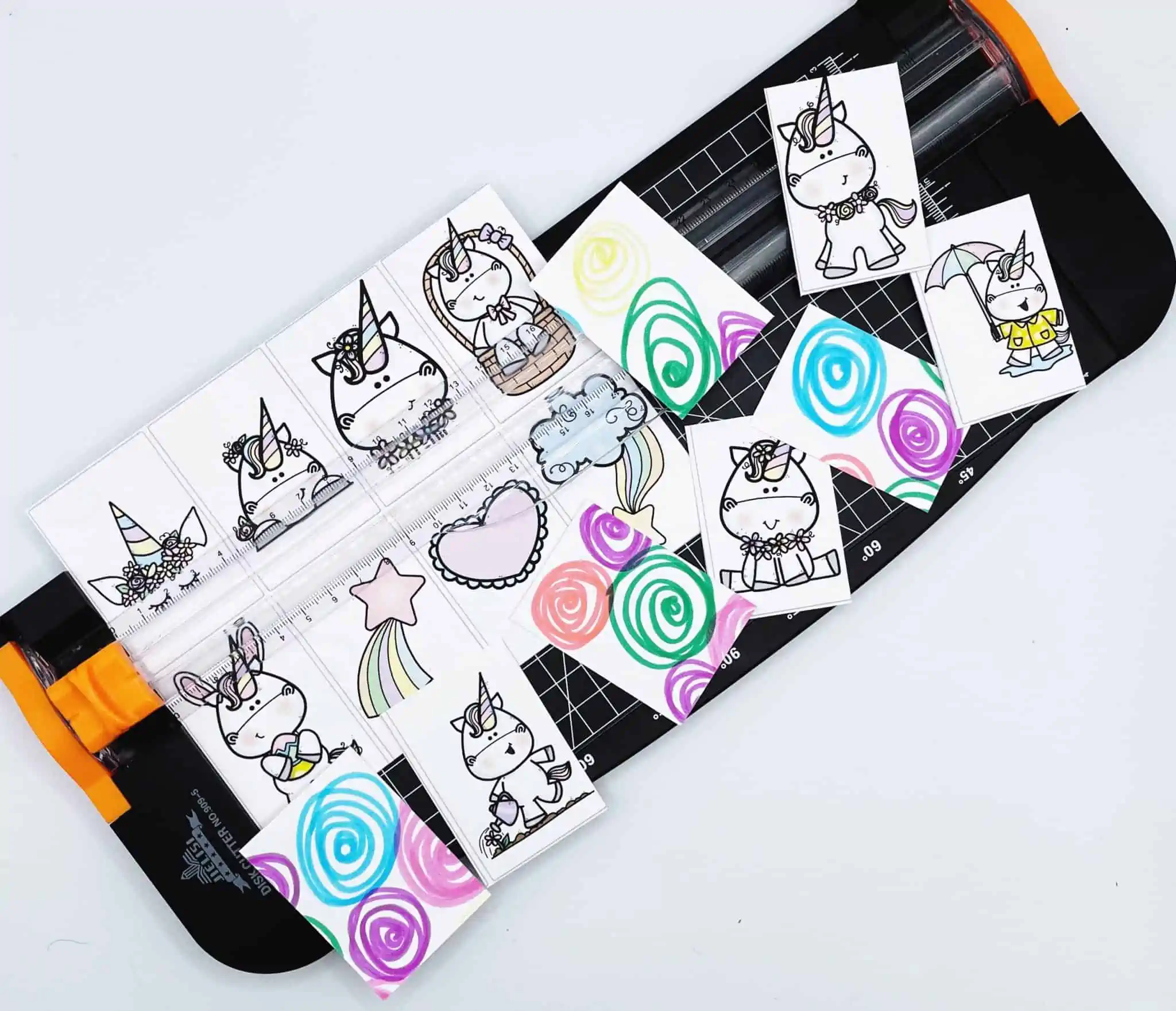 The kids are also going to love creating and playing with a unicorn sensory bottle.
How to play the unicorn matching game
Now you will have two sets of 12, a total of 24 unicorns.
Shuffle the cards up and lay them on the table face down in rows to make it easier. Or just randomly on the table for older kids.
If you are placing them in rows I find 6 rows with 4 images each works best.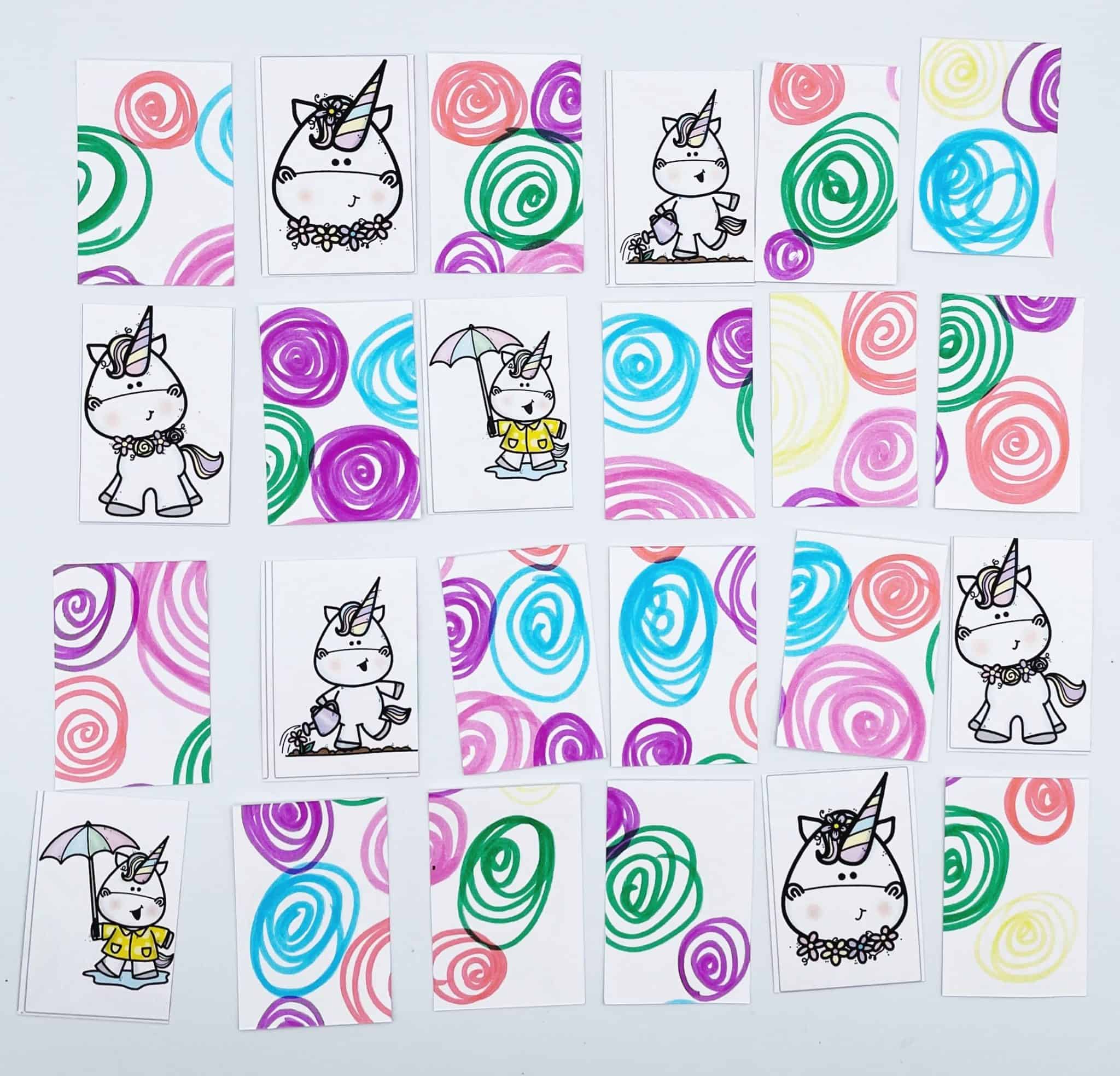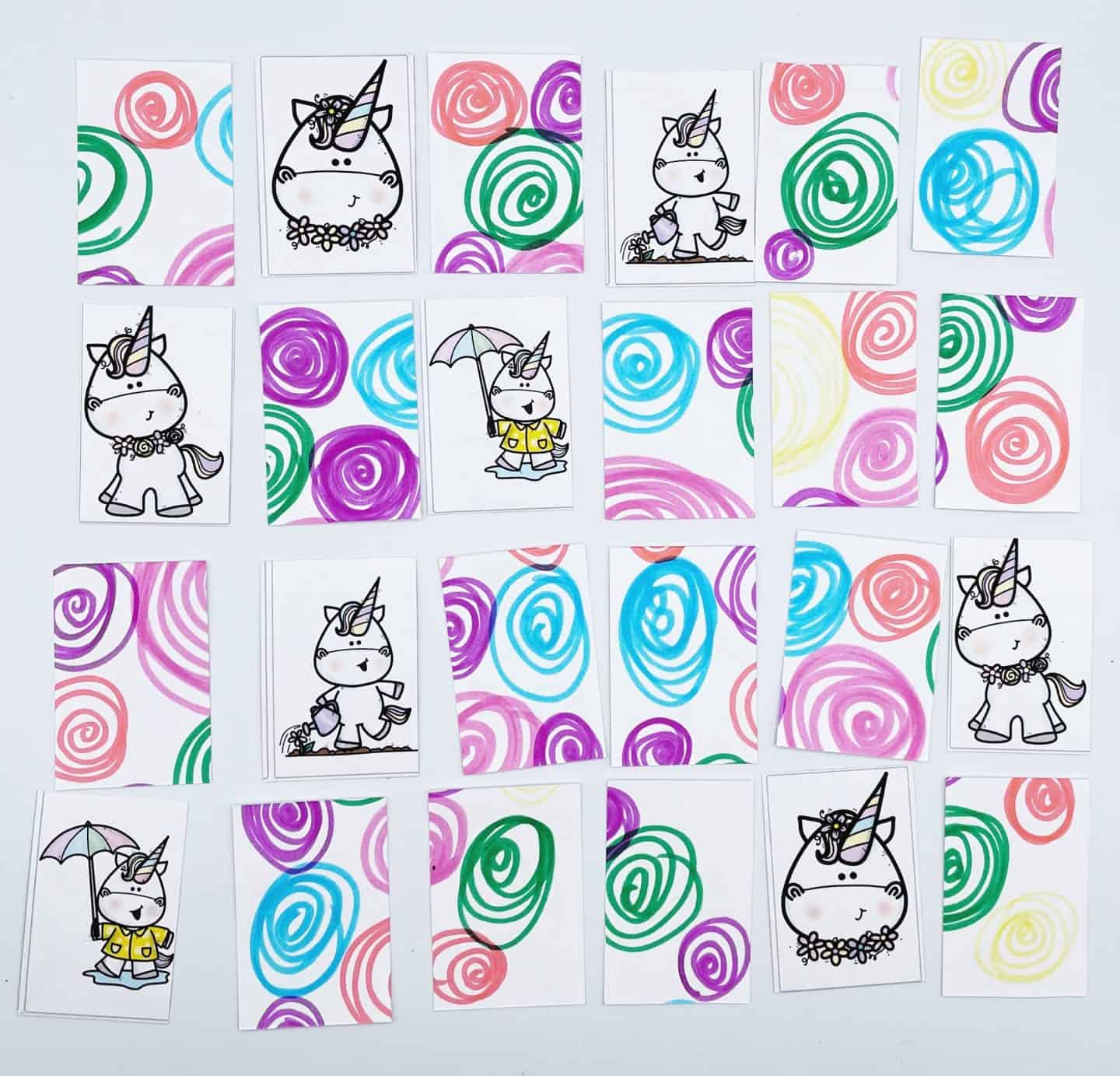 Playing the game is simple.
Take it, in turn, to turn over only 2 images.
If it is a match you can either remove them from the game and place them in front of you or leave them turned over face up.
If the unicorn images do not match just flip them back over and carry on playing.
The winner is the person who creates the most matches.
Celebrate their winning with a super cute unicorn sticker.
For unicorn lover's we also love this Candy Land Unicorn edition board game.
Can I incorporate memory games into the classroom?
Absolutely, we love to play games in our homeschool, and school is no different.
This unicorn matching game can be used when learning about the alphabet. U is for unicorns, so this is a great activity for the letter U.
What are the educational benefits of playing memory games?
There are many educational benefits of playing memory games including:
Matching games are great for improving memory skills
They help improve concentration
Great for pattern recognition
Identifying similarities and differences between the images
Help with fast thinking and improved focus
Books about unicorns for preschoolers
These enchanting unicorn books for preschoolers introduce young readers to the magical world of unicorns. Offering delightful stories and colorful illustrations that spark their imaginations and encourage a love for storytelling and mythical creatures.
How to Catch a Unicorn
Princess Naomi Helps a Unicorn: A Dance-It-Out Creative Movement Story for Young Movers (Dance-It-Out! Creative Movement Stories for Young Movers)
Never Let a Unicorn Wear a Tutu!
Fairy the Farting Unicorn : A Funny Kid's Book About a Unicorn Who Farts (Farting Adventures 10)
Unicorn Night
Unicorn Day: A Magical Kindness Book for Children
Never Let A Unicorn Wear A Tutu is a whimsical children's book that explores the hilariously imaginative consequences of letting a unicorn indulge in wearing a tutu. Reminding readers of the importance of embracing individuality.
Unicorn Day is a delightful story that follows a group of unicorns as they embark on a quest to celebrate Unicorn Day and spread joy. Highlighting themes of friendship, creativity, and the magic of unicorns.
How to Catch a Unicorn offers young readers a fun and imaginative adventure as they discover the clever and humorous tactics used to try and catch a unicorn in this engaging picture book.
Tips for downloading the free files
Below you will see a large sign-up box where you need to add your name and email address, and press I NEED THIS NOW!
Within minutes you will be sent the free PDF directly to your email address, so you can print it out and start using it immediately.
Sometimes emails get a little wonky, so if you can't see it, please check your spam folder where I am sure it is hiding.
Download the free memory game printable for unicorn lovers
Make sure you choose the correct paper size and click on the shrink to fit button. All of our free printables for kids work better when printed on cardstock (this is the one we use and love.)
Other free unicorn printables
Are you looking for even more unicorn-themed printables? You will love these free printables:
Last Updated on 29 October 2023 by homeschoolof1