50 States Unit Study for Your Homeschool
Learning about America can be overwhelming. There is so much land to cover, but when you break it down by state and tackle it in smaller chunks, it is much easier. Finding a 50 states unit study is the answer.
With 3,796,742 sq mi (9,833,520 km2) to cover, and a staggering 334,233,854 people. Finding a United States unit study is the best way to learn.
Learn all about the history of your state, plus everything you need to know about it with Sonlight.
This unit study is featured in our homeschool curriculum reviews along with 75 other resources we recommend.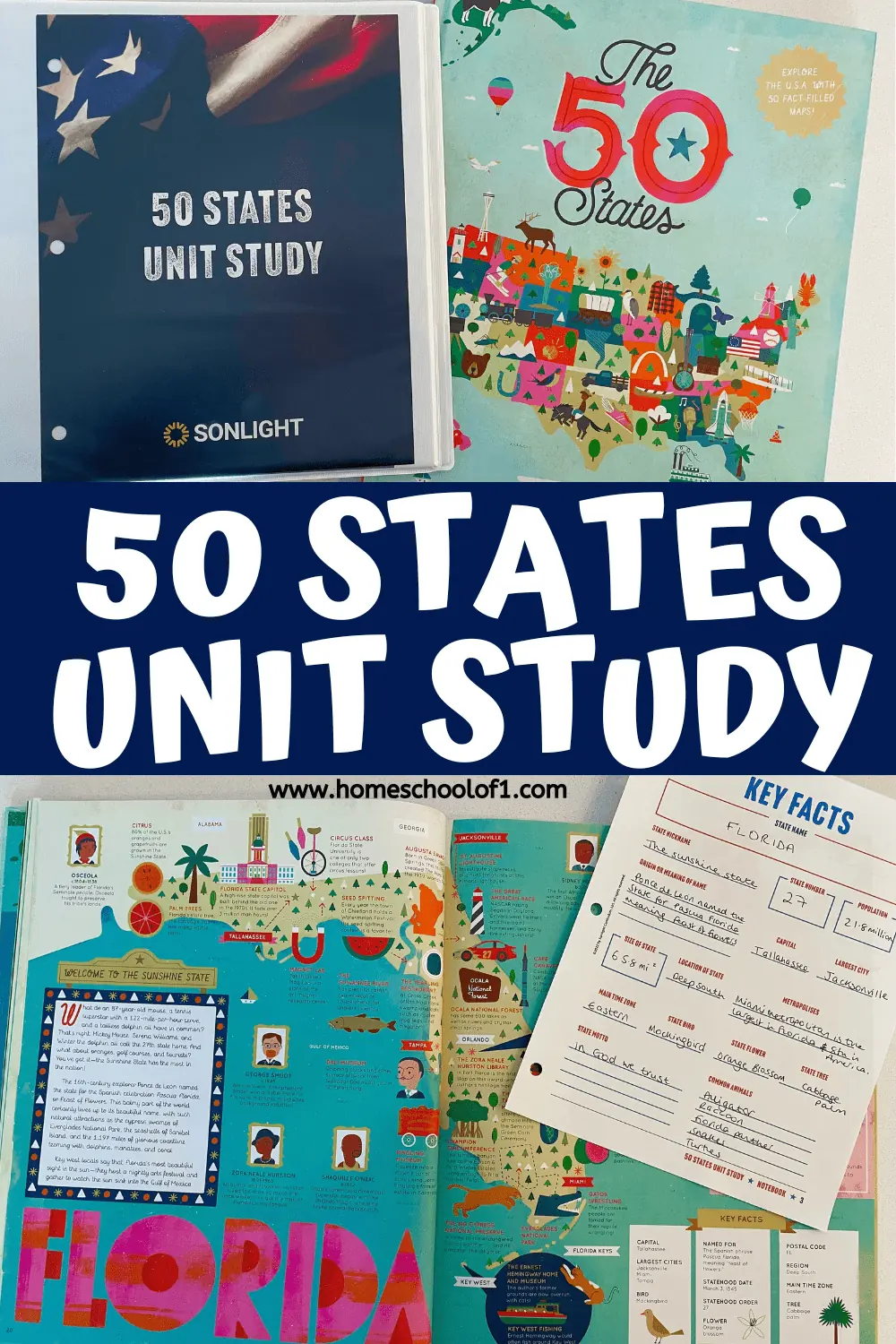 **Disclosure: I was compensated for my time to write this post. As always, all thoughts and opinions are my own. I only share resources that I would use with my own family and those that I believe other homeschool families will enjoy. There may be affiliate links in this post.**
Why use a Unit Study?
Using a unit study for learning geography is in my opinion the only way to study it.
Children learn better with hands-on experiences, rather than just reading about it in boring textbooks. They should be able to see firsthand what their amazing State has to offer.
Another reason unit studies work well for homeschoolers is that you can easily adapt them for different-aged children.
How to learn about the 50 States of America?
Finding a way how to remember the States is crucial. There is no point in just reading a book or 2 about your home State.
You need to go out and explore.
Even though we homeschool we try and follow the State's guidelines for lessons taught.
We are in Florida so we don't have to, but I know some states have state-mandated subjects. Check your state requirements today.
Typically state history is taught in grades 4 or 5 in public schools. Even if it is not a requirement, you should encourage your children to learn about their state's history.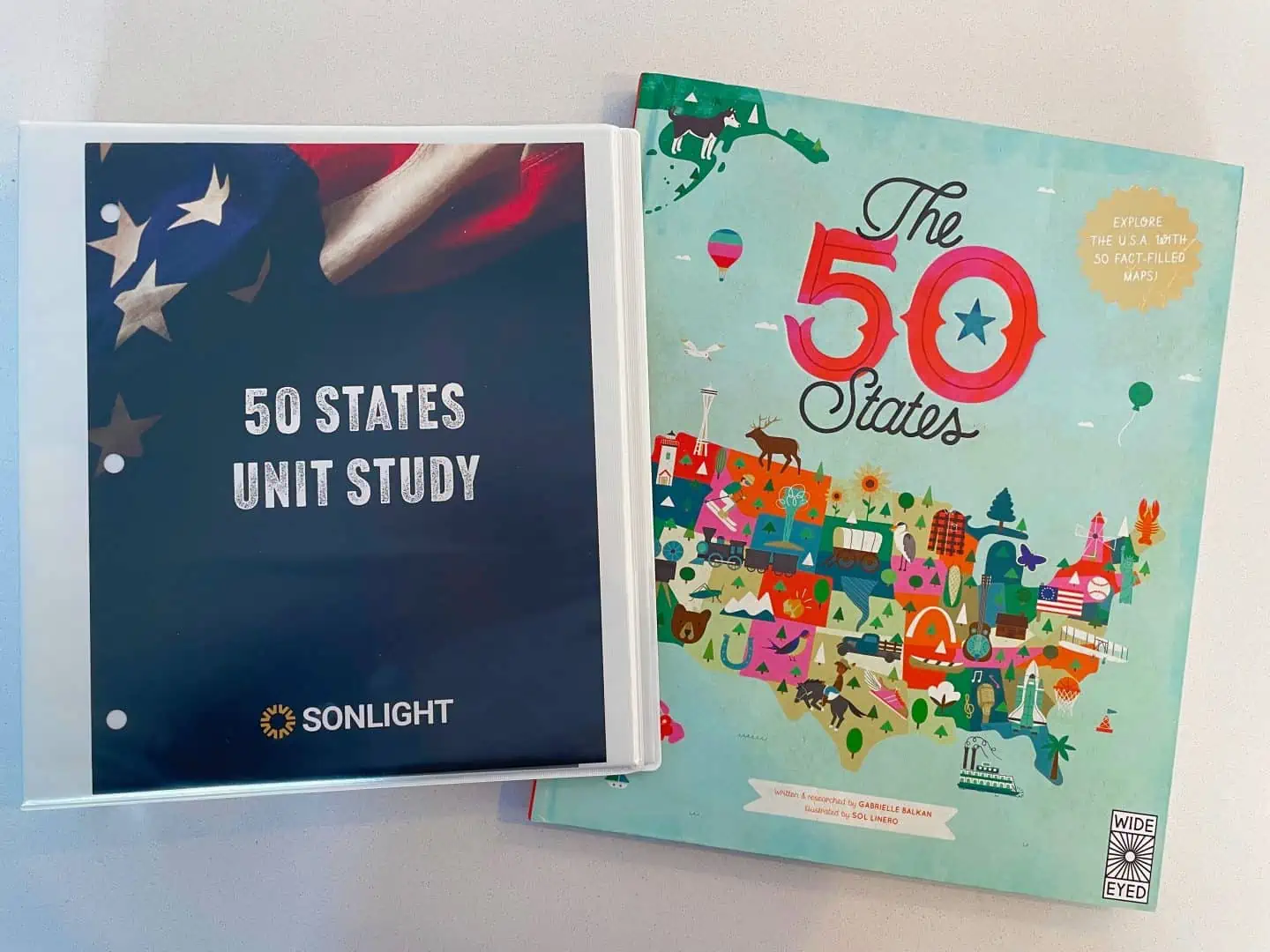 Important things to learn about your State
The top 12 important things you should know about your home state are:
Where it is on the map
What is the origin or meaning of the name?
What is the State capital?
What is the largest city?
What is the State motto?
What is the population?
What time zone is it?
How many people live in the State?
What does the State flag look like?
What are the State tree, bird, and symbol?
When did the State get added to statehood?
What indigenous people groups lived in your state, and what were the first European settlers?
The best way to learn it? You guessed it, with Sonlight's 50 States unit study!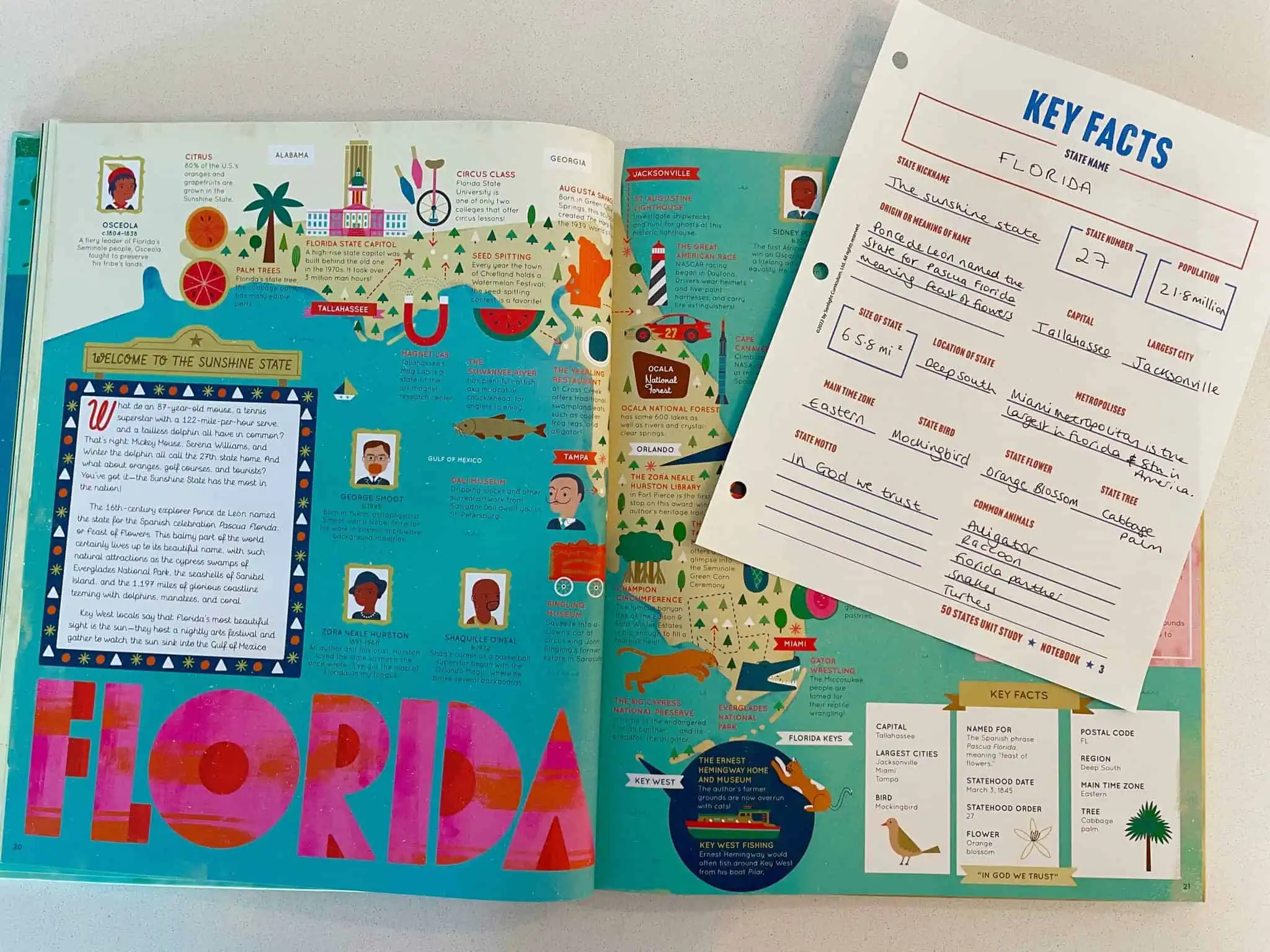 Sonlight's 50 States Unit Study
Learn all about your home state with this unit study. This is not state specific and can be used for any of the 50 States.
If you want to learn more states, you can photocopy the pages (just make sure you follow Sonlight's copyright rules before doing this.)
What is included?
Sonlight's 50 States unit study with 40 3-hole punched pages.
The 50 States Book can either be ordered with the 50 States unit study (or purchased separately) but it is required. It is a stunning book that we have been using for a while.
How long is the unit study?
It is a 36-week unit study to be used once a week.
What grades is it aimed at?
The Sonlight unit study is aimed at students in grades 2-6. But it can be adapted for younger or older students.
This unit study is great for multiple children of different ages.
Activities included:
The unit study includes:
Vocabulary development
Map work
Art projects
Research
Writing – a state book report, bibliography
Timeline creation
Field trips
State Travel Guide project
And much more!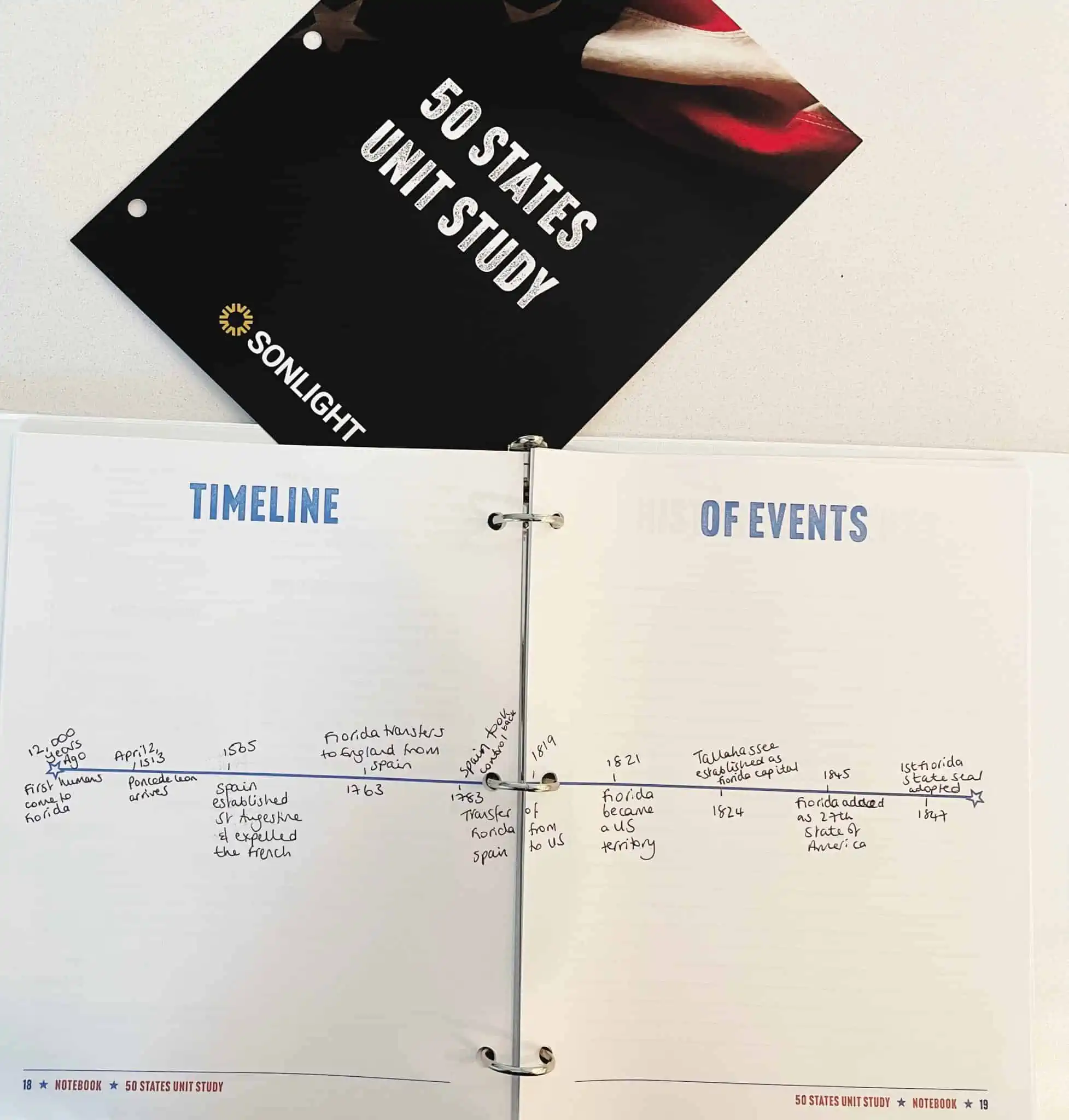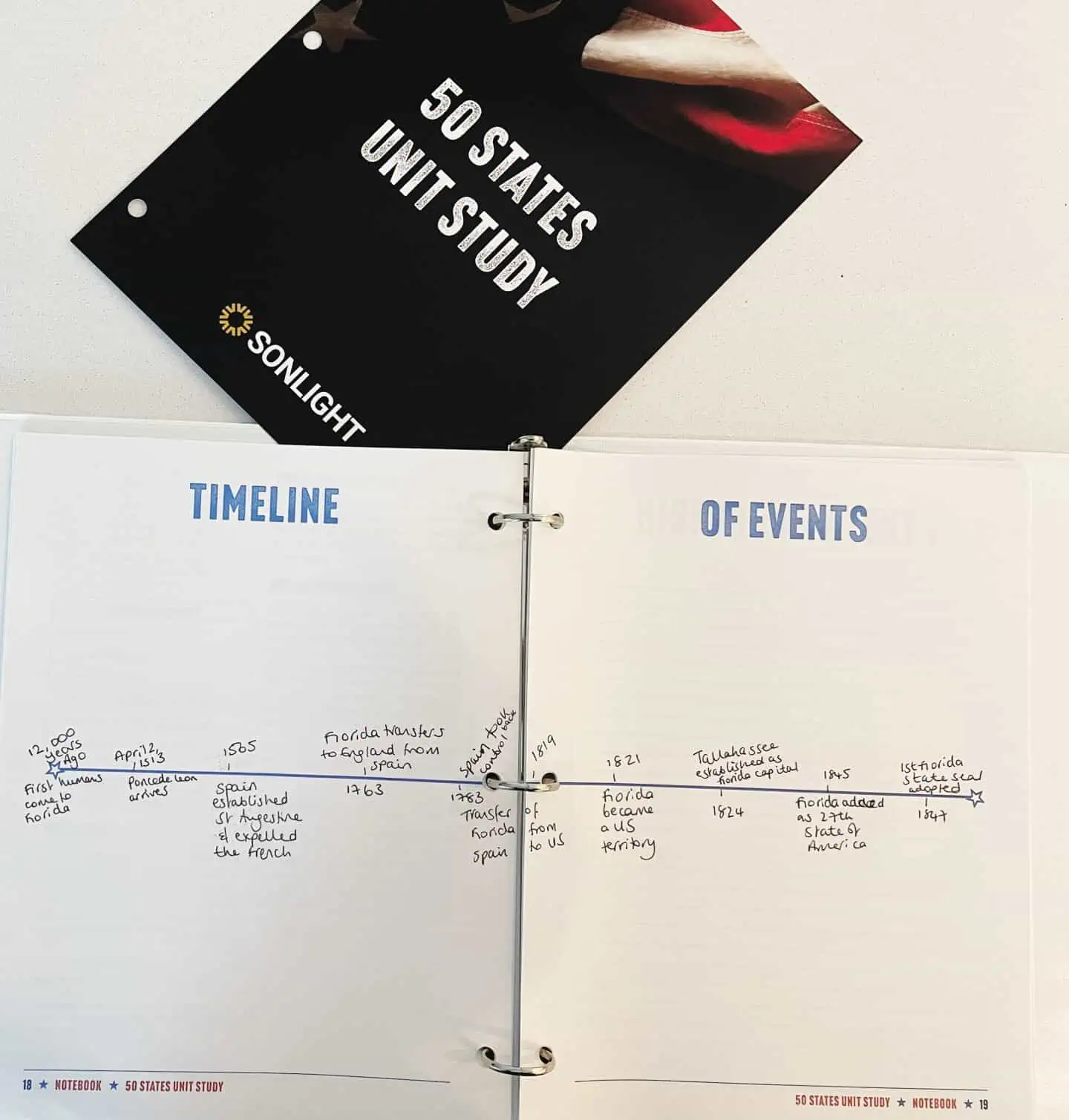 Why should you use Sonlight's 50 states unit study?
It has everything you need to learn all about the 50 States of America.
There is no preparation, so you can start as soon as you receive the worksheets.
Sonlight has included everything you need to do, in small manageable chunks.
How much does it cost?
The Sonlight unit study is so much cheaper than I was expecting, and it is totally worth it. The price is $44.99, which includes the required book.
You can order the unit study on its own if you already have the book for only $14.99!
Does Sonlight offer sales or discount codes?
Check out all of the sales and deals Sonlight is currently offering.
Review of Sonlight's 50 States Unit Study
As my son already uses Sonlight for his history homeschool curriculum we knew this unit study would be excellent, and it did not disappoint. You can read our Sonlight review here.
We have incorporated this State unit study into my son's homeschool history curriculum. As history is very literature heavy we add this unit study on a Wednesday to break up the history books.
It is working really well, and we have both learned so much about our home state of Florida. If you also live in Florida check out our favorite chapter books based in Florida below.
Free geography printables that can be used with this unit study:
Add these free geography worksheets to this unit study:
Children's books about Florida
The top 5 children's chapter books about Florida are:
You can also add a geography subscription box to your studies for some hands-on fun.
Last Updated on 11 July 2023 by homeschoolof1