Ultimate List of Homeschool Geography Curriculum Kids Will Enjoy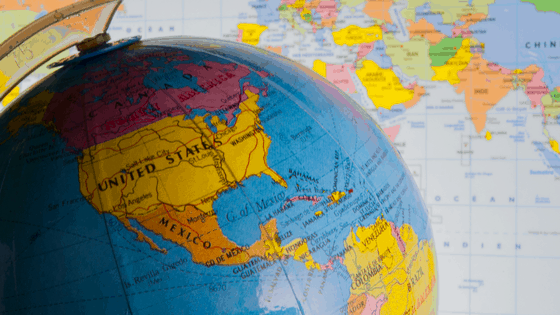 Geography is a great and "FUN" subject to learn especially in homeschool.
I could probably just about name the states of America, but I could probably only name about 2 capitals. So this was really important to us, especially for Freddie.
We played a lot of games and read a lot of books on American geography, but we wanted to add geography to our social studies. So I have put together a huge list of the best geography curriculums we have found.
**Disclosure – there are affiliate links in this post.**
We definitely prefer history in our homeschool, but I thought it was really important to have at least a basic knowledge of geography.
There are so many ways to add a geography curriculum in your homeschool, below I have listed 30 different options, from a detailed geography curriculum to workbooks, games, songs, videos, and more!
Full Geography Curriculum
SchoolHouse Teachers
Schoolhouse Teachers Geography curriculum is the absolute best curriculum I could find for Geography. What is even better is when you subscribe to the geography curriculum you get access to ALL subjects and ALL grades!
Lets Go Geography
Lets kids discover current world geography with creative activities. They learn about a different country every week, all year long. They even offer a FREE sample lesson so you can try it before you buy. It is suitable for kids from K-5 grade.
Trail Guide to Geography
Use family-friendly books, multi-level curriculum guides for students in 3rd-12th grades to learn geography. With its trail markers directed at three different grade levels, each book can be used for more than one academic school year and works well with a number of different student abilities learning together.
There are 3 different books, US Geography, World Geography, and Bible Geography, check them out here.
Geography Unit Studies
If you want to focus on a specific country check out these unit studies here. The countries include Germany, UK, Africa, Mexico, Canada, and lots more.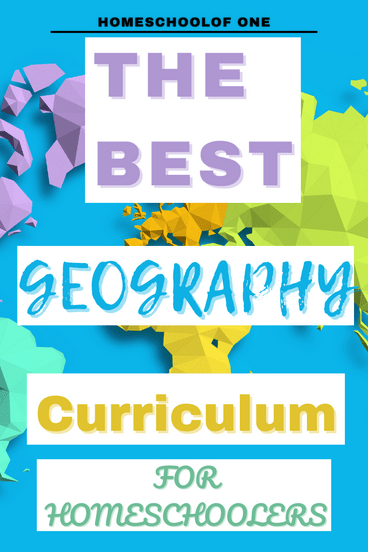 Geography Curriculum Workbooks
If you prefer workbooks to a full curriculum these are the best 5 I have found.
180 Days of Social Studies: Grade 6 – Daily Geography Workbook. This is the workbook we use as a supplement to the geography curriculum. Freddie really likes it, mainly as it is easy, but this isn't detailed enough as a standalone curriculum.
Evan Moor has some excellent geography curriculum workbooks for grades K-6. In fact, they have excellent workbooks for all subjects and they get excellent reviews.
Mark Twain Discovering the World of Geography Workbook for grades 7-8. Political and physical geography, climate, and the environment with maps and diagrams.
Geography Through Art is a lovely way to supplement your geography curriculum through drawing and painting.
KS3 Geography Workbook covers every Physical Geography and Human Geography topic and includes in-depth advice to help students develop their Geographical Enquiry skills. Each section contains clear, concise study notes and full-color diagrams, plus a range of practice questions to test knowledge and understanding.
Geography Books
We always buy a reference book for every subject we study and these 3 are the very best to help with the geography curriculum.
Usborne Geography Encylopedia – A comprehensive geography encyclopedia with a complete world atlas. Packed with information about our remarkable planet. From its physical characteristics to a continent-by-continent look at the world's peoples and governments. Richly illustrated with superb photographs, clear explanatory diagrams, and 60 pages of detailed, up-to-date maps.
Smithsonian Geography – A Visual Encylopedia explores every aspect of our world, from the North to the South Pole, and from the outer atmosphere to the fiery core, and from natural processes to human impact.
Geography of the World – Clear, country-by-country layout makes this an ideal reference book. Fact boxes provide at-a-glance information on each country's population, language, religion, government, currency, and more.
Geography Games & Fun
Playing games is always our preferred method of learning! Well, it's certainly more fun!! If you want to check out our other favorite educational board games check out our recent post.
Free Homeschool Geography Curriculum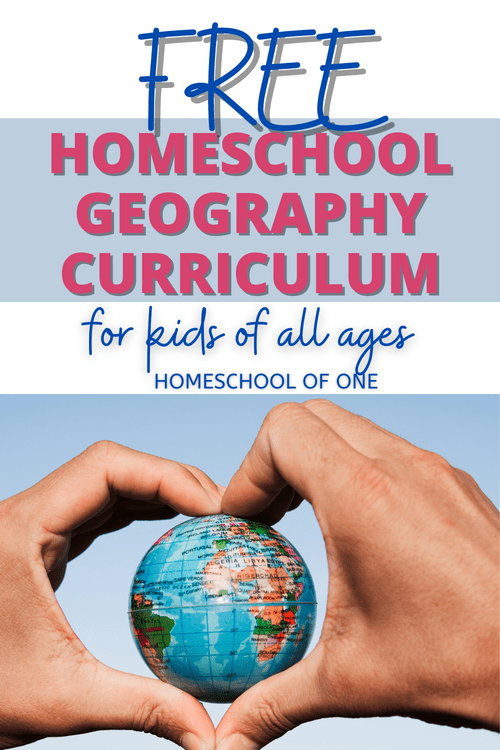 This is a list of all the FREE homeschool geography resources we have come across. Some are songs, youtube channels, and free printable worksheets to help.
If you are wanting to remember all of the 50 states of America check out our recent blog post, we have some great tips to help.
What do you use for your geography curriculum? Please let me know in the comments and I can add it to this list.
Last Updated on 14 October 2021 by homeschoolof1