Ultimate List of the BEST Secular Homeschool Curriculum
I know finding a secular homeschool curriculum can be hard.
So I have put together the best non religious homeschool curriculum, for all subjects.
These curriculum packages are carefully designed to provide a well-rounded education across subjects such as mathematics, science, language arts, and history.
The key difference is that they don't include any religious content. Ensuring that your learning experience remains neutral in terms of religious influence.
This page has been updated for the 2023/2024 year.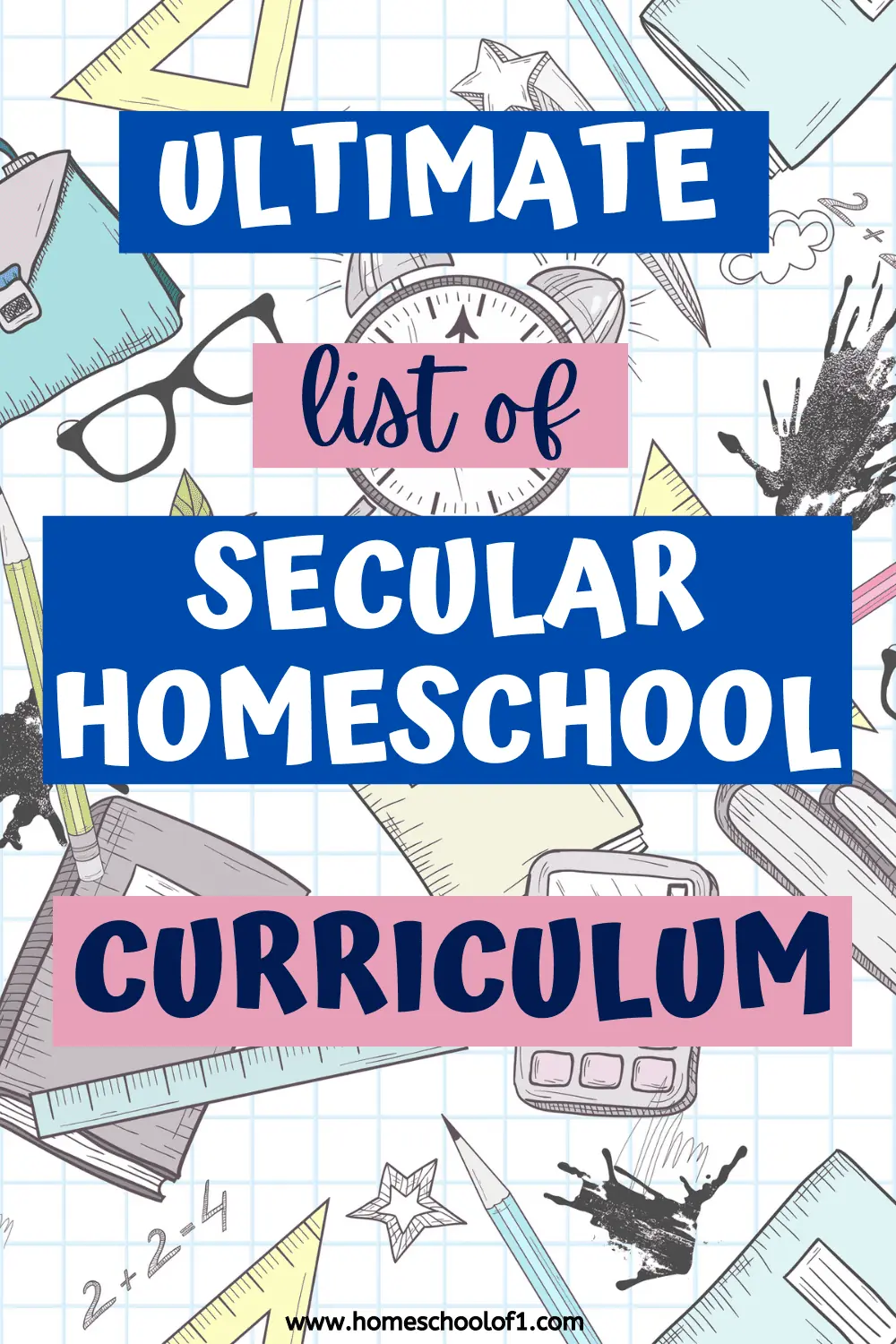 **There may be affiliate links in this post. You can read my full disclosure at the bottom of the page.**
I've been homeschooling my son without focusing on religion since 2018. And I know how hard it can be to find good secular resources. I am going to share with you all of the curriculum we have used through the years, from elementary through to high school.
Let me know in the comments if I have missed any of your favorite secular homeschool resources and I will make sure to add them.
Best Non Religious Homeschool Curriculum
These 8 options have truly become our go-to secular homeschool curricula, each offering something special.
Real Science Odyssey offers a comprehensive science curriculum for students in grades K-10. Focusing on hands-on exploration and inquiry-based learning.
History Odyssey provides a history curriculum tailored for students in grades 6-12. Fostering a deeper understanding of historical events through engaging activities and research.
Beautiful Feet Books promotes learning through literature across all ages, offering a curated selection of books to enhance education. Use promo code CB2023 for free shipping.
Moneytime offers a comprehensive financial literacy curriculum for students in 6th – 8th grade. Teaching essential money management skills in an age-appropriate manner.
Adventure Academy provides a virtual learning platform for kids ages 8-13. With interactive lessons in various subjects to foster academic growth and critical thinking.
Mr D Math offers online courses in mathematics, economics, and American Sign Language (ASL) for students in grades K-12.
Outschool is an online platform offering a wide range of classes and workshops for learners of all ages. Covering diverse subjects and skills taught by qualified instructors in a virtual classroom setting.
Typesy is the best homeschool typing curriculum. Helping learners improve their typing skills efficiently and effectively.
Secular Homeschool History Curriculum
I'm starting the list with the homeschool history curriculum, not because it is the most important subject. But because it is one of the hardest to find secular resources for!
History Odyssey offers a comprehensive secular history curriculum for students in grades 6-12. Fostering a deeper understanding of historical events through engaging activities and research.

(

Read our History Odyssey review here)
Beautiful Feet provides a literature-based approach to teaching history across all ages, using carefully curated books to enhance historical education. (Check out our Beautiful Feet Books review on American History)
History Quest offers a secular history curriculum tailored for students in grades 1-6,. Providing age-appropriate materials and activities to explore historical topics.
Curiosity Chronicles offers a secular history curriculum through books and resources suitable for all ages. Promoting a well-rounded understanding of history.
Horrible Histories presents humorous and engaging history content through books and videos, making historical learning enjoyable for all ages.
US History with Blossom and Root offers a secular history curriculum focused on United States history for students in grades K-8. Utilizing hands-on activities and engaging materials.
The Everything You Need To Ace World History series provides comprehensive notebooks designed for middle school students (grades 6-8). To master world history topics.
The Everything You Need To Ace US History is a notebook for middle school students (5th grade – 8th grade) to excel in United States history.
Crash Course offers an entertaining and educational YouTube series on world history. Suitable for high school students looking to deepen their historical knowledge.
Khan Academy provides a wide range of online history lessons suitable for learners of all ages. Offering accessible resources to enhance historical understanding.
Curiosity Stream offers a collection of history documentaries for learners of all ages. Providing an in-depth exploration of historical topics through visual media. (Check out our Curiosity Stream review for more details.)
Outschool offers a variety of live online history classes for students of all ages. Allowing learners to engage in interactive lessons with qualified instructors.
Secular Science Homeschool Curriculum
I was not particularly surprised about history, but it is also super hard to find a secular homeschool science curriculum. Here is a list of all the ones we have found:
Secular Math Curriculum
I will only add a few here, as most homeschool math curriculums are secular, not all, but most. But these are our absolute favorites:
Mr D Math offers a versatile curriculum. Not only in math but also in economics, American Sign Language (ASL), and more. Catering to students from kindergarten to 12th grade.
IXL provides an online math program suitable for learners of all ages. Offering comprehensive math practice and assessments, and currently offering 20% off.
Teaching Textbooks offers a user-friendly math curriculum for various grade levels, including Algebra 1, utilizing interactive lessons and automated grading. (Read our Teaching Textbooks review for more details.)
Beast Academy offers a challenging math curriculum designed for students who enjoy math and have a strong aptitude for it, with an emphasis on problem-solving.
Everything You Need To Ace Math Notebook is a comprehensive math resource that offers a condensed and organized compilation of key math concepts and topics suitable for middle school students. Helping them excel in math by providing essential information and practice problems in a single notebook.
Schoolio offers a comprehensive curriculum for kids in grades K-3. Including a strong math component, supporting early learning and foundational skills. (Read our Schoolio review for more details.)
Rounded Schoolhouse offers an all-in-one curriculum covering core subjects, including math, for students in grades 3-8, providing a well-rounded education.
Smartick offers an adaptive math program suitable for learners of all ages. Delivering personalized math lessons and exercises tailored to individual progress. (Read our Smartick review for more details.)
CTC Math provides an online math curriculum for all ages. Offering clear video tutorials and interactive exercises to facilitate math learning.
Secular Language Arts Curriculum
Nurturing effective communication and literary skills in homeschooling is made easier with these diverse resources.
From comprehensive writing programs to literature-based approaches. This list offers a variety of secular language arts options suitable for learners of all ages.
Check out our favorite homeschool spelling curriculum resources too.
Spectrum Language Arts Grade 3, Ages 8 to 9, 3rd Grade Language Arts Workbooks, Sentences, Parts of Speech, Proofreading, Writing Practice, and Grammar Workbook – 176 Pages (Volume 34)
Spectrum Spelling Workbook Grade 2, Ages 7 to 8, 2nd Grade Spelling Workbook, Phonics, Handwriting Practice with Sight Words, Vowels, and Compound Words With English Dictionary – 208 Pages (Volume 72)
Spectrum 4th Grade Math Workbooks, Ages 9 to 10, 4th Grade Math, Multiplication, Division, Fractions, Decimals, Algebra, Measurement Conversions, and Geometry Workbook – 160 Pages
Spectrum Algebra 1 Workbook, Grades 6-8, Middle School Math Workbook With Equations, Fractions Practice, Math Word Problems for Classroom or Homeschool Curriculum (Volume 9)
Spectrum 7th Grade Test Practice Workbooks All Subjects, Ages 12 to 13, Grade 7 Test Practice, Language Arts, Reading Comprehension, Vocabulary, Writing and Math Reproducible Book – 160 Pages
Spectrum 5th Grade Geography Workbook, Ages 10 to 11, Grade 5 Geography, United States Ecology, History, Population Distribution, and US Map Skills – 128 Pages (Volume 25)
Secular homeschool art curriculum
Fostering creativity and musical appreciation in homeschooling is made accessible through these resources.
Foreign Language Curriculum
If you're looking to explore new languages, there are great resources available. From a variety of homeschool foreign language options to specialized Japanese homeschool curriculum.
Lingopie is an excellent addition to secular homeschool foreign language learning because it transforms entertainment into education. By using TV shows and cartoons in the target language, Lingopie creates an engaging and immersive learning experience that keeps students motivated. With clickable links and flashcards to reinforce vocabulary, Lingopie makes language learning enjoyable, effective, and adaptable to various learning styles. (Read our Lingopie review for more details.)
Japanese from Zero guides learners through the basics of the Japanese language.
Spanish Workbook for Middle School and High School Students is a comprehensive Spanish practice book.
DuoLingo is a popular free language learning platform that offers interactive lessons and exercises. To help users learn and practice various languages in an engaging and accessible way.
Secular Geography Curriculum
A secular geography curriculum offers homeschoolers a comprehensive and engaging way to explore the world's diverse landscapes, cultures, and geographical features.
Our geography learning involves engaging activities like playing geography board games and delving into a variety of geography books for kids.
Free Secular Homeschooling Curriculum
Access a wealth of secular homeschooling resources with over 100 free homeschool curriculum options. Providing a diverse and cost-effective approach to education.
What is a secular homeschool?
A secular homeschool refers to an educational approach where learning is conducted at home while intentionally avoiding religious teachings and affiliations.
In a secular homeschool, the curriculum, materials, and resources used are free from religious content. Focusing solely on academic subjects, critical thinking, and a comprehensive understanding of the world. Without incorporating religious beliefs or doctrines.
Why choose secular homeschooling?
As we are not religious, finding a secular homeschooling curriculum was absolutely vital. But other reasons people are looking for a secular curriculum are for the following: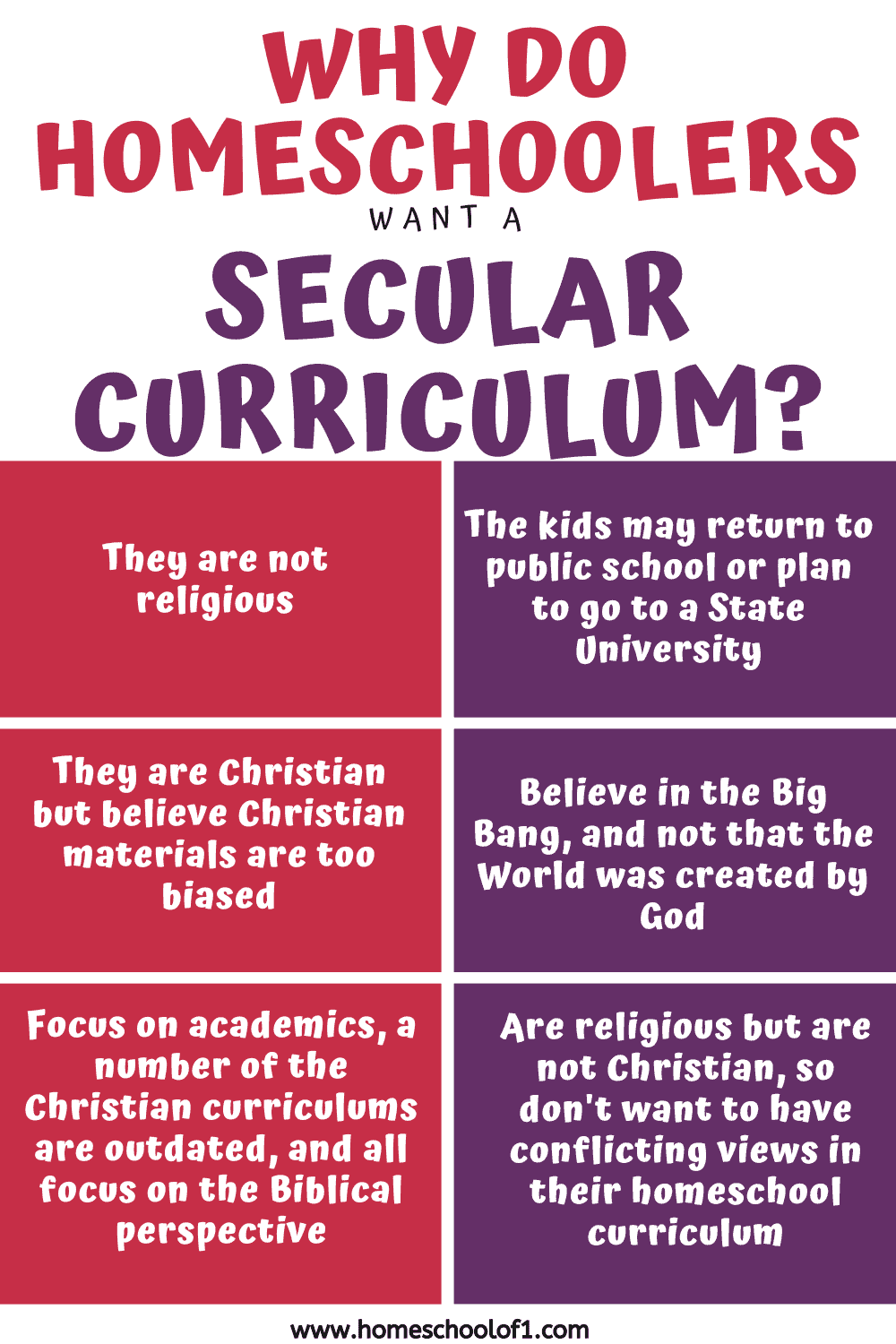 Secular curriculum aligns with non-religious beliefs, ensuring a balanced educational approach.
Whether transitioning back to public school or pursuing higher education, secular curricula provide a comprehensive foundation.
Secular curricula prioritize modern academics, differing from some Christian curricula that may emphasize a biblical perspective.
A secular approach supports beliefs like the Big Bang theory and scientific explanations of the world's origin.
Individuals with non-Christian religious beliefs avoid conflicting perspectives in their homeschooling, fostering an inclusive learning environment
I hope you have found this useful, please let me know in the comments if you use any other secular homeschooling curriculum so I can add it.
Last Updated on 14 September 2023 by homeschoolof1