Over 100 FREE Homeschool Curriculum For All Ages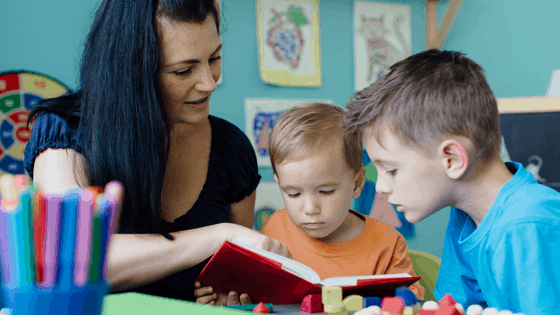 We all know homeschooling can be expensive, but with these FREE homeschool curriculum options, you will definitely find some (if not all) free subjects. I have found over 100 awesome online homeschool resources that you're going to love for all ages.
Why spend hundreds if not thousands on an expensive resource when you can get a free homeschool curriculum?
I have split the FREE homeschool resources into subjects to make them easier to search.
**There may be affiliate links in this post. If you make a purchase (after clicking one of my affiliate links) I'll earn some coffee money, which I promise to drink while supporting your journey. You do not pay a higher price. You can read my full disclosure at the bottom of the page.**
Top 10 FREE Homeschool Curriculum
As there are so many free homeschooling resources I have decided to add our favorites from each category.
1 – Khan Academy
2 – Easy Peasy – All In One Homeschool
3 – Open Learn
5 – Teach your monster to read
6 – Learning Resources Science Museum
8 – UK Parliament
10 – Code.org
FREE Homeschool Curriculum – Covering ALL Subjects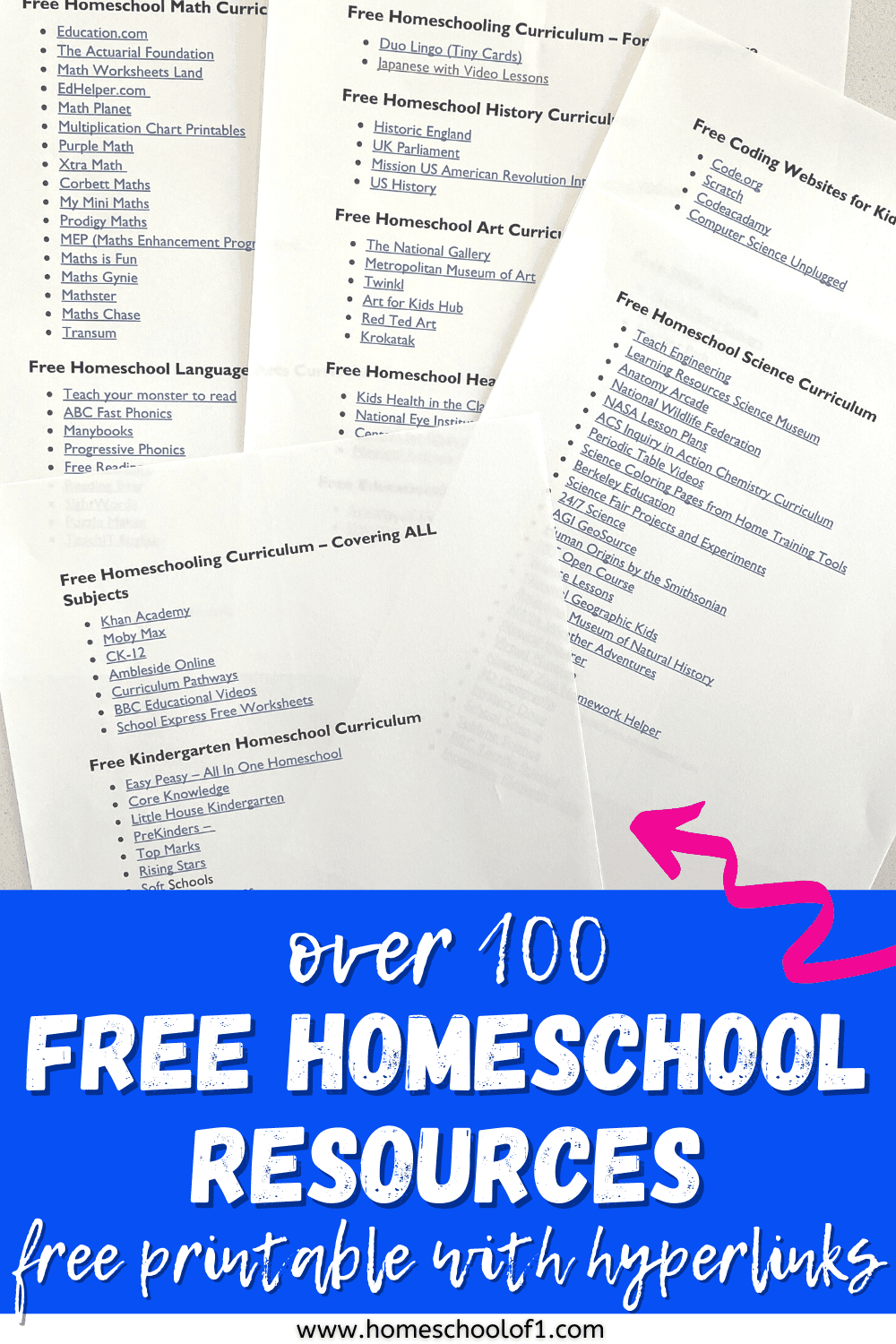 All you need to do to get these free homeschool resources printables (with hyperlinks) and ALL of our FREE resources is to subscribe below. (It will take about 5 minutes to get the email and then you will have FULL ACCESS. Please check your Spam folder.)
All Ages
Khan Academy – offers practice exercises, instructional videos, and a personalized learning dashboard that empower learners to study at their own pace. Covering maths, science, computer programming, history, art history, economics, and more. All ages
Moby Max – Moby Learning includes 27 complete subjects covering all grades between kindergarten and eighth grade. They were also the most awarded edtech company in 2018, earning 49 industry awards.
CK-12 – books, lessons, and interactive videos covering all subjects. All ages
Ambleside Online – a free curriculum for homeschool designed to follow the Charlotte Mason method. All ages
Discovery K12 – 7 standard courses: Language Arts, Reading/Literature, Math, Science, History/Social Studies, Visual/Performing Arts, and Physical Education. With 180 days of curriculum and over 16,000 lessons. All ages
Curriculum Pathways – provides interactive, standards-based resources in language arts, maths, science, social studies, and Spanish. They align with national and state curriculums in the US. For all ages
BBC Educational Videos – Excellent UK videos for all ages.
School Express Free Worksheets Multiple Subjects (all ages)
Free Kindergarten Homeschool Curriculum
Easy Peasy – All In One Homeschool – uses all FREE online resources, 180-day lesson plans for PreK-8th grade.
Core Knowledge – this includes lessons plans this site supports Common Core State Standards, PreK-6th grade.
Little House Kindergarten – this is a full kindergarten around the World curriculum that includes nature study, maths, health, art, music, and English. This is a pay what you can curriculum, including paying zero.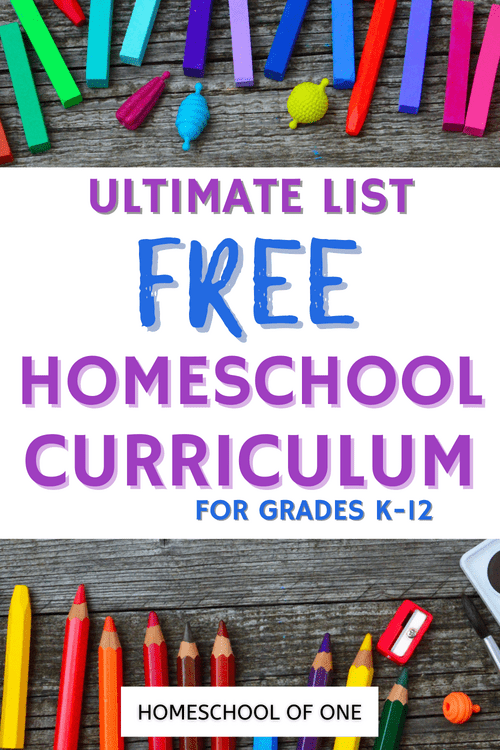 PreKinders – preschool lessons, activities, and printables
Top Marks – free primary resources with amazing links to other FREE resources for all ages.
Rising Stars primary school resources, 100s of free resources.
Soft Schools provides free math worksheets, free math games, grammar quizzes, free phonics worksheets, and games. Worksheets and games are organized by grades and topics.
Primary Resources Free lesson plans, activity ideas, and resources for teaching primary children
Oxford Owl free resources for primary school children and a free ebook library for 3-11 year olds.
Have Fun Teaching – free resources and worksheets for primary school children.
Middle School Homeschool Curriculum FREE
Hippo Campus – there are over 7,000 free videos in 13 different subject areas. This resource is for middle school to college level.
Easy Peasy All in One Highschool – this is an extension to the one listed above, and looks just as great.
Homeschool College USA – offers free plans for homeschooling high school. All of the courses are free, but you may need to purchase four novels per year as part of the language arts course.
Open Learn – Free learning from the Open University. There are some amazing free resources here for children aged 13 and over.
Free Homeschool Math Curriculum
Education.com – provides free math worksheets and games for kids. Suitable for all ages.
The Actuarial Foundation – this is fantastic, it teaches maths in real-life situations. Such as having dinner in a restaurant etc. Students grade 4 and above. If you are looking for additional financial literacy for kids resources check out our recent post.
Math Worksheets Land – This site has free math worksheets organized by grade and topic.
EdHelper.com – Free maths printables
Math Planet Advanced Math Complete Courses (Grades 6-12)
Free Multiplication Chart Printables
Purple Math Algebra Video Lessons (grades 9-12)
Xtra Math Free games and lessons (grades all ages)
Corbett Maths free resource and has videos and questions and answers.
My Mini Maths – with more than 1,300 free resources for primary school children.
Prodigy Maths – free math game for primary school children (Freddie loves it!)
MEP (Maths Enhancement Programme) free resources up to A-Level students.
Maths is Fun – Primary school free resources.
Maths Gynie – Primary up to A-Level amazing free resources, videos, exam papers and solutions.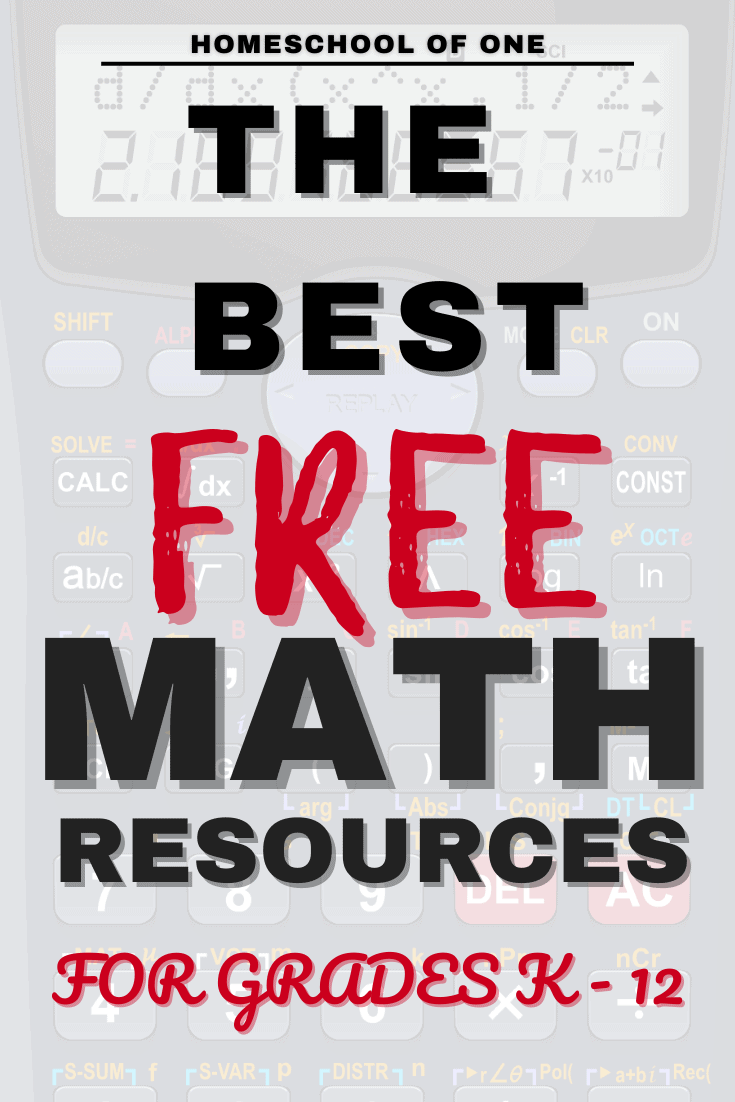 Mathster – Free worksheets for GCSE and A-Level
Maths Chase – Free times table tests
Transum – FREE mathematical activities, puzzles, problems, visual aids, investigations, and lots more.
Free Homeschool Language Arts Curriculum
If you are looking for a spelling curriculum for homeschool check out my recent blog post
Teach your monster to read – a free resource to help children learn to read.
ABC Fast Phonics – This is a free tutorial that uses cartoons and sounds with audio narration and clickable words to teach phonics. This method teaches just basic phonics concepts without struggle or frustration and includes rules for vowels, consonants, and blends along with practice pages.
Manybooks – Free Downloaded Books
Progressive Phonics – is an all-in-one reading program that is easy and FUN. You can also print readers and handwriting sheets to go with the lessons.
Free Reading – The free phonics online lessons comprises 40 weeks of instruction
Reading Bear – Phonics (grades K-3)
SightWords Free Resources for Teaching Your Child to Read
Puzzle Maker a free tool for making your own word puzzles.
TeachIT English KS3 and above there is a free subscription.
Free Homeschool Science Curriculum
If you are looking for even more science resources, check out my recent post on homeschool science curriculum.
Teach Engineering Engineering (all ages)
Learning Resources Science Museum – This site brings together resources from museums, including activities, games and videos. Discover activities to support a range of curriculum topics.
Anatomy Arcade Anatomy (grades 5-12)
National Wildlife Federation Animal Science (grades K-6)
NASA Lesson Plans Astronomy (all ages)
ACS Inquiry in Action Chemistry Curriculum – Chemistry (grades 3-6)
Periodic Table Videos – Chemistry, Periodic Table (all ages)
Science Coloring Pages from Home Training Tools worksheets and printables (all ages)
Berkeley Education Evolution (all ages)
Science Fair Projects and Experiments – Experiments and lesson plans (all ages)
24/7 Science Science Games (grades K-6)
AGI GeoSource – Geology (grades K-5)
Human Origins by the Smithsonian – Human Evolution (all ages)
MIT Open Course Free resources from MIT (grades 9-12)
Science Lessons Multiple science subjects (all ages)
National Geographic Kids – National Geographic (grades K-6)
American Museum of Natural History Physical Science, various 'ologies' (all ages)
NASA Weather Adventures Satellite Earth Science (all ages)
Natural Inquirer Science Journal (grades 4-8)
Virtual Museum – Virtual Museum (all ages)
National Zoo Homework Helper – Zoology Links (all ages)
3D Geography – Make models and great free resources
Mystery Doug – This is a free resource
School Science – This is a free resource.
Sublime Science – there are free resources (they also do amazing parties, which we did a couple of years ago and the kids loved it)
BBC Terrific Science – free resources
Interactive Elements Table – periodic table in pictures and words.
Free Homeschooling Curriculum – Foreign Language
Check out 19 of the best foreign language curriculum for homeschoolers blog post
If you are looking at learning sign language check out 25 FREE resources to learn sign language free.
Duo Lingo (Tiny Cards) This is an amazing free app and it has so many different languages to learn.
Babble – They offer 13 different languages and there are free resources.
Free Homeschool History Curriculum
Check out my recent post on homeschooling history with no curriculum
Historic England – lots of great free information about English history.
UK Parliament – teacher resources and lesson plans in all sorts of subjects including history.
Mission US American Revolution Interactive Website – Free US interactive resources.
US History American History free workbooks (all ages)
Free Homeschool Art Curriculum
Check out my recent post on online art classes for homeschool
Twinkl – has a number of free art printables.
Art for Kids Hub – YouTube family showing children how to draw cool things.
Red Ted Art has lots of free ideas and printable's.
Krokatak – loads of free arts and crafts, videos and printables
Free Homeschooling Curriculum – Music
The ultimate list of music curriculum for homeschoolers, including lots of FREE resources.
Free Homeschool Health Curriculum
Kids Health in the Classroom – Health and Safety topics (all ages)
National Eye Institute fun learning tools and printables about the eye.
Centers for Disease Control and Prevention Museum (CDC) – interactive learning opportunities for students and creatively gives a deeper look into the world of science. Learn about microbiology, infectious diseases or become a food detective and learn about different types of bacteria.
National Institute of Health – interactive games, targeting ages 8-14, teaches kids about the importance of staying healthy, and more!
Free Educational Online Games
Educational Games by Grade Level – hundreds of free, online, learning games for kids
Kidztype – Free typing games to help with touch typing
Free Coding Websites for Kids
Check out our recent post on homeschool programming, with 15 ways to encourage a love of coding in kids.
Code.org – This is a free resource.
Scratch – this is a free resource.
Codeacadamy – this is a free resource
Computer Science Unplugged – Computer Science (grades K-12):
Free Bible Studies
Future Flying Saucers – Free Bible lesson plans
Adventure Bible Online religious games and activities (K-6)
Learning Path – Share free religious resources offered by top leading colleges.
If you come across any other FREE homeschooling curriculum please do let me know in the comments and I will make sure to add them.
Last Updated on 14 January 2022 by homeschoolof1