2 Halloween Spot the Difference (Free Printables)
We love spot the difference printables and these 2 Halloween spot the difference printables are our favorites.
Halloween will be here before we know it, so print out these printables and get searching for the differences.
These spot the difference printables can be tricky, however, I have shared the differences below if you are struggling.
These are no boring worksheets though, when the kids find the seven differences they can color in both of the images.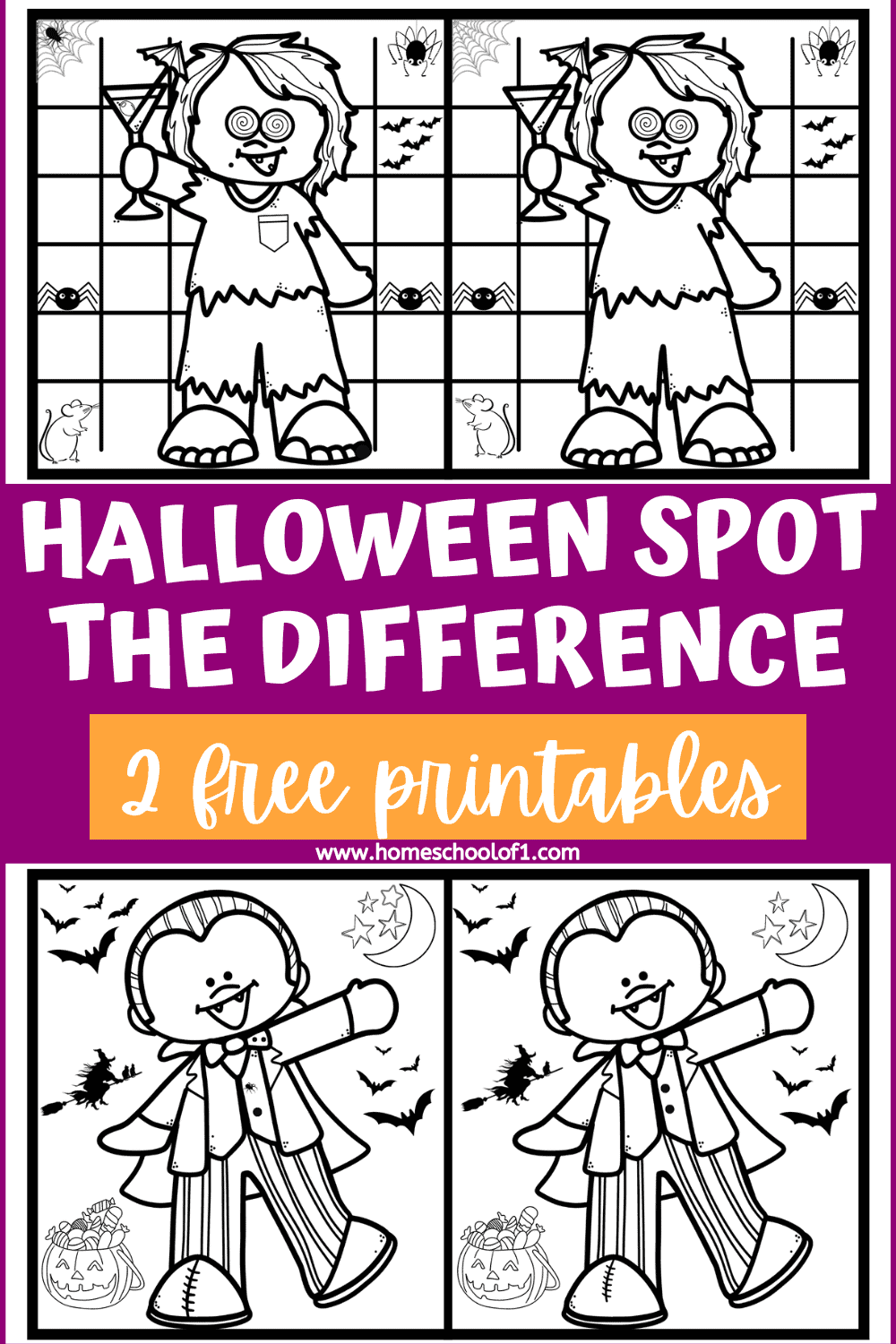 **There may be affiliate links in this post. You can read my full disclosure at the bottom of the page.**
What are the benefits of doing spot the difference worksheets
Doing spot the difference worksheets can have several benefits, including:
Improving observation skills: Spot the difference activities require children to pay close attention to detail and improve their ability to observe and compare.
Developing problem-solving skills: Spotting the differences between two images requires children to use critical thinking and problem-solving skills.
Boosting memory: Spotting the differences between two images helps children retain information and improves their memory.
Enhancing visual perception: Spot the difference worksheets help children develop visual perception skills by training their brains to see patterns, shapes, and details.
Encouraging creativity: Children can use their imagination to come up with creative solutions to the problems presented in spot the difference worksheets.
Relieving boredom: Spot the difference worksheets provide a fun and stimulating activity for children during moments of boredom.
Improving hand-eye coordination: Children need to use their hand-eye coordination to find the differences between the two images.
Overall, spot the difference worksheets can be a fun and educational activity for children that provides numerous benefits for their cognitive and visual development.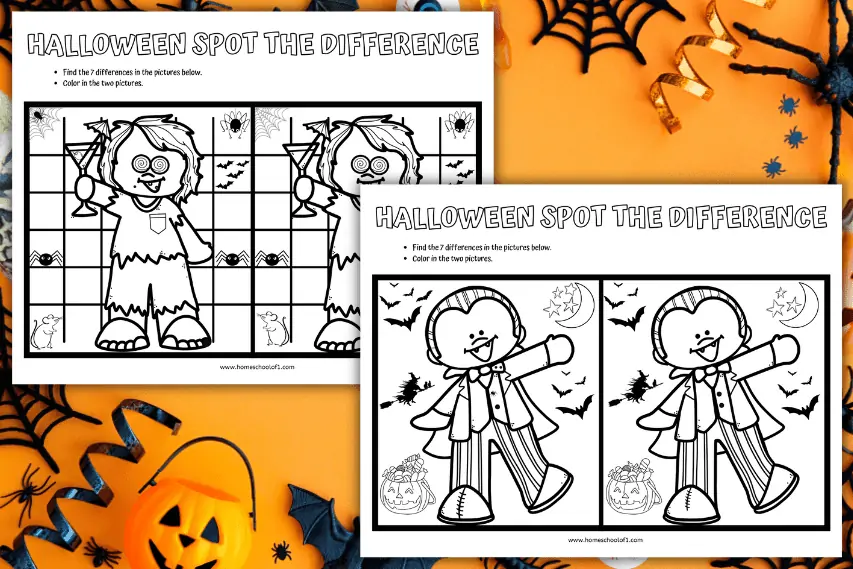 Spot the Difference Halloween Printable
Get into the Halloween spirit with two fun and challenging activity sheets to keep your kids entertained and sharpen their observation skills.
Supplies needed:
How to use the spot the difference printables:
This Halloween spot the differnce is free to print but is for personal use and classroom use only. Scroll to the bottom of the page and add your email address to get the pdf file.
There are two different images and will print on 2 pages. Make sure to check your spam folder if you don't see it in your emails within 5 minutes.
The first Halloween spot the difference is an image of a zombie holding a drink.
There are 7 differences to find, and both images need coloring in.
The differences are circled in the image below but they are:
No spider in the second image in the top corner
No olive in the drink
Only 3 bats on the top right-hand side
The second zombie does not have a mole on their face
There is no pocket on the t-shirt in the second image
The rat is facing in different directions
The zombie on the right has one more toe.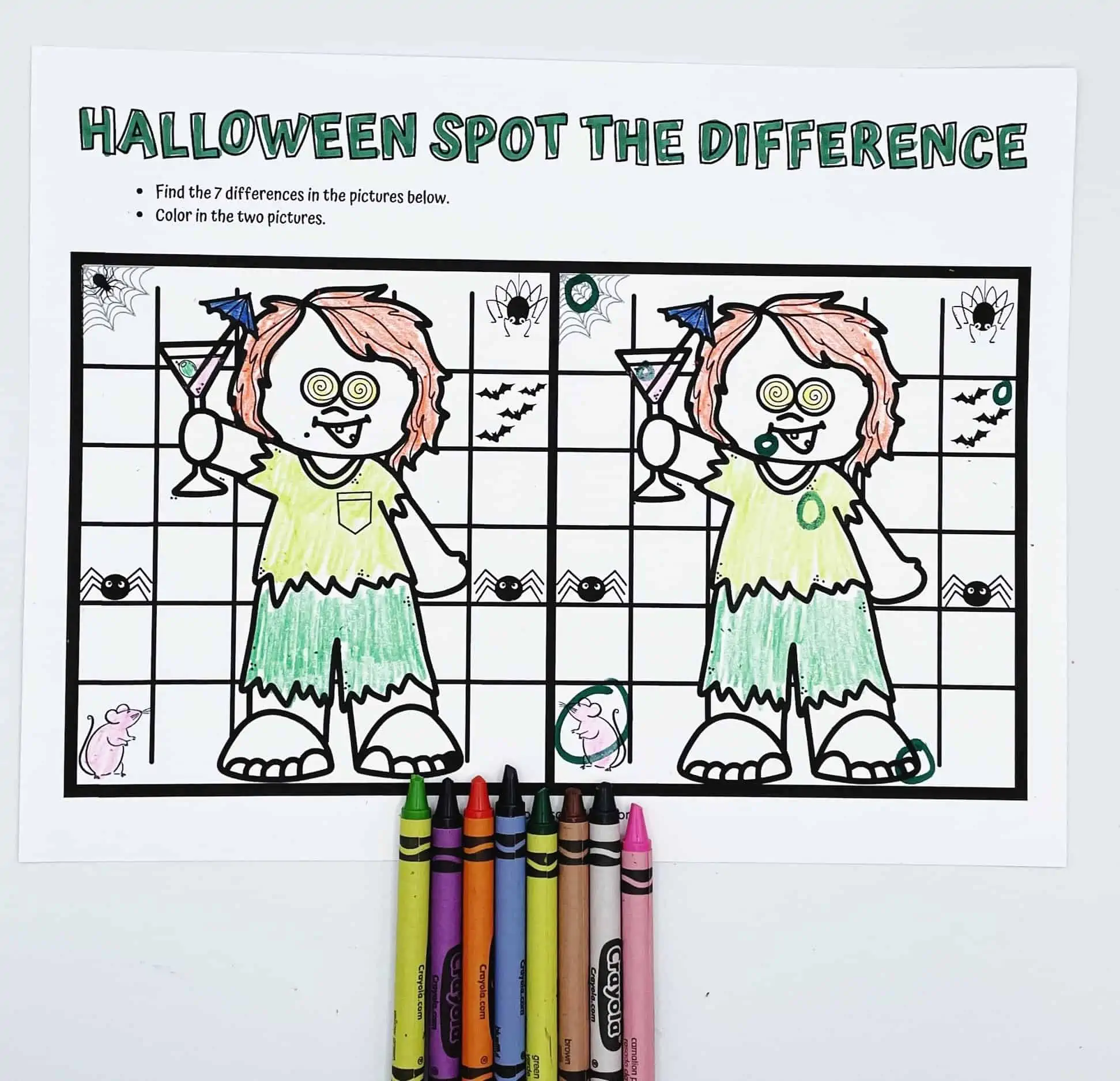 The second image is a happy Dracula, the differences are:
There are only 4 bats on the top right, but 5 on the first image
There are only 3 stars and not 3
There is only 1 black cat on the right image but 2 on the first
The bowtie does not have dots on the second image
One of the buttons is a spider on the original image
There is an extra piece of candy
The shoe laces are longer on the original image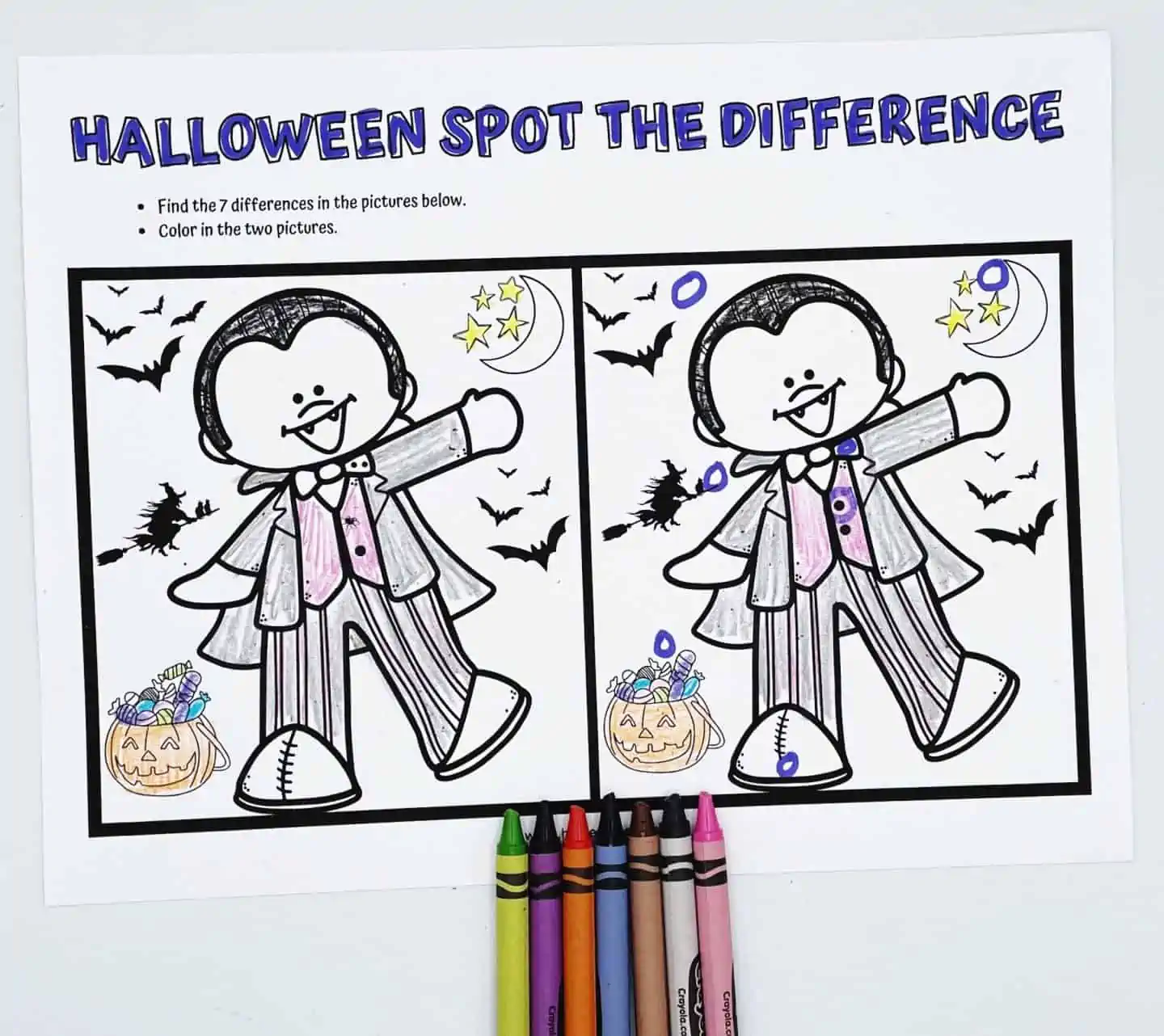 Check out these other fun Halloween activities:
Download the free Halloween Spot the Difference Printable
Make sure you choose the correct paper size and click on the shrink to fit button. All of our free printables work better when printed on cardstock (this is the one we use and love.)
Last Updated on 12 February 2023 by homeschoolof1