6 Free Halloween Dot to Dot Printables
Let's have some fun this Halloween with our free Halloween dot to dot printables. These Halloween activities for kids encourage the kids to count and recognize numbers from 1 -25.
When the children have connected the numbers, they can also color in the spooky images.
These fun math worksheets are aimed at preschool and kindergarten-aged children, but of course, can be enjoyed by everyone.
Download all 6 free Halloween dot to dot printables by scrolling to the bottom of this page.
**There may be affiliate links in this post. You can read my full disclosure at the bottom of the page.**
What are the benefits of using these Halloween worksheets?
There are several benefits of using Halloween dot to dot printables with kids:
Connecting the dots helps children to improve their hand-eye coordination, which is important for tasks like writing, drawing, and playing sports.
The act of connecting the dots also helps to develop children's fine motor skills, which are essential for tasks like buttoning clothes, tying shoelaces, and using utensils.
Completing a dot-to-dot puzzle requires children to concentrate and focus on the task at hand, helping to improve their attention span and ability to stay focused for longer periods of time.
Halloween dot-to-dot printables have numbers 1-25, which helps to reinforce number recognition and counting skills in young children.
Children can use their creativity to color and decorate the completed dot-to-dot puzzle, making it a fun and engaging activity.
Y YOFUN Halloween Crafts for Kids, Make Your
Made By Me Create Your Own Halloween Window
Creativity for Kids Big Gem Diamond Painting Kit
I Spy With My Little Eye Halloween Book
Dot to Dot Printables For Halloween
You probably have all of the supplies you need for these Halloween dot-to-dot printables.
Supplies needed:
cardstock (but printer paper will work too)
coloring pens (these are great for the outline, and are the ones we used)
How to use the free Halloween coloring dots worksheet
Print out the printables below, they will print out on 6 full pages and will print out in portrait mode. Make sure to check the printer settings.
You can of course print this on normal printer paper, but with all of our crafts, they always look better on cardstock.
The six spooky images include:
A skull and cross bones, and a witch's cauldron.
A pumpkin (I think you will also enjoy our pumpkin handprint template.)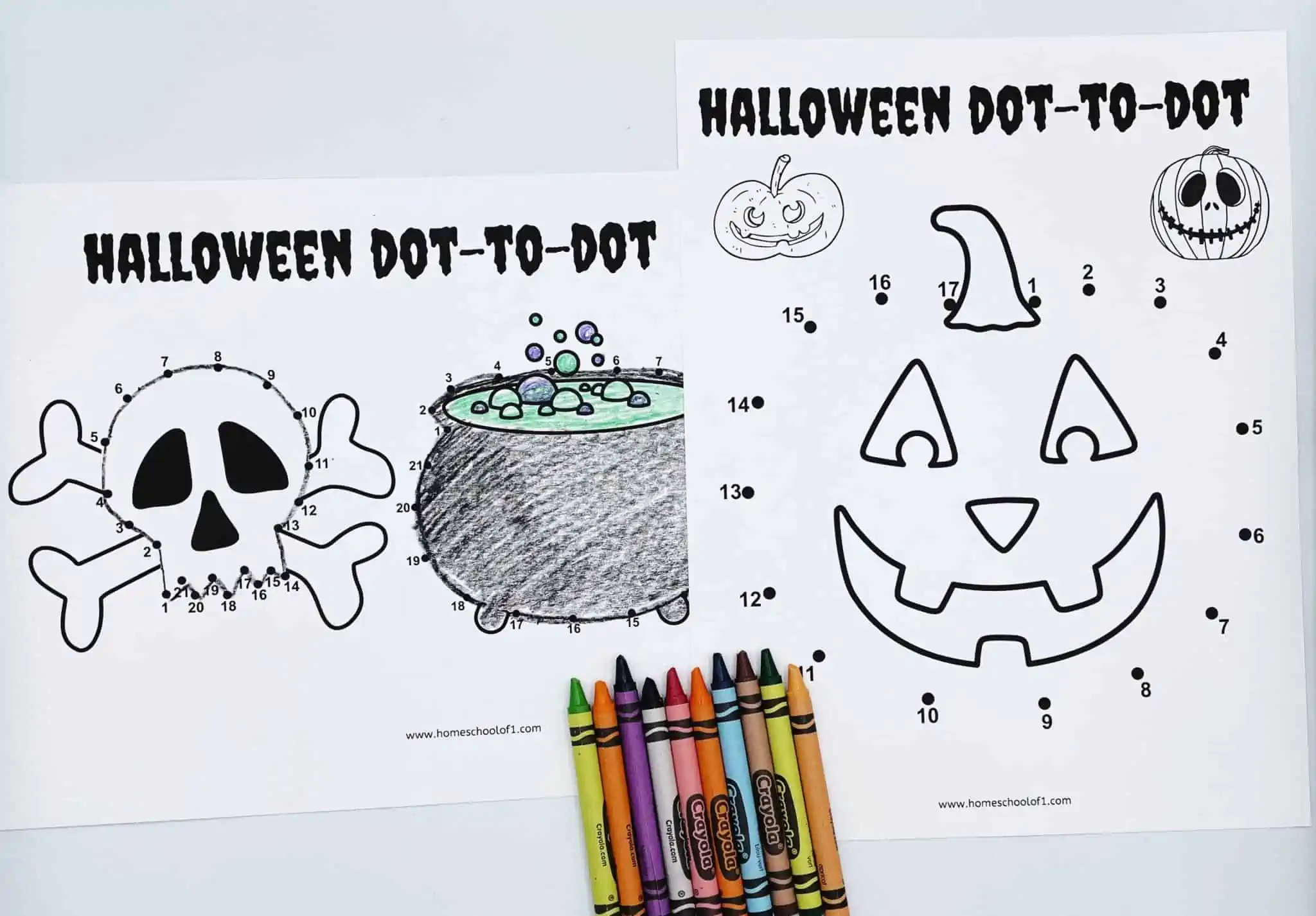 A witch's hat, a creepy eye, candy corn, and a witch's shoe.
A friendly ghost ( I think you will enjoy our ghost handprint template.)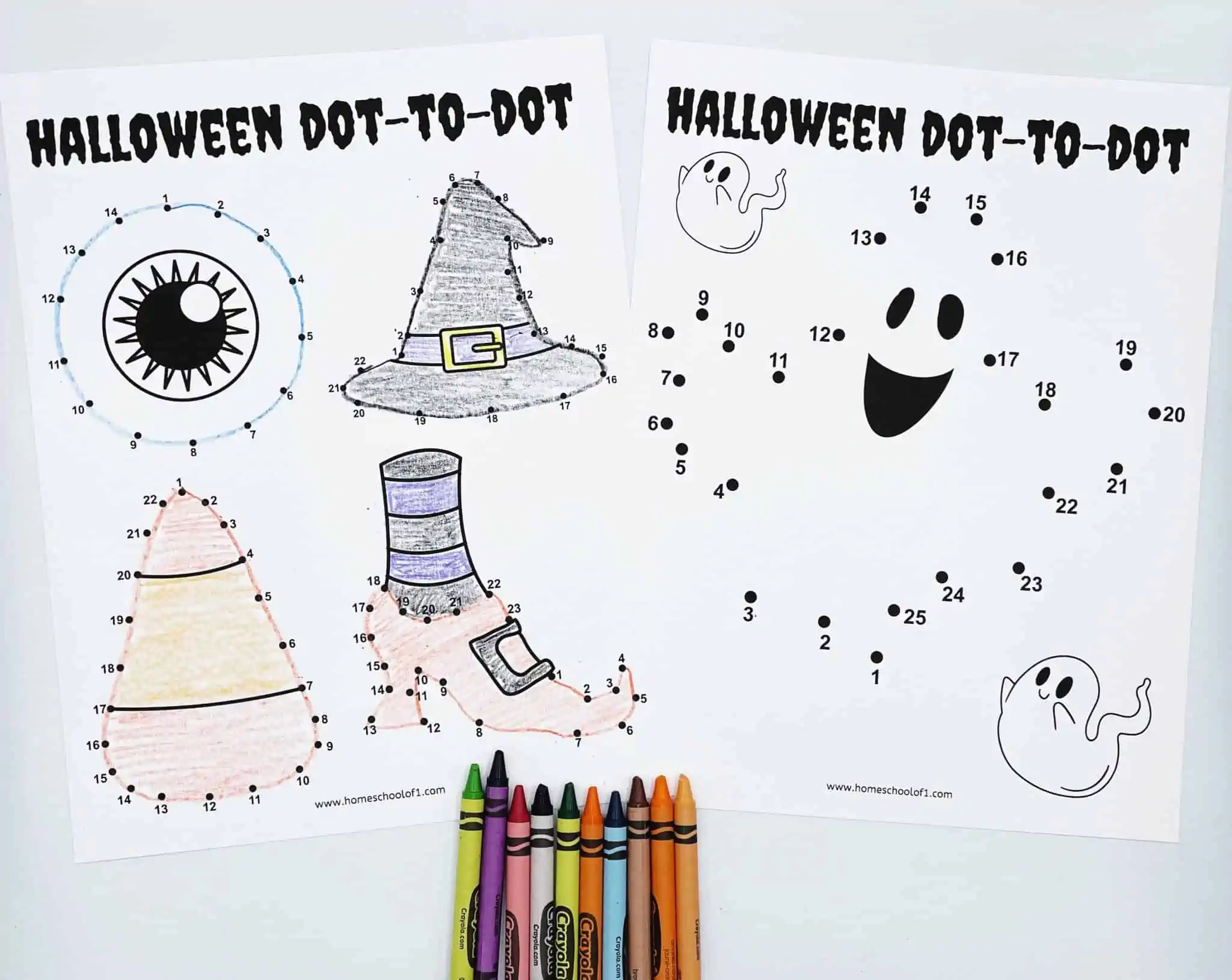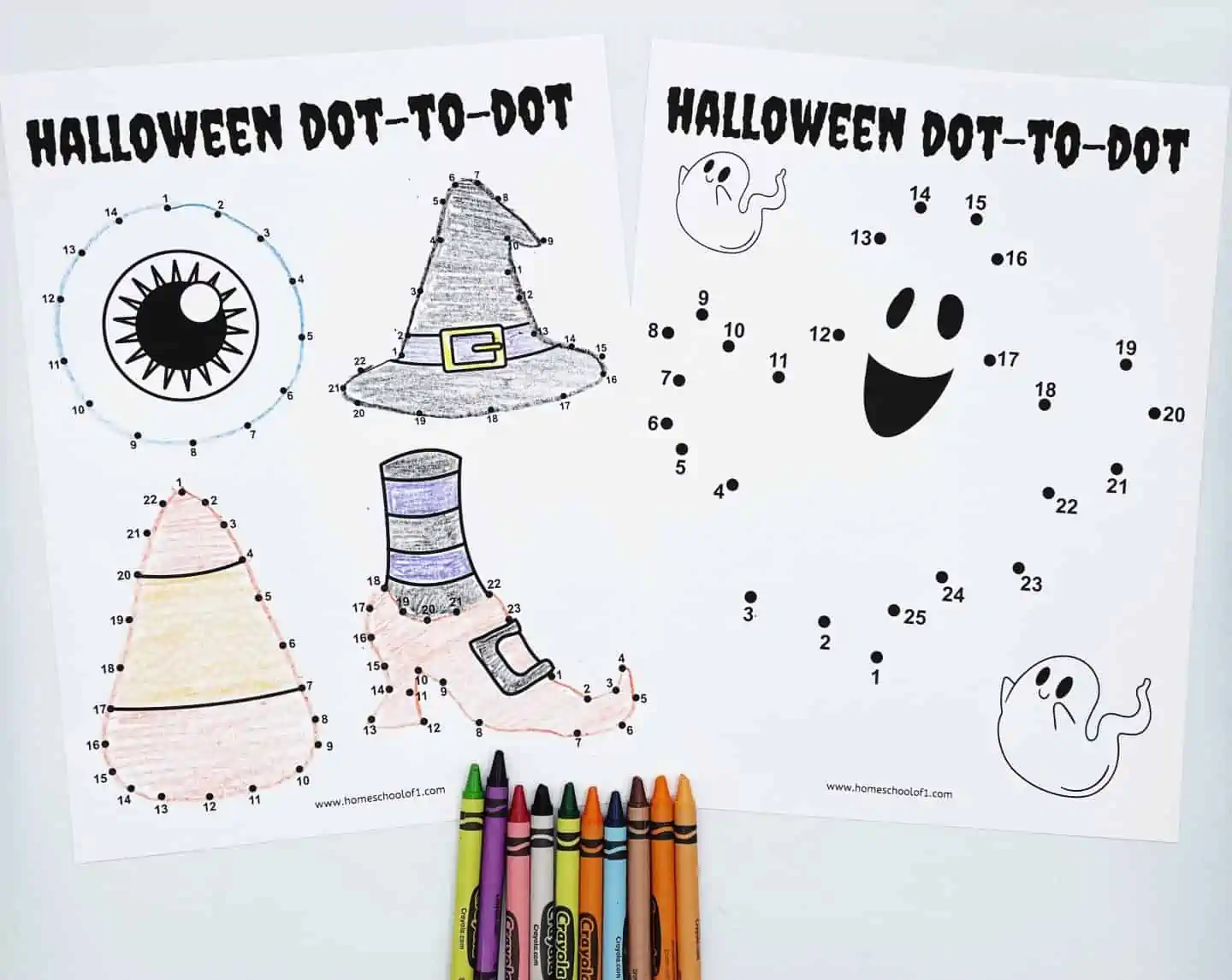 A spiders web.
A trick-or-treat bucket with candy.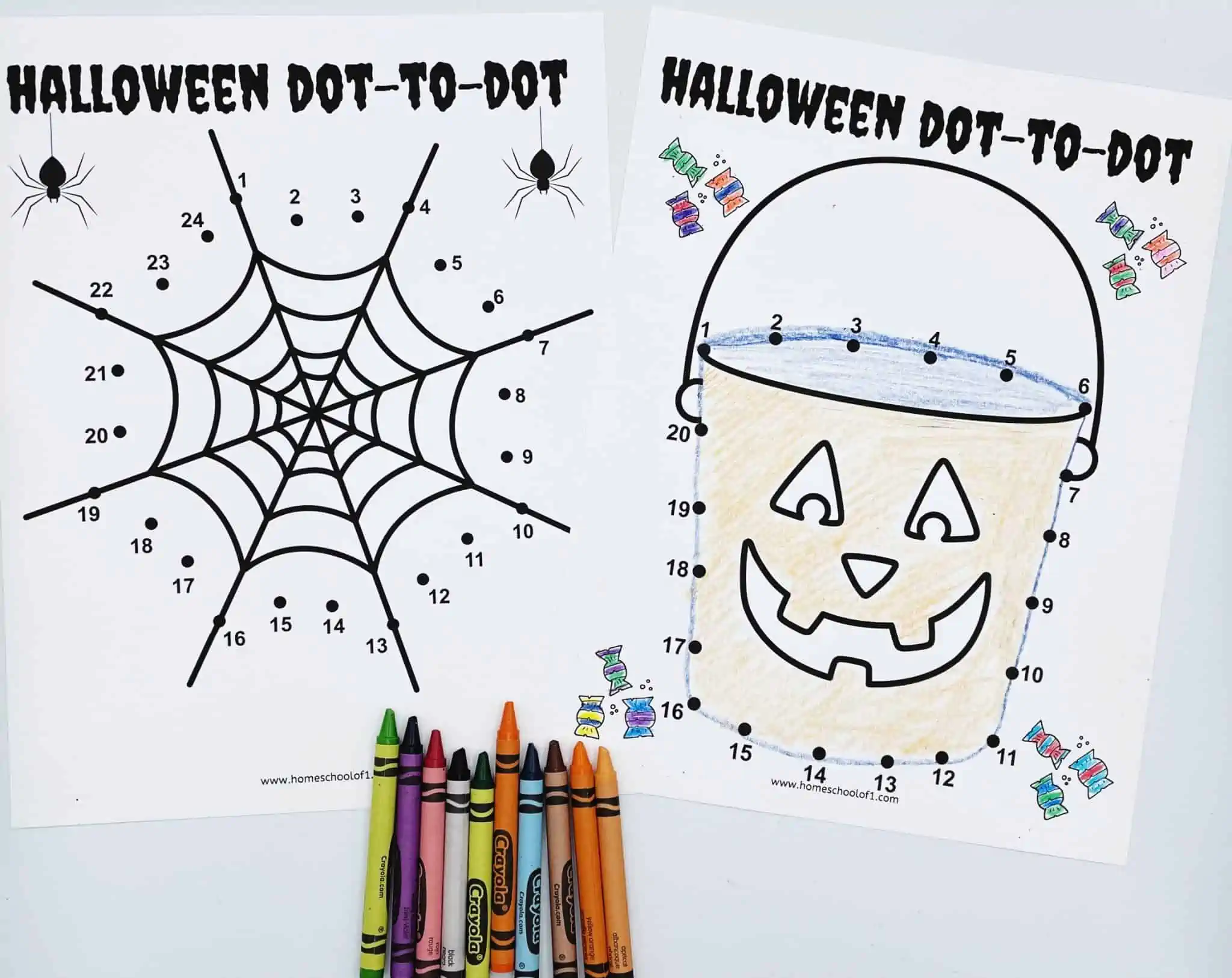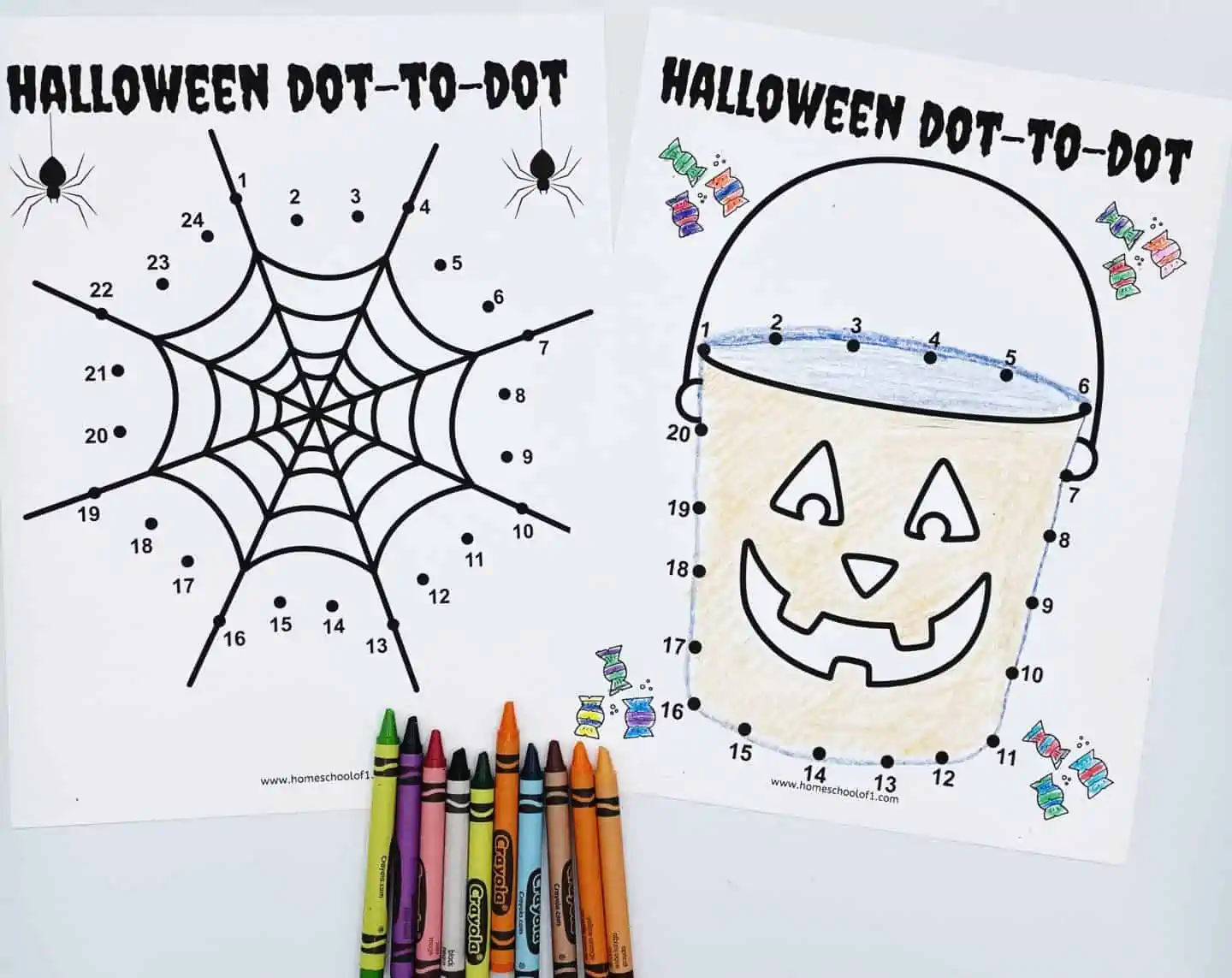 There is absolutely no prep with these worksheets, just print and go. These Halloween dot to dot printables will print in black and white.
These Halloween worksheets are great for both homeschool and the classroom
Other Halloween printables you will enjoy
Download Free Halloween Dot to Dot Printables
Make sure you choose the correct paper size and click on the shrink to fit button. All of our free printables for kids work better when printed on cardstock (this is the one we use and love.)
Last Updated on 23 August 2023 by homeschoolof1