Scarecrow Acrostic Poem (3 free poetry templates)
The kids are going to love creating a scarecrow acrostic poem this fall.
With three different templates to download the kids can choose which they prefer to create.
But all of the starting sentences spell out the word SCARECROW.
This acrostic poem template is such a fun way for kids to start getting into poetry.
**There may be affiliate links in this post. You can read my full disclosure at the bottom of the page.**
What are acrostic poems?
An acrostic poem is a type of poem where the first letter of each line when read vertically from top to bottom, spells out another word, message, or name.
It's a perfect way to incorporate hidden or meaningful words within a poem.
An example of a simple acrostic poem for the word FRIEND is:
Funny jokes and laughter so loud,
Running and playing, we make each other proud.
In good times and bad, we're always there,
Encouraging and helping, showing that we care.
No matter what happens, our bond will never end,
Dear friend, you're someone special, my true and trusted friend.
Poetry for Young People: Edgar Allan Poe
Evan-Moor Writing Poetry with Children, Grade 1-6 Activity Book – Supplemental Teaching Resource Workbook Inspires Poets (Writing Skills Essentials)
Poetry for Kids: Emily Dickinson
A Child's Book of Poems
Poetry for Kids: William Shakespeare
The Random House Book of Poetry for Children
Scarecrow Poem
There are 3 different acrostic poem templates to download and they make a fun fall activity for all grade levels.
You can either get your kids to write a poem about scarecrows, fall, or any autumn theme.
These are a great way to introduce poetry to kids in 1st grade and 2nd grade.
When it comes to teaching poetry, making it engaging for young learners can be a challenge. That's where our scarecrow writing pages come in handy.
These pages are an easy way to introduce fall poetry skills to elementary students.
Scarecrow acrostic poem examples
Standing tall in fields of gold,
Clothes of straw, a story to be told.
Autumn's friend, guarding the crops,
Resisting birds with flapping flops.
Eyes of buttons, a stitched-up grin,
Caring for fields as seasons spin.
Rustling leaves, in the crisp, cool air,
Out there, the scarecrow stands with care,
Watching over the harvest, so grand.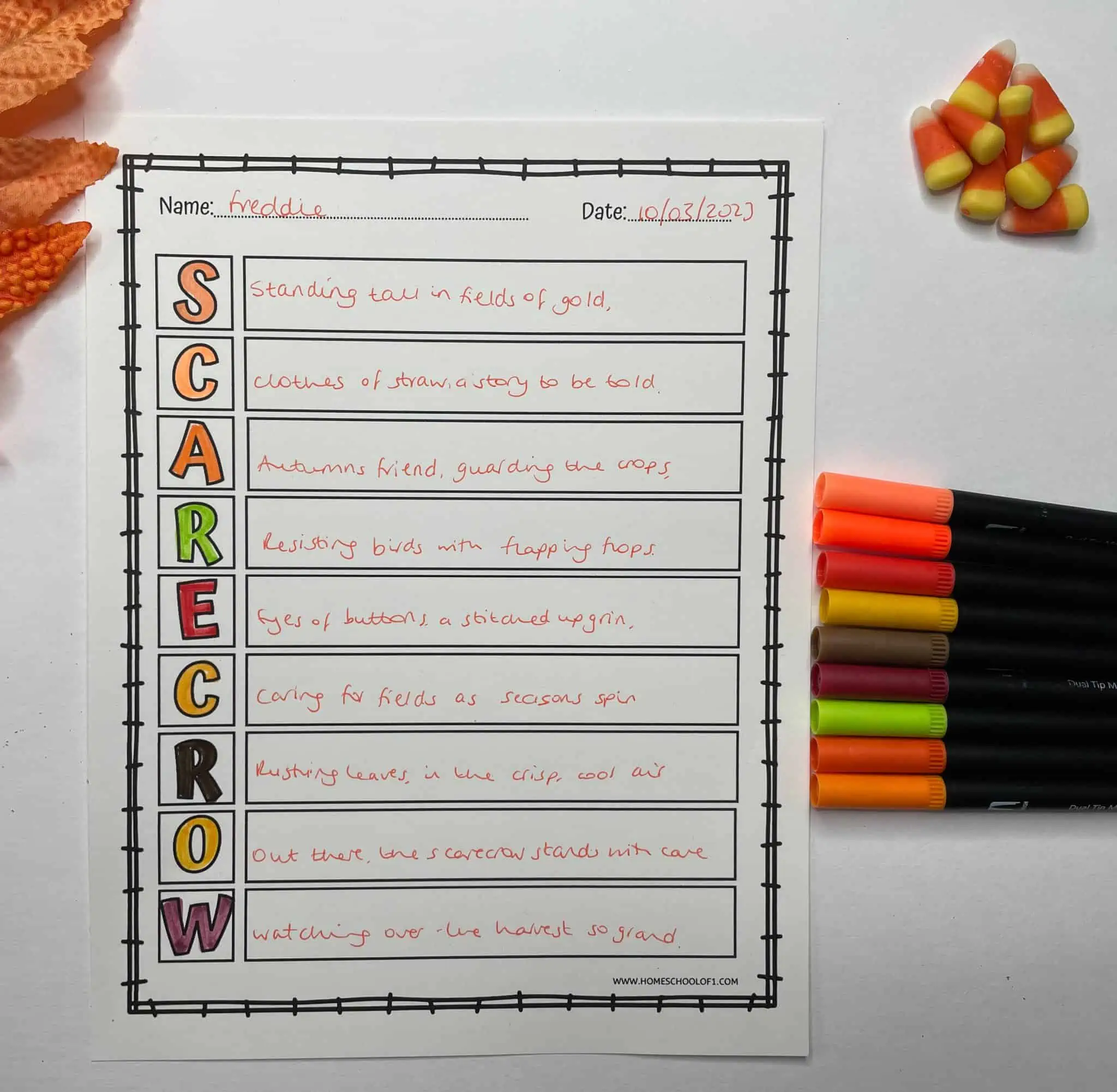 A scarecrow poem for preschool
Straw
Crows
Autumn
Rustling
Eyes
Colorful
Reaper
Outdoors
Watchful
Have fun with Thanksgiving acrostic poem templates too!
What's inside the free download?
Our free scarecrow poem writing project consists of three pages that offer different opportunities for your students:
1. Blank Box with "SCARECROW": This page provides students with a blank canvas to let their imagination run wild. It's a great way for them to create their own fun fall-themed poem.
2. Color and Write: The second page features a picture of a scarecrow, which can be colored in by the kids. To the side of the scarecrow, they can write an acrostic poem using the letters in "SCARECROW." This encourages creative writing while adding a fun fall craft element.
3. Scarecrow Art: On the third page, there's a picture of a scarecrow with the letters "SCARECROW" written atop the body. Students can use this as inspiration for their own scarecrow-themed poem, allowing them to express their creativity while focusing on the themed words.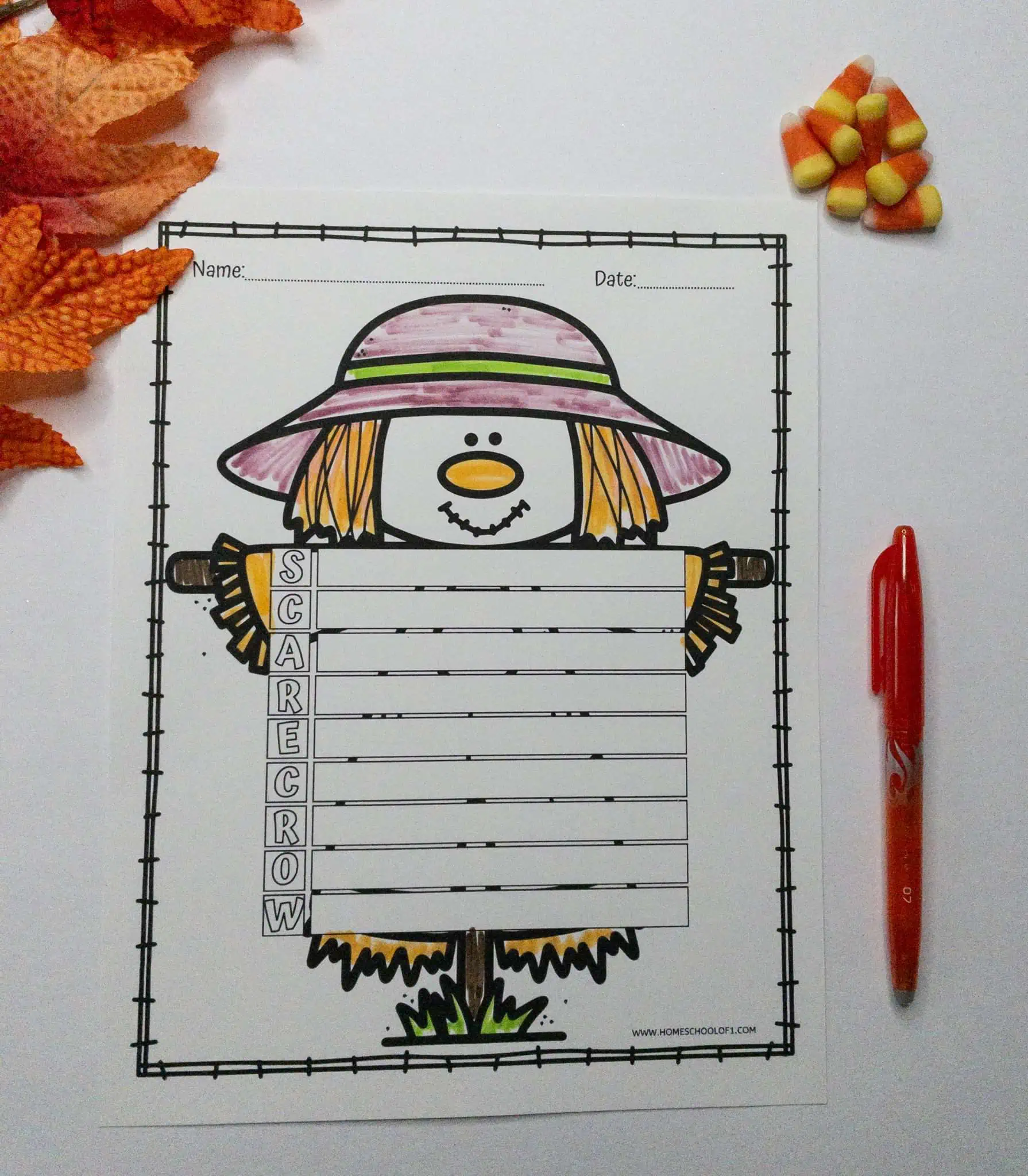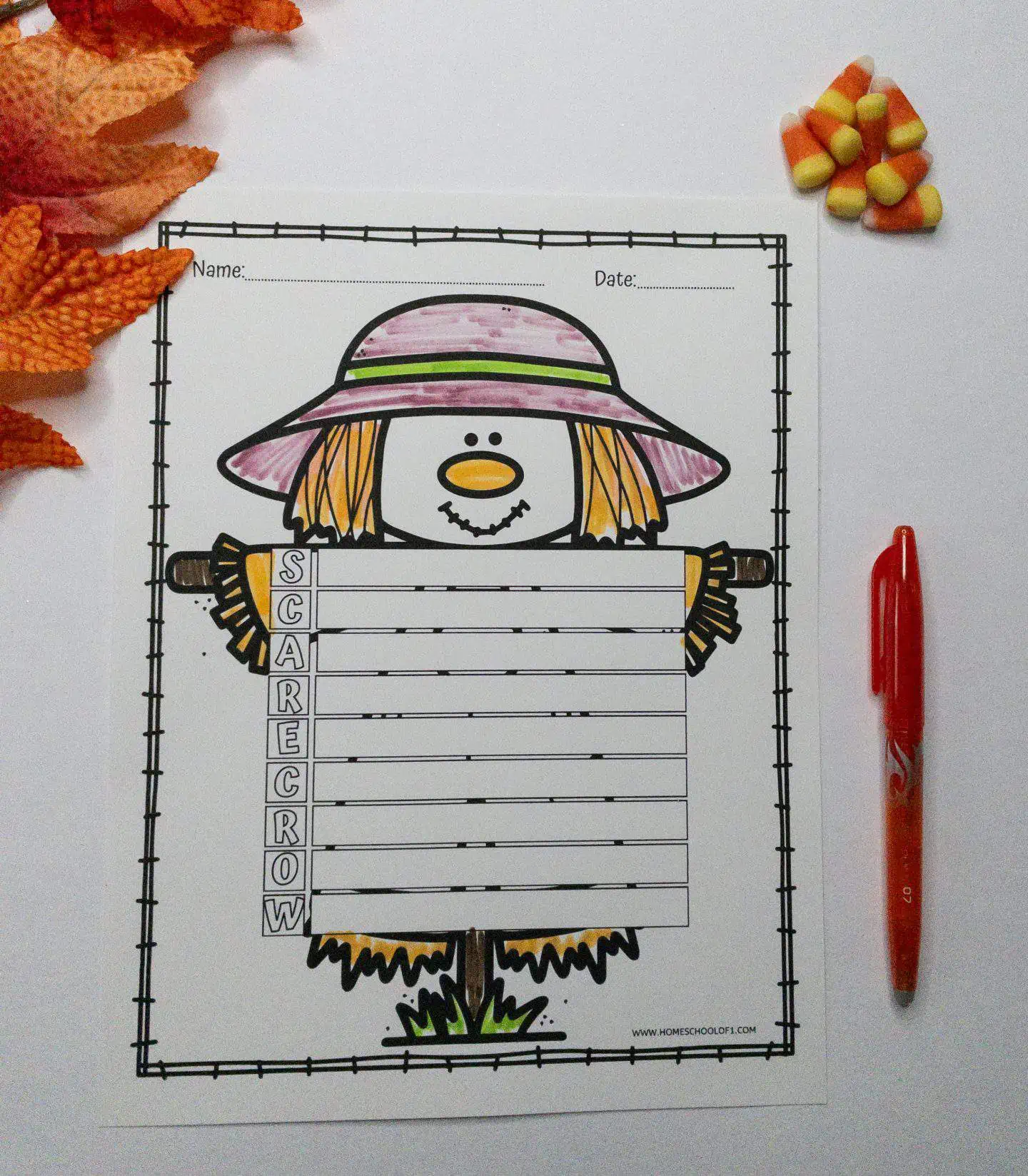 How to Use These Scarecrow Writing Pages
These printable templates are a perfect activity for literacy stations and can be a great addition to your October and November writing prompts.
They work well in both the classroom and at home. Add these to your English Language Arts lesson plans, enriching your students' understanding of poetry and creative writing.
Whether you're a teacher looking for a great fall writing activity or a parent interested in a creative way to engage your child. These scarecrow writing pages offer a better way to explore the world of poetry and scarecrow-themed crafts.
Download the free PDF at the bottom of the page and watch your students' writing creativity flourish with this great fall-themed resource!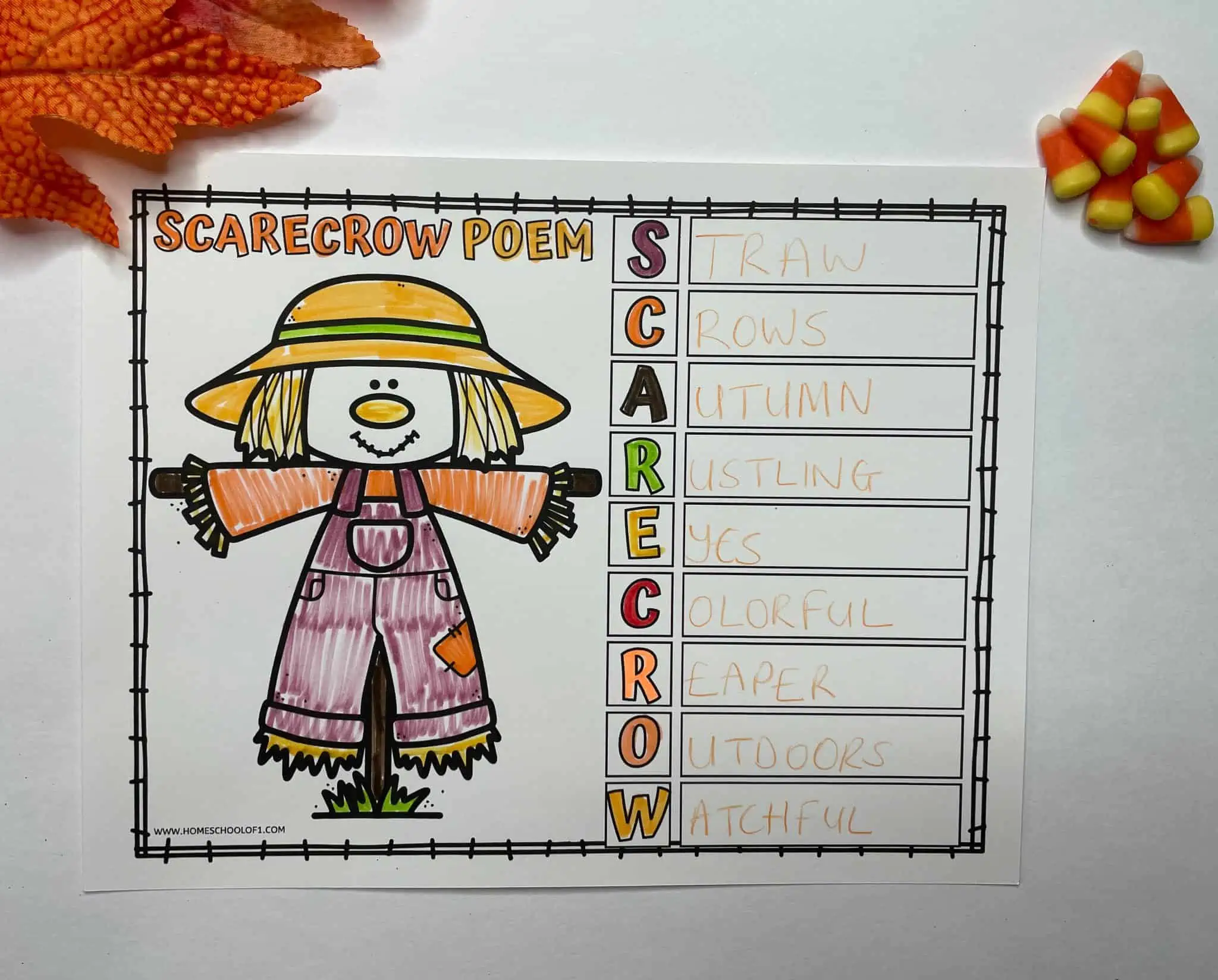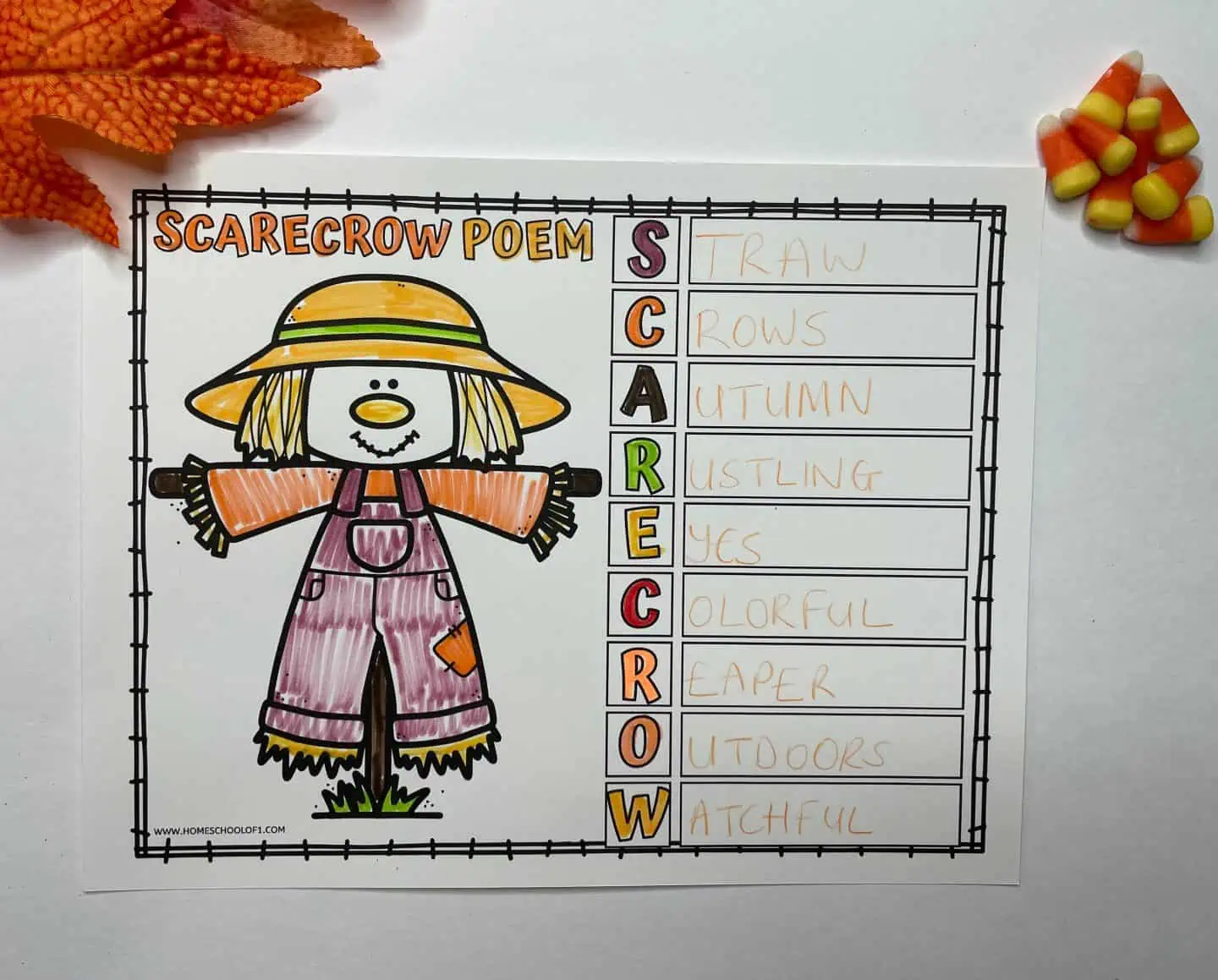 Books about scarecrows
Continue the fall theme with a fun book all about scarecrows:
The Scarecrow: A Fall Book for Kids takes young readers on an autumn adventure with a friendly scarecrow.
Otis and the Scarecrow tells the heartwarming tale of a lovable tractor named Otis and his encounter with a scarecrow during the fall season.
There Was an Old Lady Who Swallowed Some Leaves! is a cute picture book that follows the comical escapades of a little old lady as she gobbles up various autumn items.
The First Scarecrow
The Scarecrow: A Fall Book for Kids
The Not-So-Scary Scarecrow
Scarecrow
The Scarecrow's Hat
Samurai Scarecrow: A Very Ninja Halloween (Samurai Holiday)
Scarecrow Craft
Carry on the scarecrow fun with these fun fall crafts:
Paper bag scarecrow craft: Learn how to create a delightful paper bag scarecrow craft for kids, perfect for fall, with step-by-step instructions and a free printable scarecrow template. And discover creative ways to use the puppet for teaching, storytelling, and fine motor skills.
Popsicle stick scarecrow: Learn how to make an adorable popsicle stick scarecrow fall craft, for a creative fun activity with kids.
Discover how to build a scarecrow sensory bin activity for kids. Offering hands-on exploration and learning opportunities with hay, fabric scraps, buttons, cinnamon sticks, and more. Making it a perfect rainy day or storytelling companion for the fall season.
Tips for downloading the free files
Below you will see a large sign-up box where you need to add your name and email address, and press I NEED THIS NOW!
Within minutes you will be sent the free PDF directly to your email address, so you can print it out and start using it immediately.
Sometimes emails get a little wonky, so if you can't see it, please check your spam folder where I am sure it is hiding.
Download the free scarecrow poetry worksheets here
Make sure you choose the correct paper size and click on the shrink to fit button. All of our free printables for kids work better when printed on cardstock (this is the one we use and love.)
Last Updated on 21 October 2023 by homeschoolof1