Free Christmas Acrostic Poem Template For Kids
The kids are going to love writing poetry with our free Christmas acrostic poem template this holiday season.
With three different templates to download the kids can choose which they prefer to create.
But all of the starting sentences spell out the word CHRISTMAS.
This acrostic poem template is such a fun way for kids to start getting into poetry.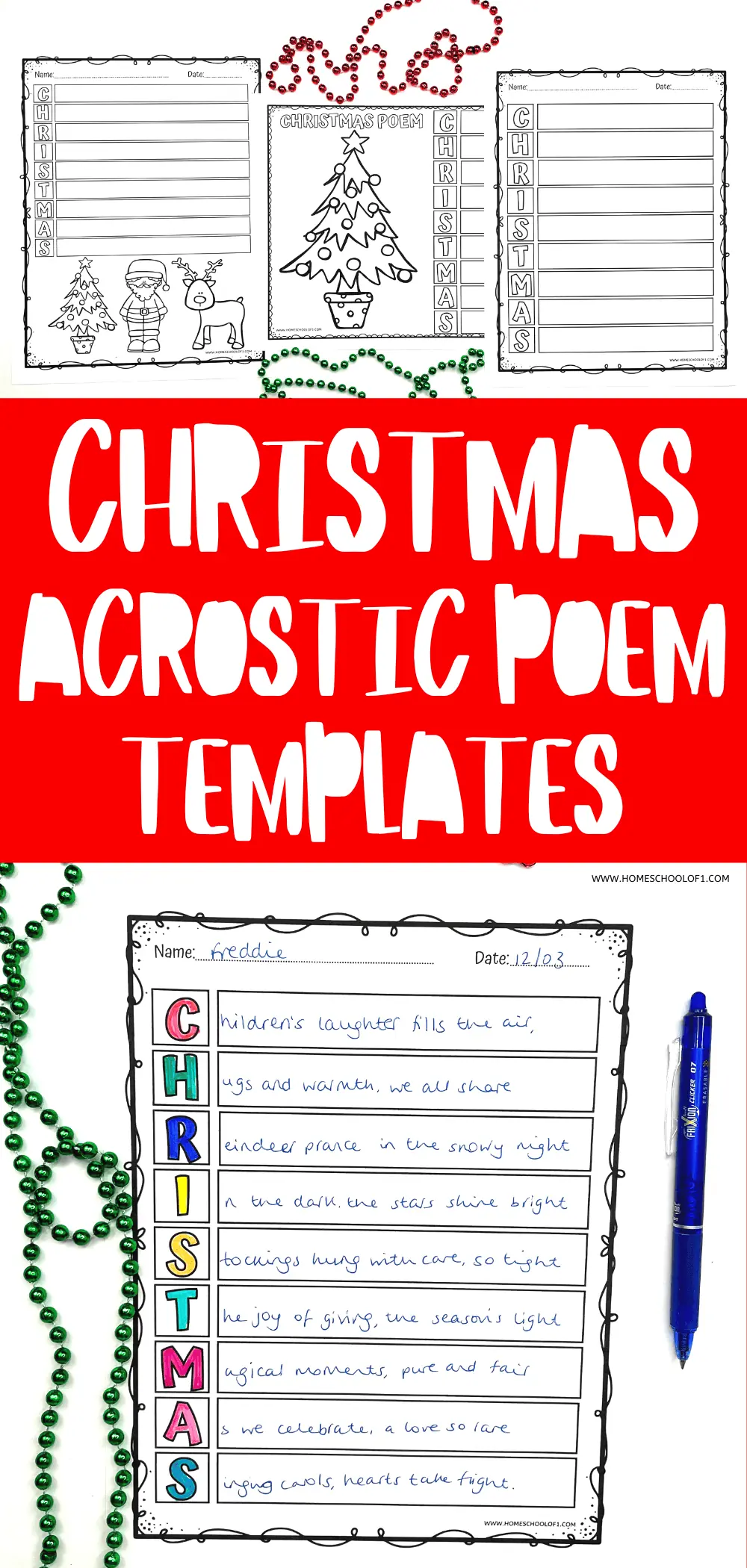 **There may be affiliate links in this post. You can read my full disclosure at the bottom of the page.**
How to write an acrostic poem?
Acrostic poems are a unique form of poetry in which the first letter of each line, when read from top to bottom, spells out another word, message, or name.
They serve as an inventive way to embed hidden or meaningful words within a poem, adding a layer of creativity and expression.
For instance, a simple acrostic poem for the word "FRIEND" might look like this:
Fun times we share, laughter so free,
Reliable, you've always been to me,
In moments of need, you're by my side,
Encouraging, in you, I confide,
Nothing can break our bond, it's true,
Dearest friend, forever I cherish you.
Christmas acrostic poems
There are 3 different acrostic poem templates to download and they make a fun activity for all grade levels.
You can either get your kids to write a poem about Christmas or winter.
These are a great way to introduce poetry to kids in 1st grade and 2nd grade.
When it comes to teaching poetry, making it engaging for young learners can be a challenge. That's where our Christmas writing pages come in handy.
These pages are an easy way to introduce winter poetry skills to elementary students.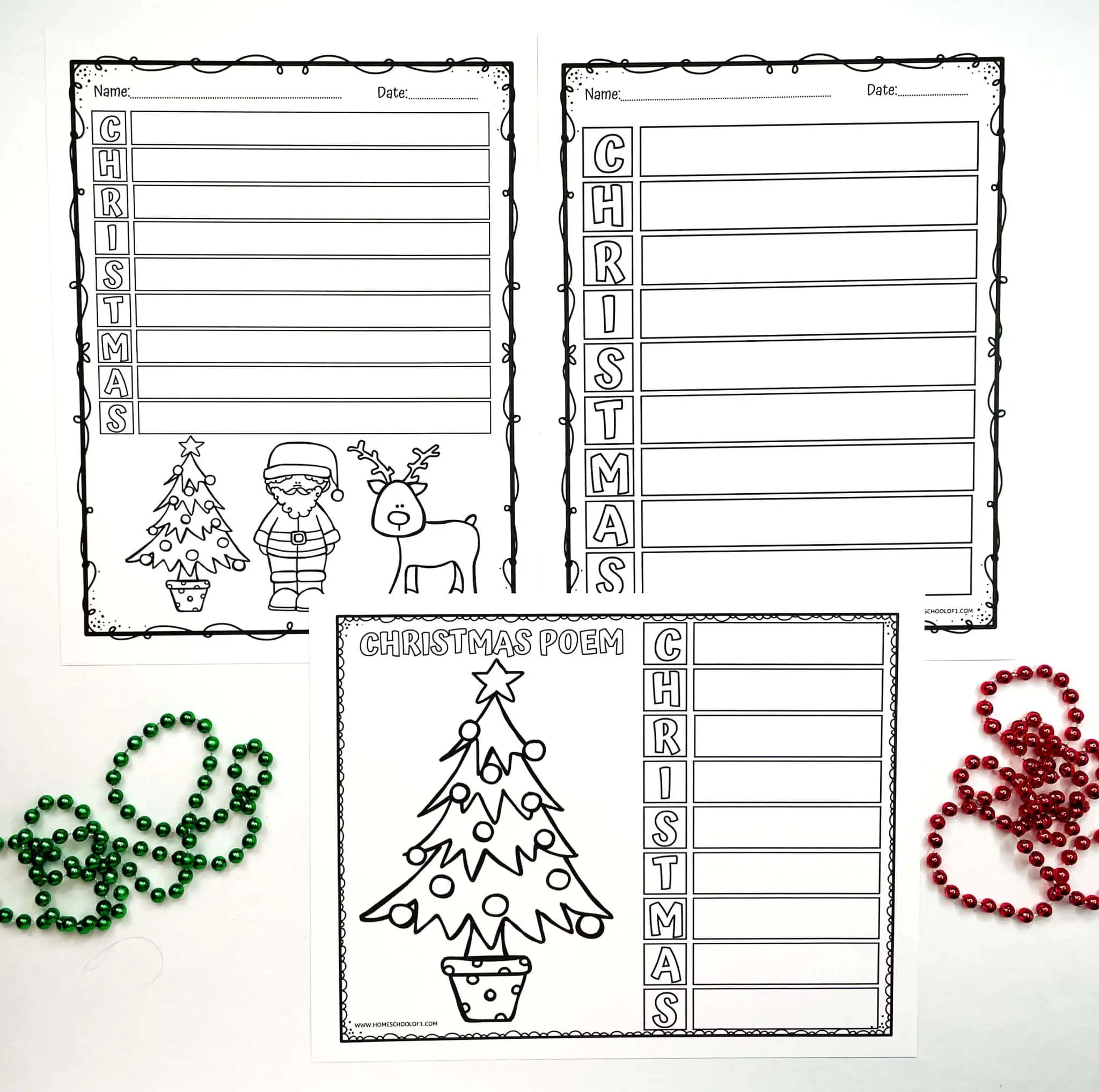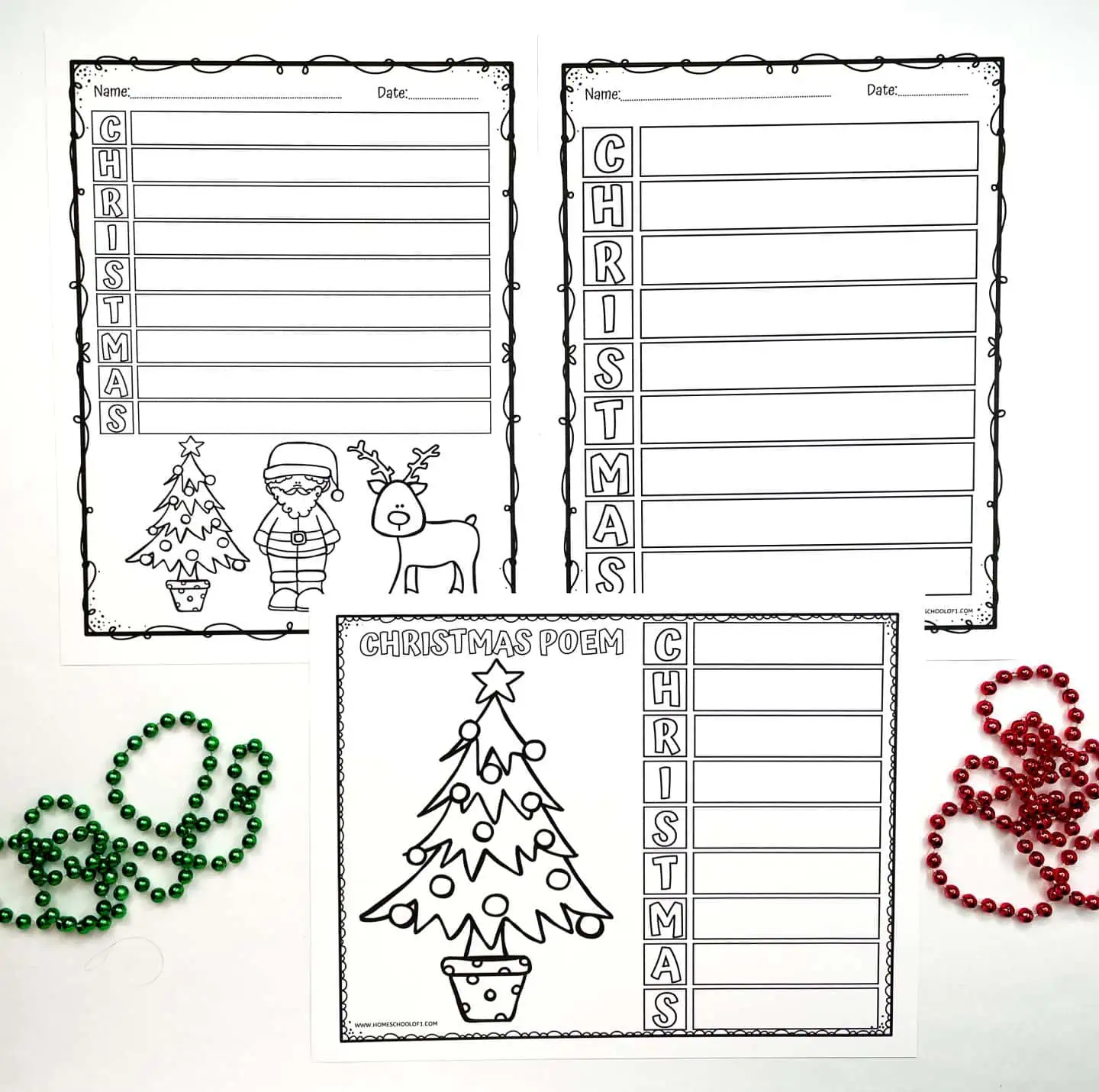 Christmas acrostic poem examples
Children's laughter fills the air,
Hugs and warmth, we all share,
Reindeer prance in the snowy night,
In the dark, the stars shine bright,
Stockings hung with care, so tight,
The joy of giving, the season's light,
Magical moments, pure and fair,
As we celebrate, a love so rare,
Singing carols, hearts take flight
A Christmas poem for preschool
Candy canes,
Happy kids,
Reindeer run,
Ice and snow,
Santa's gifts,
Toys for me,
Merry songs,
And a big tree,
Sparkling lights!
What's included in the free download?
Our free Christmas poem writing project consists of three pages that offer different opportunities for your students:
1. Blank Box with "CHRISTMAS": This page provides students with a blank canvas to let their imagination run wild. It's a great way for them to create their own fun winter-themed poem.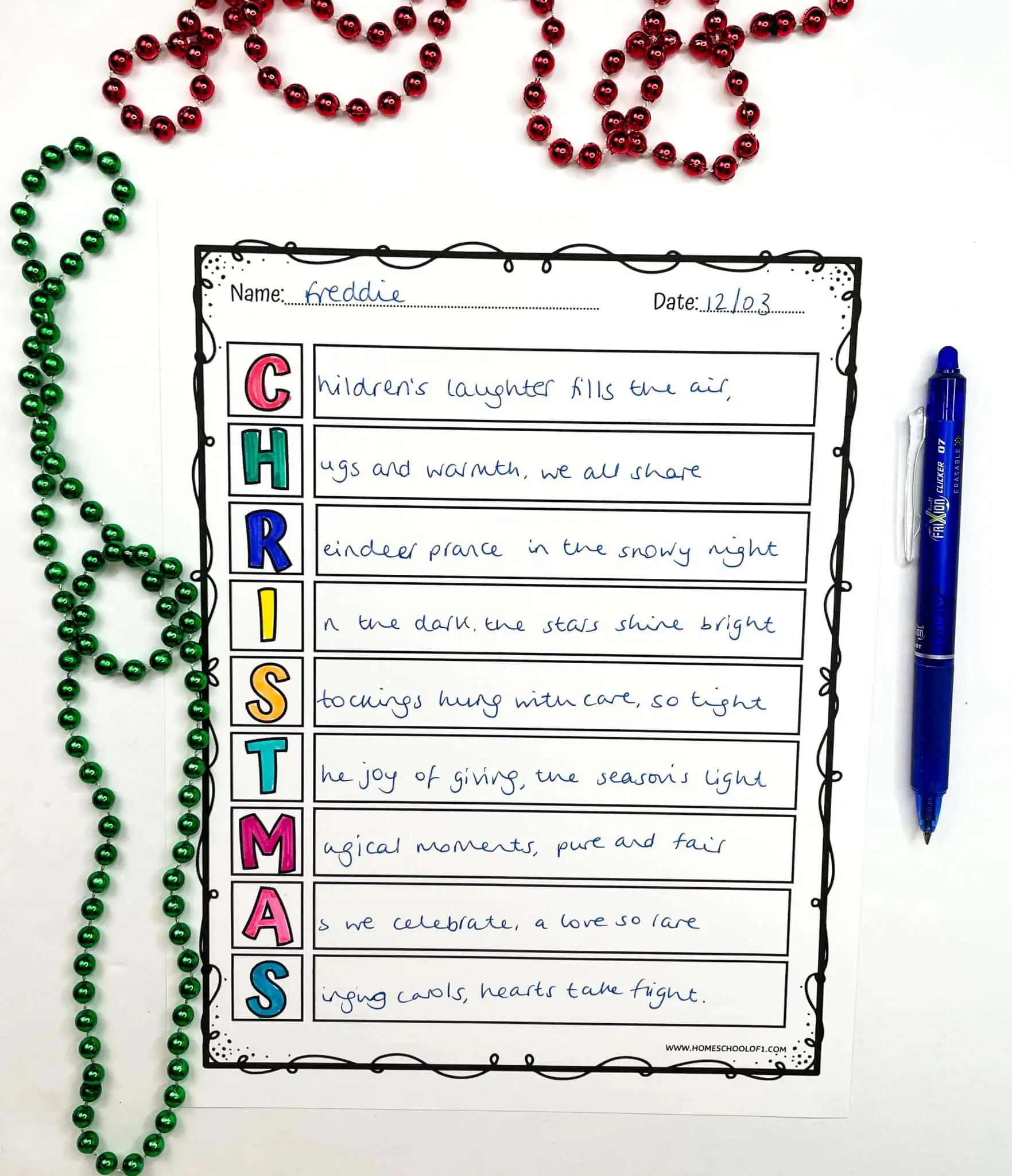 2. The second page features pictures of a Christmas tree, Santa Claus, and a reindeer, which can be colored in by the kids. Above the pictures, they can write an acrostic poem using the letters in "CHRISTMAS."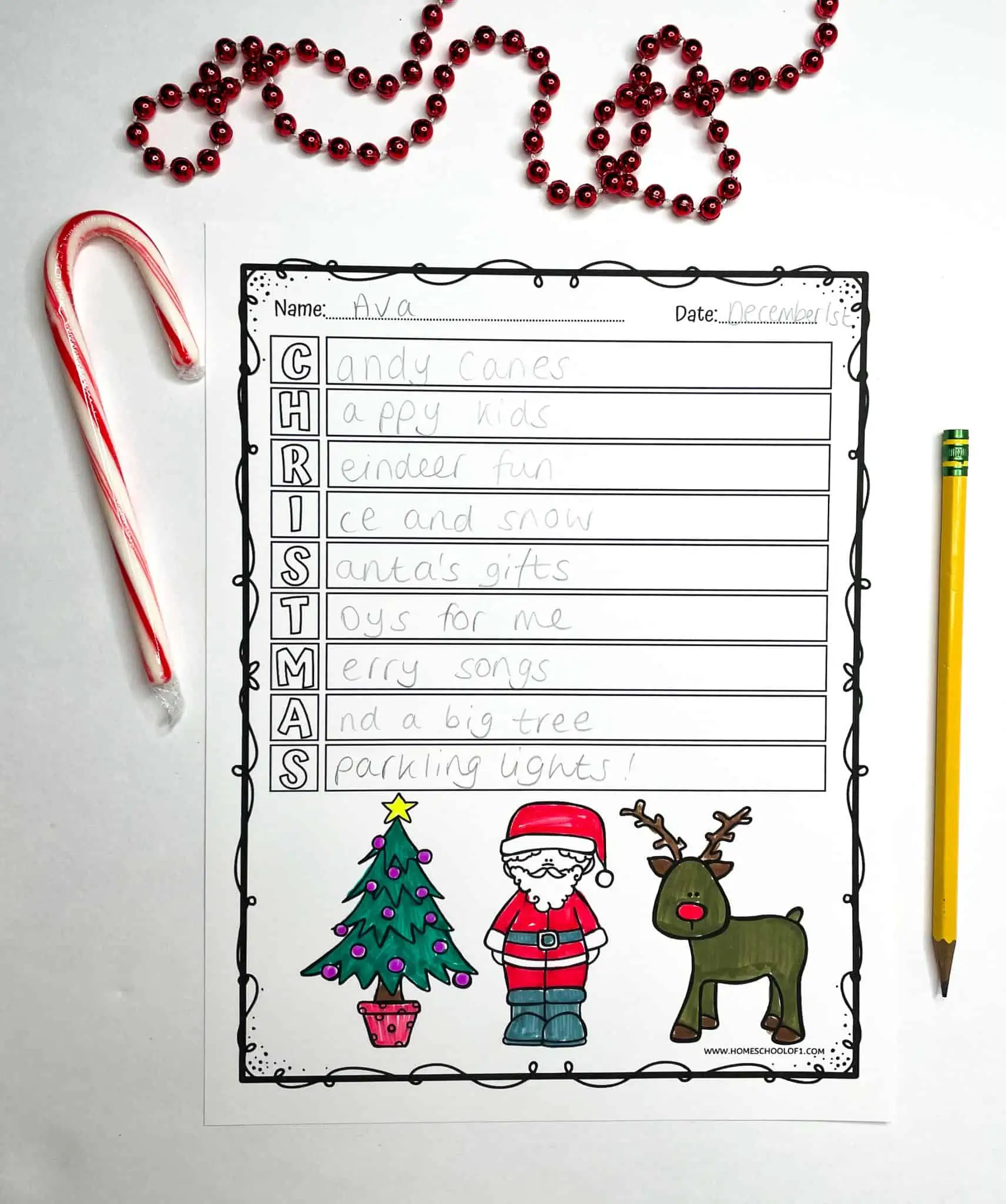 3. On the third page, there's a picture of a Christmas tree with the letters CHRISTMAS written to the side. Students can use this as inspiration for their own Christmas poems, allowing them to express their creativity while focusing on the Christmas-themed words.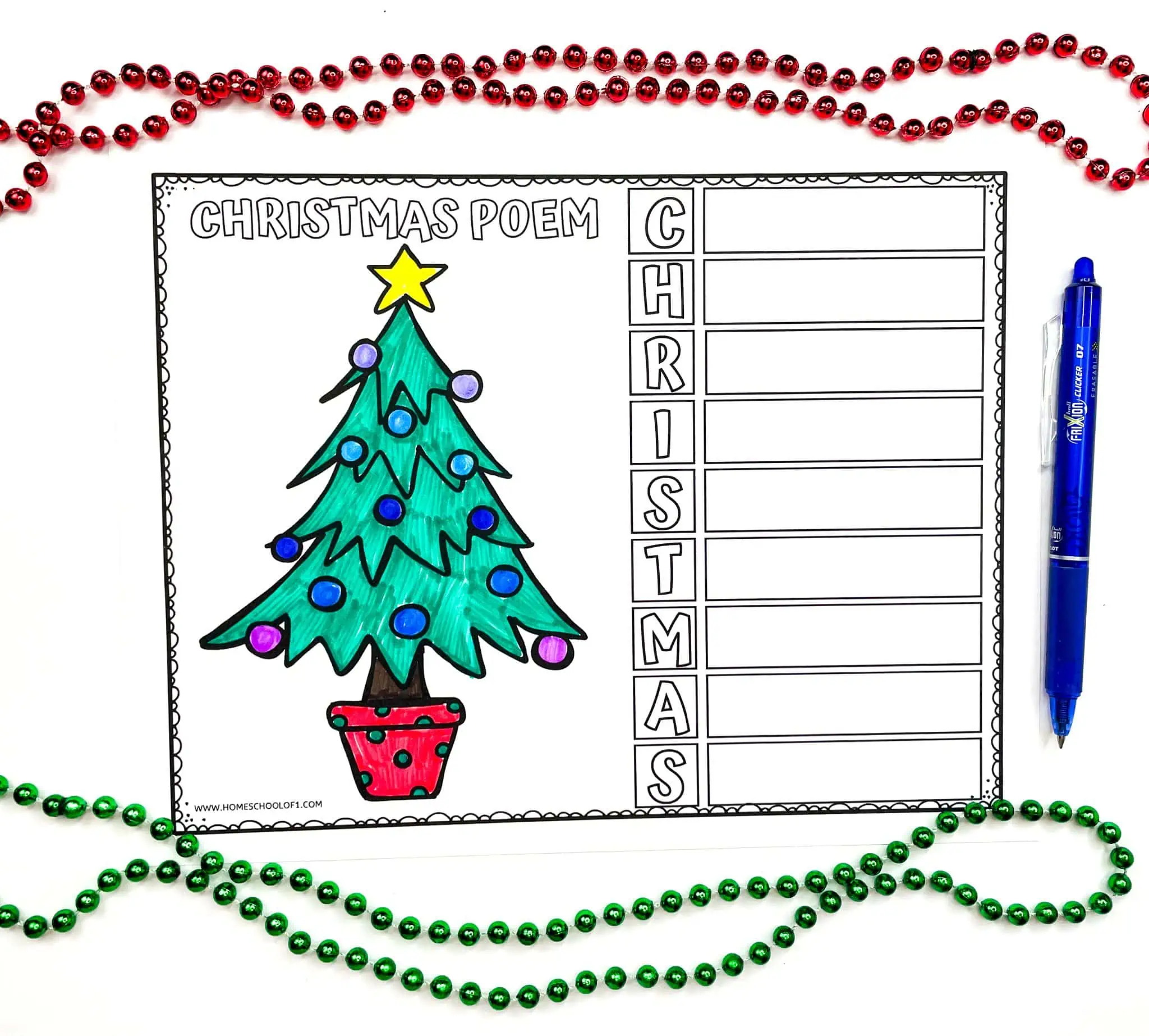 How to use the acrostic poem writing templates
These printable templates are a perfect activity for literacy stations and can be a great addition to your December writing prompts.
They work well in both the classroom and at home. Add these to your English Language Arts lesson plans, enriching your students' understanding of poetry and creative writing.
Whether you're a teacher looking for a great winter writing activity or a parent interested in a creative way to engage your child.
Download the free PDF at the bottom of the page and watch your students' writing creativity flourish with this great winter-themed resource!
You can also enjoy our Christmas writing promts.
Christmas poetry books
When the children have created their own acrostic poem, why not get together for a fun poetry read aloud.
The Night Before Christmas. This timeless holiday classic, beautifully illustrated and cherished for generations, captures the magic of Christmas Eve, as Santa Claus makes his annual visit. It's a heartwarming tale that continues to enchant readers young and old, filling homes with the joy and wonder of the season.
My Butt is so Christmassy. This playful and humorous picture book follows the adventures of a young boy who believes his rear end has been transformed into a festive Christmas tree decoration. It's a delightful and silly tale that will have children giggling while celebrating the quirky side of holiday imagination.
The Illustrated Robert Frost: 15 Winter Poems for Children. In this collection, Robert Frost's timeless winter poems are adapted for children, offering young readers a glimpse into the beauty of the Christmas season. With captivating illustrations, it's a perfect introduction to the works of the renowned poet, sparking a love for both poetry and the magic of winter.
Tips for downloading the free files
Below you will see a large sign-up box where you need to add your name and email address, and press I NEED THIS NOW!
Within minutes you will be sent the free PDF directly to your email address, so you can print it out and start using it immediately.
Sometimes emails get a little wonky, so if you can't see it, please check your spam folder where I am sure it is hiding.
Download the free Christmas acrostic poem printable
Make sure you choose the correct paper size and click on the shrink to fit button. All of our free printables for kids work better when printed on cardstock (this is the one we use and love.)
Last Updated on 25 November 2023 by homeschoolof1