Thanksgiving Color By Number (8 Free Pages)
As we are always looking at fun activities to do during the holidays I thought I would create some free printable Thanksgiving color by number pages.
I have put together 8 different Thanksgiving color by number pages that can be enjoyed in November. These will keep the kids quiet for hours.
There are pictures of turkeys, cornucopia, fall fruit baskets, turkey dinners, pies, and more.
We love creating free kids coloring pages, and we either use them as a supplement for a lesson we are studying or to calm the mood! Coloring is a great way for them to refocus and relax, and great for improving fine motor skills.
**There may be affiliate links in this post. You can read my full disclosure at the bottom of the page.**
What are the benefits of using color by number worksheets with preschoolers?
Color-by-number worksheets can be a fun and engaging way for preschoolers to learn about colors, numbers, and patterns.
Color by number worksheets requires children to focus on the task at hand, and concentrate on the numbers and colors they are using. This can help improve their attention span and focus.
By using numbers to guide their coloring, preschoolers can become more familiar with numbers and their sequence. This can help build a foundation for math skills later on.
Holding and using a coloring tool to stay within the lines of the worksheet can help preschoolers develop hand-eye coordination, plus improve fine motor skills.
Thanksgiving color by number worksheets can introduce students to Thanksgiving themes, such as turkeys, pumpkins, and fall leaves. This can help them learn about the holiday and its traditions.
Color By Number Thanksgiving Fun
These Thanksgiving coloring pages are free to print but are for personal and classroom use only. Scroll to the bottom of the post and add your email address to get the pdf file.
There are 8 pages included in this free Thanksgiving color by number printable.
You will need 12 different colored pencils or crayons to complete this activity.
I highly recommend these dual tipped pens that we use (there are 72 different color pens included and a carry case to keep them all together.)
There are 2 color by number turkey pages.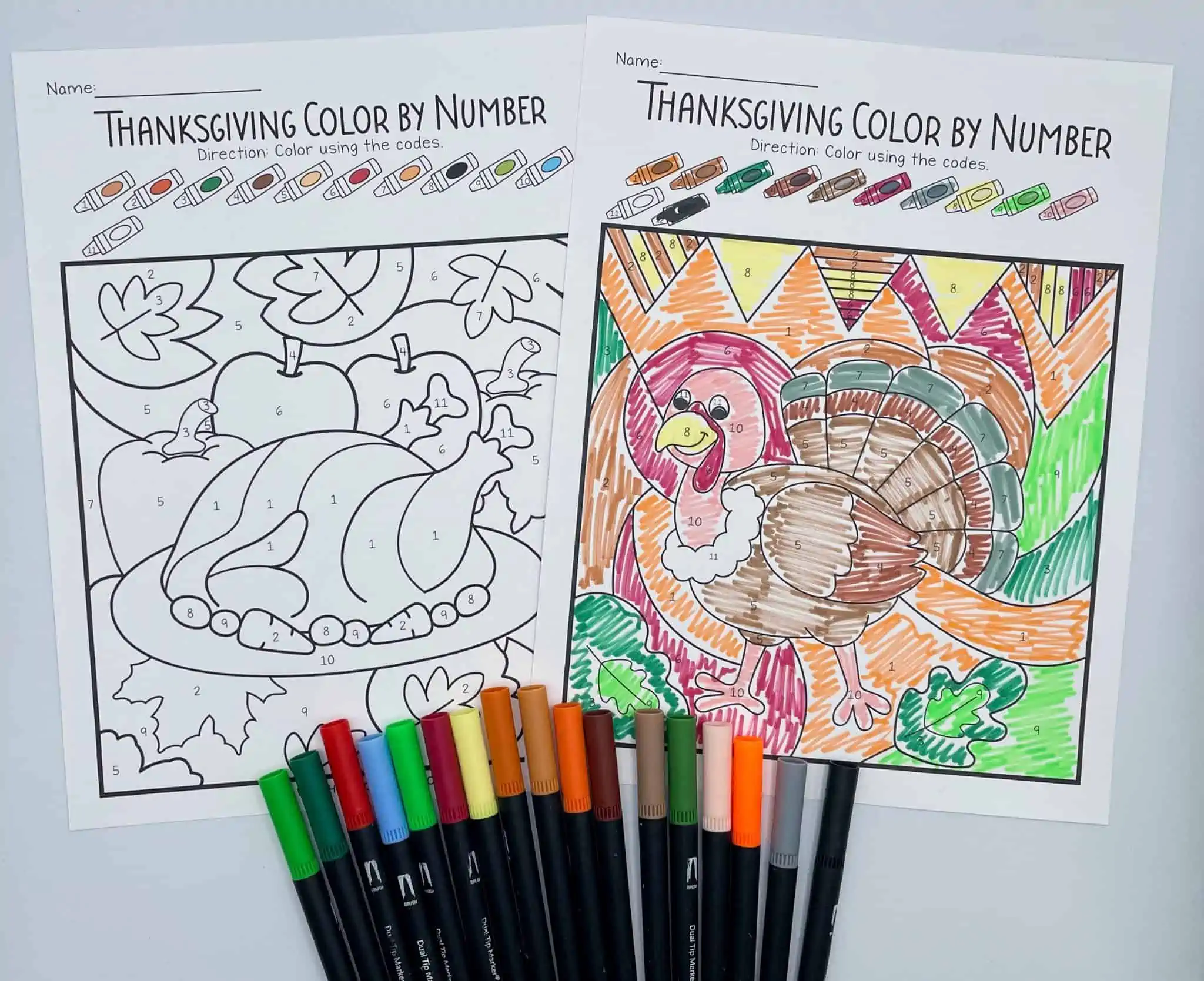 As you can see below I printed some of them out in black and white so I could choose the colors I wanted to use.
I highly recommend organizing the pens ready for your children to use. Placing them in order 1 -12, especially as some of the colors are very similar.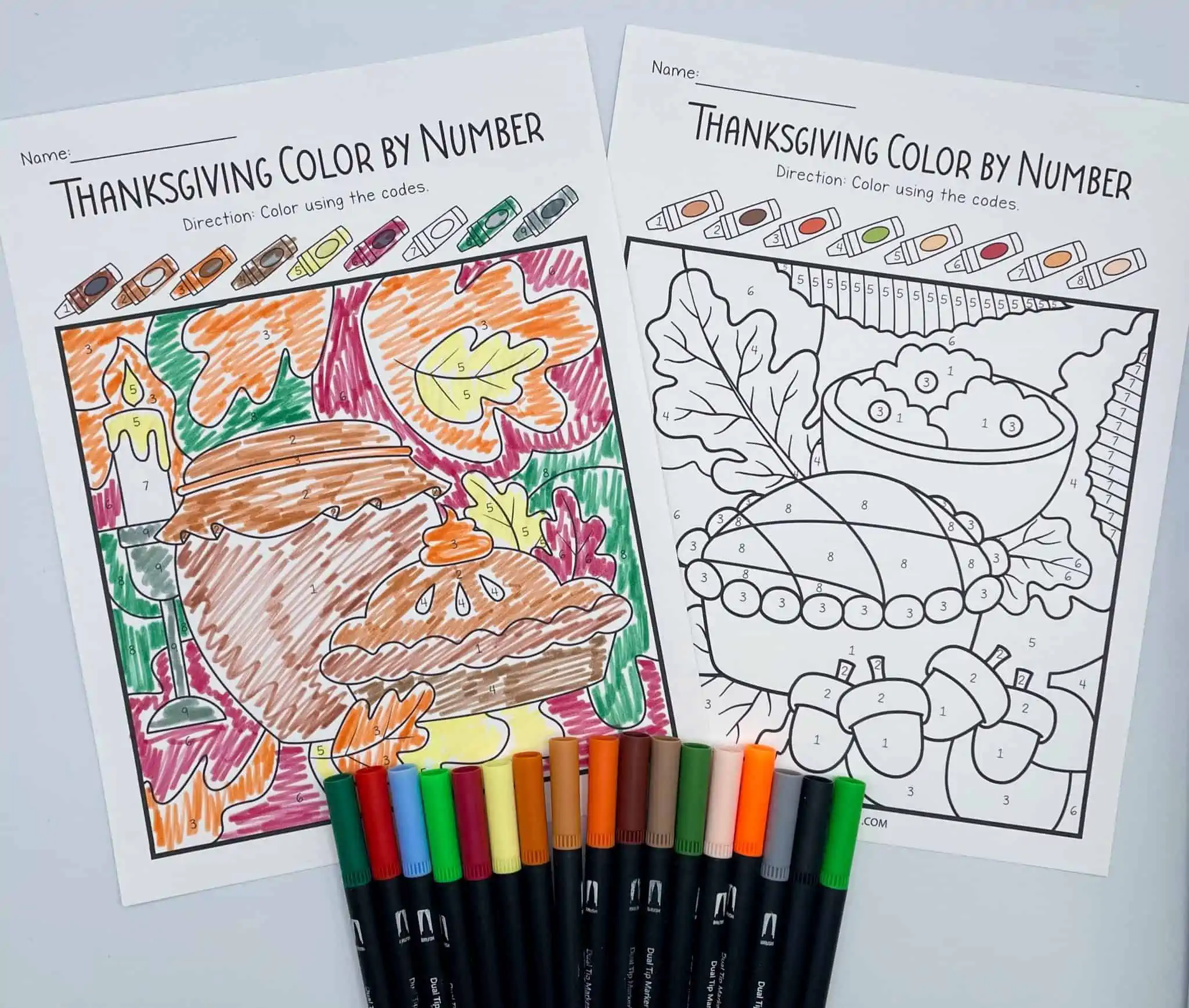 As there are up to 12 colors to be used for some of these coloring pages, these are suitable for kids of all ages.
For the younger children, you could use 1 color brown rather than 2 for example to make it slightly easier.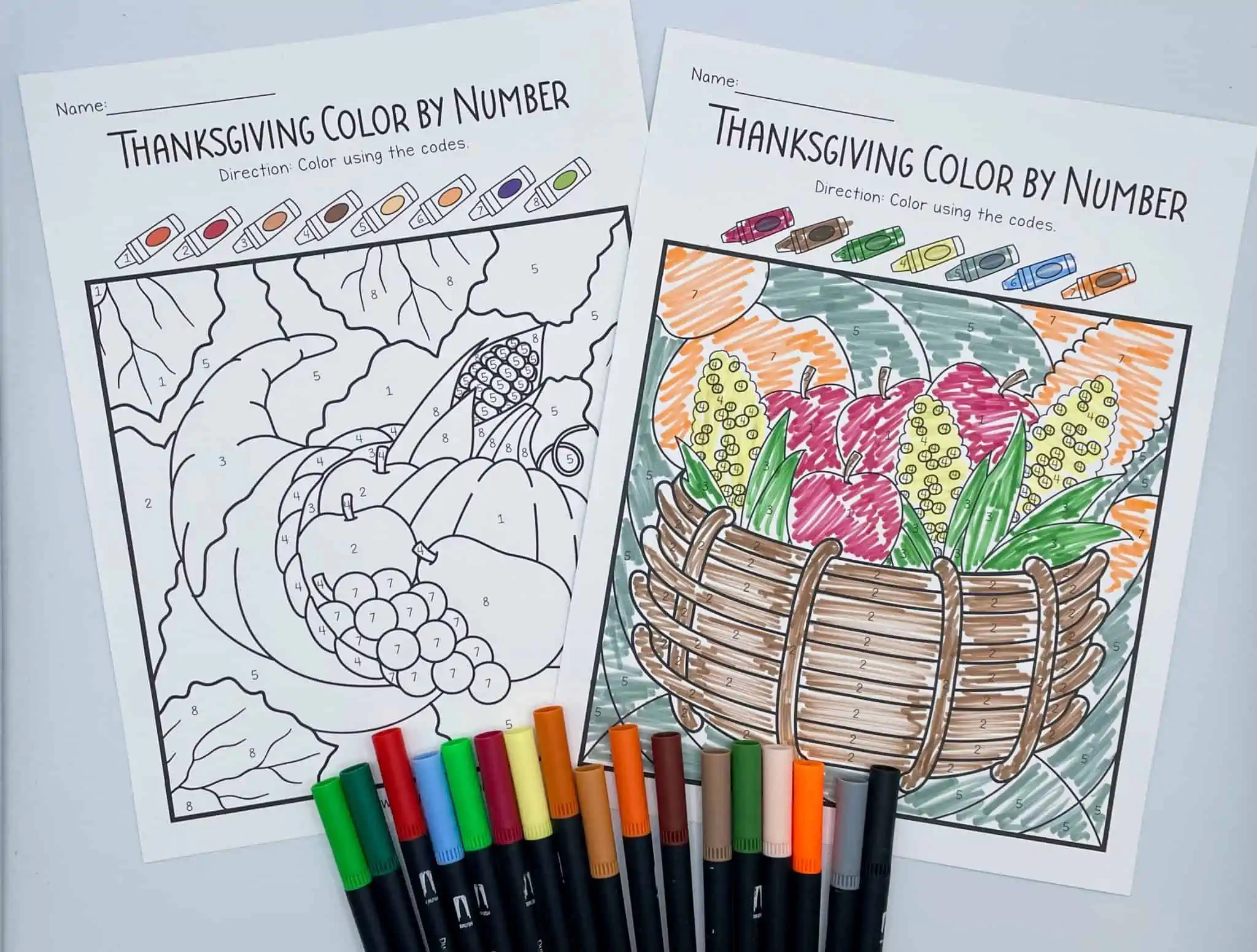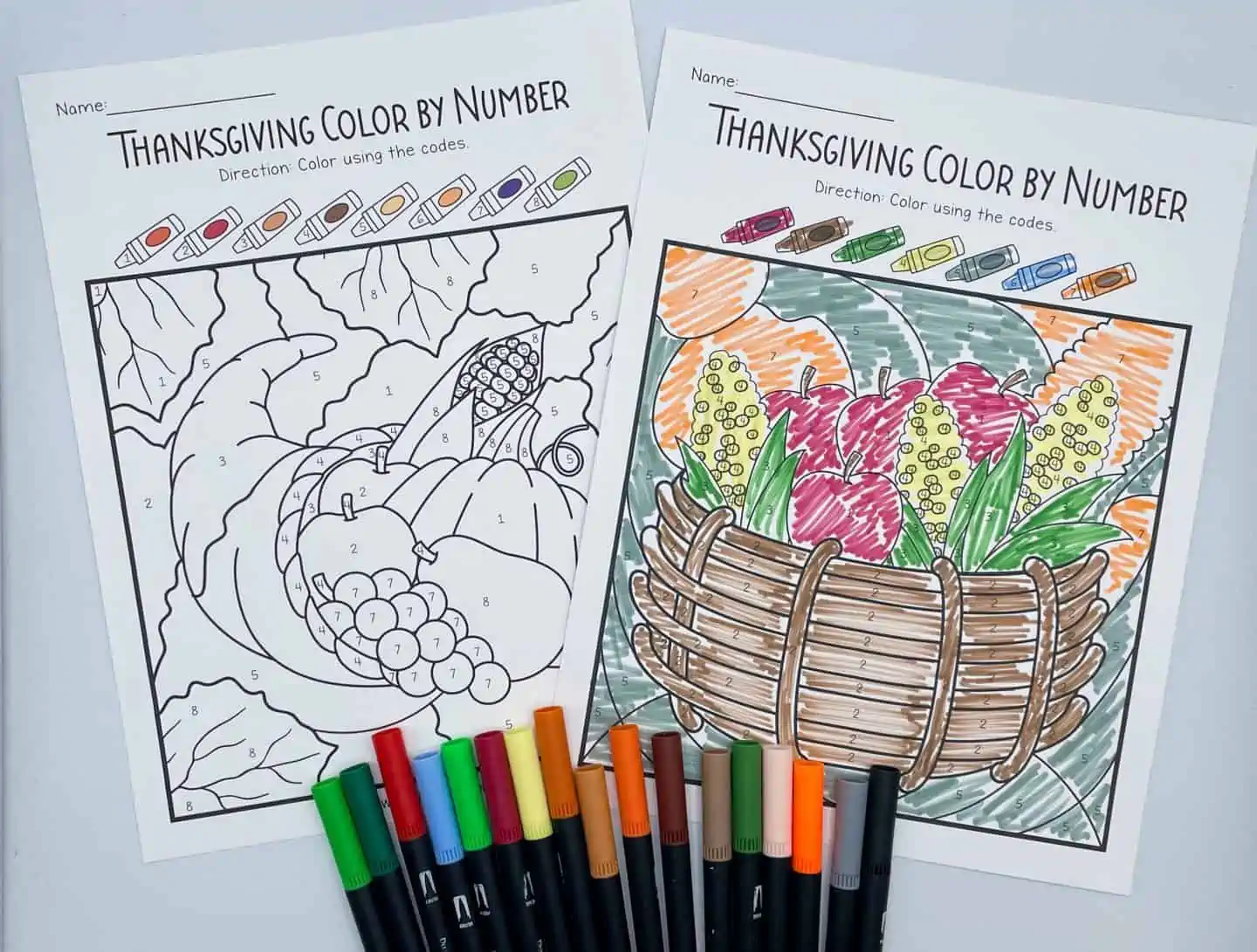 This is such a great Thanksgiving activity the kids can do either at school, the library, or at home.
When you have finished with these why not print out our free Thanksgiving coloring pages too?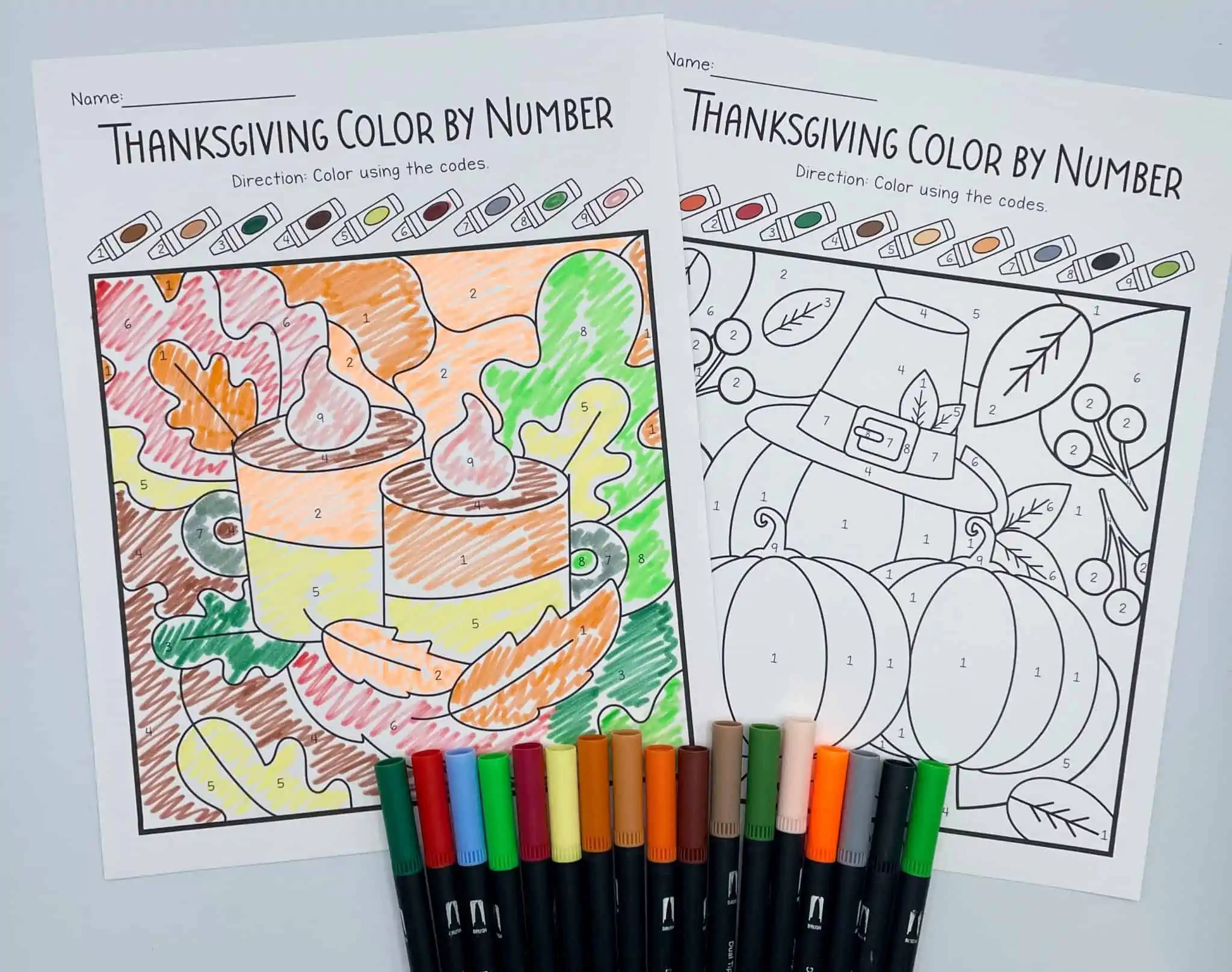 Fun Thanksgiving Activities
For even more fun this Thanksgiving with the kids you are going to love: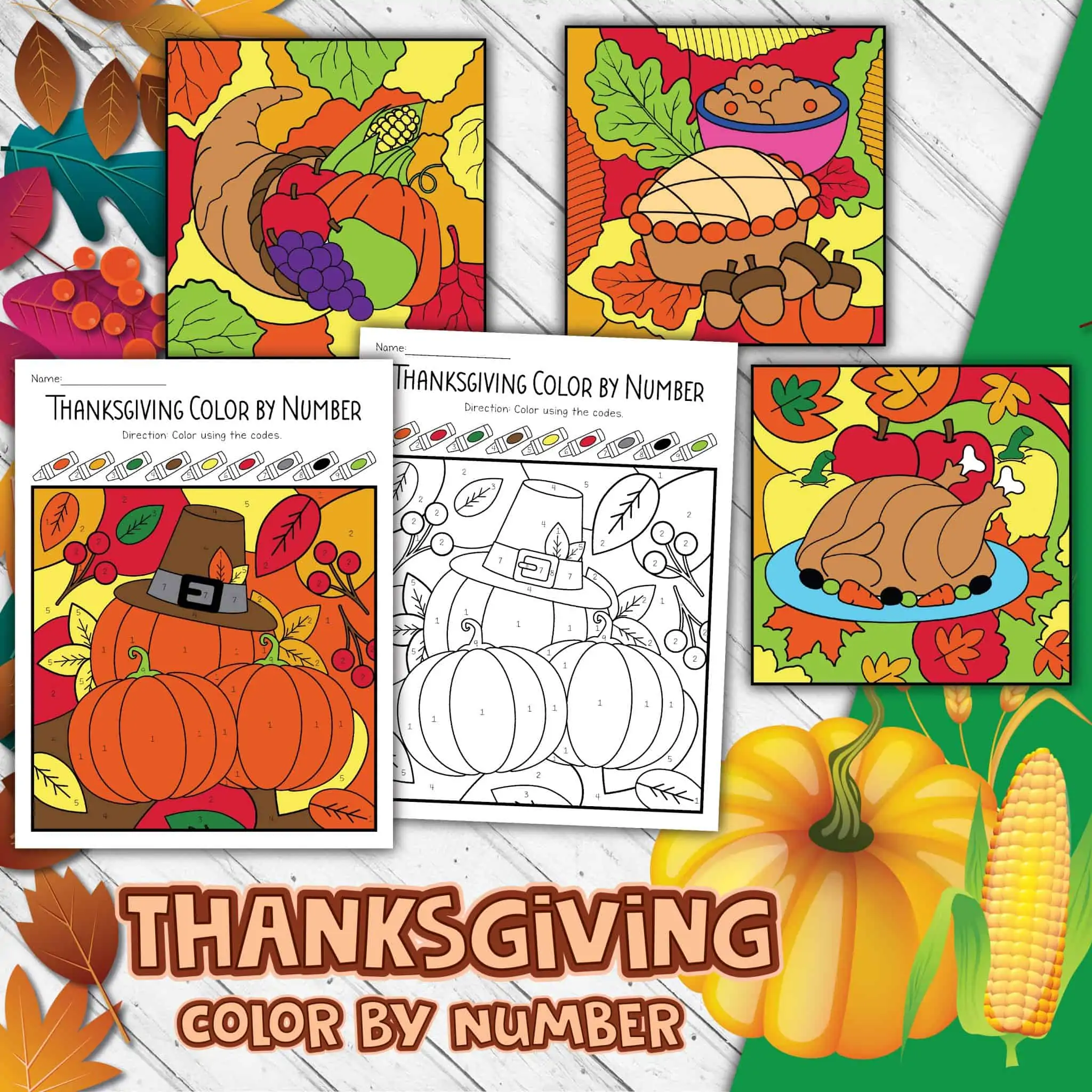 Download the free Thanksgiving color by number printables
These will work best if you print in color, however, I have shown above that even if you print in black and white you can still enjoy these worksheets.
Make sure you choose the correct paper size and click on the shrink to fit button. All of our free printables for kids work better when printed on cardstock (this is the one we use and love.)
Last Updated on 5 June 2023 by homeschoolof1