ABCmouse Review: 12 Reasons Why You Should Try It Now
I have only recently stumbled upon ABCmouse when another homeschool mom mentioned that her kindergartner was using it. Keep reading for our honest ABCmouse review.
I am so disappointed I hadn't found it when my son was younger.
She has been using it for a couple of months with her daughter and absolutely loves it. So I thought I would see what all the fuss was about.
ABCmouse is a great addition to your preschool homeschool curriculum and is one of the best homeschooling resources for this age group.
**There may be affiliate links in this post. You can read my full disclosure at the bottom of the page.**
If you have older kids though as I do, they also have Adventure Academy which we are so grateful we have found. Check out our detailed Adventure Academy review.
What is ABCmouse?
It is a subscription-based early learning curriculum for kids aged 2-8.
In fact more than that, it is a really fun educational learning app that is super colorful, engaging, and a perfect first app for kids.
Why ABCmouse should be your kid's first app
12 reasons why you will want to download ABCmouse on your kids electronics.
You can set up time limits so they can only play on the app for however long you set it for each day
I love that it is linked to the core curriculum (see more detail below)
You can add up to 3 users to each account (if you have multiple kids you know how valuable this is!)
If the level is too easy, or too hard for that matter you can easily go in and change it. (It shows you what is covered at each stage)
There are assessments for each level you can do with your children in the parent section
The thousands of books in the library are fantastic, including Disney and Pixar books.
Over 870 lessons to complete in every subject, not just math and English!
It is 100% safe for kids and its services are backed by a child-safe guarantee, which means NO ADS
30 day free trial so you can try it before you subscribe
They even have printables you can do at any time when you don't want the kids on the IPad anymore!
The kids get certificates when they complete a level.
Available in both English and Spanish. Freddie used to watch TV shows in foreign languages when he was younger and actually preferred them to English. I am certain that is why he is now so great at picking up languages.
Don't just take my word for it, check it out for yourself now with a 30 day free trial.
How to use ABCmouse for homeschool
This is not just aimed at homeschoolers of course, and in fact, Freddie was still in public school until he was 8. I know that he would have come on leaps and bounds with this "game".
The reason I am so confident is that we have recently started with Adventure Academy which is for 8-14 year olds and he absolutely loves it. In fact, he likes it so much, that when he has free time he chooses to "play" it.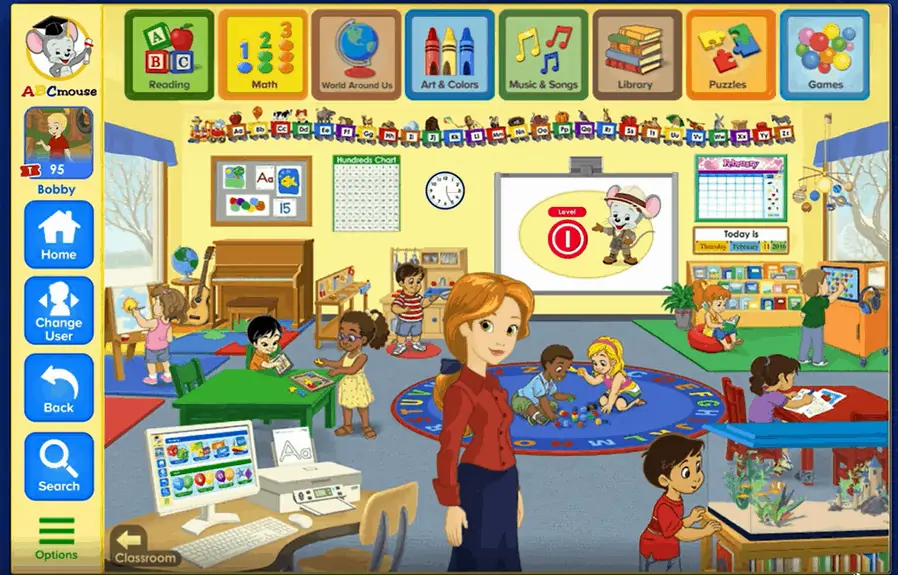 Above is a picture of the main home page, as you can see there is so much to do! Not only are the titles at the top clickable so are all of the pictures.
Your child can't read yet? No problem, when you hover over anything it tells you what it is.
If you are looking for a full homeschool curriculum for K-3rd grade check out our detailed Schoolio review.
Whether you plan to homeschool or not, as you can see below ABCmouse supports the common core curriculum.
This would be perfect to add to your homeschool portfolio if you decide to use it. But more than that your child will get a certificate for every lesson completed which could also be included.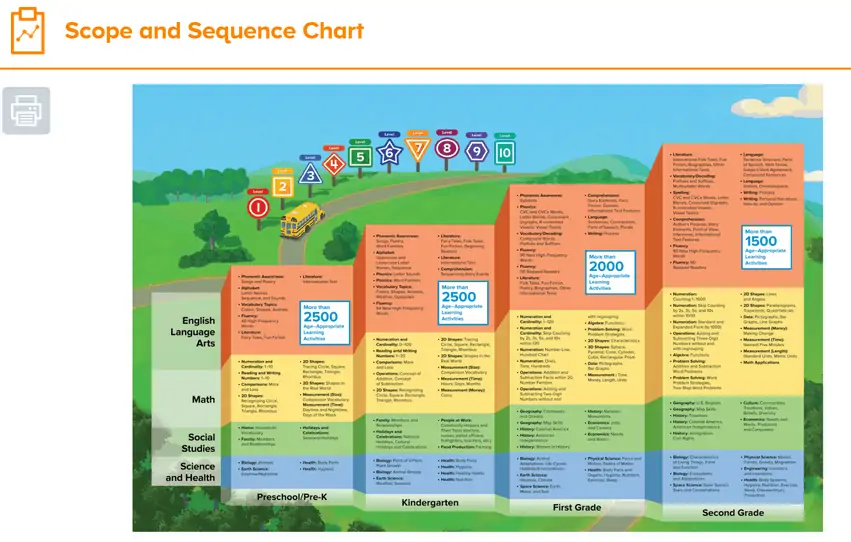 So not only have you got lessons and fun activities in every subject, your children can do them in a fun way.
There is an amazing library
They can choose to have books read to them
The music videos are super cute and engaging
Games are both fun and educational
Puzzles come in different levels from 1 being easy to 10 being much much harder
It includes art activities
There are songs and chants, including how to learn the alphabet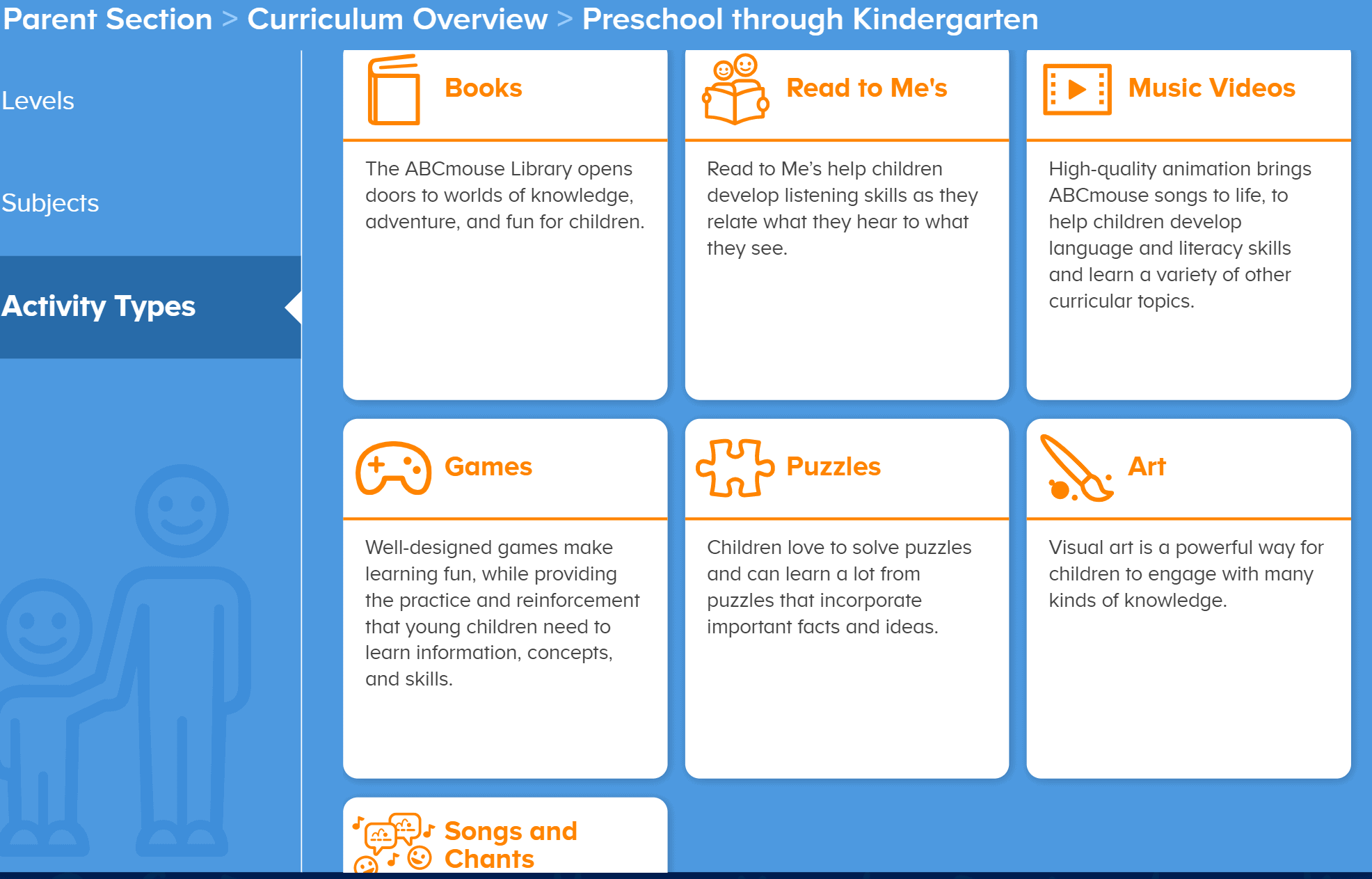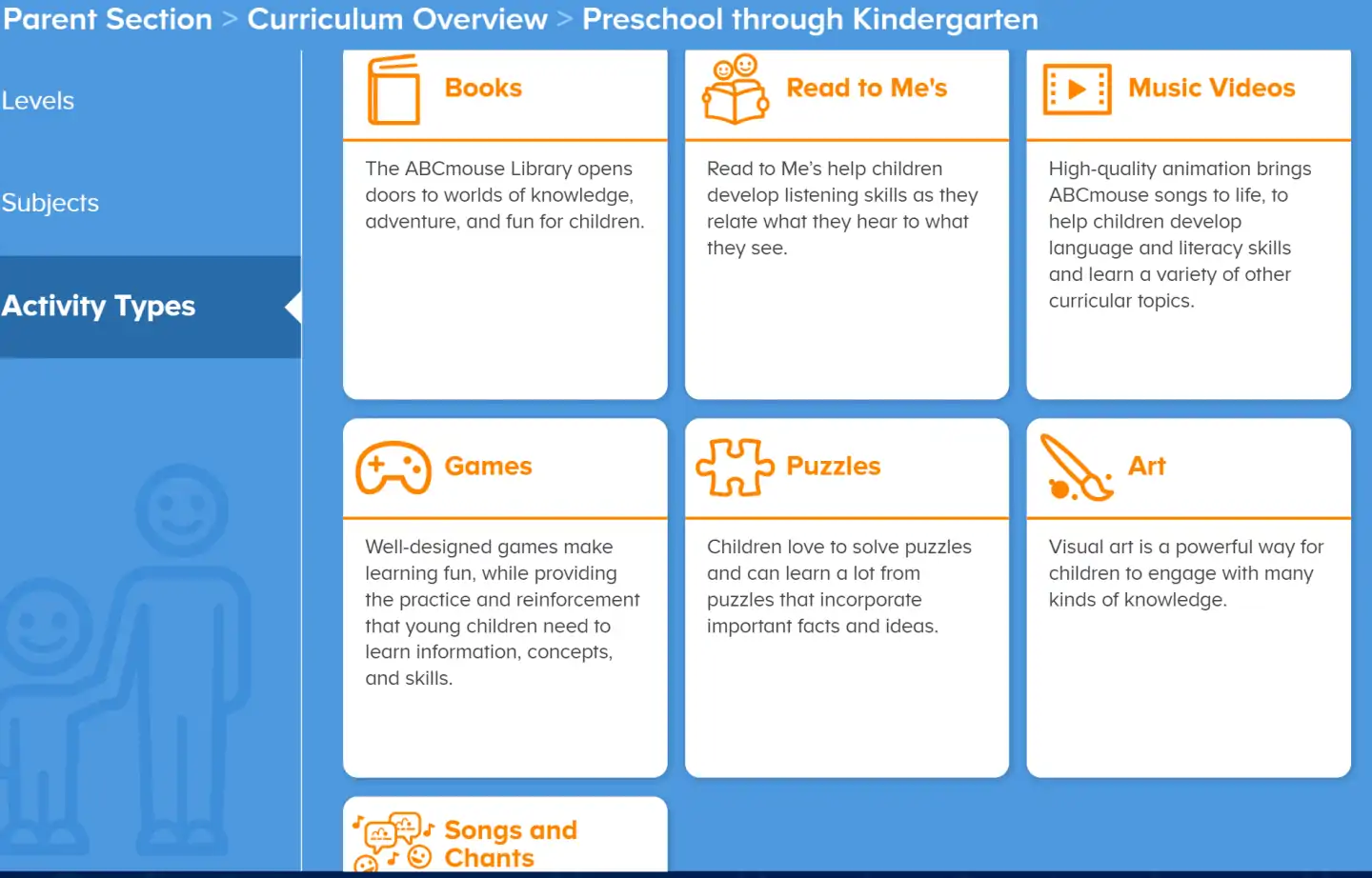 The lessons are lots of fun too, and there are lessons on pretty much anything you can imagine.
When they complete a question they will get rewards which they can spend on updating their avatar or pets etc.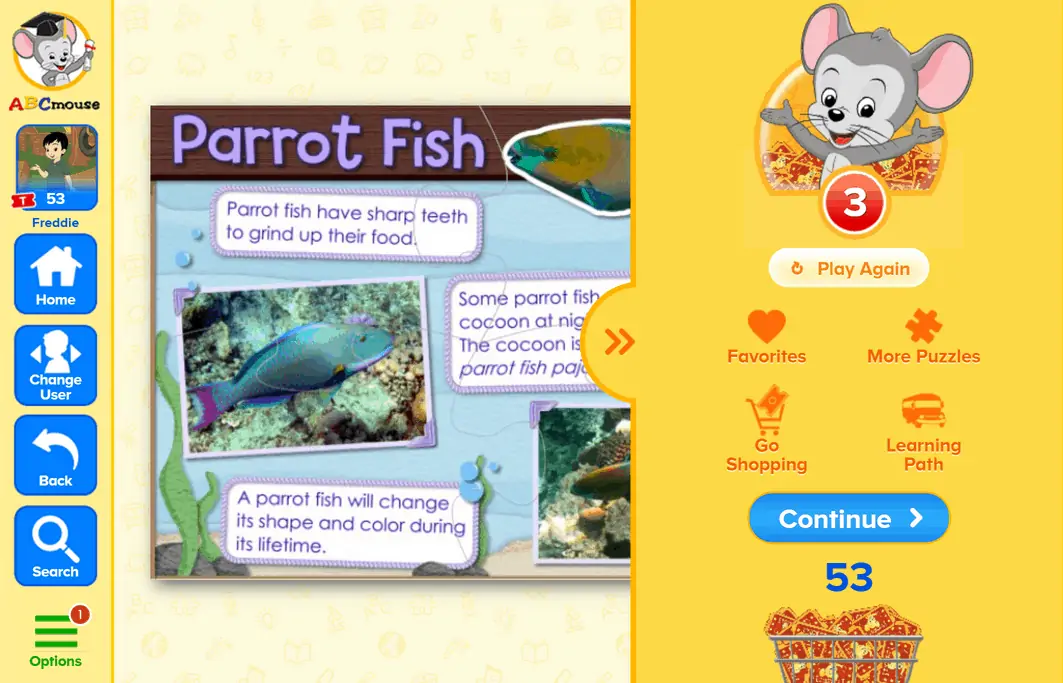 I absolutely love ABC Mouse, but you don't need to take my word for it. They get a huge 4.5* from 592k customer reviews on the app store!
For the cost of a Starbucks each month I think this is the best online learning platform for kids aged 2-8.
You are not just paying for the amazing content either, you are paying for NO ADS and a completely safe environment for your kids to learn in.
How much does ABCmouse cost?
What I really love is you can have 30 days to check it out for FREE! Then it's just $12.99 a month until canceled, or you could pay annually and get it much cheaper (see below).
But you can either subscribe monthly and cancel at any time, or save lots more money and pay annually.
Monthly with 2 months for only $5, then $12.99 per month until canceled.
Subscribe for 4 months at a time for only $19.99, then $19.99 every 4 months until canceled.
Annually for only $45, then $45 per year until canceled.
What's even better is you can buy this as a gift, if you are struggling to know what to buy why not treat them to an annual subscription?
How to Cancel ABCmouse?
To cancel all you need to do is go into the parent section. When you have finished with ABCmouse I highly recommend you go straight into Adventure Academy which we are currently using.
If you are looking for other educational board games check out our recent post.
If you are looking for even more homeschool curriculum reviews check out all of the others we have reviewed over the years.
Last Updated on 1 November 2023 by homeschoolof1