Adventure Academy Reviews: Why We Love It In Our Homeschool
Adventure Academy is our new favorite fun educational app! Carry on reading for our Adventure Academy reviews from a student and mom perspective.
So we completely missed out on ABCmouse, mainly as when my son was younger I hadn't heard of it. I wish I had, but luckily we have found Adventure Academy in time. They are both from Age of Learning and we just love them.
Adventure Academy is aimed at children between the ages 8-13, and ABCmouse is aimed at children 2-8.
If you have used ABCmouse previously you know what to expect with Adventure Academy (and it is equally fantastic). If this is new to you, carry on reading for our honest Adventure Academy reviews.
If you are looking for even more homeschool curriculum reviews check out all of the others we have reviewed over the years.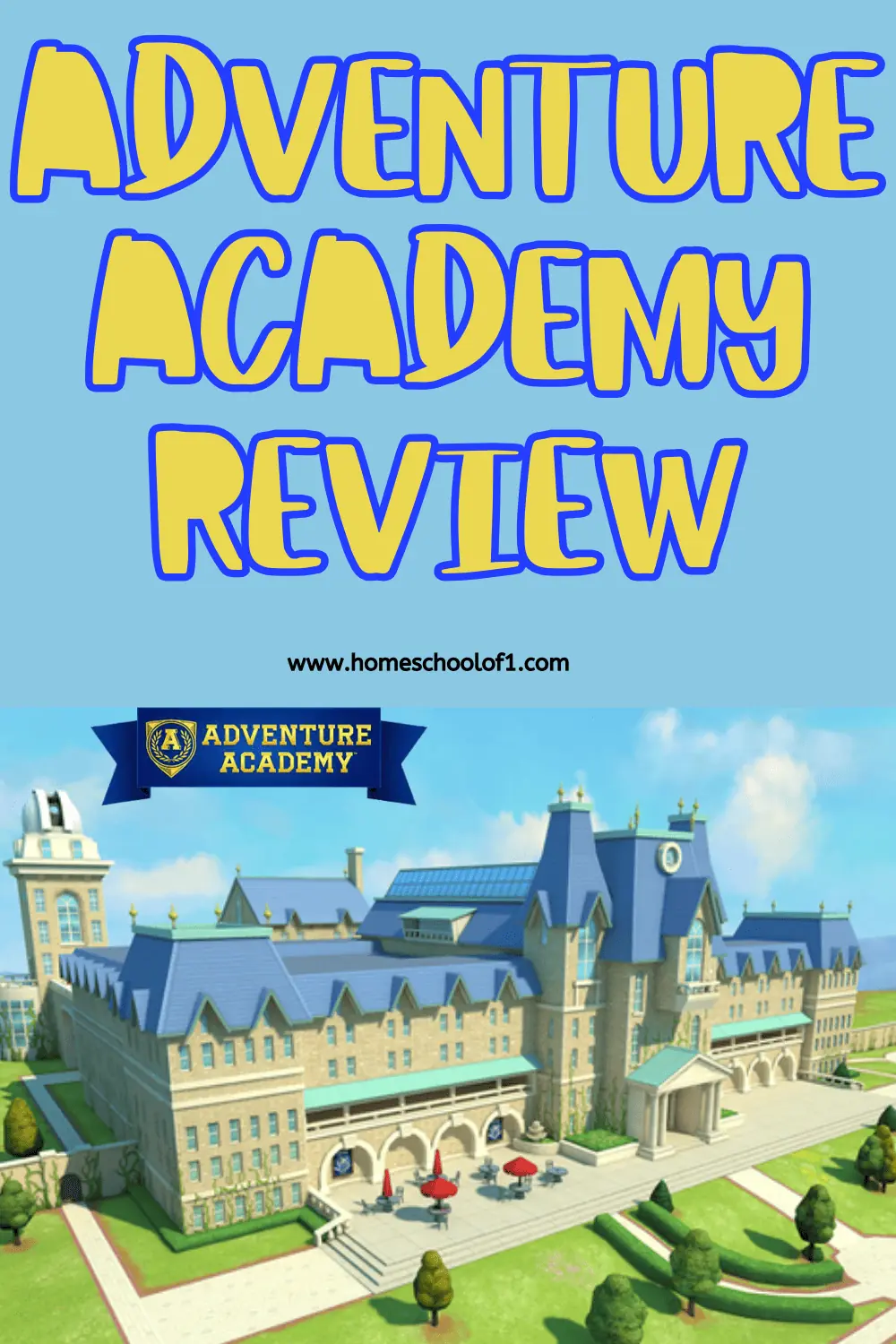 **There may be affiliate links in this post. You can read my full disclosure at the bottom of the page.**
Check it out for yourself here, you will get 30 days for free, then $12.99/mo. until canceled.
Adventure Academy for Homeschool
No, of course, you can not use this as a complete homeschool curriculum. It's good, it's not that good! But we haven't found anything else that is good for all subjects either!
How do we use Adventure Academy in our homeschool?
If Freddie has completed a lesson early, he will choose to either read or play on Adventure Academy. (He loves to read, but Adventure Academy wins 9/10 times!)
Some days (normally Friday), when we are burnt out from the week (we generally follow public school hours, so it is a LONG day) I let him put away the Core 6th grade homeschool curriculum and chose what he wants to do. Adventure Academy is always the first option he will pick.
If I am working and I can't help him with a subject (immediately) he will just go to Adventure Academy until I am ready to help. If you have younger children, this would be great with the older kids "playing" while you help with the younger kids.
When we have a break from homeschool (normally in December as we live in Florida) he will still play Adventure Academy. Mainly because I won't let him play video games all day every day, and this is a compromise we are both happy with.
Carry on reading for our Adventure Academy reviews. Or if I have already convinced you of its greatness, head straight over to Adventure Academy and check out for yourselves!
Why Do We Love Adventure Academy?
There are so many reasons we love Adventure Academy, but I will just list the top 4:
There is a chat function, but you can have standard chat (with automatic chat filters), limited chat (chose preselected messages), or no chat (which is what we use).
Kids can get coins when completing quests to purchase accessories.
There is a parent section where you can see how much time has been spent "playing" and what topics they covered.
Playing with friends, you can chat, dance, and wave with them. You can also invite other players to battle!
Freddie doesn't have any friends on Adventure Academy yet, but you can go up to another player and invite them to play. I had his chat settings off, so I am not sure if they could chat or not. But he really enjoyed competing against others.
Check out Adventure Academy for yourself today, with a 30-day free trial you have nothing to lose.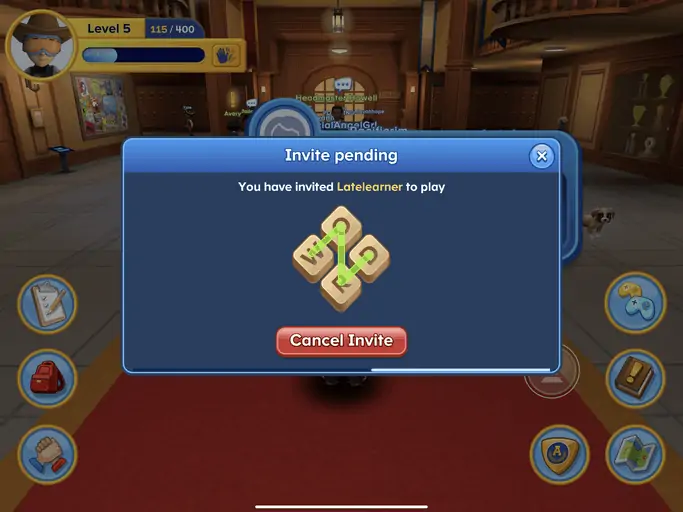 Adventure Academy Lesson
The lessons are really great too, I happened to be sitting next to Freddie when he took Greek and Latin, and I am not ashamed to say, but I didn't know some of it!!
We both loved this section especially as they kept talking about Britain.
Also after the lesson, there were some related activities. One of which was a book on Greek Gods (check out our free Greek Gods worksheets) and Freddie was impressed to see the names of his favorite superheroes like Thor and Loki. But there are lots and lots of graphic novels which he loved.
My favorite on the list below is Escape from Fred!! (I feel like that most days, haha!)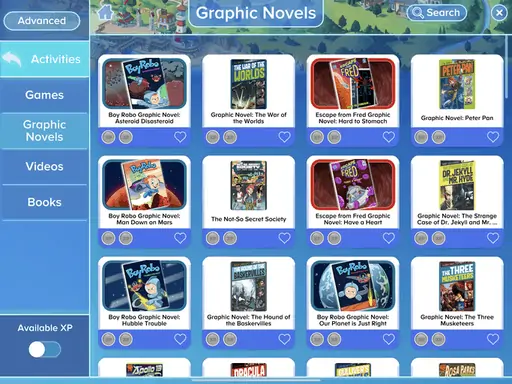 After the Latin class, there was a book about Star Wars so he was in his element. So we decided to search Star Wars and he was super happy to find his favorite books!
Check it out for yourself here, you will get 30 days for free, then $12.99/mo. until canceled.
Adventure Academy Reviews
So I have gone through why we love it, and how we use it in our homeschool. Now I will go into a bit more detail about what Adventure Academy has to offer.
I have broken these down into why my son loves it, and why I highly recommend it. Obviously, we have very different reasons!!
Students Adventure Academy Review
So the most important part is the avatar (well, according to my 11 year old!!).
To start with there are lots of "standard" options to choose from, and as they progress with the quests you can add on accessories as below. The more quests you complete the more options you can get. You can also customize your house and outside space, which is really cool.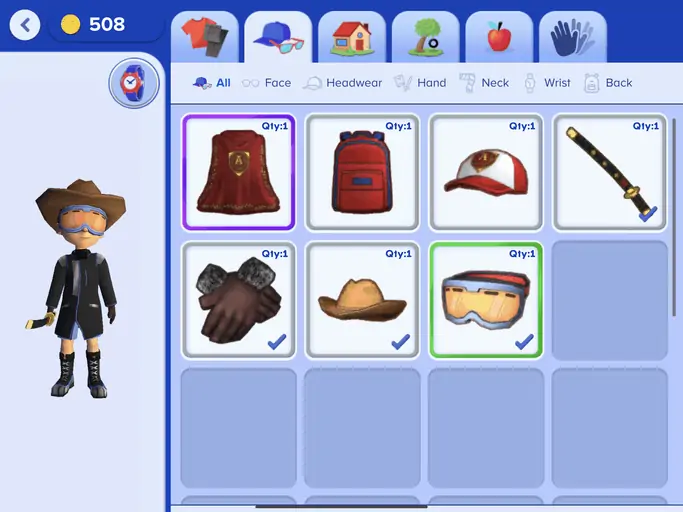 Freddie likes the freedom. He can go anywhere on the map and take quests that interest him. There is so much to do as can be seen below.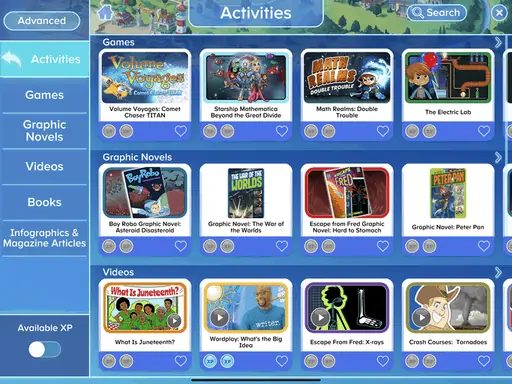 He enjoys the videos, which I was happy to see actual people in, and not cartoons, he's funny too!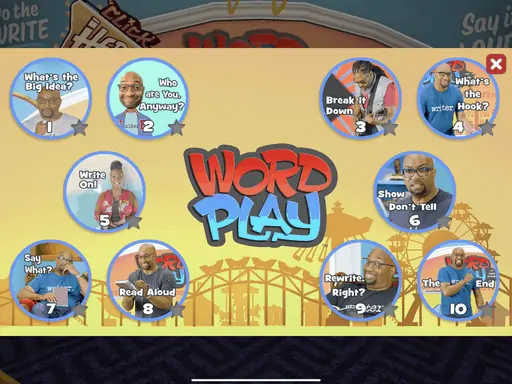 Check it out for yourself here, you will get 30 days for free, then $12.99/mo. until canceled.
Freddie said – "I really enjoy it. I enjoy the games and exploring the map, and also battling with other students."
Mom's Adventure Academy Review
I loved the academic content (of course!), but more than that, I loved the fact that my son was really engaging with it.
I love the fact you can have 3 different options for chatting, which you can change in the parent profile. We had it disabled but I think I will change it to limited chat in the future.
When you first log in, you also get to choose academic interests if you want. But as Freddie wanted the easier subjects, and I wanted subjects he hadn't mastered, we selected all! I think this is a great way to get a bit of variety too!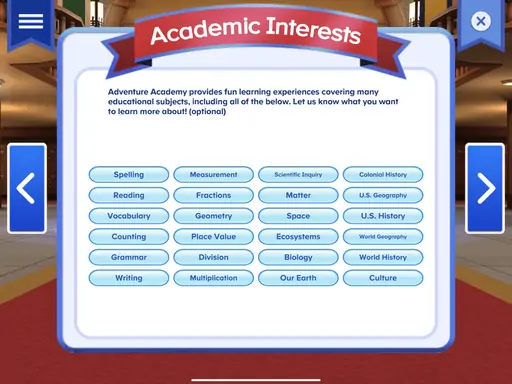 When I first saw it, I was concerned that at 11 he might be a little old for it, but I was wrong. He is on the advanced track, and even I learned something from it as discussed above. (I think I have another year, but after that, he will have outgrown it.)
It is a fun way to learn. Freddie loves playing video games like most children, but he is not allowed to "game" during the week.
It is the closest he gets to gaming while learning!
I love it, he loves it, his dad loves it. That's because we are not fighting each other when he walks through the door, as I have not let him "game!".
Another great tool is that you can use the search function. Below you can see I chose "history", and loads of lessons, activities, books, and graphic novels all came up. Freddie was pleased to see lots of Star Wars content too!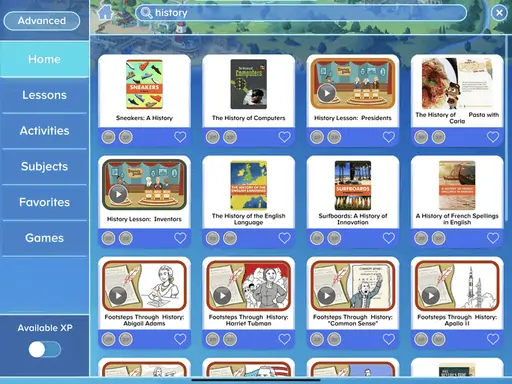 Overall I absolutely LOVE Adventure Academy, especially with the low price point (it is less than a monthly cup of Starbucks coffee.) It is a fun and engaging way to get the kids to learn.
Adventure Academy Cost
What I really love is you can have 30 days to check it out for FREE! Then it's just $12.99 a month until canceled, or you could pay annually and get it much cheaper (see below).
But you can either subscribe monthly and cancel at any time or save lots more money and pay annually.
Monthly with 2 months for only $5, then $12.99/month, until canceled.
Annually for only $59.99, then $59.99 per year, until canceled.
To cancel Adventure Academy is super easy, just head to the Parent Section > My Account > Cancellation.
For younger children you will enjoy our ABCmouse review.
Last Updated on 14 November 2023 by homeschoolof1