7 Asia Worksheets For Kids (free)
If you are learning about the continent of Asia with the kids you are going to love our free Asia worksheets.
With this free geography worksheet, you will learn all about the continent of Asia. Including the top 10 biggest countries, the top 10 most spoken languages, and much more.
Included in the Asia worksheets are the following:
2 x map labeling,
an Asia fact sheet,
matching the flag,
learning to say hello in 10 Asian languages,
Asian word search,
Asian country word scramble.
I have also included answer sheets for all of the worksheets. These are aimed at kids in upper elementary and middle school but can be used with any age group.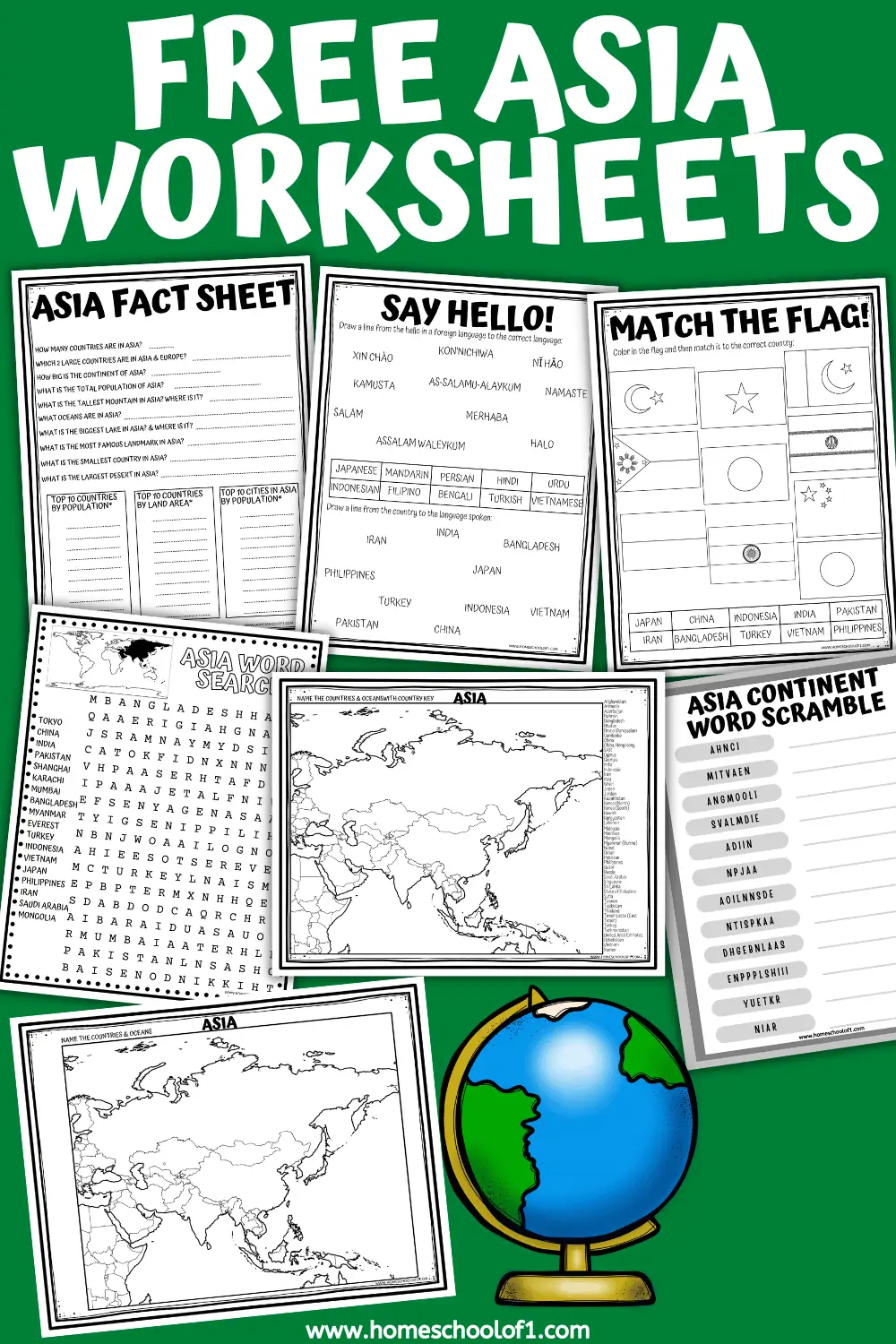 **There may be affiliate links in this post. You can read my full disclosure at the bottom of the page.**
Fun Facts about Asia
Fun and interesting facts about Asia that kids might enjoy:
The world's tallest mountain, Mount Everest, is located in Asia. It is located in the Himalayas and stands at a height of 29,029 feet.
Asia is home to some of the world's most fascinating animals, including pandas, tigers, elephants, and orangutans.
The Great Wall of China is the longest wall in the world and stretches over 13,000 miles across China. It was built over 2,000 years ago to protect China from invaders.
Asia is the birthplace of several martial arts, including karate, kung fu, and taekwondo.
Japan is home to a unique style of animation known as anime. Many popular shows and movies, such as Pokemon and Studio Ghibli films, are anime.
India is famous for its delicious food, including dishes like curry, naan bread, and samosas.
The ancient city of Petra in Jordan is a UNESCO World Heritage Site and was named one of the Seven Wonders of the World. (I went about 25 years ago, and it truly was the most amazing thing I have ever seen.)
Asia is home to several of the world's largest and busiest cities, including Tokyo, Shanghai, and Mumbai.
Indonesia is home to the world's largest lizard, the Komodo dragon, which can grow up to 10 feet long!
The first known use of paper was in China over 2,000 years ago. Paper was invented by a Chinese official named Cai Lun.
Learn more about one of the seven wonders of the world with our free Petra worksheet.
Asia map worksheet
We have included 50 countries in the Asia map, the United Nations only includes 48. The two extra countries we have included are:
Taiwan. Taiwan is a self-governing democratic state that is not recognized as a sovereign state by the United Nations or some countries due to diplomatic reasons. It is instead recognized as a part of China by the United Nations.
Palestine. Palestine is recognized by the United Nations as a non-member observer state, but it is not a full-member state. The status of Palestine is a contentious issue and is the subject of ongoing political debate and negotiations.
There are 2 different maps of the continent of Asia. One with the countries on the side to make it a little easier, and one with no country names.
The students can either color in the different countries or add the names to the correct country.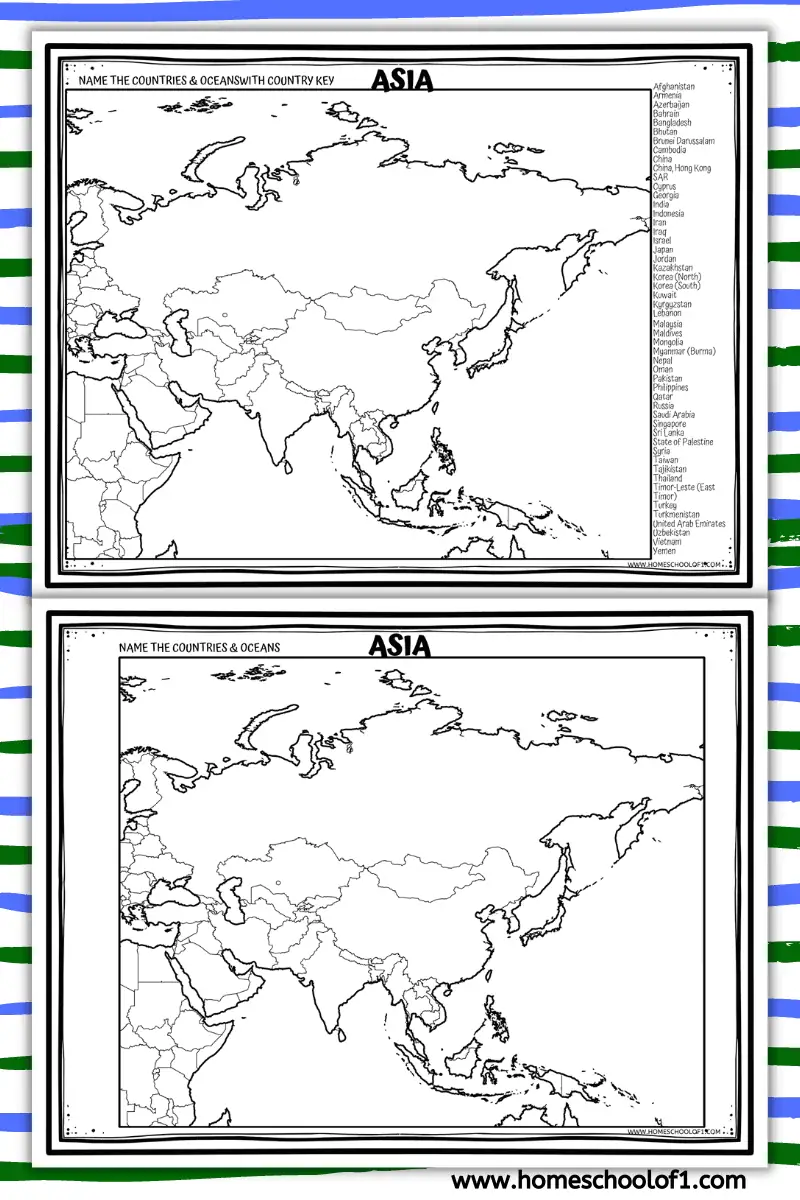 I highly recommend you play the mapology world map game to add to this unit study. This is also included in our favorite geography board games.
Asia Fact Sheet
There are 10 questions about the continent of Asia. Plus the top 10 countries by population, by land area, and the top 10 cities by population in Asia.
How many countries are in Asia? I have added 50 as the answer, but 48 would also be correct. (see above for the 2 "extra" countries)
Which 2 large countries are in Asia and Europe? Russia and Turkey.
How big is the continent of Asia? 21.7 million square miles.
What is the total population of Asia? 4.6 billion people.
What is the tallest mountain in Asia? Where is it? Mount Everest, between Nepal & Tibet
What oceans are in Asia? Pacific, Indian, and Arctic Oceans.
What is the biggest river in Asia? Where is it? Yangtze River, China.
What is the most famous landmark in Asia? The Great Wall of China.
What is the smallest country in Asia? Maldives.
What is the largest desert in Asia? Gobi Desert in China and Mongolia.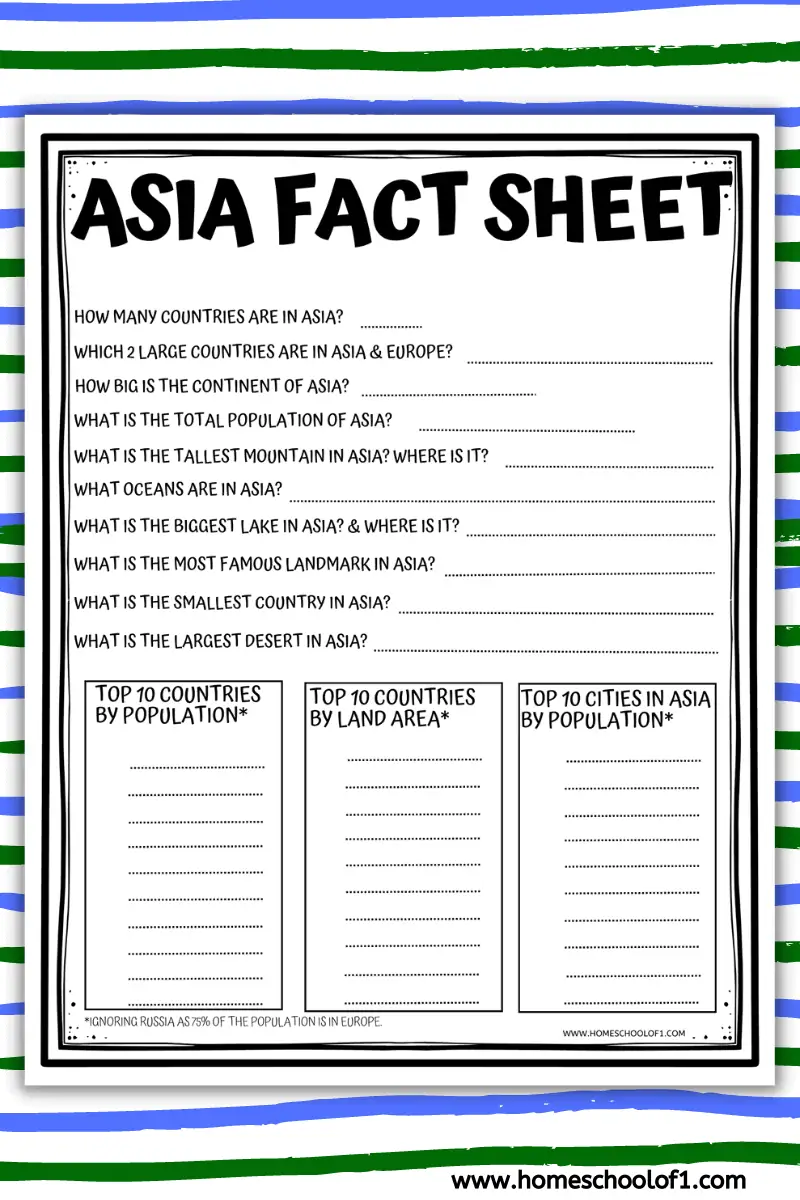 Top 10 Countries by Population in Asia
I have not included Russia in this list as the people are mainly located in Europe.
China
India
Indonesia
Pakistan
Bangladesh
Japan
Philippines
Vietnam
Turkey
Iran
Top 10 countries in Asia by land area
I have not included Russia in this list for the reason above.
China
India
Kazakhstan
Saudi Arabia
Indonesia
Iran
Mongolia
Pakistan
Turkey
Myanmar
Top 10 cities in Asia by population
Tokyo, Japan
Delhi, India
Shanghai, China
Beijing, China
Mumbai, India
Osaka, Japan
Dhaka, Bangladesh
Karachi, Pakistan
Kolkata, India
Chongqing, China
For even more fun learning about the world I highly recommend the World card game.
Learn to say hello in 10 Asian languages
We love learning new languages and are currently using a Japanese homeschool curriculum to learn Japanese.
There are 2 parts to this worksheet.
There are 10 ways to say hello in 10 different languages, and the children need to label the correct greeting with the correct language.
The second part of this is labeling the language with the country. For some like Japanese is easy, but not all of them!
Hello in Asian languages:
Kon'nichiwa – Japanese (Japan)
Ni hao – Mandarin (China)
Namaste – Hindi (India)
Xin Chao – Vietnamese (Vietnam)
Merhaba – Turkish (Turkey)
Kamusta – Filipino (Philippines)
Halo – Indonesian (Indonesia)
As-Salamu-Alaykum Urdu (Pakistan)
Assalam Waleykum – Bengali (Bangladesh)
Salam – Persian (Iran)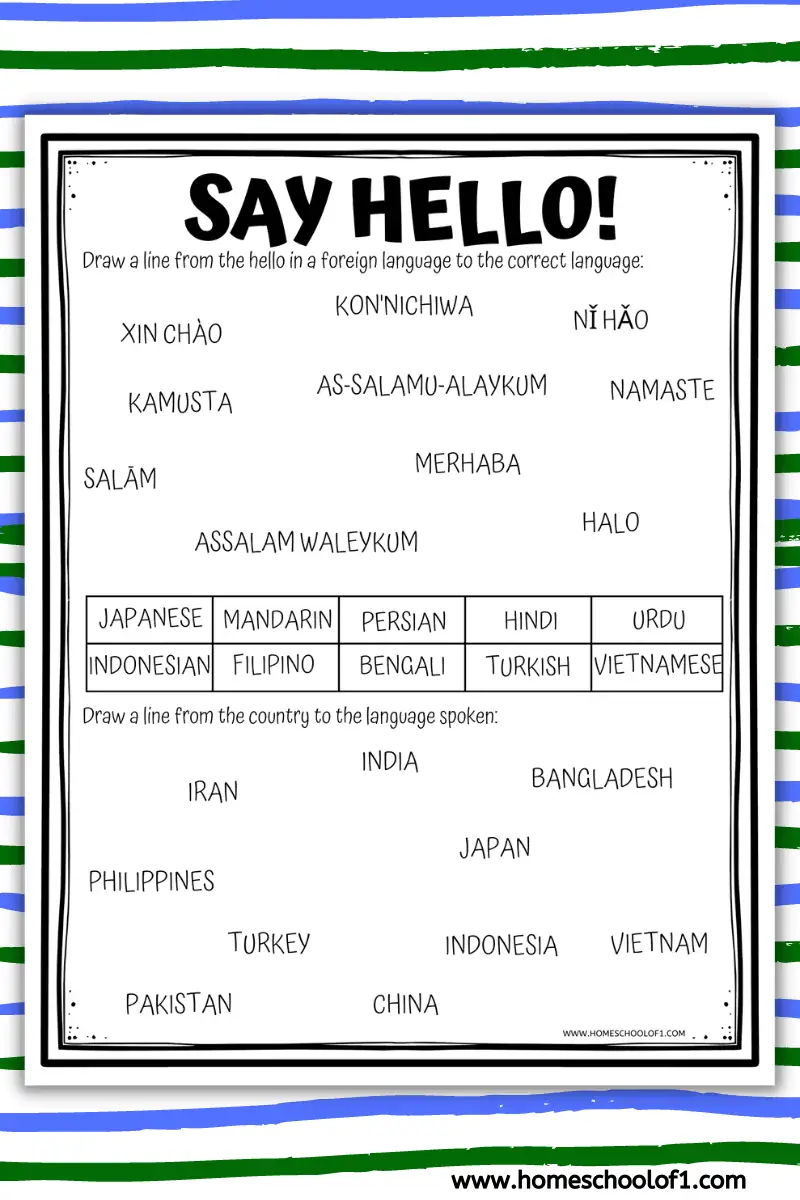 Japanese from Zero! 1: Proven Techniques to Learn Japanese for Students and Professionals
Mandarin Chinese-English Bilingual Visual Dictionary (DK Bilingual Visual Dictionaries)
The Empty Pot
Classic Tales from India: How Ganesh Got His Elephant Head and Other Stories
Match the Flag Worksheet
This fun match the flag worksheet is a lot of fun. The children need to research what colors to color in the maps of 10 Asian countries.
When they have colored them in correctly, they need to add a line to the correct country.
The country flags included are:
Japan
China
India
Pakistan
Bangladesh
Philippines
Vietnam
Turkey
Indonesia
Iran
You will also enjoy the 100 pics card game. Can you identify the countries from the flag?
Asia Word Search
The Asian countries and cities can be found, horizontally, vertically, diagonally, frontwards, or backward! Just to make it that much more difficult.
I have also added the word search answers, as some of the words are a little tricky to find!
Tip: I recommend either using a highlighter pen or circling around the letters. Do not cross the letters out if you have found a word, as it may be used in another word!
The 18 Asian countries and cities to find are:
Tokyo
China
India
Pakistan
Shanghai
Karachi
Mumbai
Bangladesh
Myanmar
Everest
Turkey
Indonesia
Vietnam
Japan
Philippines
Iran
Saudi Arabia
Mongolia
Word search printables are an excellent school activity for when the kids just need a break. They are educational, but more importantly, they are fun.
Asia Word Scramble
There are no clues in our free word scramble, other than the 12 countries are all in the continent of Asia.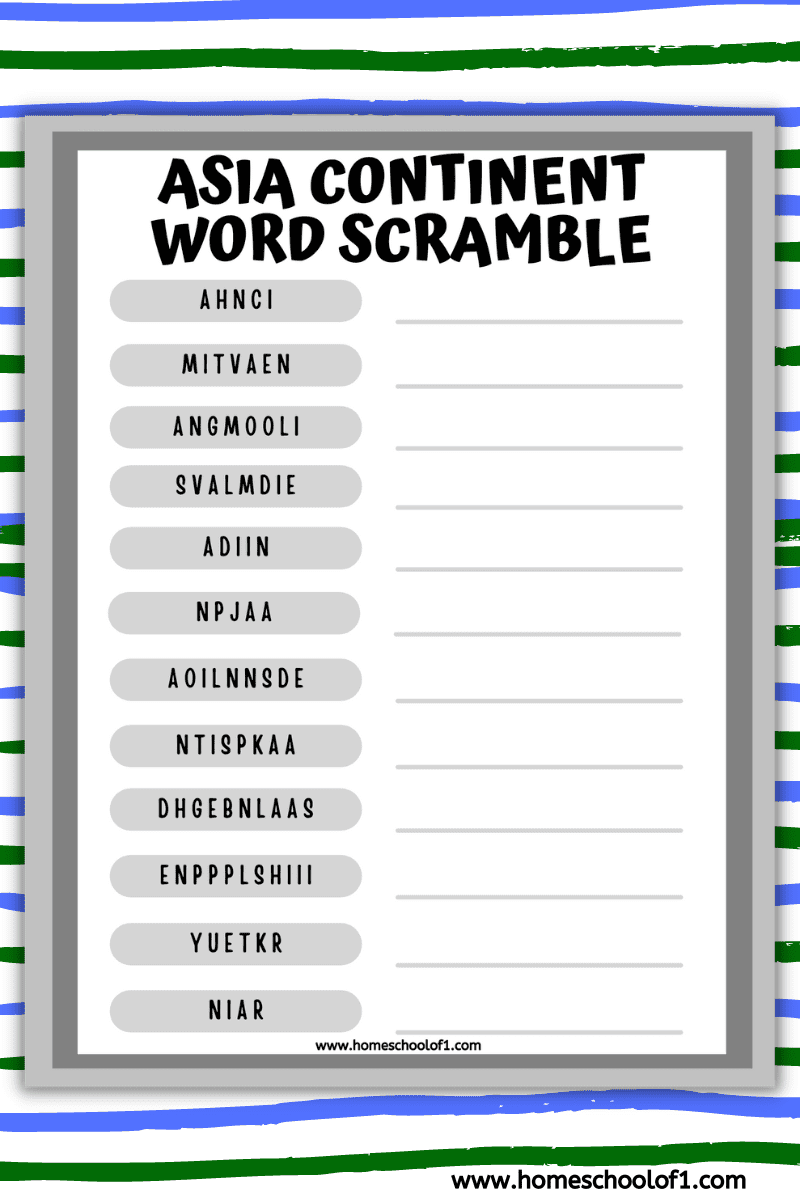 The 12 Asian countries to find are: (I have included an answer sheet with the download.)
China
Vietnam
Mongolia
Maldives
India
Japan
Indonesia
Pakistan
Bangladesh
Philippines
Turkey
Iran
This free word scramble printable is great either for the classroom, the library, or homeschooling.
Books about Asia for kids
These are our favorite geography books for kids:
Stonemaier Games: Wingspan Asia Expansion, Strategy /Board / Stand Alone Game Or Play with Core Wingspan, Play in Solo Mode or Dual Player, 40-70 Minute Play Time, for Ages 14 and up
Ticket to Ride Japan Board Game EXPANSION | Family Board Game | Board Game for Adults and Family | Train Game | Ages 8+ | For 2 to 5 players | Average Playtime 30-60 minutes | Made by Days of Wonder
Trekking The World – The Award-Winning Board Game for Family Night | Explore The Wonders of The World in This Strategic Globetrotting Adventure | Perfect for Kids & Adults | Ages 10 and Up
The World Game – Geography Card Game – Educational Board Game for Kids, Family & Adults – Cool Learning Gift Idea for Teenage Boys & Girls
Other free Asian geography printables
These worksheets are excellent resources for students to expand their knowledge of Asian geography and history.
Download the free printable Asia worksheets
This printable Asia worksheet is free to print but is for personal or classroom use only. Scroll to the bottom of the page to get the pdf file.
Make sure you choose the correct paper size and click on the shrink to fit button. All of our free printables for kids work better when printed on cardstock (this is the one we use and love.)
Last Updated on 16 September 2023 by homeschoolof1