15 Best Thoughtful Thanksgiving Gifts for the Family
When it comes to making Thanksgiving extra special, finding the best Thanksgiving gifts for family truly elevates the celebration.
Bringing a cool family gift to the host's house adds lots of happiness to the celebration and makes everyone feel special.
No matter your budget, there's something awesome for everyone, like yummy treats or fun board games that everyone can play.
These gifts aren't just presents—they're ways to make the celebration even better and create awesome memories together.
Plus, including Thanksgiving activities for kids ensures that everyone, big and small, can join in on the fun and have a great time together.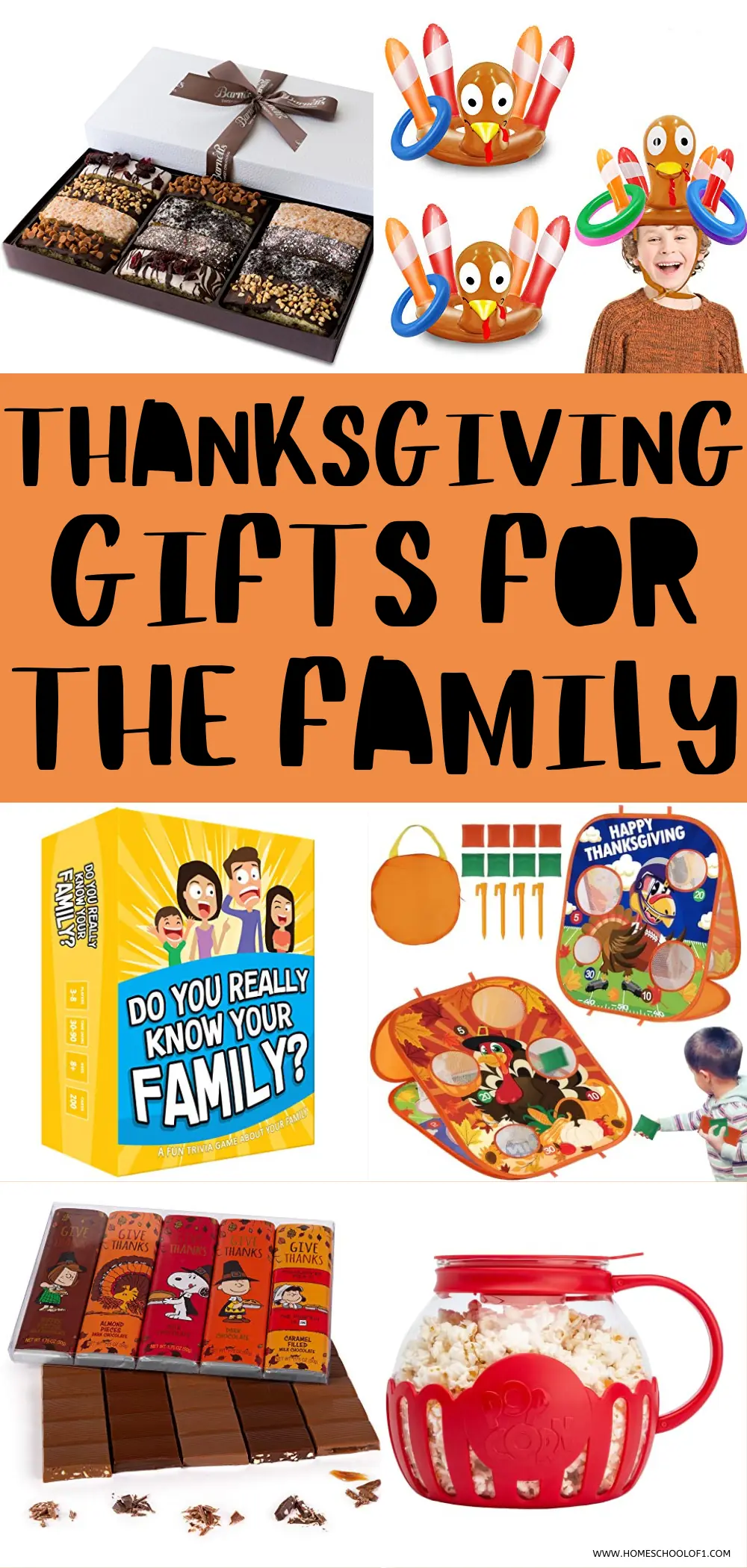 **There may be affiliate links in this post. You can read my full disclosure at the bottom of the page.**
Thanksgiving gift ideas for the family
Get ready to spread joy this Thanksgiving with thoughtful gifts tailored for everyone in the family. Whether it's the little ones, boys, or girls.
As you gather to celebrate this special occasion, consider these handpicked suggestions to show gratitude to your hosts and make the day even more memorable for everyone.
Best Thanksgiving gifts for kids. For the younger ones, consider creative and engaging options like themed board games, interactive craft kits, or personalized storybooks. Thoughtful gifts that encourage learning or spark their imagination can make their Thanksgiving memorable.
Best Thanksgiving gifts for boys. Boys may enjoy gifts that cater to their interests, such as outdoor sports equipment, building sets, or adventurous storybooks. Look for items that inspire their curiosity and energy, allowing them to have a blast during the holiday.
Best Thanksgiving gifts for girls. For girls, thoughtful presents could include arts and crafts kits, DIY jewelry sets, or imaginative toys. Consider gifts that promote creativity or enable them to explore their hobbies.
Treat your Thanksgiving hosts to a family gift this year – here are our favorites:
The Micro-Pop Microwave Popper offers more than just delicious popcorn—it's a family-friendly gift that elevates movie nights with its convenience and safety features.
Its BPA-free construction and dishwasher-safe nature ensure worry-free popcorn popping while measuring kernels and melting butter.
Making it an ideal addition to cozy Thanksgiving gatherings, creating moments of togetherness and enjoyment.
The Giant Yard Dice Set isn't just about fun and games—it's a fantastic present that brings families closer.
Designed for both indoor and outdoor use, this weather-resistant set encourages laughter, friendly competition, and shared memories during Thanksgiving, turning the holiday into an opportunity for bonding and entertainment.
The Thanksgiving Bean Bag Toss Games are more than just a playful activity—they're a catalyst for shared joy and excitement during Thanksgiving celebrations.
This themed Cornhole Board engages kids and adults alike in a delightful game, fostering teamwork and creating an atmosphere of lively interaction and fun for the entire family.
This Giant Thanksgiving Activity Poster goes beyond a simple coloring banner or table cover—it's a canvas for shared creativity and imagination.
This will be a great addition to the Thanksgiving dinner table and will keep the little kids entertained while you cook.
The 2 Pack Thanksgiving Ring Toss Games with Inflatable Turkey Hats are not just festive decorations—they're a source of laughter and enjoyment for all ages during Thanksgiving gatherings.
These interactive games encourage playful competition, providing an entertaining and inclusive activity that adds a touch of fun and festivity to family parties, creating cherished Thanksgiving moments together.
These 12 turkey-themed eyeglasses, add a playful and whimsical touch to Thanksgiving celebrations for both kids and adults.
Making them a delightful and amusing party favor sure to bring laughter and fun to the festivities.
A versatile and engaging family party game suitable for kids, teenagers, and adults who adore board games.
Ideal for game nights, this entertaining and interactive game fosters connections and laughter while challenging players to uncover how well they know each other.
A classic yet exciting addition to family gatherings, providing endless laughter and entertainment as players act out clues for their teams.
Perfect for multigenerational fun, it sparks creativity and teamwork, enhancing Thanksgiving gatherings with its lively and engaging gameplay.
Present a luxurious assortment of gourmet treats, featuring an array of delicious chocolates, caramels, and crunchy delights.
Making it an opulent and indulgent gift suitable for various occasions, including Thanksgiving, offering a delectable way to show appreciation and delight loved ones.
The dried fruit charcuterie board is a thoughtfully curated healthy gourmet snack box, offering a variety of dried fruits—a perfect holiday food tray or gift option.
Providing a tasteful and health-conscious way to express care and gratitude during Thanksgiving Day and beyond.
A set featuring 3 Non-GMO popcorn kernel packs and 5 gourmet seasoning options, perfect for enhancing movie nights with delicious and varied popcorn flavors.
Making it a perfect family Thanksgiving gift this holiday season.
The Peanuts Chocolate Thanksgiving Variety Gift Pack is a delightful and kosher candy assortment.
Ideal for gifting to kids or as a hostess gift during the holiday season, providing a tasteful and themed treat for the whole family to enjoy.
A fun-filled game brimming with conversation starters and challenges suitable for kids, teens, and adults.
Designed to spark engaging discussions and laughter among family members, making it an entertaining addition to Thanksgiving gatherings, fostering connection and amusement.
Includes 8 packs of no-snap party favors with turkey-themed patterns, jokes, and gifts inside.
Offering a playful and interactive element to Thanksgiving celebrations, providing enjoyable party games and traditions for the fall holiday season.
A 12-cookie chocolates box, offering a variety of covered cookies and gourmet candy sets ideal for gifting during the holiday season.
Providing a delectable option for family food deliveries, catering to various tastes and making for a delightful treat for couples, families, and individuals alike.