Free Christmas in the Philippines Worksheets
Embark on an enchanting journey into the heart of Christmas in the Philippines with our engaging Christmas in the Philippines worksheets!
These 6 festive pages are the perfect way to explore Filipino holiday traditions in depth. From coloring in your own parol lantern to learning about Simbang Gabi. And learning about new holiday treats. Your child will discover the rich cultural tapestry of Philippine Christmas celebrations.
Dive into these Christmas activities for kids and share the magic of the season with your family.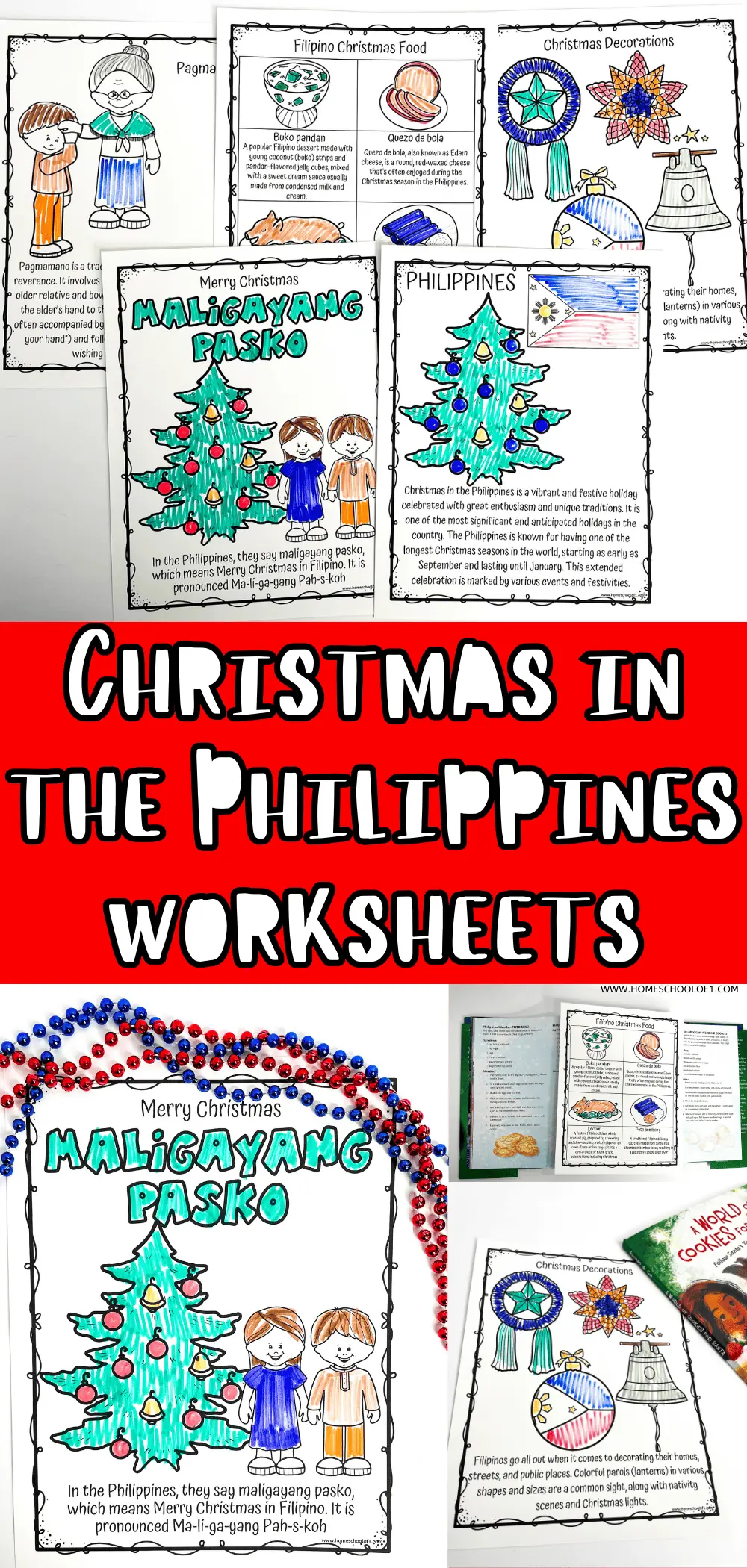 **There may be affiliate links in this post. You can read my full disclosure at the bottom of the page.**
Christmas in the Philippines coloring pages
There are 6 pages included in these holiday worksheets. All about the Christmas traditions in the Philippines.
Christmas in the Philippines
Christmas in the Philippines is a vibrant and deeply cherished holiday marked by a unique blend of traditions.
The festivities typically begin as early as September and extend into January. Making it one of the longest Christmas seasons in the world.
Filipinos celebrate with parades, dazzling light displays, Simbang Gabi (a series of dawn Masses), and a lavish Noche Buena feast on Christmas Eve. Emphasizing the country's strong sense of community, faith, and generosity during this joyful season.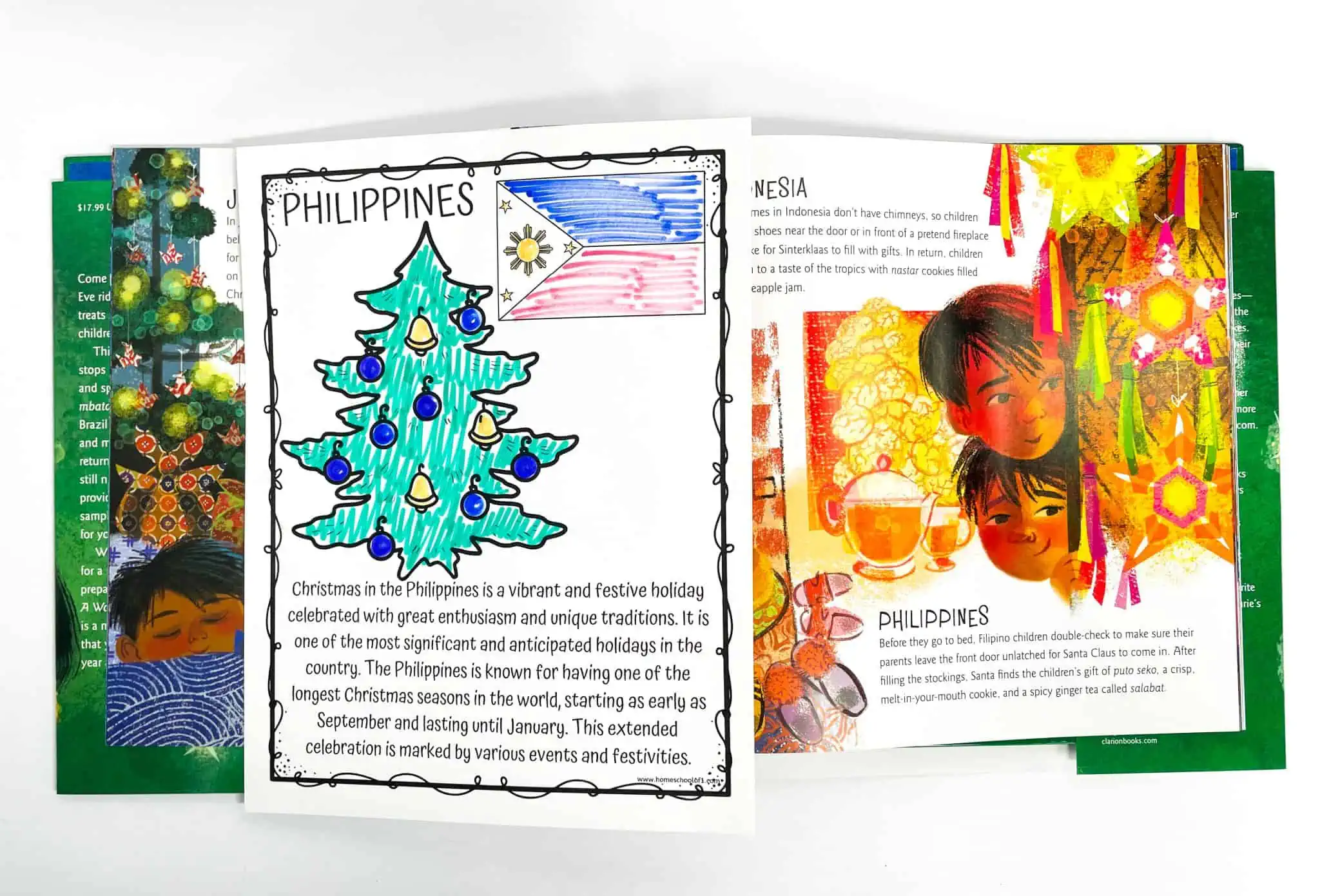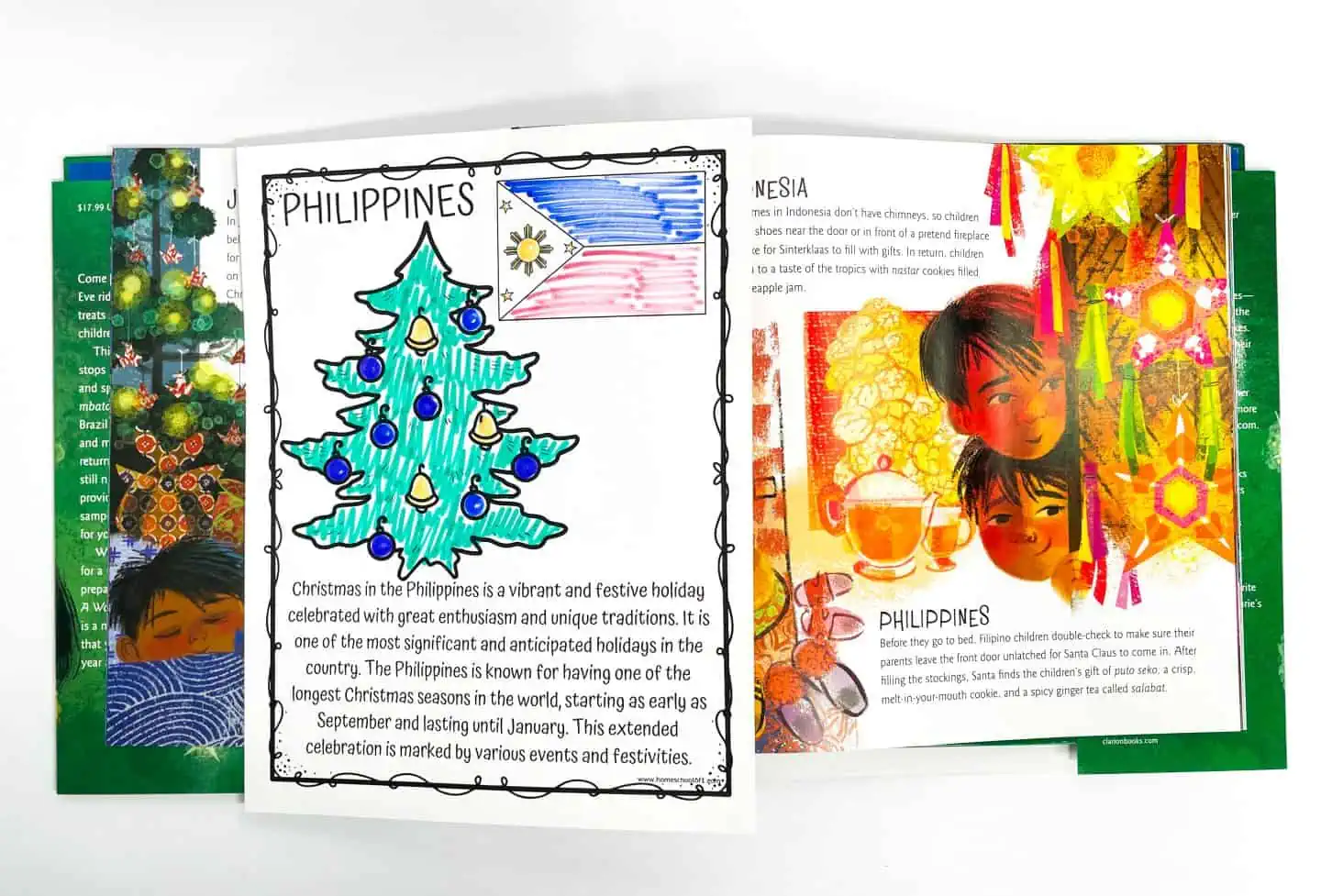 Pagmamano coloring page
Pagmamano is a Filipino tradition of demonstrating respect and affection to elders. By taking their hand and bringing it to one's forehead.
Although not directly tied to Christmas. It is frequently observed during the holiday season as families gather to celebrate and emphasize their respect for tradition and family values. This practice underscores the significance of respect and unity within Filipino families during the Christmas festivities.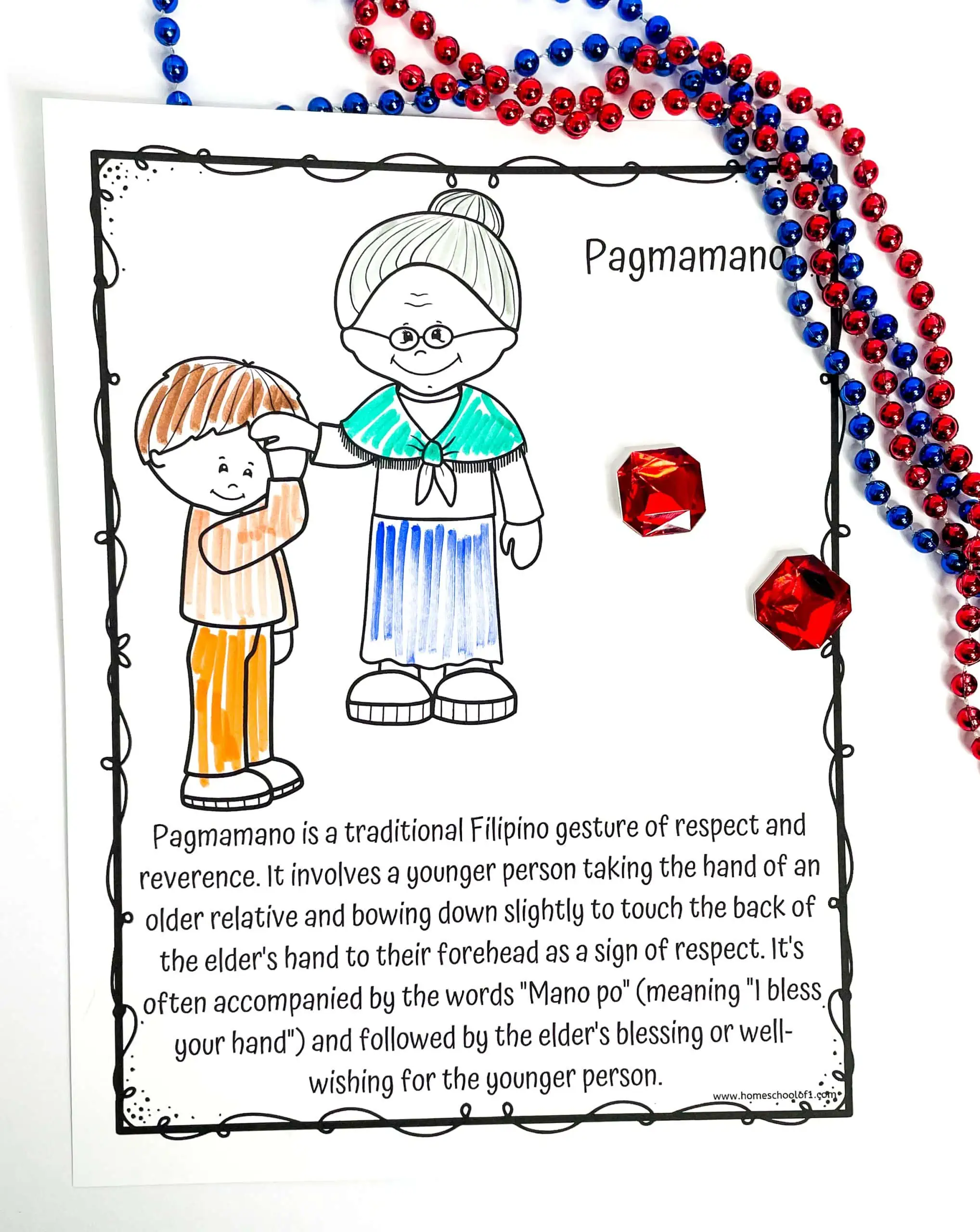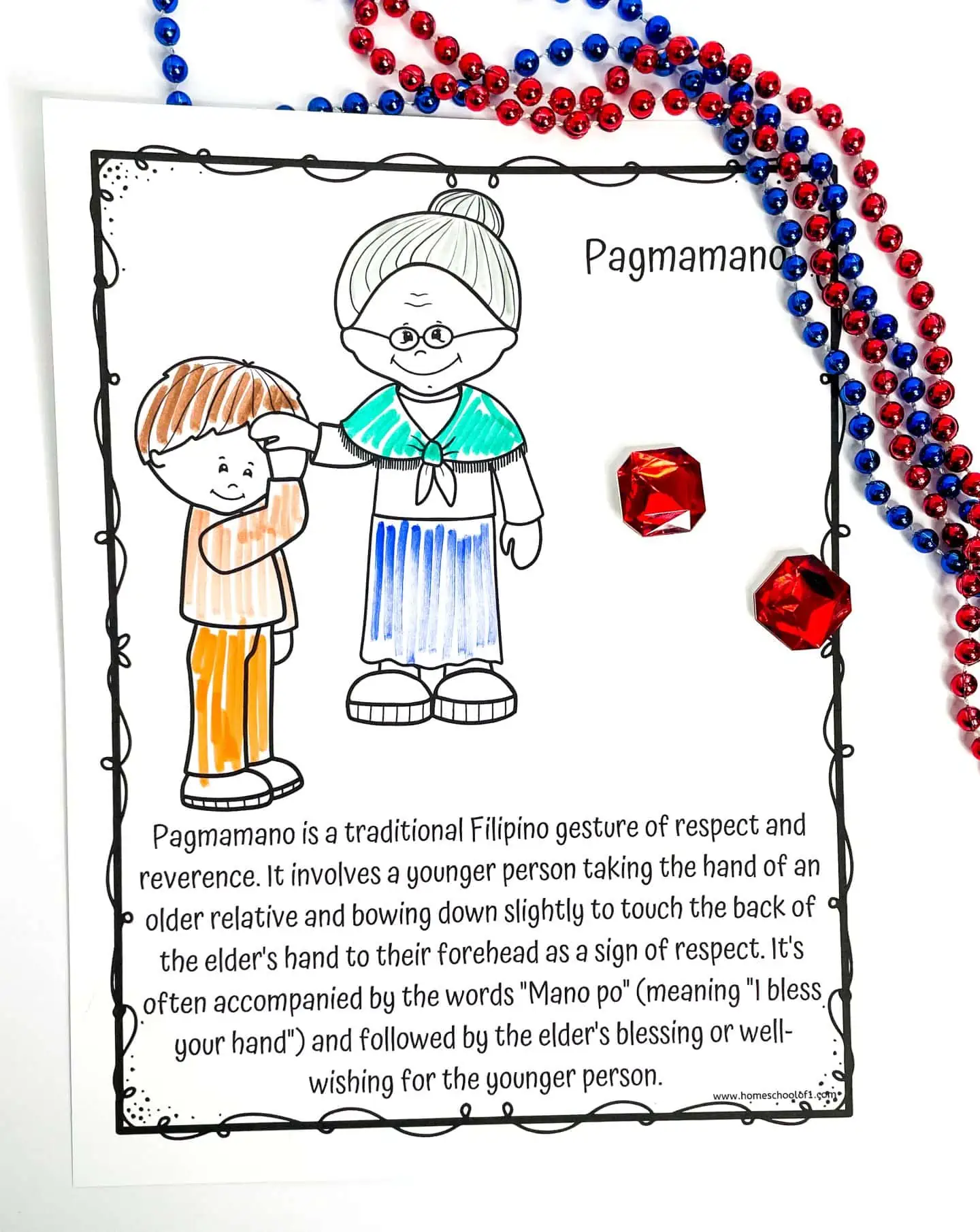 Christmas Decorations
Christmas decorations in the Philippines are known for their vibrant and extravagant nature. Often featuring colorful lights, lanterns, and intricate parol (star-shaped lantern) displays.
Many Filipino households and communities go all out with their decorations. Adorning homes, streets, and even public spaces with festive ornaments.
The parol, in particular, holds special significance. Symbolizing the Star of Bethlehem and guiding the way to the birthplace of Jesus. Making it a central element of Filipino Christmas decor.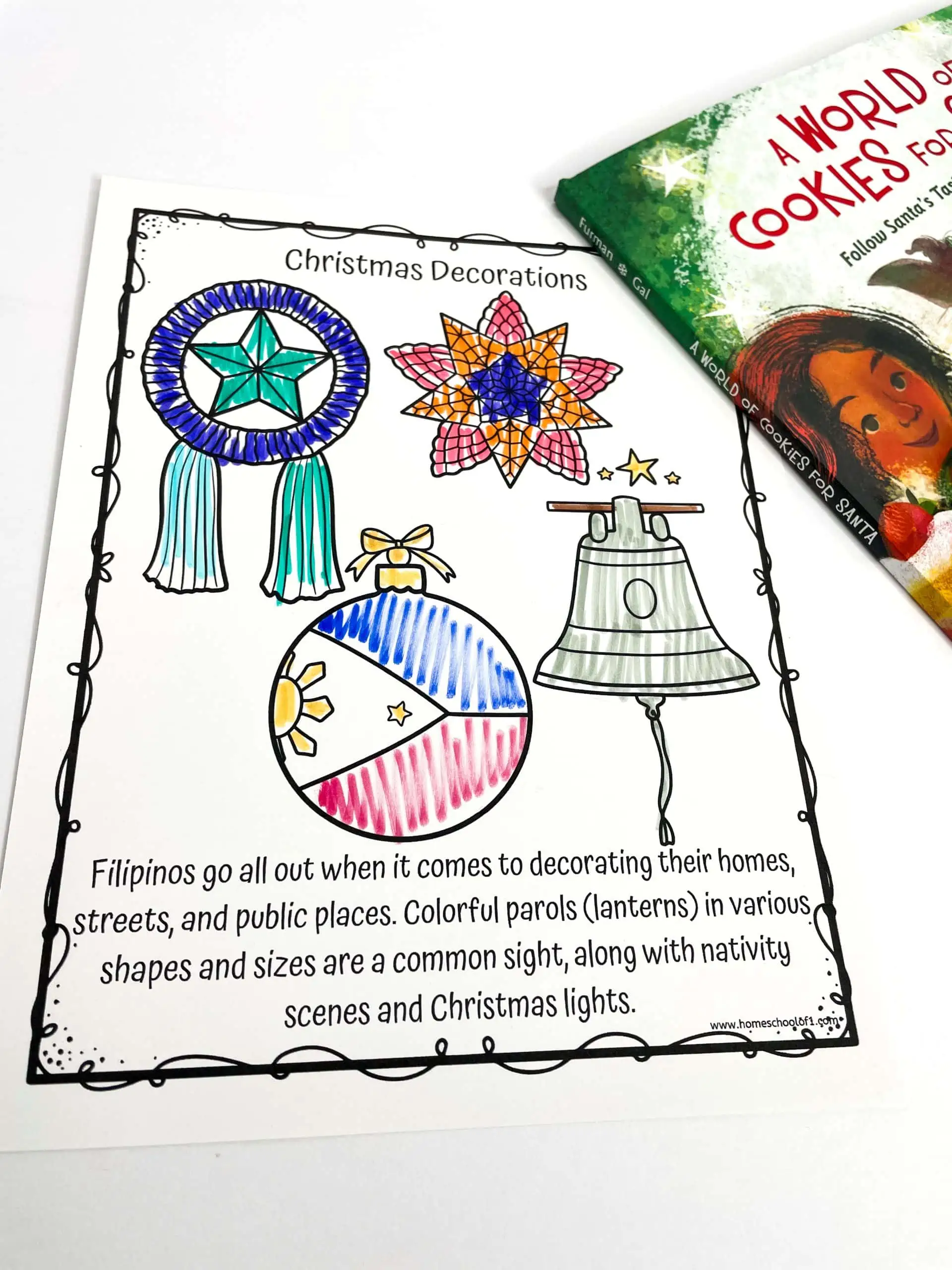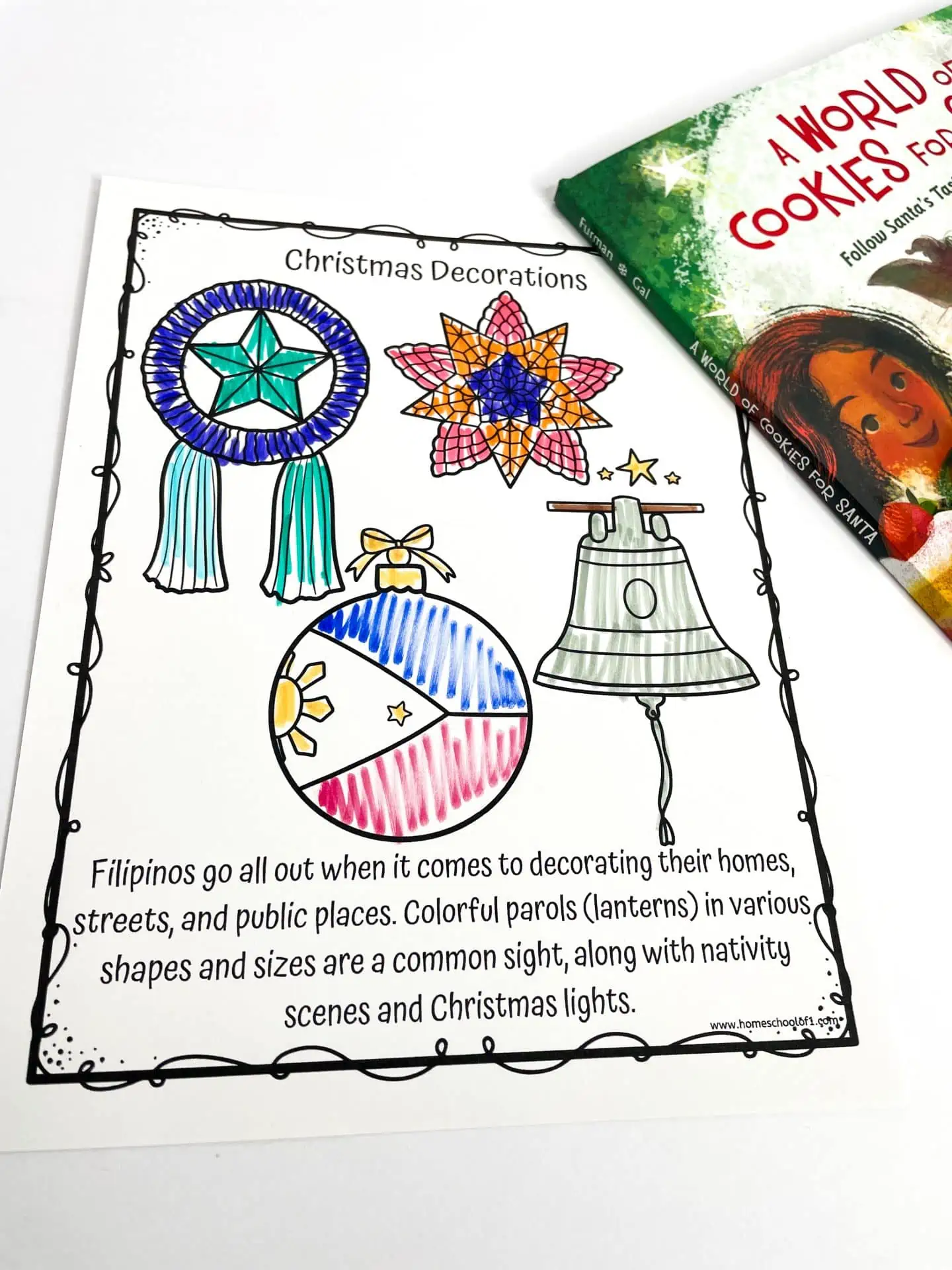 Filipino Christmas Food
Buko Pandan is a popular Filipino Christmas dessert made from young coconut, pandan-flavored jelly cubes, and a sweet cream sauce. It's known for its refreshing taste and vibrant green color. Often served cold as a delightful treat during the holiday season.
Puto Bumbong is a traditional Filipino delicacy typically enjoyed during the Christmas season. It consists of steamed purple rice cakes served with grated coconut and brown sugar. Offering a unique and festive combination of flavors and textures.
Lechon is a beloved centerpiece of many Filipino Christmas feasts. It involves roasting a whole pig over an open flame until it becomes crispy and flavorful. Making it a symbol of celebration and abundance during the holiday festivities.
Quezo de Bola, also known as Edam cheese, is a round, ball-shaped cheese often associated with Christmas in the Philippines. It is customarily served alongside other holiday snacks and is popular for its creamy and slightly salty taste. Making it a staple on Filipino Christmas tables.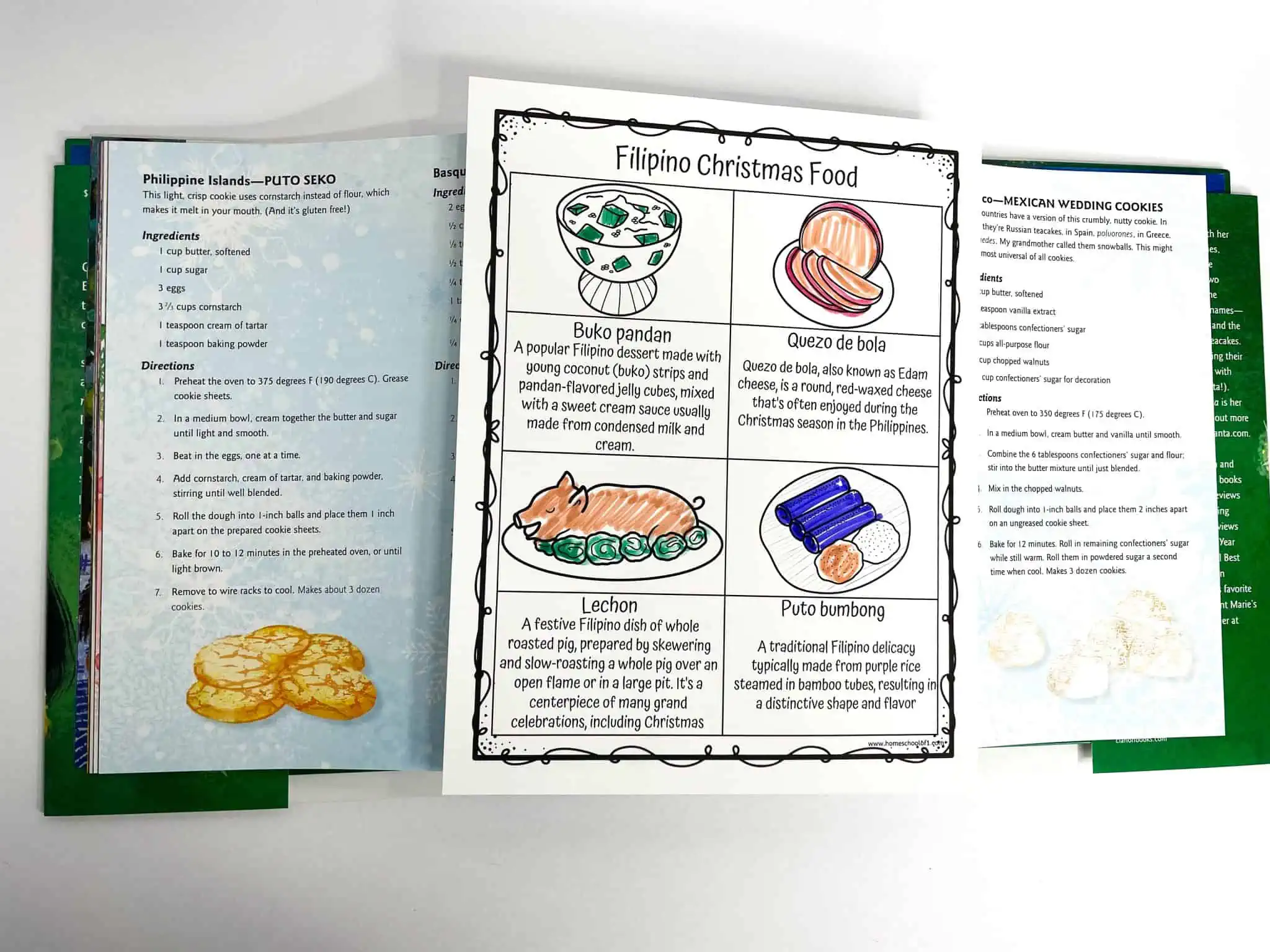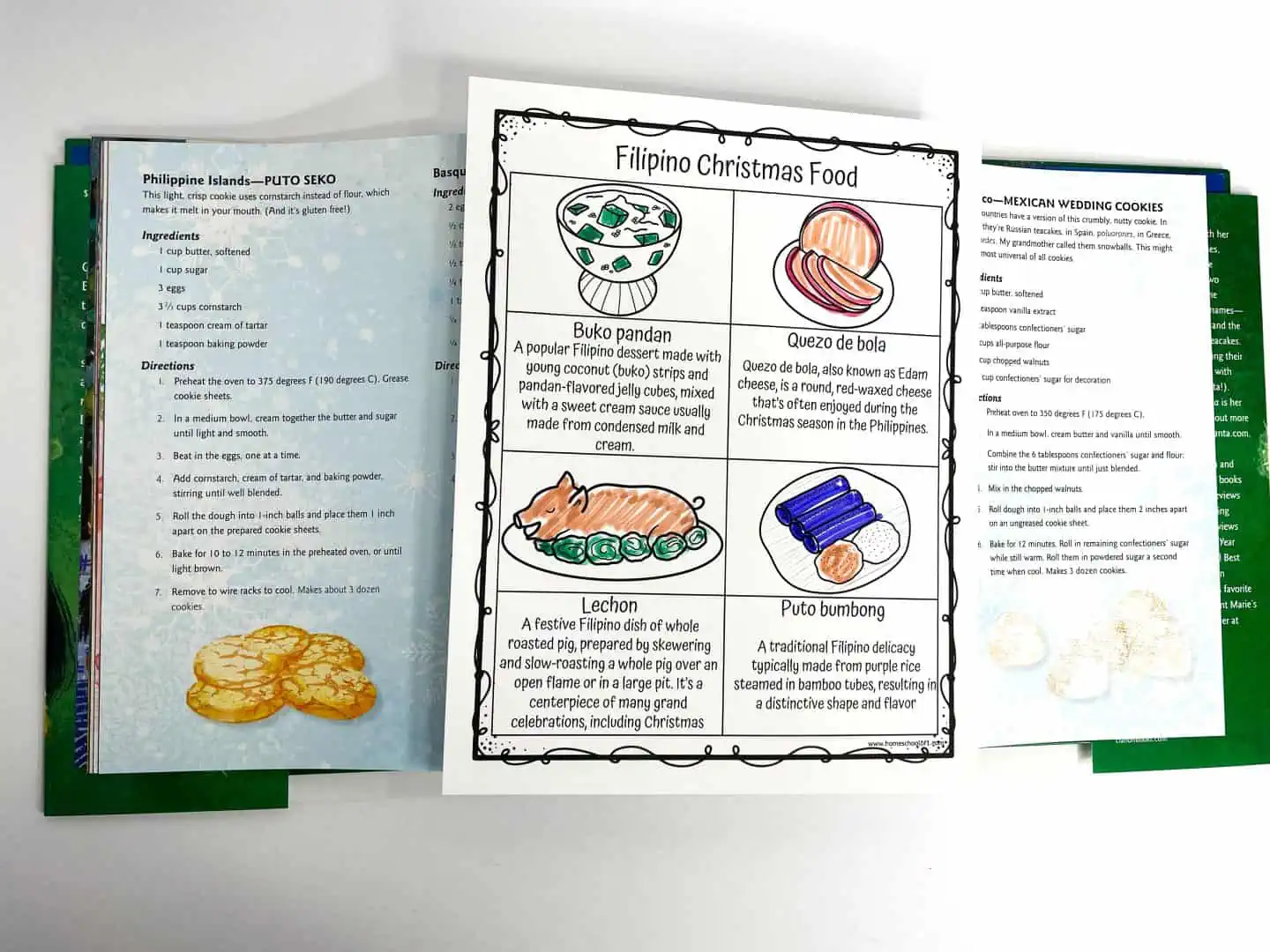 Grab the World of Cookies for Santa book
New Year's Eve coloring page
New Year's Eve in the Philippines is a lively and festive celebration. Marked by a unique tradition known as "Media Noche."
At the stroke of midnight, it is customary to open doors and windows. Allowing fresh air and positive energy to enter the home. While also symbolizing the welcoming of the new year with open arms.
This practice signifies a hopeful start, and Filipinos believe that it brings good luck and fortune into their lives. They bid farewell to the old year and welcome the new one with joyous gatherings, feasts, fireworks, and loud celebrations.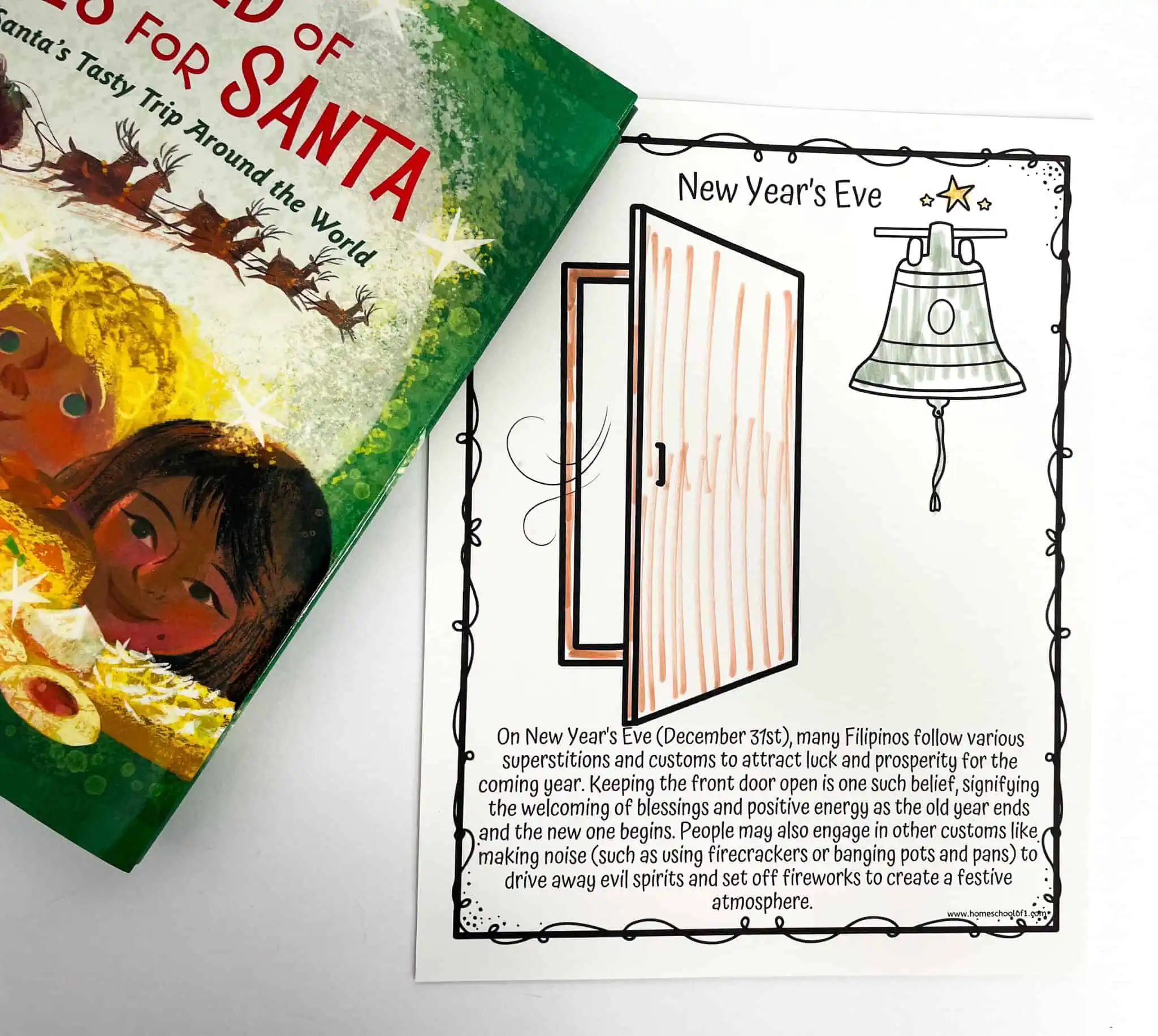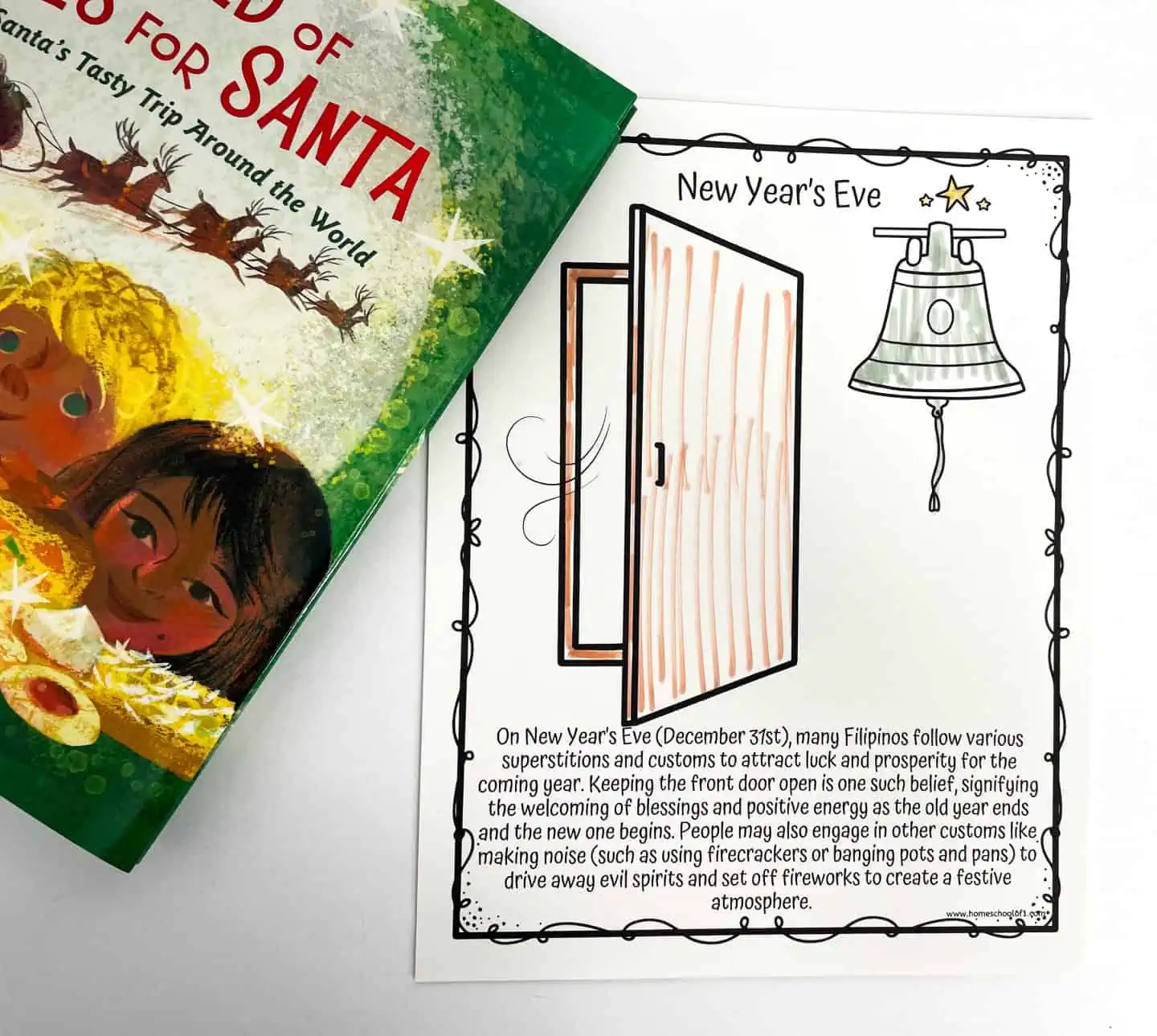 Learn to say Merry Christmas in Filipino
Finish up learning about Christmas in the Philippines and learn how to say Merry Christmas in the language spoken, Filipino.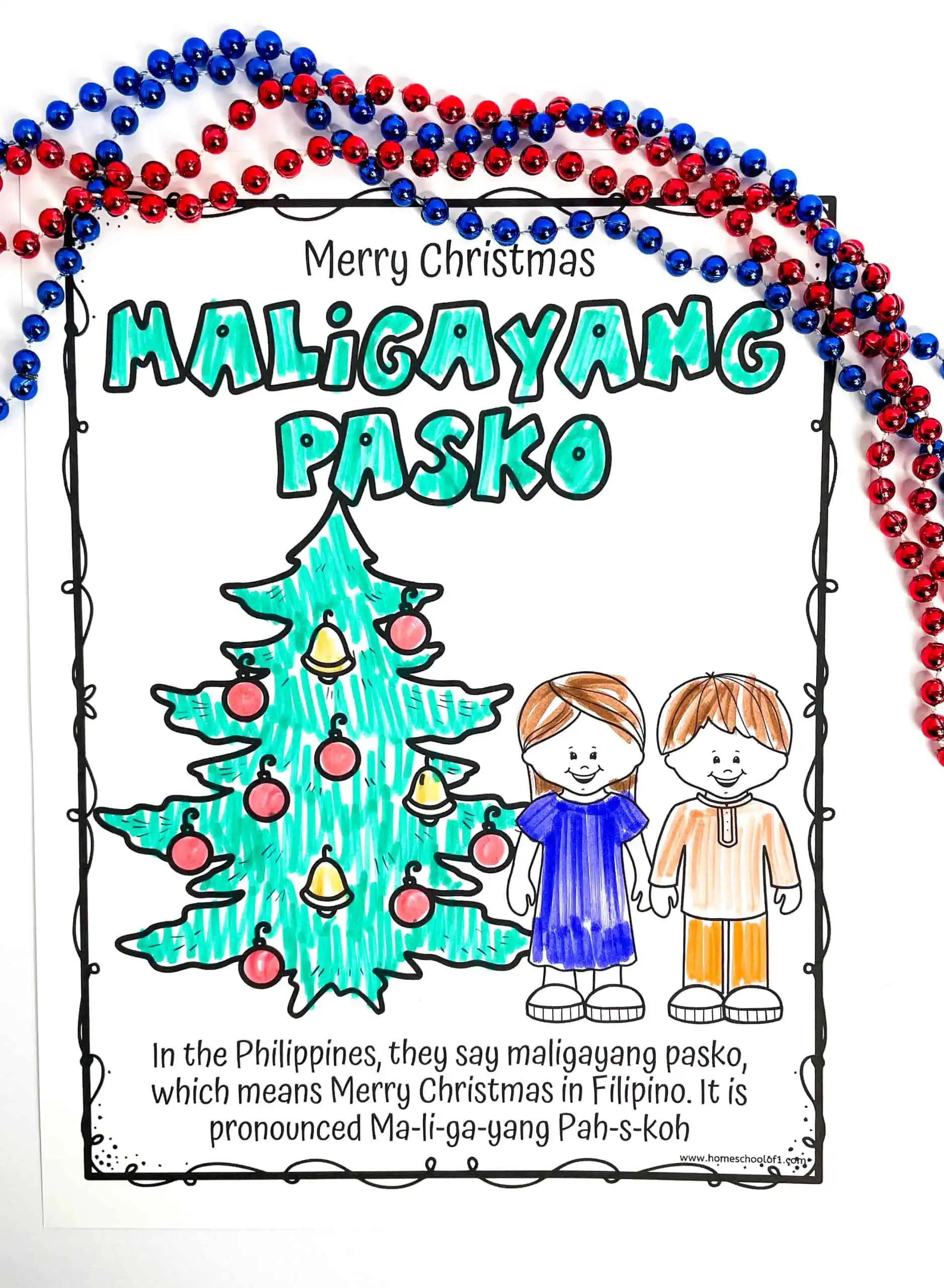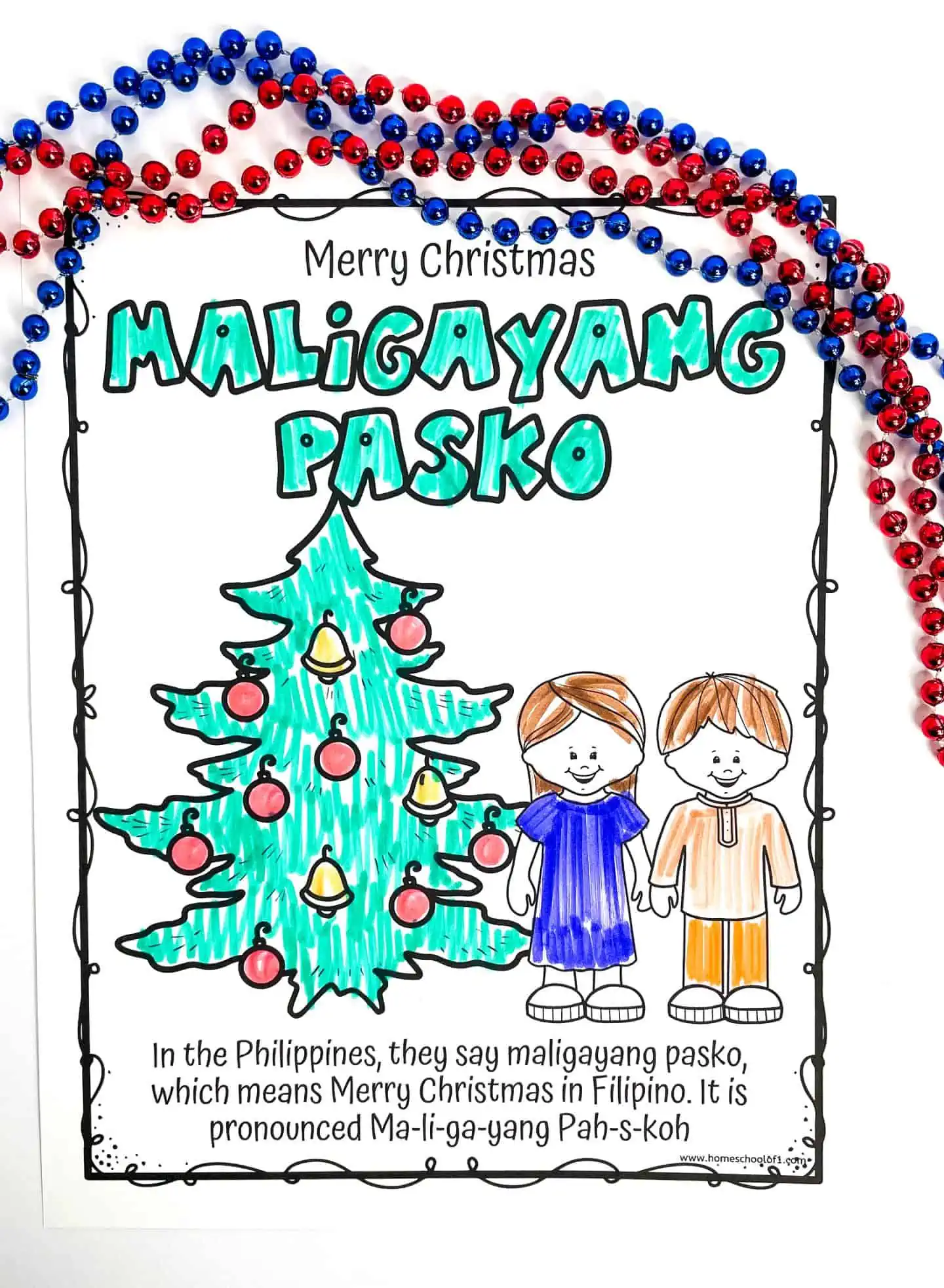 Christmas books with a Philippines theme
For elementary-grade kids interested in Christmas books with a Philippines theme or setting, you might want to consider these options:
Maribel's Year is a touching picture book about a young girl and her father's enduring connection, even when separated by 8,000 miles. As Maribel adapts to a new life in America, she finds solace in cherished memories, daily rituals, and heartfelt letters that keep their bond strong.
Filipino Celebrations: A Treasury of Feasts and Festivals is an informative and visually captivating book. That offers a colorful exploration of the Philippines' diverse festivals. Providing readers with an engaging insight into the nation's vibrant cultural heritage and traditions.
All About the Philippines is a comprehensive children's book. That introduces readers to the captivating world of the Philippines. Covering its geography, culture, history, and traditions through informative text and vivid illustrations. Making it an educational and entertaining resource for young learners.
Tips for downloading the free files
Below you will see a large sign-up box where you need to add your name and email address, and press I NEED THIS NOW!
Within minutes you will be sent the free PDF directly to your email address, so you can print it out and start using it immediately.
Sometimes emails get a little wonky, so if you can't see it, please check your spam folder where I am sure it is hiding.
Download the free Philippines Christmas worksheets
These worksheets are free to print but are for personal or classroom use only.
Make sure you choose the correct paper size and click on the shrink to fit button. All of our free printables for kids work better when printed on cardstock (this is the one we use and love.)
Last Updated on 25 November 2023 by homeschoolof1