Letter B Coloring Page For Preschoolers, B is for…..
Are you learning about the letter B in your classroom? If so you are going to love our free letter B coloring page.
This is not a boring worksheet where the kids just color in the capital letter B. This one includes 8 different images that all begin with the second letter of the alphabet, B.
This is aimed at preschoolers through to kids in first grade, but kids of all ages will enjoy this alphabet letter B coloring page.
At the end of the post, you will also find all of our preschool printables that begin with the letter B so you can continue your learning.
You will find all of our free alphabet coloring pages here.
**There may be affiliate links in this post. You can read my full disclosure at the bottom of the page.**
Letter B Coloring Sheet
This is such an easy and fun way to learn the letter B.
This free letter B coloring page is free to print but is for personal or classroom use only. Scroll to the bottom of the page, and add your email address to get the pdf file.
Print out the letter B and add it to their bedroom or classroom wall when it is colored. This is a great way to help the kids visualize the letter.
Included in the letter B coloring page are the following images all beginning with B: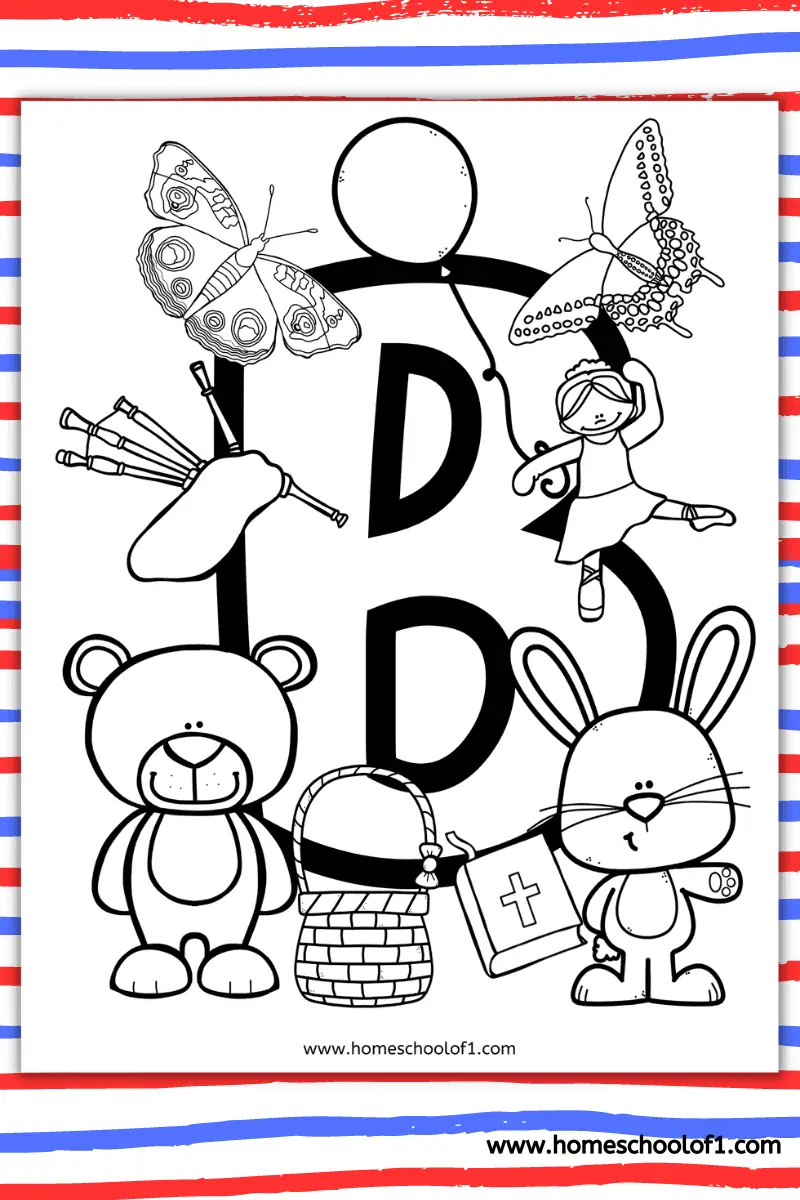 How to use the letter B coloring page for preschoolers
Print out the free printable coloring page below, it will print out on one full page. Make sure to check the printer settings.
As there are so many things to color in try and get the kids to use lots and lots of different colors. It will make it stand out so much more.
If you haven't done the letter A yet you will also enjoy our free letter A coloring page too.
The most important thing though is just to have fun!
Why use a letter B coloring page with your preschoolers?
Using a coloring page helps children learn letter recognition and phonological awareness, through the beginning sounds of words & letter sounds.
These preschool printable letter worksheets will help young learners develop their fine motor skills and strengthen their hand muscles. All while having fun with educational activities like this letter B coloring sheet.
Chicka Chicka ABC
AlphaOops!: The Day Z Went First
I Spy Letters
Eating the Alphabet
School Zone – Get Ready Flash Cards Alphabet & Numbers 2 Pack – Ages 4 to 6, Preschool to Kindergarten, ABCs, Uppercase and Lowercase Letters, Numbers 1-100, Counting, and More
Briarpatch |The World of Eric Carle ABC/123 2-Sided Floor Puzzle, Multi
Letter B activities for preschool
Get ready for some buzzing fun with these letter B activities for preschool!
From butterfly matching games and life cycle worksheets to bat and bee-themed crafts, there's plenty to keep your little ones engaged.
You can also explore the world of books with butterfly-themed stories and even play book bingo or go on a book scavenger hunt to enhance their literacy skills.
So, grab your supplies and let the letter B adventures begin!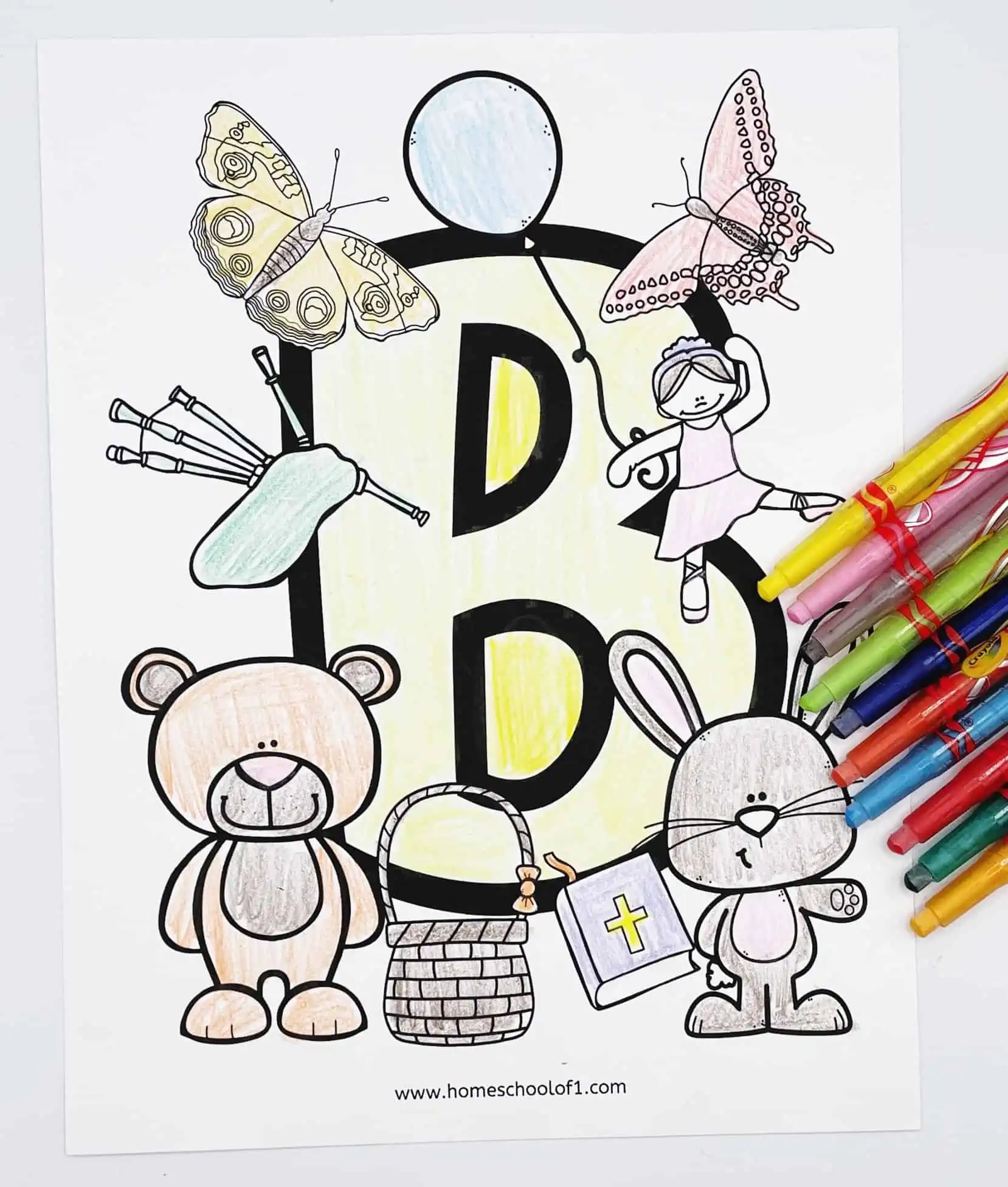 Letter b books for preschool
If you're looking for awesome additions to your letter B lesson plans, these books are the way to go!
They've got everything—colorful animals, butterfly wonderlands, and those lovable bears going on cool adventures.
They're not just fun to read, but also teach important stuff like colors, animal life cycles, and life lessons.
So grab 'em and let the letter B excitement take over your classroom!
Brown Bear, Brown Bear, What Do You See? A classic picture book that introduces children to a variety of animals and colors. With repetitive text and vibrant illustrations, it engages young readers in a delightful guessing game, encouraging them to participate and identify the animals as they turn the pages.
Butterfly books for kids open up a world of wonder and discovery as they delve into the fascinating life cycle, vibrant colors, and delicate beauty of butterflies. Through engaging stories and captivating illustrations, these books ignite curiosity, teaching young readers about metamorphosis, the importance of pollination, and the diverse species of butterflies found in nature.
The Berenstain Bears follows the adventures of a lovable bear family, Mama, Papa, Brother, and Sister Bear. Each book tackles various life lessons and experiences, teaching important values such as kindness, honesty, and cooperation through relatable stories and charming illustrations, making it a beloved series for preschoolers and their families.
Download the free letter B coloring page printable
If you want to grab all of the letters of the alphabet in one place, you can purchase them here for a small fee. Or for a massively discounted price grab these handprint alphabet printables along with our new alphabet handprints in our 52-page bundle.
Make sure you choose the correct paper size and click on the shrink to fit button. All of our free printables for kids work better when printed on cardstock (this is the one we use and love.)
When you have finished this why not download our free letter c coloring page and the letter I coloring page too?
Last Updated on 29 July 2023 by homeschoolof1