12 Best Butterfly Books for Kids
If you are looking for the very best butterfly books for kids you are in the right place.
These 12 books are perfect for when you are studying the life cycle of a butterfly, or are just looking for a beautiful picture book.
As you begin preparing your spring and summer activities, be sure to make time to teach your preschoolers and K-5 grade students about butterflies. Their life cycle is such a wonderful story no wonder there are so many butterfly picture books to be found.
My son absolutely loves reading, check out our favorite book lists for kids there are over 20 book lists included for kids of all ages, for school, for reading, and for every season. Plus lots of free book printables.
There is a mixture of wonderful picture books, read-alouds, reference books, and activity books all about the butterfly.
The kids will also have fun with our free butterfly matching game printable.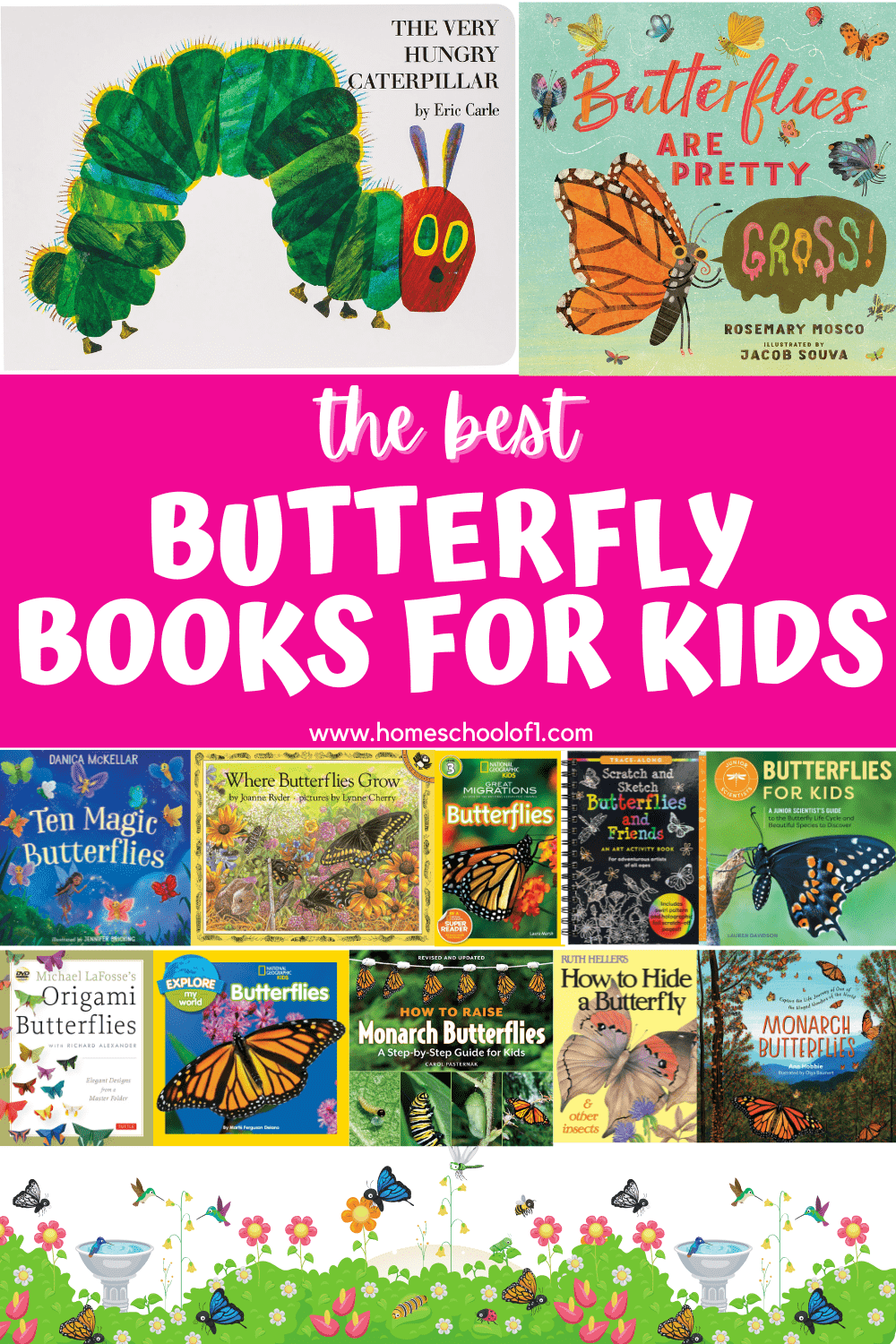 **There may be affiliate links in this post. You can read my full disclosure at the bottom of the page.**
Butterfly Stories for Kids
Here you will find the very best butterfly books for kids, perfect for homeschool and classrooms.
These are aimed at preschoolers, kindergarten, and grades 1 -5. Some of these books will need to be adapted for younger or older students.
The first book on every parent's mind when they think about butterfly books for kids is this one by Eric Carle.
The very hungry caterpillar is one of the greatest children's books of all time.
Despite the very colorful images it is a perfect book to read when learning the life cycle of a butterfly.
This is a very cheeky book that the kids will absolutely love.
It will make a very funny read-aloud as the kids are desperate to turn the page to find out more.
Ten magic butterflies not only is a beautiful picture book about butterflies it incorporates math too.
The children will enjoy learning numbers up to 10 while reading about these 10 magical butterflies.
This wonderful picture book talks in detail about the life cycle of black swallowtail, and the pictures really are beautiful.
Go on a fascinating rhyming nature hunt to find the butterflies, and bees hiding in the brilliantly-painted pages of this book.
This is a great book to also read if you are studying camouflage.
This book about the life of a monarch butterfly is a wonderful reference books perfect for younger students.
The pictures are wonderful and it also talks about how to raise butterflies at home, and why the monarch butterflies are important on the Day of the Dead! Check out our favorite homeschool Halloween activities for even more fun.
This butterfly reference book talks in detail about how to raise butterflies at home, and how to create a butterfly garden to encourage them.
The photos in this book are fantastic and very detailed. This will make a great addition to a unit study on butterflies.
See how butterflies migrate, an absolutely fascinating book that will definitely interest the kids.
Making the annual trip from Northern America to the Oyamel forest of Mexico is no easy task, and it takes five generations of butterflies in order to do so.
Battling cold temperatures and the threat of starvation, these beautiful insects complete an almost 3,000 mile journey over the course of two months, only to have to turn around and head back home.
I love this book for budding scientists, aimed at kids aged 6-9.
It talks in detail about the most common varieties of butterflies, and will make an excellent addition to your science class.
This is the youngest reference book for young children, the photos are excellent as would be expected by a National Geographic book.
Let's get creative with this fun butterfly scratch and sketchbook.
After the kids have finished learning all about butterflies this is a great activity for them to end on.
For older kids learn how to create butterfly origami.
You are also going to love:
Last Updated on 21 December 2022 by homeschoolof1