37 Meaningful Martin Luther King Activities for Kids
Introducing Martin Luther King activities for kids is a wonderful way to educate and inspire young minds about the legacy of this civil rights icon.
Dr. King's teachings continue to resonate with people of all ages, making it a perfect opportunity for children to learn about equality, social justice, and unity.
Through engaging crafts, interactive lessons, and thought-provoking discussions, kids can explore the importance of diversity and equality.
These holiday activities for kids not only celebrate Martin Luther King Jr. Day but also promote values that foster a more inclusive and compassionate society.
Let's embark on a journey of learning and empowerment, inspiring the leaders of tomorrow.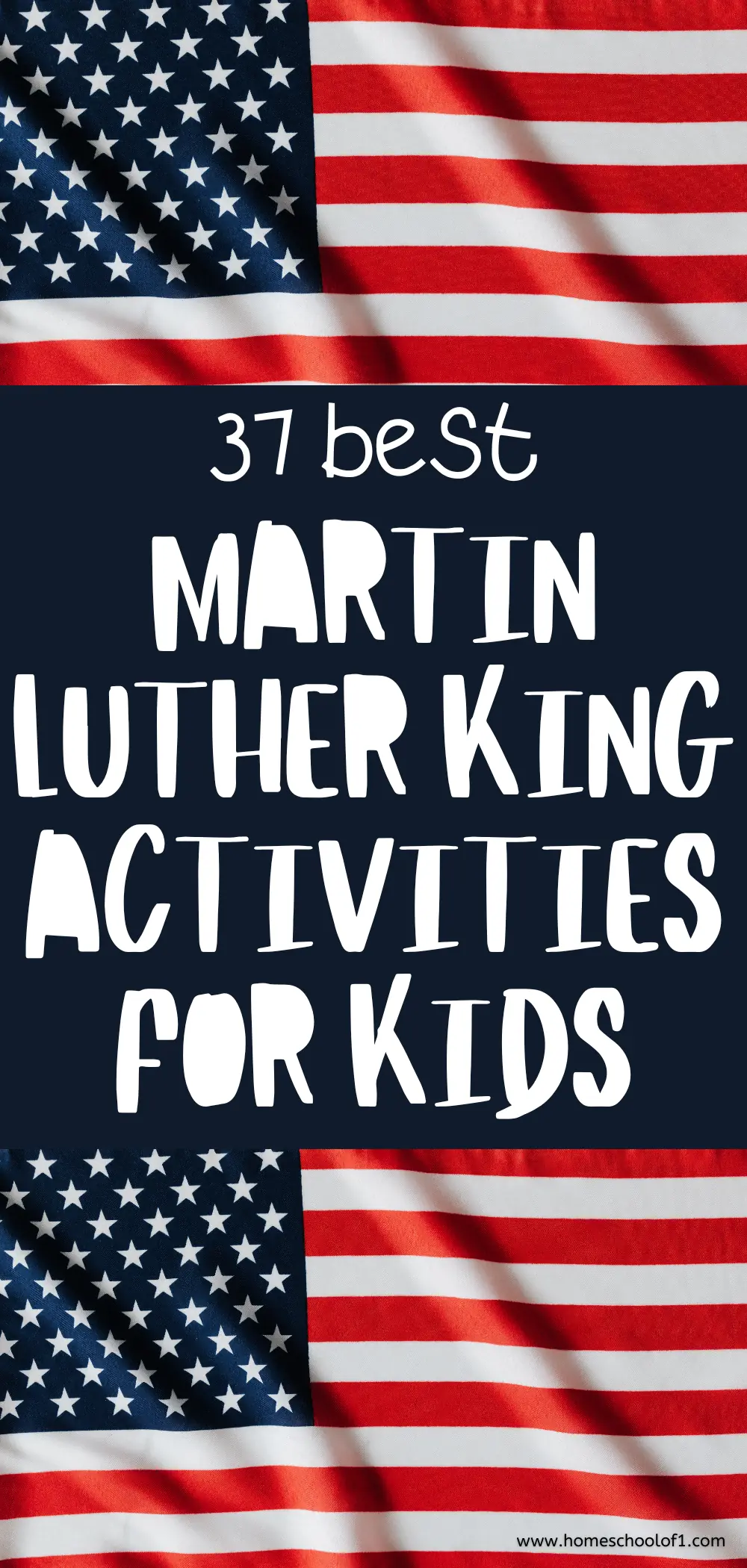 **There may be affiliate links in this post. You can read my full disclosure at the bottom of the page.**
Who Was Martin Luther King Jr?
Martin Luther King, Jr. (born Michael King, Jr.; January 15, 1929 – April 4, 1968) was an American pastor, humanitarian, activist, and leader in the Civil Rights Movement.
He was best known for improving civil rights by using nonviolent civil disobedience, based on his Christian beliefs. He is known by a number of different names as he had both a Ph.D. and was a pastor.
Martin Luther King Jr. is sometimes called the Reverend Doctor Martin Luther King Jr. (abbreviation: the Rev. Dr. King), or just Dr. King. He is also known by his initials MLK.
King also helped to organize the 1963 March on Washington, where he delivered his "I Have a Dream" speech ( a link to the speech is below). The next year, he won the Nobel Peace Prize.
King fought for equal rights from the start of the Montgomery Bus Boycott in 1955 until he was murdered by James Earl Ray in April 1968.
Martin Luther King Jr Day is celebrated on the third Monday of January.
Check out our favorite Black History Month activities.
Best Martin Luther King worksheets
Add these worksheets to your social studies lesson plans in January:
Challenge students to a Martin Luther King Jr word search. Encouraging them to find and learn important vocabulary related to Dr. King's life and legacy.
Martin Luther King Jr. Vocabulary. Expand young learners' understanding of key terms and concepts associated with Martin Luther King Jr. through this vocabulary exercise.
Martin Luther King, Jr Game. This resource offers an entertaining memory/matching card game that makes learning about MLK fun and interactive, providing an easy way for students to absorb the material.
Unit Study on Martin Luther King Jr. Explore an internet-based interactive unit study that delves into various aspects of Martin Luther King Jr.'s life and contributions, making learning a dynamic and immersive experience.
Martin Luther King Jr. Puzzles for 1st and 2nd Grades. Provide young students with stimulating puzzles that reinforce their knowledge of Dr King and his mission.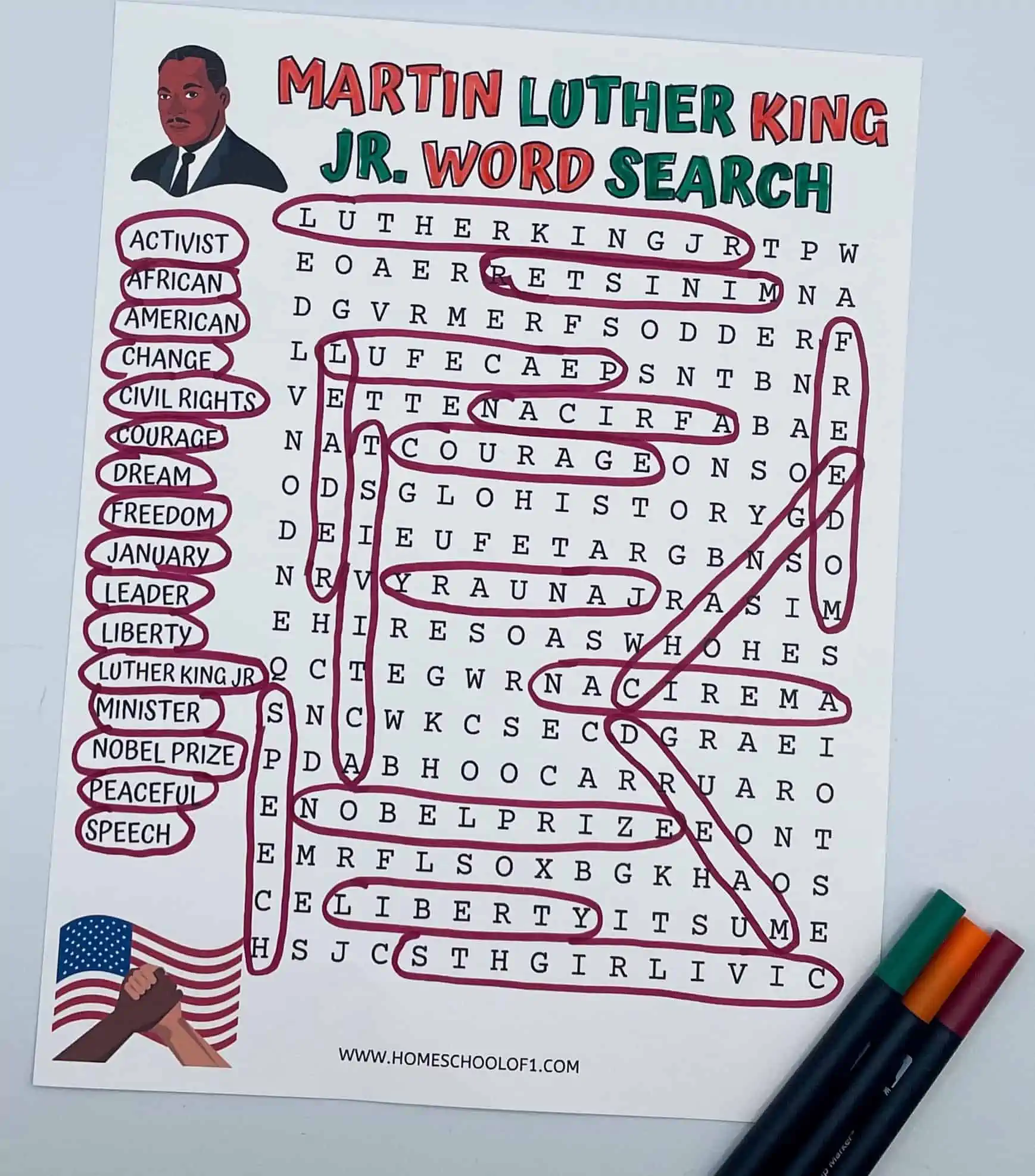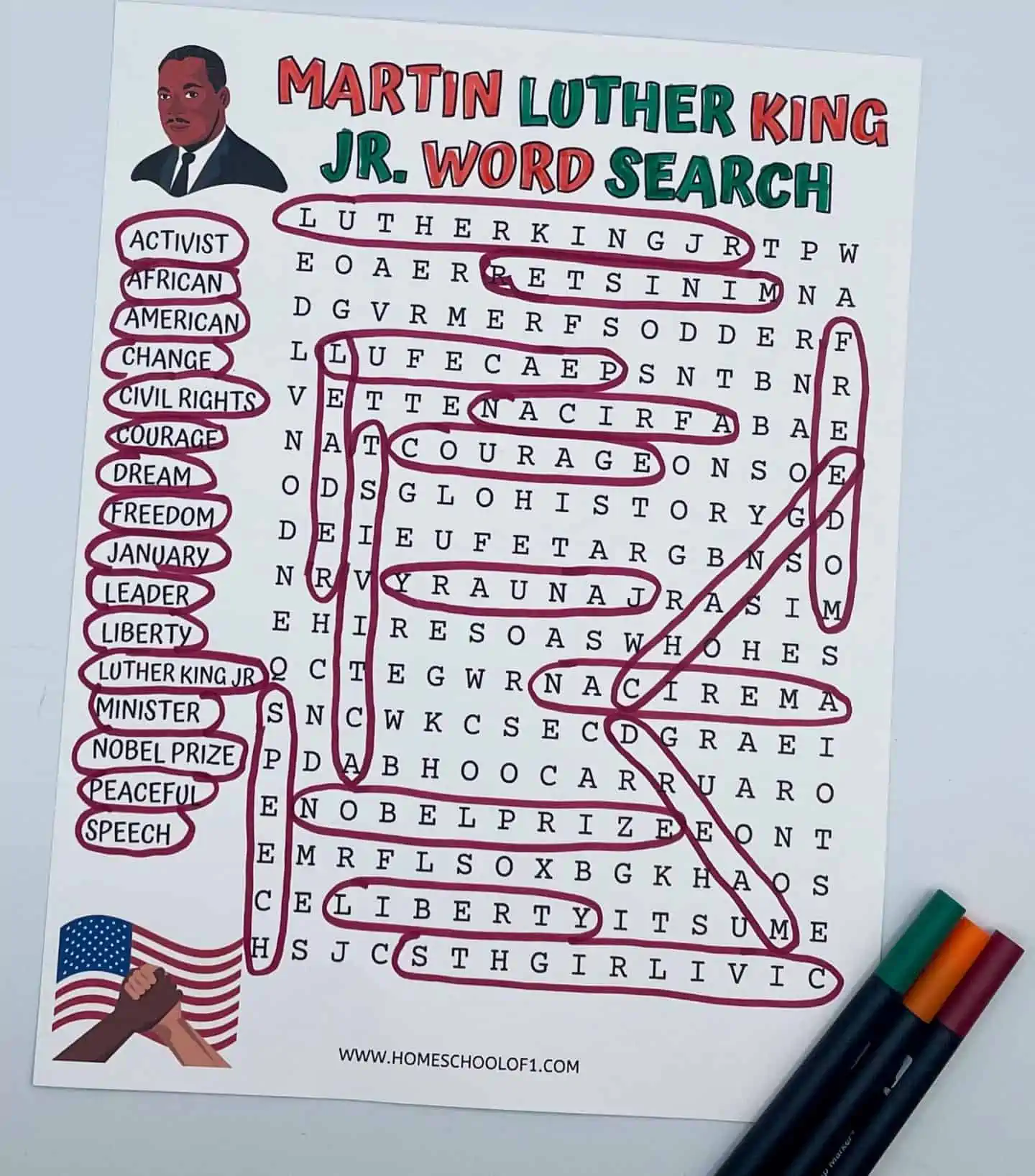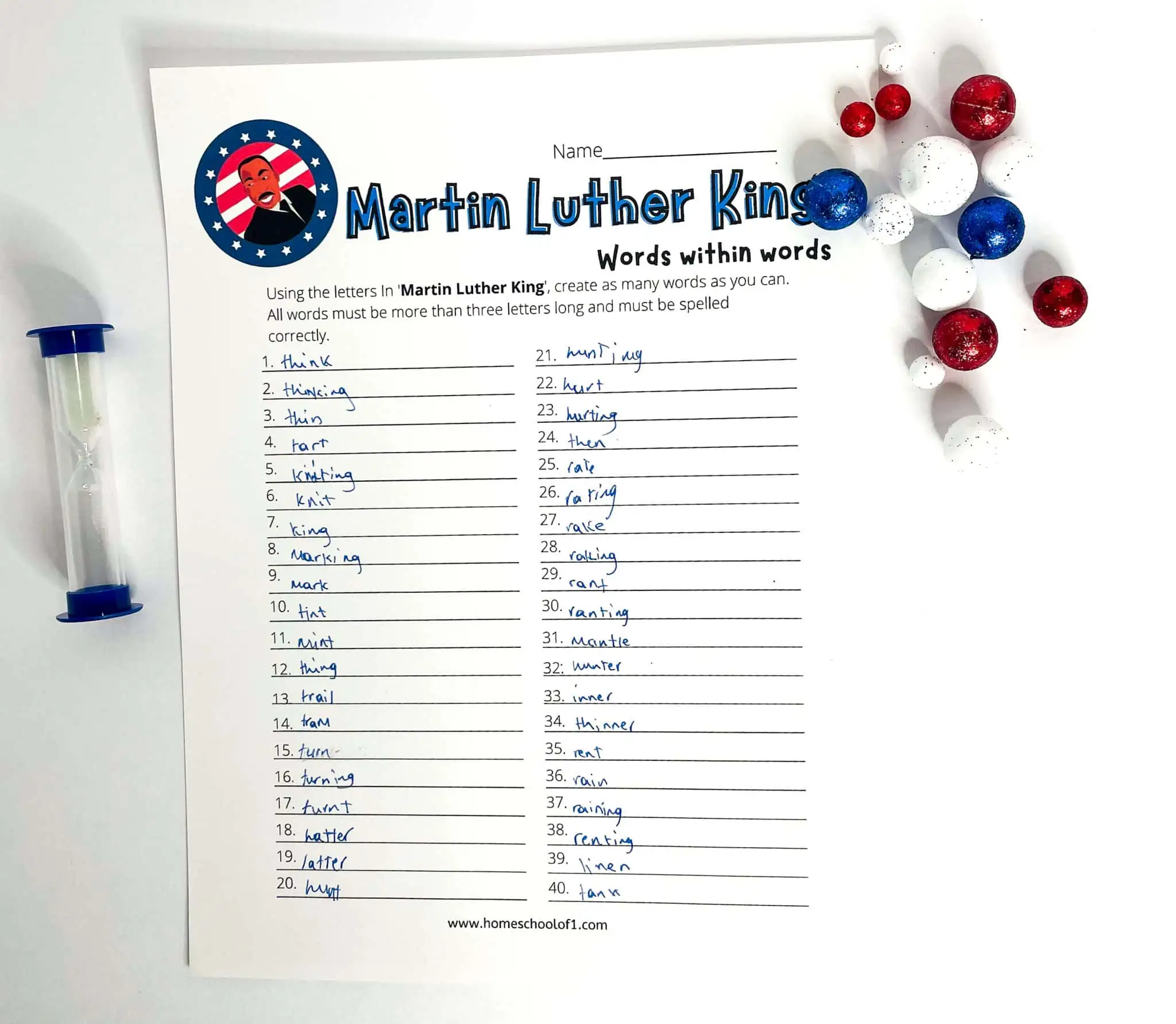 Best Martin Luther King Jr books for children
There are so many kid's books about the Great Martin Luther King Jr. but I have listed below our favorite books:
Martin Luther King Jr. activities
Show children two eggs, one white egg, and one brown egg. Crack them open to reveal their identical insides. This experiment teaches the importance of equality and reinforces Dr. King's message of judging people by their character, not appearance.
Have kids create a visual representation of their own dreams for a better world. Similar to Dr. King's "I Have a Dream" speech. They can cut out pictures from magazines or draw their aspirations on a poster.
Help children create a timeline of important events in Dr. King's life. This visual aid will give them a better understanding of his journey and accomplishments.
Have children design posters for a peaceful protest on issues that matter to them. This activity teaches them about the power of peaceful demonstration.
Challenge kids to memorize and recite excerpts from Dr. King's "I Have a Dream" speech. This helps them understand the significance of his words.
Engage in a day of service to honor Dr. King's legacy. Clean up a park, visit a nursing home, or organize a food drive. Instill the values of compassion and service.
Engage in a family or classroom discussion about equality and the importance of treating everyone with respect, regardless of their background.
Have children create a collaborative art project using handprints, which not only emphasizes unity but also enhances fine motor skills. Each child's handprint can represent unity and equality, contributing to a mural or large poster.
Martin Luther King Jr movie for kids
What are your favorite Martin Luther King activities for kids? Let me know in the comments below.
Last Updated on 26 November 2023 by homeschoolof1