Holiday Finding Words Within Words Worksheet (14 Free)
We are always looking at new and fun ways to learn. So I have put together 14 free finding words within words worksheets for you to enjoy with the kids.
These are such great holiday activities for kids and they are super fun. What I love about this printable is it is suitable for kids of ALL ages, and adults. Have a race with the kids and see who can find the most new words.
There is space for up to 40 new words, in the rules on the worksheet it says the words must be 3 letters or more. But of course, if you are playing this with younger children either 2 or 3 words should also be allowed.
It is so much harder than you think as well! Even I started confidently and allowed myself 3 letter words after the first 25!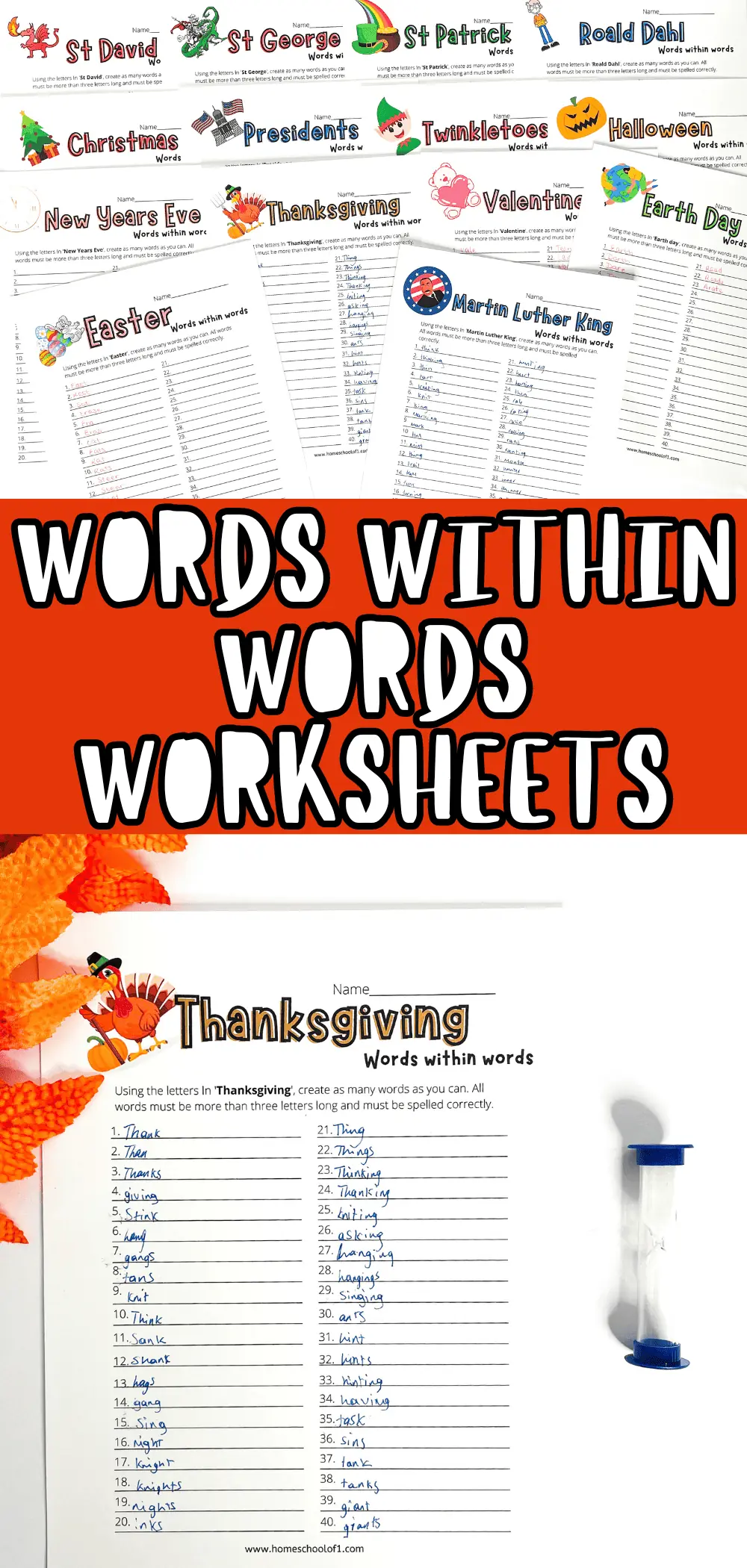 **There may be affiliate links in this post. You can read my full disclosure at the bottom of the page.**
Finding Words Within a Word Worksheet
There is space for over 40 words to find within each word (I have checked and there are well over that number for each word. The hardest is Easter but there are still over 80 words with 3 letters or more that can be made.
The holiday words within words are:
We have loads of holiday activities for all of these holidays listed above so go and check them out.
If you are looking for even more word fun check out our best games for kids as there are lots to be found there. But the most similar game we play to this is probably Boggle which is such a fun word game for kids.
How to play the finding words within words game
The words within words game is an exciting and educational word puzzle adventure that offers a captivating way to enhance your language skills. Here's how to play:
Start by selecting a single word as your puzzle. There are 14 different words to choose from. This word will be the basis for finding smaller words hidden within it. For example, let's choose the word "Thanksgiving."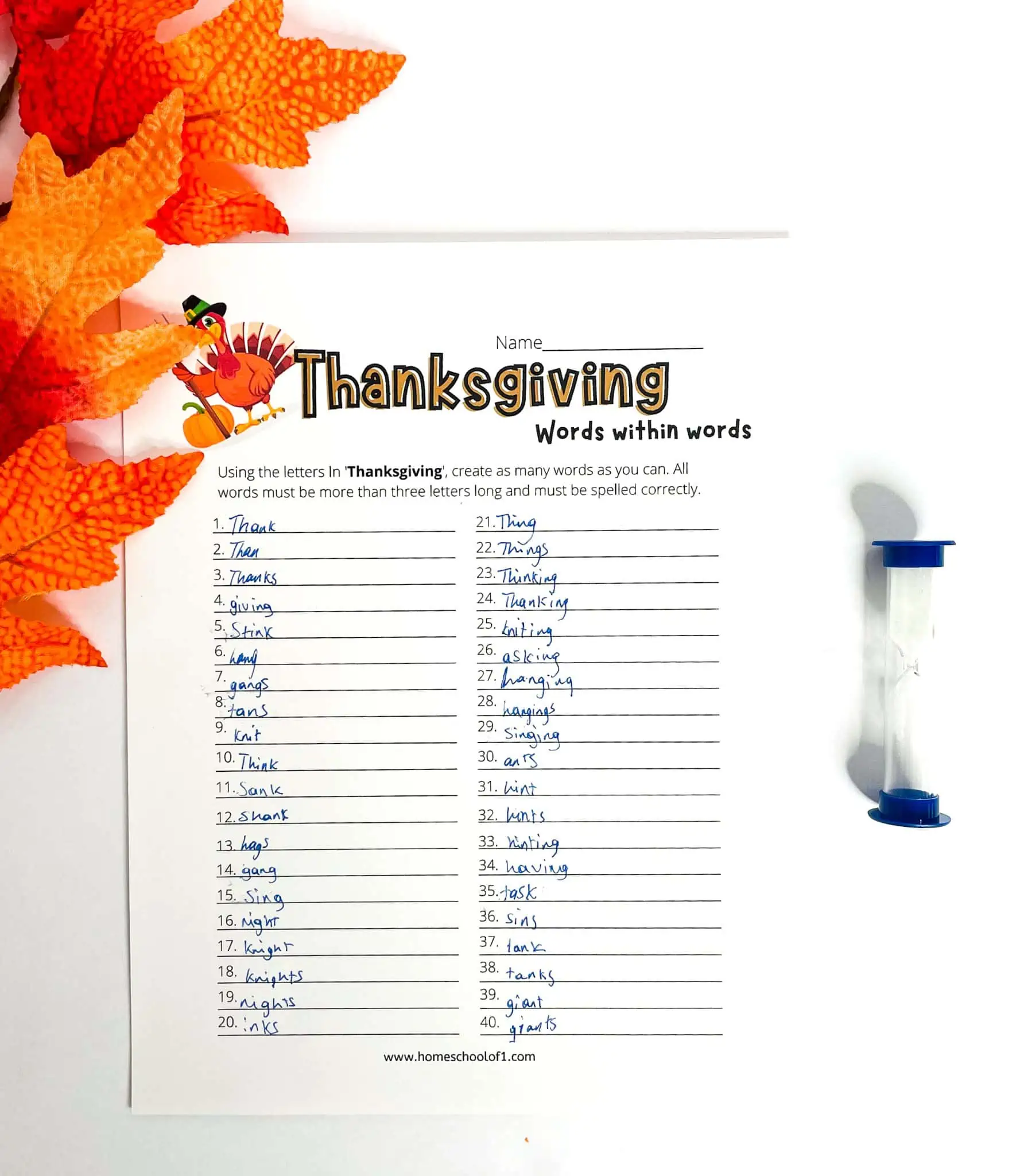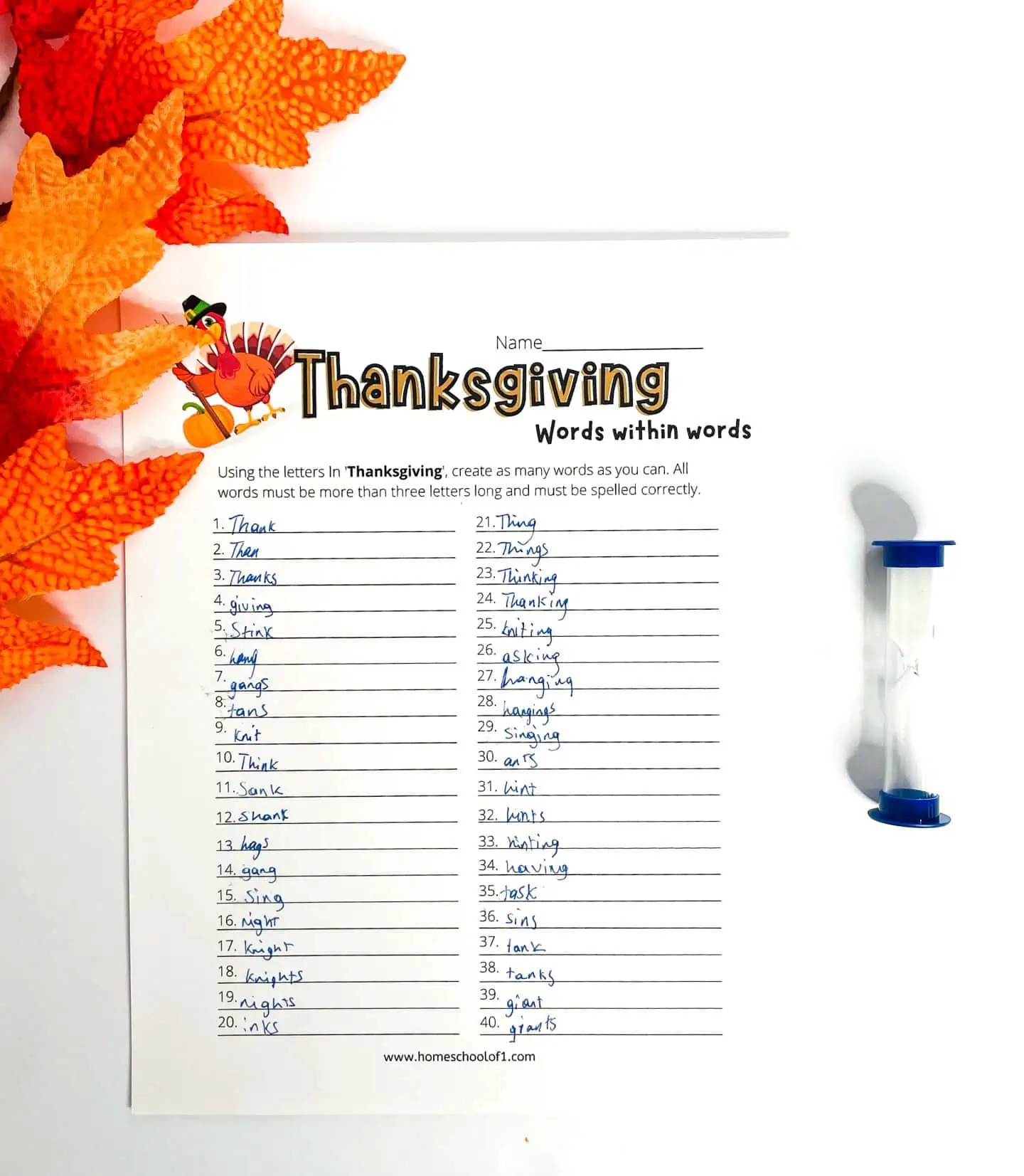 Decide if you want to add a time limit to the game to make it more challenging. You can use a timer or a stopwatch to keep track.
Examine the chosen word closely. Your goal is to find as many smaller words as you can that are hidden within the letters of the main word. In our example, you might find words like thing, asking, tanks, giants, or hanging.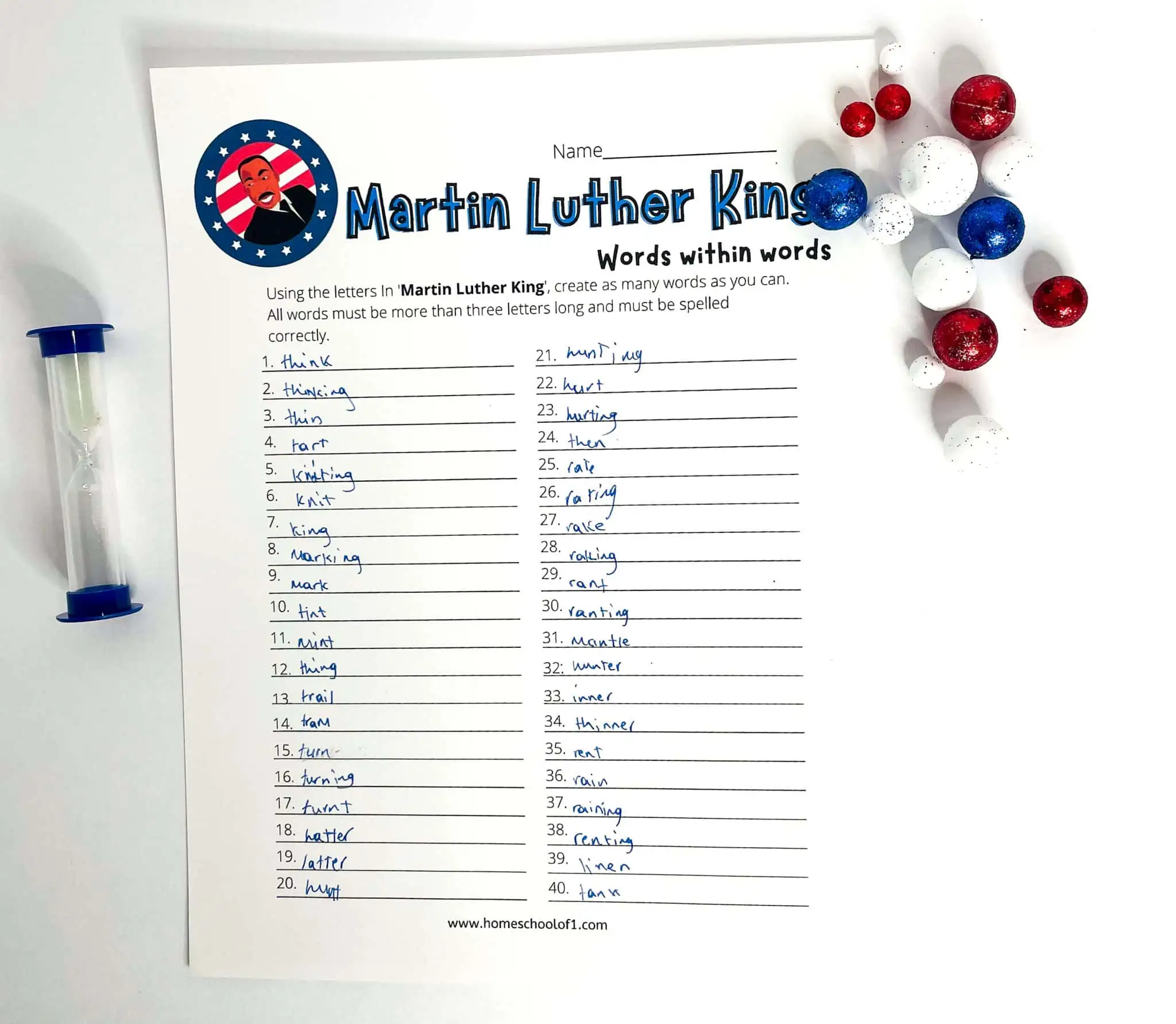 Assign points for each word you find. You can give more points for longer words or make it a level playing field by awarding one point for each word, regardless of length.
Write down or mark the words you find on a piece of paper or a worksheet. This helps you keep track of your progress and ensures you don't count the same word multiple times.
You can play individually and compete against yourself or others, or you can collaborate with friends or family members to find as many words as possible together.
When the time limit (if set) expires or when you feel like you've found all the possible words, tally up the points and declare a winner.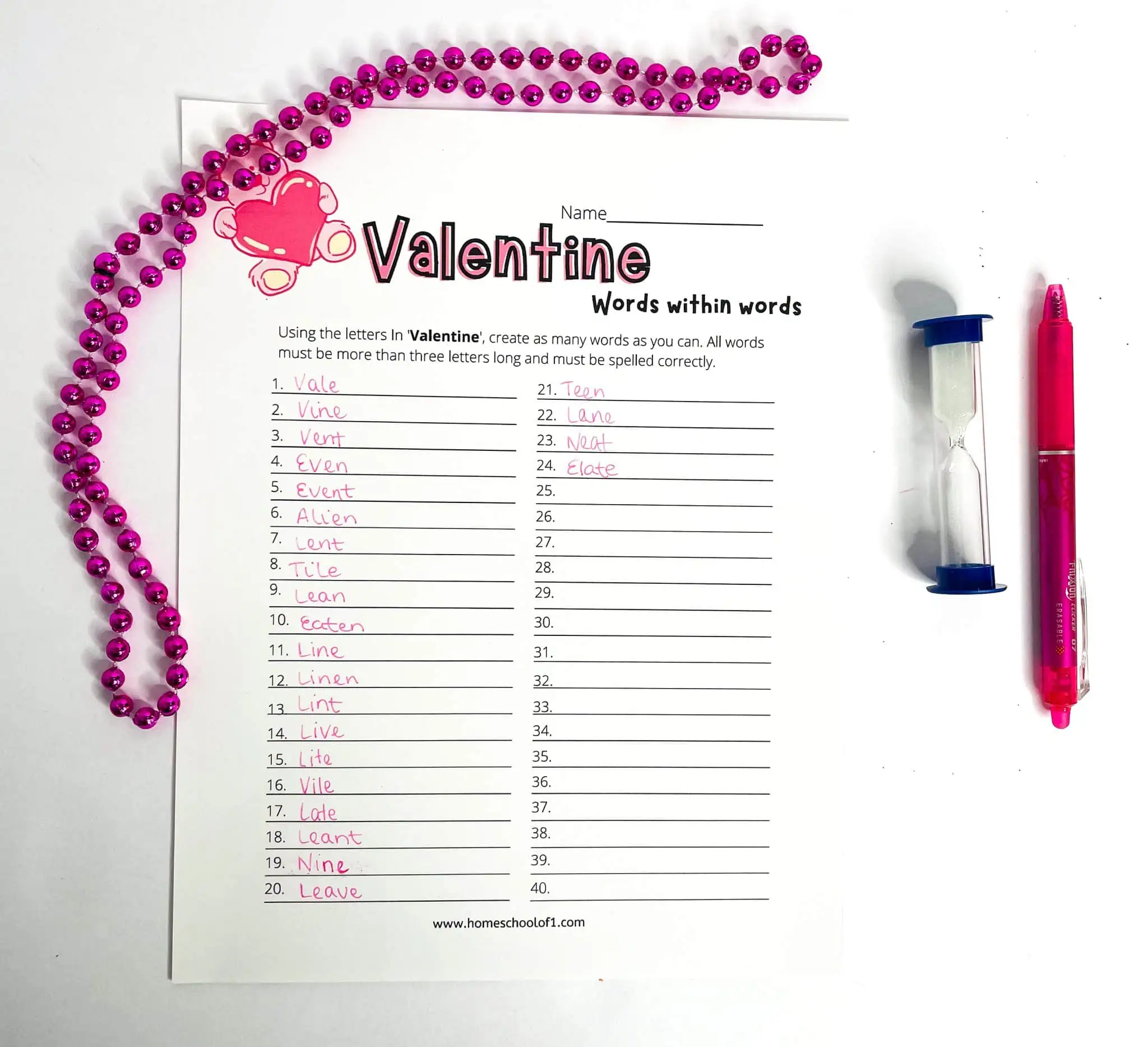 What are the benefits of these worksheets?
These spelling worksheets are designed to improve spelling skills, enhance vocabulary, and provide engaging learning experiences for all ages.
Word search exercises like these help improve word recognition skills. Participants become more adept at spotting words within a jumble of letters, which can be especially beneficial for early reading and language learners.
Engaging in word search activities enhances cognitive skills such as attention to detail, pattern recognition, and problem-solving.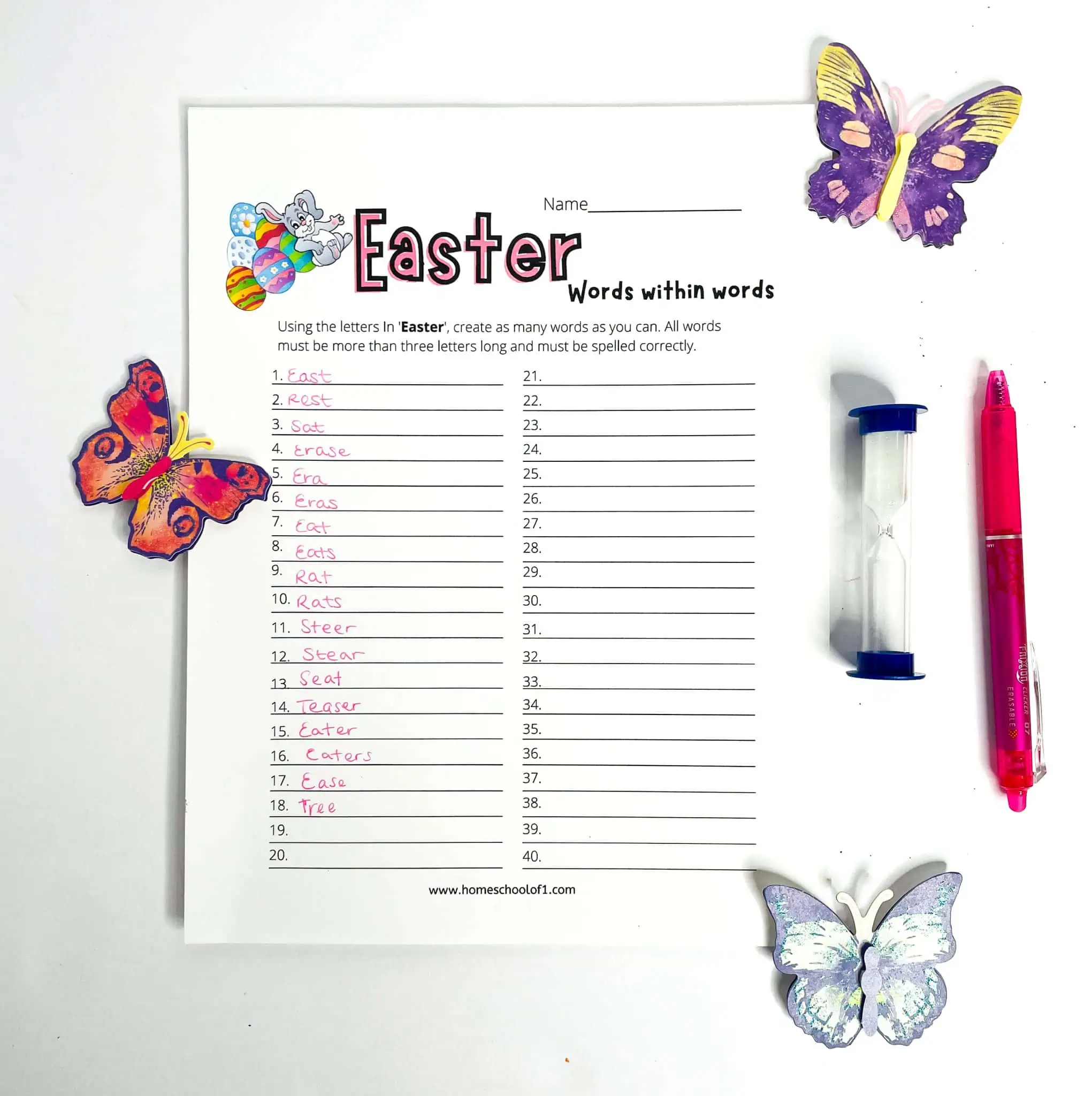 Learning through play is highly effective. These worksheets turn word exploration into an enjoyable and interactive experience.
The worksheets are designed to be suitable for kids of all ages and even adults. They can be adapted to different skill levels, ensuring that everyone can participate and enjoy the activity.
Word finding challenges provide an excellent opportunity for family bonding. Families can work together or have friendly competitions to see who can find the most words.
By incorporating holiday themed words, these worksheets make learning relevant and seasonal.
These worksheets offer flexibility in terms of difficulty levels. You can choose to allow 2 or 3-letter words for younger children, making it adaptable for different age groups and skill levels.
In an age of digital devices, these printable activities provide a screen-free alternative for entertainment and education, promoting screen-time balance.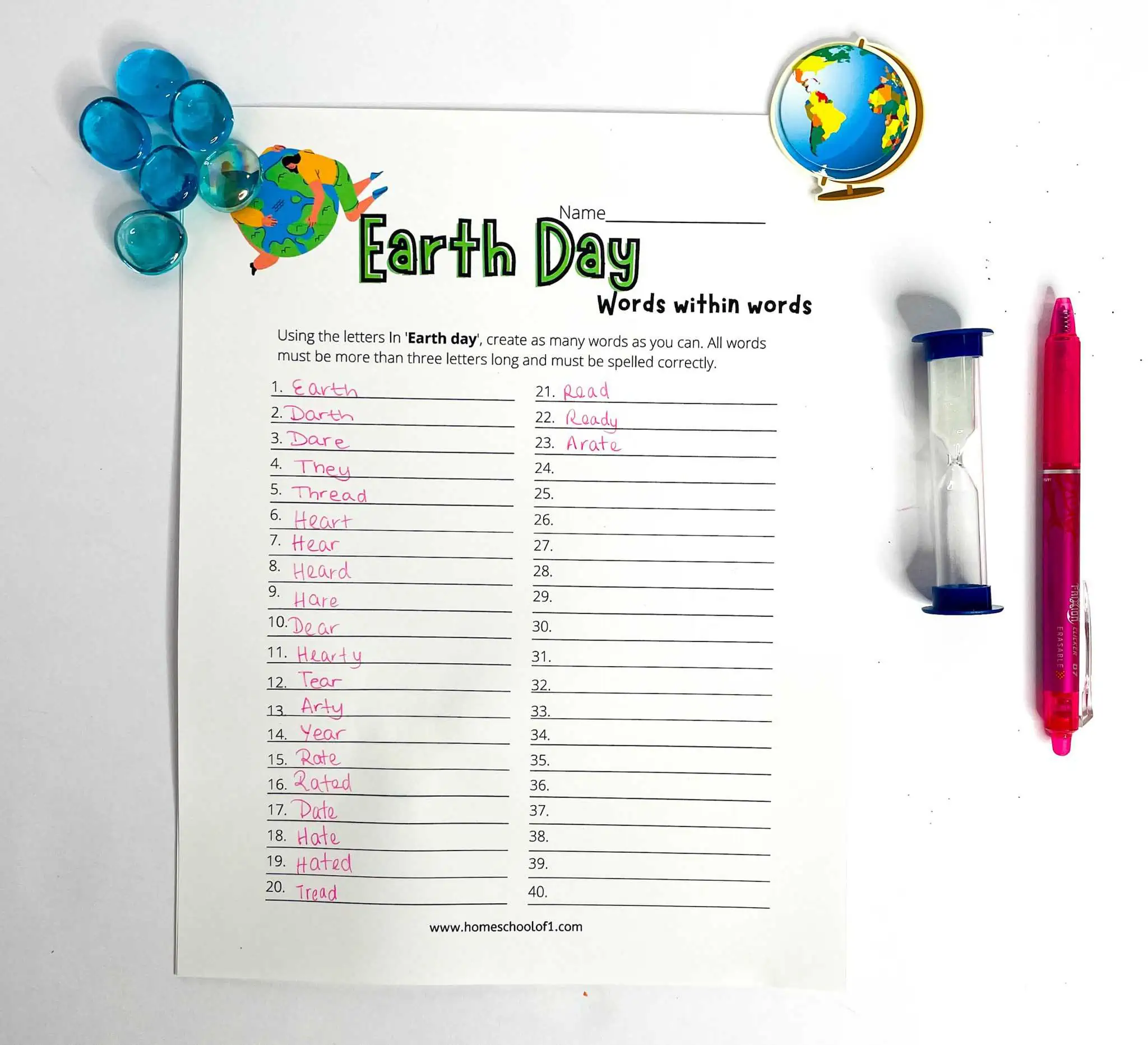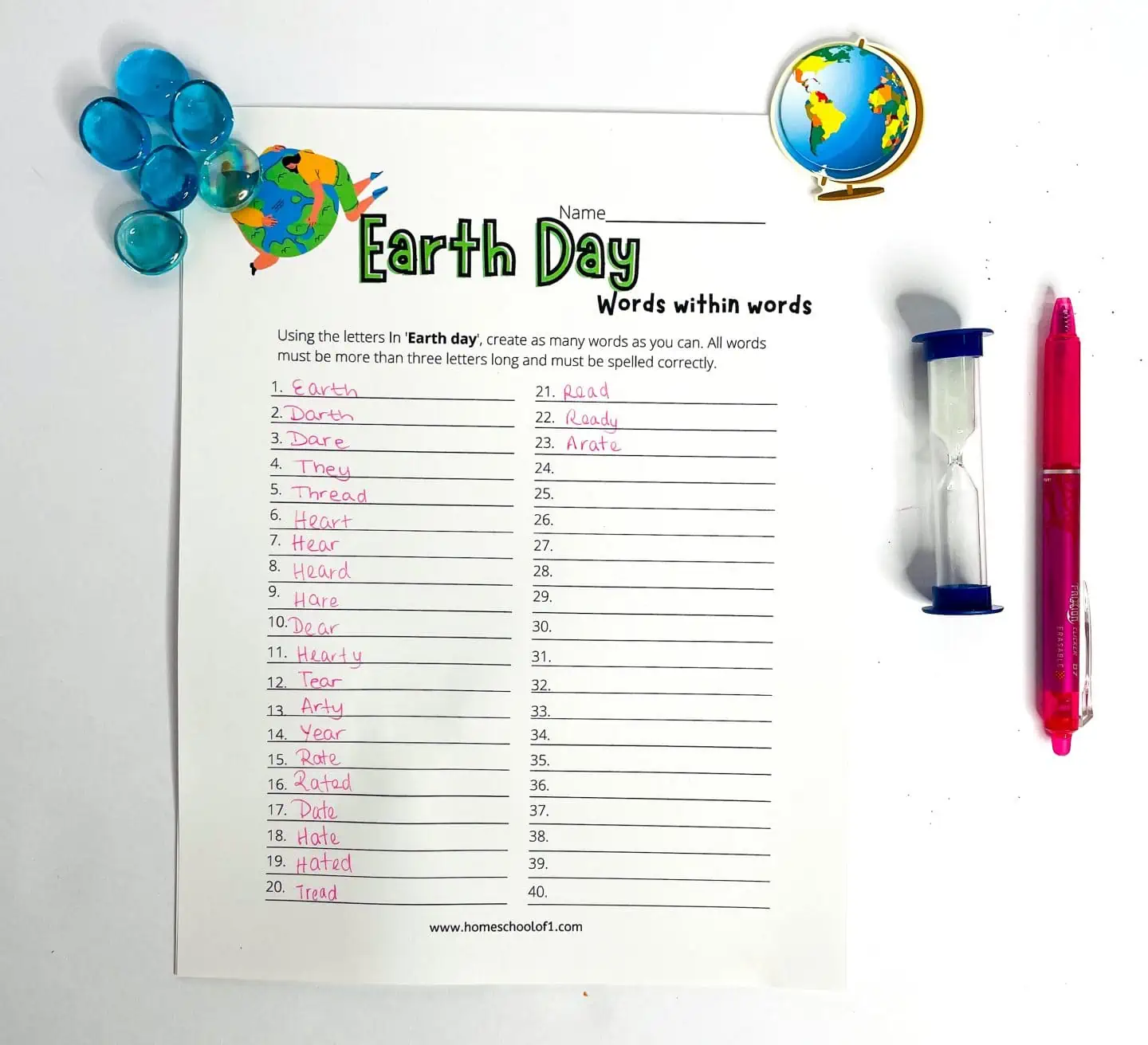 Tracking the number of words found can turn this activity into a friendly competition, fostering a sense of achievement and motivation to improve.
Engaging in word search activities requires sustained attention and concentration, which can be beneficial for improving focus and concentration skills.
These teaching resources can be used in various settings, including homes, classrooms, or as part of homeschooling.
Tips for downloading the free files
Below you will see a large sign-up box where you need to add your name and email address, and press I NEED THIS NOW!
Within minutes you will be sent the free PDF directly to your email address, so you can print it out and start using it immediately.
Sometimes emails get a little wonky, so if you can't see it, please check your spam folder where I am sure it is hiding.
Download the free words within words worksheets pdf
These worksheets are free to print but are for personal or classroom use only.
Make sure you choose the correct paper size and click on the shrink to fit button. All of our free printables for kids work better when printed on cardstock (this is the one we use and love.)
Last Updated on 25 November 2023 by homeschoolof1