Free Christmas Around the World Coloring Pages
Have fun while learning about different traditions with our free Christmas Around the World coloring pages.
There are nine coloring pages featuring different Santa's from around the globe. Representing diverse traditions from America, Europe, and Asia.
These coloring Christmas activities for kids are not just enjoyable; they also teach the children about how Christmas is celebrated in different parts of the world. While they color, they will learn about the unique traditions and customs from various countries.
**There may be affiliate links in this post. You can read my full disclosure at the bottom of the page.**
Santas from around the World
Welcome to a festive journey around the world as we explore the various holiday traditions and characters that bring joy and excitement during the Christmas season.
From Ireland's Daidí-na-Nollaig to Russia's Ded Moroz, and from Finland's Joulupukki to the USA and England's beloved Santa Claus, each country has its unique way of celebrating this magical time of the year.
Join us as we dive into the rich tapestry of global holiday customs, discovering the diverse ways people express their love and goodwill during the holiday season.
Ireland – Daidi na Nollaig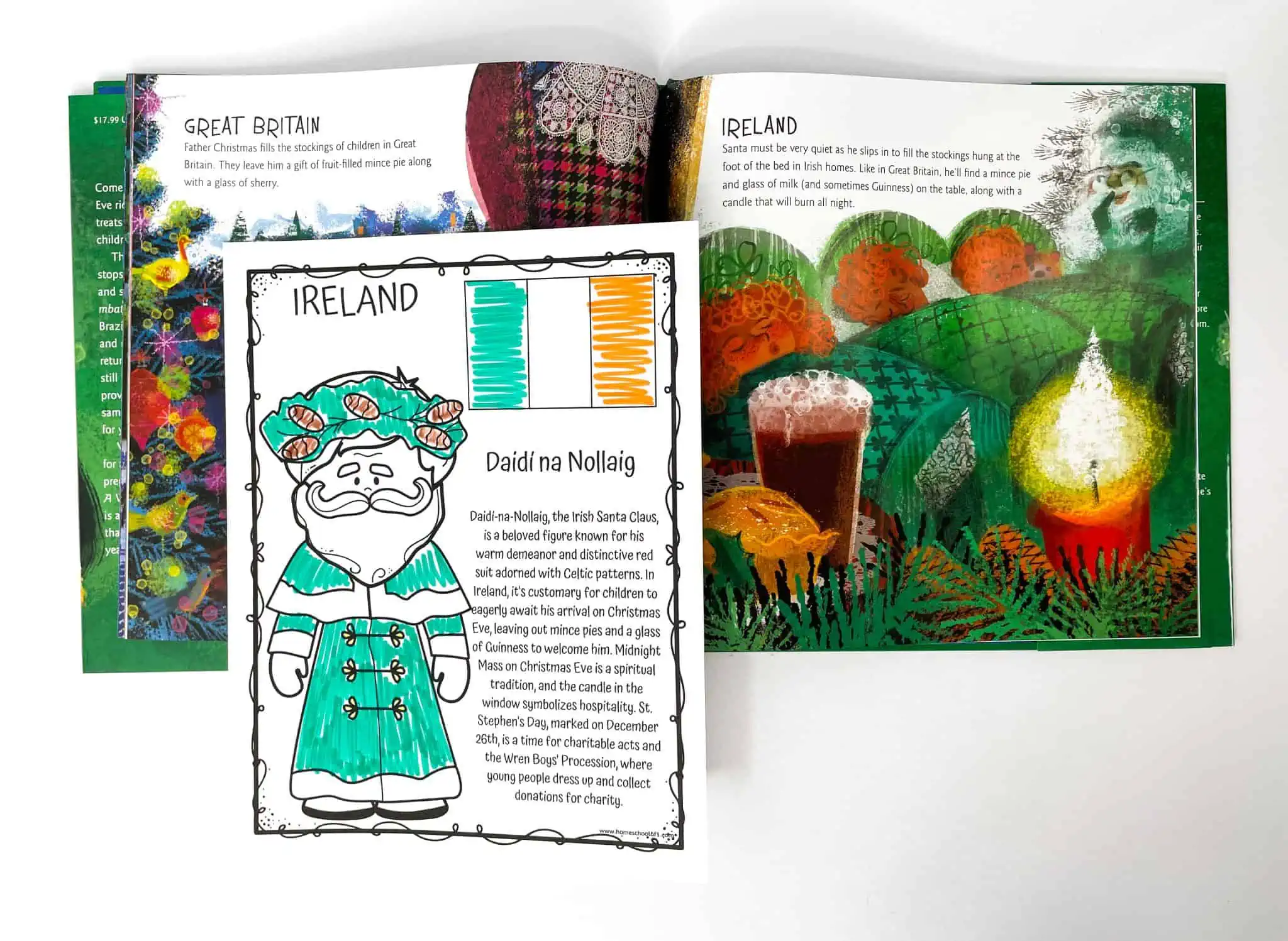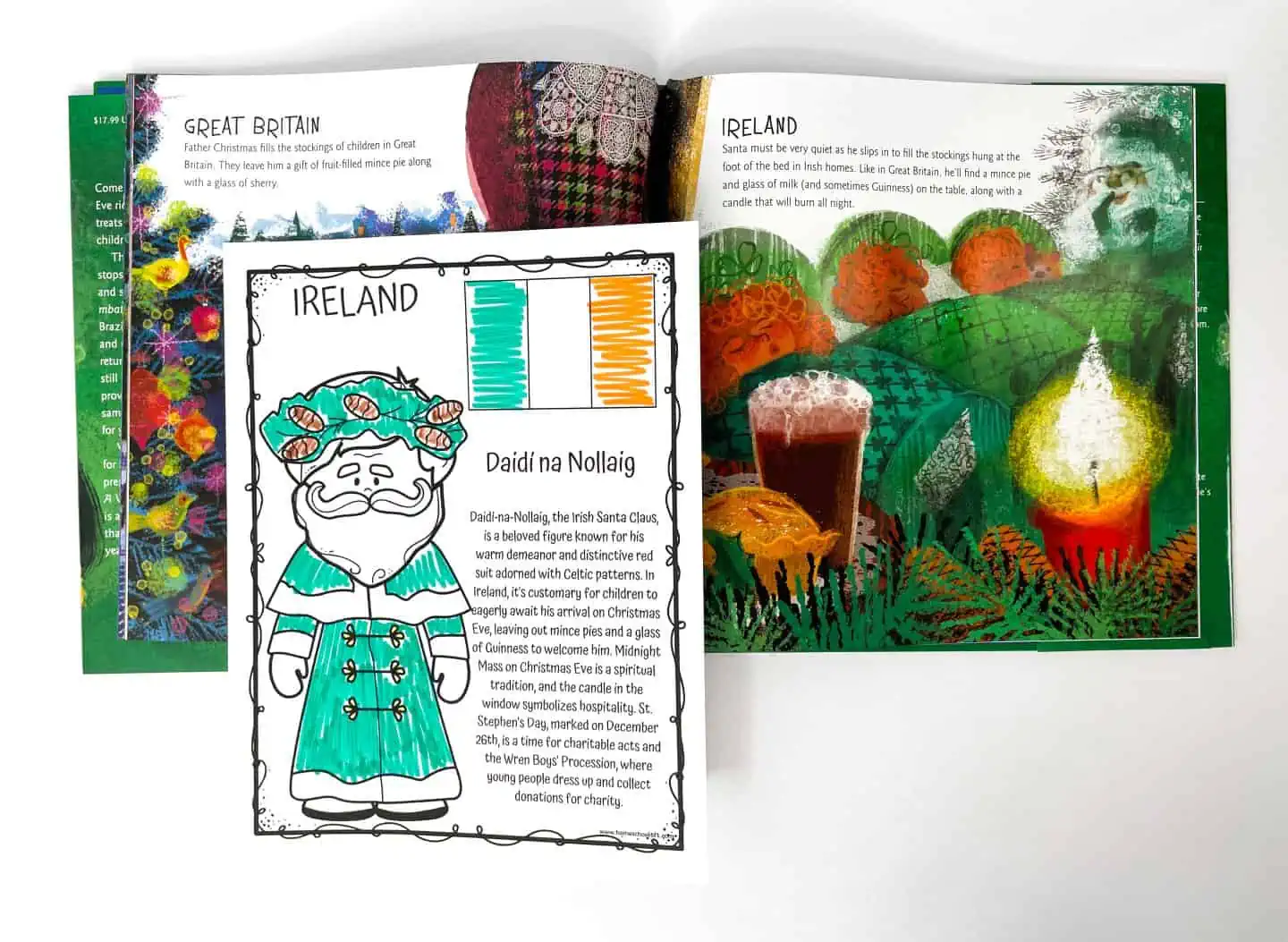 In Ireland, kids can't wait for Christmas Eve when Daidí-na-Nollaig comes to visit.
They leave out yummy mince pies and even a glass of Guinness to welcome him. Oh, and on Christmas Eve, they light a candle in the window to show kindness.
There's also something cool called St. Stephen's Day on December 26th, where people do nice things and kids dress up for a parade to help others.
You will also enjoy our Christmas in Ireland worksheets
Russia – Ded Moroz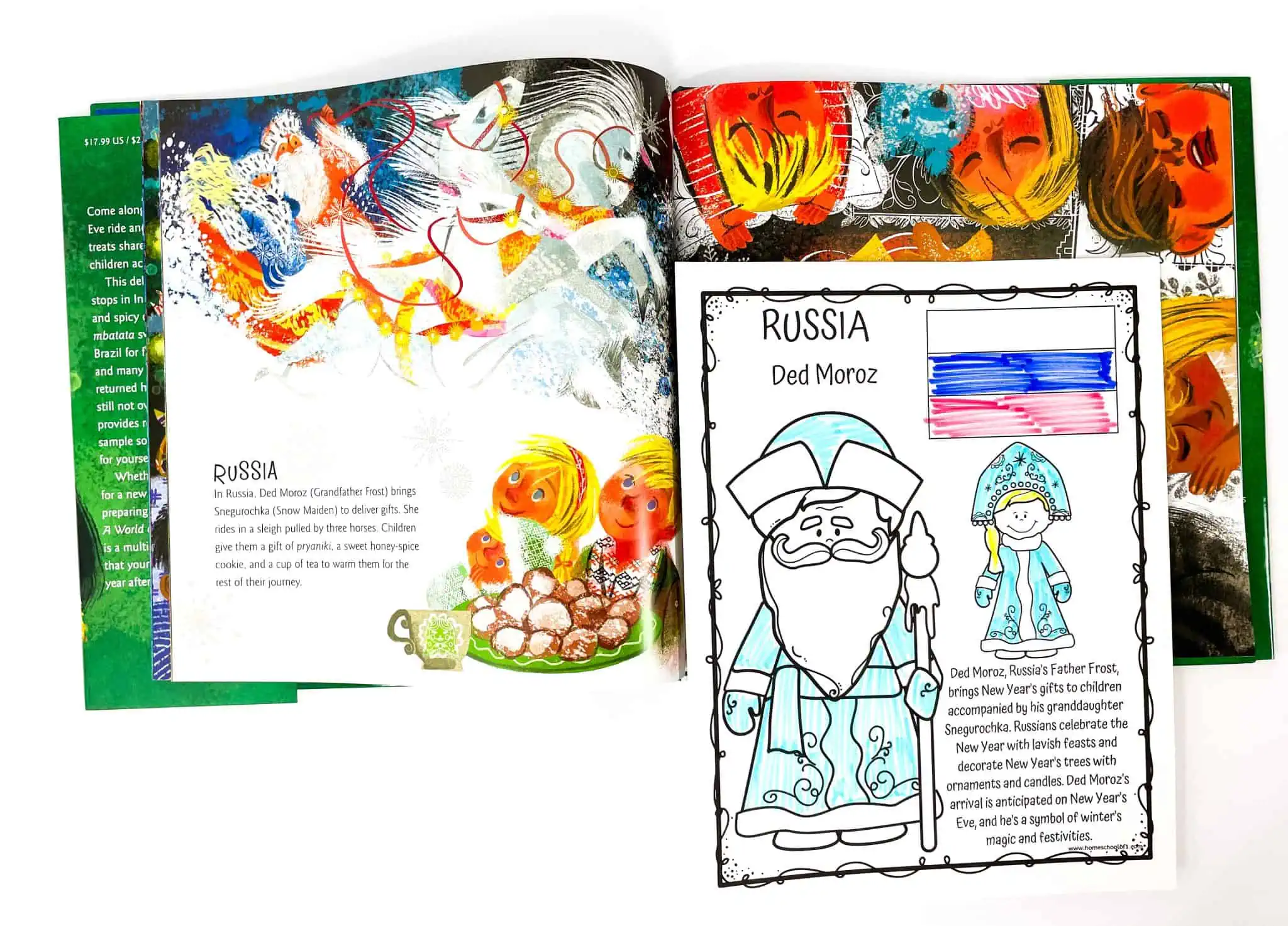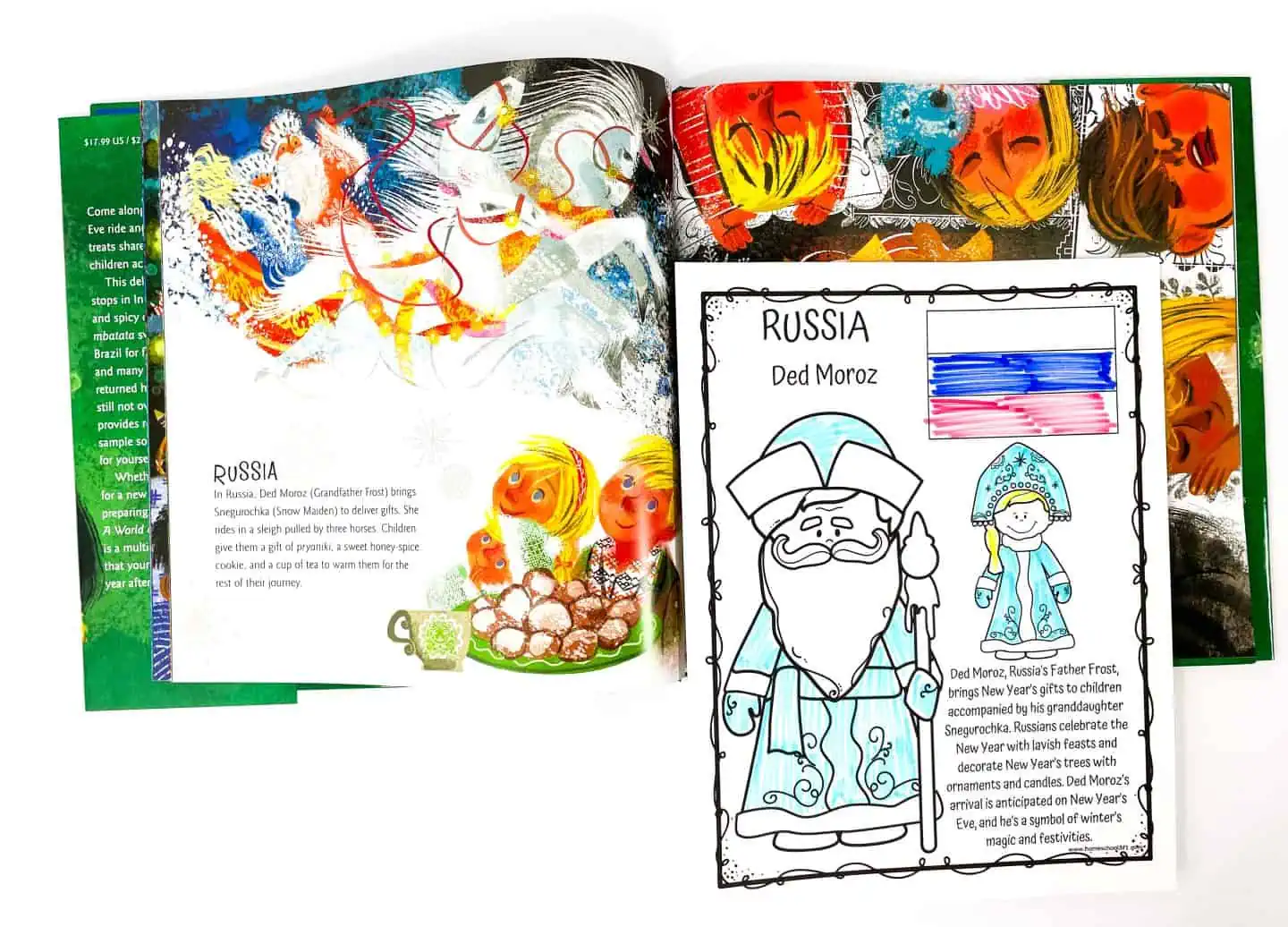 In Russia, they have a cool character called Ded Moroz, or Father Frost.
He's like their version of Santa Claus. Guess what? He brings gifts to kids for New Year's, not Christmas. And guess who comes along?
His granddaughter Snegurochka! Russians love the New Year so much that they celebrate with big feasts filled with yummy food.
They also decorate special New Year's trees with shiny decorations and candles, making everything sparkle.
Finland – Joulupukki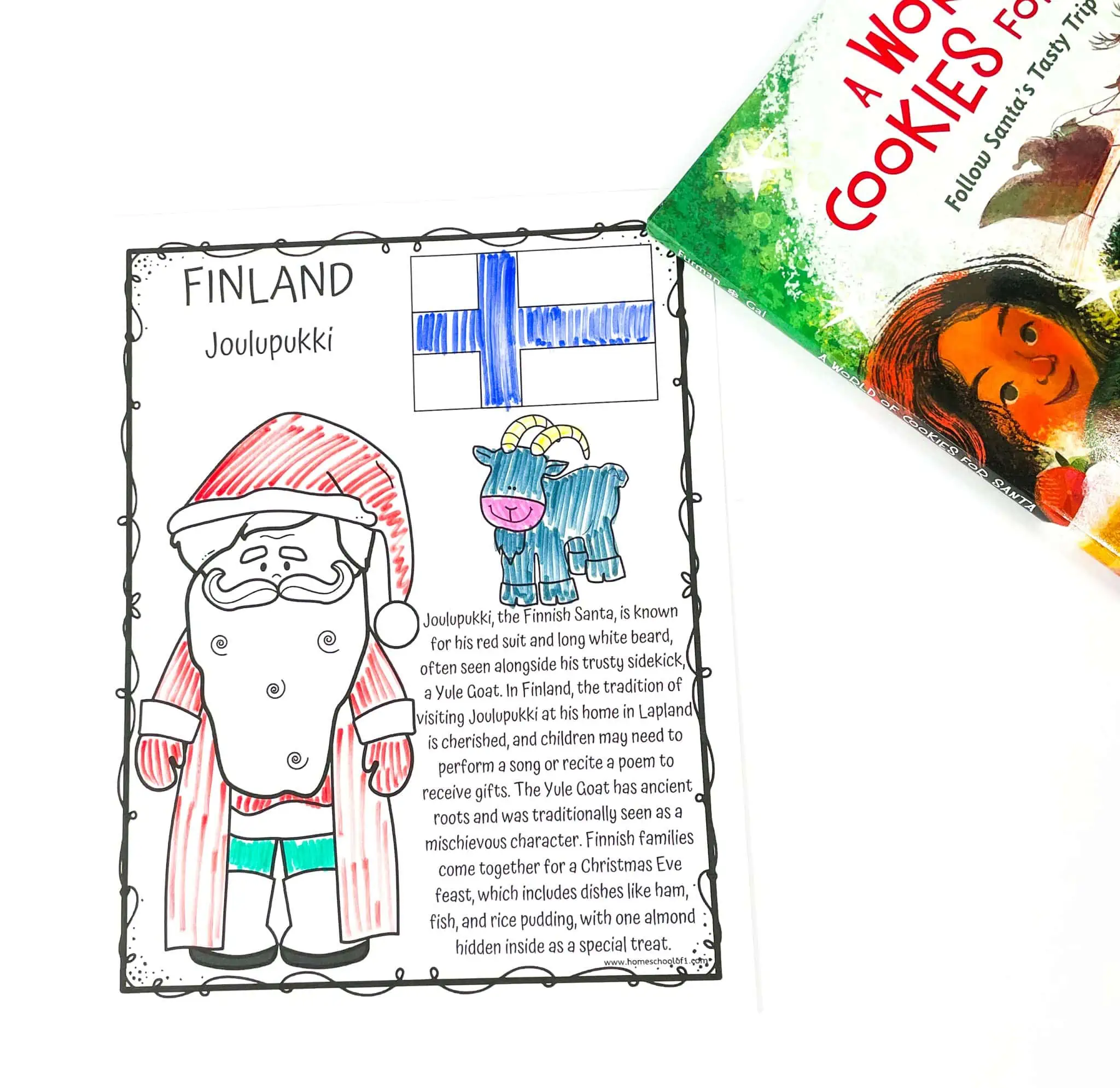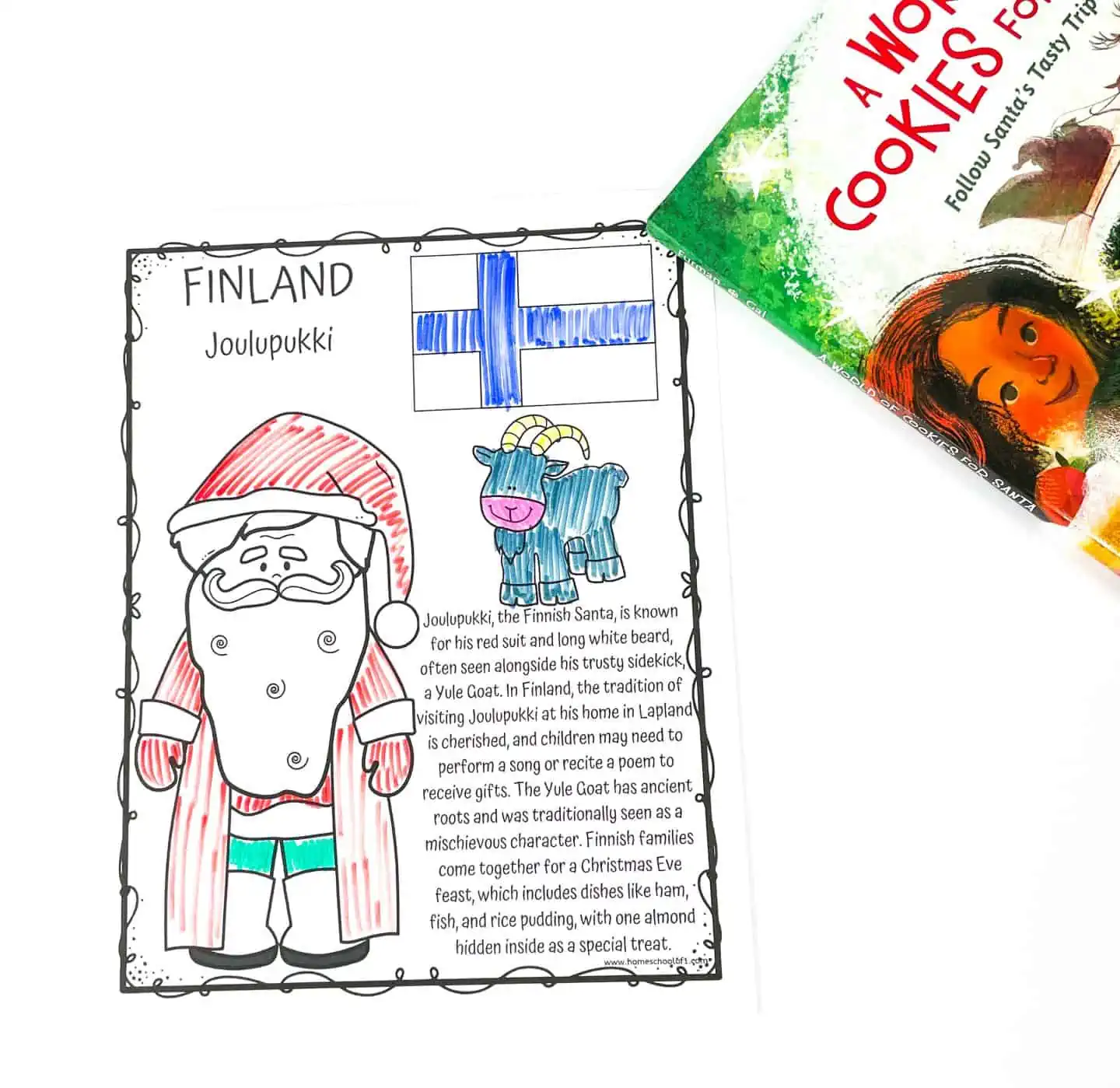 In Finland, they have a Santa named Joulupukki.
He looks like the Santa we know, with a red suit and a big white beard. But guess what? He has a buddy called a Yule Goat!
Kids in Finland dream of meeting Joulupukki at his home in Lapland. And guess what they might have to do to get their presents? Sing a song or say a poem!
Families in Finland come together for a super yummy Christmas Eve dinner with ham, fish, and special rice pudding. And guess what? There's a hidden almond in the pudding, and finding it is so exciting!
Sweden – Jultomten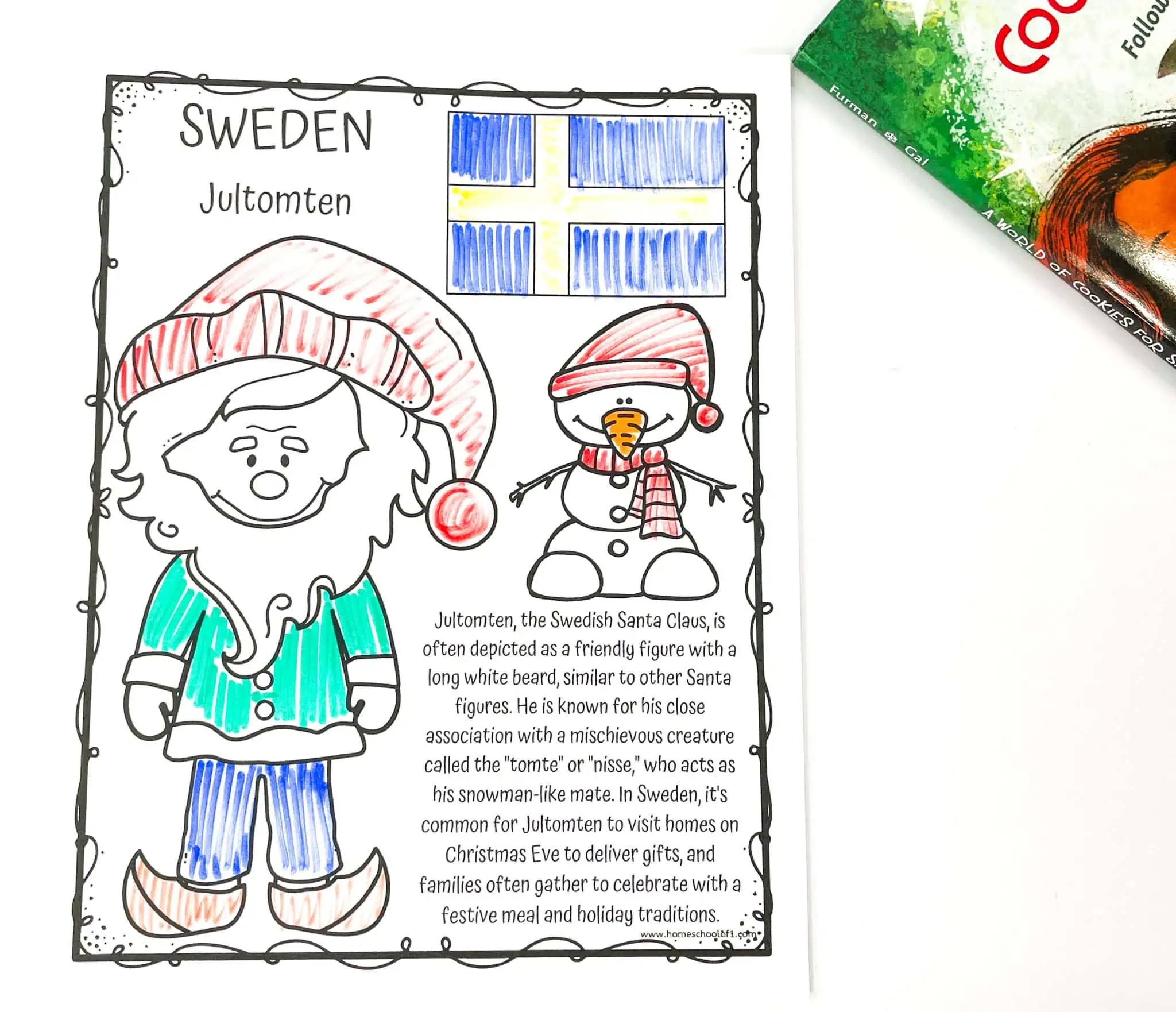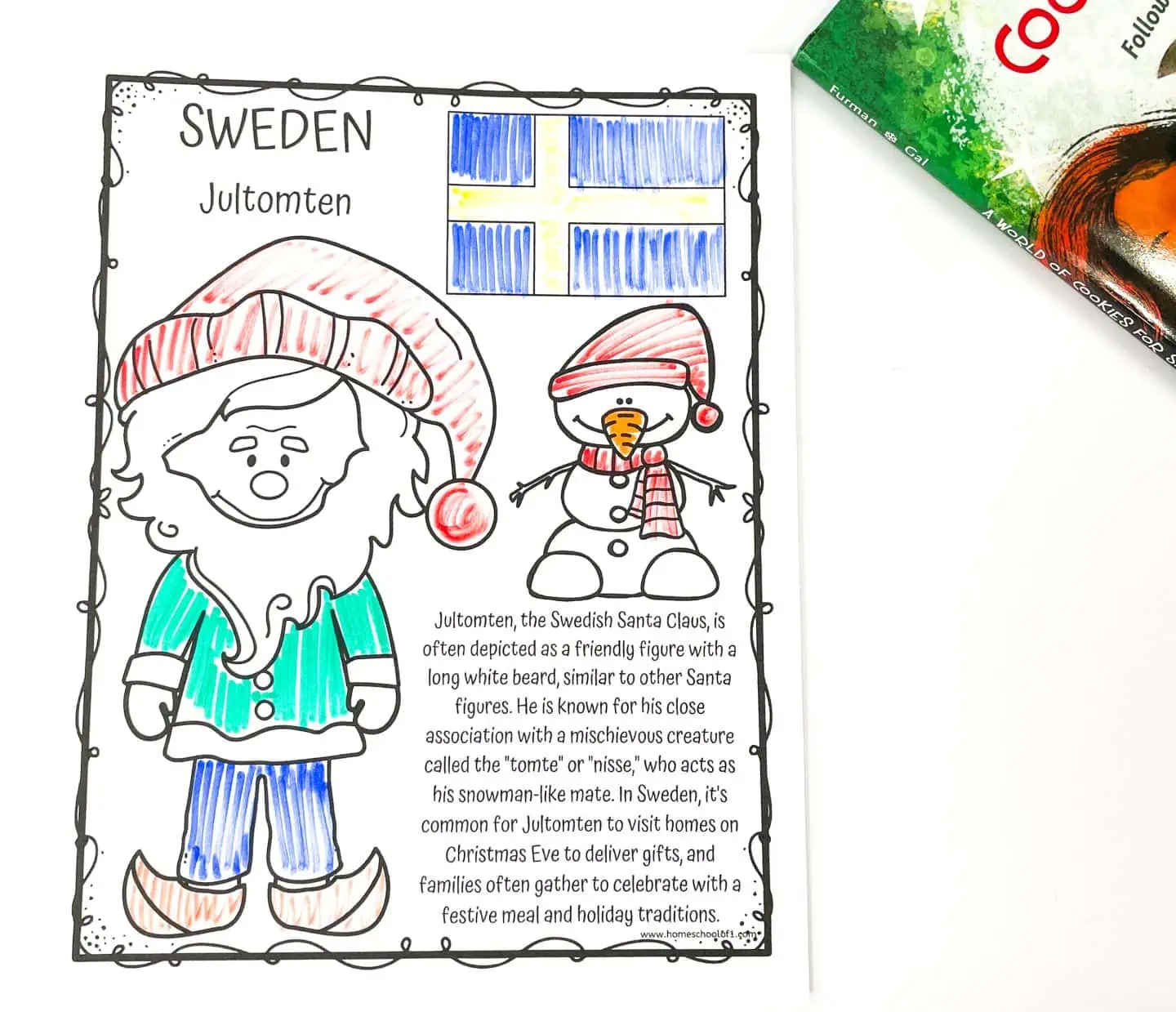 In Sweden, they have a Santa named Jultomten.
He's kind of like other Santas, with a long white beard and all that.
But what's really fun is that he has a buddy called a "tomte" or "nisse" who is a bit mischievous and looks like a snowman.
Jultomten visits houses on Christmas Eve and brings gifts. Families in Sweden have a big feast and celebrate with lots of holiday fun!
Grab the World of Cookies for Santa book
Spain – Reyes Magos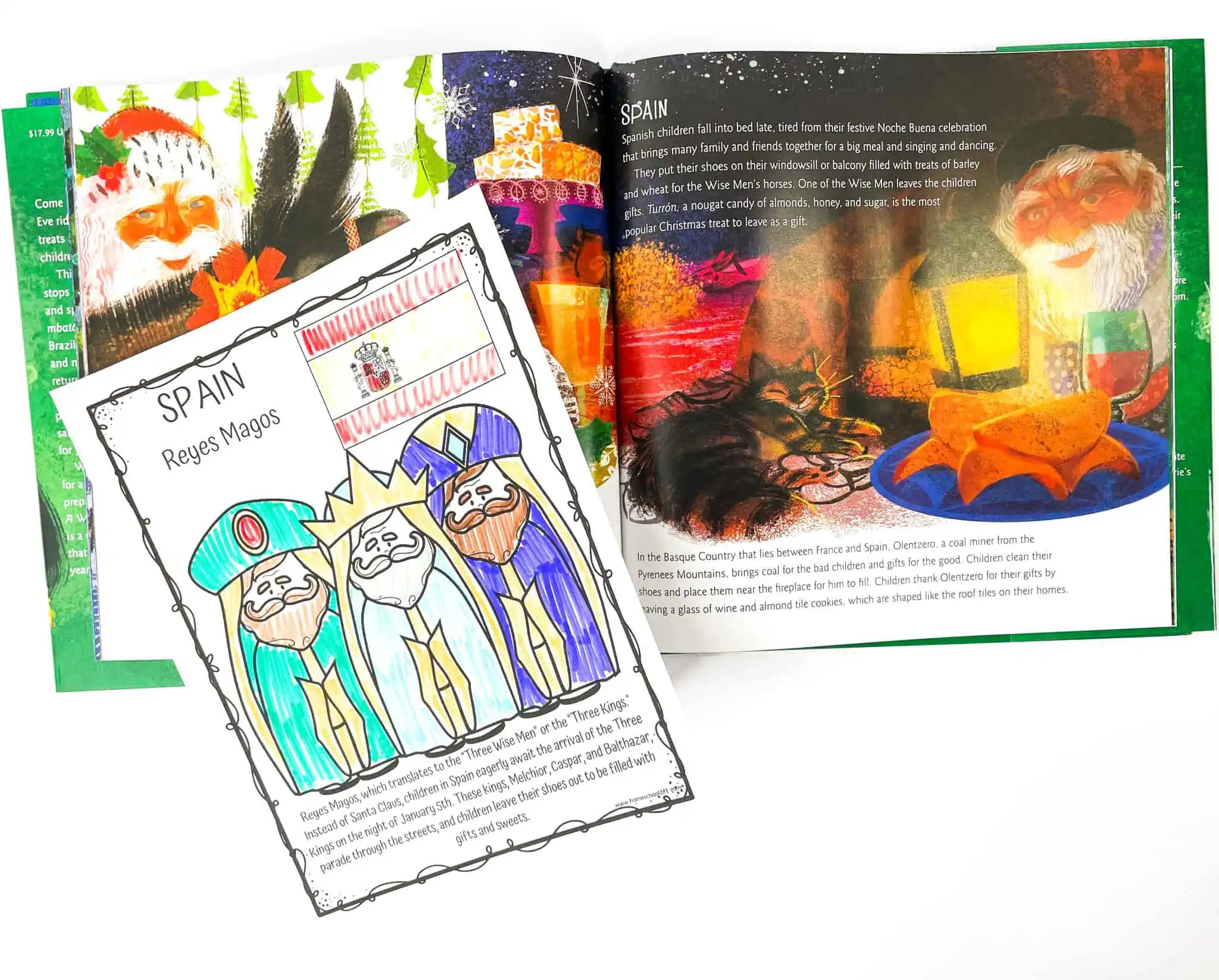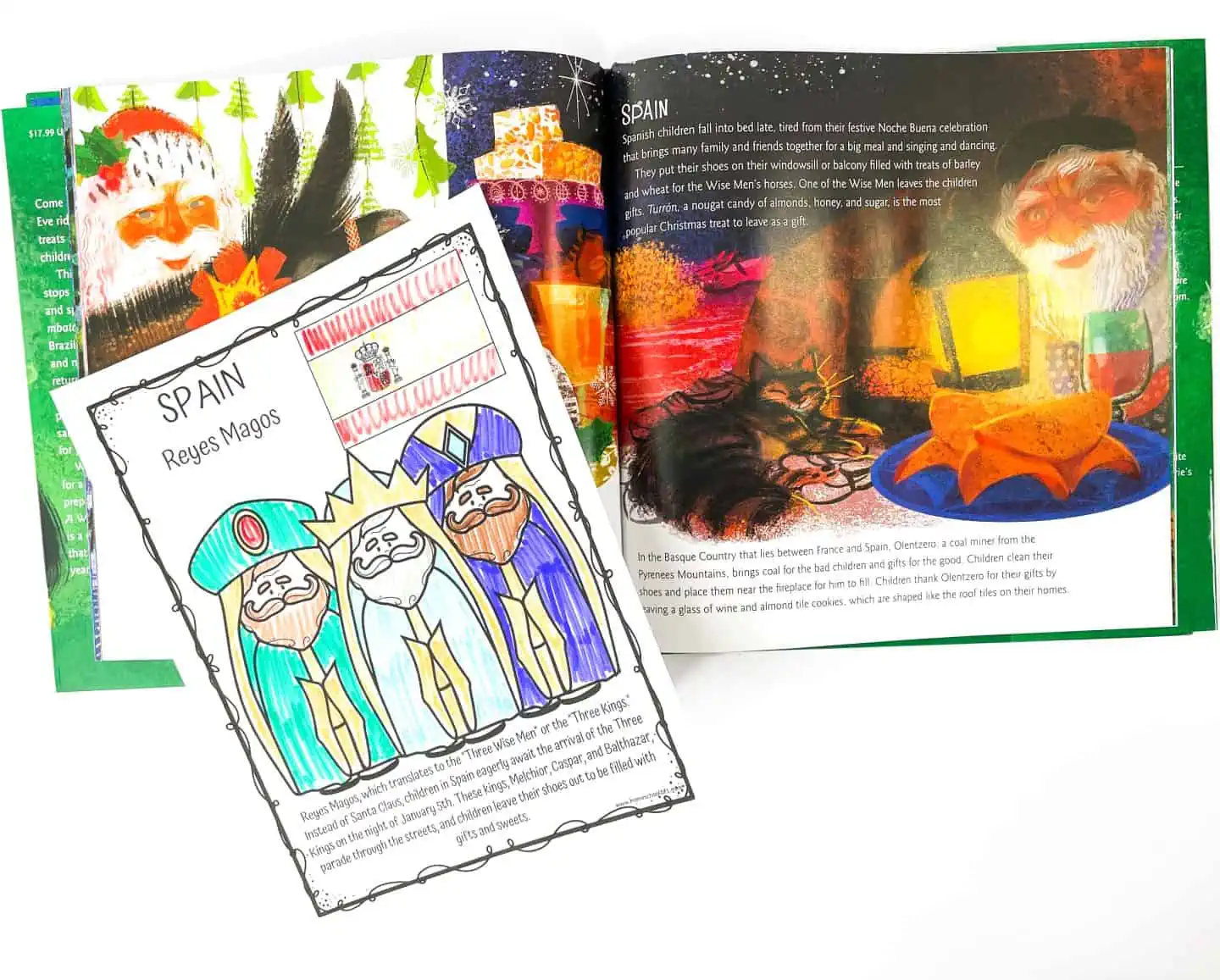 In Spain, they do something different. Instead of Santa, they wait for the "Three Wise Men" or "Three Kings" called Reyes Magos.
These kings come on January 5th, not Christmas Eve. And guess what? They parade through the streets, and kids leave their shoes out for gifts and yummy treats. Isn't that cool?
France – Pere Noel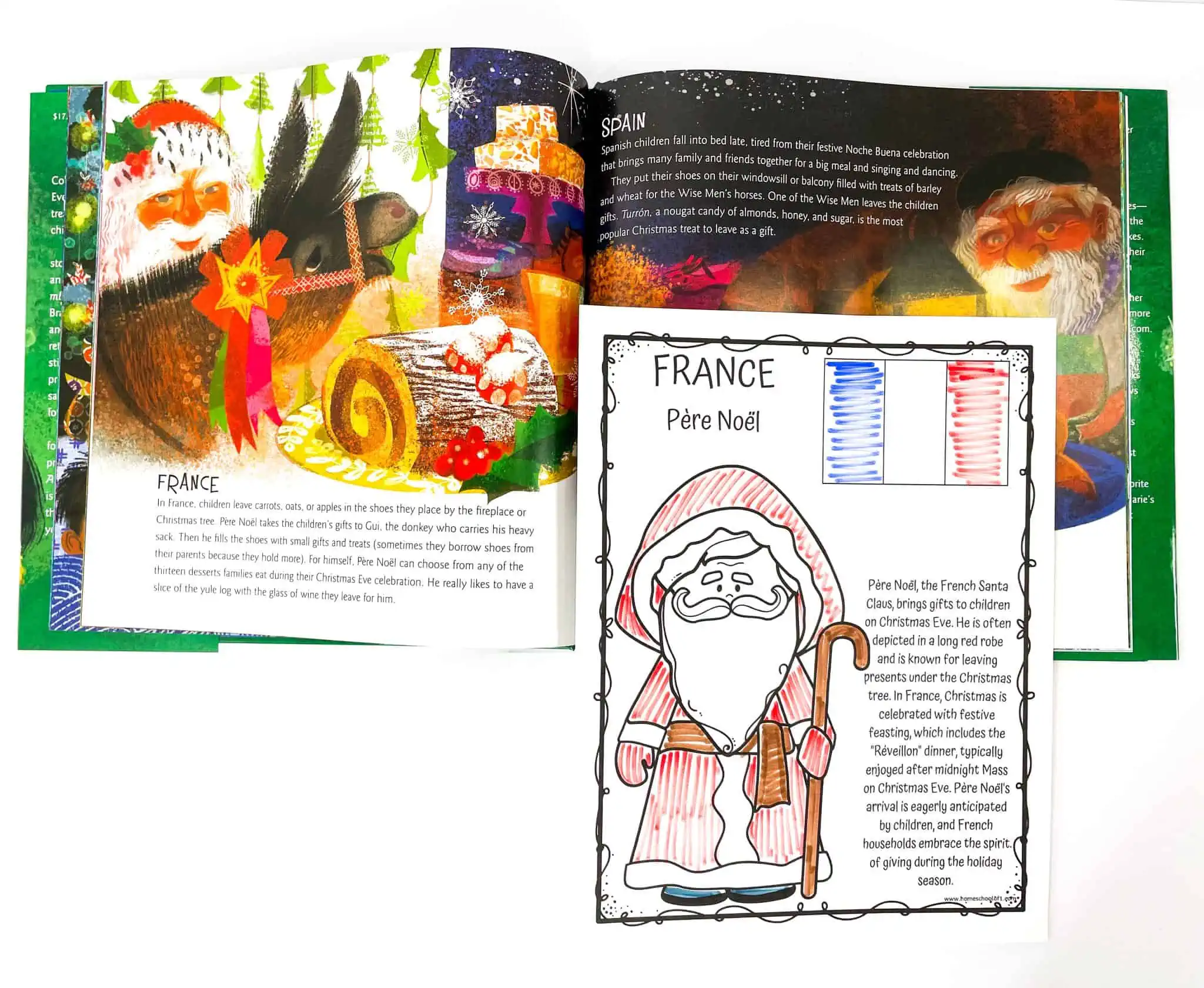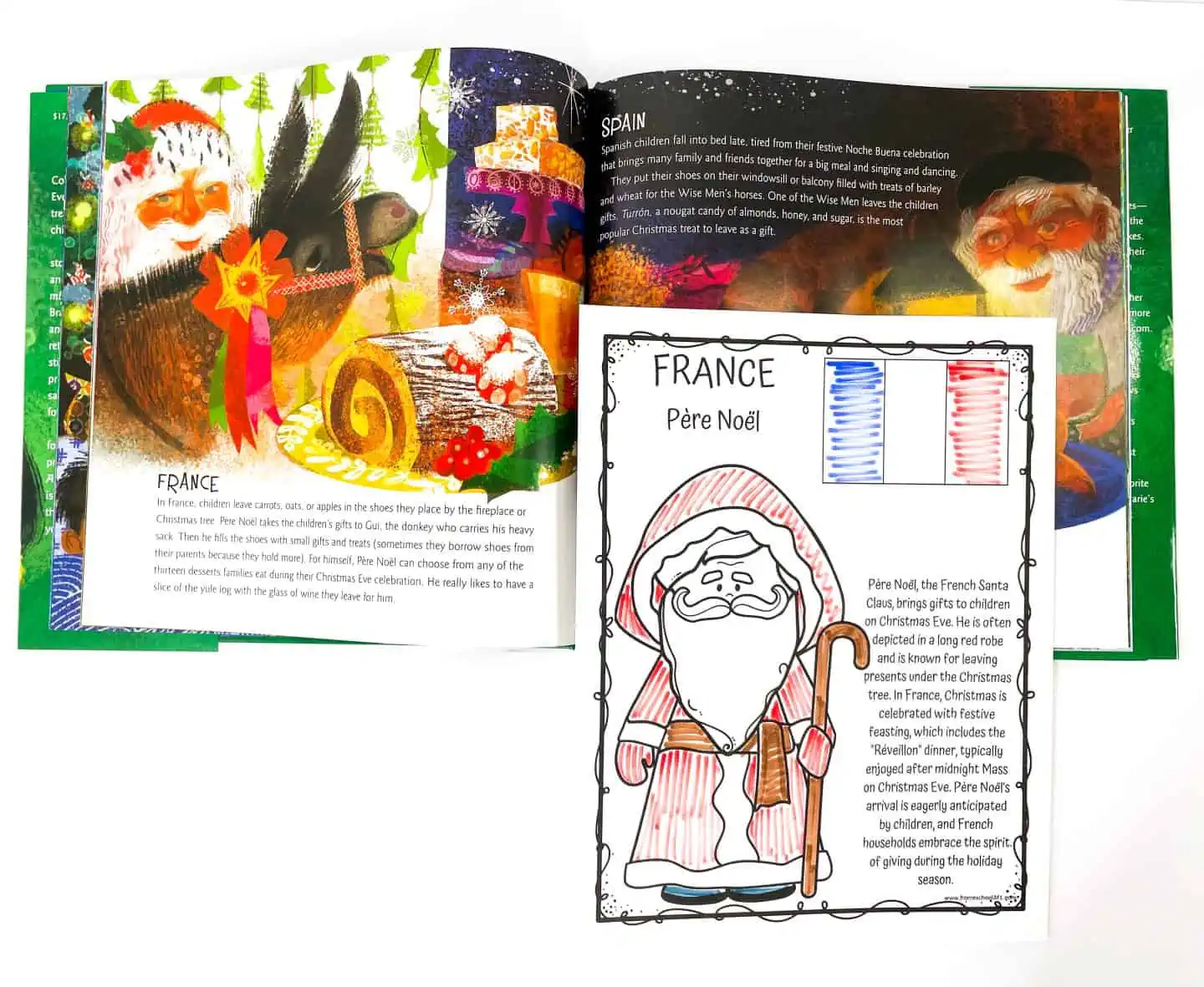 Now, off to France! They have Père Noël, their Santa Claus. He wears a long red robe and leaves gifts under the Christmas tree.
In France, they celebrate with a big feast called "Réveillon." This fancy dinner happens after midnight Mass on Christmas Eve.
French kids are super excited for Père Noël's visit, and families really love sharing and giving during this special time of the year.
USA & England – Santa Claus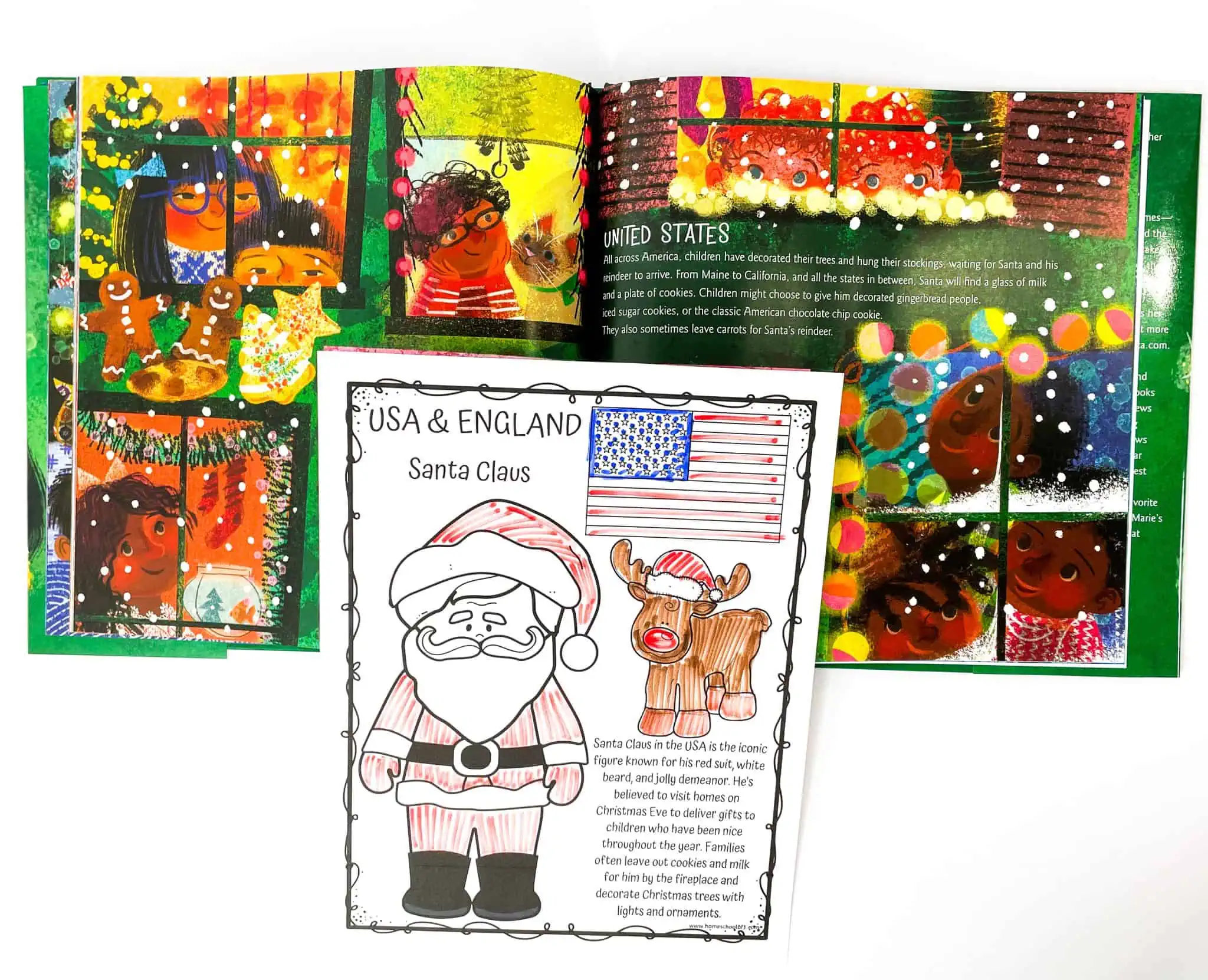 Now, in the USA, we have the famous Santa Claus.
You know, the guy with the red suit, big white beard, and a super cheerful attitude?
He's known for visiting homes on Christmas Eve to bring gifts to all the good kids. Families even leave out yummy cookies and milk for him by the fireplace, and they make their trees shine with pretty lights and decorations.
The only difference in England is that the children leave a mince pie and a sherry.
Japan – Segatsu-San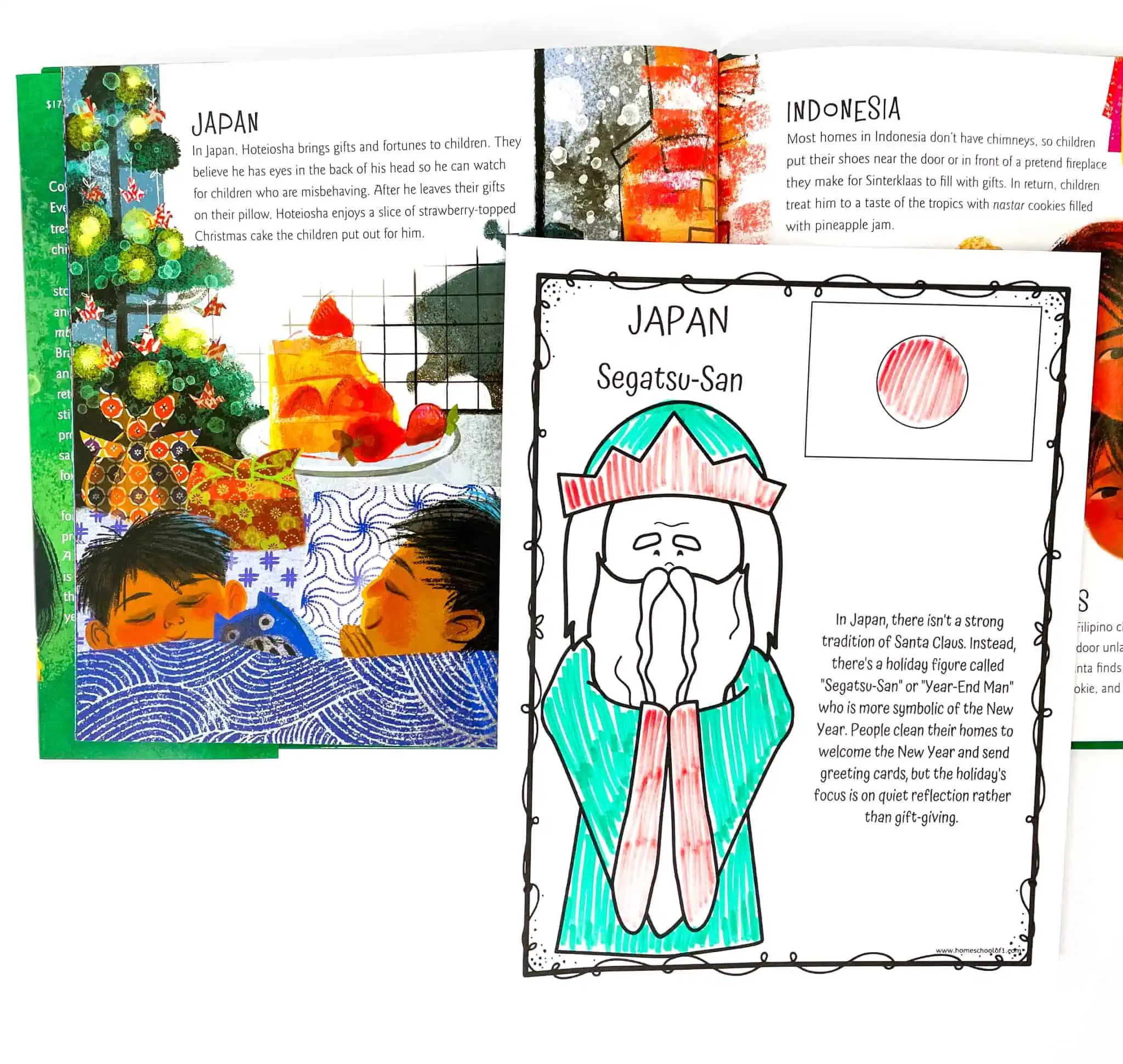 But hey, in Japan, they do things a bit differently.
They don't have a big Santa tradition, but they do have someone called "Segatsu-San" or "Year-End Man."
It's not about gifts, though. People in Japan clean up their homes to welcome the New Year and send special cards to wish each other well. It's a time for quiet thinking and reflection.
Have fun with Christmas in the Philippines worksheets
Netherlands – Sinterklaas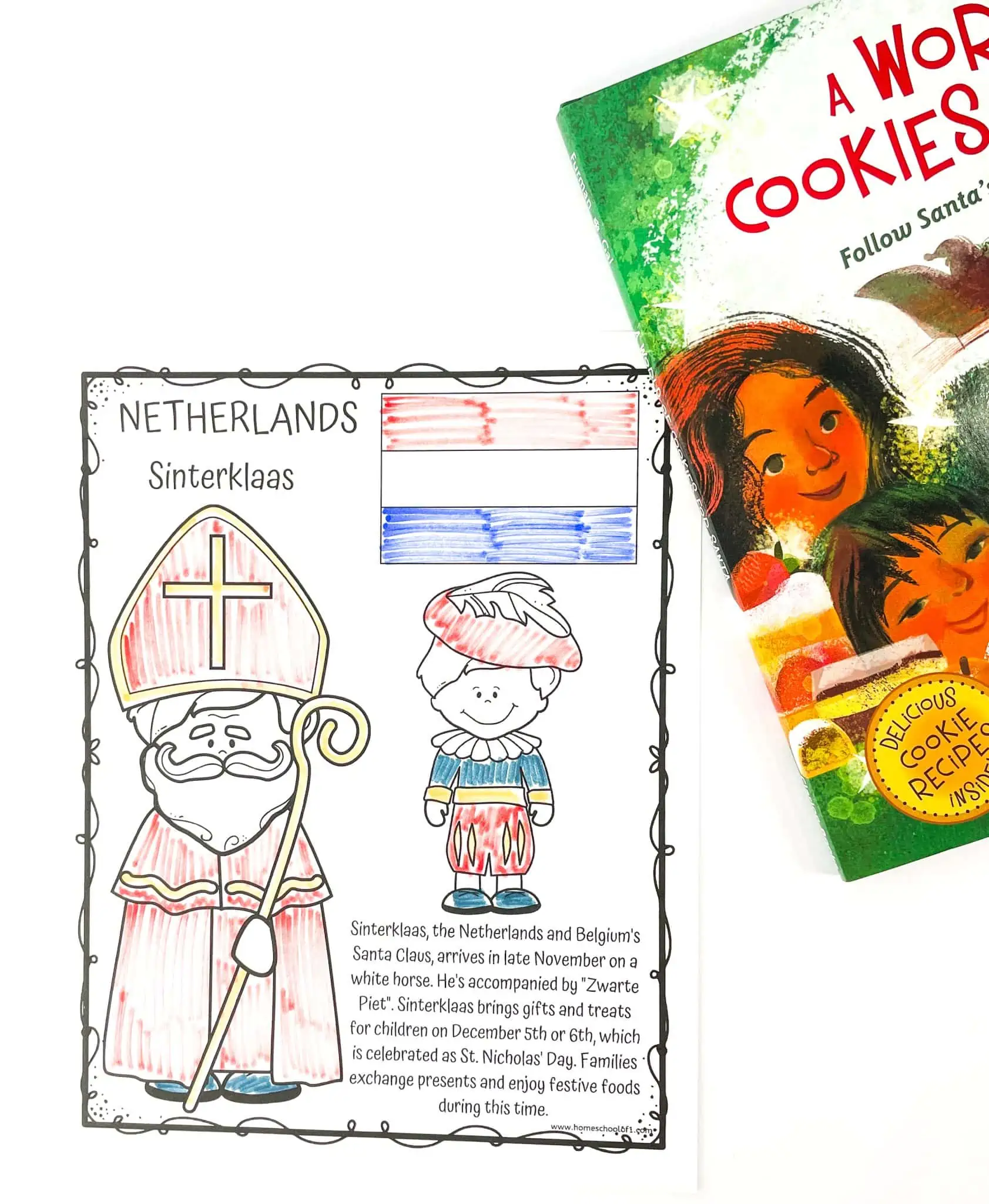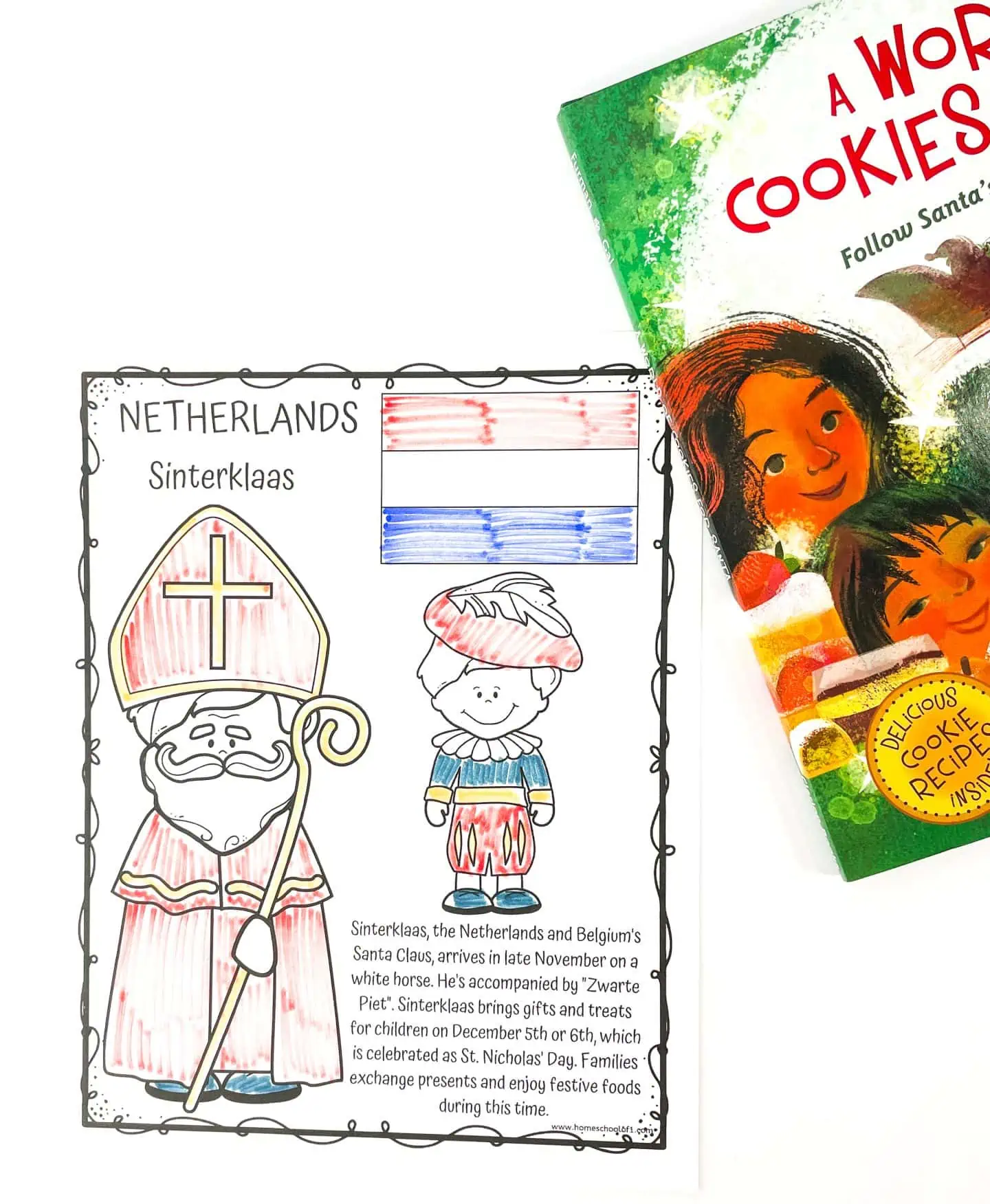 And guess what? In the Netherlands and Belgium, they have their own special Santa named Sinterklaas.
He's pretty cool, riding in on a white horse around late November. He brings along a helper named "Zwarte Piet."
On December 5th or 6th, kids get gifts and treats for St. Nicholas' Day. Families have fun sharing presents and eating yummy holiday foods during this special time.
You can also enjoy our Christmas in Germany coloring pages as they have a similar tradition.
Christmas Around the World Books
Carry on learning about Christmas traditions around the world with these Christmas books:
Tips for downloading the free files
Below you will see a large sign-up box where you need to add your name and email address, and press I NEED THIS NOW!
Within minutes you will be sent the free PDF directly to your email address, so you can print it out and start using it immediately.
Sometimes emails get a little wonky, so if you can't see it, please check your spam folder where I am sure it is hiding.
Free Santas around the World worksheets
These worksheets are free to print but are for personal or classroom use only.
Make sure you choose the correct paper size and click on the shrink to fit button. All of our free printables for kids work better when printed on cardstock (this is the one we use and love.)
Last Updated on 25 November 2023 by homeschoolof1