Free Christmas In Italy Worksheets
Explore the holiday wonders of Italy with our Christmas in Italy worksheets!
These Christmas activities for kids are a great way to explore Italy's festive traditions and culture during the holiday season.
With 7 festive pages, including learning to say Merry Christmas in Italian, discovering delicious Christmas foods, and meeting the beloved elderly witch, La Befana. Your children will embark on an exciting journey through Italy's unique Christmas celebrations.
**There may be affiliate links in this post. You can read my full disclosure at the bottom of the page.**
Christmas in Italy coloring pages
There are 7 pages included in these holiday worksheets. All about the Christmas traditions in Italy.
Babbo Natale coloring page
In Italy, Babbo Natale plays the role of Santa Claus, delivering gifts to children on Christmas Eve.
Italians also cherish traditions like the Feast of the Seven Fishes, a sumptuous seafood dinner on Christmas Eve, and the Yule log lighting, symbolizing good fortune in the coming year.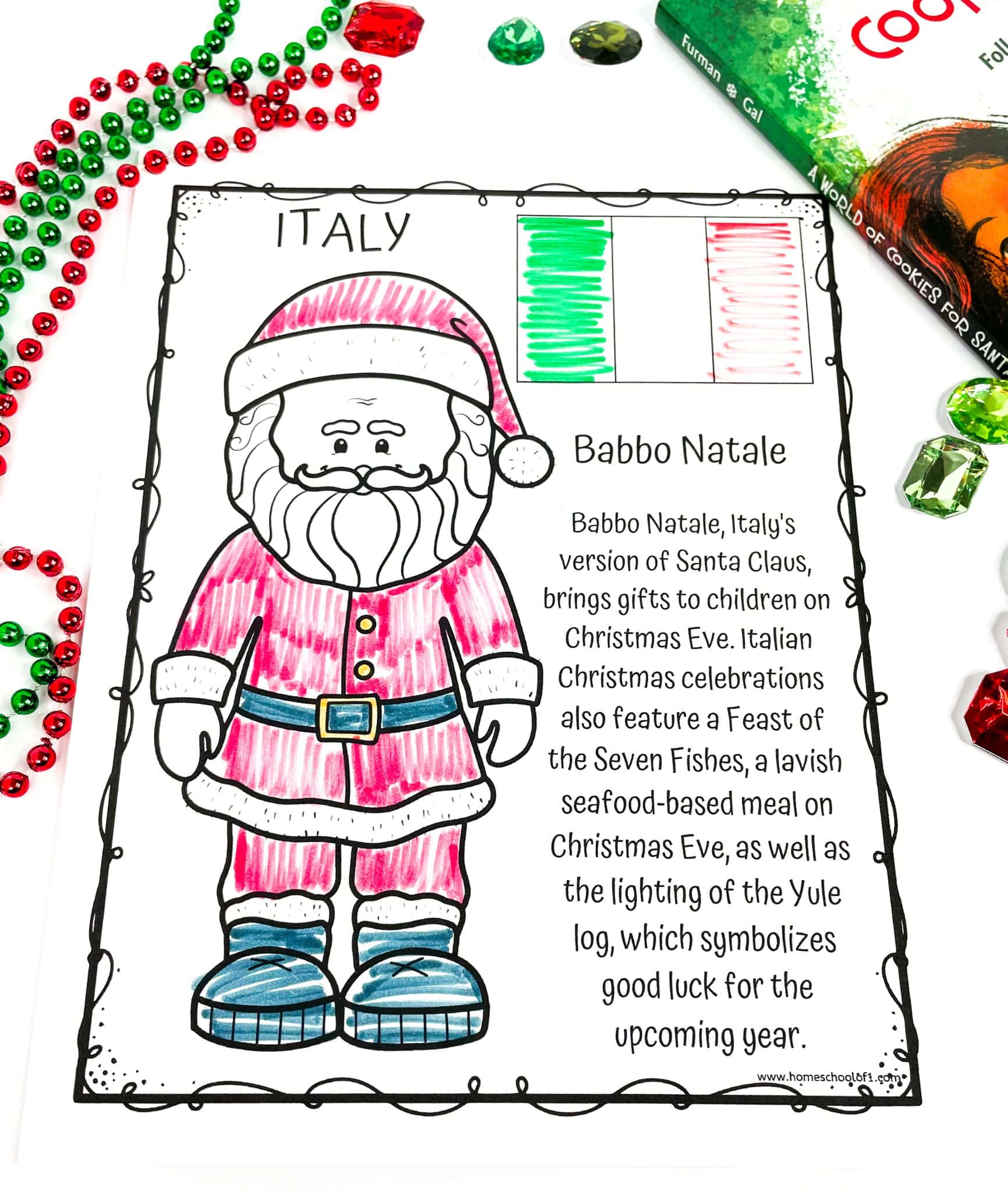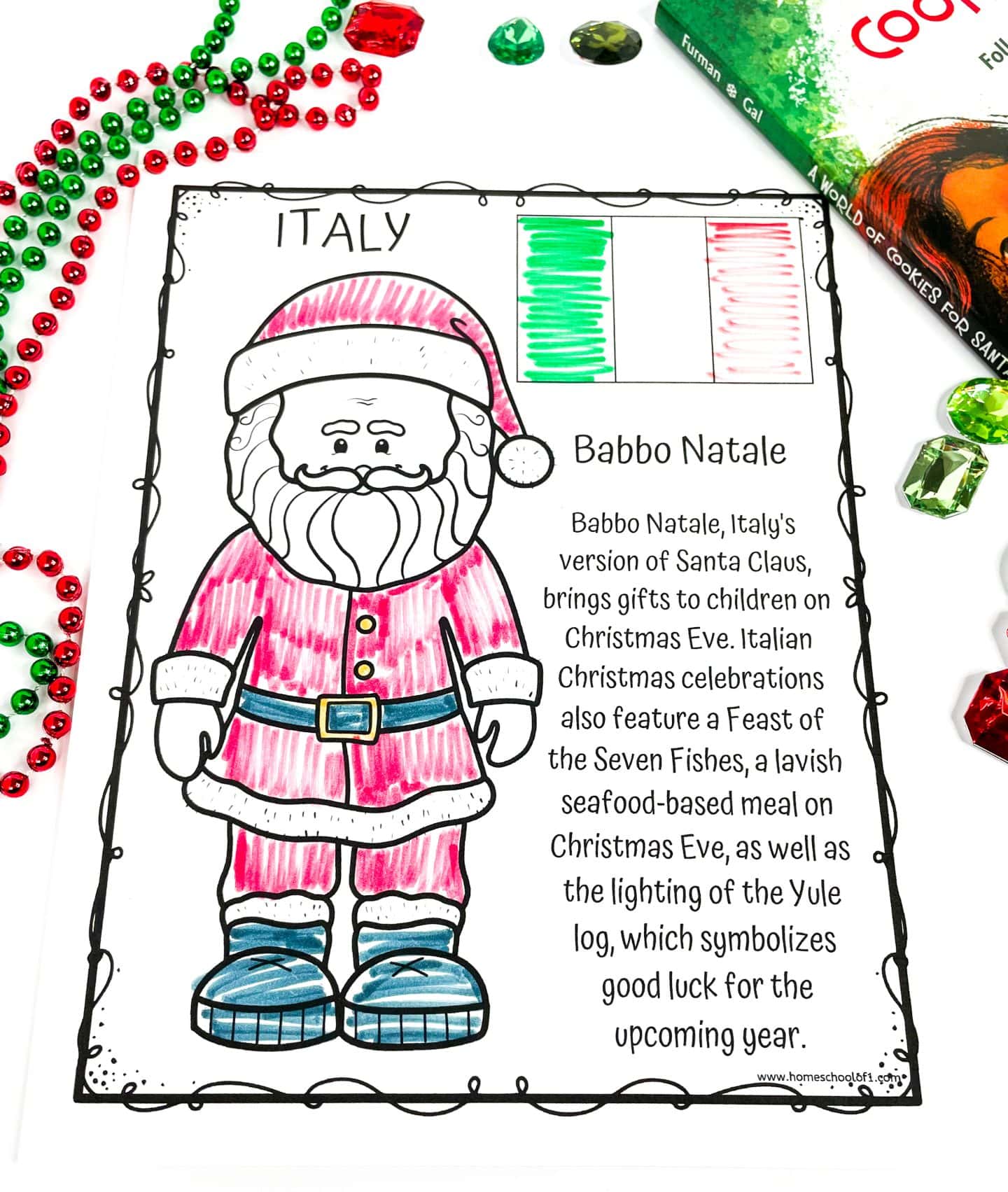 La Befana coloring page
La Befana, a cherished character in Italian folklore, is a benevolent elderly witch who arrives on the night of January 5th, gifting sweets and presents to well-behaved children and coal to those who've been naughty.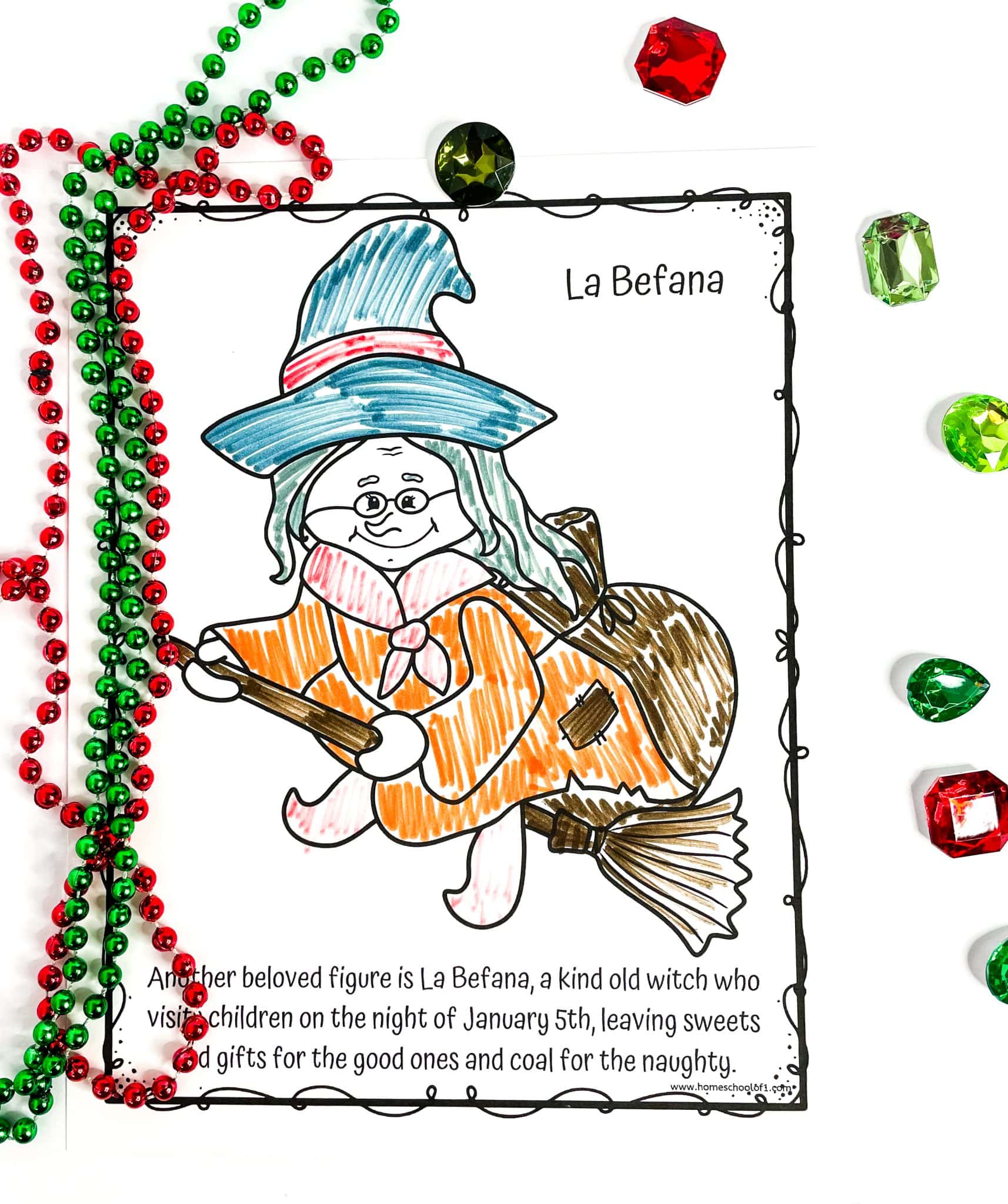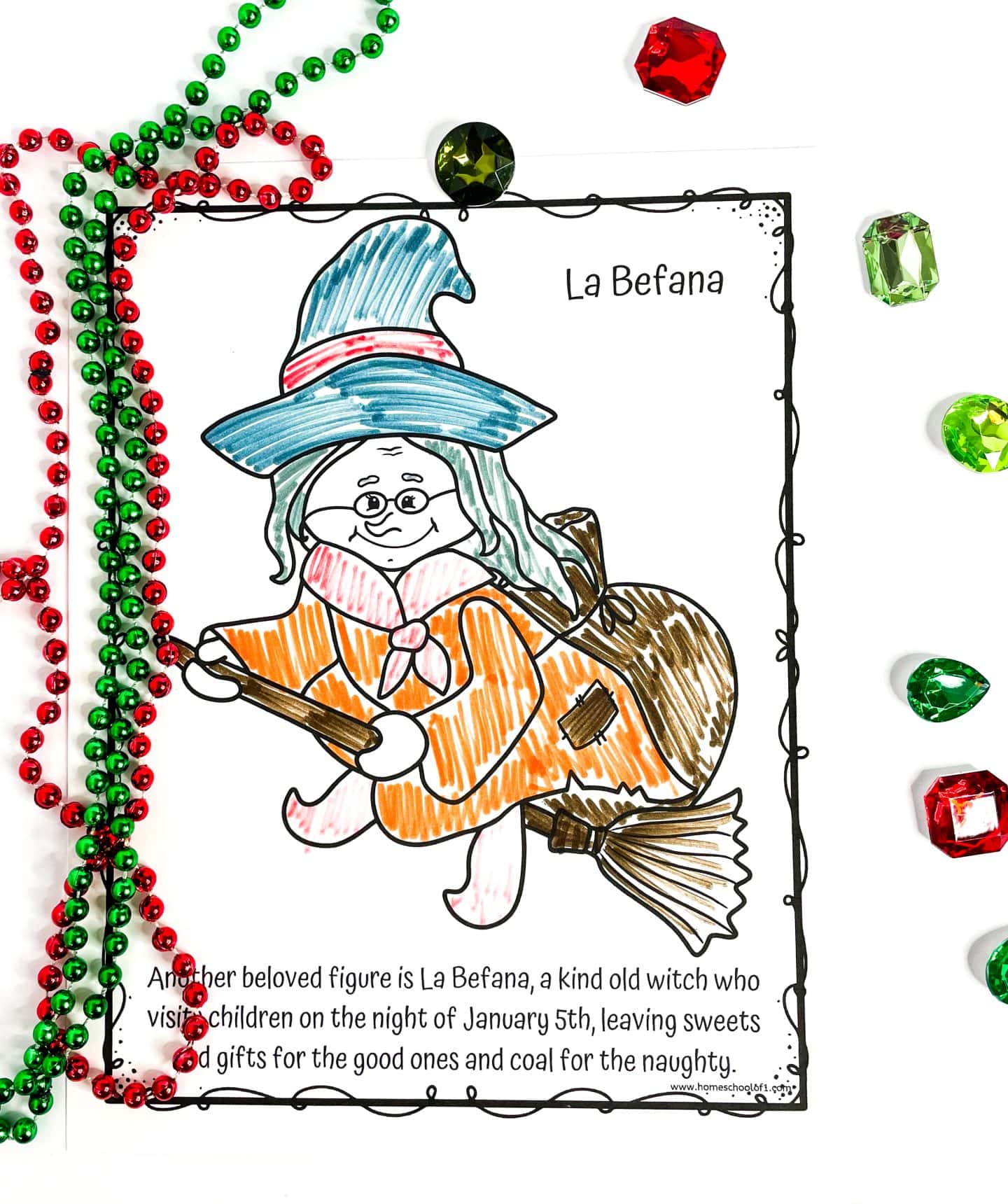 Italian Christmas food
Italian Christmas feasts are rich in tradition and flavor, with lentils and pork served on New Year's Eve to symbolize prosperity for the upcoming year.
Torrone, a delectable honey and nut candy, is savored during the holiday season, often given as a gift or relished as a post-meal dessert. Pandoro and Panettone are iconic sweet breads that grace holiday tables.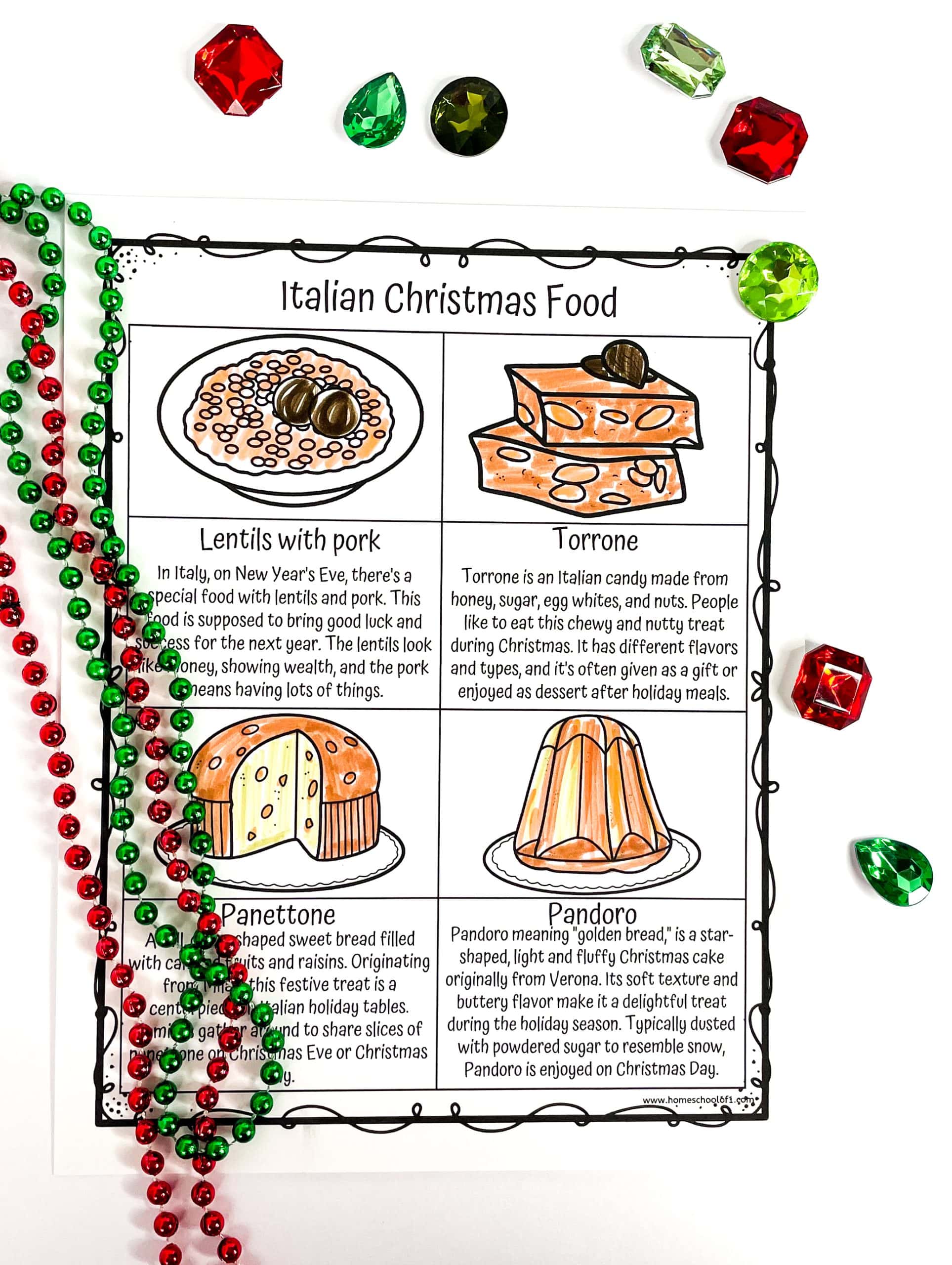 Christmas Around the World: A Christmas Holiday Book for Kids
Christmas Crafts from around the World (Kids Can Do It)
Cooking Around the Calendar with Kids: Holiday and Seasonal Food and Fun (Cooking with Kids)
Joy to the World!: Christmas Around the Globe (World of Celebrations)
A World of Cookies for Santa: Follow Santa's Tasty Trip Around the World: A Christmas Holiday Book for Kids
How Kids Celebrate Christmas Around the World (Kids Around the World)
Italian Christmas traditions
Italian Christmas traditions are a delightful blend of festive customs and heartfelt moments. Families gather to play Tombola, a lively bingo-like game that fosters community spirit.
Children express their love and aspirations through heartfelt letters to their parents. While the vibrant Poinsettia, known as the "Stella di Natale." Adds a burst of color to the season as a beloved symbol of Christmas in Italy.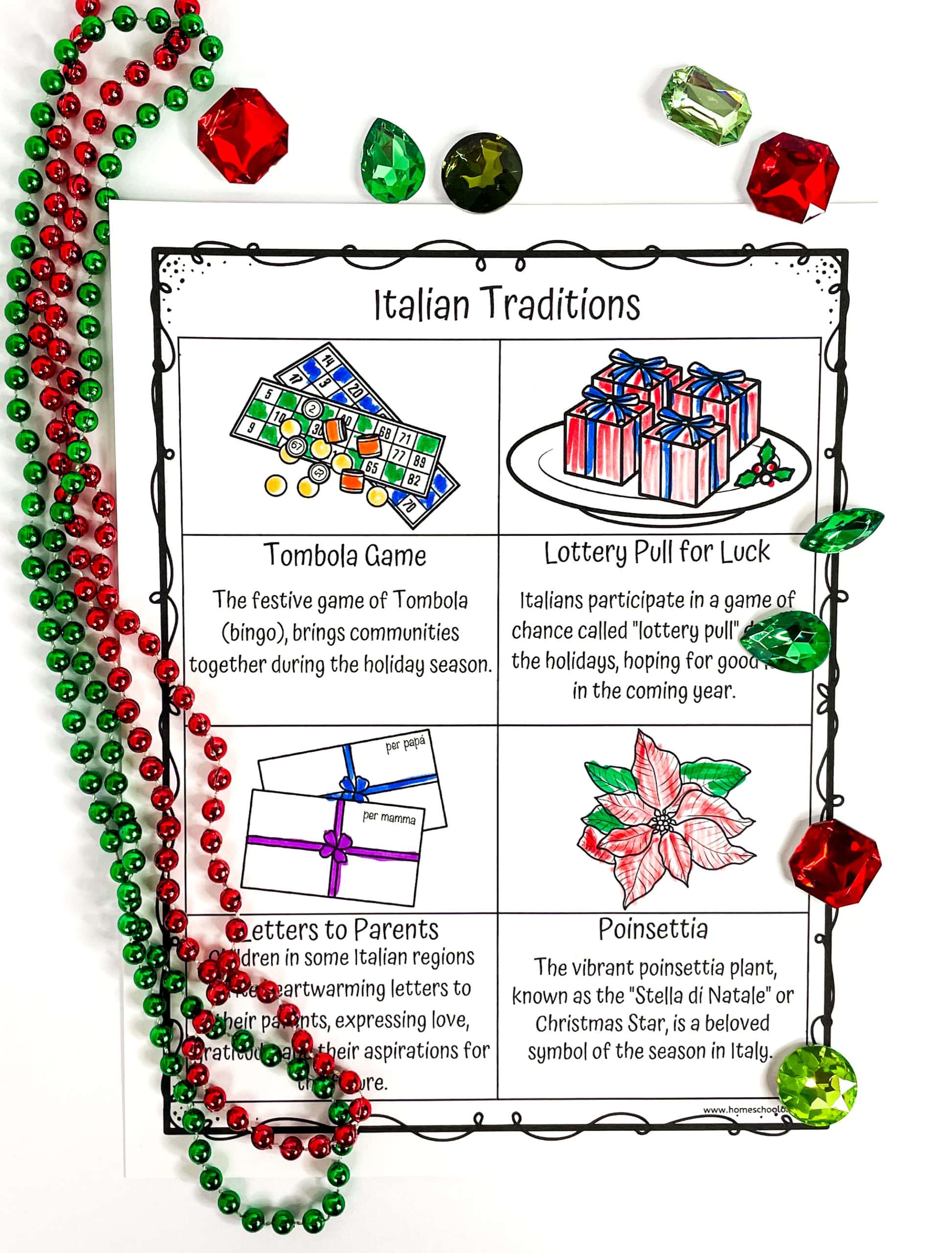 Enjoy Christmas in the Netherlands worksheets too!
Nativity scene coloring page
The Neapolitan Nativity Scene, or "Presepe Napoletano." Serves as a vivid cultural tradition that not only depicts the Nativity story but also offers a captivating glimpse into the everyday life of 18th-century Naples.
This elaborate representation reflects the desire to celebrate both the religious significance of Christmas and the cultural heritage of the region.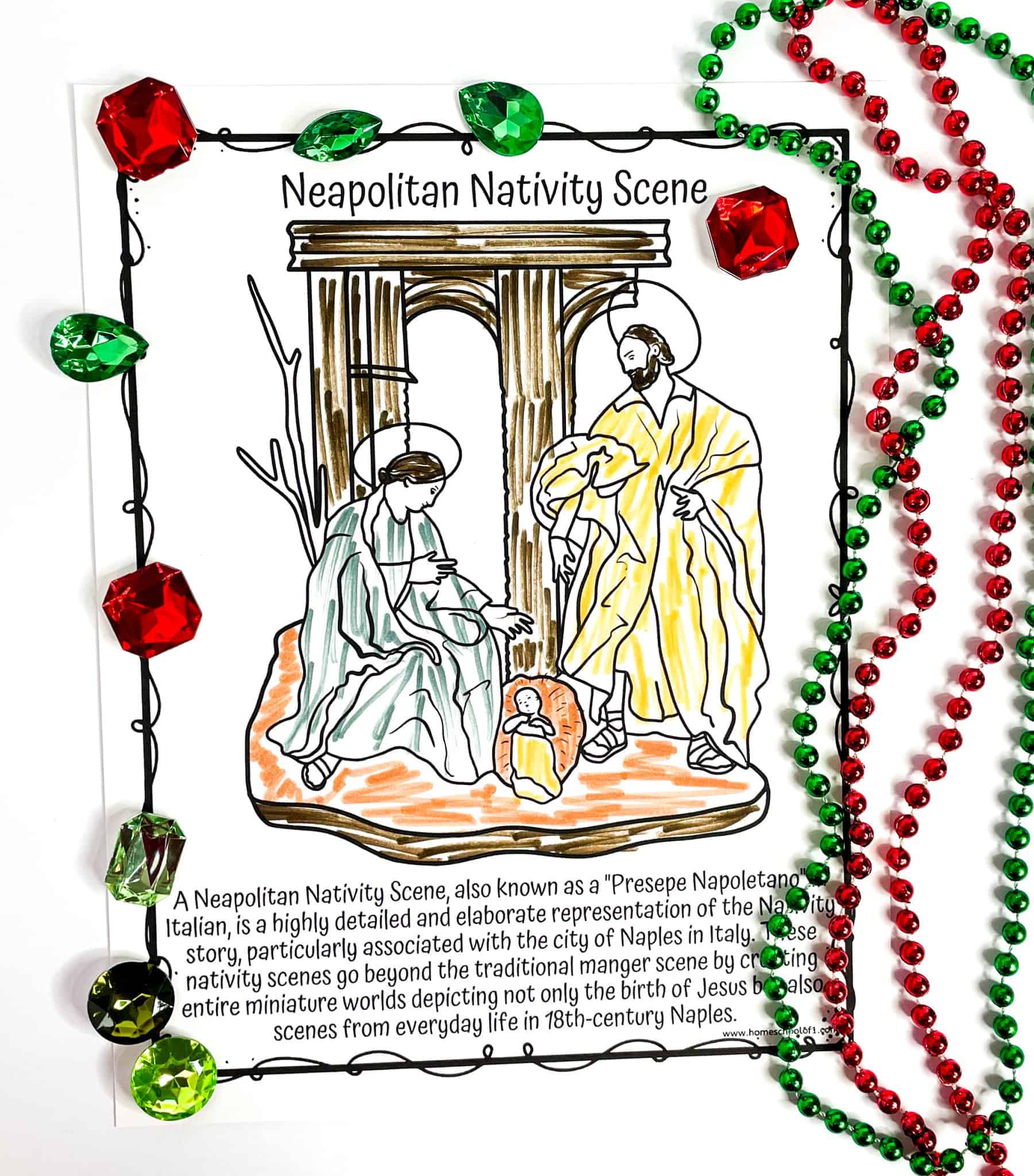 Italian Bagpipes
In Italy, during Christmas, musicians play special bagpipes to make the celebration feel even more special and remind people of their cultural traditions.
Their enchanting music played in town squares and at religious events. Not only adds to the holiday spirit but also preserves and honors the rich cultural traditions associated with Christmas in Italy.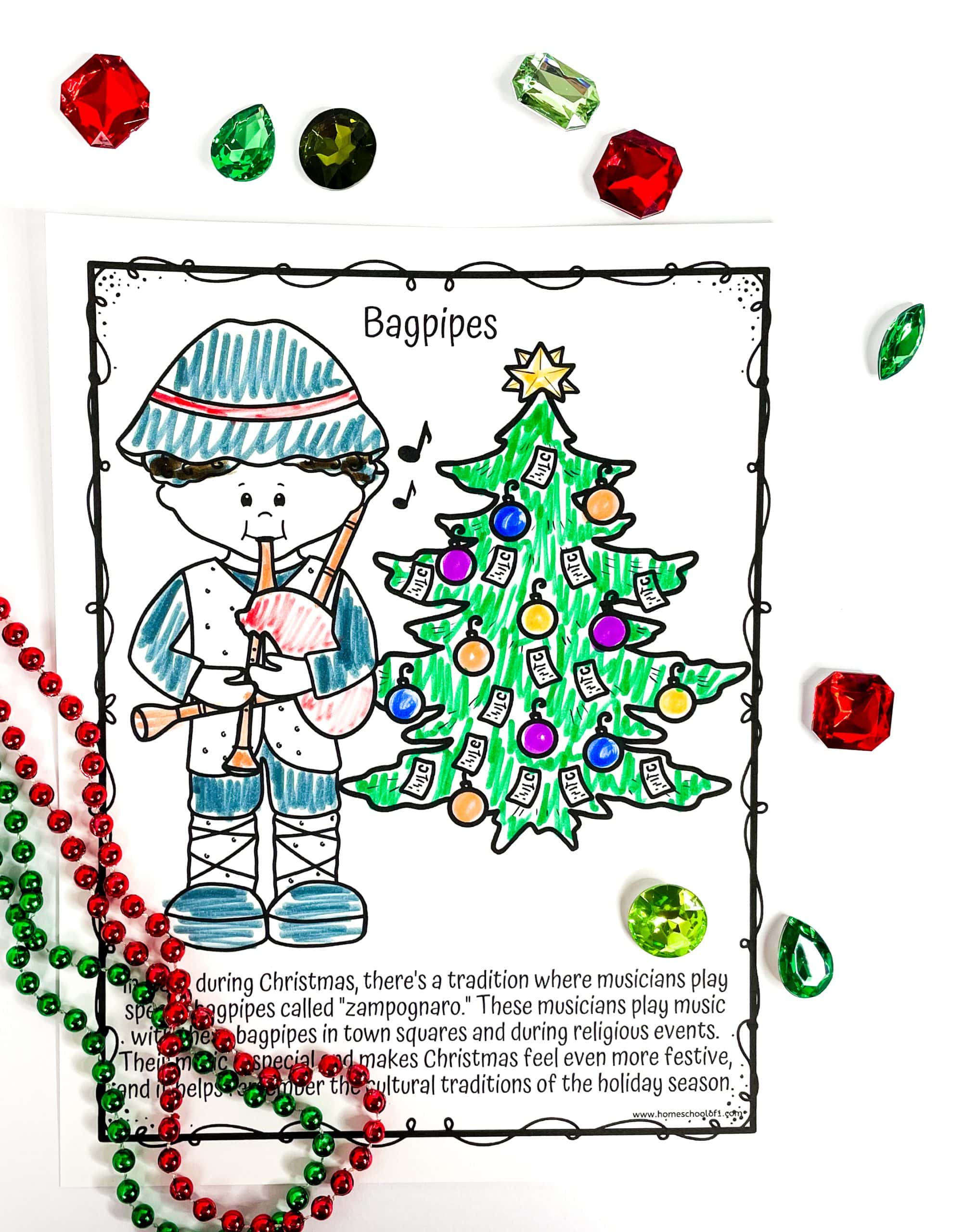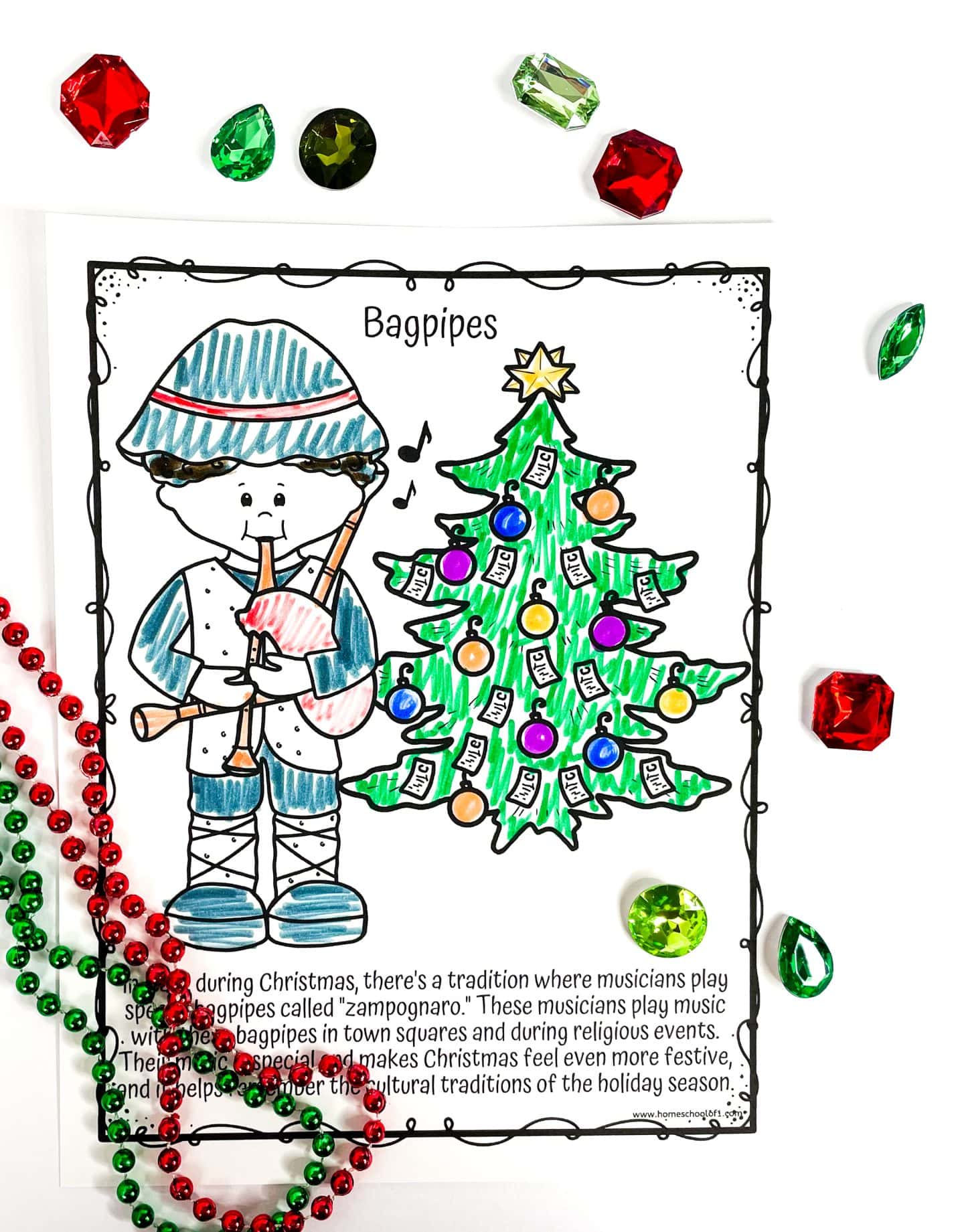 Learn to say Merry Christmas in Italian
Get ready to learn how to say 'Merry Christmas' in Italian with the final worksheet.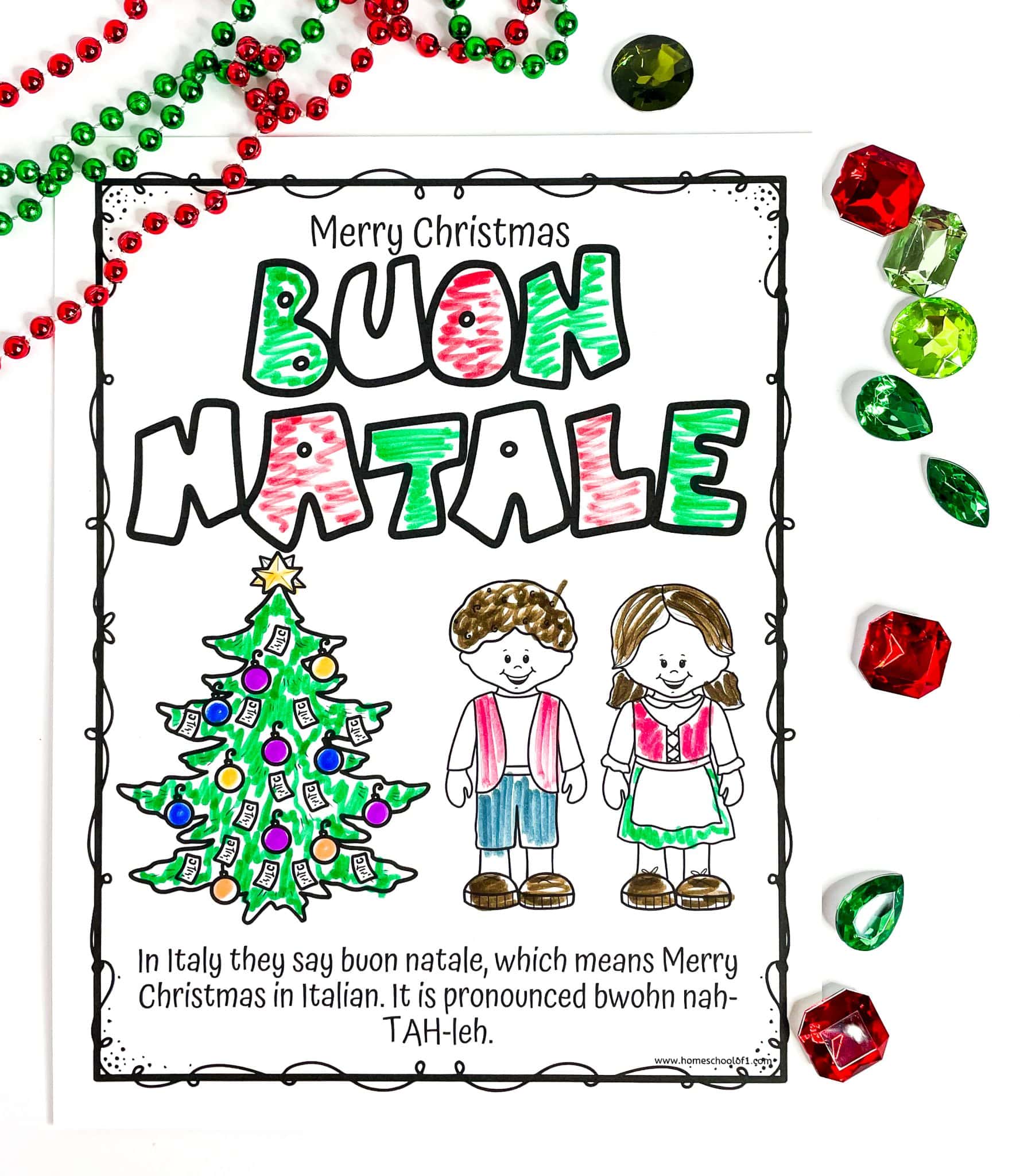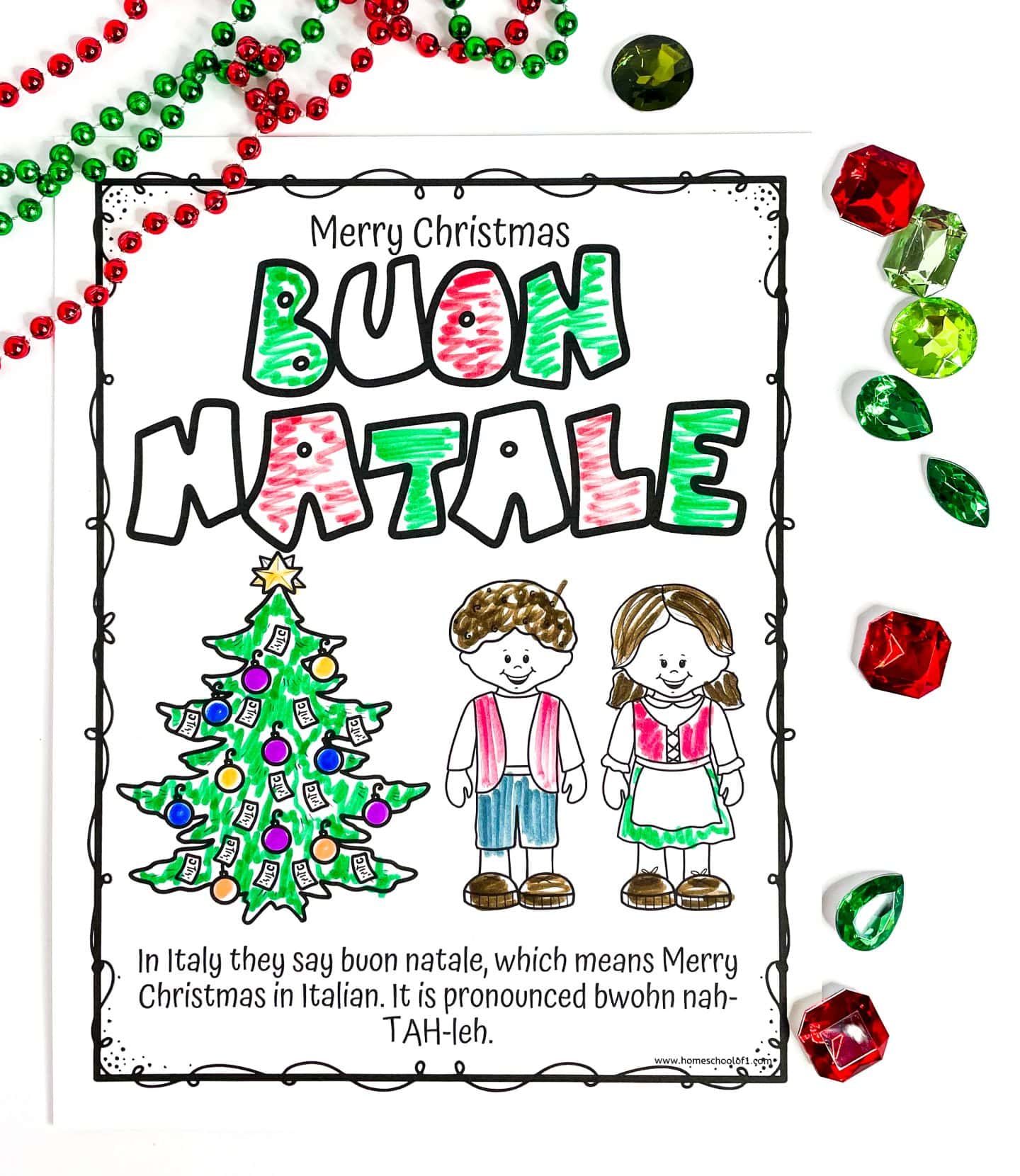 Christmas books with an Italian theme
For elementary-grade kids interested in Christmas books with an Italian theme or setting, you might want to consider these options:
A Christmas Adventure in Little Italy
The Legend of Old Befana: An Italian Christmas Story
The Legend of the Poinsettia
Merry Christmas, Strega Nona (A Strega Nona Book)
Strega Nona's Gift
An Orange for Frankie
The Legend of Old Befana: An Italian Christmas Story by Tomie dePaola

This charming book tells the story of Old Befana. An Italian Christmas witch who delivers gifts to children in Italy on Epiphany (January 6th). It's a delightful and culturally rich tale.

Strega Nona's Gift by Tomie dePaola

In this book, Strega Nona, a beloved character from Tomie dePaola's series. Prepares for Christmas and shares Italian holiday traditions with her young friend Big Anthony.

An Orange for Frankie by Patricia Polacco

Patricia Polacco's books often incorporate elements of her family's Italian heritage. In this story, she explores the importance of oranges in her family's Christmas tradition.
Tips for downloading the free files
Below is a blue cloud with an arrow pointing downward. Underneath that is a large sign-up box where you need to add your name and email address, and press I NEED THIS NOW!
Within minutes you will be sent the free PDF directly to your email address, so you can print it out and start using it immediately.
Sometimes emails get a little wonky, so if you can't see it, please check your spam folder where I am sure it is hiding.
Download the free Italian Christmas worksheets
These worksheets are free to print but are for personal or classroom use only.
Make sure you choose the correct paper size and click on the shrink to fit button. All of our free printables for kids work better when printed on cardstock (this is the one we use and love.)
Last Updated on 2 October 2023 by homeschoolof1