Free Christmas In Ireland Worksheets
Experience the magic of Christmas in Ireland through our captivating Christmas in Ireland worksheets designed for kids!
These Christmas activities for kids offer a delightful exploration of Ireland's festive customs and culture during the holiday season.
With five engaging pages, children can learn how to say "Merry Christmas" in Irish, discover delicious Irish Christmas foods, and meet the legendary figure of Daidi na Nollaig, Ireland's Father Christmas.
Your kids will embark on an enchanting journey through the Emerald Isle this December.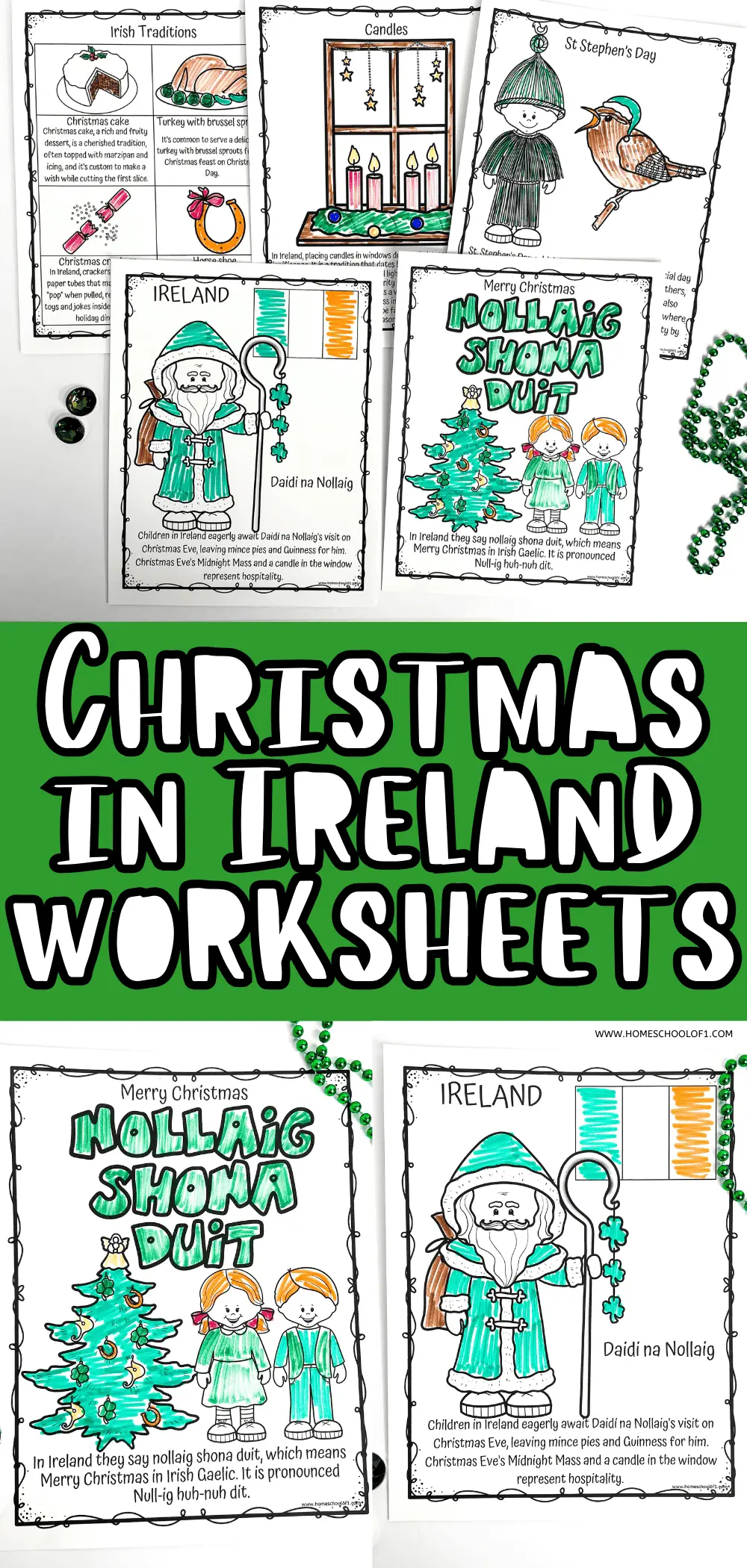 **There may be affiliate links in this post. You can read my full disclosure at the bottom of the page.**
Christmas in Ireland coloring pages
There are 5 pages included in these holiday worksheets. All about the Christmas traditions in Ireland.
Daidi na Nollaig coloring page
Daidi na Nollaig, which translates to Father Christmas in Irish, is a beloved figure in Irish Christmas traditions. Similar to Santa Claus, Daidi na Nollaig is known for delivering gifts to children across Ireland on Christmas Eve.
This tradition reflects the warm and festive spirit of Christmas in Ireland, where families gather to celebrate and exchange presents while keeping the spirit of Daidi na Nollaig alive.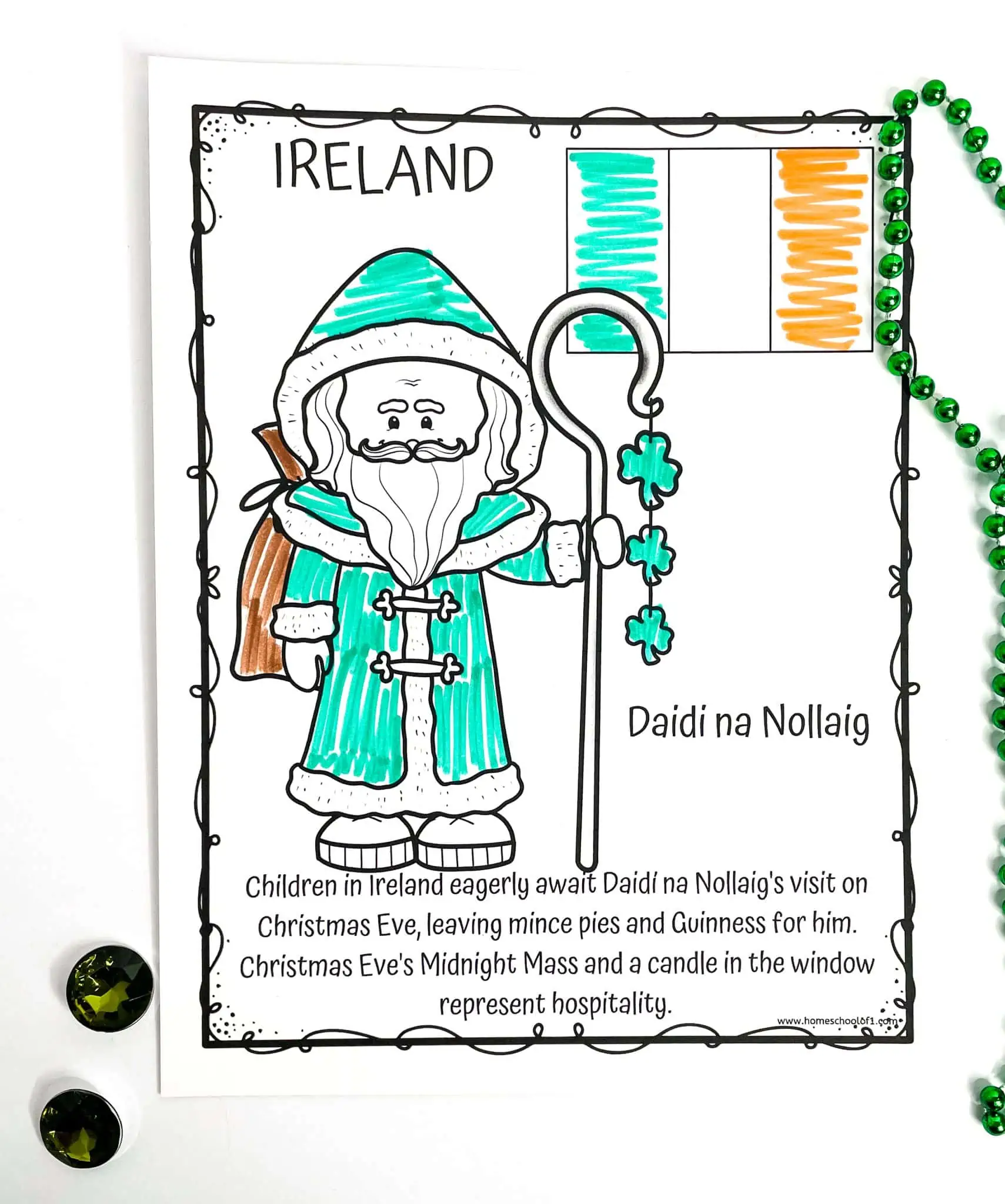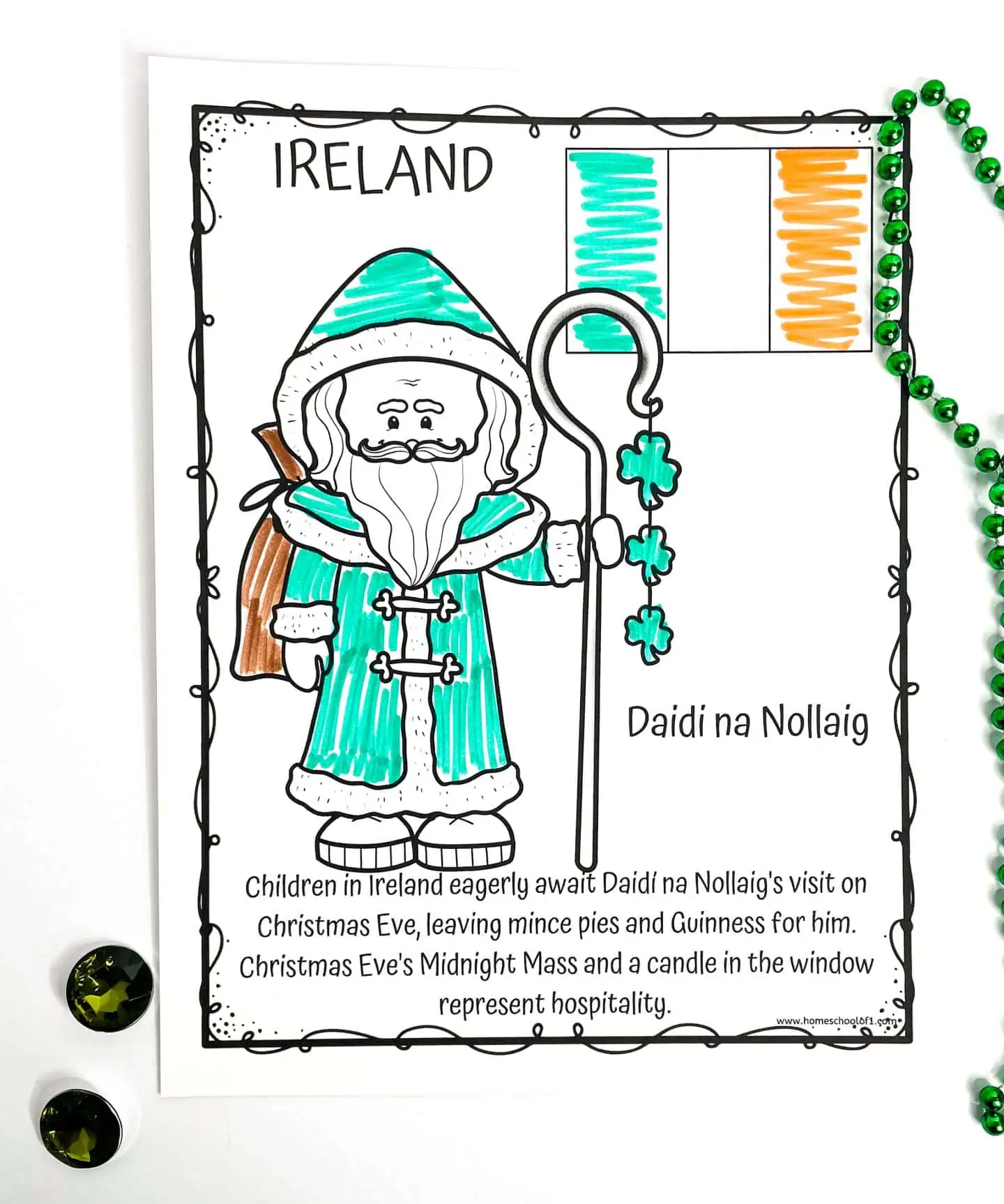 St Stephen's Day coloring page
St. Stephen's Day celebrated on December 26th in Ireland, is a time honored holiday with both historical and modern significance.
Known locally as "Lá Fhéile Stiofáin," it traditionally marks the feast day of St. Stephen, the first Christian martyr.
In contemporary Ireland, it's a day for relaxation, sports, social gatherings, and charitable activities, such as the Wren Boys Procession, where people dress up, visit homes, and collect donations for charity while carrying a symbolic wren bird.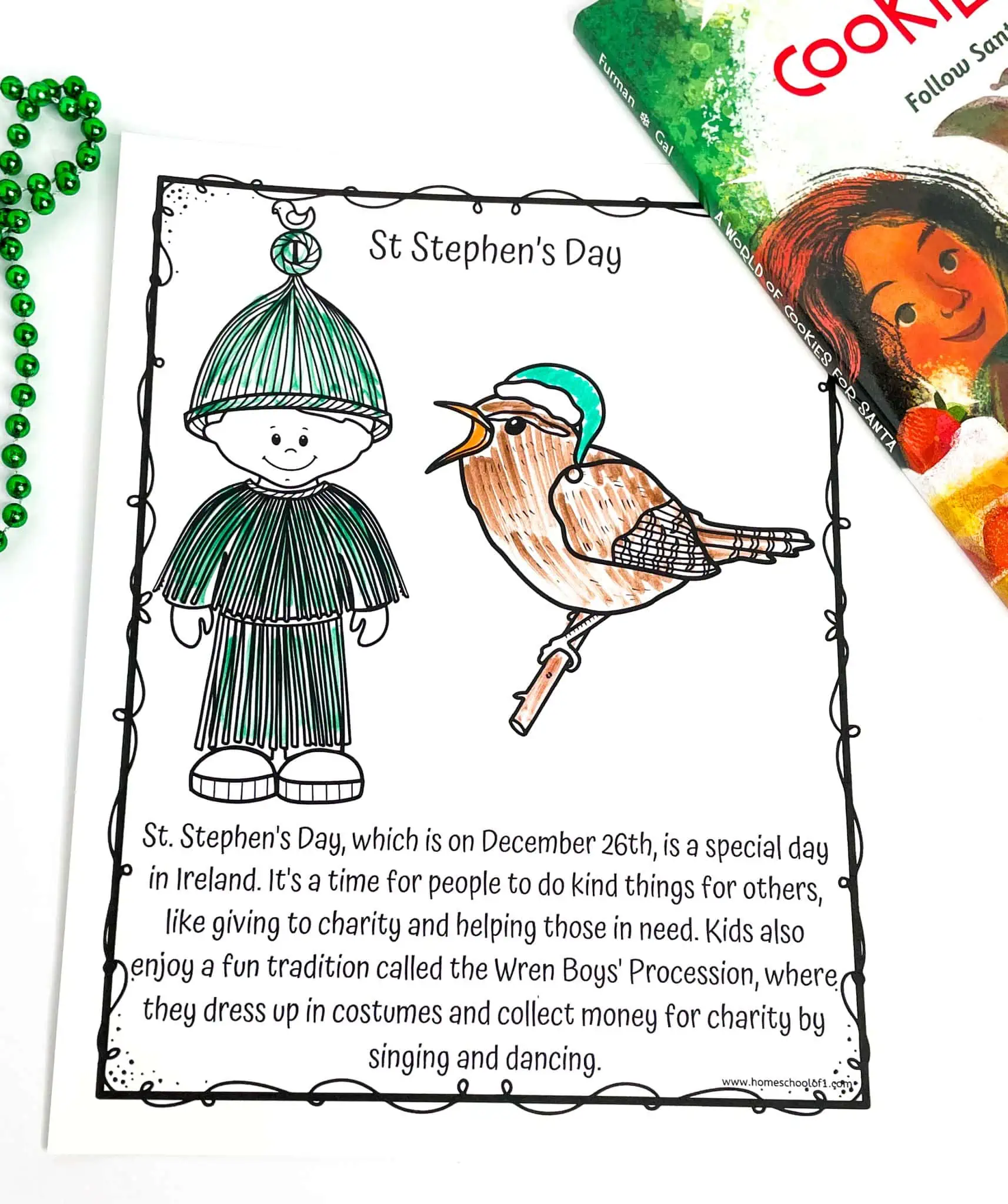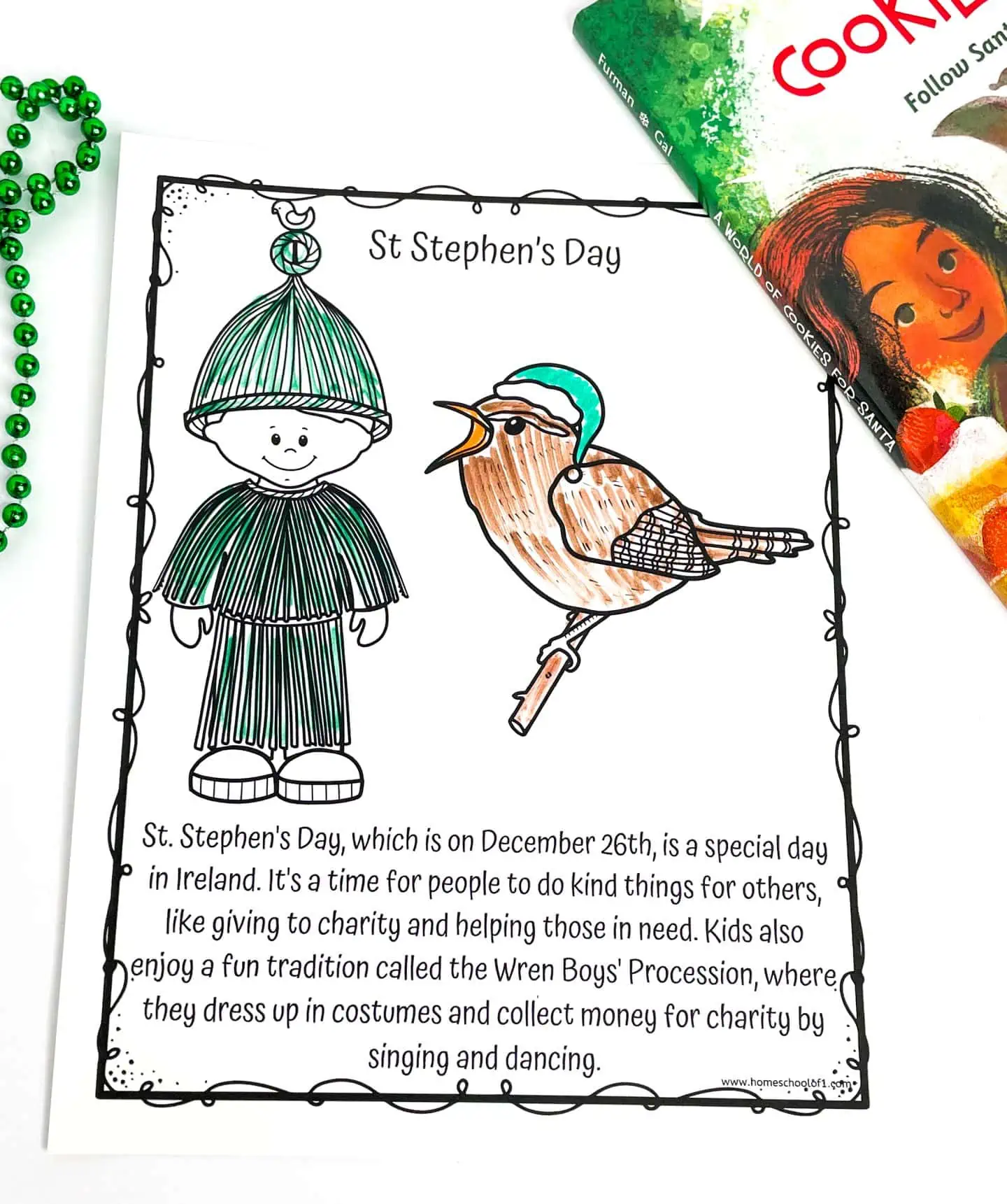 Irish Christmas traditions
Christmas cake is a special Irish tradition. It's a fruitcake with things like dried fruit and nuts soaked in whiskey or brandy for weeks. People make it weeks before Christmas and decorate it with icing and marzipan. They also make a wish while mixing the batter, and some save a piece for good luck until the next Christmas.
In Ireland, horseshoes are thought to bring good luck and keep bad things away. People hang them above their doors at Christmas to protect their homes. Many Irish families also use horseshoe shaped decorations to make sure they have a lucky and happy Christmas.
Christmas crackers are a fun part of Irish Christmas dinners. Each person gets one on their plate. When you pull them apart, they pop and have little toys, jokes, and paper crowns inside. People wear the paper crowns and share the jokes, which makes the holiday meal even more fun.
Roast turkey with Brussels sprouts is a quintessential Irish Christmas meal, enjoyed by families across the country on December 25th. The turkey is often stuffed with a savory mixture and roasted to perfection, while Brussels sprouts are a popular side dish, either boiled or sautéed with bacon or butter. This hearty and delicious meal is typically served with other accompaniments like cranberry sauce, gravy, and roast potatoes, making it a festive centerpiece of the Irish Christmas dinner.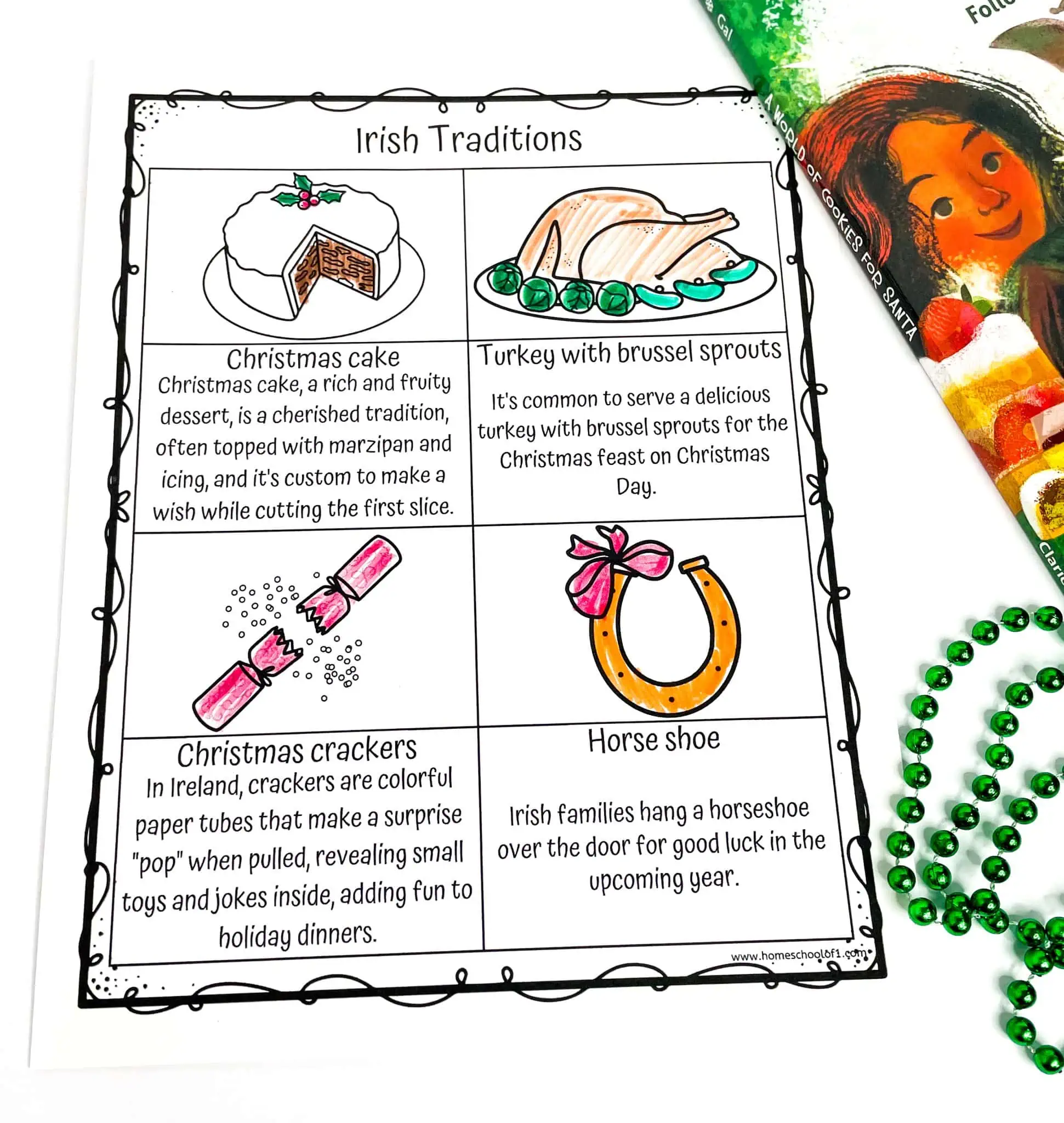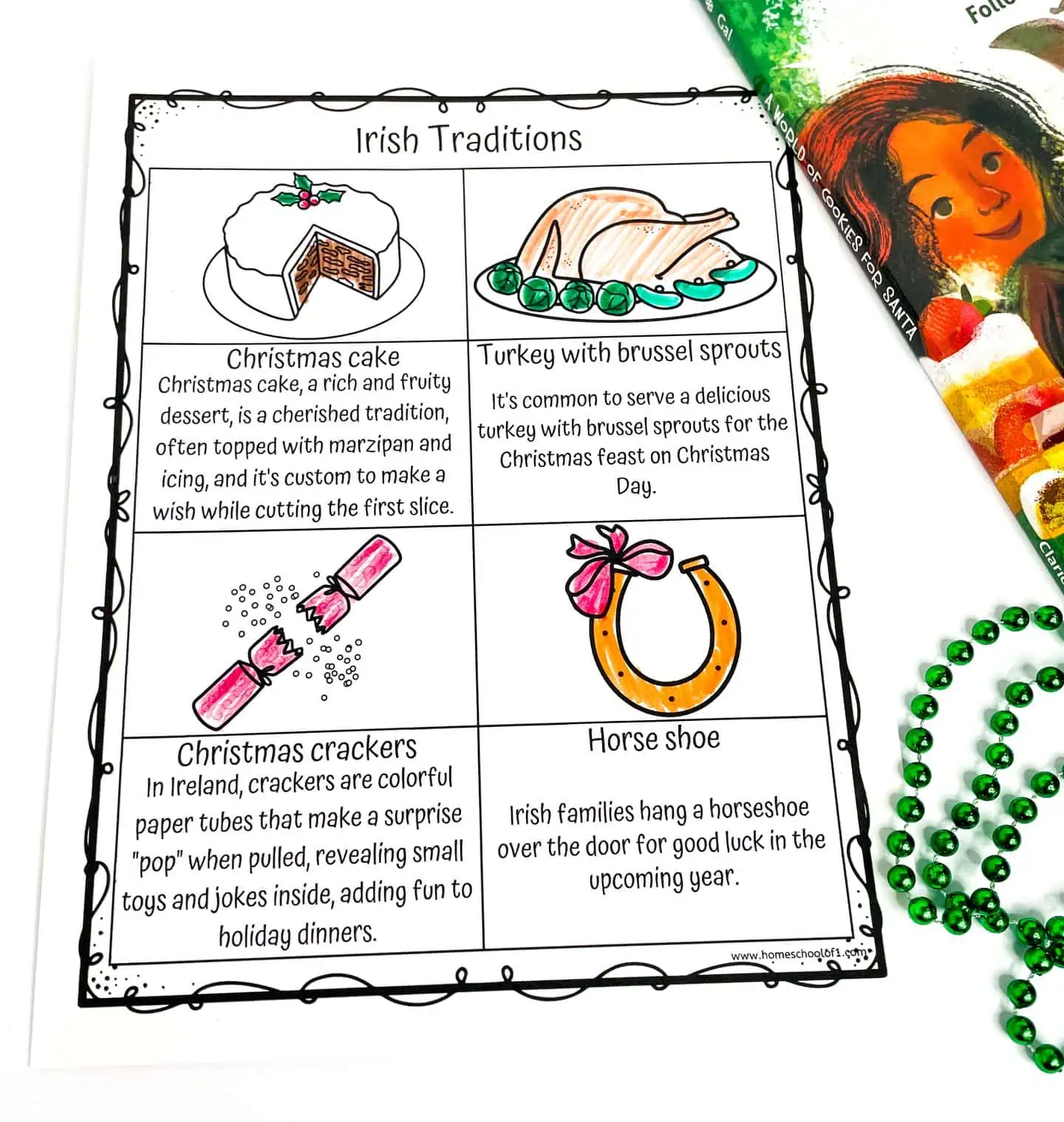 Candles coloring page
In Ireland, the tradition of placing candles in windows during Christmas has deep historical and symbolic significance.
These candles are a symbol of hospitality, welcoming Mary and Joseph, who were searching for a place to stay on the first Christmas Eve.
It's also a symbol of hope, signifying a guiding light for those who may be traveling to visit loved ones during the festive season.
Grab the World of Cookies for Santa book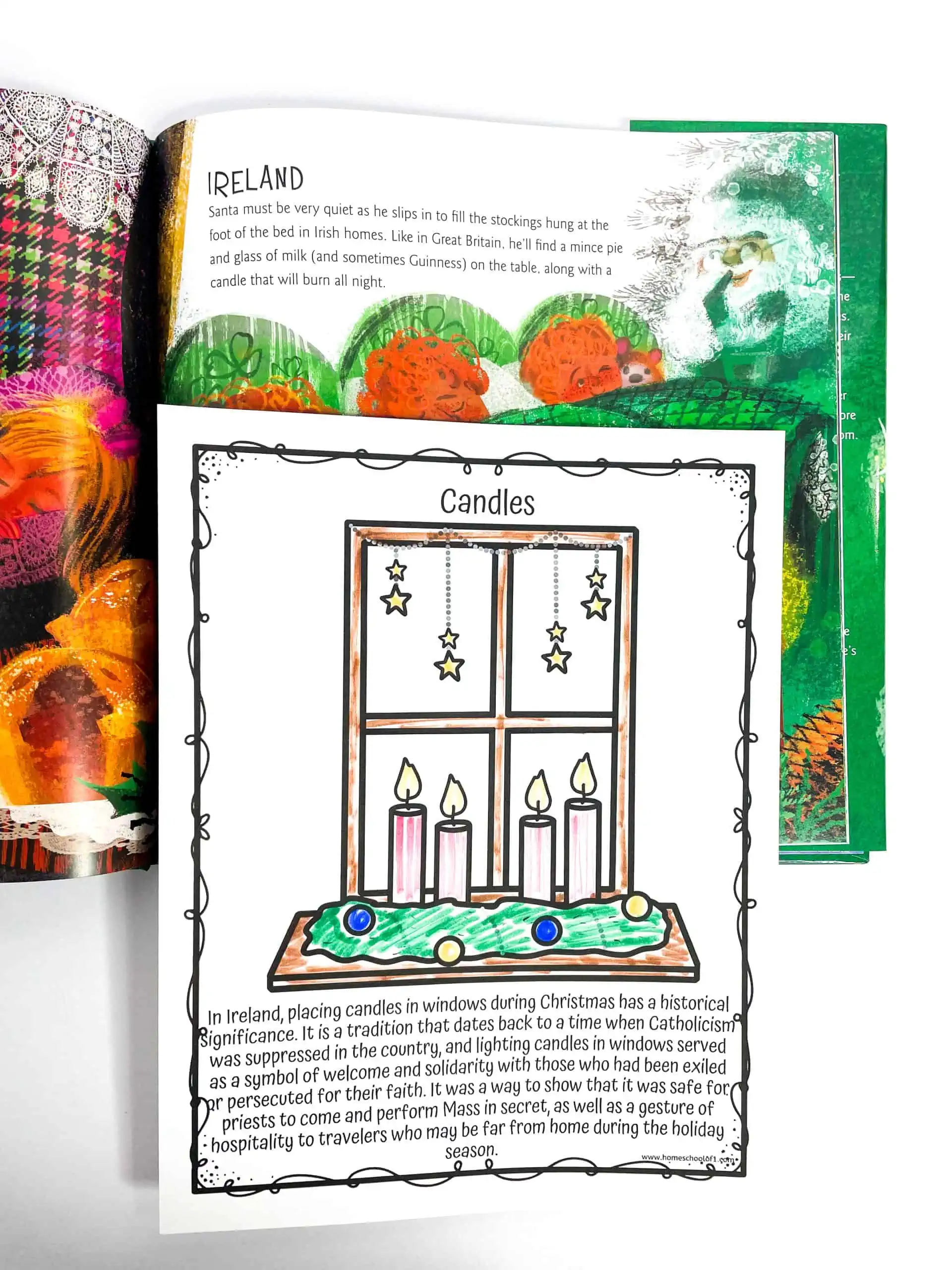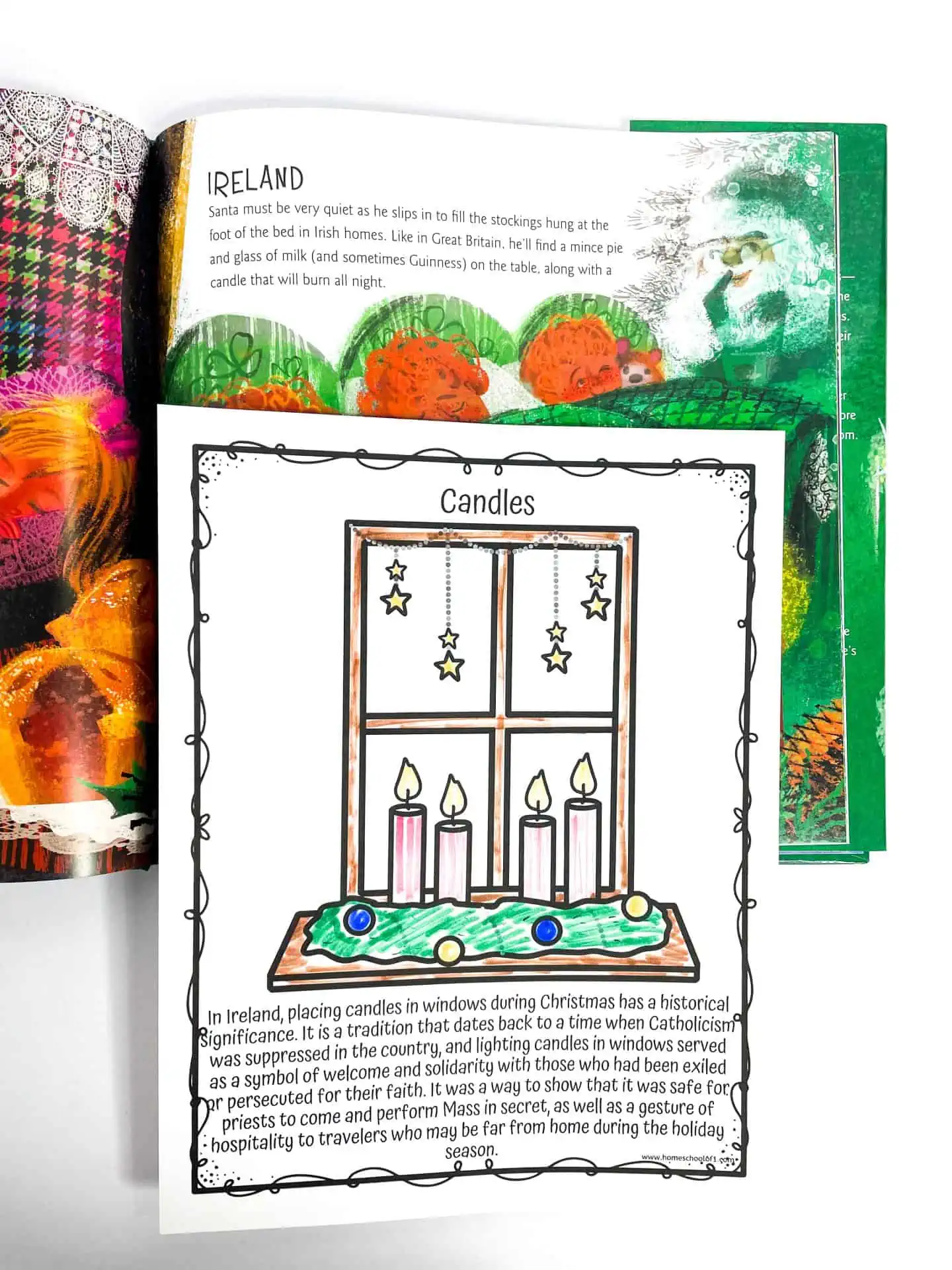 Learn to say Merry Christmas in Irish
To wrap up your exploration of Christmas in Ireland, you can also learn how to say "Merry Christmas" in the Irish language, which is "Nollaig Shona Duit" (pronounced "null-ig hun-a gwit").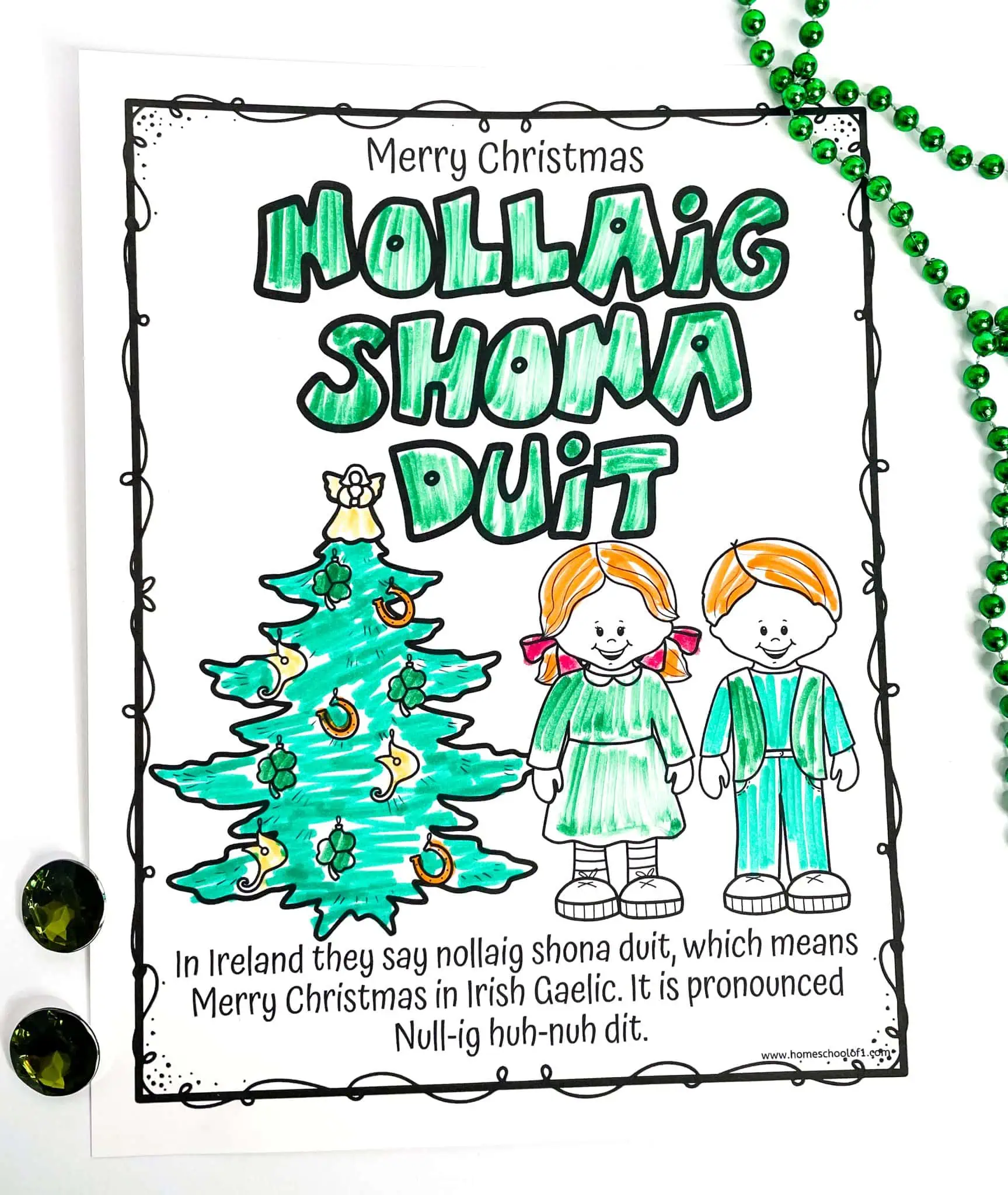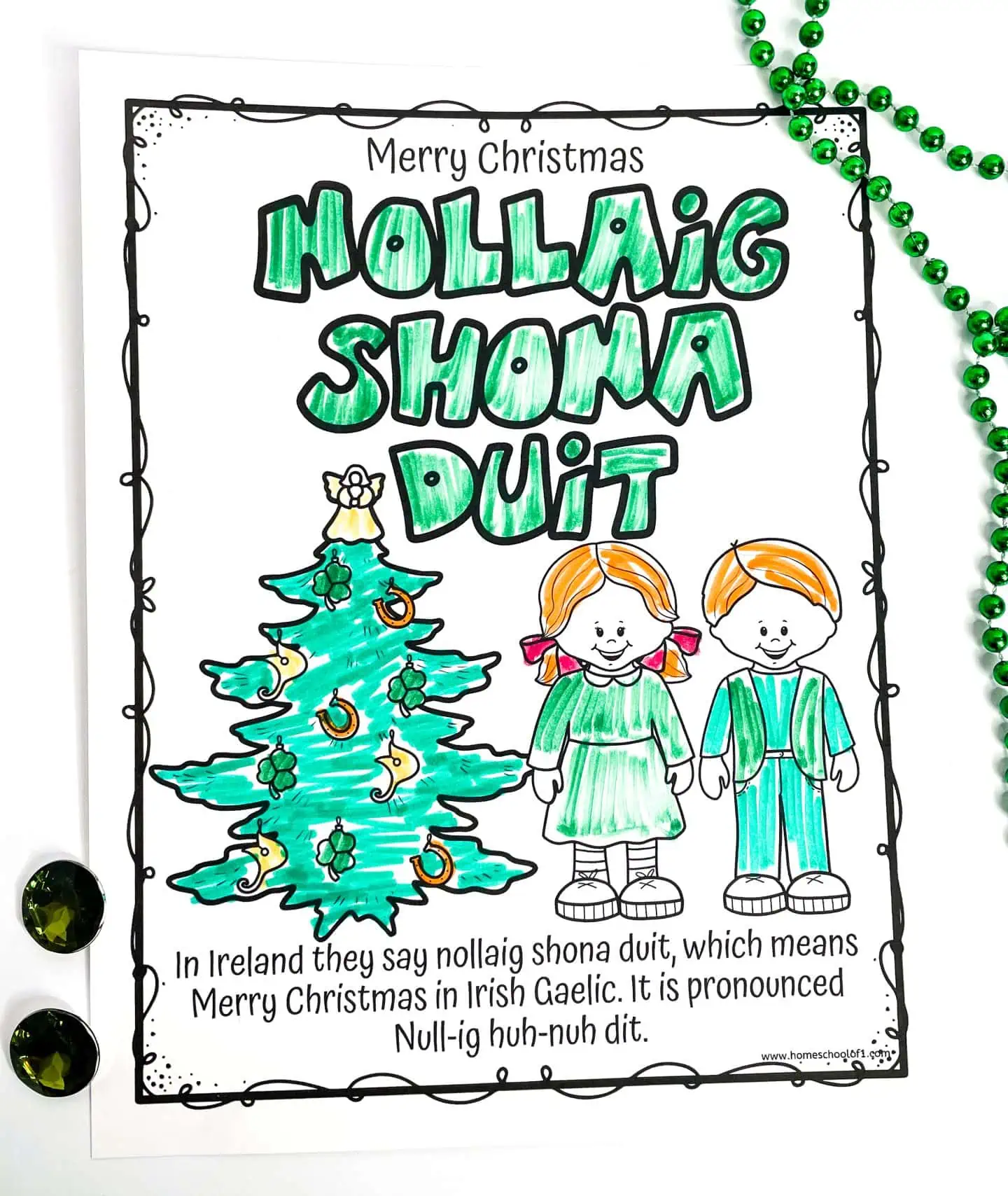 Christmas books with an Irish theme
For elementary-grade kids interested in Christmas books with an Irish theme or setting, you might want to consider these options:
An Irish Night Before Christmas invites children into the enchanting world of an Irish Christmas Eve, filled with lyrical storytelling and charming illustrations, as they join Santa on his magical journey across the Emerald Isle.
In An Irish Christmas Feast: The Best of John B. Keane young readers are treated to heartwarming tales and delicious Irish recipes, celebrating the warmth and traditions of an Irish Christmas through the words of acclaimed author John B. Keane.
Reindeer Down! An Irish Christmas Tale weaves a whimsical holiday adventure, as children follow the misadventures of Santa's reindeer in the Irish countryside, a delightful story that captures the spirit of Christmas in Ireland with humor and imagination.
Tips for downloading the free files
Below you will see a large sign-up box where you need to add your name and email address, and press I NEED THIS NOW!
Within minutes you will be sent the free PDF directly to your email address, so you can print it out and start using it immediately.
Sometimes emails get a little wonky, so if you can't see it, please check your spam folder where I am sure it is hiding.
Download the free Irish Christmas worksheets
These worksheets are free to print but are for personal or classroom use only.
Make sure you choose the correct paper size and click on the shrink to fit button. All of our free printables for kids work better when printed on cardstock (this is the one we use and love.)
Last Updated on 25 November 2023 by homeschoolof1