Free Christmas In Mexico Worksheets
Embark on an exciting journey into the heart of Mexico's Christmas traditions with our captivating Christmas in Mexico worksheets for kids!
Dive into 6 festive pages, including learning holiday phrases in Spanish, exploring mouthwatering Mexican Christmas dishes, and getting to know the famous Las Posadas celebration.
These Christmas activities for kids offer a delightful way for children to explore the rich culture and customs of Mexican Christmas.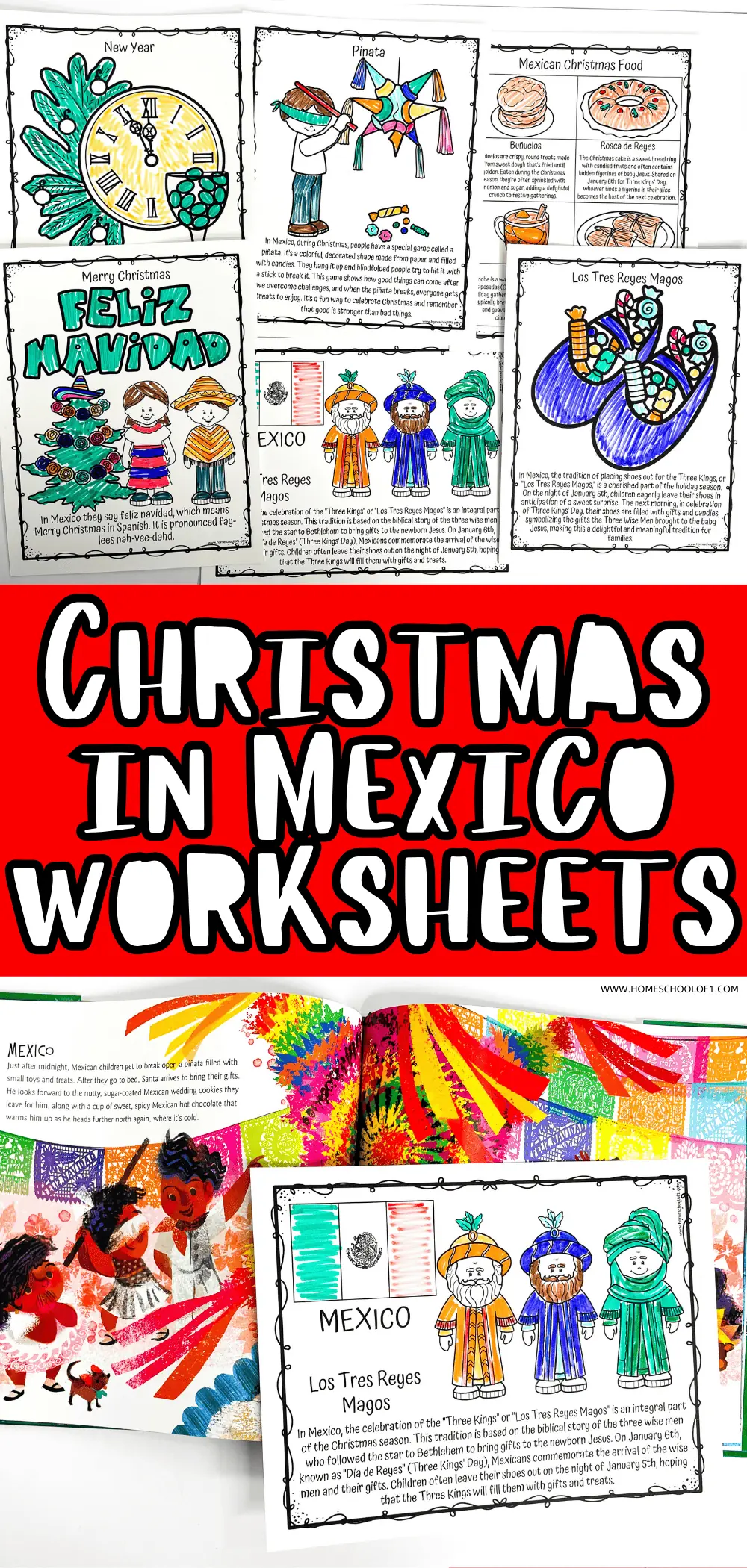 **There may be affiliate links in this post. You can read my full disclosure at the bottom of the page.**
Christmas in Mexico coloring pages
There are 6 pages included in these holiday worksheets. All about the Christmas traditions in Mexico.
Los Tres Reyes Magos coloring page
Los Tres Reyes Magos, also known as the Three Wise Men, are central figures in Mexican Christmas traditions.
Celebrated on January 6th, this holiday commemorates the arrival of the Wise Men who brought gifts to the baby Jesus.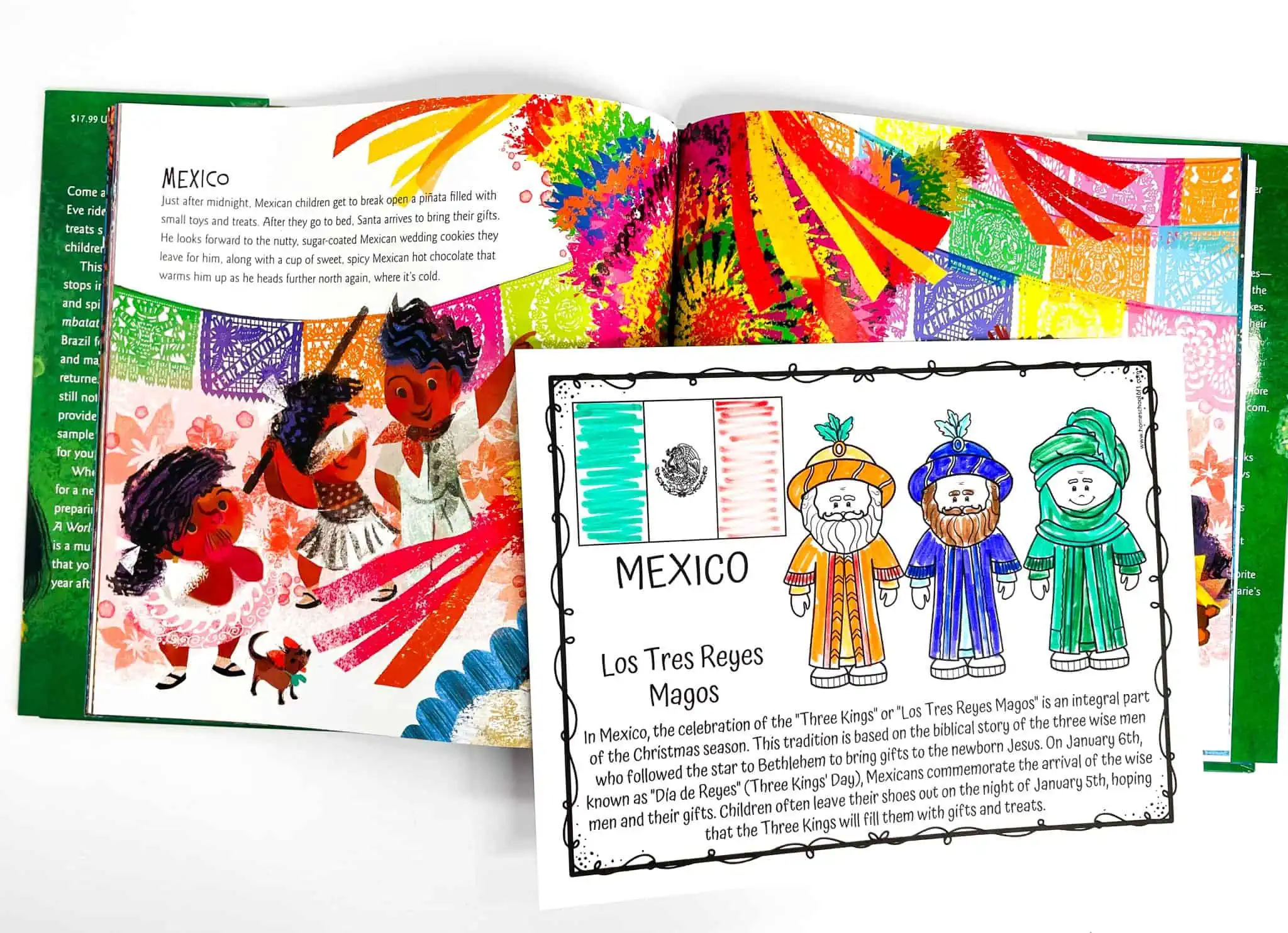 Mexican Christmas food
Buñuelos are traditional Mexican Christmas treats made from deep-fried dough, often sprinkled with cinnamon and sugar. They are crispy, sweet, and sometimes flavored with anise, making them a beloved holiday snack or dessert.
Tamales are a cherished Mexican Christmas dish consisting of masa (corn dough) filled with various fillings such as meat, cheese, or vegetables. They are wrapped in corn husks, steamed, and served with salsa, making them a delicious and festive part of holiday feasts.
Ponche is a warm and fruity Mexican Christmas punch, typically served during posadas and other holiday gatherings. It contains a variety of ingredients such as tejocotes (small fruit), sugar cane, cinnamon, and often rum or other spirits. Creating a flavorful and comforting beverage enjoyed throughout the winter season.
Rosca de Reyes is a sweet, oval-shaped bread traditionally eaten on January 6th during the celebration of Dia de Reyes (Three Kings' Day). It's adorned with candied fruits and sometimes contains hidden figurines and a baby Jesus figure. It's a symbolic and delicious dessert that brings family and friends together to share and celebrate the holiday.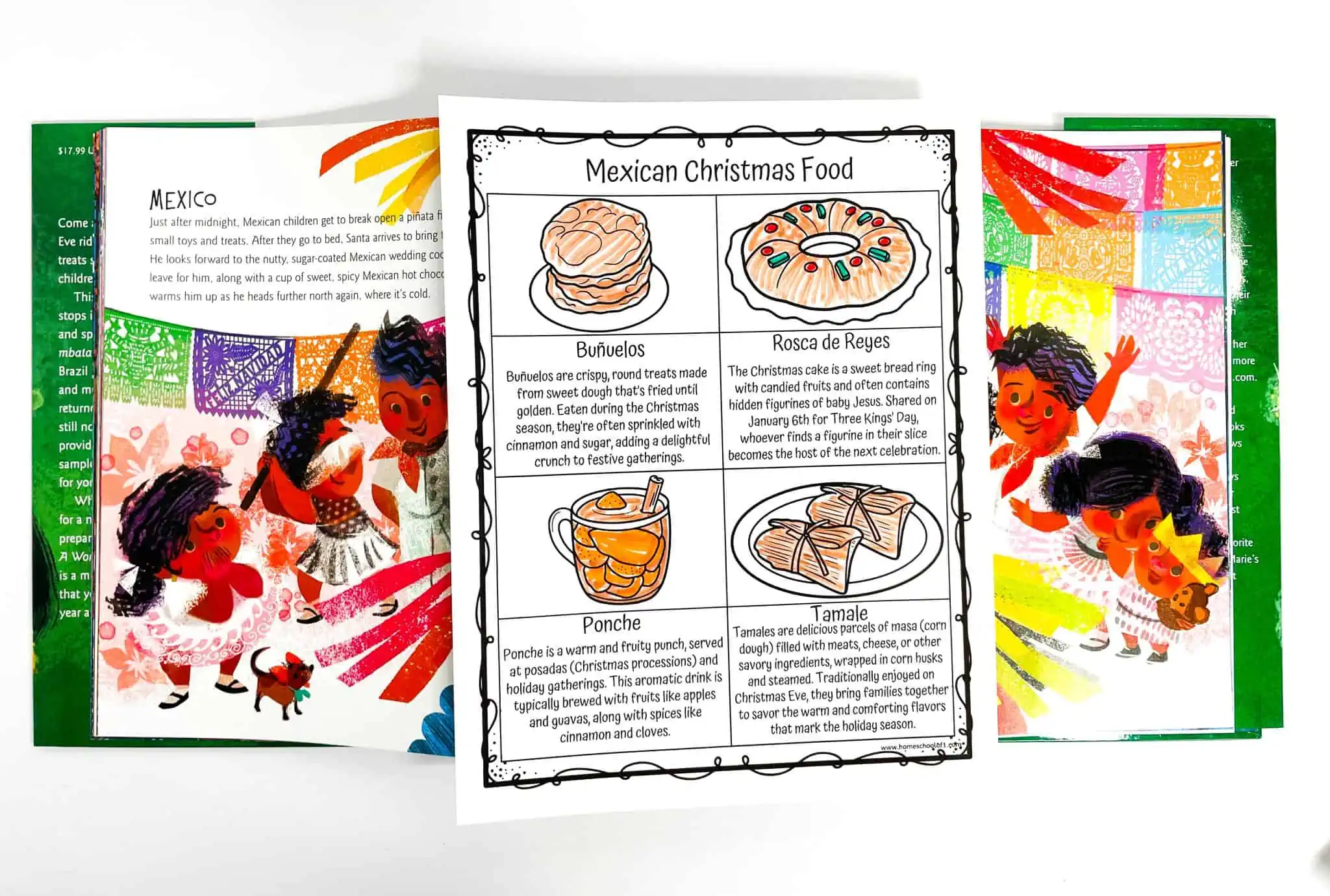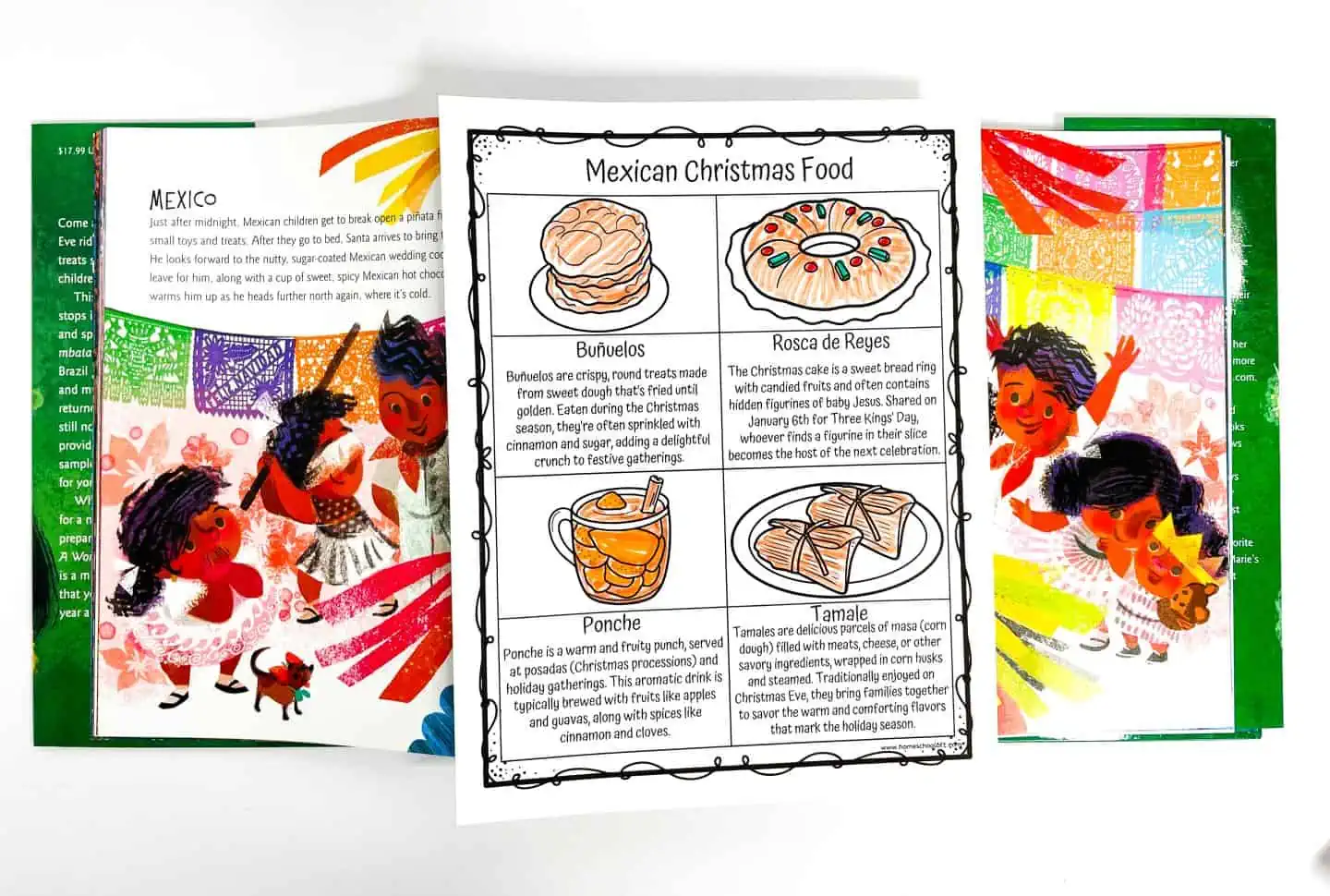 Pinata coloring page
In Mexico, the use of piñatas during Christmas time is a joyful and cherished tradition. Piñatas, often shaped like stars or spheres, are filled with candies, fruits, and small toys.
They are suspended from the ceiling, and blindfolded children take turns trying to break them open with a stick while others sing traditional songs.
This festive activity symbolizes the triumph of good over evil and adds an element of excitement and unity to Mexican Christmas celebrations.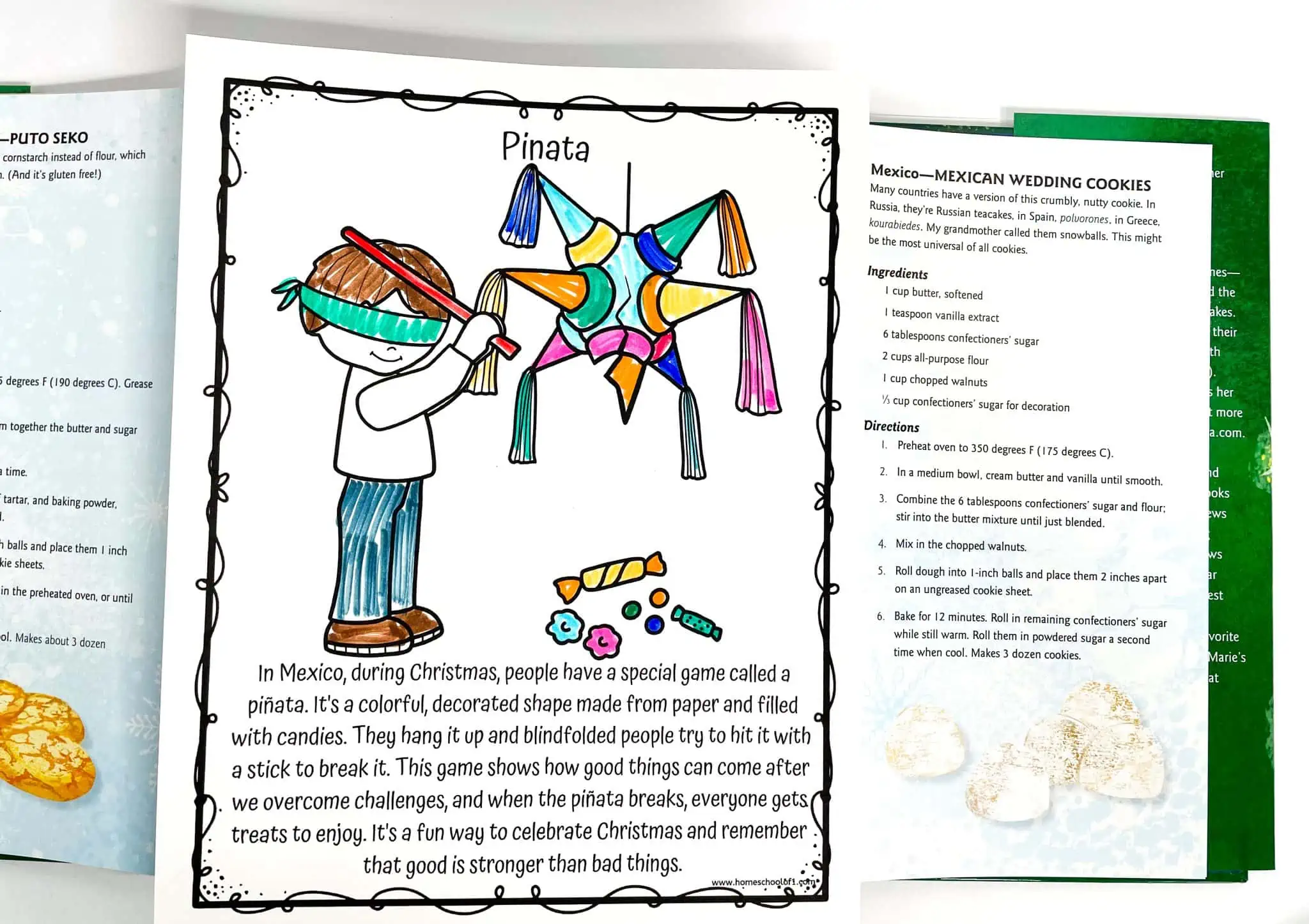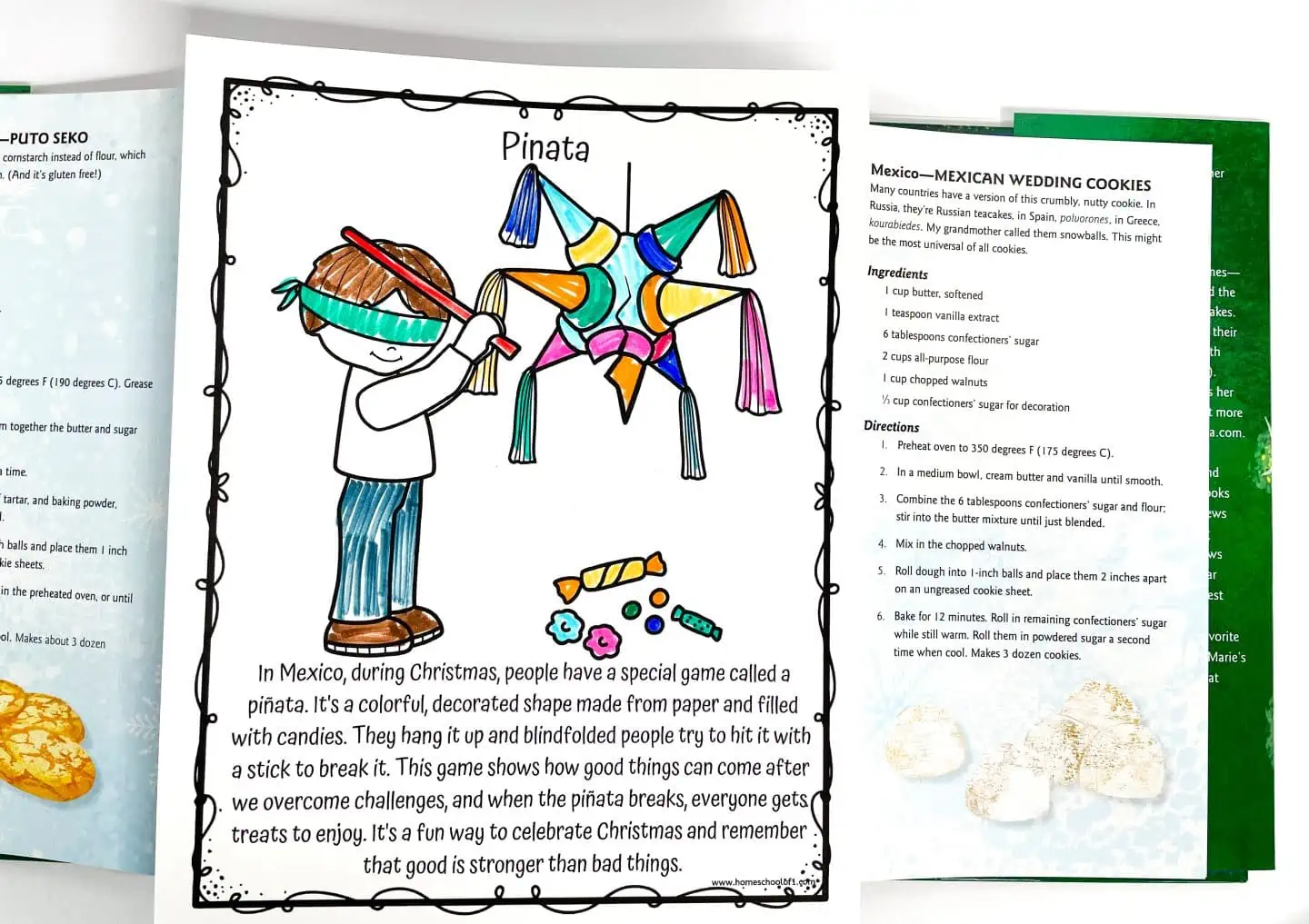 New Year coloring page
Eating twelve grapes at the stroke of midnight on New Year's Eve is a popular tradition in many Spanish-speaking countries, including Mexico and Spain.
Each grape represents one month of the coming year, and people make a wish for each grape they consume.
It's believed that successfully eating all twelve grapes will bring good luck and prosperity in the upcoming year. Making it a fun and meaningful part of New Year's celebrations.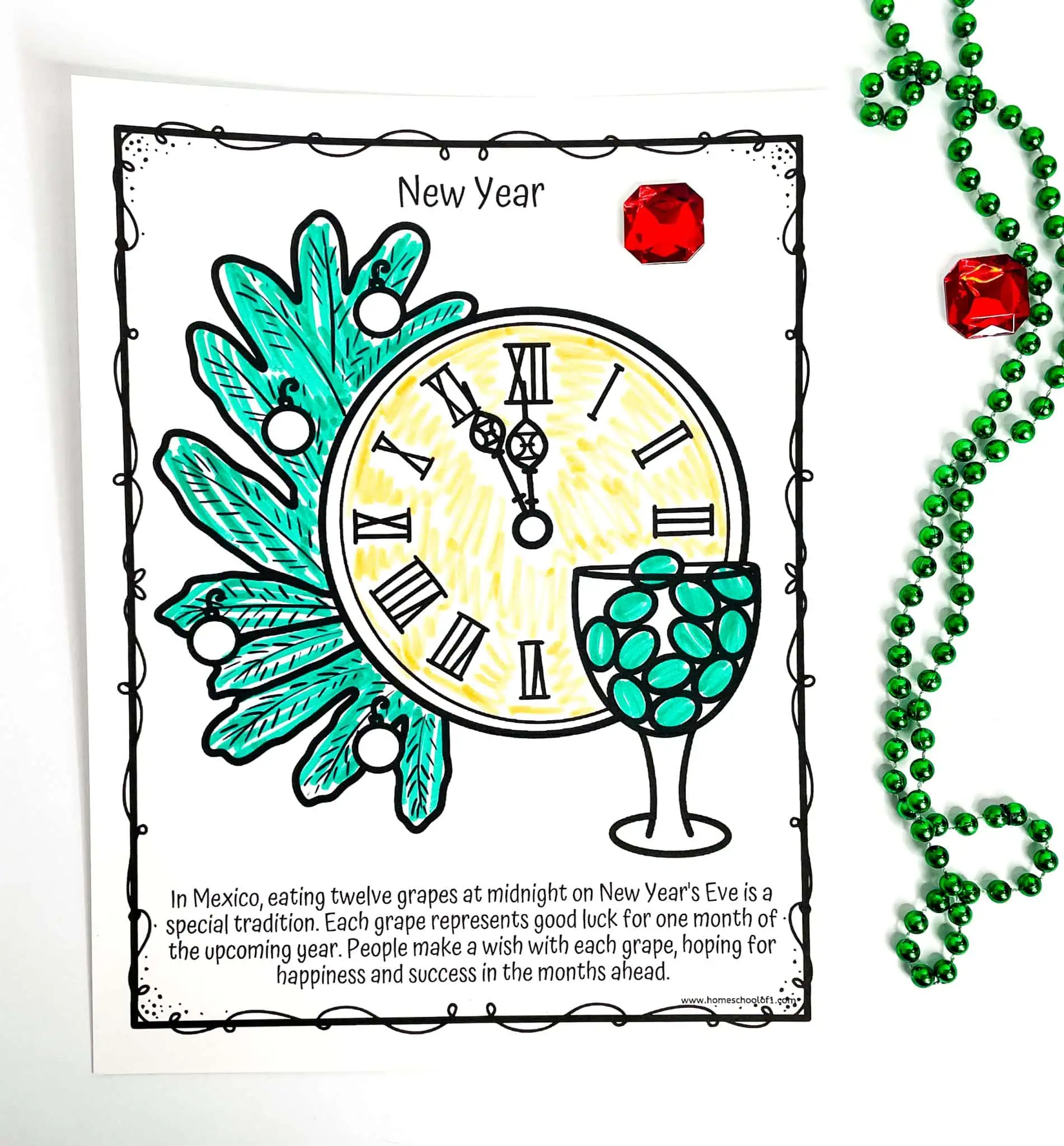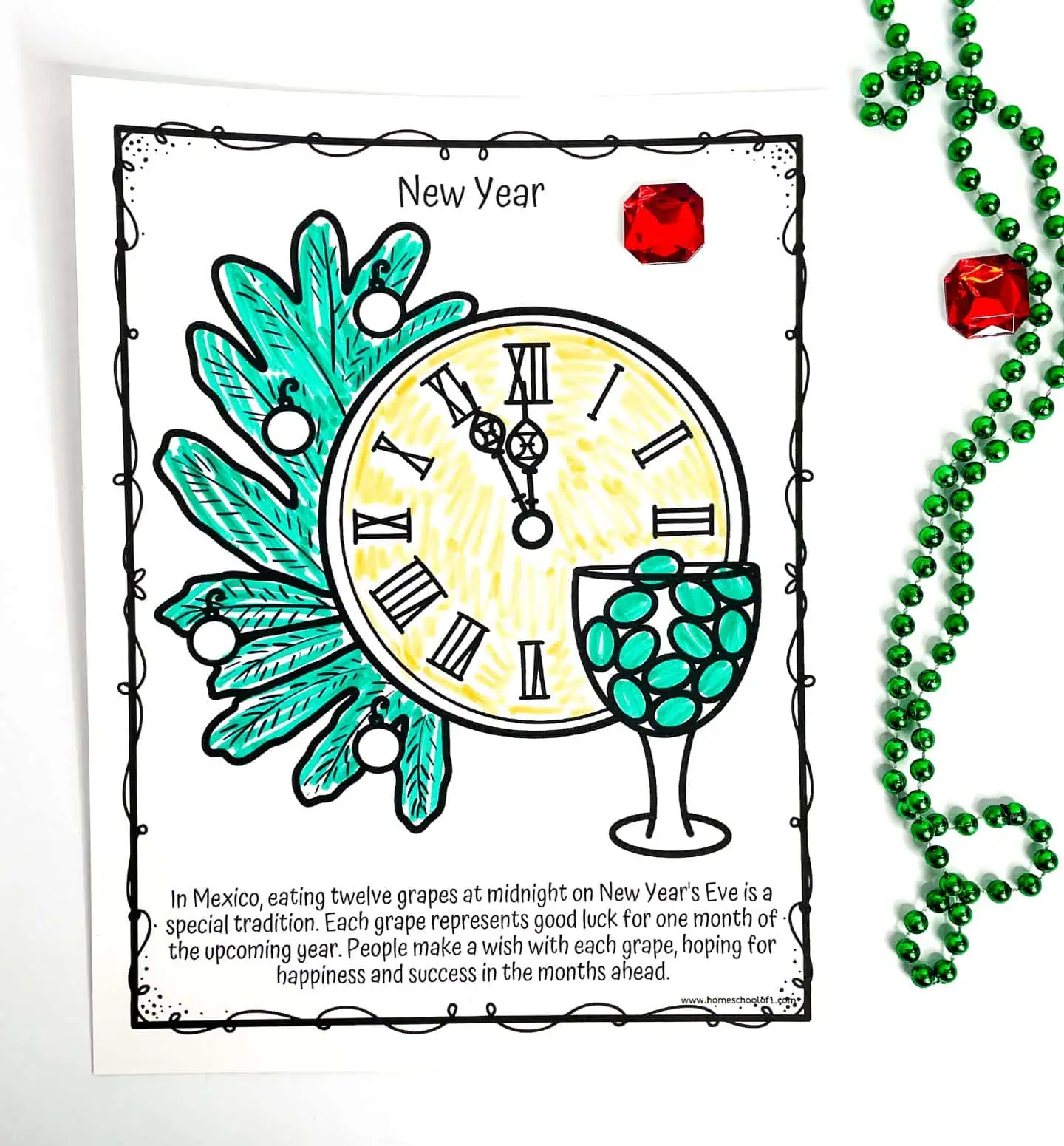 Los Tres Reyes Magos Tradition
In Mexico, children leave their shoes out on the night of January 5th. This is done in anticipation of the arrival of the Three Wise Men (Los Tres Reyes Magos) who are believed to bring gifts on January 6th. Which is celebrated as Día de Reyes or Three Kings' Day.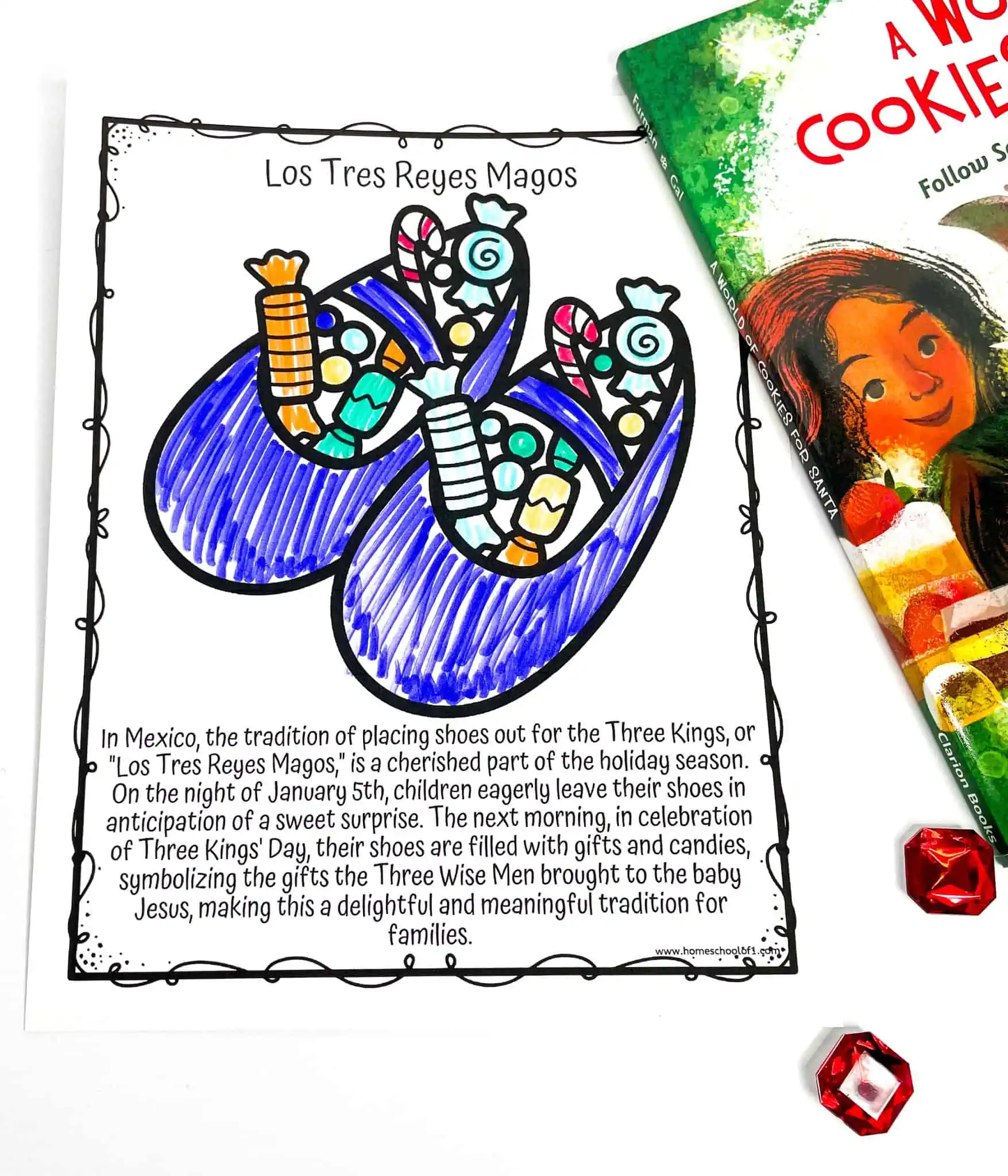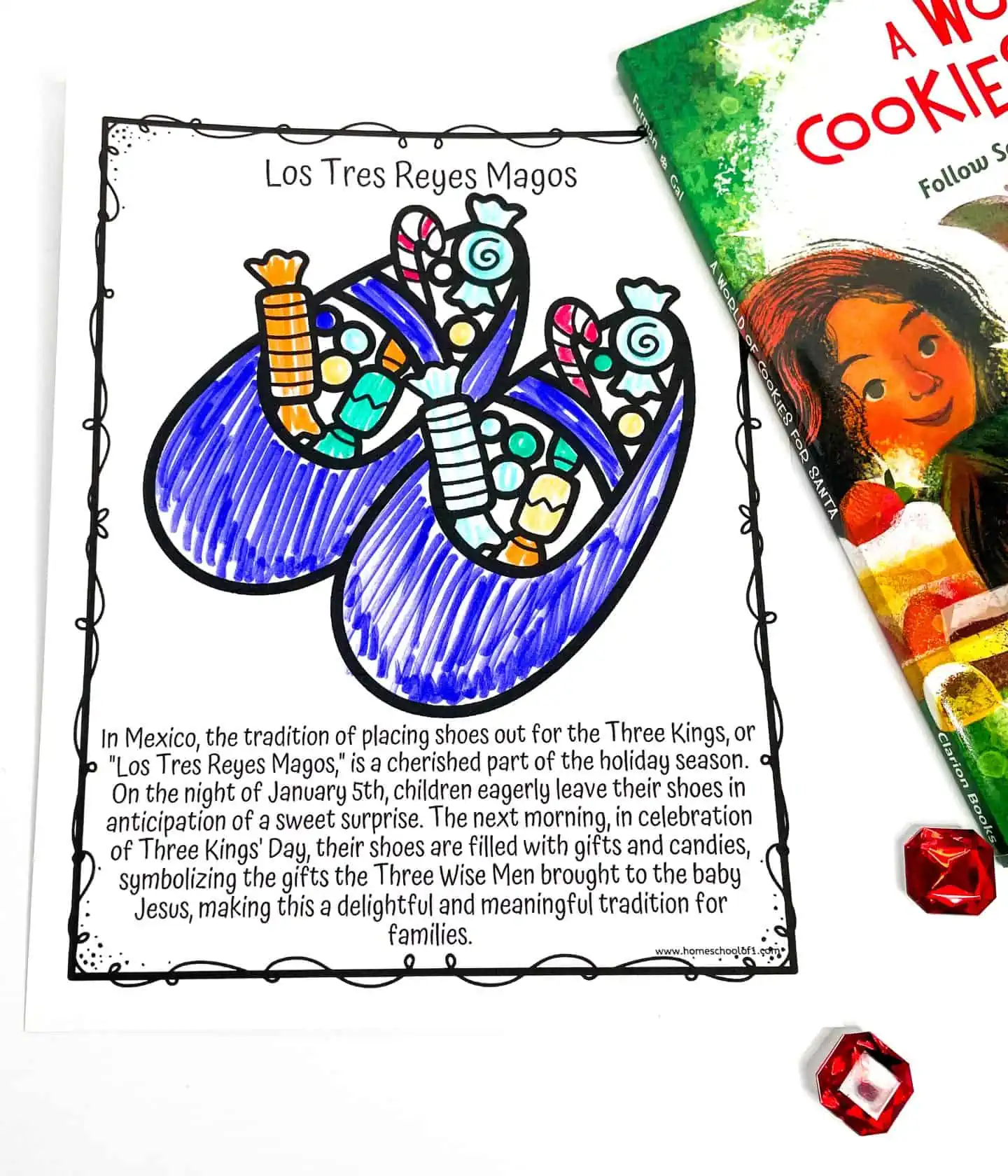 Learn to say Merry Christmas in Spanish
Finish up learning about Christmas in Mexico and learn how to say Merry Christmas in Spanish, Felix Navidad!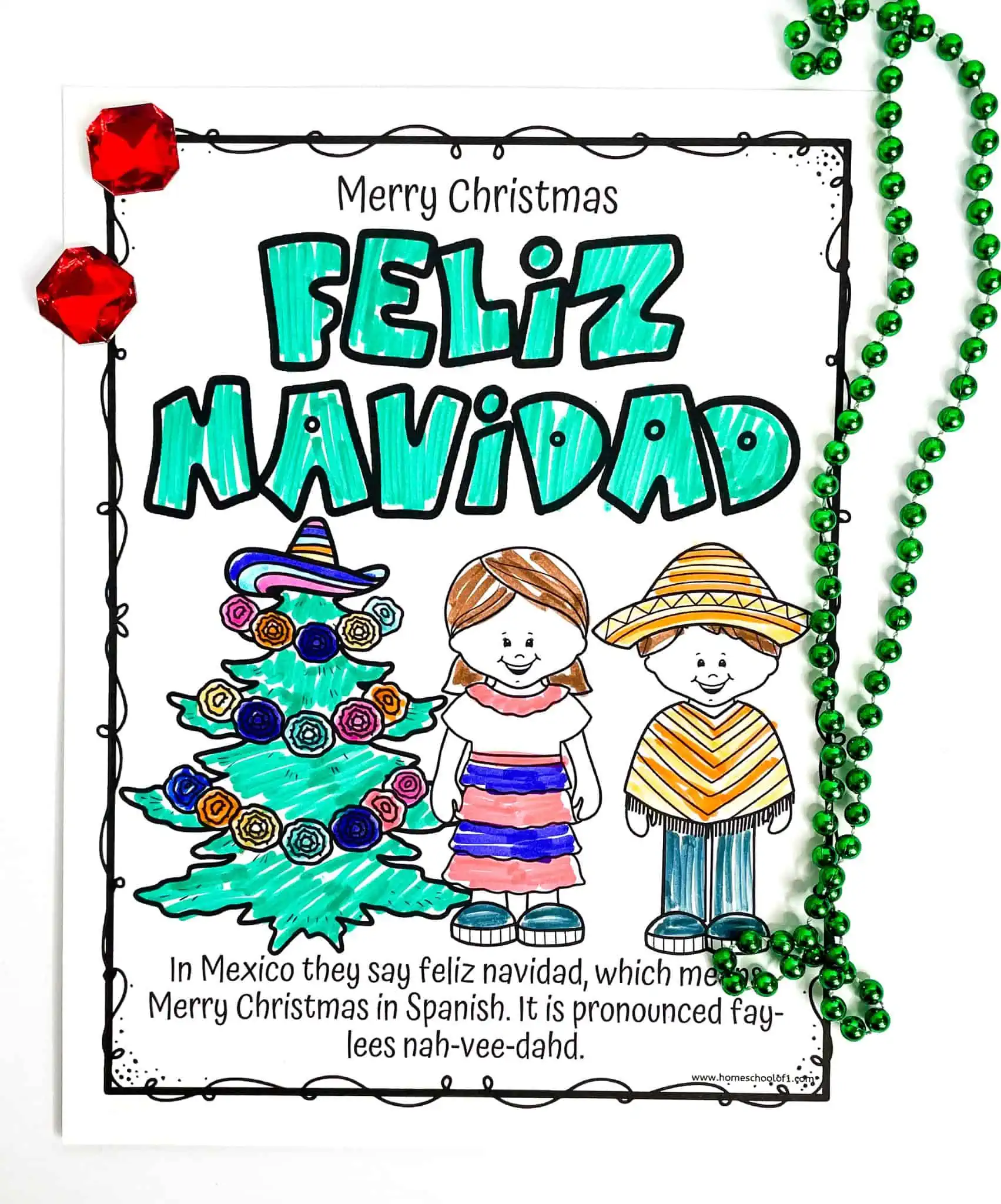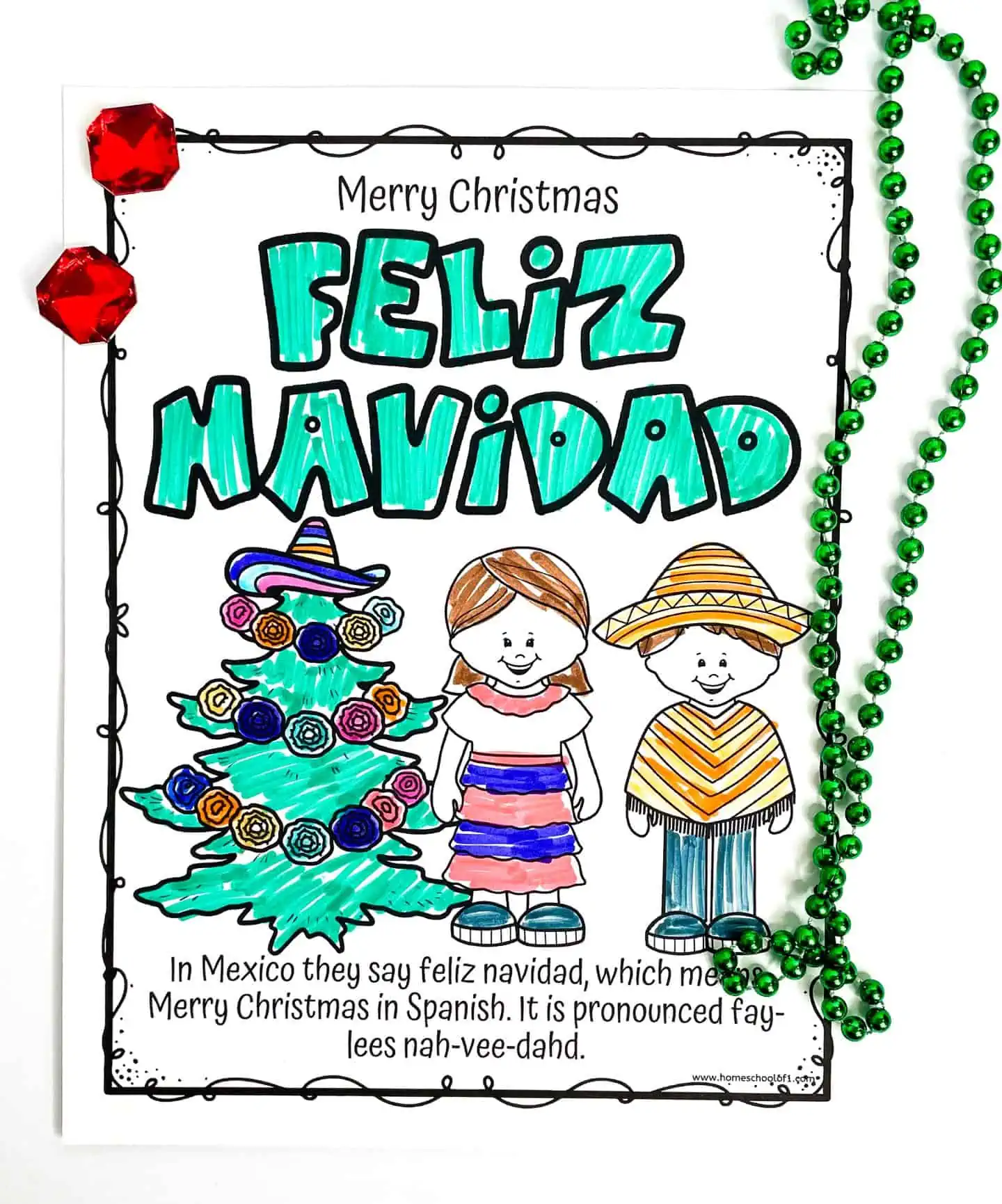 Christmas books with a Mexican theme
For elementary-grade kids interested in Christmas books with a Mexican theme or setting, you might want to consider these options:
Too Many Tamales by Gary Soto. This heartwarming story follows Maria as she helps her family prepare tamales for Christmas, only to lose her mother's ring in the masa (dough). It's a tale of family, tradition, and the importance of honesty.
Nine Days to Christmas: A Story of Mexico by Marie Hall Ets. A charming children's book that follows young Ceci as she eagerly counts down the days to Christmas while embracing the festive traditions of Mexico.
The Christmas Gift: El regalo de Navidad by Francisco Jiménez. This bilingual book explores the immigrant experience through the eyes of a young boy named Roberto, who receives a special Christmas gift from his parents.
Tips for downloading the free files
Below you will see a large sign-up box where you need to add your name and email address, and press I NEED THIS NOW!
Within minutes you will be sent the free PDF directly to your email address, so you can print it out and start using it immediately.
Sometimes emails get a little wonky, so if you can't see it, please check your spam folder where I am sure it is hiding.
Download the free Mexican Christmas worksheets
These worksheets are free to print but are for personal or classroom use only.
Make sure you choose the correct paper size and click on the shrink to fit button. All of our free printables for kids work better when printed on cardstock (this is the one we use and love.)
Last Updated on 25 November 2023 by homeschoolof1