Free Famous Composers Worksheets
Have fun with the kids with our 6 free composers worksheets.
Are you looking for a fun and engaging way to introduce your elementary students to some of the most famous composers of all time?
I am excited to share with you our free composers worksheets. Featuring some of the greatest composers of the 20th century. Including George Gershwin, Aaron Copland, Leroy Anderson, Edward Benjamin Britten, Leonard Bernstein, and John Williams.
Through these free homeschool printables, your students will have the opportunity to learn about the composers' backgrounds, most famous works, and fun facts about their lives.
By introducing your students to these composers, you will not only be teaching them about music history. But you will also be exposing them to some of the most recognizable and iconic pieces of music ever written.
Whether you're a music teacher looking for new resources to add to your curriculum or a general education teacher hoping to incorporate more music and history into your lessons. These famous musicians worksheets are a perfect addition to any classroom.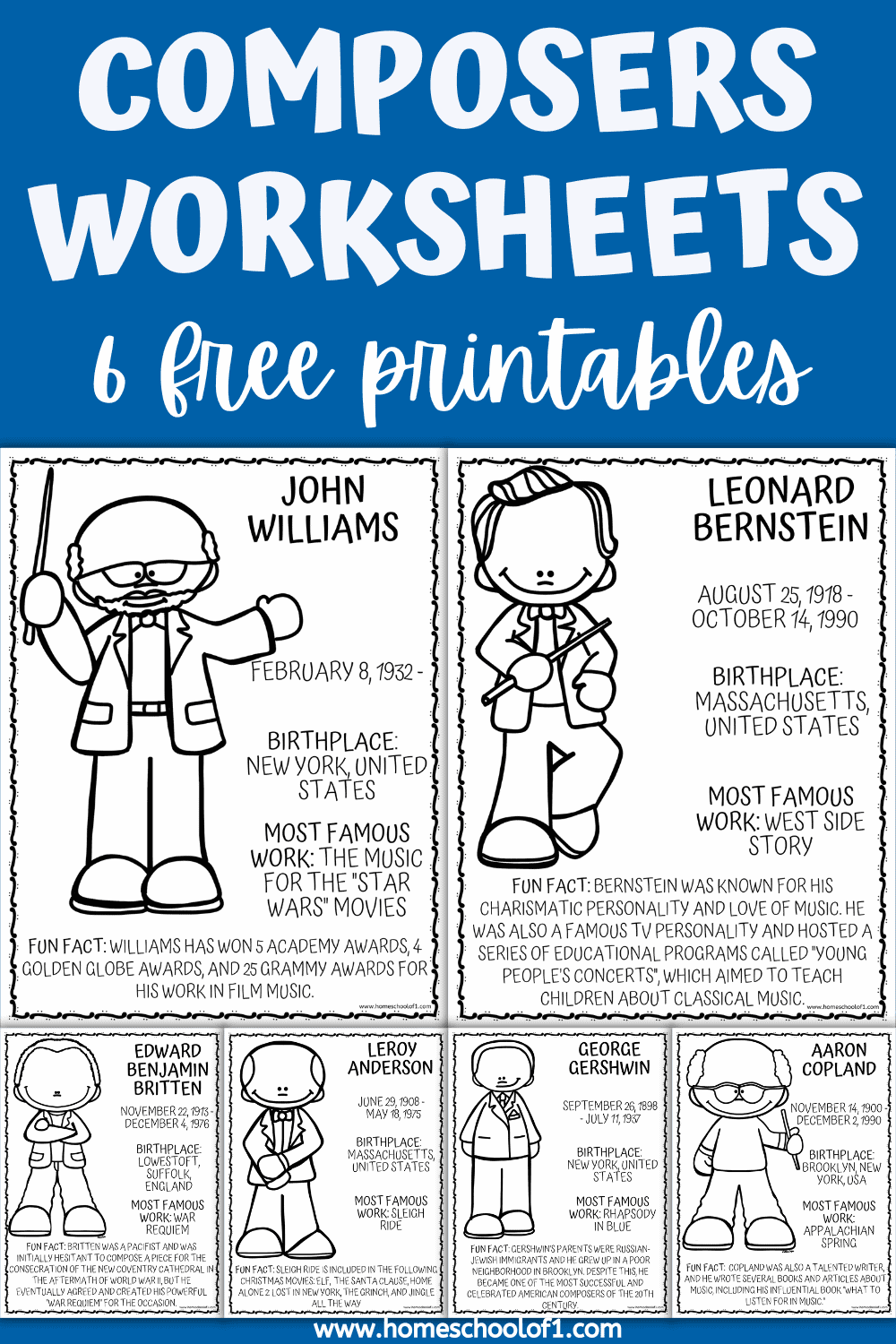 **There may be affiliate links in this post. You can read my full disclosure at the bottom of the page.**
What is a composer?
I'm here to talk to you about what a composer is. Simply put, a composer is someone who creates music.
They write down all the notes, rhythms, and melodies that make up a piece of music.
Composers can create music for all sorts of things, like movies, TV shows, video games, and of course, just for listening to!
Think of a composer as a chef in a kitchen. Instead of cooking up delicious food, they're cooking up amazing music.
They carefully choose which notes to use and in what order, just like a chef selects the ingredients they need to make a meal. And just like how every chef has their own unique style of cooking, every composer has their own unique style of music.
So, next time you hear a piece of music that you love, remember that it was created by a composer who worked hard to bring their musical vision to life!
Modern Composers Worksheets
These composers worksheets are free to print but are for personal, or classroom use only. Scroll to the end of the post to get the pdf file.
There are six modern composers featured in the free download and these are:
John Williams
John Williams is a world-renowned composer, born on February 8, 1932, in Floral Park, New York, USA.
He is best known for his film scores. Having composed the music for some of the most iconic movies in history, such as Star Wars, Jurassic Park, Jaws, and Harry Potter, to name a few.
Williams' music has become so synonymous with the movies he's scored that it's hard to imagine the films without his iconic soundtracks. Many children have grown up watching and listening to these movies. Making John Williams a household name even among younger generations.
Add these to your homeschool music curriculum today!
Williams has received numerous awards for his work. Including five Academy Awards, four Golden Globe Awards, seven BAFTA Awards, and twenty-five Grammy Awards.
In addition to his work as a composer, he has also conducted several major orchestras. Including the Boston Pops Orchestra, the London Symphony Orchestra, and the Los Angeles Philharmonic.
His contributions to the world of music and film have earned him a place among the greatest composers of all time.
Order his beginner piano solo songbook and encourage them to play these iconic tunes.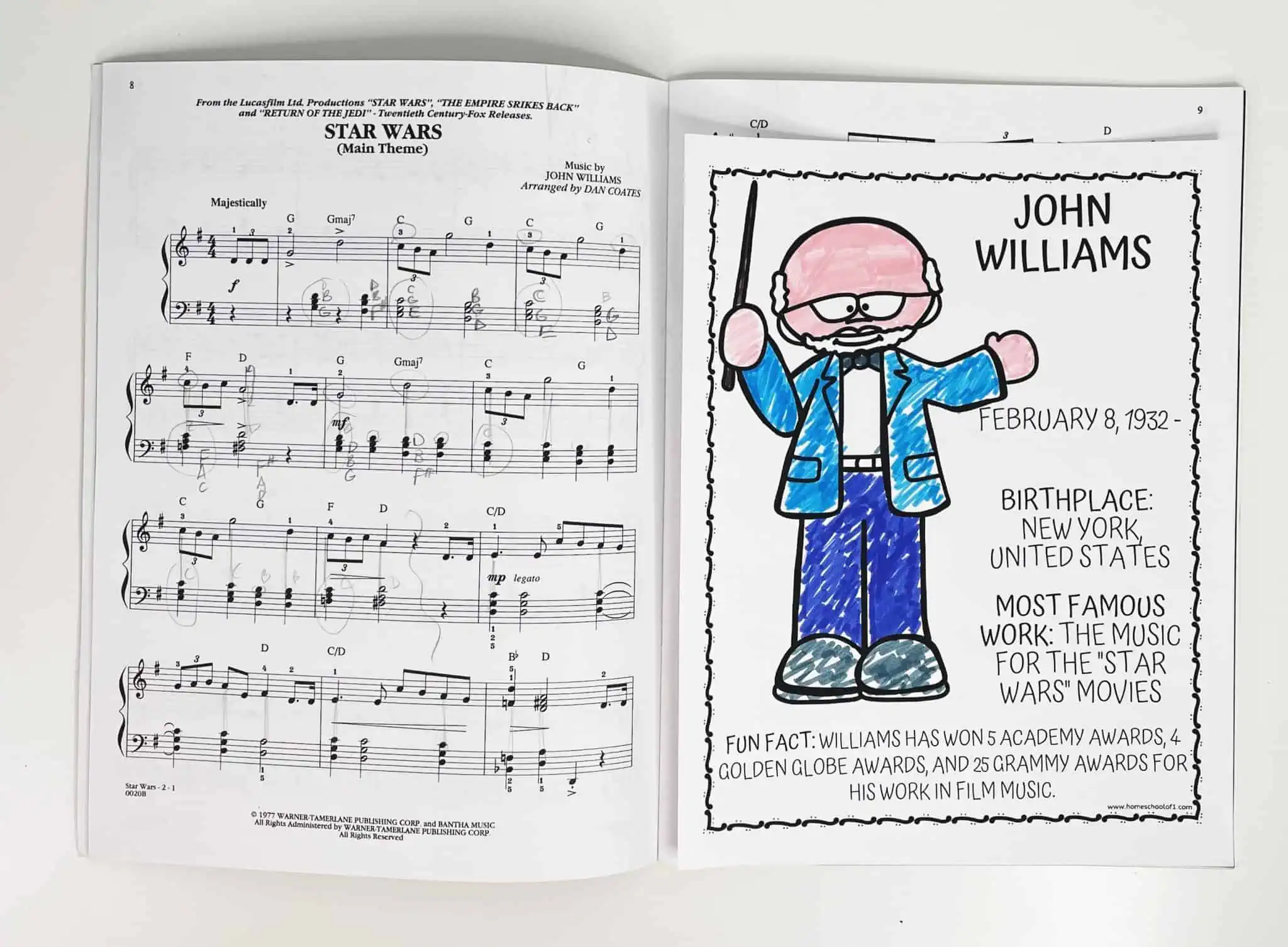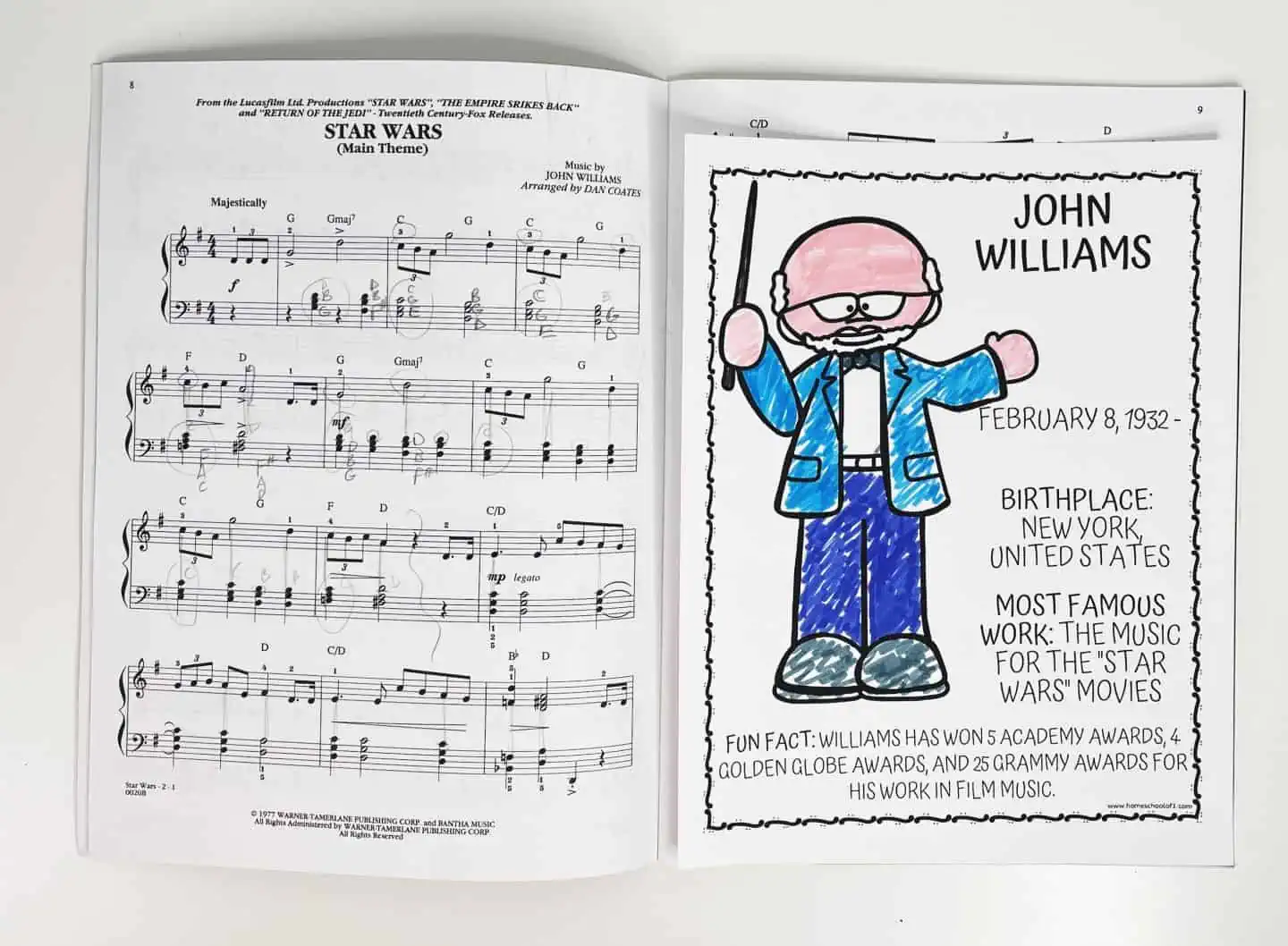 Leonard Bernstein
Leonard Bernstein was an American composer, conductor, pianist, and music educator. He was born on August 25, 1918, in Lawrence, Massachusetts, and began his musical career as a conductor for the New York Philharmonic in 1943.
Bernstein is most famous for his composition "West Side Story," a musical that premiered on Broadway in 1957. He is also known for his other works, including symphonies, operas, and choral music.
Children may know Bernstein's music from his work as a composer for the classic children's television show "Sesame Street." He wrote the catchy tune "It's the Same Old Song" for the show, which has become a favorite of children and adults alike.
Throughout his career, Bernstein won numerous awards and honors, including 16 Grammy Awards, an Emmy Award, and a Tony Award. He also received the Kennedy Center Honors in 1980 and was awarded the Presidential Medal of Freedom in 1985.
The kids can learn more about Leonard Bernstein with this fantastic book.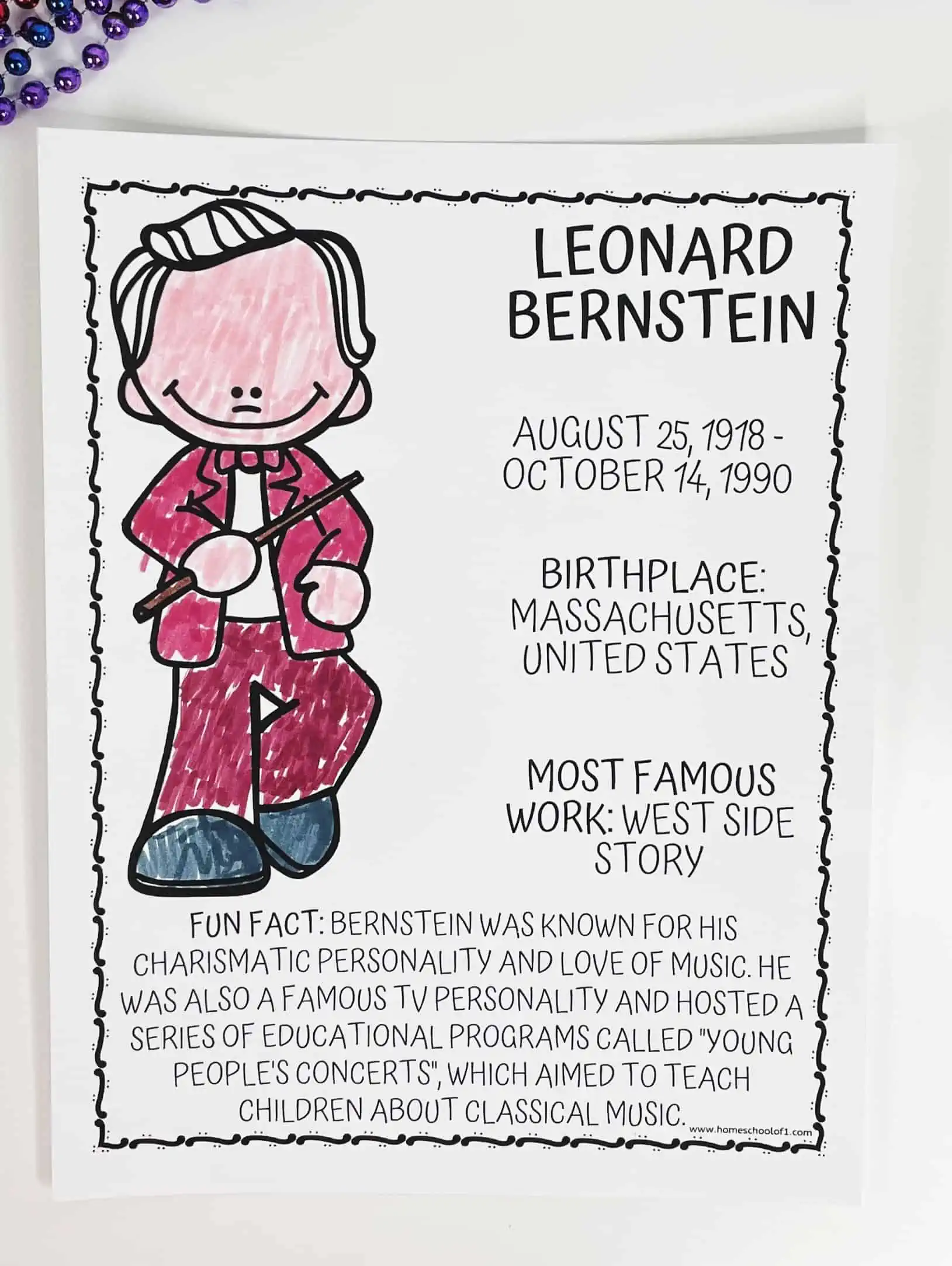 Edward Benjamin Britten
Edward Benjamin Britten was an English composer, conductor, and pianist born on November 22, 1913, in Lowestoft, Suffolk, England.
He is best known for his operas, including "Peter Grimes" and "The Turn of the Screw," as well as his vocal works and choral music. Britten's compositions often had a strong connection to nature and the sea, influenced by his childhood spent near the coast.
Britten also wrote several works for children, including his "Young Person's Guide to the Orchestra." Which introduces the different sections of the orchestra and is a popular educational tool for young music students. He also wrote several operas and works for young audiences, including "Noye's Fludde," a retelling of the story of Noah's Ark.
Britten received many awards for his contributions to music. Including the Order of Merit, the highest civilian honor in the United Kingdom.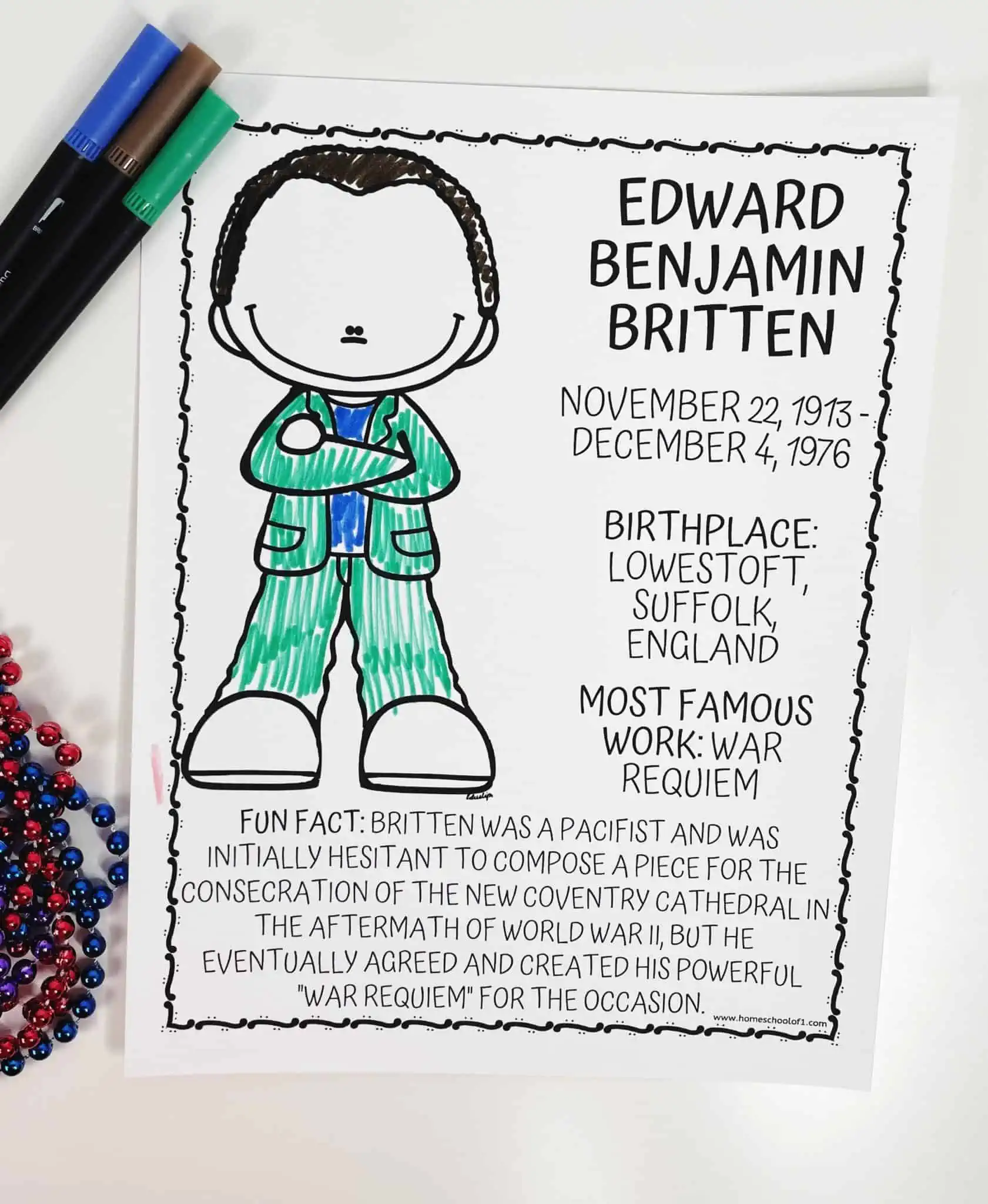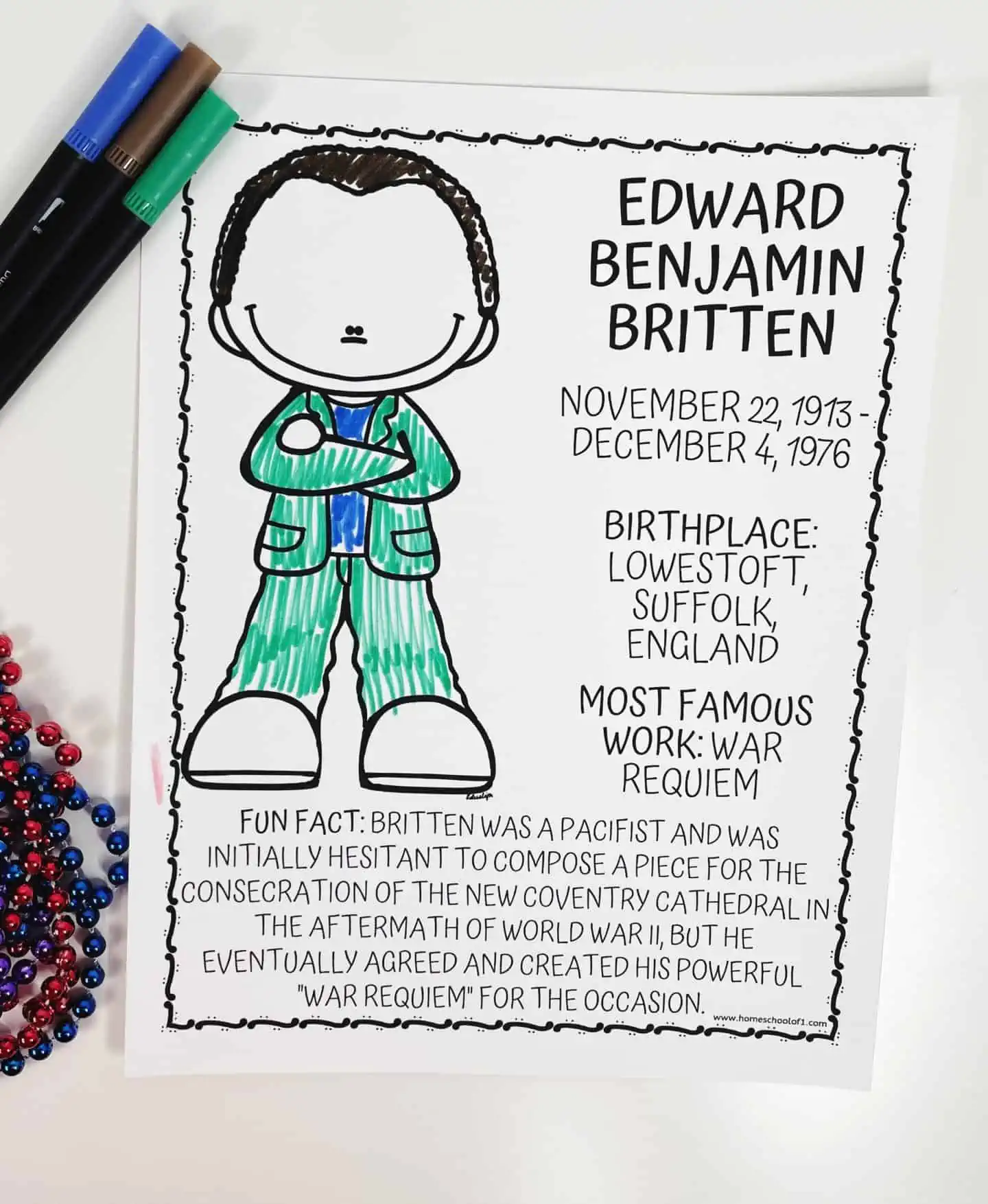 Leroy Anderson
Leroy Anderson was an American composer born on June 29, 1908, in Cambridge, Massachusetts.
He is best known for his popular orchestral compositions, including "Sleigh Ride" and "The Syncopated Clock." Anderson's music often combined traditional orchestral sounds with unusual percussion effects and rhythms, creating a playful and distinctive sound.
Children may know Anderson's music from its use in various holiday movies and commercials. Particularly "Sleigh Ride," which has become a beloved Christmas song. Anderson also wrote several works specifically for children, including "The Waltzing Cat" and "The Typewriter," which uses the sounds of a typewriter as percussion.
Throughout his career, Anderson won many awards and honors, including multiple Grammy Awards for his recordings.
He was also inducted into the Songwriters Hall of Fame in 1988 and the Scandinavian-American Hall of Fame in 2008. Anderson passed away on May 18, 1975, in Woodbury, Connecticut.
This book is The Best Christmas Songs Ever! for piano, guitar, and vocal.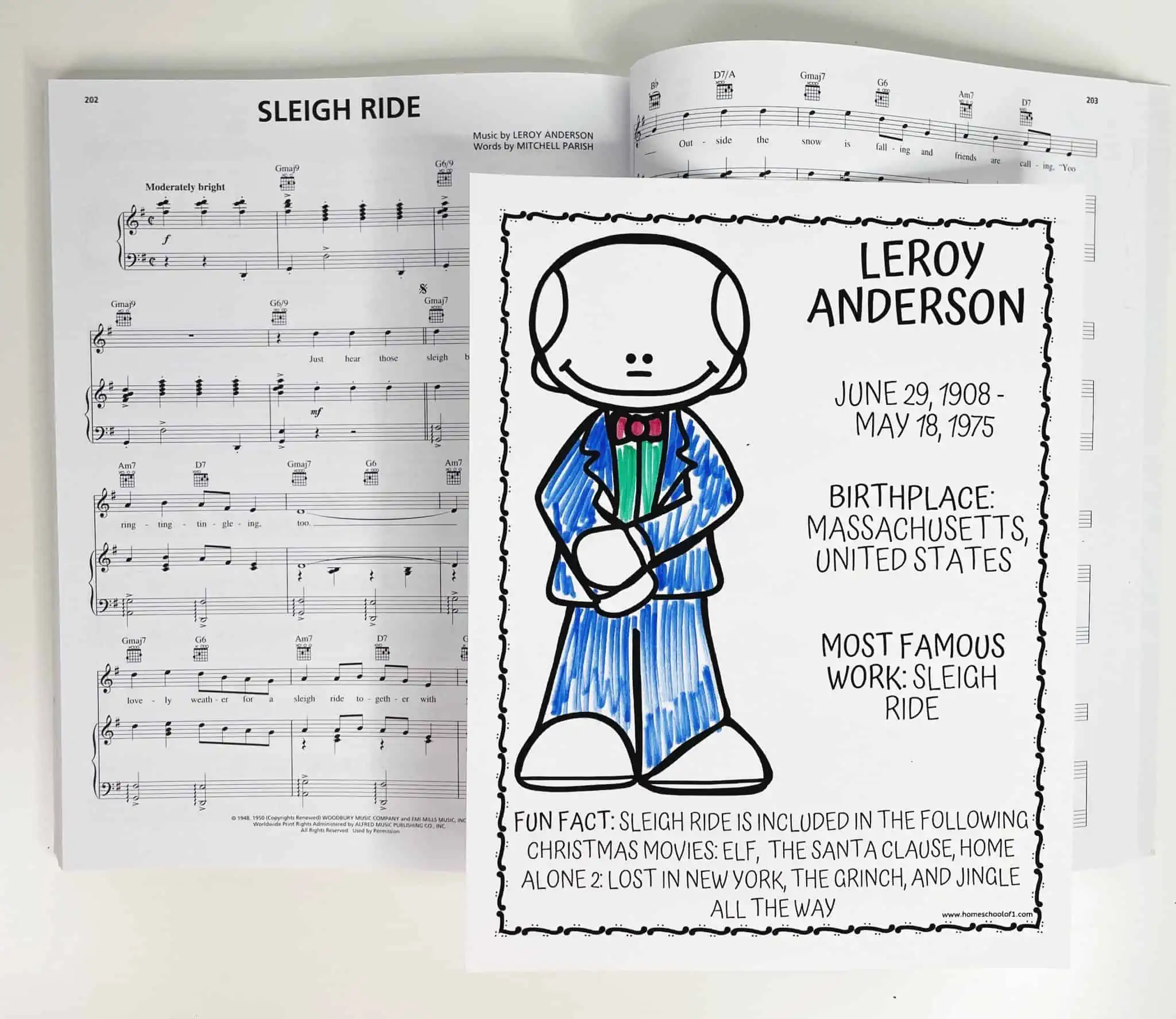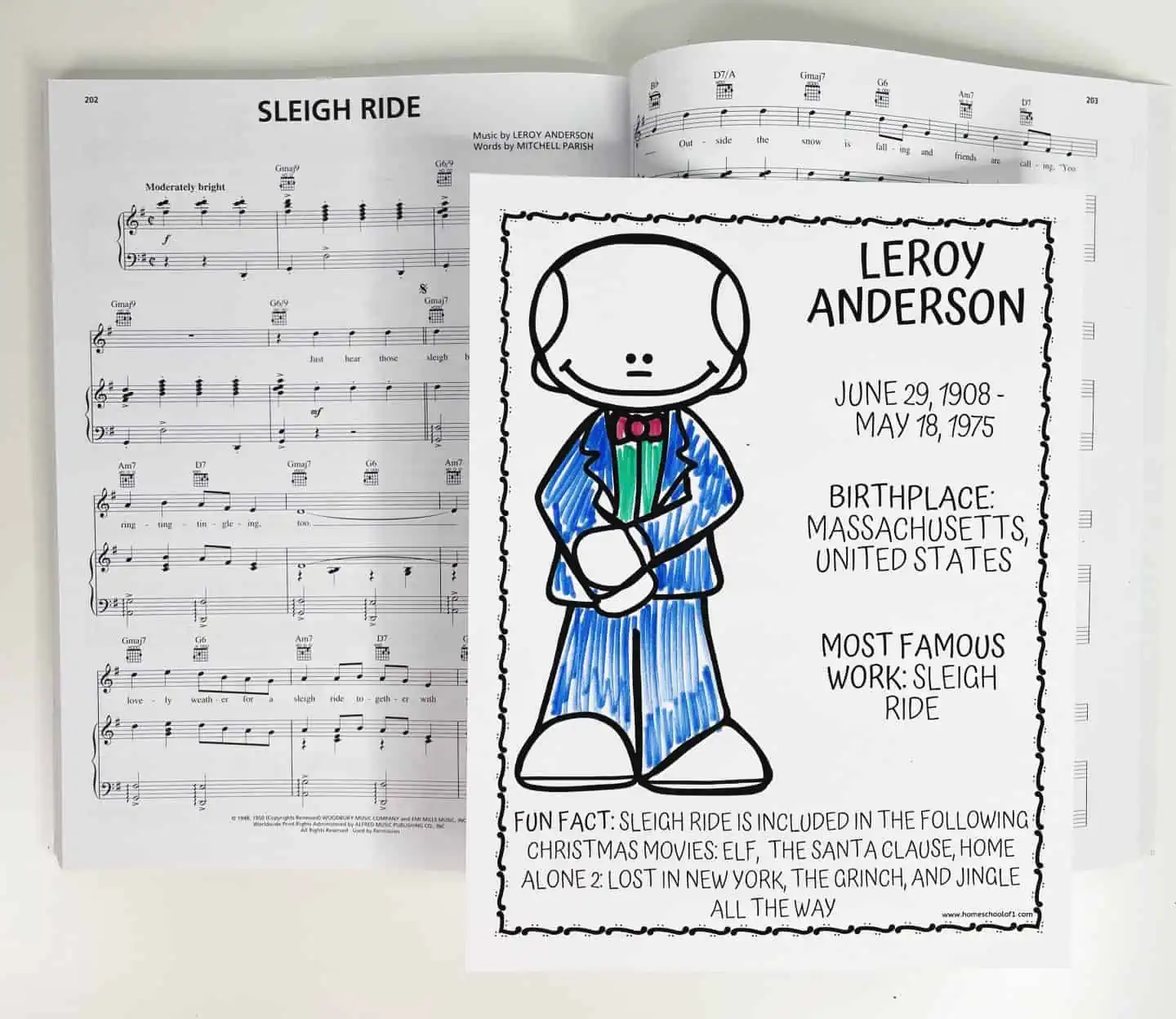 George Gershwin
George Gershwin was an American composer and pianist born on September 26, 1898, in Brooklyn, New York City.
He is known for his unique blend of jazz, classical, and popular music styles. Which earned him the title of "King of Jazz." Gershwin's most famous works include "Rhapsody in Blue," "An American in Paris," and the opera "Porgy and Bess."
Children may know Gershwin's music from the many films and cartoons that have used his compositions. For example, his music can be heard in the animated film "Fantasia 2000." As well as in classic cartoons such as "Tom and Jerry" and "Looney Tunes."
Gershwin received numerous awards and recognitions for his contributions to music. Including four Academy Award nominations for his film scores and a posthumous Pulitzer Prize for "Porgy and Bess."
Despite his short life (he died at the age of 38 due to a brain tumor), Gershwin's music continues to be popular and influential to this day.
The kids will enjoy this book all about the great George Gershwin.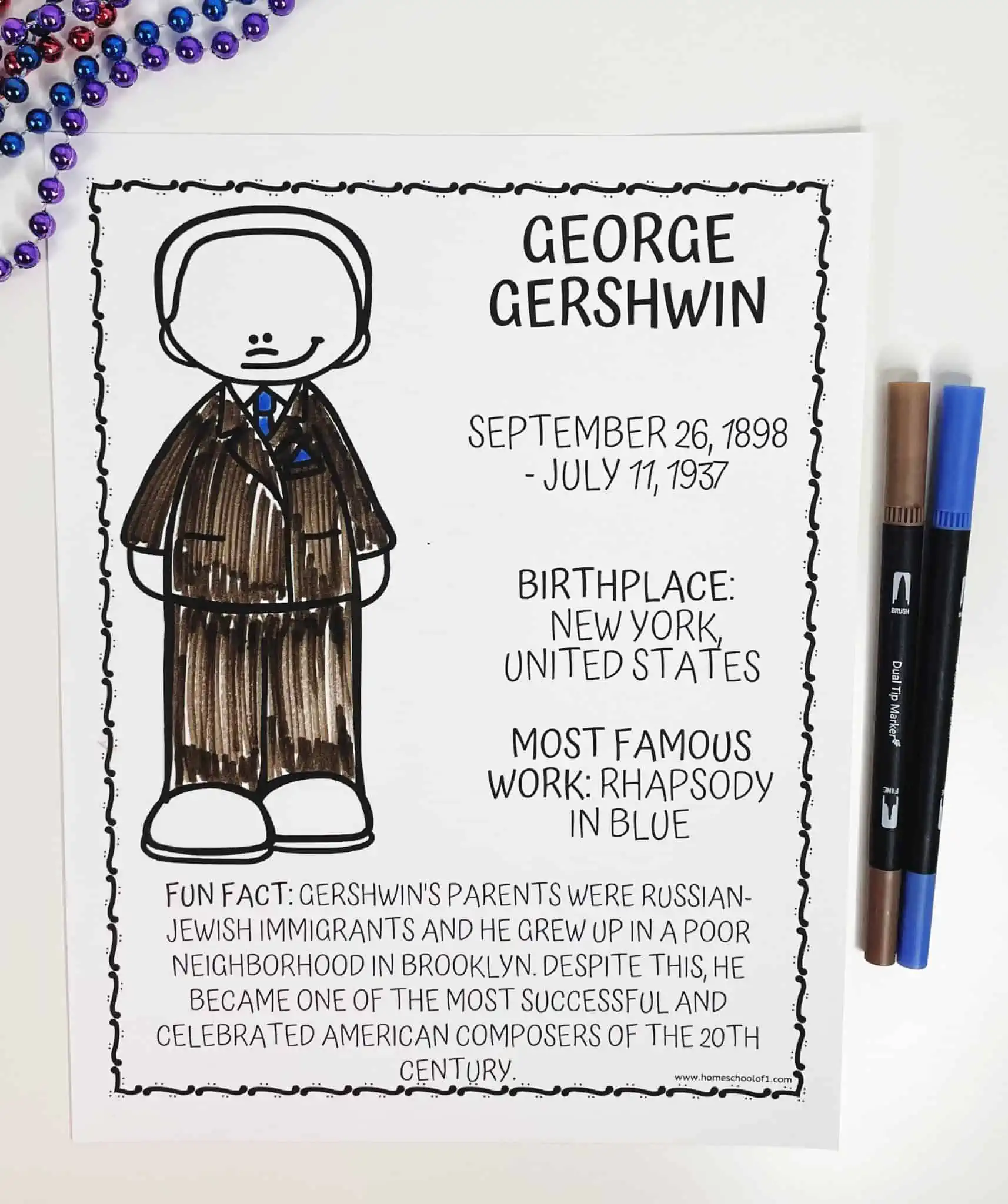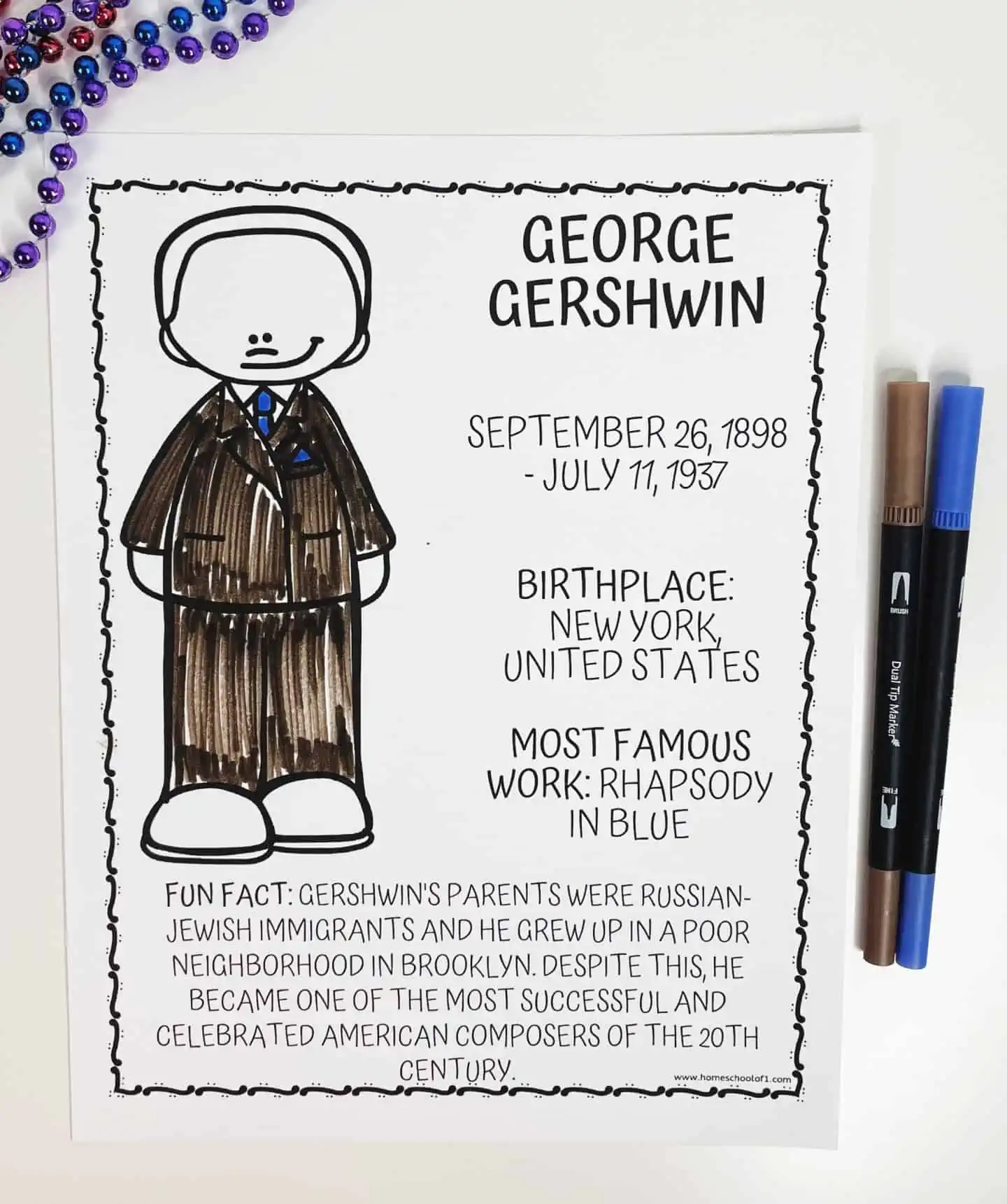 Aaron Copland
Aaron Copland was born in November 1900 and was born in Brooklyn, New York.
He is known for his distinctive style that combines classical music with American folk songs and jazz. His most famous works include the ballets "Appalachian Spring" and "Rodeo." As well as the orchestral piece "Fanfare for the Common Man."
Copland also wrote music for several movies, including the iconic western "The Magnificent Seven," and the famous ballet sequence in the animated film "Fantasia." He won numerous awards throughout his career, including a Pulitzer Prize and an Academy Award.
Children will know Copland's "Hoe-Down" from the ballet "Rodeo" as it is a popular and recognizable tune that has been used in several movies and TV shows. Including the animated film "Babe" and the TV series "The Simpsons."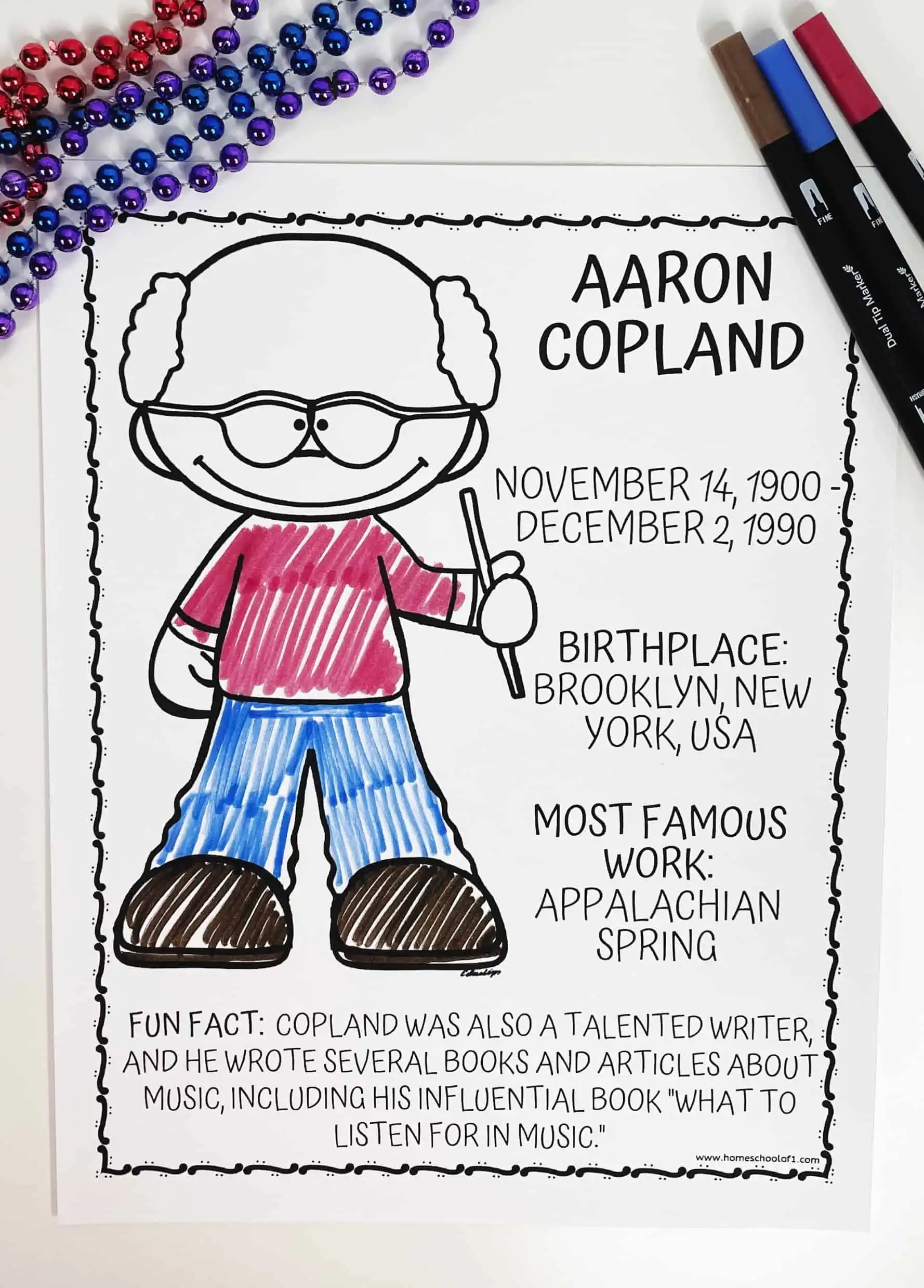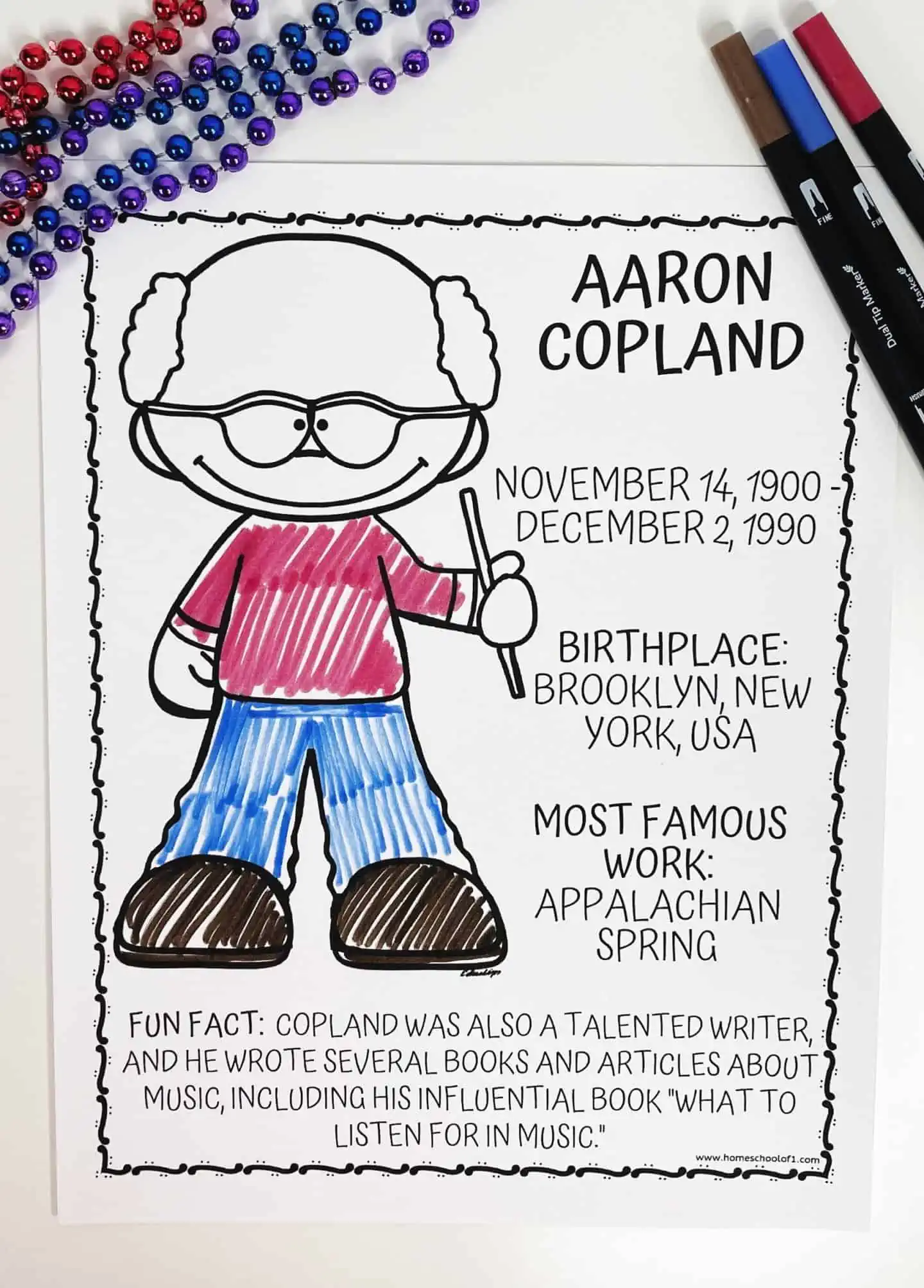 Books about Composers for Kids
Continue learning all about these great composers with some of our favorite books about composers that both you and the kids will love.
Maestro Classics not only have amazing books about some of the most famous composers. They also have actual music with narrated stories and activities.
A Child's Introduction to the Orchestra is an educational book that teaches children about the different instruments in an orchestra. With 37 selections to listen to, this book provides an interactive experience for children to learn about the various instruments. The music they produce, and the composers who create them.
Wild Symphony is a children's book and musical project created by renowned composer and conductor, Dan Brown. The book follows the adventure of Maestro Mouse. As he tries to find his baton, accompanied by illustrations and 21 original musical pieces composed by Brown himself.
World's Greatest Composers
If you are interested in learning even more about the world's greatest composers you can download all of our composer's worksheets for a small fee.
Learn even more about the most famous musicians with our music composers research project.
Tips for downloading the free files
Below you will see a large sign-up box where you need to add your name and email address, and press I NEED THIS NOW!
Within minutes you will be sent the free PDF directly to your email address, so you can print it out and start using it immediately.
Sometimes emails get a little wonky, so if you can't see it, please check your spam folder where I am sure it is hiding.
Download the 6 free composer worksheets
Make sure you choose the correct paper size and click on the shrink to fit button. All of our free printables for kids work better when printed on cardstock (this is the one we use and love.)
Last Updated on 21 October 2023 by homeschoolof1