19 of the Best Foreign Language Curriculum For Homeschoolers
Learning a foreign language is hard. Foreign language for homeschoolers is even harder if you only speak one language.
We are from the UK but now living in Florida. So being able to speak Spanish is pretty important.
I learned French in school as many do in the UK. But of course, as the years have gone on, I have forgotten pretty much all but the basics.
Learning a foreign language is even more important in the USA. You have to study a foreign language for at least 2 years to get into University. Yes I know, this was crazy to me too. So I thought I would find the best foreign language curriculum for homeschoolers to start using NOW.
Benefits of Learning A Foreign Language
There are so many benefits of course, but I will just list our top 5.
Most four-year colleges and universities want to see a minimum of two years of foreign language on the high school transcript, although some want 4 years.
Students who can speak a foreign language are proven to get better school grades in all subjects.
Ability to get better jobs, we live in South Florida, so if Freddie was looking for work now he would definitely benefit if he could speak Spanish.
It actually improves your language skills as a whole.
It makes travelling the world a lot easier! I have travelled a lot, and it definitely would have been better if I could speak the language.
**There may be affiliate links in this post. If you make a purchase (after clicking one of my affiliate links) I'll earn some coffee money, which I promise to drink while supporting your journey. You do not pay a higher price. You can read my full disclosure at the bottom of the page.**
What Are The Most Spoken Languages In the World?
I couldn't write a blog post about foreign languages without understanding what the most popular languages were.
According to Babble the below are the top 10 most spoken languages in the World! I have to say I am staggered! I could have maybe guessed the top 6, but not in that order, I really expected to see at least French on the list!
Chinese – 1.3 Billion native speakers
Spanish – 471 Million native speakers
English – 370 Million
Hindi – 342 Million
Arabic – 315 Million
Portugese – 232 Million
Bengali – 229 Million
Russian – 154 Million
Japanese – 126 Million
Lahnda – 118 Million
I have only detailed foreign languages for homeschoolers in Spanish, French, and German as these are the most popular. However, you could start with Duo Lingo if you want to learn one of the above languages.
Foreign Language For Homeschoolers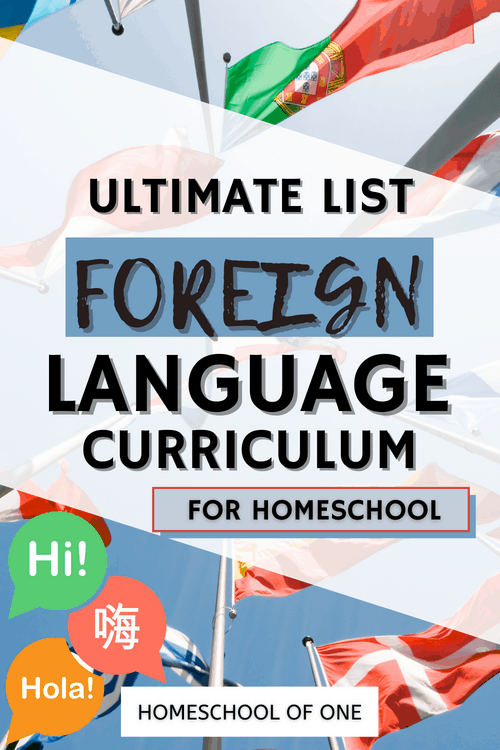 Lingopie
I am excited to share this one with you, as we have only come across it recently. Where you watch cartoons/shows in a foreign language! Each show comes with subtitles in the original language (ex. Spanish TV Show + Spanish Subtitles). Every word, phrase, or slang is clickable to give you an instant translation in real-time to help you learn.
After you watch an episode you can easily review all your new vocabulary & grammar rules with our built-in flashcards and word lists. There is a 7-day free trial so check it out, but it is only $5.99 a month after so it is very reasonably priced.
Check out our Lingopie review here.
Rosetta Stone
Rosetta Stone is the best foreign language learning tool available. If you are not sure, they have a 3 day free trial with full access, so check it out. They get 4.7-star reviews and is used by Lego and BMW, so it is highly recommended!
Outschool
Learn a language with Outschool. With free lessons coming all the time, there is so much to choose from. Currently, you can have live online lessons for the following foreign languages:
French
Spanish
Chinese
German
Japanese
Korean
Danish
Check out our Outschool review here.
SchoolHouse Teachers
With Schoolhouse Teachers you can learn, American Sign Language, Latin, Spanish, French, Latvian. I love Schoolhouse teachers because you get FULL access to every subject and every grade once you subscribe. So you don't just need to pick one subject, you can have them all!
My Teaching Library
A complete Spanish curriculum is perfect for middle school-aged children.
Duo Lingo
Duo Lingo is the best FREE foreign language app. You can pretty much learn any language you could possibly think of, in fact, I have just checked and they have 19 distinct languages you can learn!
Teach it Languages
Teach it Languages is for foreign languages for KS3 and above (This is equivalent to Grades 6 and above in the US). There is a free subscription but they also offer a premium subscription.
Babble
Babble offers 13 different languages, there are free resources, and paid for subscriptions.
Best Foreign Language Program for Homeschoolers
La Clase Divertida – offers a Spanish curriculum for elementary and middle school students as well as live, online classes for high school kids.
If you are looking for even more homeschool foreign language resources Christianbook has lots in Spanish, French, Latin, and every other language you could think of!
Sign Language
If you are looking to learn sign language, check out 25 FREE resources in our recent post. Some colleges will accept this as the foreign language requirement, but please check if that is the only reason you will be doing it.
Spanish Workbooks For Kids
If your kids learn better with books, then these are the best I have found. However, these should only be used as a supplement as they won't learn to speak it just from books.
KS3 Spanish Workbook with Answers this is a Spanish workbook for kids aged 12 and above.
10 Minutes a Day Spanish with Carol Vorderman for ages 7-11
Spanish Made Easy for ages 7-11
French Workbooks For Homeschool
These workbooks are aimed at kids aged 5-14, but remember these are only for supplementing a spoken class.
French Made Easy with Carol Vorderman for ages 7-11
KS3 French Workbook with Answers
Homeschool German Curriculum
Outschool has numerous German-speaking lessons for beginners to intermediate.
Learn to speak German with these awesome homeschool German curriculums.
KS3 German Workbook with Answers for ages 12 and above
Cool Kids Learn German suitable for kids of all ages (Beginner)
The Fabulous Lost and Found is more of a storybook aimed at kids between the ages of 2-7.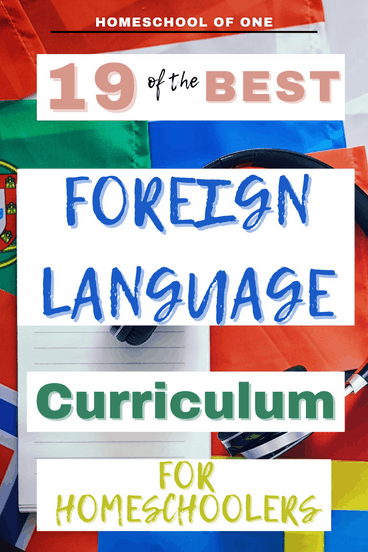 What do you use for teaching foreign languages for homeschoolers? Please let me know in the comments.
Last Updated on 14 January 2022 by homeschoolof1