Free Star Wars Printable Cards to Color In
Discover the ultimate realm of Star Wars creativity with our exceptional array of Star Wars printable cards.
Inside this collection of 10 special and really cool cards, you'll find the heart of the Star Wars world. Each card is decorated with famous lines and pictures that have amazed fans for a long time.
Whether you're preparing for a special occasion or aiming to brighten someone's day with an intergalactic touch. These printable cards are the ideal conduit for sharing a slice of the Star Wars universe.
So, dive into a realm of creativity and connection through these Star Wars printable cards.
Whether you're crafting them for Star Wars Day activities or gifting them as a Star Wars birthday card printable, each stroke of color and every heartfelt message is a tribute to the magic that is Star Wars.
**There may be affiliate links in this post. You can read my full disclosure at the bottom of the page.**
Free Star Wars Greeting Cards
Unleash your creativity and share your love for the Star Wars universe with our delightful collection of 10 printable Star Wars themed cards, each brimming with iconic quotes and charming designs that will surely captivate fans of all ages.
Whether you're gearing up for a special occasion or just want to brighten someone's day, these cards are a fantastic way to spread a little intergalactic joy.
Do or do not there is no try
Channel your inner Jedi and color in this card while reflecting on the wisdom of Master Yoda. This motivational quote card is perfect for sending encouragement and support to friends and loved ones.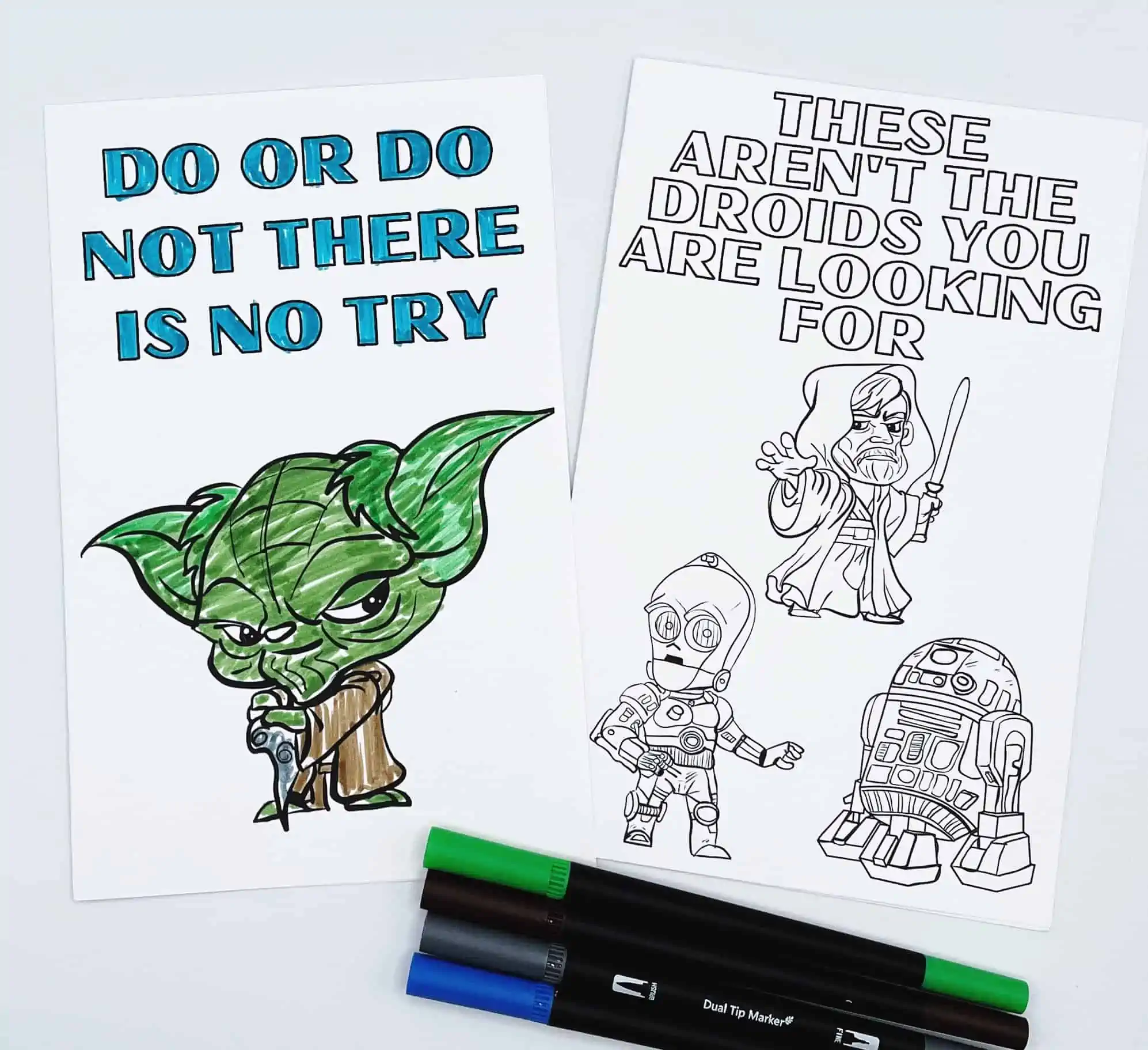 These aren't the droids you are looking for
Get your artistic skills in gear as you add color to this classic phrase from the mind trick scene. It's a great choice for sending a playful message or simply making someone smile.
You are my Father
Celebrate Father's Day or any day with a heartfelt free printable Father's Day coloring card that pays homage to the iconic "I am your father" line from the Star Wars saga. Show your appreciation for your dad's galaxy-sized impact.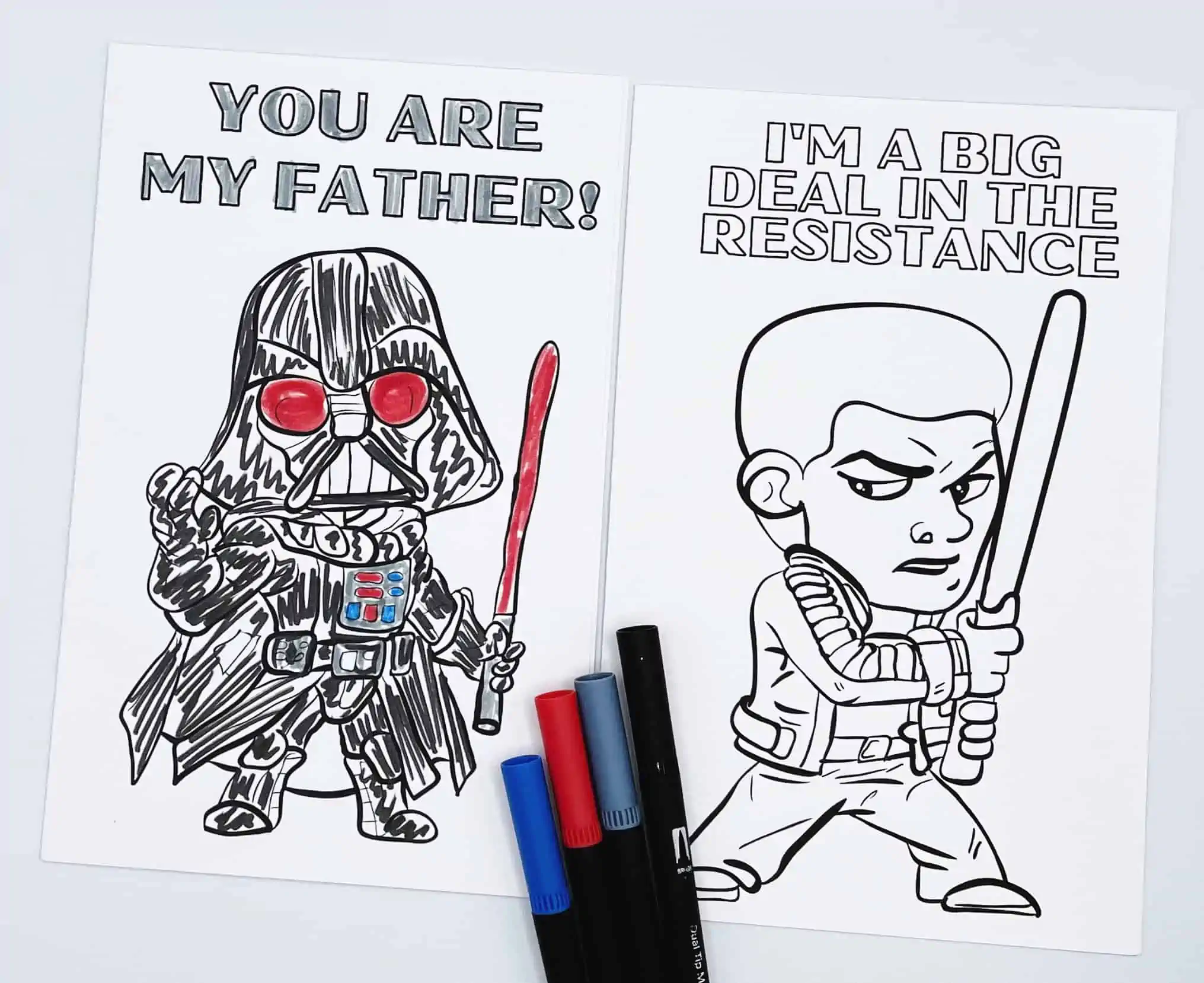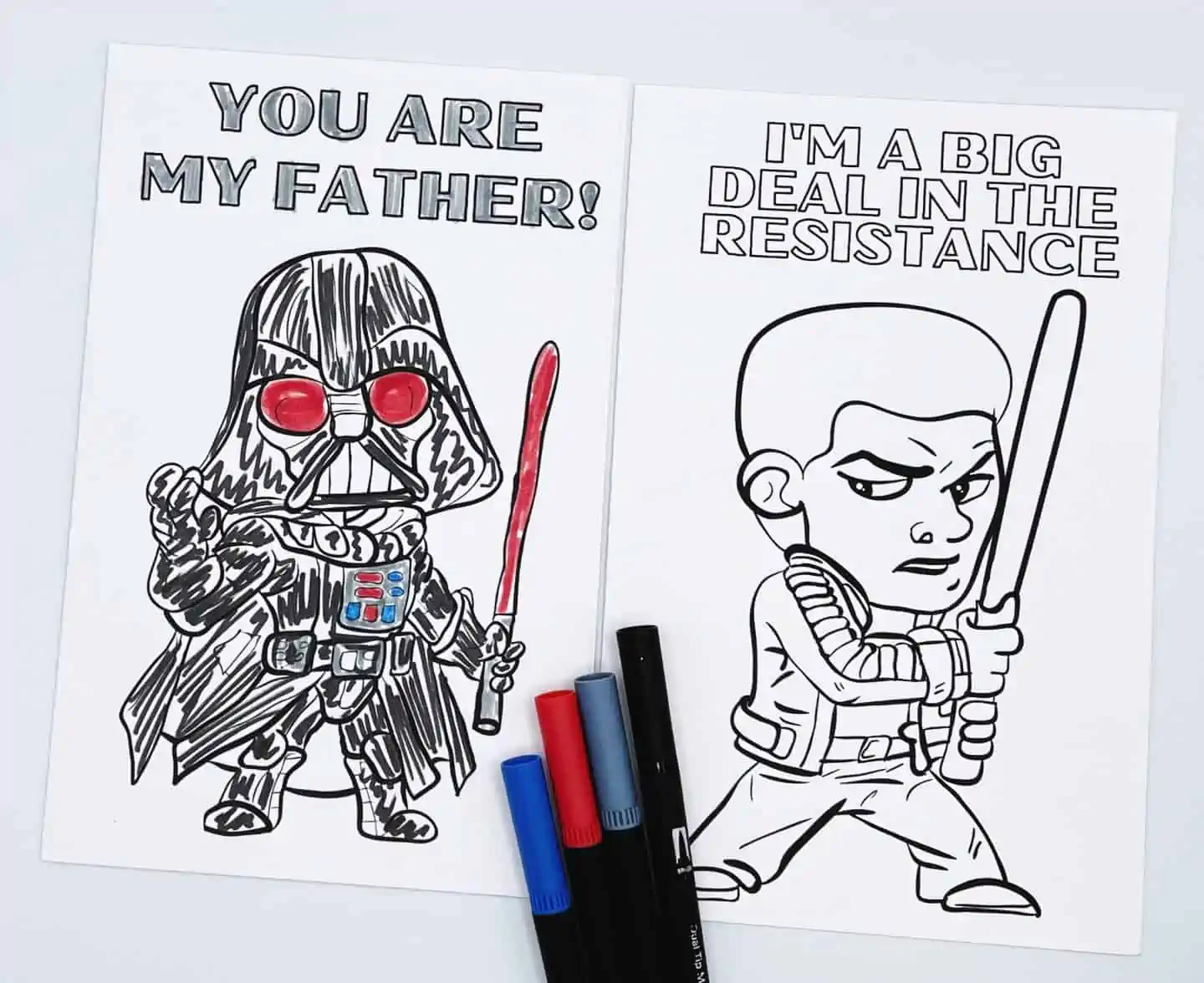 I'm a big deal in the resistance
Let the vibrant hues of your imagination shine as you bring life to this card. It's a witty and light-hearted choice for boosting someone's spirits and reminding them of their unique importance.
Featuring a picture of Finn to color in.
I love you….. I know
Capture the romance of Han Solo and Princess Leia with this card, perfect for anniversaries, special occasions, or just expressing your feelings to that special someone in a nerdy and charming way.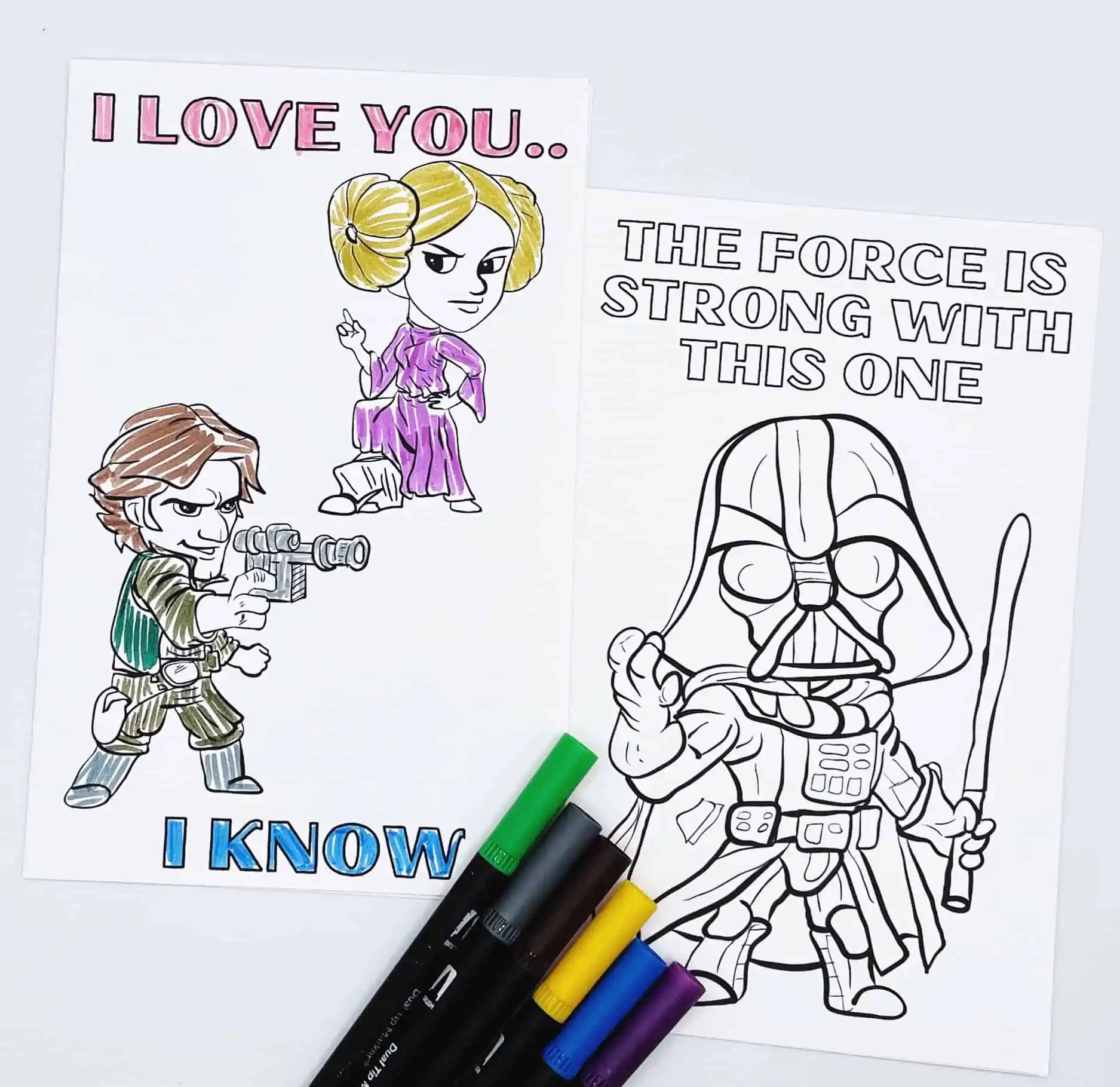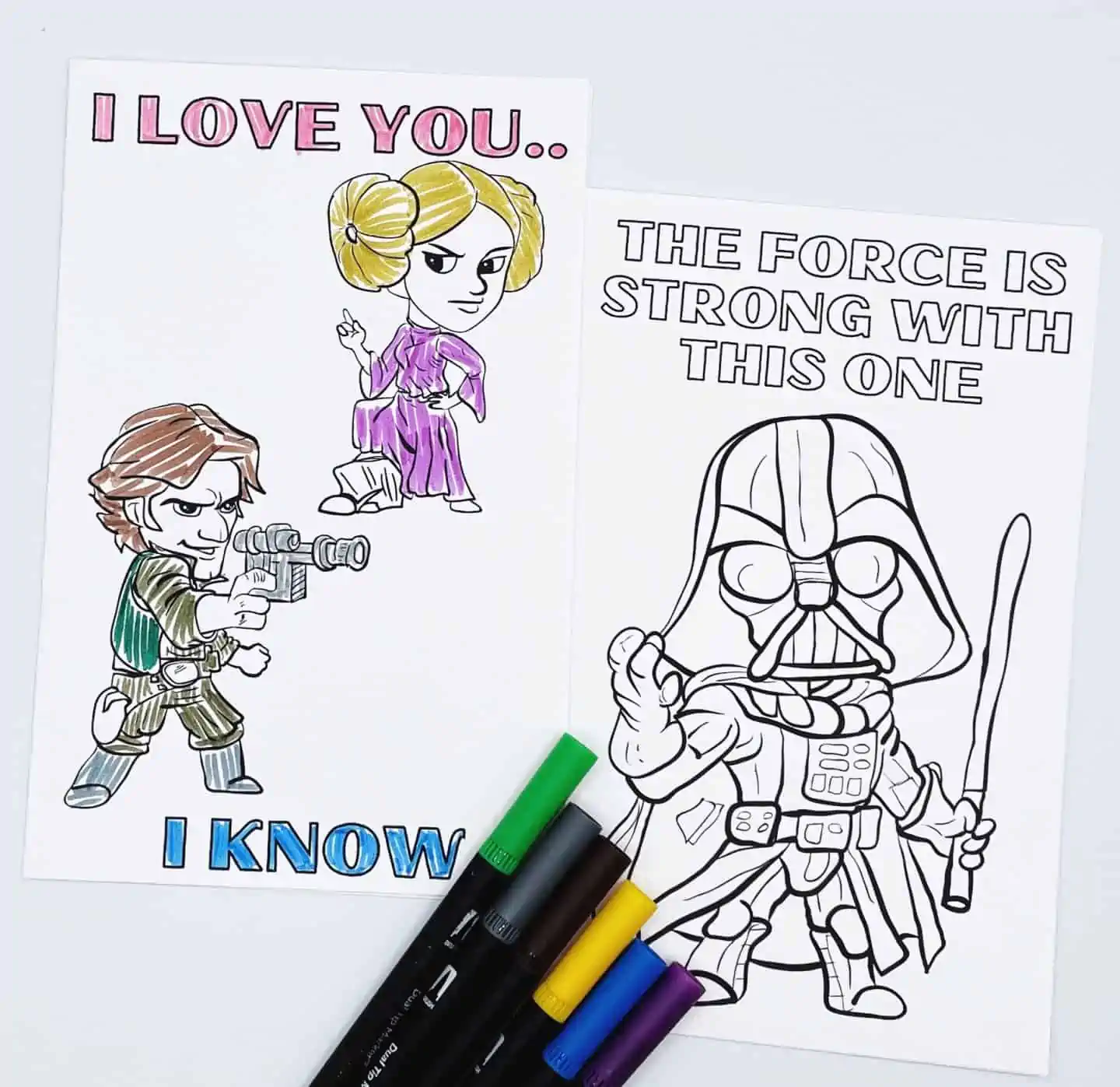 The force is strong with this one
Embrace the Force as you color this card, featuring an encouraging quote that celebrates someone's exceptional qualities and potential.
Hello there!
Transport yourself to the excitement of lightsaber duels and epic battles with this greeting card. Whether saying hello or acknowledging someone's daring spirit, this card is a standout choice.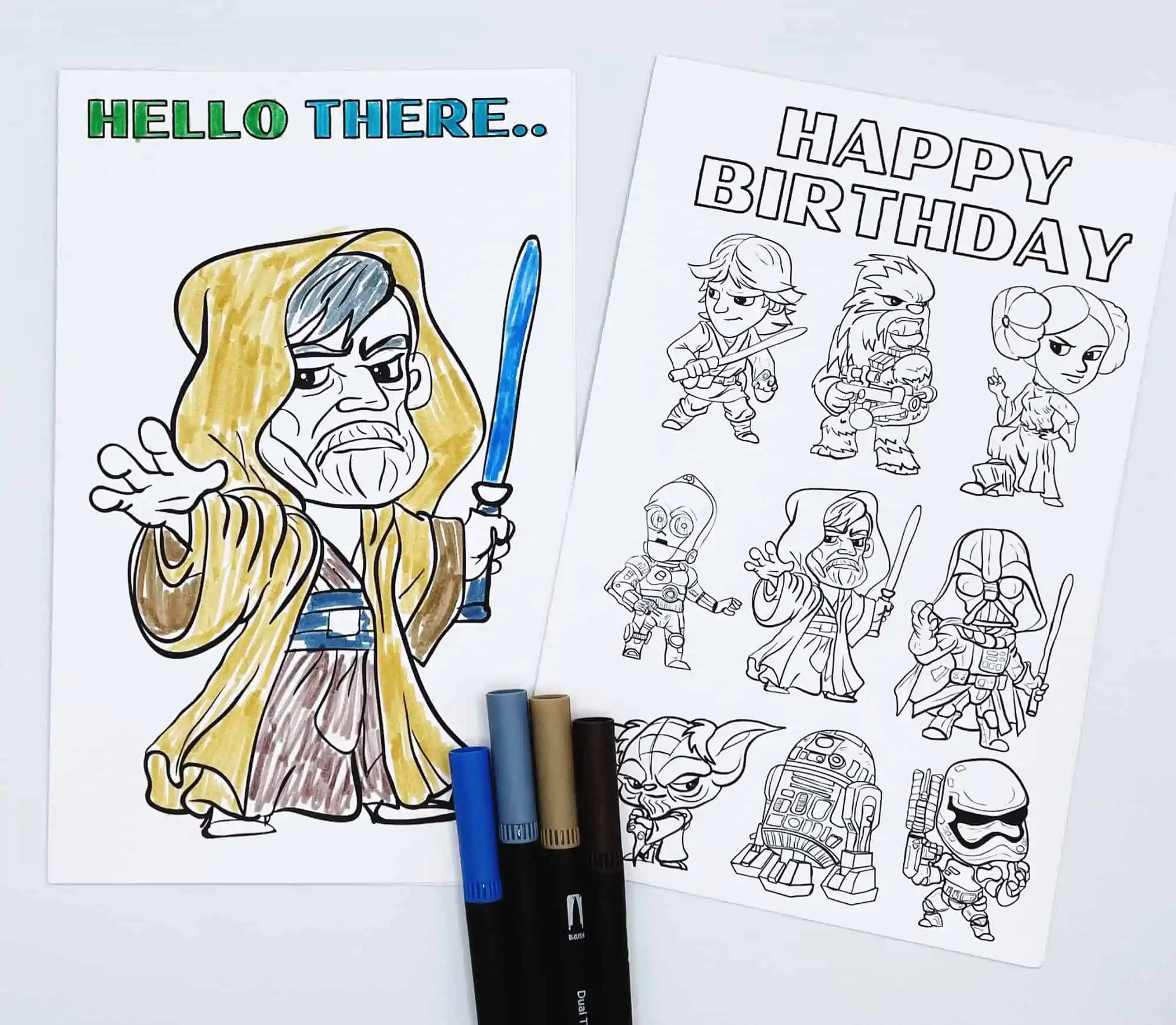 Star Wars birthday card printable
Give your artistic flair a birthday twist with this cheerful card. The Star Wars theme adds a dash of galactic flair to your heartfelt birthday wishes.
Featuring nine of the most popular Star Wars characters that can be colored in.
I'd just as soon kiss a Wookie
Playfully tease a friend or family member with this humorous card, inspired by the banter and camaraderie within the Star Wars universe.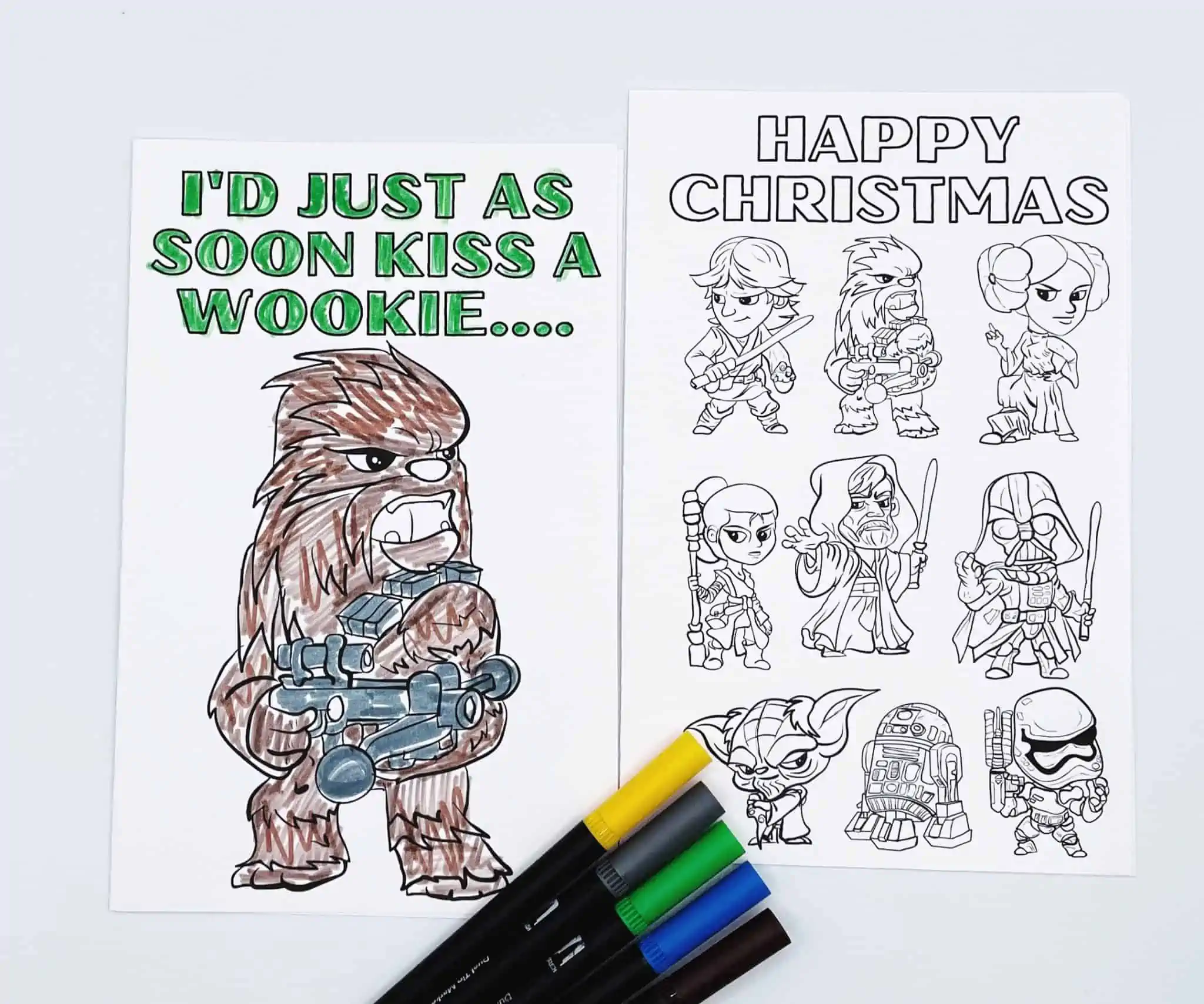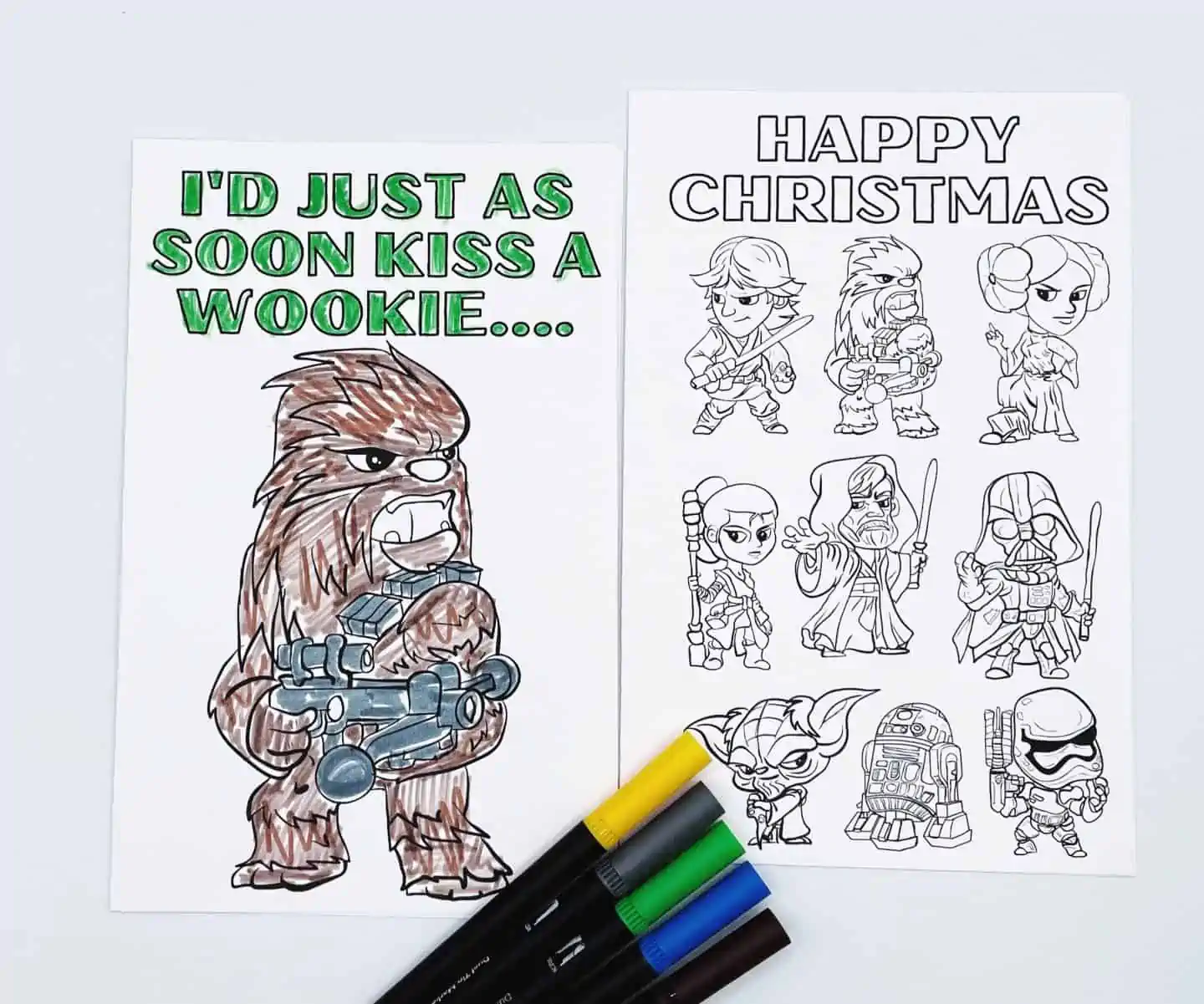 Free printable Star Wars Christmas cards
Embrace the holiday spirit with a Star Wars twist.
Color this festive card and spread Christmas cheer with a touch of interstellar charm. There are nine iconic Star Wars characters to color in.
How to Print out the Star Wars Printable Cards?
Are you ready to immerse yourself in the Star Wars universe while adding your creative touch to these charming printable cards? Follow these simple steps to bring these cards to life and share your love for all things Star Wars with your friends and family.
Start by downloading the free Star Wars coloring cards provided below. These cards are designed to capture the essence of the galaxy far, far away.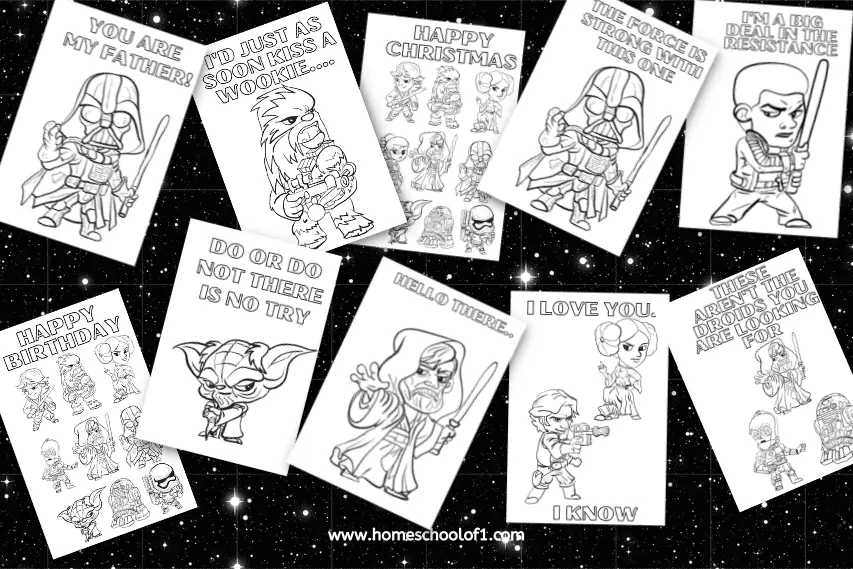 Print the cards on your preferred paper size. Our cards are optimally sized for letter-sized paper (11 x 8.5 inches) in landscape orientation. If you're using A4 paper, ensure that you select the "shrink to fit" option to maintain perfect proportions. While cardstock is recommended for a sturdier finish, regular printer paper will also work if that's what you have on hand.
Once you have your printed sheets, it's time to fold the cards in half. You'll notice that each card features an image on the back and the main design on the front. The reverse side of the cards holds special messages, such as "Hey, super dad," "balloon," "love," "happy birthday," "Christmas presents," or "BB8."
The inside of each card is intentionally left blank to allow for your personal message. Whether it's a heartfelt note, a witty quote, or an inside joke, this is your chance to make the card truly special.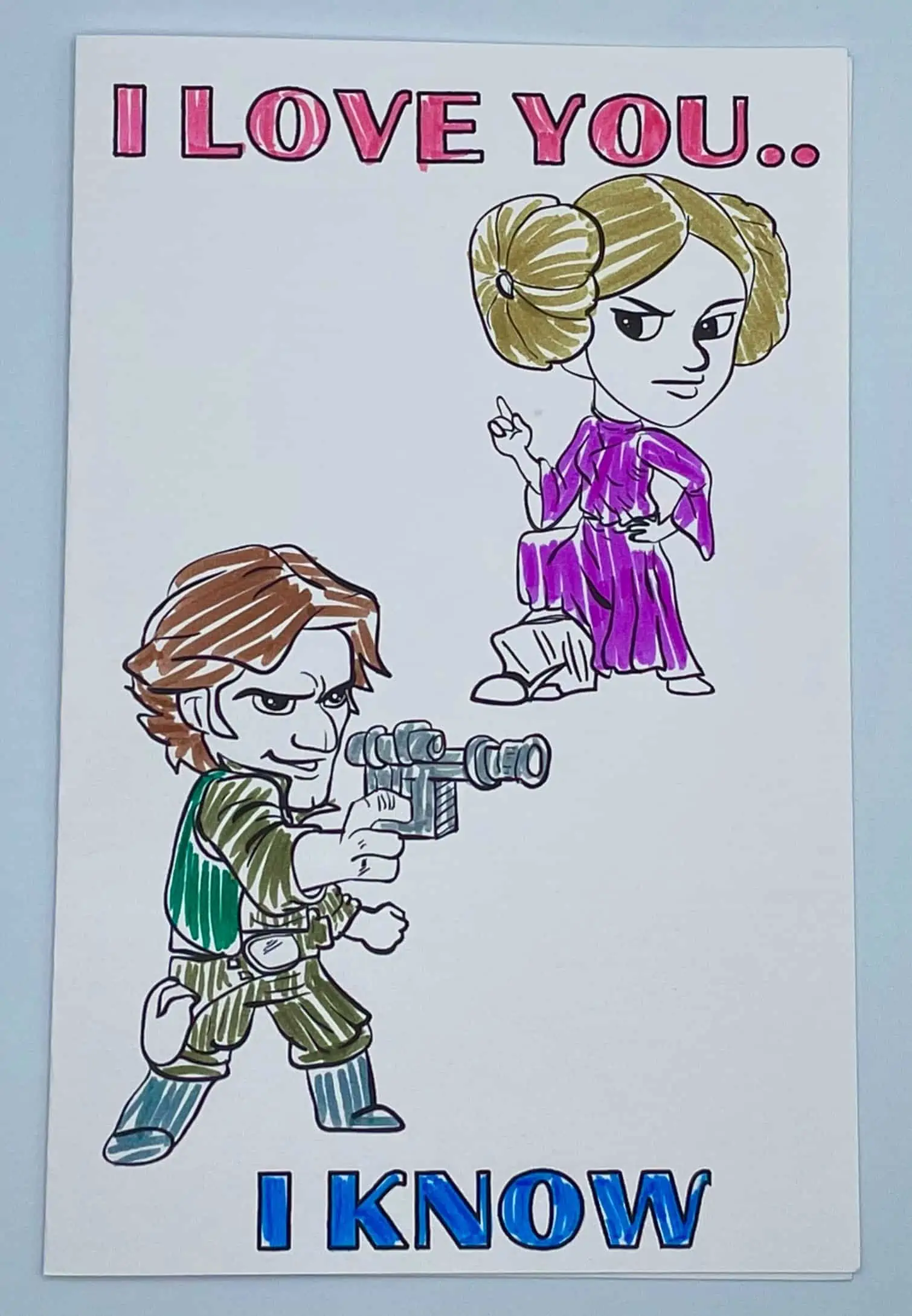 Unleash your creativity using coloring pens. For optimal results, consider using dual-tipped coloring pens, which offer a wide range of colors and precision for intricate designs. Let the characters, symbols, and quotes on the cards come to life with your unique color choices.
To complete the experience, choose envelopes that perfectly accommodate these Star Wars-themed cards. A9 envelopes are an ideal fit. Slide your masterpiece into the envelope, ready to be shared and cherished.
Star Wars Gifts
If you're on a quest to find the perfect gifts for the Star Wars aficionados in your life, look no further. Our carefully curated list of top 5 Star Wars gifts is sure to delight fans of all ages and immerse them further into the captivating galaxy we all know and love.
Free Star Wars Printables
Explore a galaxy far, far away with our exciting collection of free Star Wars activities! Whether you're a Jedi Master, a Sith Lord, or just a Star Wars enthusiast, these activities are sure to delight fans of all ages.
Embark on an epic Star Wars scavenger hunt. Follow the clues and uncover hidden secrets along the way. May the Force be with you as you journey through this thrilling adventure!
Calling all Padawans and Sith apprentices! Download our Star Wars word search free printable and dive into the world of letters and words. Hunt for 15 carefully concealed Star Wars terms, including names of beloved characters, starships, and planets. This engaging word search isn't just a game – it's a fantastic way to boost vocabulary and have fun at the same time.
The Force is strong with this one – our free Star Wars memory game printable will put your Jedi memory skills to the test! Flip over cards featuring various characters, and try to match pairs in the least number of moves possible. This classic memory game is adorned with the faces of iconic heroes and villains, making it an exciting challenge for kids and adults alike.
Tips for downloading the free files
Below you will see a large sign-up box where you need to add your name and email address, and press I NEED THIS NOW!
Within minutes you will be sent the free PDF directly to your email address, so you can print it out and start using it immediately.
Sometimes emails get a little wonky, so if you can't see it, please check your spam folder where I am sure it is hiding.
Download the Star Wars Printable Cards for free
Make sure you choose the correct paper size and click on the shrink to fit button. All of our free printables for kids work better when printed on cardstock (this is the one we use and love.)
Additional free coloring cards
For even more free coloring cards check out these popular posts:
Last Updated on 25 November 2023 by homeschoolof1