5 Free Printable Mother's Day Coloring Cards
These Mother's Day coloring cards are a perfect way to treat mom this year.
There is nothing better than receiving a homemade Mother's Day card the kids have made. In fact, I have kept every single note (never mind card) that my son has given me over the years.
There are 5 different Mother's Day printables to choose from, from a very simple design for younger children to a slightly more detailed one.
When you print the cute Mother's Day cards you will see there is a Happy Mother's Day symbol on the back of each card just for that extra touch. The inside of the card is left blank for the kids to write a special message to Mom.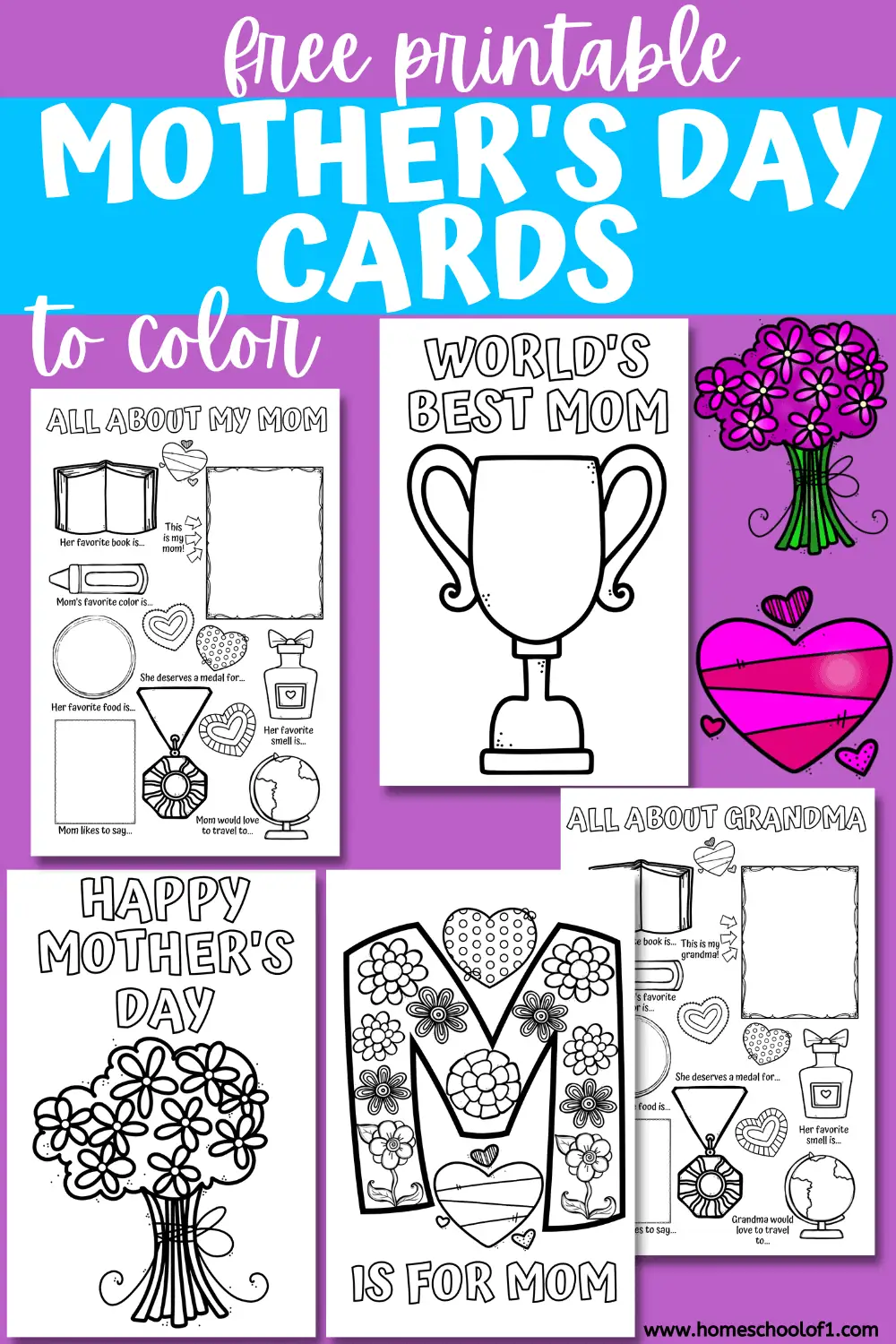 **There may be affiliate links in this post. You can read my full disclosure at the bottom of the page.**
Printable Mother's Day Cards to Color
Download the free printable cards below, if the email doesn't come through within 5 minutes please check your junk folder.
These free printable Mother's Day cards are free to print but are for personal use or classroom use only. Scroll to the bottom of the post to get the pdf file.
These cards can be colored either in pen, coloring pencils, crayons, or just grab your art supplies and use a mix! They definitely look better if printed on white cardstock but plain printer paper will be just as special. It is the thought that counts.
There are 5 different designs to choose from and are great for kids of all ages. Just print out the one you want, fold it in half, and get coloring. They will print out on 1 full standard letter size page.
A homemade card is so much better than an expensive store-bought card. You can spend the money on a Mother's Day gift instead!
The Night Before Mother's Day
I Love You, Mom (Daniel Tiger's Neighborhood)
Knock Knock What I Love about Mom Fill
Birthday Gifts for Mom – Engraved Acrylic Block
Printable Mothers Day Cards
The five designs to choose from are:
M is for mom with flowers in the capital letter M, with 2 hearts on the front of the card.
With all of these homemade Mothers Day cards the back of the card has a Happy Mother's Day message.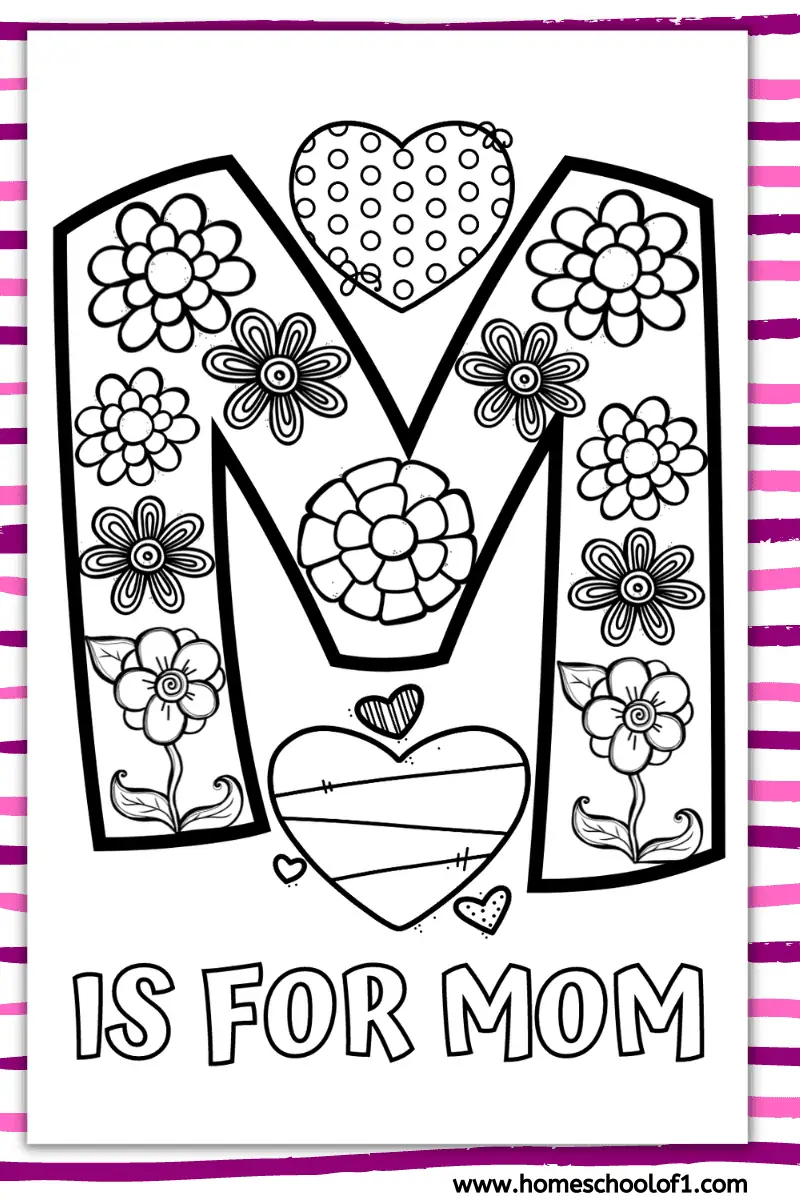 Happy Mother's Day with a bouquet of flowers to color in mom's favorite colors.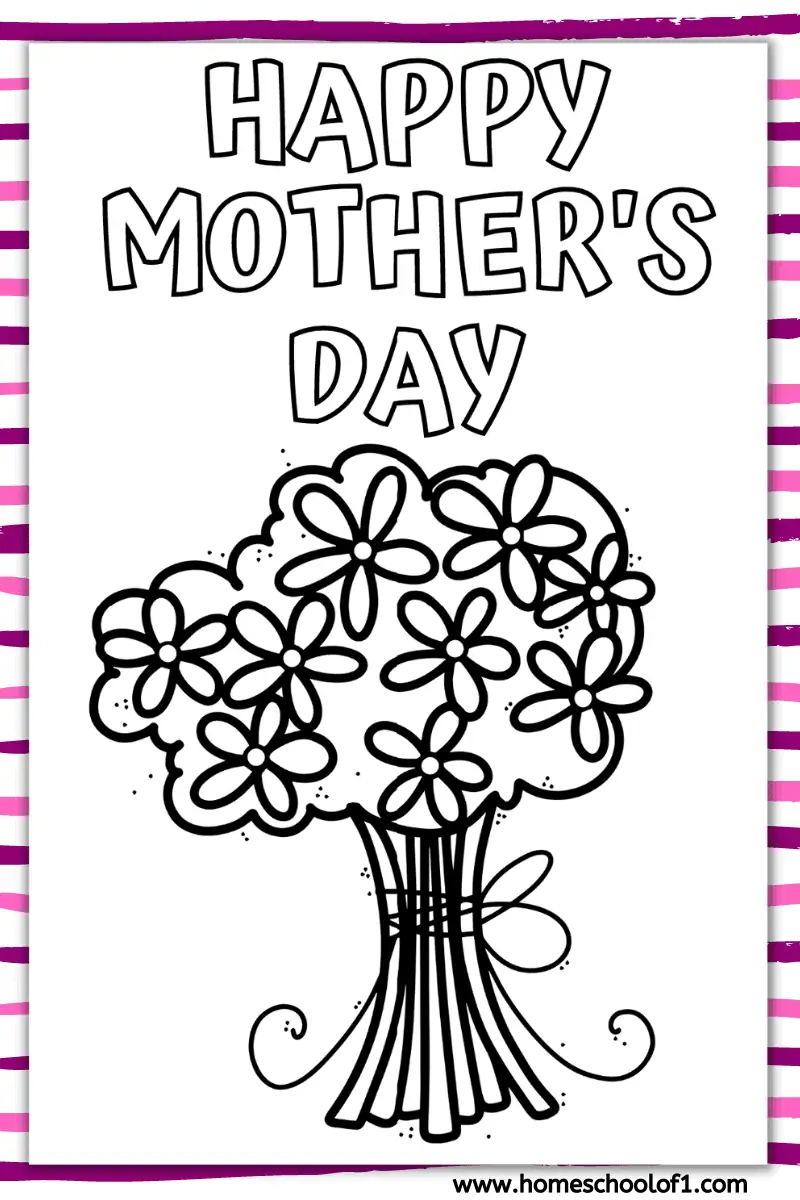 All about my mom Mother's Day card, and I haven't left grandma out!
You can download the full-size all about my mom printable if you prefer.
As you can see below, the back of each of the cards has a Happy Mother's Day note for that extra special touch.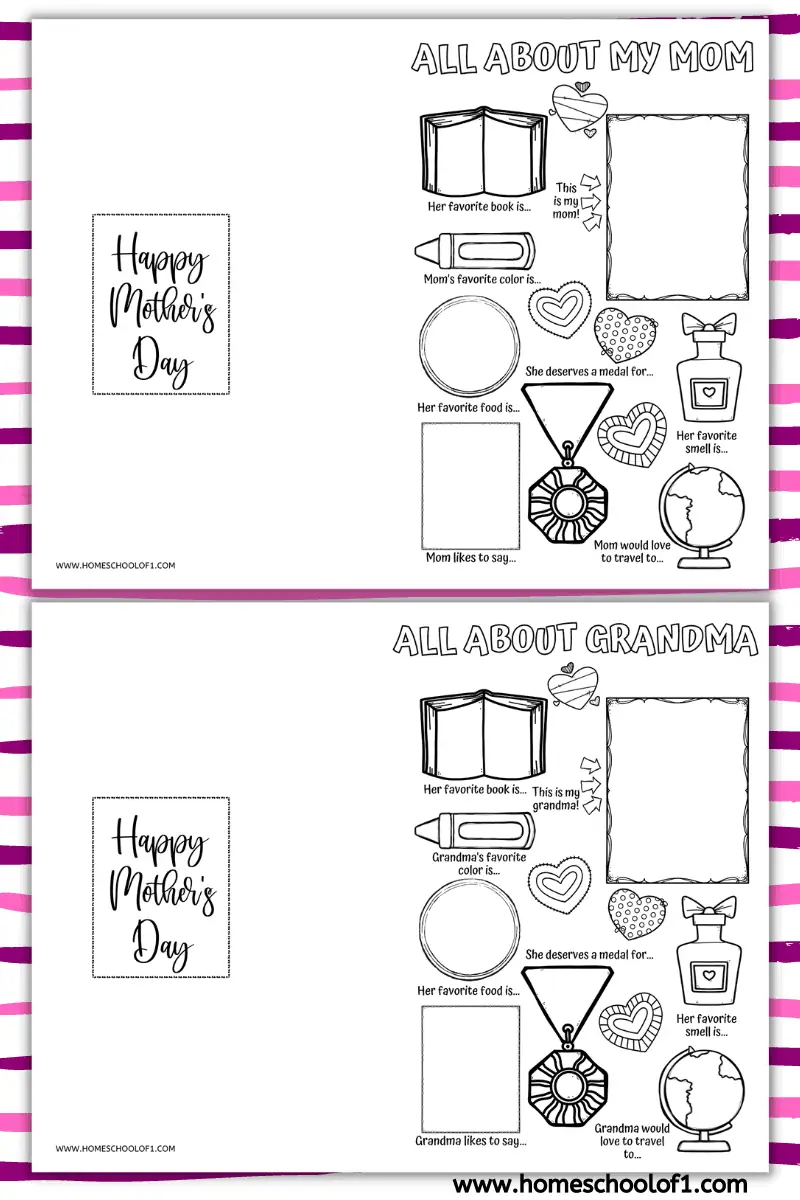 World's best mom Mother's Day card. The kids can just color it in, or they can write on the trophy all of the ways that make her the best mom ever.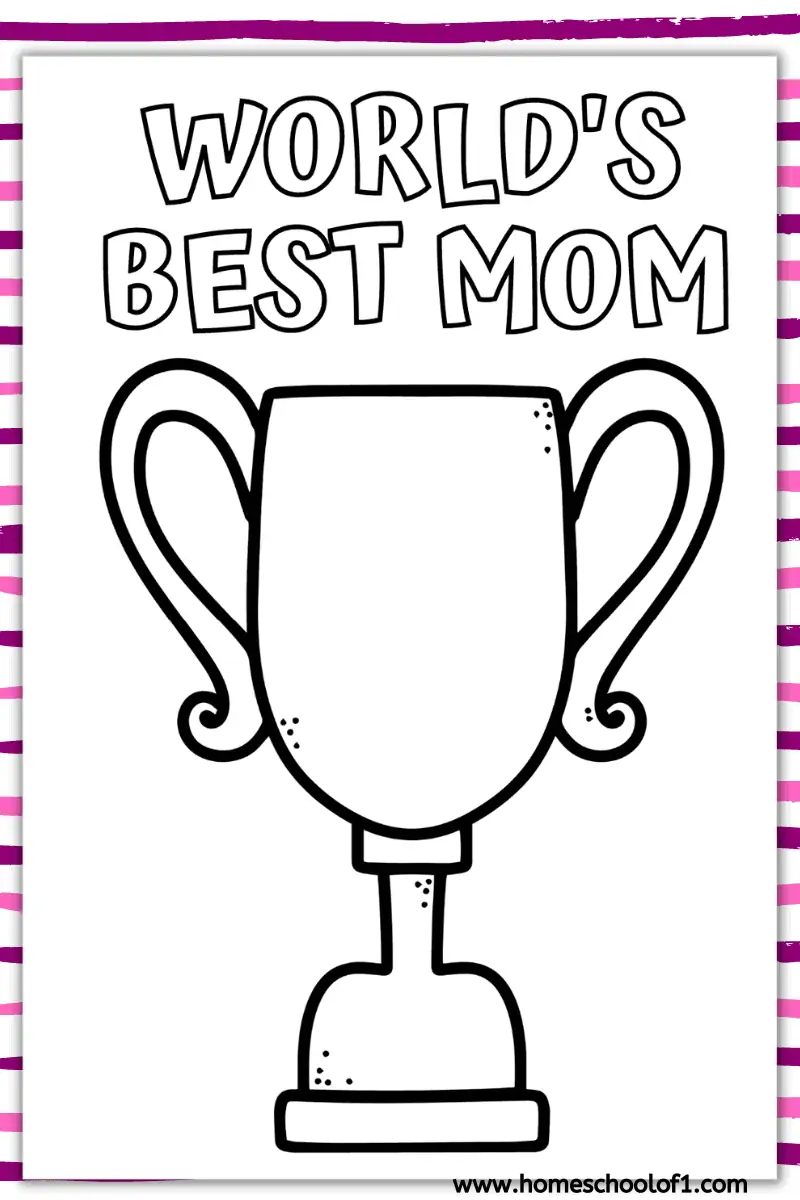 For younger children why not also create a wonderful Mother's Day handprint craft?
Other Mother's Day ideas:
Are you struggling to find the perfect gift? If so don't worry check out over 17 of the best Mother's Day gifts for busy moms. Or why not treat mom to some mother and daughter matching outfits?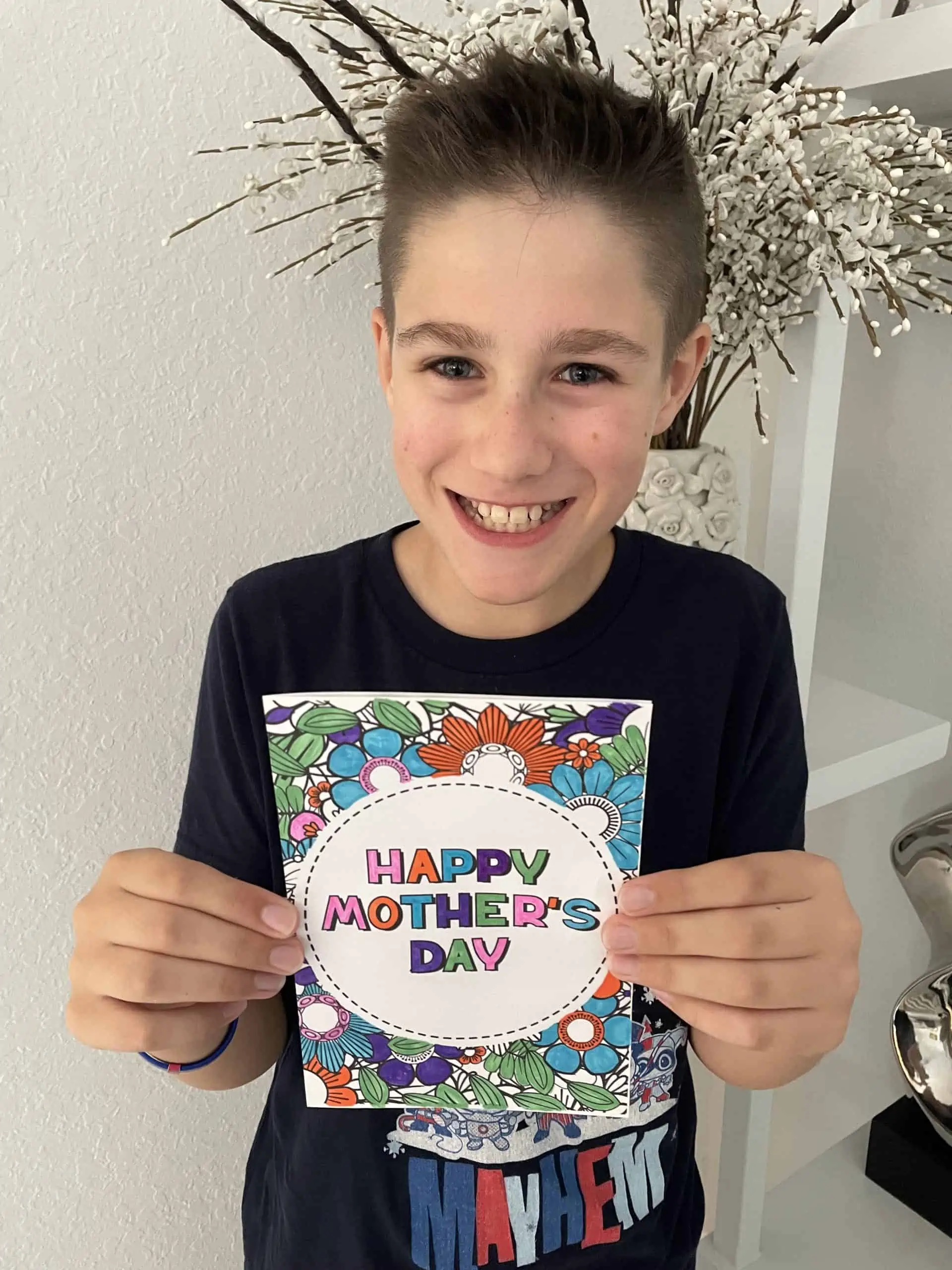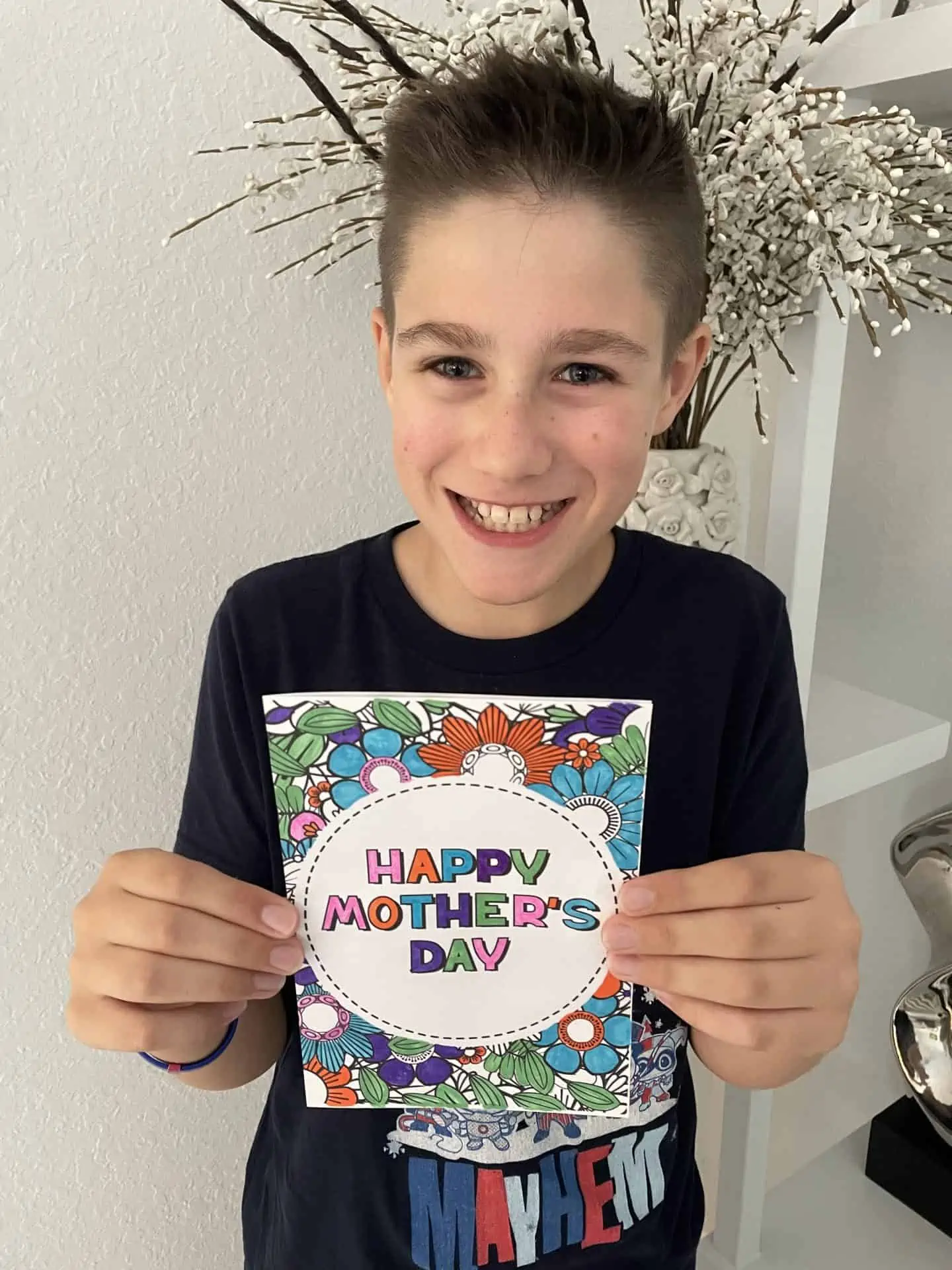 When the kids have colored in their favorite printable Mother's Day card, then maybe they can continue to color inside the card too.
If you are looking for something for grandma too to show your appreciation check out our free grandparents day printables.
What to Write Inside a Mother's Day Card?
I am probably the worst card-giver in the world. All I write is To, Mom, Happy Mother's Day, love Clare! I do this for everything (well change the greeting, but you know what I mean!).
So I thought I would help out the dads (as I am sure I am not the only one with this problem!) and give you the best heartfelt Mother's Day message the kids could write inside the card.
There are many things that kids can write inside a Mother's Day card to show their love and appreciation for their mom. Here are some ideas:
Thank you for always being there for me, Mom. I love you so much!
Happy Mother's Day to the best mom in the world! You are my superhero.
You are the most amazing mom anyone could ever have. Thank you for everything you do for me.
I am so grateful to have you as my mom. You are my role model and my best friend.
You are the sunshine in my life, Mom. I love you more than words can express.
You make every day brighter with your love and your smile. Happy Mother's Day, Mom!
You are the glue that holds our family together. Thank you for all that you do.
You have the biggest heart of anyone I know. Happy Mother's Day, Mom!
I am so lucky to have a mom like you. You inspire me to be my best self every day.
You are the queen of our family, Mom. Happy Mother's Day to the most amazing mom in the world!
Mom, you are my favorite (haha, sorry this is an inside joke we have in our home, but as a mom, this one would be my favorite message!)
Even more free coloring cards:
Download the free printable Mother's Day cards to color
Make sure you choose the correct paper size and click on the shrink to fit button. All of our free printables for kids work better when printed on cardstock (this is the one we use and love.)
Last Updated on 21 September 2023 by homeschoolof1