Free Halloween Bingo Printable Cards
These Halloween bingo printable cards are a perfect addition to your Halloween activities for kids. Whether played at school or right before heading out for trick-or-treating, this game promises endless fun.
Tailored with younger children in mind, these cute Halloween bingo boards are not only visually appealing but also adaptable for older kids. By providing multiple boards to play with at once, the game's complexity can easily be adjusted to suit various age groups, ensuring everyone has a blast.
Playing bingo is a timeless delight that brings back fond childhood memories and offers an easy yet engaging way to bond with friends and family. Our free Halloween bingo game reinvents this classic activity with a spooky flair, making it a fantastic addition to your Halloween festivities.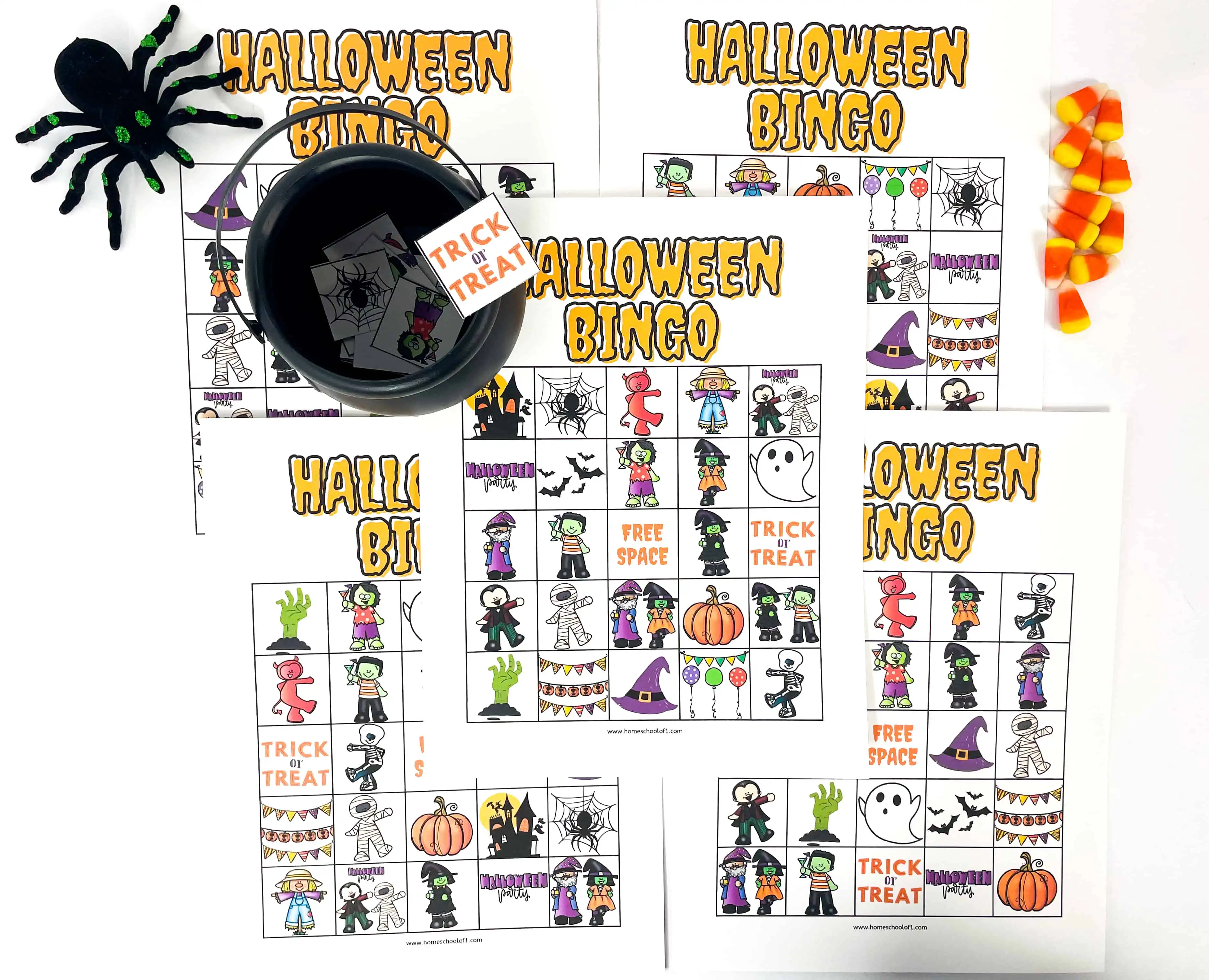 **There may be affiliate links in this post. You can read my full disclosure at the bottom of the page.**
Bingo Halloween games for preschoolers
Halloween bingo is an excellent choice for preschoolers during the spooky season. It combines the excitement of Halloween with the classic game of bingo, making it a fun and educational activity for young children.
Here's everything you need to know to set up and play Halloween bingo with preschoolers:
Our Halloween bingo printable cards are specifically designed with preschoolers in mind. The cards feature colorful and kid-friendly Halloween images, making them visually appealing and easy for young children to understand.
To keep the game engaging, we provide a set of 5 different free printable bingo cards. Each board contains a unique arrangement of Halloween images. This variety ensures that children won't get bored easily and can play multiple rounds with excitement.
Preschoolers may find it challenging to use traditional bingo markers or pens. To make the game more accessible, consider using dot markers, which are perfect for tiny hands. These markers not only make marking the cards easier but also add a tactile element to the game that young children enjoy. Or my favorite candy corn!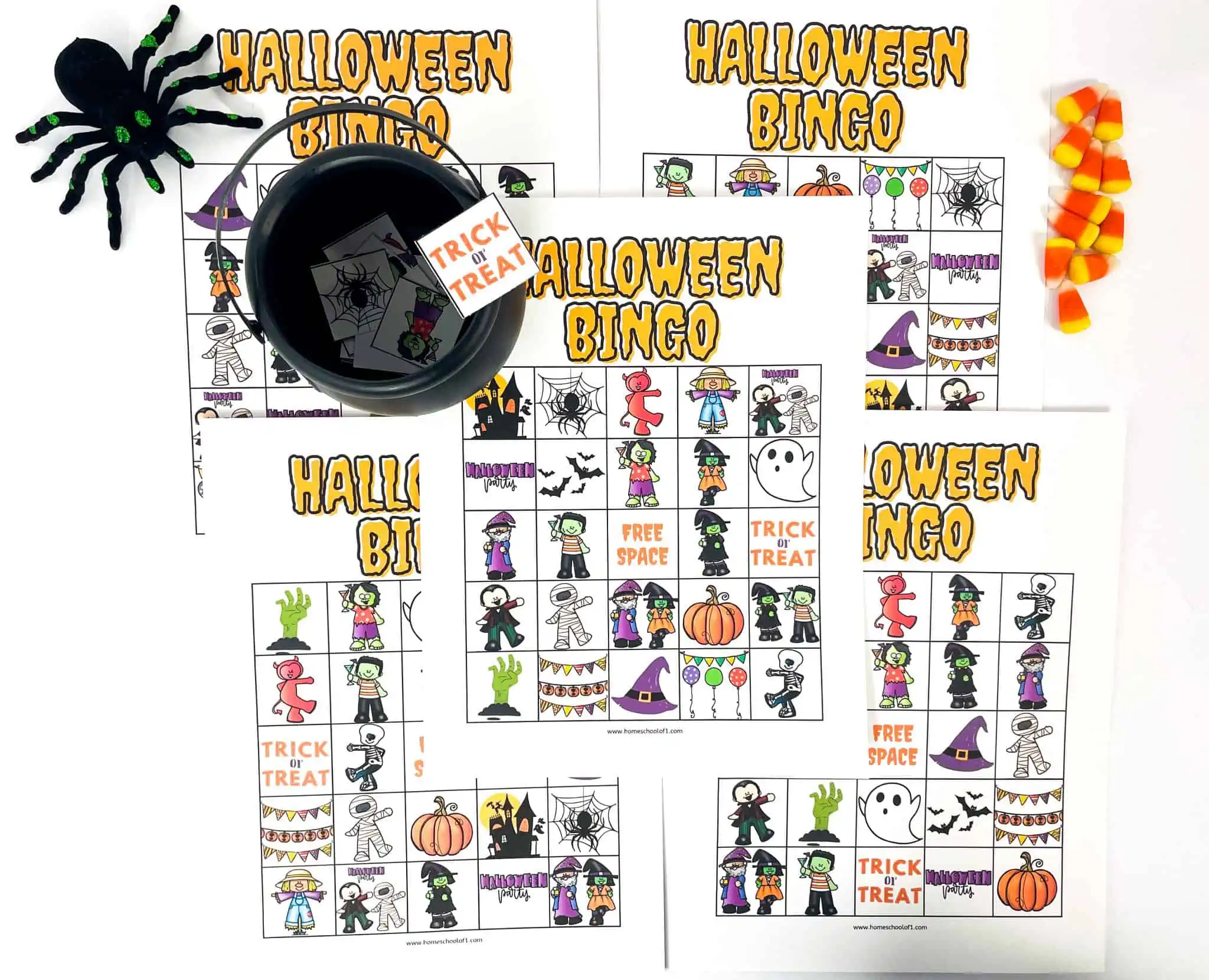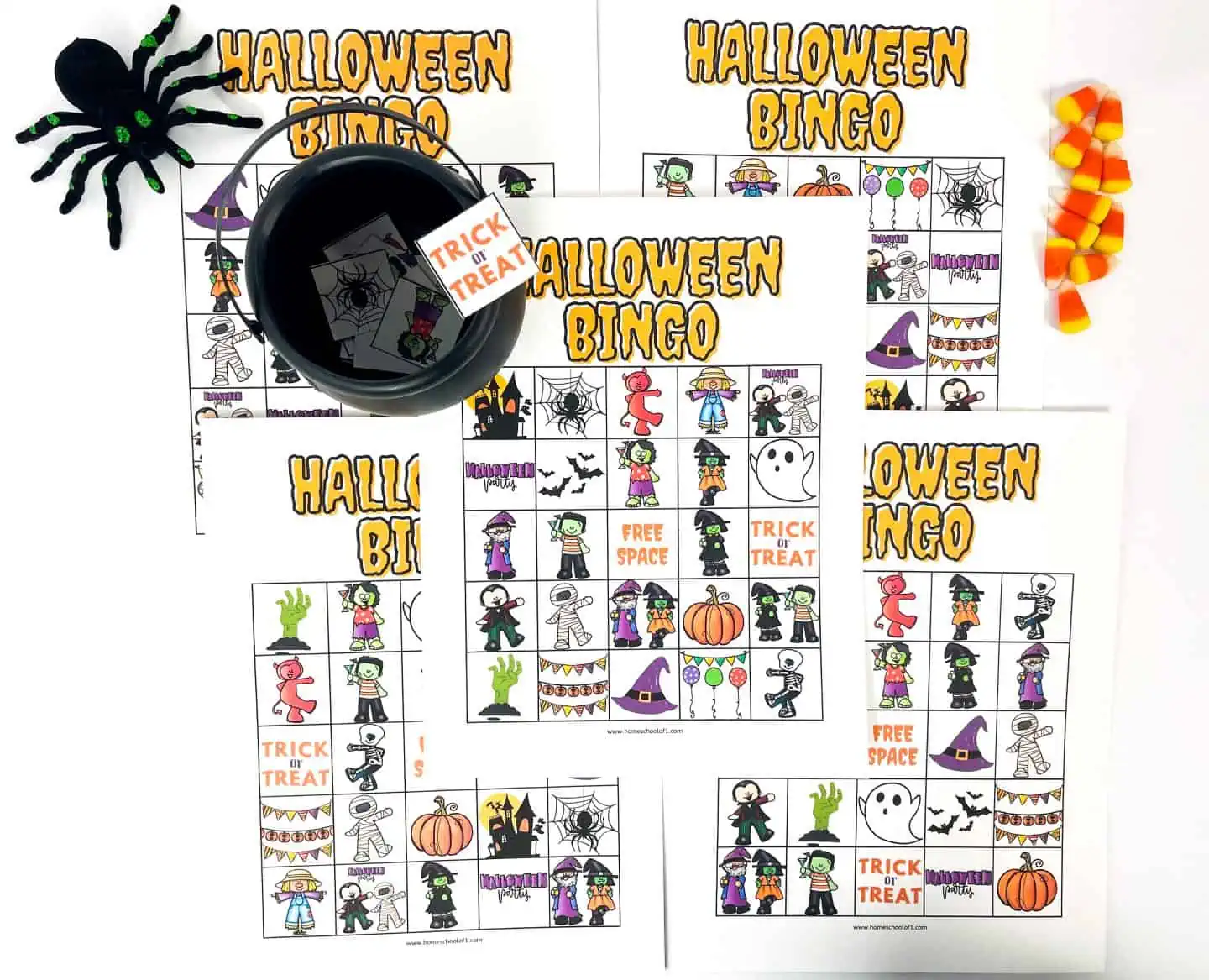 Halloween bingo is easy for preschoolers to understand. The rules are straightforward: they need to match the called-out Halloween image on their bingo board and aim to get five in a row either horizontally, vertically, or diagonally.
The center "FREE" space is available to use if needed, making it even simpler for young kids.
Have fun with the free fall bingo printable too!
Educational benefits of playing Halloween bingo
Beyond the entertainment, Halloween bingo offers valuable learning opportunities. As children mark their cards and eagerly shout "BINGO" when they win, they are enhancing their cognitive skills such as observation, concentration, and cooperation. Plus, it's a fantastic way to create cherished fun Halloween memories.
The first child to complete five in a row and shout "BINGO" is declared the winner. Watching the excitement on their faces as they achieve this goal is a delightful experience for parents and educators alike.
With five different bingo boards and the possibility of changing the arrangement of calling cards, Halloween bingo remains fresh and exciting even after multiple rounds. This makes it a perfect activity for Halloween parties, classroom celebrations, or family gatherings.
Halloween bingo offers a blend of fun and education, making it a fantastic choice for preschoolers. It not only reinforces their familiarity with Halloween-themed images but also encourages social interaction and healthy competition.
Incorporating Halloween bingo into your preschooler's Halloween activities is a surefire way to add excitement and educational value to the holiday. So, print out the bingo cards, grab some dot markers, and get ready for a spooktacular game that your little ones will absolutely adore.
Have fun with free printable Thanksgiving bingo cards too!
Printing Tips for Our Free Halloween Worksheets
Before you hit that print button for our free Halloween worksheets, here are some essential printing tips to ensure that you get the best results:
It's crucial to select the correct paper size to match the Halloween worksheets you intend to print. Most of our worksheets are designed for standard letter-sized paper (8.5 x 11 inches). Be sure to check the paper size setting in your printer's settings to avoid any cropping or resizing issues.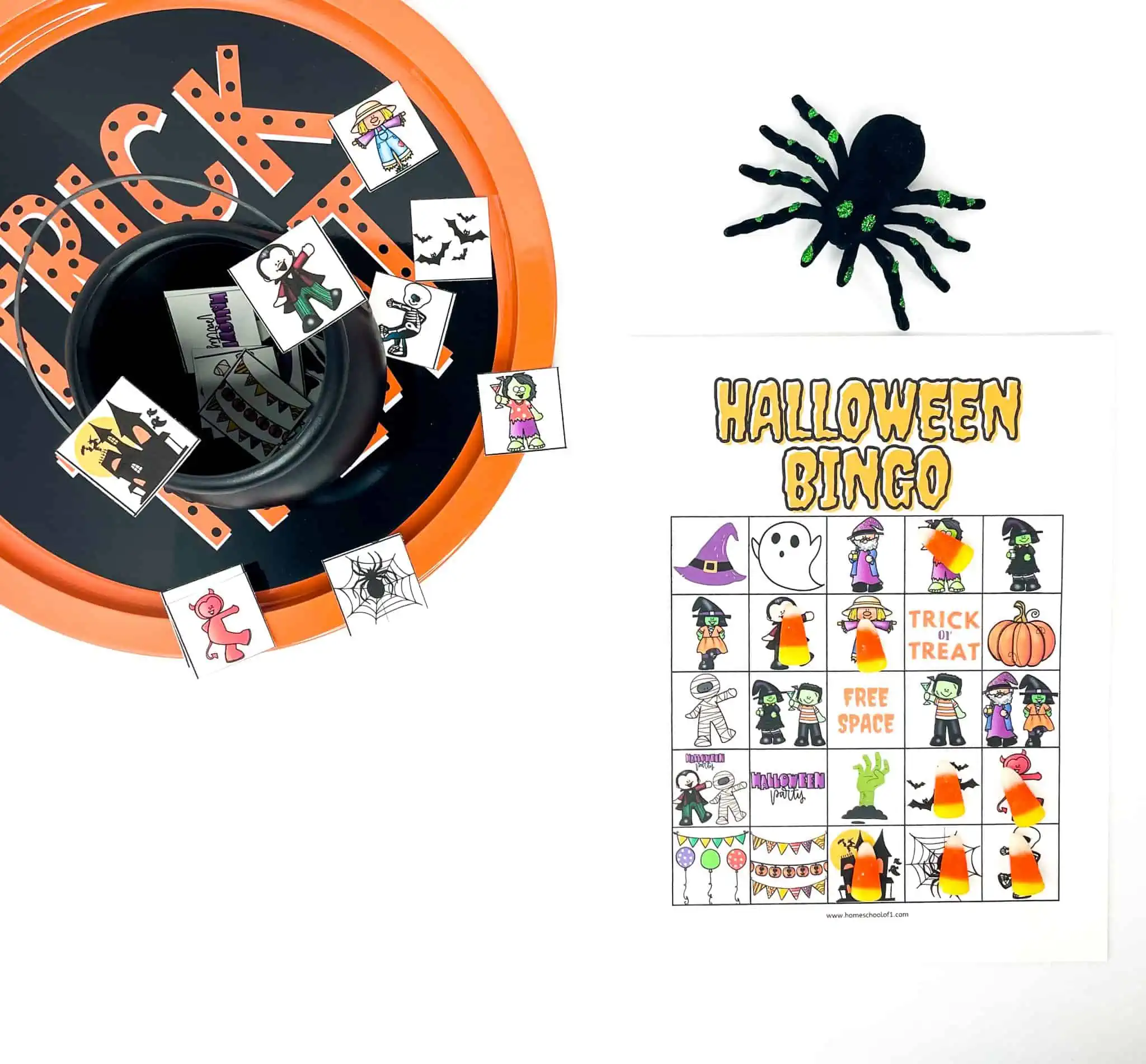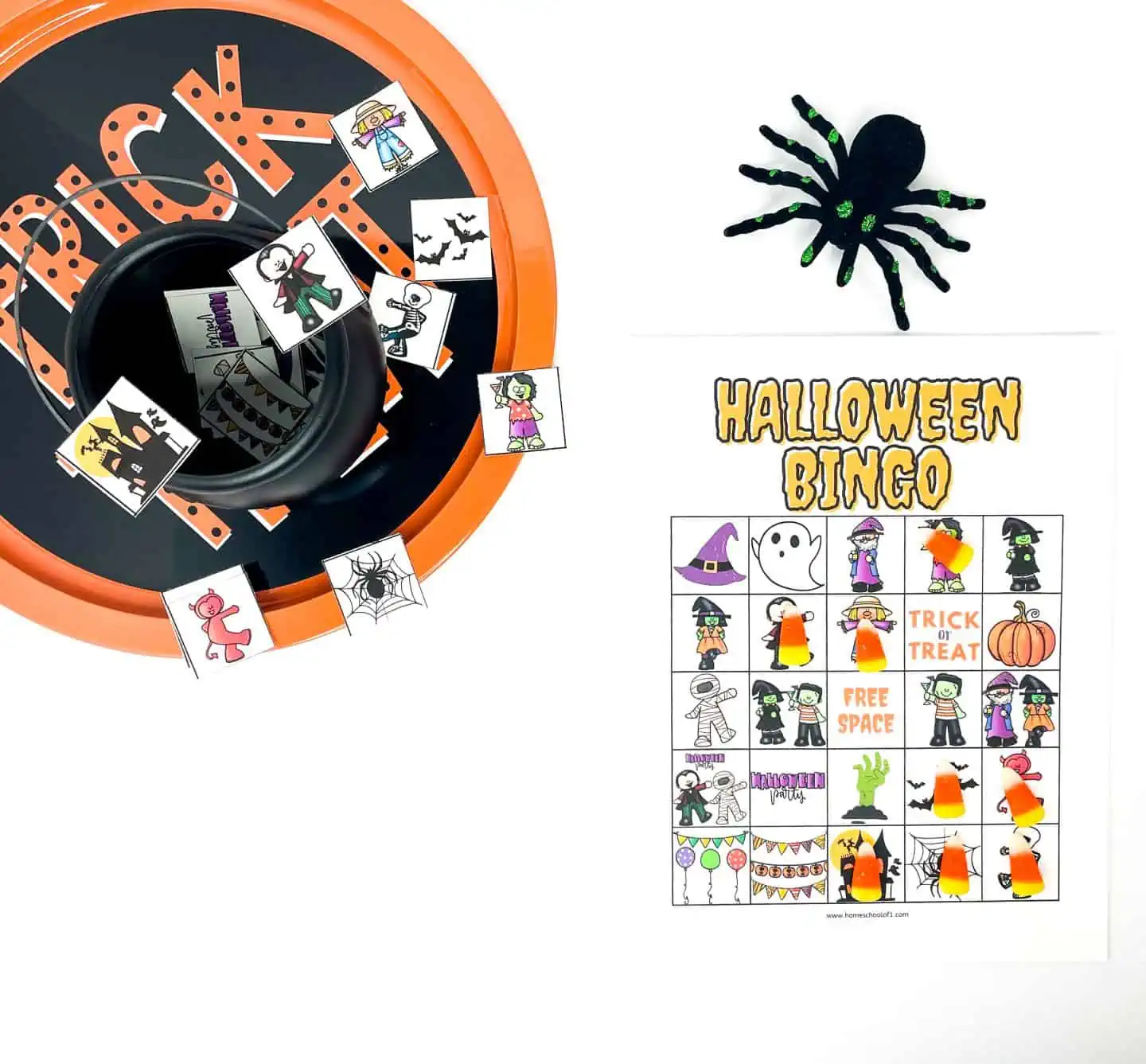 While you can use regular printer paper, we recommend using cardstock for a better printing experience. Cardstock is thicker and more durable, making the worksheets feel more substantial and allowing them to withstand handling by kids. It also prevents ink bleed-through, ensuring that both sides of the paper remain pristine.
Access your printer's settings menu to make adjustments as needed. You may want to select the "High Quality" or "Photo" printing mode to ensure sharp and vibrant images.
To prolong the life of the worksheets and enable their reuse in the future, consider laminating them. A laminator helps protect the pages from spills, tears, and general wear and tear, making them suitable for classroom settings or multiple uses at home.
Have fun with Halloween color by number free printables too!
How to play Halloween bingo with younger children?
Playing Halloween bingo with younger children not only promises hours of entertainment. But also offers valuable opportunities for fostering learning through observation, concentration, and cooperation.
Begin by gathering all the necessary materials, including the Halloween bingo cards and a set of calling cards. Ensure you have enough bingo boards for each child to have one.
Get together the dot markers or candy corn. Cut out the calling cards.
Hand out one bingo board to each child. Our Halloween bingo printable includes a set of 5 different boards.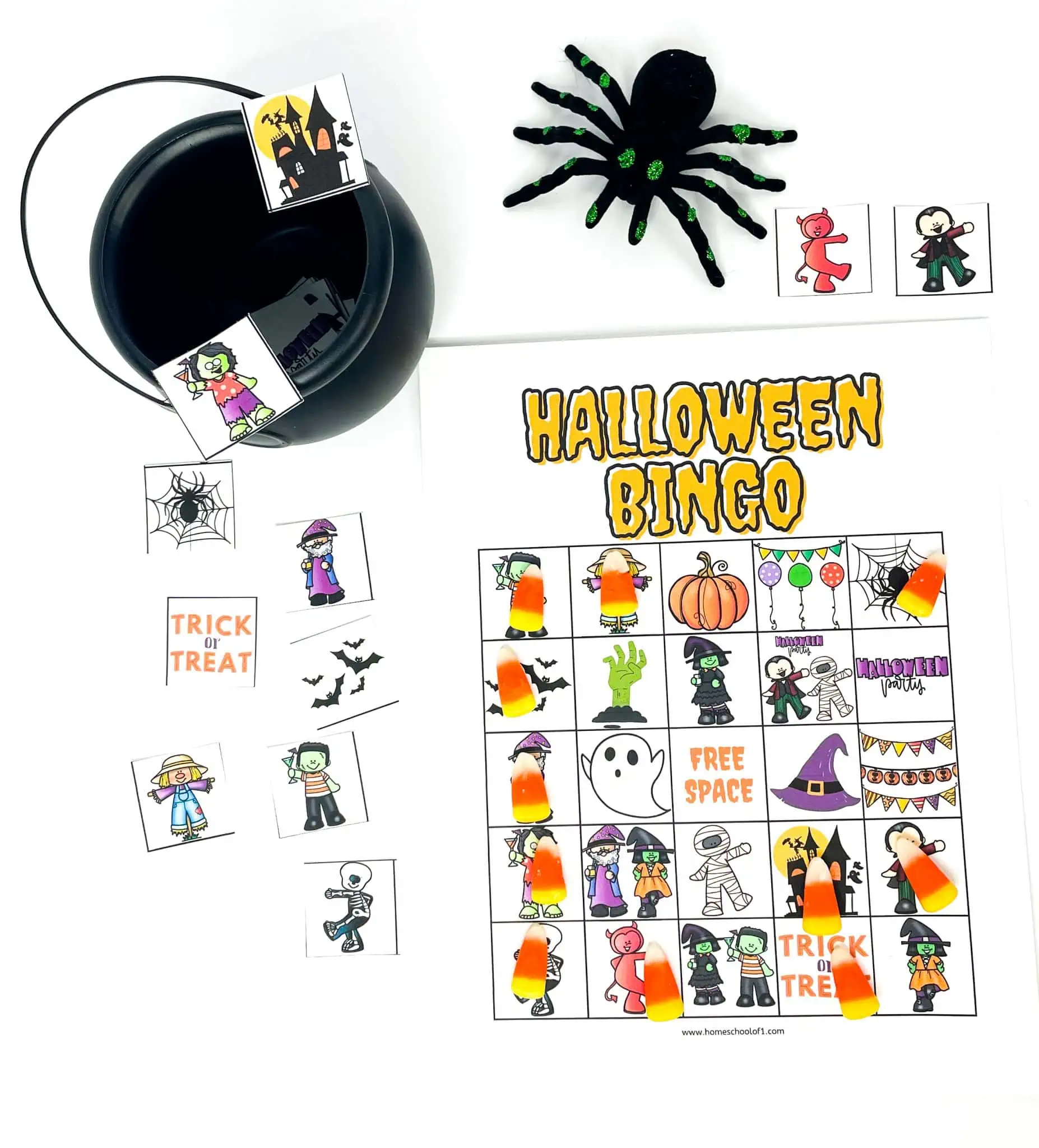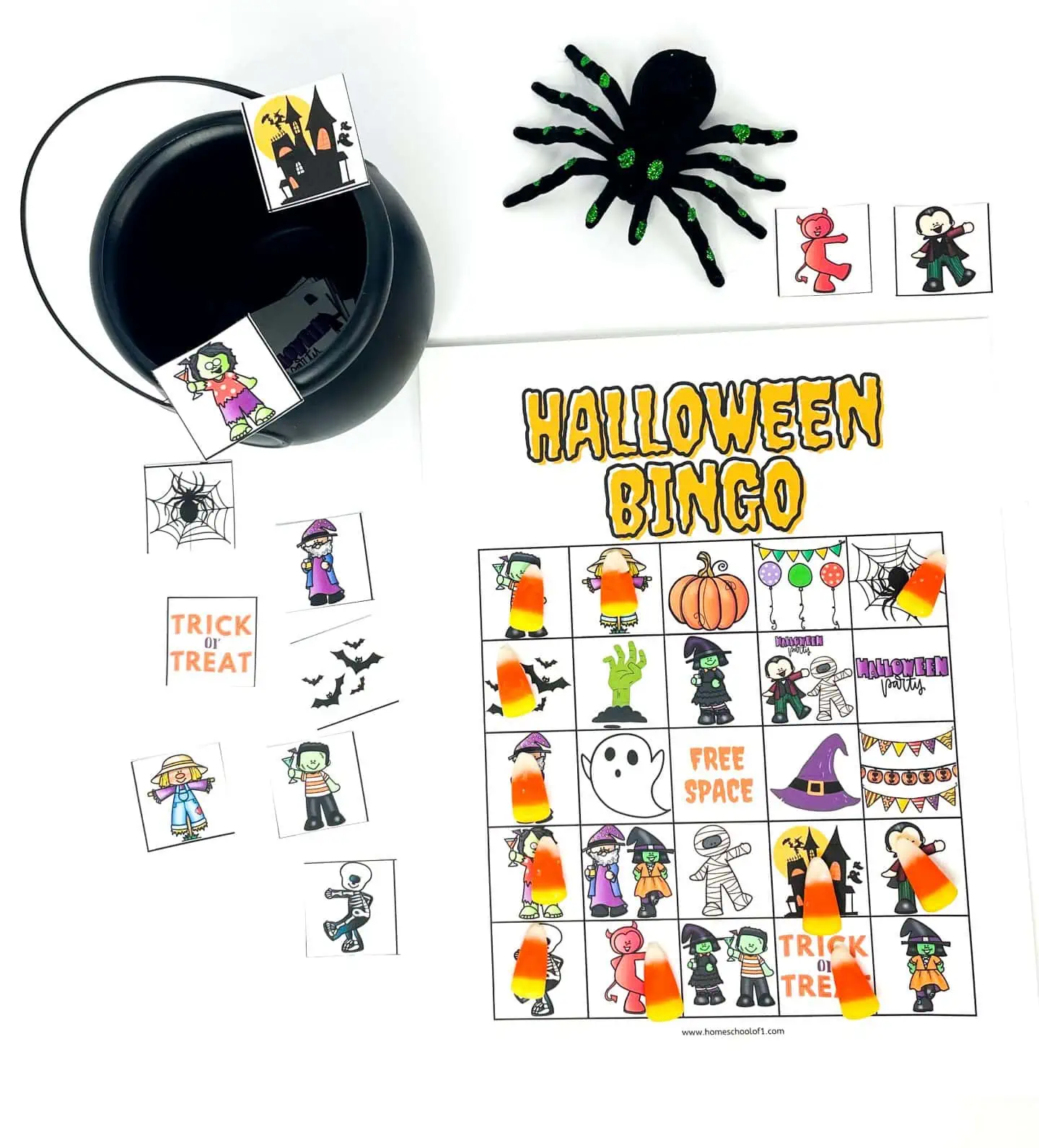 Take a moment to explain the rules of the game to the children. Emphasize that the goal is to be the first to complete a row of 5 images, either horizontally, vertically, or diagonally.
Mention the "FREE" space in the center of the board, which can be used to help complete a winning row.
Shuffle the calling cards and place them in a container, such as a small cauldron!
As the game host, pick out one calling card at a time and describe the Halloween image on it.
Encourage the children to check their bingo boards for that specific image.
Children can mark their boards by placing a dot marker or a piece of candy corn. This process reinforces visual recognition and fine motor skills.
Continue drawing calling cards and describing the images until one child completes a row of 5 images and shouts, "BINGO!"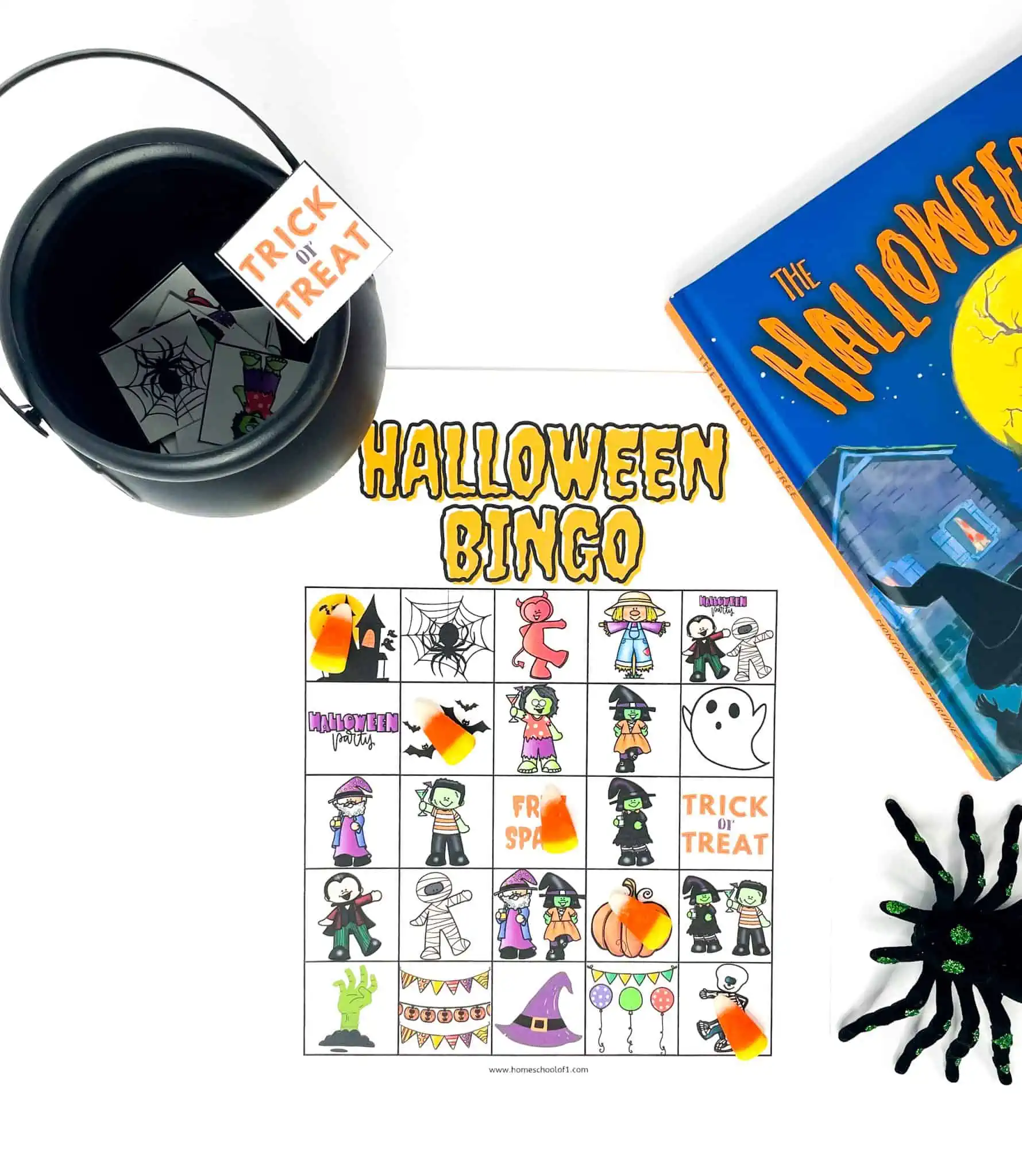 The child who successfully completes a row of 5 and calls out "BINGO" is the winner of that round. Celebrate their victory and acknowledge their accomplishment. We like to give a small gift to the winner, such as The Halloween Tree book.
How to Catch a Monster: A Halloween Picture Book for Kids About Conquering Fears!
Don't Push the Button! A Halloween Treat: A Spooky Fun Interactive Book For Kids
The Night Before Halloween
Pumpkin Jack
Room on the Broom
The Halloween Tree: Build New Traditions with This Funny and Imaginative Holiday Book for Children (Halloween Gifts for Kids)
Have fun with our pumpkin bingo free printable too!
Other Halloween ideas for kids
Elevate the excitement with the little ones this October by exploring these engaging Halloween party activities:
Tips for downloading the free files
Below you will see a large sign-up box where you need to add your name and email address, and press I NEED THIS NOW!
Within minutes you will be sent the free PDF directly to your email address, so you can print it out and start using it immediately.
Sometimes emails get a little wonky, so if you can't see it, please check your spam folder where I am sure it is hiding.
Download the free printable Halloween bingo game
These worksheets are free to print but are for personal or classroom use only.
Make sure you choose the correct paper size and click on the shrink to fit button. All of our free printables for kids work better when printed on cardstock (this is the one we use and love.)
Other free bingo printables
Last Updated on 8 November 2023 by homeschoolof1