Best Star Wars Scavenger Hunt Rhyming Clues (Free Printable)
Is the force strong in your home? Honestly, my son is Star Wars crazy! Therefore as Star Wars Day is coming up I just had to create these free Star Wars scavenger hunt clues.
Hide these 12 rhyming Star Wars scavenger hunt clues around the house.
If you wanted to you could always leave a small gift with the last clue. All of these clues are inside the house, just in case, it is raining!
This is a great way to have fun with Star Wars Day activities, but this is also a great game to play any time of the year.
We absolutely love scavenger hunts and treasure hunts in our home, and no matter how old he gets we still do them!
**There may be affiliate links in this post. You can read my full disclosure at the bottom of the page.**
Star Wars Scavenger Hunt Clues
Why not invite your friends to a party using our free Star Wars printable cards to color in?
Princess Leia thinks the forest of Endor is green, for your next clue go and look in the washing machine (washing machine)
Chewbacca doesn't always like to play fair, you'll find your next clue where you wash your hair (shower/bath)
A long time ago in a galaxy far, far away, the next clue is hiding where you play (where the kids spend most of their playtime)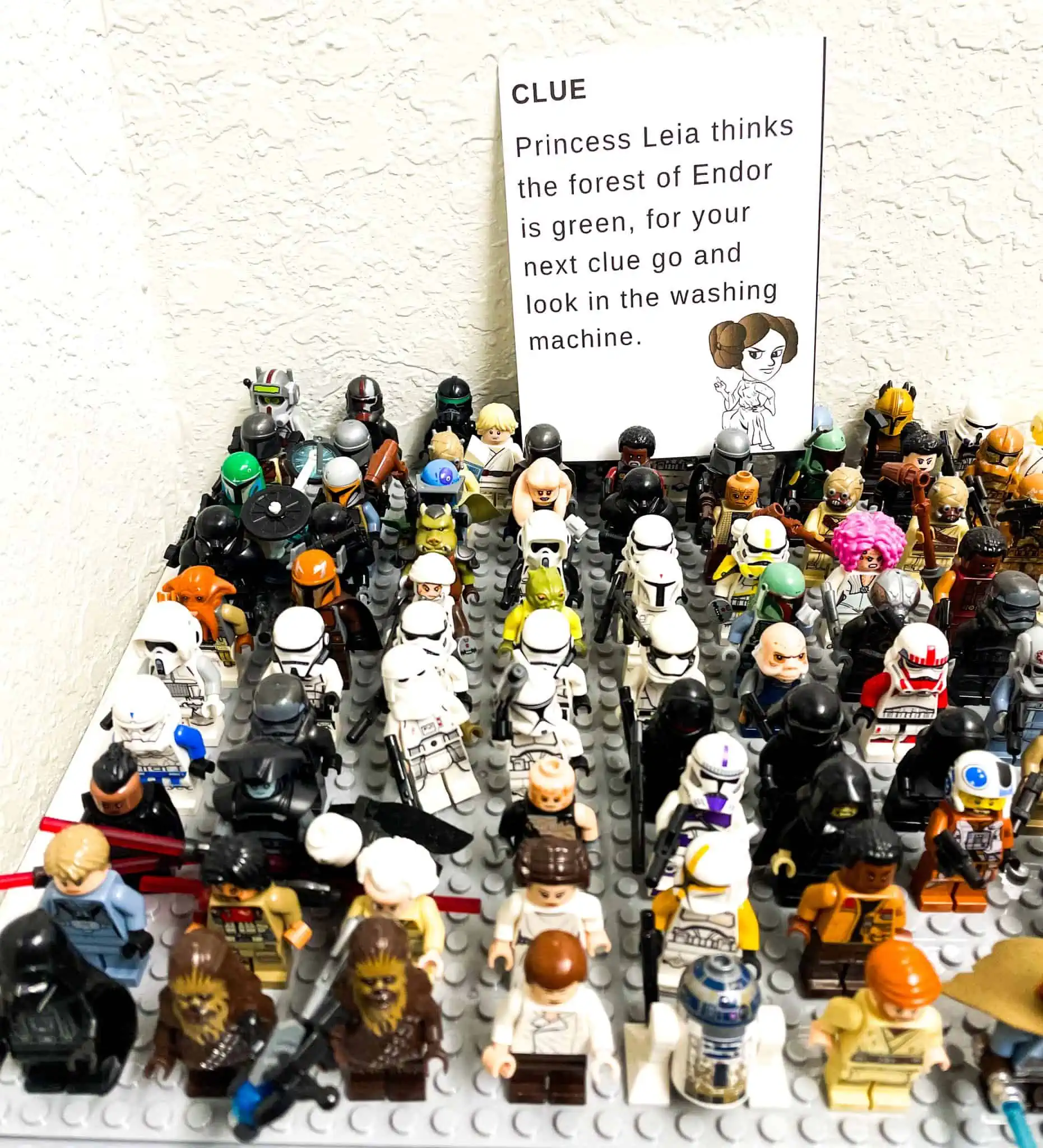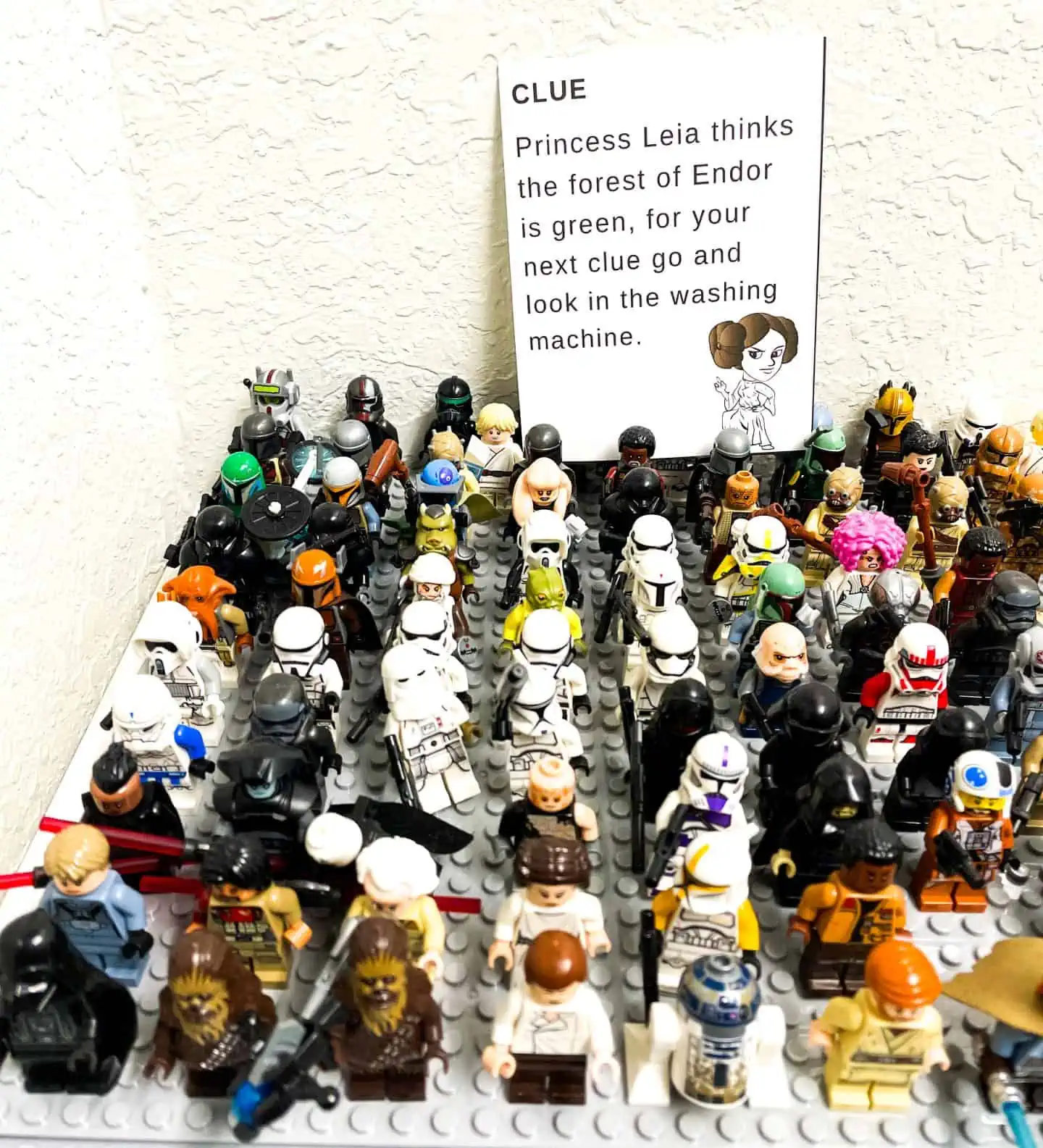 Go look and find where the lightsaber is hidden, maybe have a look by the television (tv)
Yoda went into hiding on Dagobah, but something he took, in your favorite book you must look (kids reading book)
R2D2 is blue he'll grant all your wishes, you'll find your next clue where you wash your dishes (kitchen sink or dishwasher)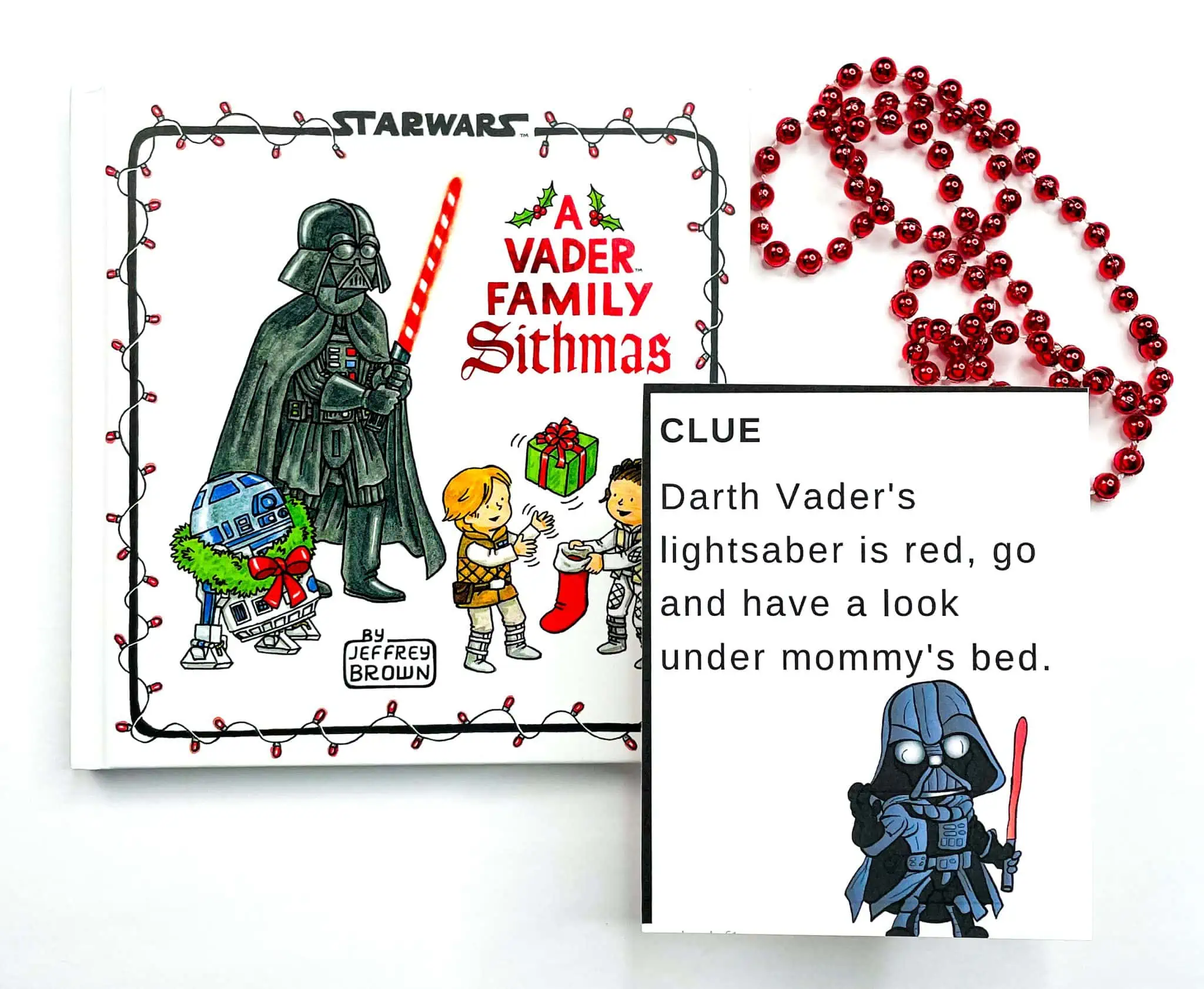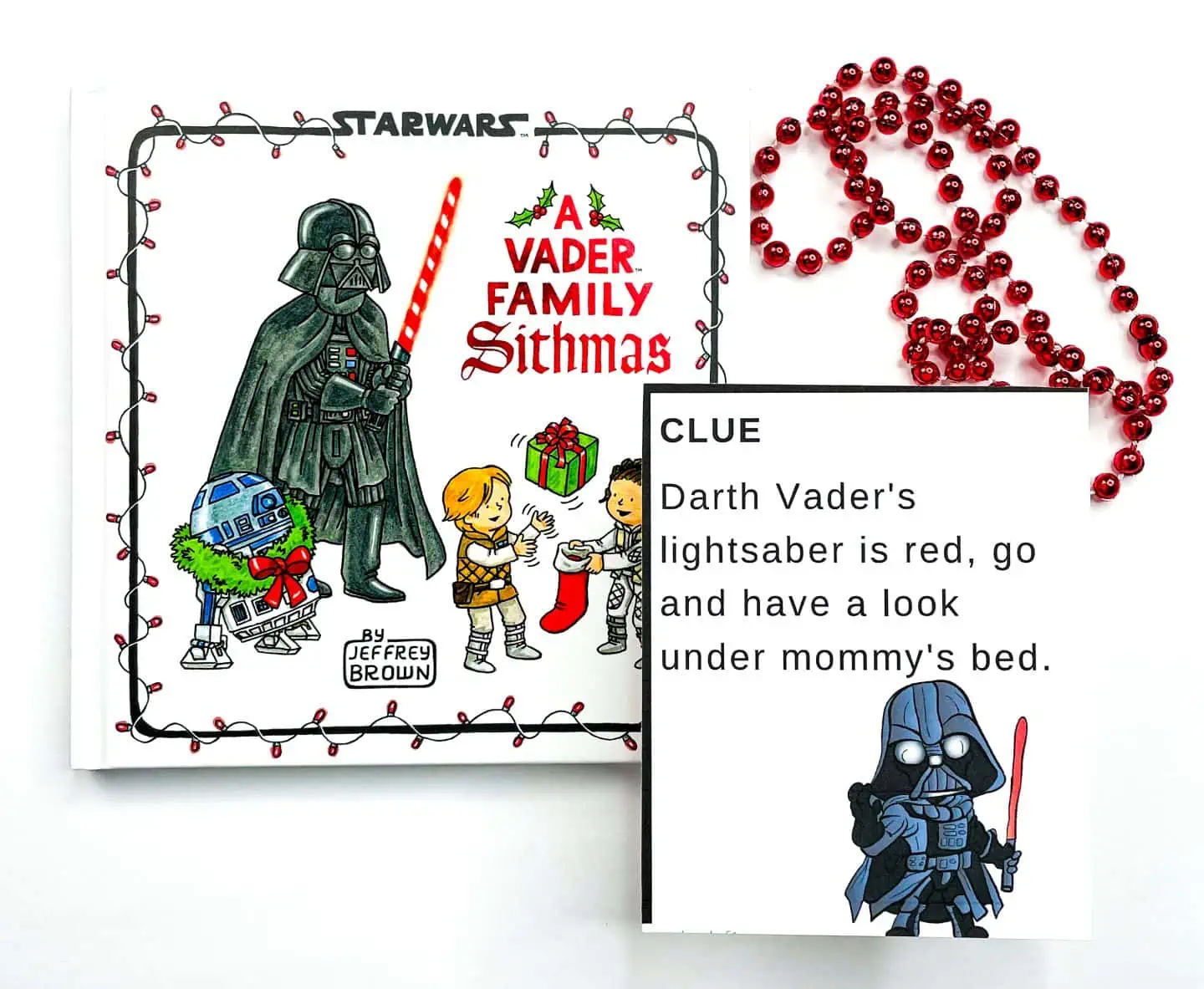 A Vader Family Sithmas book would make a great stocking stuffer!
The stormtroopers must obey Emperor Palpatine, the next clue is where your clothes are clean (kid's closet)
Kylo Ren is trying to find the Emperor's granddaughter Rey, you'll find the next clue where you lay (kids bed)
C3PO looks like he is made of gold. Go take a look somewhere really cold (freezer)
Boba Fett is hunting down Han Solo like a mouse and a cat, your next clue is hiding under the mat (front door mat, bath mat, any mat will do)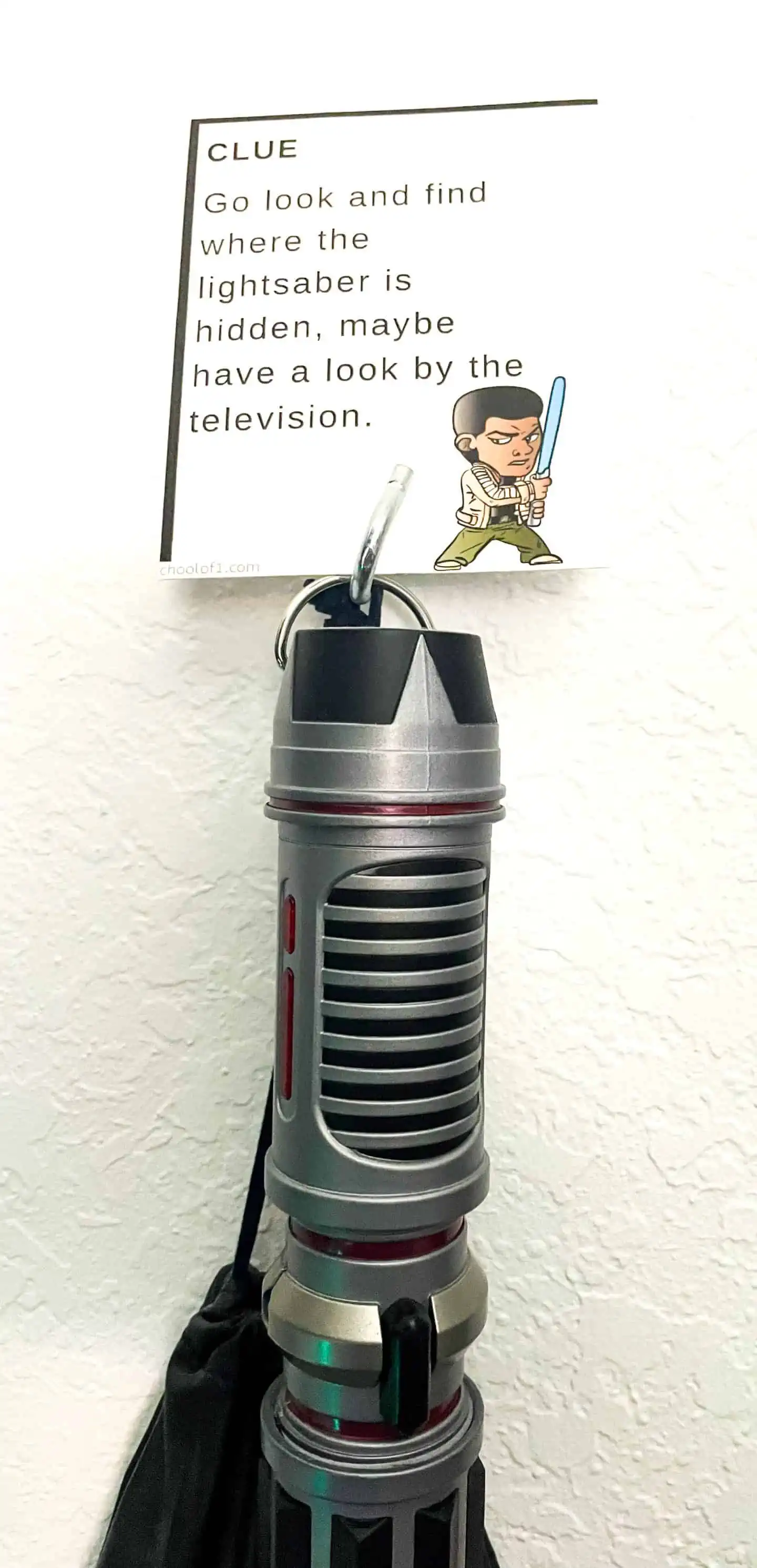 Luke Skywalker stomped through the Empire with force, your next clue is hiding where you have your pasta sauce (kitchen table)
Darth Vader's lightsaber is red, go and have a look under mommy's bed. (Mommy's bed)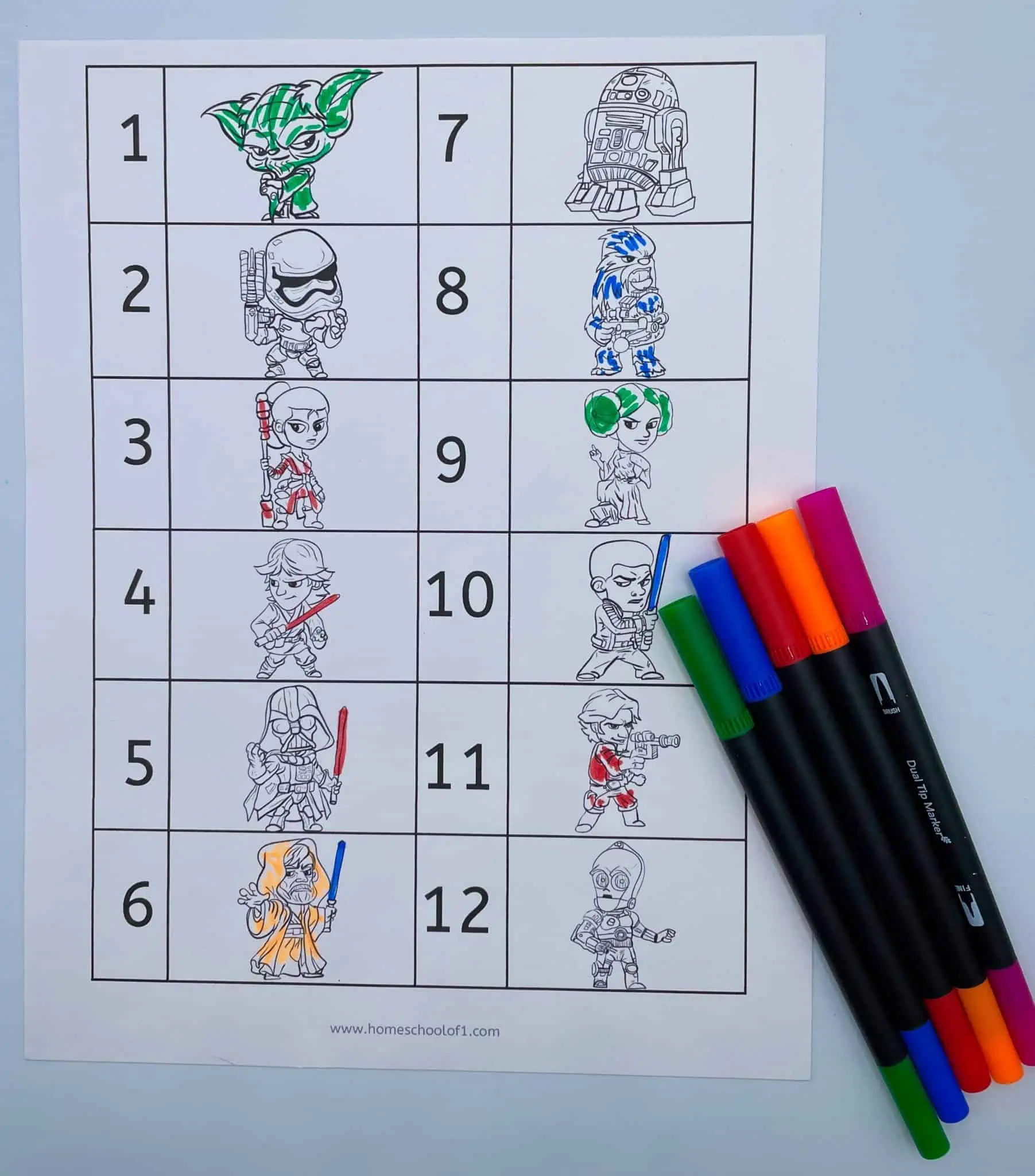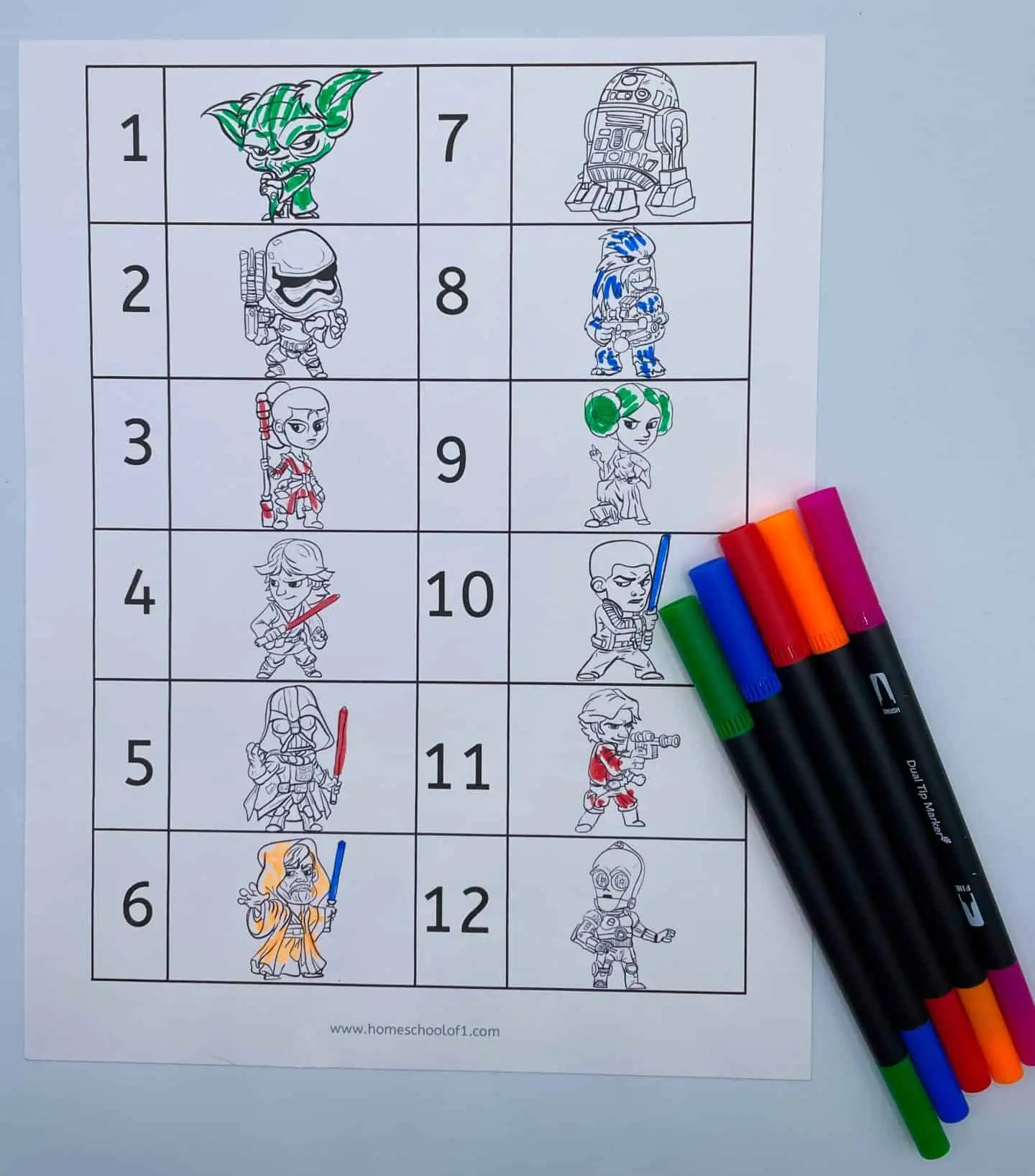 There is also a coloring page for the kids to mark off each clue as they find them too!
Star Wars Jedi: Battle Scars
Star Wars: Light of the Jedi (The High Republic) (Star Wars: The High Republic Book 1)
Star Wars Timelines
Star Wars: The Visual Encyclopedia
Star Wars: A Luke & Leia Adventure: A Choose Your Destiny Chapter Book
Star Wars Mad Libs: The Deluxe Edition
How to Play The Star Wars Treasure Hunt
These Star Wars clues are free to print but are for personal or classroom use only. Scroll to the bottom of the page to get the pdf file.
These 12 Star Wars riddles are perfect for younger or even older Star Wars fans.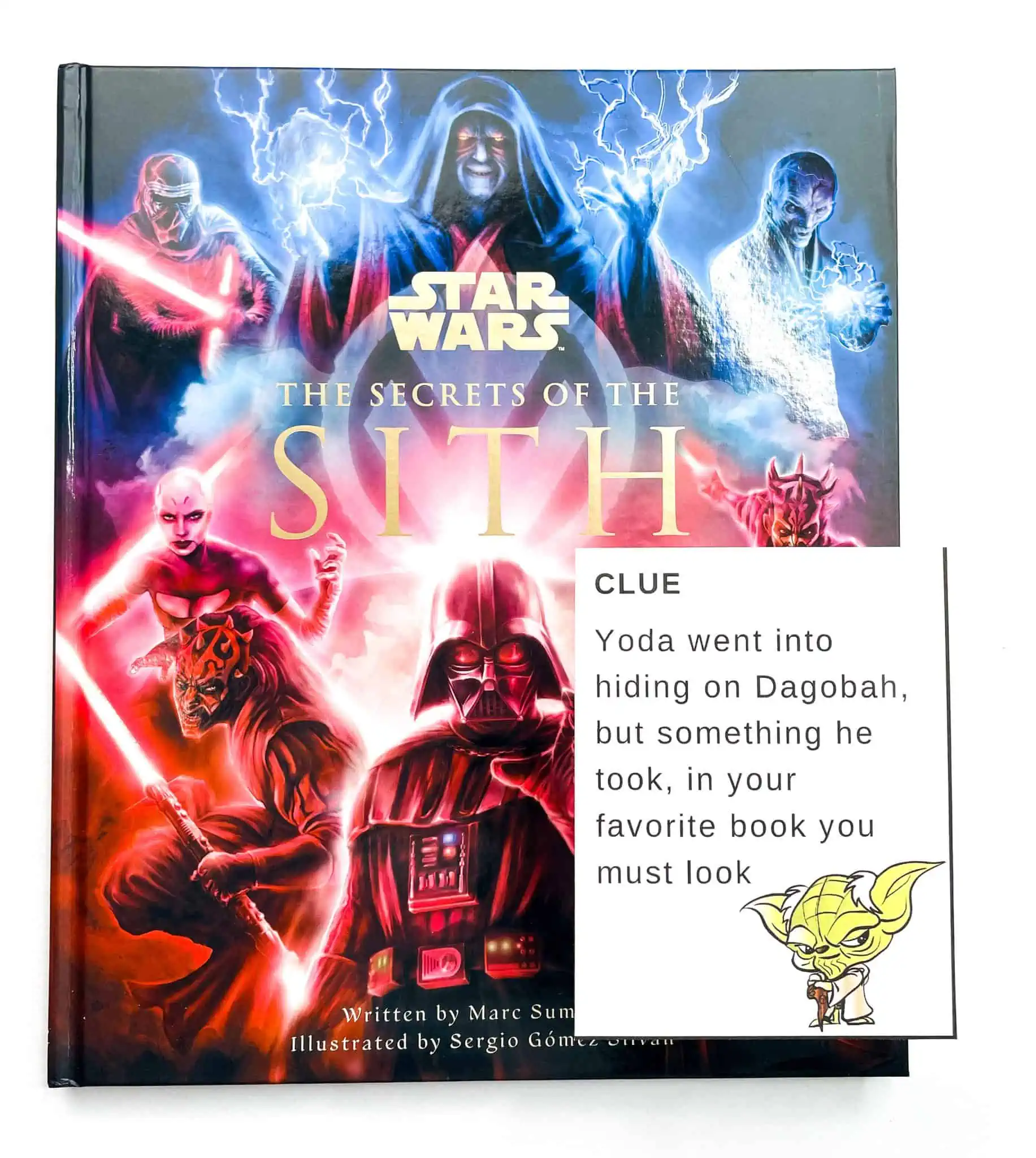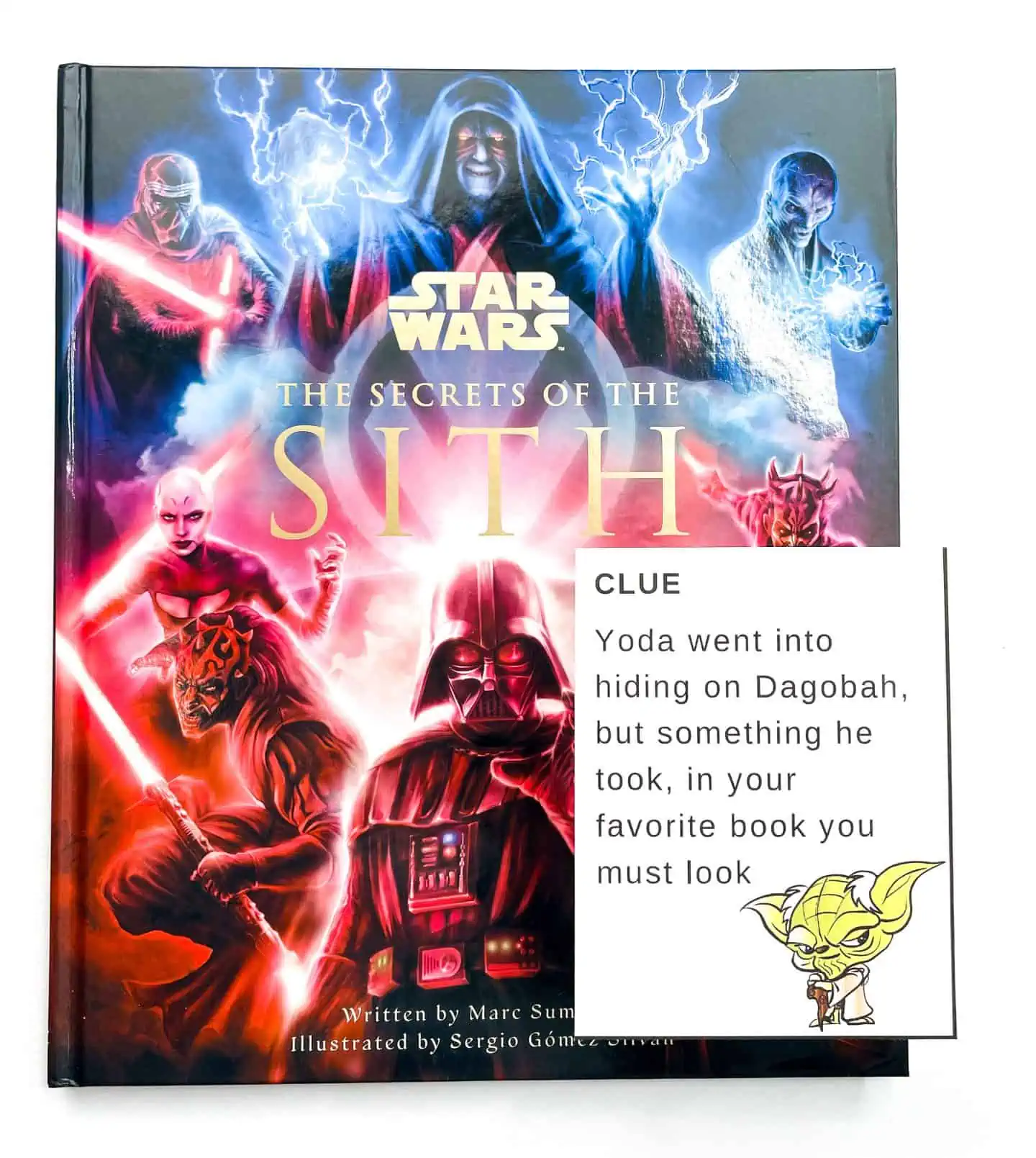 The Secrets of the Sith book would make a great gift.
Especially if you don't hide them in the obvious spots!
I have purposely not numbered the clues so you can start and finish wherever works best for your family.
There isn't really much else required to start with these Star Wars themed hunt clues, well apart from a printer.
Grab the free printable below
Print out the clues – just make sure you print to either A4 or letter and click on shrink to fit. I have tried so they should print on both sized paper.
Paper or Card – the printables work better on cardstock (this is the one we use), however, normal printer paper will work perfectly.
Paper cutter – to cut the clues, I have purposely kept the clues big, but of course, you can fold them if they need to fit in somewhere small.
Get a pen (to remind you where you have put the clues and in what order)
Most importantly the treat, leave it after the last clue! If you are looking for inspiration for gift ideas these are our favorite Star Wars treats:
The kids will also enjoy our free Star Wars word scramble
Tips for downloading the free files
Below you will see a large sign-up box where you need to add your name and email address, and press I NEED THIS NOW!
Within minutes you will be sent the free PDF directly to your email address, so you can print it out and start using it immediately.
Sometimes emails get a little wonky, so if you can't see it, please check your spam folder where I am sure it is hiding.
Download the free printable Star Wars Scavenger Hunt Clues
Make sure you choose the correct paper size and click on the shrink to fit button. All of our free printables for kids work better when printed on cardstock (this is the one we use and love.)
Additional scavenger hunts
Other free scavenger hunt printables:
Last Updated on 21 October 2023 by homeschoolof1