8 Free Tooth Fairy Letter Printables & Certificates
These free tooth fairy letter printables will help make your child's tooth fairy experience even more memorable!
Make the Tooth Fairy experience even more memorable with these free printables for kids!
The Tooth Fairy isn't just about teeth. She's also all about spreading joy and excitement to your little ones.
I mean, who doesn't love waking up to find a couple of bucks under their pillow? It's like a mini ATM for kids!
But here's the thing, the Tooth Fairy isn't just a one-hit-wonder.
She's also got some serious letter-writing skills. Yup, that's right, she'll leave a note for your kiddo congratulating them on their latest milestone – losing a tooth.
So, as a mom, you get to be in on the fun too.
You can help your little one prepare for the Tooth Fairy's visit. And if you're feeling extra creative, you can even help her write a response to the Tooth Fairy. Because let's be honest, it's never too early to teach your kid the art of letter writing.
The Tooth Fairy isn't just a sneaky tooth thief, she's also a master of letter writing.
So go ahead, have some fun with it, and keep the magic alive for your little ones.
After all, they grow up fast, and we all need a little bit of magic in our lives.
Even if it's just from a tiny fairy with a serious letter-writing habit.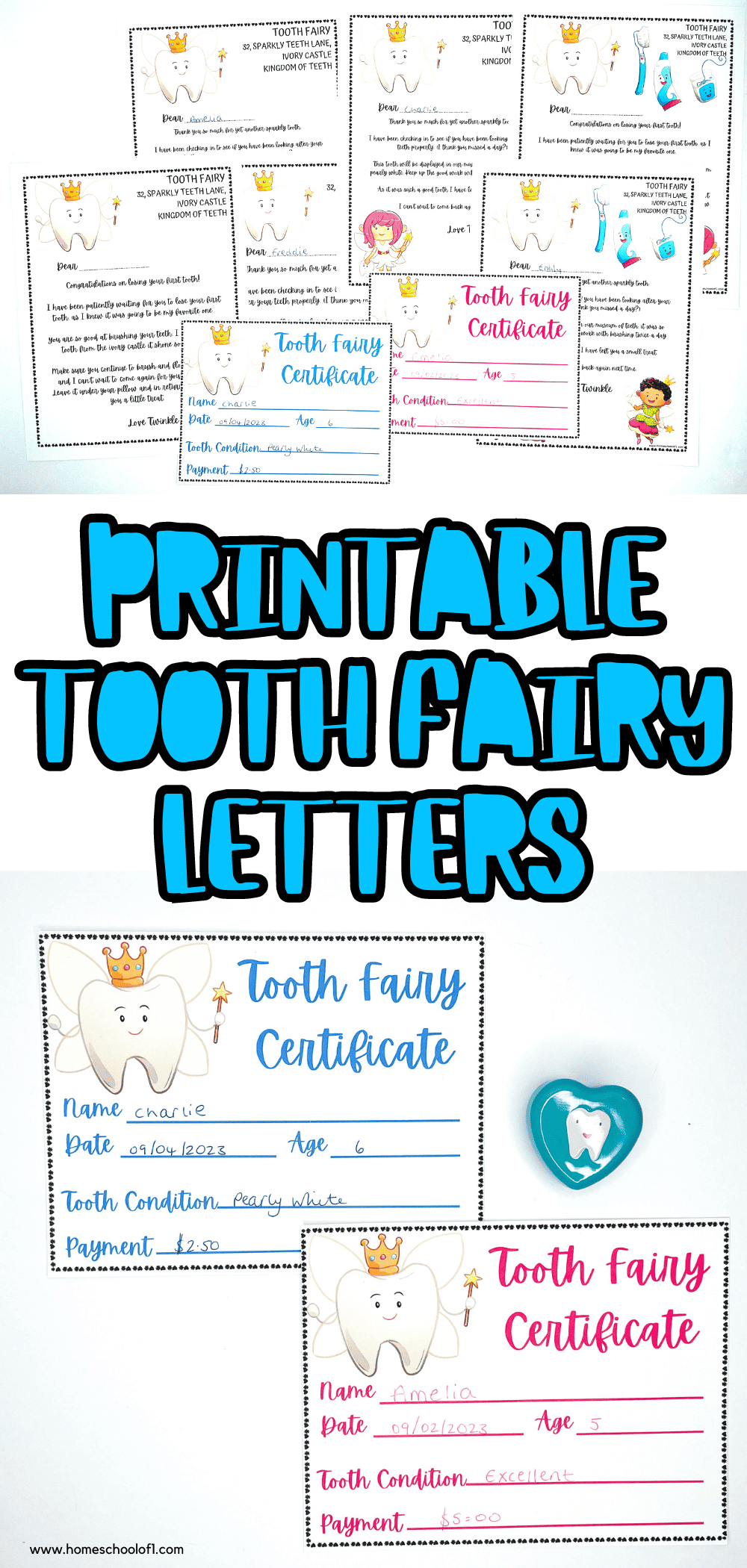 **There may be affiliate links in this post. You can read my full disclosure at the bottom of the page.**
Letter from the Tooth Fairy
This letter is an easy way to add a little bit of magic to your kid's day and make losing a tooth a truly special occasion.
Download the printable tooth fairy letters below. There are 8 included, just print out the ones you want to use.
These free letters from the tooth fairy are free to print but are for personal use only. Scroll to the bottom of the post to get the pdf file.
Where does the tooth fairy live?
Twinkle the Tooth Fairy has kindly added her address to the children's tooth fairy letters. She lives at:
32, Sparkly Teeth Lane
Ivory Castle
Kingdom of Teeth
She obviously lives at number 32 as that is how many adult teeth there are!
What do the tooth fairy letters say?
When your child loses their first tooth use this letter, it reads:
Congratulations on losing your first tooth!
I have been patiently waiting for you to lose your first tooth, as I knew it was going to be my favorite one.
You are so good at brushing your teeth, I could see this tooth from the ivory castle it shone so brightly.
Make sure you continue to brush and floss your teeth, and I can't wait to come again for your next tooth. Leave it under your pillow and in return, I will leave you a little treat.
For even more tooth fairy quotes you are going to love these.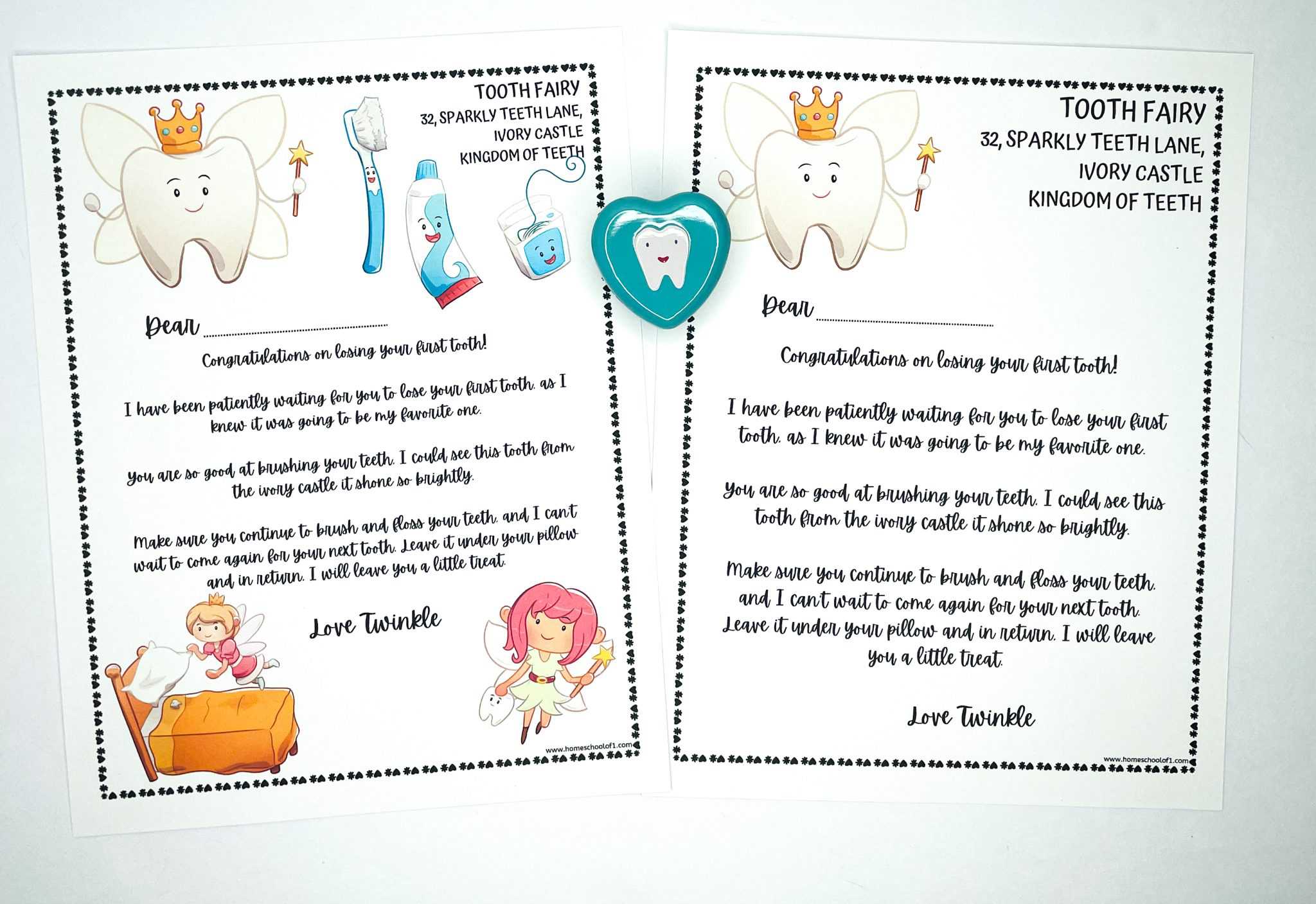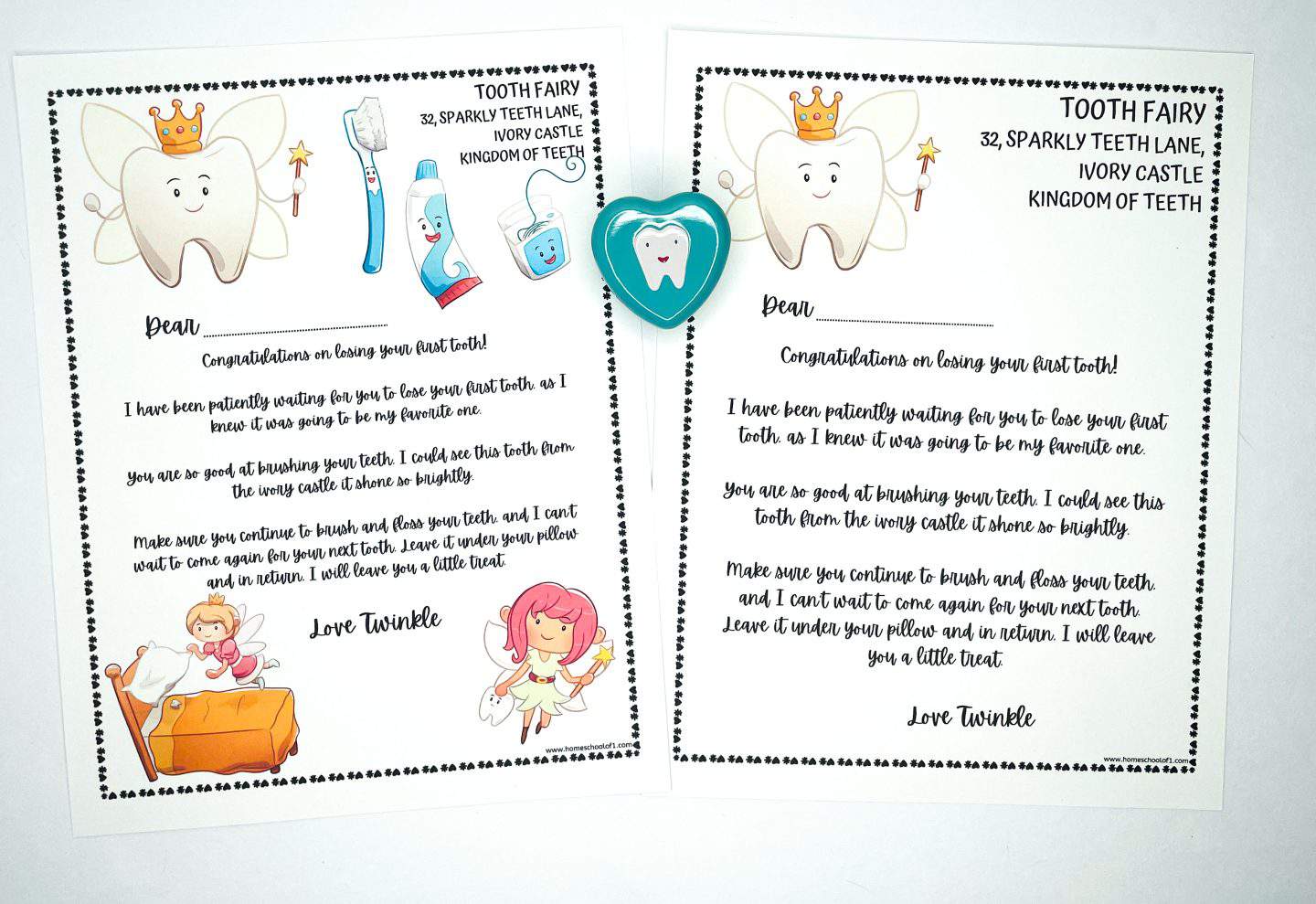 The other 4 tooth fairy letters read:
Thank you so much for yet another sparkly tooth.
I have been checking in to see if you have been looking after your teeth properly. (I think you missed a day?)
This tooth will be displayed in our museum of teeth, it was so pearly white. Keep up the good work with brushing twice a day.
As it was such a good tooth I have left you a small treat.
I can't wait to come back again next time.
The kids will love getting praise from the Tooth Fairy, Twinkle, and it will definitely put a smile on their faces.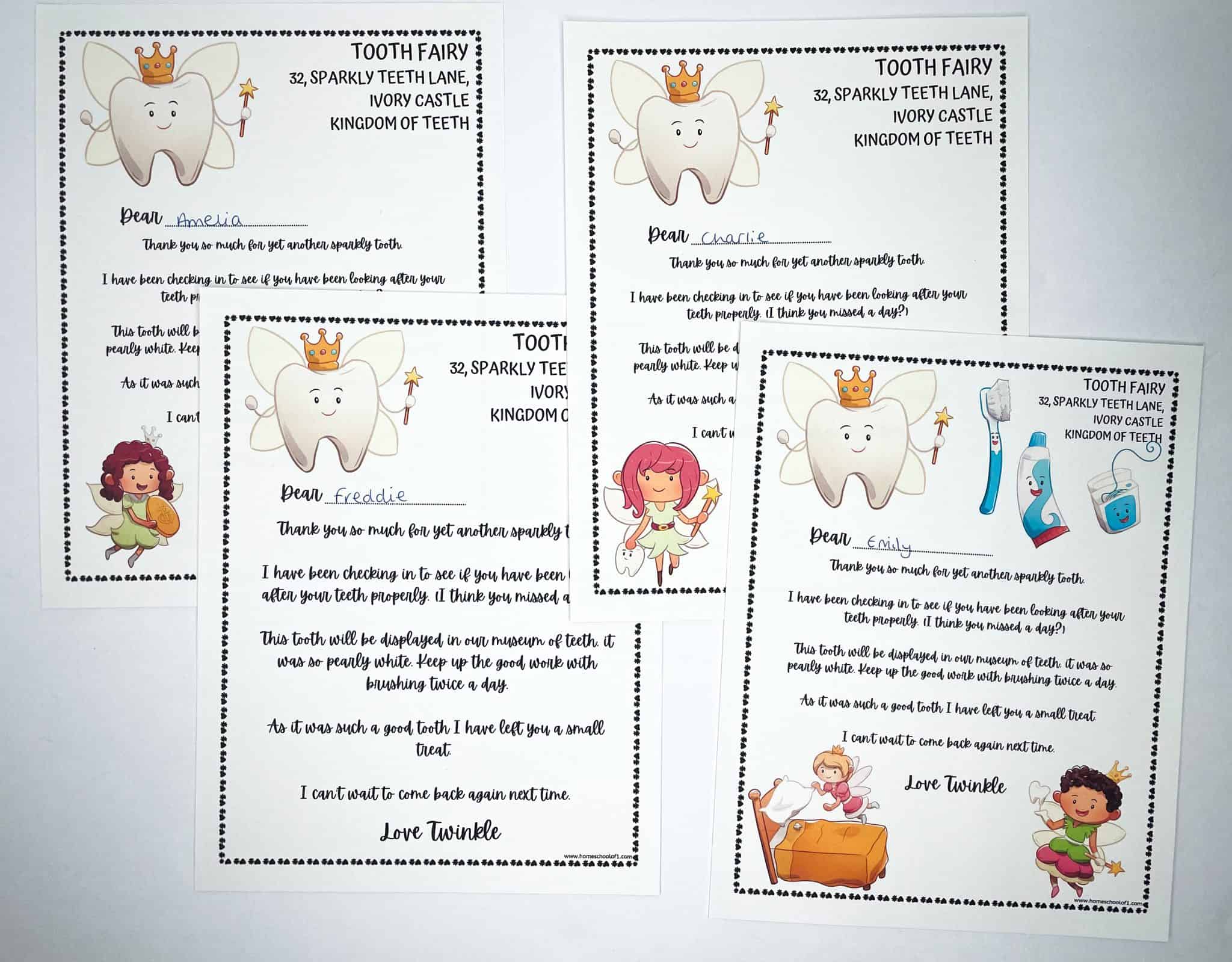 These 4 templates have different images, so choose your favorites.
Free Tooth Fairy Certificate
You can either leave a tooth fairy certificate with the letter, or instead of.
I have included a blue and a pink version depending on which your child prefers.
The tooth fairy then fills out:
Child's name
Date
Age
Tooth condition
Payment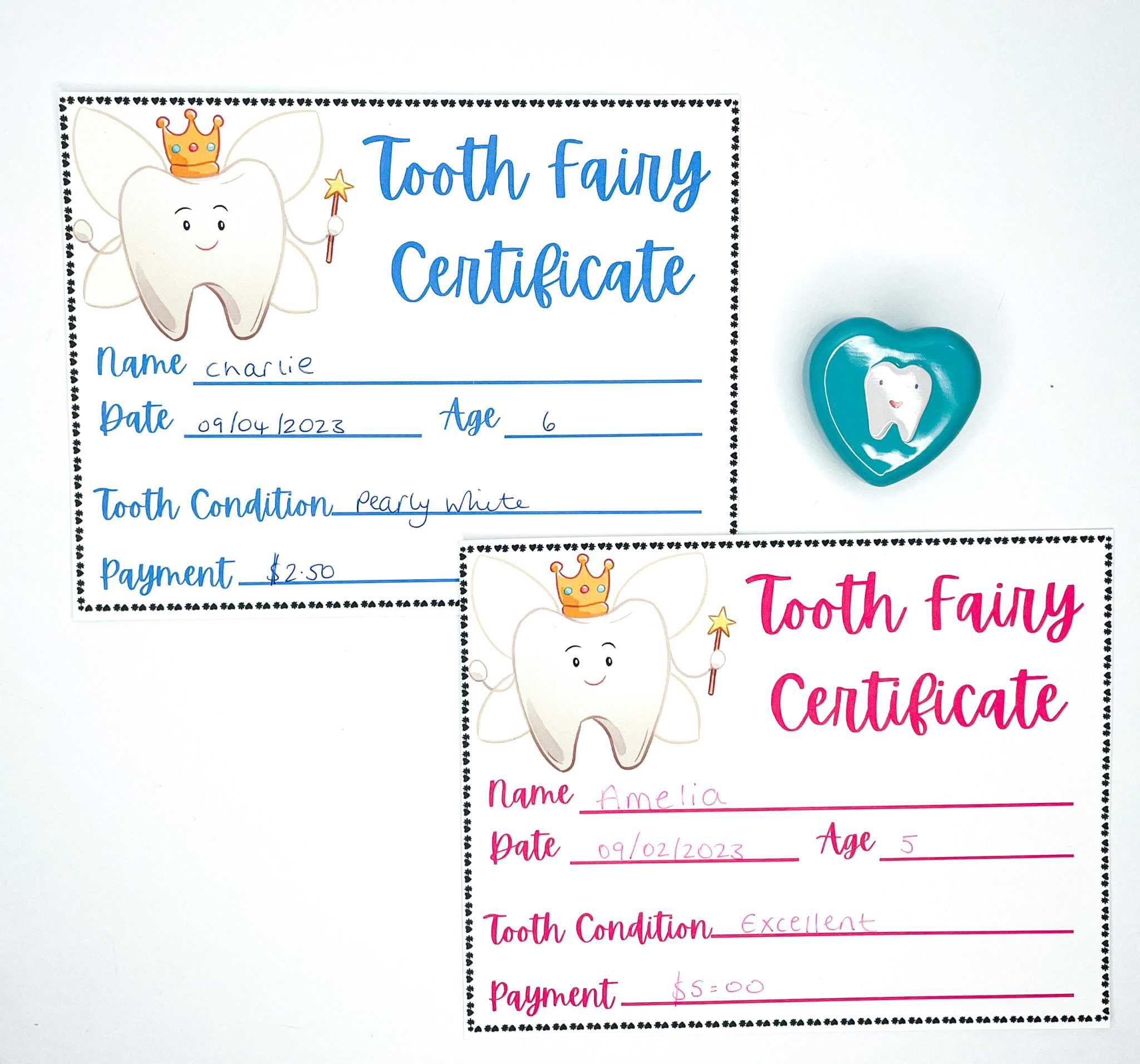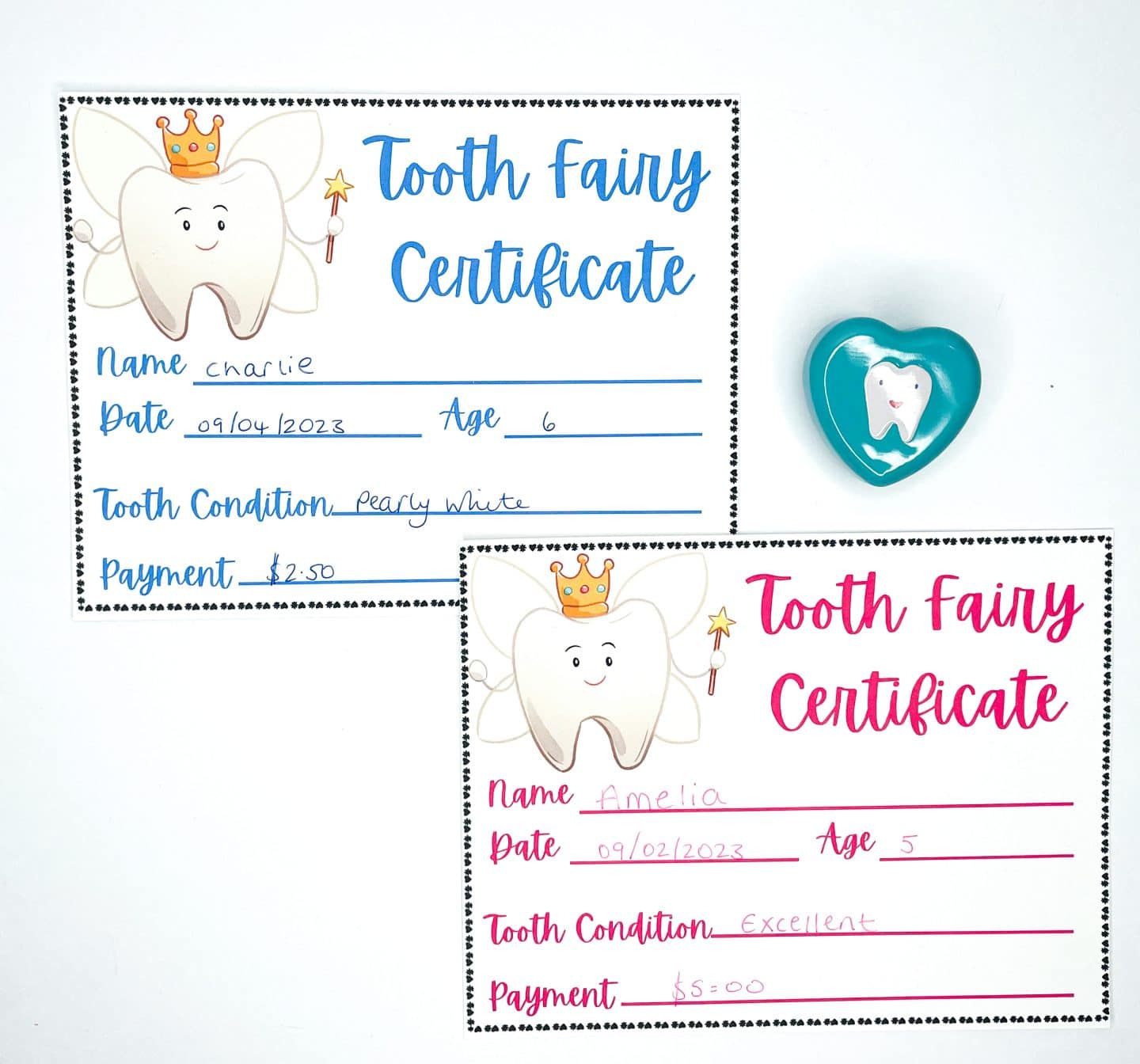 Other Fun Tooth Fairy Ideas
How much money does the Tooth Fairy give?
Alright, let's talk about the real tooth thief – the Tooth Fairy.
We all know she's the one sneaking around our houses at night, snatching up those fallen chompers and leaving a few bucks in their place.
But here's the million-dollar question (or rather, the three-dollar question): how much money does she actually leave?
Well, turns out, the Tooth Fairy isn't exactly known for her generosity. According to recent data from Colgate, the average amount she leaves is around $3.70. I mean, come on, Tooth Fairy – that won't even cover a Happy Meal these days! What happened to inflation, huh?
But, I guess we should be grateful that she's at least leaving something, right? I mean, it's not like she's taking the teeth and running.
And hey, Tooth Fairy, if you're reading this, maybe consider upping your game a bit next time. We could all use a little extra cash these days.
Tips for downloading the free files
Below you will see a large sign-up box where you need to add your name and email address, and press I NEED THIS NOW!
Within minutes you will be sent the free PDF directly to your email address, so you can print it out and start using it immediately.
Sometimes emails get a little wonky, so if you can't see it, please check your spam folder where I am sure it is hiding.
Download the free Tooth Fairy Printables
Make sure you choose the correct paper size and click on the shrink to fit button. All of our free printables for kids work better when printed on cardstock (this is the one we use and love.)
Last Updated on 25 November 2023 by homeschoolof1